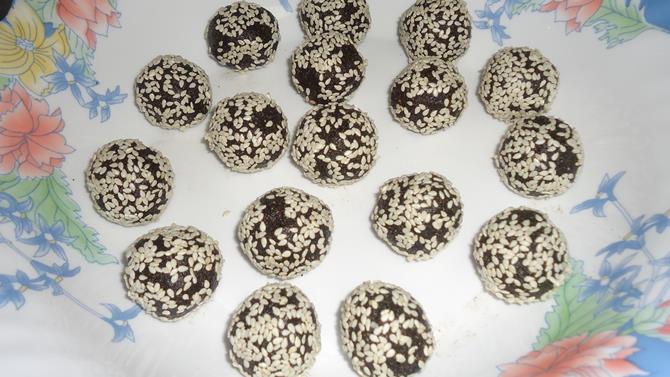 black sesame seeds, their health benefits and how to include them in our diet easily.

Most of us usually ignore the black sesame seeds and opt for the white ones may be for the reason that the white ones look and taste better than the black seeds. But the black sesame seeds are more nutritious than the white ones. Experts recommend these seeds to be bit through or grounded, or else the sesame will not be digested and nutrients will not be absorbed by the body. Black sesame seeds provide numerous benefits
black sesame seeds health benefits
1. Works as a laxative and flushes out the toxins from the digestive tract.
2. High in protein, amino acids and calcium.
3. The seeds contain a large number of natural antioxidants containing anti-aging properties and are well-known for combating free radicals in our bodies.
4. Sesame could be helpful in decreasing the risk of Cardio Vascular Diseases.
5. sesame seeds are rich in Omega 6 fatty acids, which is a family of healthy unsaturated fats.
6. High in iron, zinc, magnesium, phosphorous, low in potassium & sodium. Many of these minerals are trace minerals that are hard to find in other foods. As a result, several health researchers consider black sesame seeds a superfood.
Tips on how to use black sesame seeds
1. Although black sesame seeds have health benefits, their fat content cannot be ignored. Eating too much of these can upset the digestive system.
2. Sesame Seeds are very heating to the body, so toddlers must be served in moderation. I give less than 10 Grams of this mixture to my 2 year old toddler.
3. It works as a laxative & can be used to ease constipation in kids.
4. Heals dry skin internally when consumed for more than 6 weeks.
5. Can aggravate pitta if consumed by people with pitta body constitution.
The oil in the sesame seeds and the moisture in the jaggery or palm sugar is enough to bind and make a ladoo. So there is no need to add any water or ghee or oil. I have used white sesame seeds for garnishing only to make the ladoos look attractive as my kids do not like the dark color. Very easy to make and they are very tasty. Makes a healthy snack for growing kids and adults too.
more sesame seeds recipes on the blog,
sesame seeds and peanut balls
honey sesame chicken
spice powder using sesame seeds
how to make easy sesame balls using black sesame seeds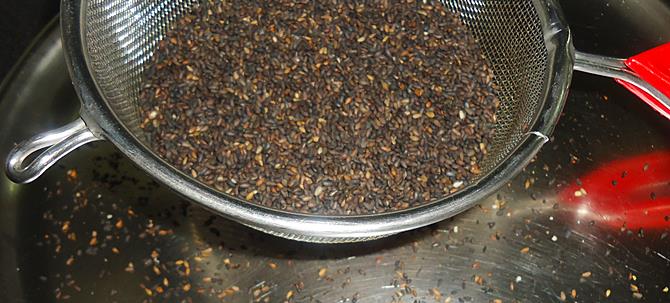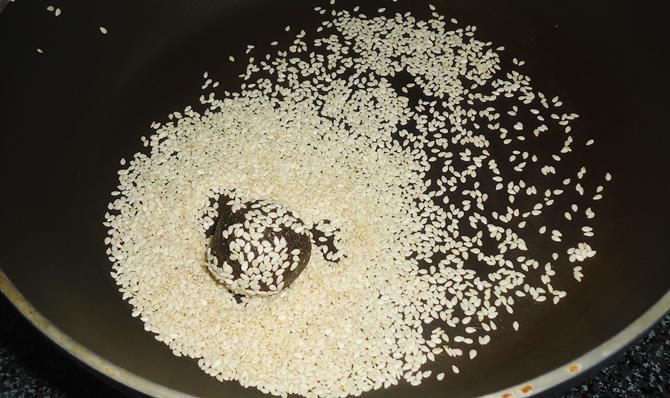 find black sesame seeds laddu recipe below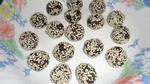 black sesame seeds laddu | til ladoo | nuvvula undalu
The black sesame seeds are more nutritious than the white ones. Experts recommend these seeds to be bit through or grounded, or else the sesame will not be digested and nutrients will not be absorbed by the body. Black sesame seeds provide numerous benefits
Ingredients (1 cup = 240ml )
1

cup

black sesame seeds

1/3

cup

jaggery

grated or powdered , or palm sugar or cane sugar

1/3

tsp

cardamom powder

2

tbsp

White sesame seeds
How to make the recipe
Wash sesame seeds quickly 2 to 3 times in lot of water. Drain them immediately. Leave in a colander for 5 to 10 minutes for the water to drain off completely.

Dry them on a clean cloth for 3 to 4 hours.

Toast them on a medium flame on a heavy bottom pan or tawa. cool them completely. Add them to a seive or a filter and just whisk them few times. Any dirt or debris will drop down through the filter.

Powder the toasted black sesame seeds first

Add cardamom powder and jaggery. Run the mixer for a min

Make small balls and set aside (as you roll the mix to balls, the color changes to a darker shade)

Heat a pan and toast the white sesame seeds

While the pan is still hot roll the balls in the sesame seeds.Store them in a air tight jar and handle with moist free hands.
NUTRITION
Calories:
83
kcal
|
Carbohydrates:
7
g
|
Protein:
1
g
|
Fat:
5
g
|
Sodium:
1
mg
|
Potassium:
52
mg
|
Fiber:
1
g
|
Sugar:
4
g
|
Calcium:
11.1
%
|
Iron:
9.3
%