Milk oats porridge for babies – i have already shared many recipes for babies over 8 months old and this is the first one iam sharing for babies below 8 months. Most babies cannot really eat much until 8 months and all the efforts of introducing baby to solids prior to 8 months is only to get them used to the texture and taste of solids.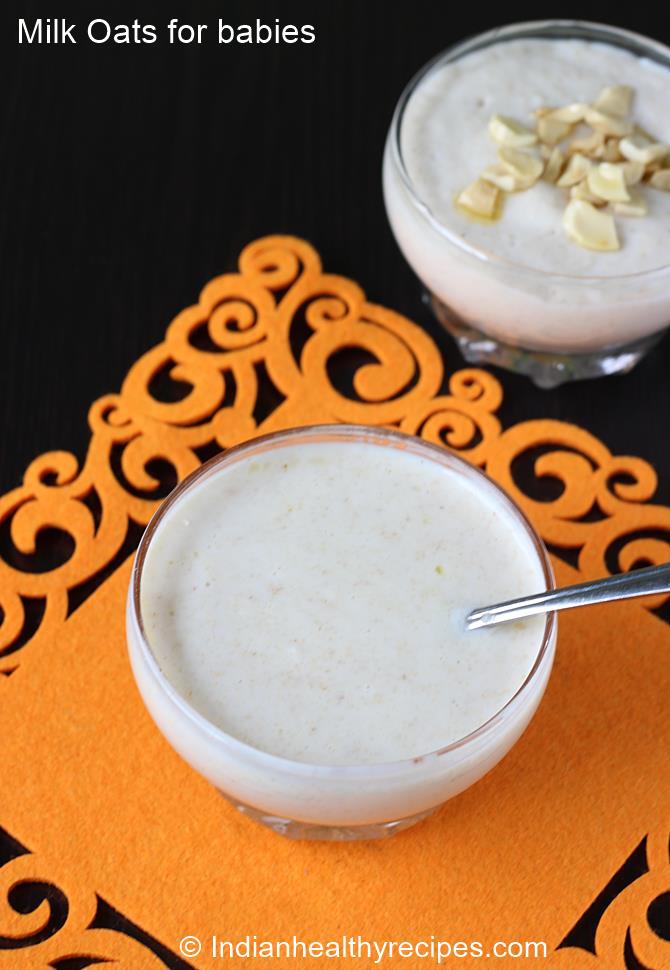 The foods that are served to babies below 8 months need to be in a smooth thin consistency as their digestion is still in a developing stage. Loading them with too many solids that are not of smooth texture or of incompatible combinations can lead to frequent or continuous spit ups, chronic, colic, poor digestion, constipation etc. Due to all this baby may end up in frequent sleepless nights due to colic with continuous crying.
so the foods that are prepared for babies under 8 months old are entirely light, different and more care needs to be taken while trying new foods.
The first 6 months a baby needs to be breastfed exclusively to develop immunity and gain good weight. But based on the baby's needs, developments and weight gain, in the recent years pediatricians are suggesting solids from 4 months on wards.
Isn't rice or rice cereal the first food to be tried for a baby?
Yes white rice or rice cereals have been the first food for babies since many decades as it is easy to digest. But they tend to constipate hence oats is a good alternate. Oatmeal has higher nutritional values than rice and also helps to prevent constipation in babies. A google search on "rice vs oats nutrition" will fetch you the nutritional details. Most babies do well with oats or oatmeal since it is one of the least allergenic food. Most times it is the gluten contamination that causes problems.
Here are some tips for introducing oats to babies below 6 months old.
1. Before you try any new food to your baby, consult your pediatrician and not a general medical practitioner. Since each baby is different it is important to get a pediatrician's opinion.
2. Oats are gluten free, but may get contaminated with gluten from other grains like wheat or barley since they are processed in the same units. So while introducing oats to babies below 6 months, care must be taken to use only GLUTEN FREE OATS or Labelled as BABY OATMEAL. Otherwise it may lead to colic, rashes or diarrhea. The same is true even to babies and toddlers of any age who have a gluten intolerance. Babies above 6 months can be served the regular oats if there is no history of gluten intolerance.
3. Follow the 3 day test rule while you introduce any new food. Introduce only one new food for 3 consecutive days, this helps to track whether the food is suitable to your baby or not. If you notice any rashes, wheezing, more colic than usual or loose stools, then stop the food immediately and consult your pediatrician.
Gluten free oats and baby oatmeal is available as organic and non-organic as well. Try to use organic if available.
The consistency of oats porridge for toddlers or for babies above 8 months can be slightly thicker as shown in the image below.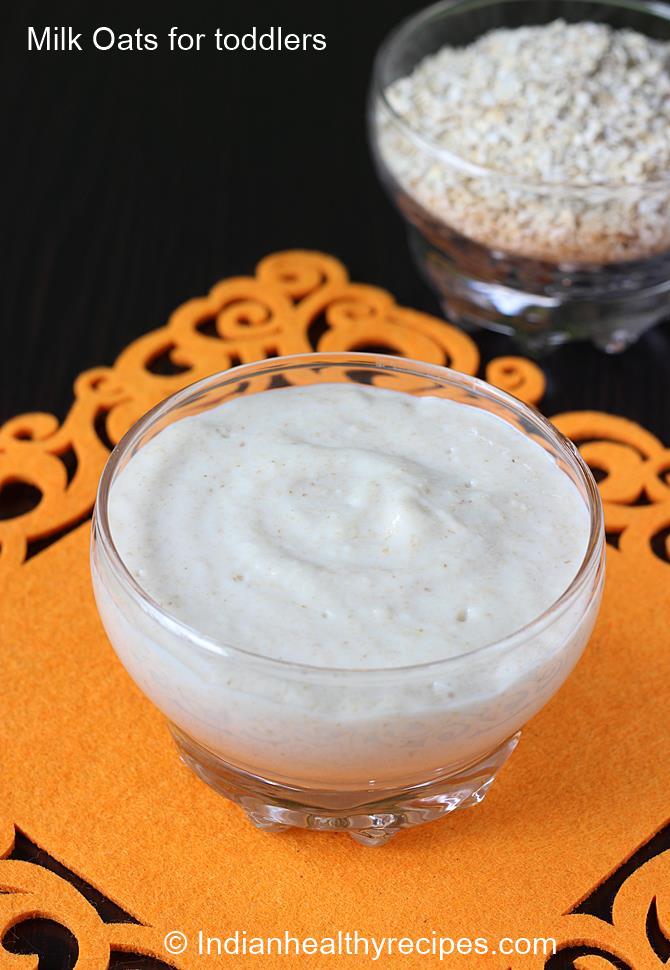 This milk oats porridge recipe makes a mum and baby's serving. Adjust the quantity as needed.
find recipe of milk oats porridge for babies below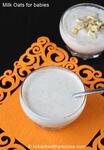 milk oats porridge for babies | oats recipes for babies & toddlers
milk oats porridge for babies.
Pin Recipe
Print Recipe
Ingredients (1 cup = 240ml )
1/4

cup

oats

*(gluten free organic suggested)

3/4 to 1

cup

water

or (for babies above 1 year milk can be used)

sweetener

babies need no sugar, for babies above 1 year little can be used.

formula milk

or (cow's milk for babies above 1 year) as needed
optional
generous pinch of green cardamom / elaichi
How to make the recipe
Please refer the above detailed instructions with step by step photos
NUTRITION (estimation only)
Calories:
112
kcal
|
Carbohydrates:
13
g
|
Protein:
5
g
|
Fat:
4
g
|
Saturated Fat:
2
g
|
Cholesterol:
12
mg
|
Sodium:
59
mg
|
Potassium:
197
mg
|
Fiber:
1
g
|
Sugar:
6
g
|
Vitamin A:
200
IU
|
Calcium:
143
mg
|
Iron:
0.4
mg
Alternative quantities provided in the recipe card are for 1x only, original recipe.
If you are new to cooking, follow my detailed step by step photo instructions for best results.
FOR MORE RECIPES

step by step photos on milk oats porridge for babies
1. Add oats to a blender and powder finely. For babies over 8 months, you can skip powdering if your baby can eat slightly coarse porridge. For toddlers, you can add few blanched almonds or walnuts if not allergic.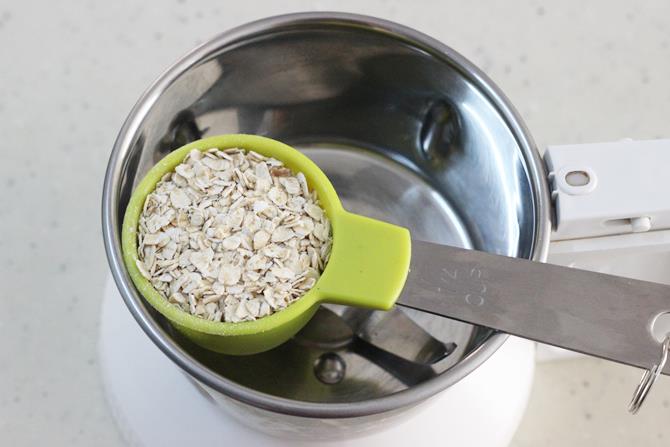 2. Add it to a pan.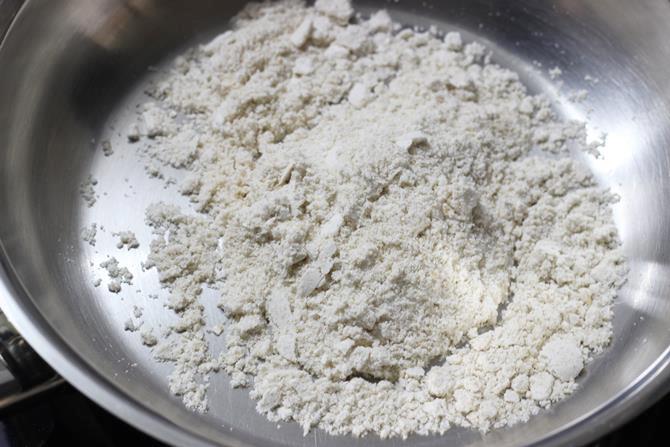 3. Add water and stir well to break lumps. Begin to cook on a medium flame with out burning constantly stirring. For babies over 1 year, use cow's mik (if not allergic).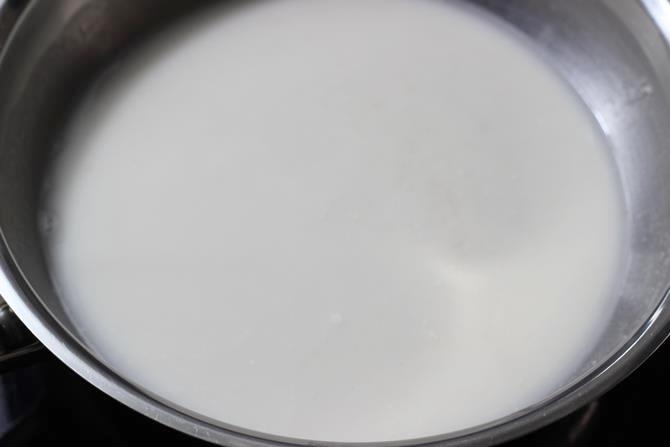 4. Switch off when the oats thickens as you see below. For toddlers you can serve this after it cools down if you have cooked in milk.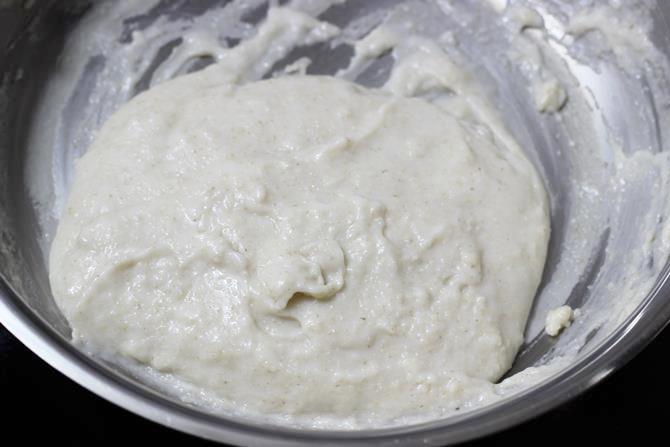 5. Cool it completely. Make formula milk or whatever milk you are using. Pour it to the cooled oats.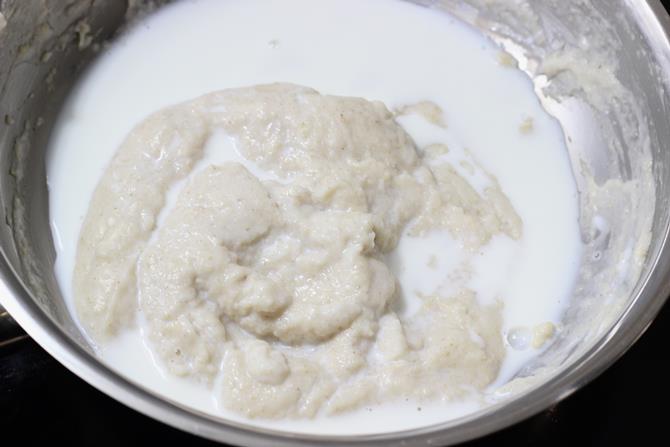 6. Stir well.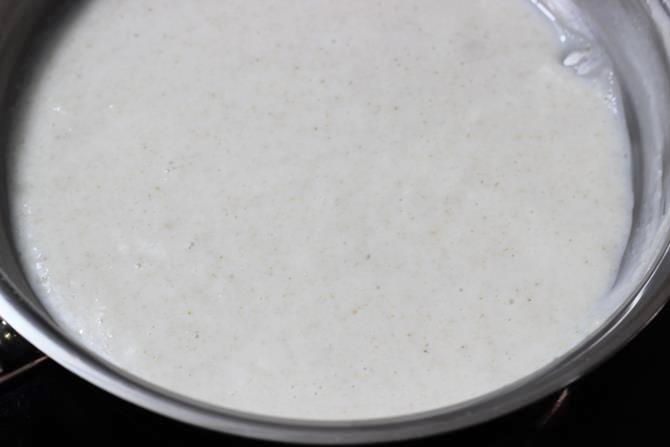 Serve milk oats porridge. For toddlers over 2 years, you can add some roasted cashews. Please supervise you toddler since nuts may choke.