Ragi laddu or ragi ladoo (Finger Millet Balls), sharing a healthy sweet treat with you all. Ragi is known as red millet or finger millet in English. High in absorbable calcium, iron and fiber. It is commonly used in south India for ages to make many dishes like rotti, malt or porridge, instant dosa and biscuit.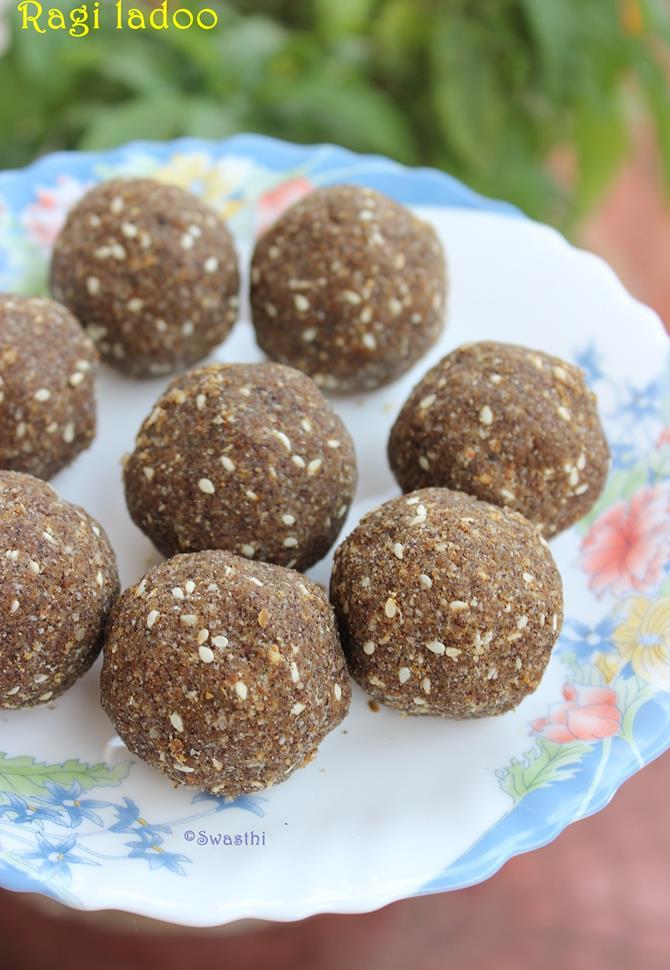 Not many folks like the taste of ragi, to enhance the taste of these ladoos, i have used peanuts, dried coconut and sesame seeds. The taste of ragi can barely be felt in them.
To make ragi laddu, I have used homemade sprouted ragi flour, you can use even the regular store bought flour too. But sprouted flour is better for digestion since the grains are soaked thoroughly before sprouting.
These Ladoos taste very delicious , do not turn out to be hard and will be slightly powdery while you bit into.
This recipe is not a beginner recipe, you need to understand the syrup consistency. Please read the notes mentioned at the end of the recipe before you try these ladoos.
You can find another version of easy ragi ladoo recipe here which doesn't need string consistency.
You can also check these ragi recipes,
Karnataka ragi roti
Ragi porridge
Healthy ragi dosa
Ragi cookies
Eggless ragi biscuit.
Ragi laddu or ladoo recipe below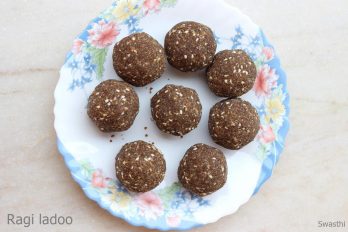 Ragi laddu recipe using jaggery (finger millet flour Balls)
Finger millet or red millet sweet balls made with unrefined sweetener, coconut and sesame.
Ingredients (240 ml cup used)
2

cups

Ragi flour

or Finger millet flour (roasted or sprouted & roasted)

1

cup

white sesame seeds

6 to 8

green cardamoms

powdered finely

1

cup

desiccated coconut

(or copra)

1

cup

peanuts

2

tbsps

ghee

for smearing on to the palms while rolling the balls
For jaggery syrup
2 ½

cups

Jaggery

+ 3 to 4 tbsps. of powdered or grated

1

tbsp

ghee

for jaggery syrup (can increase another spoon if desired)

¾

cup

water

+ 2 tbsps for jaggery syrup
How to make the recipe
Preparation for ragi ladoo
In a heavy bottom pan, dry roast coconut for few minutes, transfer to a plate. Add peanuts and roast them, set aside to cool. In the same pan dry roast sesame seeds quickly without burning. Set these aside with the coconut. Remove the skin of the peanuts. Roast ragi flour if it is raw one and not sprouted and roasted one.

To a dry blender jar, add peanuts, sesame and coconut and pulse them several times to make a coarse powder.

To the blender, add ragi flour and elaichi powder. Pulse the mixer again to mix everything.
How to make ragi ladoo
Add jaggery to a pot with enough water and boil on a low flame to melt it. Pass this through a strainer to remove stones etc. Mix one tsp ghee with the syrup.

Boil the syrup till it reaches a soft ball consistency. Check by dropping little syrup in a bowl filled with water. Roll it to a soft ball.

Switch off the stove, add the processed flour and peanuts mix.

Mix well and ensure no lumps formed. Grease your palms, take small portions of this hot mixture and roll them to balls. Do not let the mixture rest, otherwise it dries up and cannot make balls.

Store ragi laddu in an airtight jar. For more clear instructions refer step by step pictures
Recipe Notes
Make sure jaggery doesn't have the taste of salt in it.
Nutrition Facts
Ragi laddu recipe using jaggery (finger millet flour Balls)
Amount Per Serving
Calories 210
Calories from Fat 72
% Daily Value*
Total Fat 8g 12%
Cholesterol 3mg 1%
Sodium 4mg 0%
Potassium 141mg 4%
Total Carbohydrates 31g 10%
Protein 3g 6%
* Percent Daily Values are based on a 2000 calorie diet.
for more healthy ladoo recipes check
sesame seed ladoo
oats laddu
coconut ladoo
Preparation for ragi laddu / ladoo with step by step pics.
1. Roast sesame seeds on a low flame till you get an aroma. Set aside to cool
2. Dry roast peanuts. Cool them and remove the skin. Dry roast ragi flour if it is a raw one and not sprouted flour.
3. Next dry roast Coconut on a low flame till you get an aroma. Do not burn. Set this aside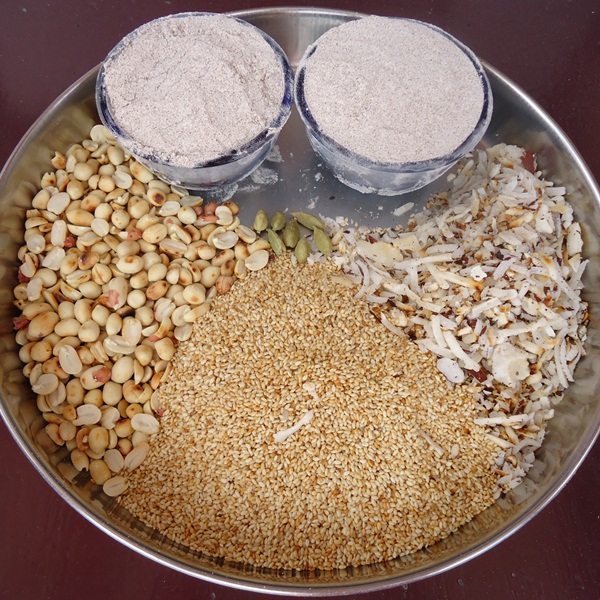 4. Once cool, pulse peanuts, sesame and coconut together in a mixer very coarsely. Note do not powder the peanuts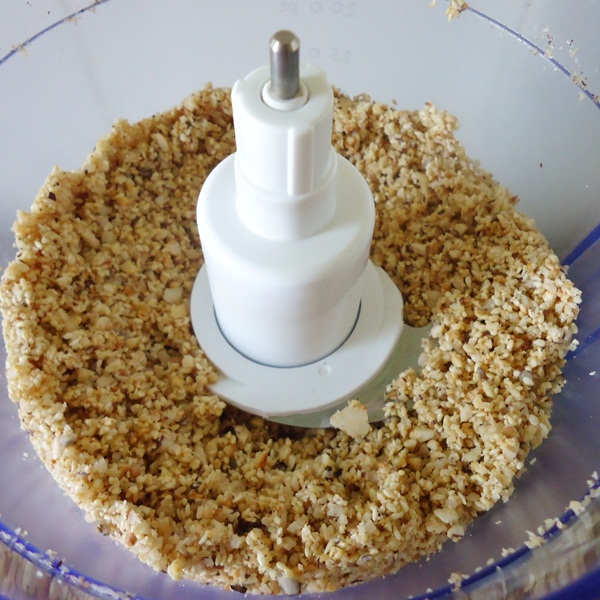 5. Add flour and cardamom powder. Pulse the mixer again to blend well everything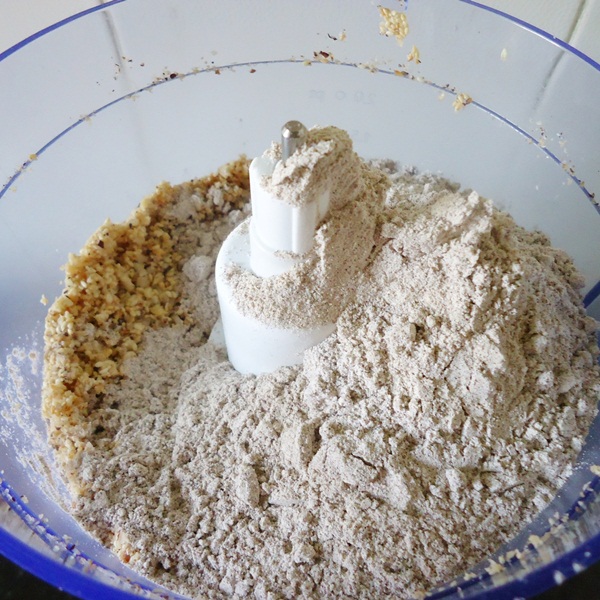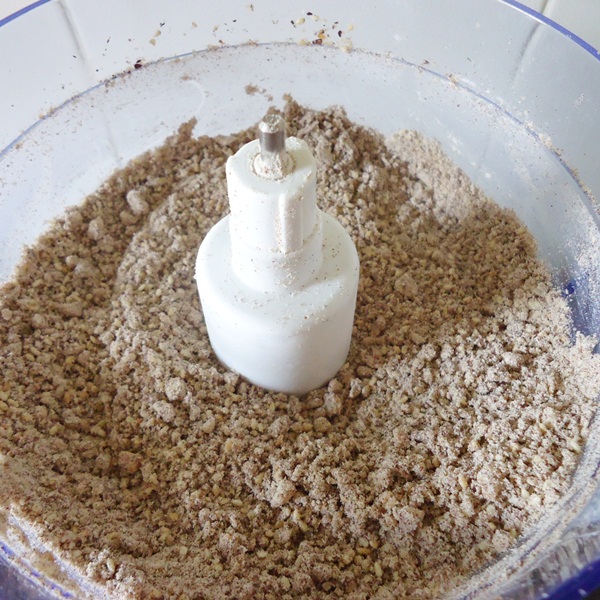 How to make ragi laddu / ladoo with step by step pics.
6. Melt jaggery in enough water on a very low flame. Filter to remove the impurities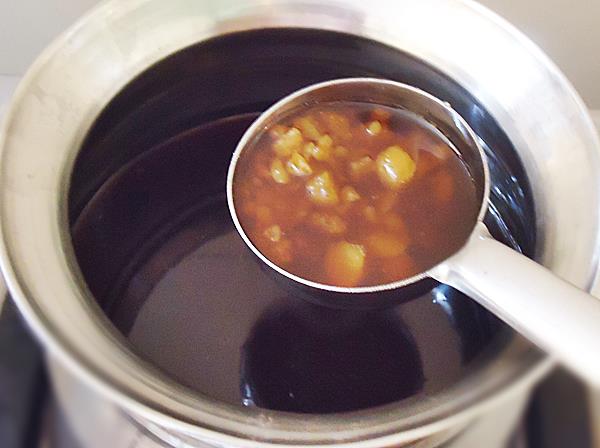 7. Add 1 tbsp of ghee to the syrup.
8. Begin to boil the syrup on a low flame till it will reach soft ball consistency.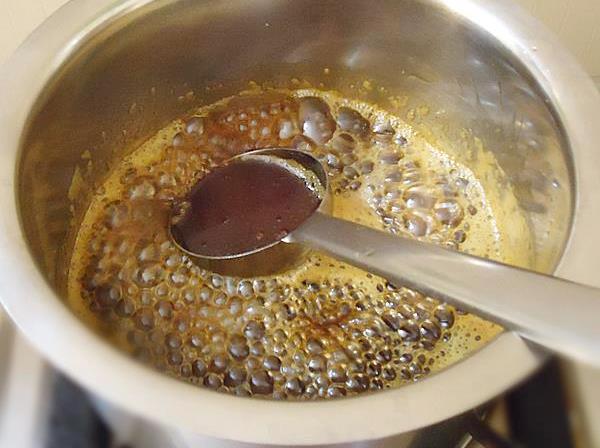 To check this, keep a small bowl filled with water, once the syrup thickens, drop 1/4 tsp of syrup in the water, with in half a min, you can roll it to a soft ball. This is the right consistency for better shelf life.
But if you are not sure of the ball consistency, you can proceed further with the string consistency too but you will have to compromise with the shelf life. For string consistency take a small amount of syrup in between the fingers and move the fingers apart slightly, you can find thin string in between the fingers.
9. Once the syrup is ready off the heat, add the flour little by little and mix well.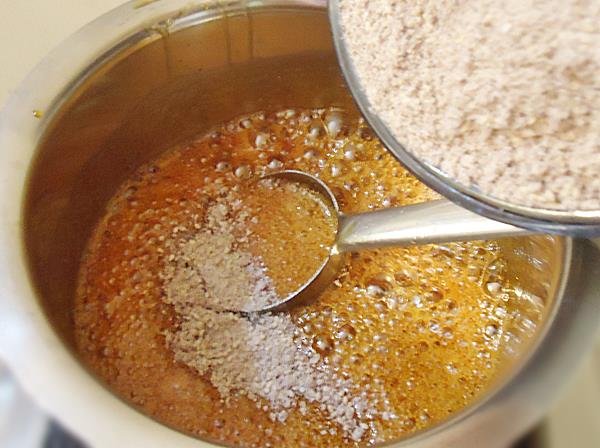 Make sure there are no lumps. You have to be quick while mixing.
It will begin to dry and looks like the one in the pic below.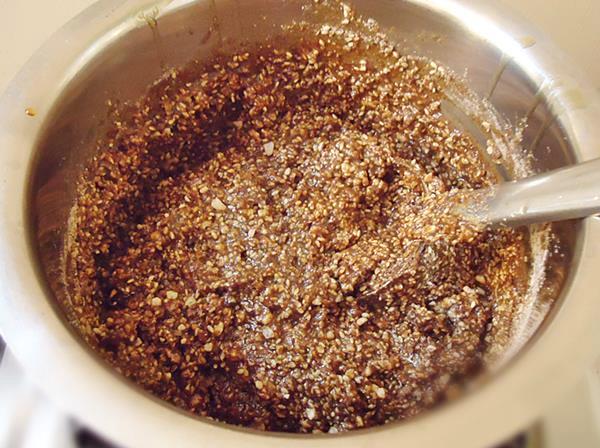 10. Quickly grease your palms well. Take small quantities and roll the ragi ladoos. You need to be really quick in rolling. If you are unable to roll well, moisten your palms with water or milk and roll. But using water or milk reduces the shelf life.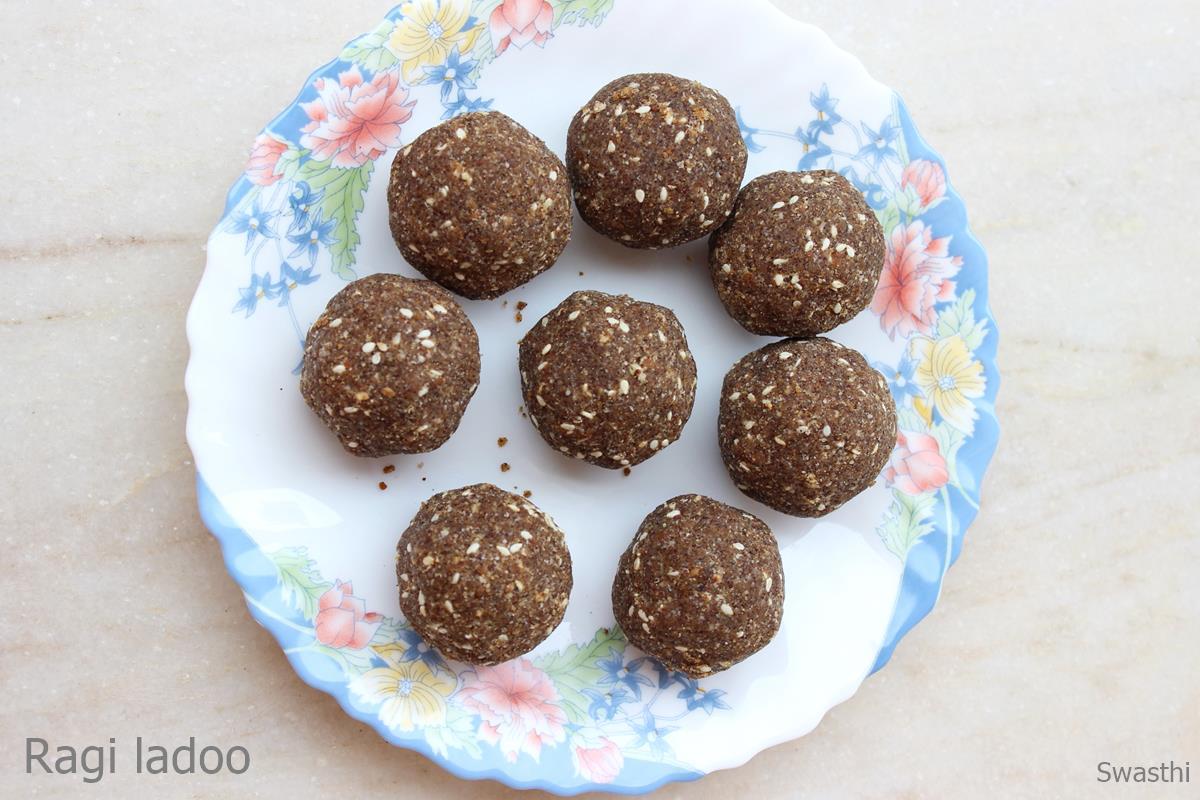 Notes on ragi ladoo recipe
1. Do not use a wide utensil for preparing, as this will dry up the mix while you roll the balls. Chose a heavy bottom narrow utensil to keep the mix sticky and moist for longer while you roll the balls.
2. The consistency of jaggery syrup is very important. I prefer to make these ladoos with jaggery syrup that has reached a consistency of soft ball. If you are not sure of the consistency, it is still ok to go with a string consistency, but they will have a reduced shelf life.
3. Peanuts must be ground very coarsely and not to smooth powder, else the amount of jaggery syrup will not be enough for binding. Use only the exact amount of ingredients mentioned. if desired peanuts can be used without pulsing or can be replaced with any oily nuts or even with sesame seeds.
4. Ghee can be replaced with aroma free coconut oil or light olive oil
5. Make sure that your hands are moist free while you roll the balls, else they will go bad with in few days
6. The quantity of ingredients mentioned, needs 2 people for rolling the balls else the mix will dry up and become powder. so if you are going to roll them alone half the quantities and prepare.