Schezwan chicken or szechuan chicken – Crisp fried chicken in delicious, flavorful & spicy schezwan sauce. Szechuan chicken is an appetizer that is very popular across the world. It has originated from the Chinese cuisine but we get to see distinct versions. This restaurant style Szechuan chicken recipe is from the Indo chinese cuisine.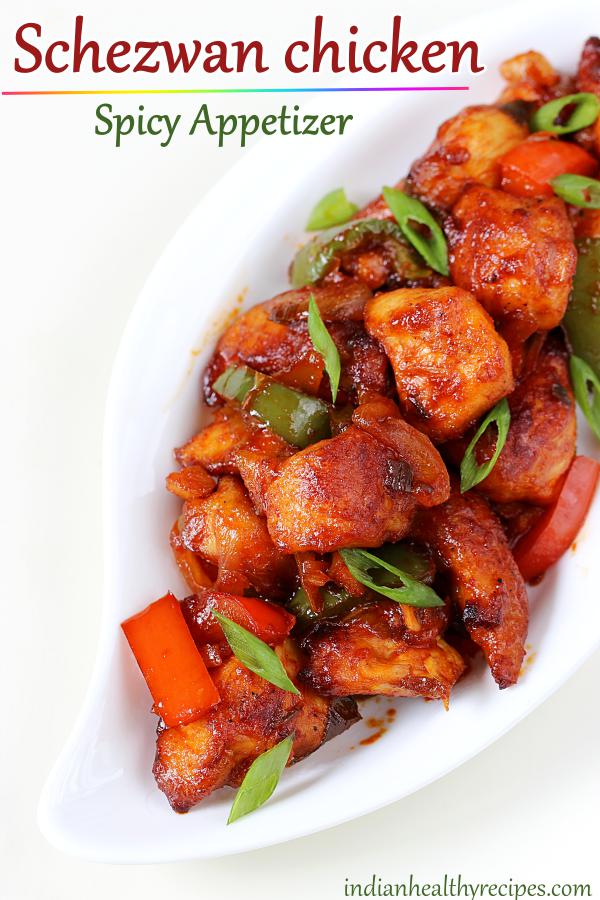 If you love chinese food, then this schezwan chicken will be your new favorite. This may not be the authentic recipe but I am sure you will love the wonderful flavors of the sauce.
The main ingredient in schezwan recipes is the sichuan pepper or schezwan pepper also called as chinese coriander. It lends a flavor and aroma that is unique and hence the foods made using sichuan pepper have a special citrus flavor.
To make szechuan chicken I always make the sauce from scratch which I have shared in this post. The recipe only takes about 30 mins from start to end. However if you are using bottled store bought szechaun sauce, you can cut short the recipe.
You can also make this Schezwan sauce ahead and just use it here in the recipe.
To make schezwan chicken, capsicum and spring onions are used to add more flavors. For an authentic touch, chinese cooking wine or sherry is used along with the other sauces.

Picture of sichuan pepper or schezwan pepper.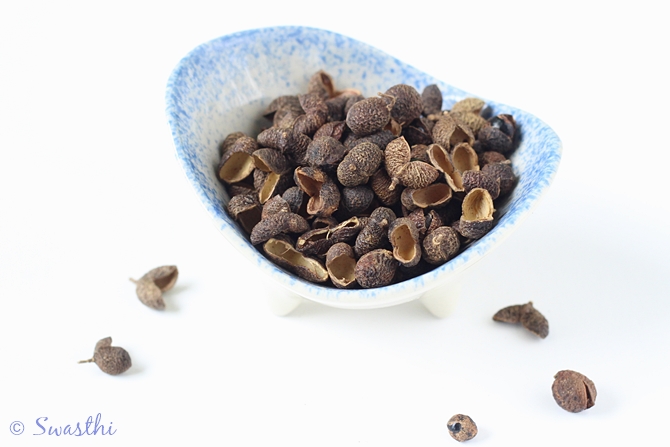 More chicken recipes
chilli chicken
popcorn chicken
chicken lollipop
lemon chicken

schezwan chicken recipe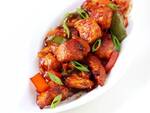 Schezwan chicken
Schezwan chicken also known as szechuan chicken is one of the popular Indo chinese chicken appetizers and can be found on many Indo chinese restaurants menu.
Ingredients (1 cup = 240ml )
marinade for schezuan chicken
250

grams

chicken

or ½ lb cubed boneless

1

egg white

1

tsp

vinegar

¼

tsp

salt

¼

tsp

pepper powder

(optional)
other ingredients for schezwan chicken
2 to 3

tbsp

Corn starch

or (white corn flour)

1

tbsp

sesame oil

or any

1

medium

onion

sliced

2 to 3

sprigs

spring onion

¾ to 1

cup

bell peppers

/ capsicum cubed

1

tsp

ginger

minced

1

tsp

garlic

minced

¾

tsp

Sichuan peppers

crushed (refer notes)

1½

tsp

soya sauce

(naturally brewed)

1

tsp

vinegar

Salt

as needed

1 to 1½

tbsp

red chilli paste

or (10 red chilies) (substitute with red chili sauce)

1

tbsp

sugar

oil

as needed for frying
How to make the recipe
Preparation for schezwan chicken
If you do not have red chili paste, make it by soaking red chilies in water and blending to smooth paste.

Marinate the chicken with ingredients mentioned under marinade. Set aside for 15 mins. Then sprinkle corn flour and mix.

Heat oil in a pan for deep frying. When the oil is medium hot, drop the chicken and fry on a medium flame until crisp and golden. Remove to a plate.
How to make schezwan chicken
To a pan, add 1 tbsp oil and heat up. Saute ginger garlic and sichuan peppers until aromatic.

Then fry onions & bell peppers on a high flame for 1 min.

Add red chili paste, soya sauce, sugar, vinegar and very little salt. Stir well.

Add 3 tbsp. water and allow the sauce to bubble & thicken.

Stir in the fried chicken and toss until the schezwan sauce coats well. Fry for 1 to 2 mins.

Garnish schezwan chicken or szechuan chicken with spring onion greens.
NUTRITION
Calories:
264
kcal
|
Carbohydrates:
9
g
|
Protein:
17
g
|
Fat:
17
g
|
Saturated Fat:
4
g
|
Cholesterol:
62
mg
|
Sodium:
439
mg
|
Potassium:
250
mg
|
Sugar:
6
g
|
Vitamin A:
505
IU
|
Vitamin C:
4.7
mg
|
Calcium:
18
mg
|
Iron:
1
mg
Notes
sichuan peppers give a unique flavor to the schezwan chicken, but if you don't have just replace it with coarsely crushed pepper.
For best results brine the chicken in buttermilk overnight in the fridge. It tenderizes the meat well. Next morning drain off completely and use.
Preparation for szechuan chicken
1. This step is optional. This step helps to get very soft tender chunks of chicken. If your chicken is not tender, I suggest using meat tenderizer or buttermilk. To make buttermilk, add 3 tbsp. Yogurt to 1 cup of water and whisk it well. Add ½ lb or 250 grams of chicken to this and refrigerate for overnight or at least 2 hours. Drain up the buttermilk and use.
3. To the chicken, add egg white, vinegar, little salt and optional ingredient i.e. ¼ tsp of pepper powder. Mix and set aside for about 15 minutes. Meanwhile you can prepare peppers, spring onions, onions, ginger garlic.
4. After 15 minutes, add corn starch to chicken and mix well.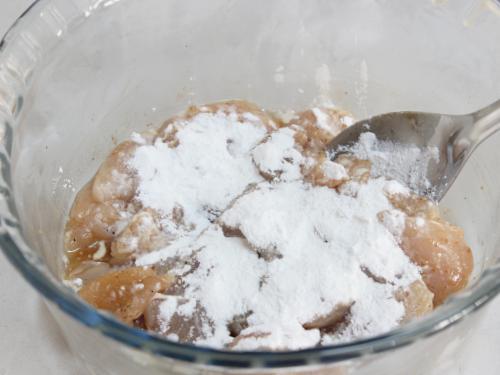 5. Heat oil in a pan. When the oil turns hot, drop the chicken pieces and fry until golden and crisp.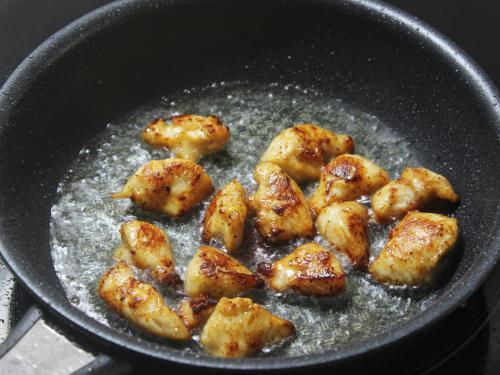 How to make schezwan chicken
6. All the further steps have to be done on a high flame or high heat to get the authentic Chinese smoky flavor. Heat 1 tbsp oil in a pan. Add finely chopped ginger garlic and 1 tsp lightly crushed Sichuan peppers.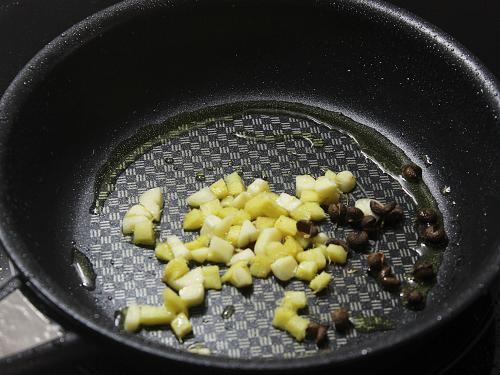 7. Saute onions & bell peppers for 1 min.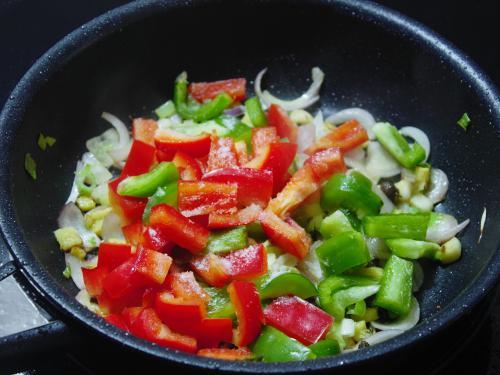 8. Add soya sauce, vinegar, and red chilli paste, salt and sugar. To make the red chili paste, remove the seeds from red chilies and soak them in hot water for about 20 minutes. Blend them with little water. This works well when we use at least 1/2 kg or 1 lb chicken otherwise there will be few chilies needed and the paste may not be smooth when blended.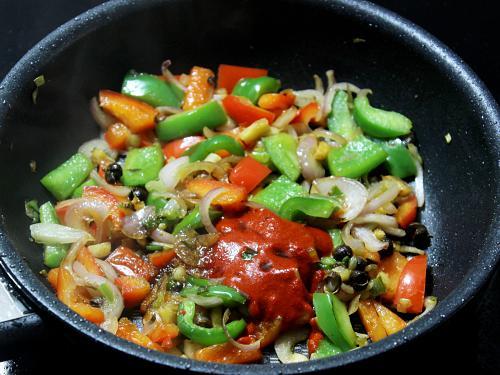 12. Saute for 1 to 2 mins, then pour 2 to 3 tbsp. water and cook it until the sauce begins to bubble. It has to thicken as well.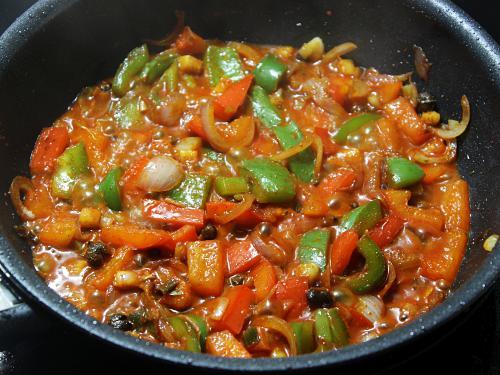 13. Add chicken.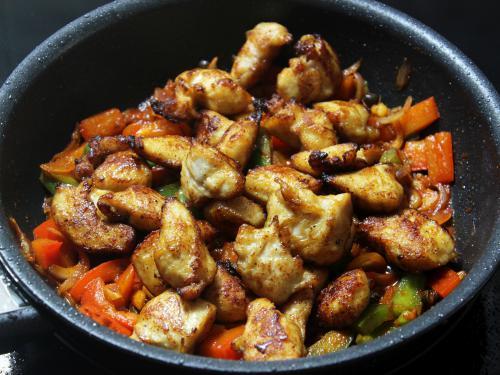 14. Toss and fry for 1 to 2 minutes.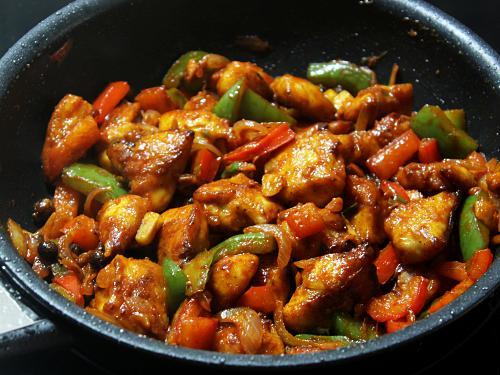 Garnish with green onions. Serve schezwan chicken as a appetizer or as a side to fried rice.