Tamarind paste recipe, Learn how to make tamarind paste at home with my easy step by step guide. When I first moved to Singapore, I bought tamarind paste since we had not set up our kitchen yet and cooking was new to me. That was the time I developed a dislike towards tamarind and would always try to substitute lemon juice or amchur for tamarind in most recipes.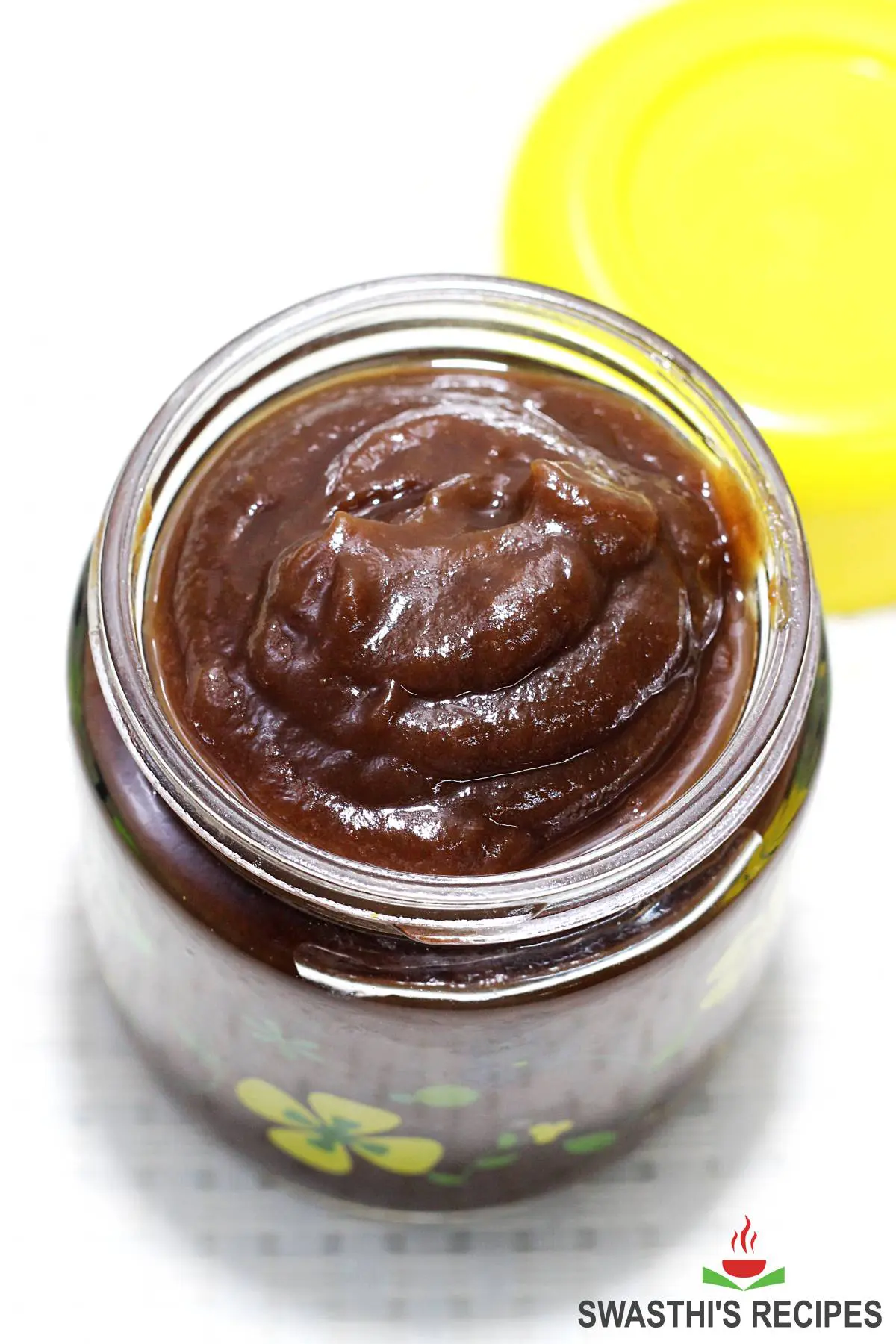 The ready made tamarind paste had stones, sand or mud with a rusty, oily smell. Few years ago I started to make my own, by just soaking little tamarind in boiling water, cool it and then bottle it along with water and pulp, refrigerate it.
The pulp absorbs water and becomes soft. Whenever needed I just dilute it with more clean water, squeeze and then filter to the dish directly while cooking. This method works well if we are going to use up within a week else it goes bad, even though refrigerated.
Ever since I learnt making Pulihora from my friend Siri, I began to like tamarind in my foods and so began to make this paste in larger quantity that is handy to use for chutney, sambar or pulihora.
How to Make Tamarind Paste (Stepwise Photos)
Preparation
1. Firstly clean tamarind to remove any unwanted particles. Heat 2 to 3 cups of water in a pot. Water should be hot not warm.Set aside half of this hot water in a bowl. In the water pot, layer the tamarind.
It must be fully immersed in water. If not pour more hot water as needed. Do not use excess water. The more water we use the more hot splashes we will have to encounter later. So use your judgement.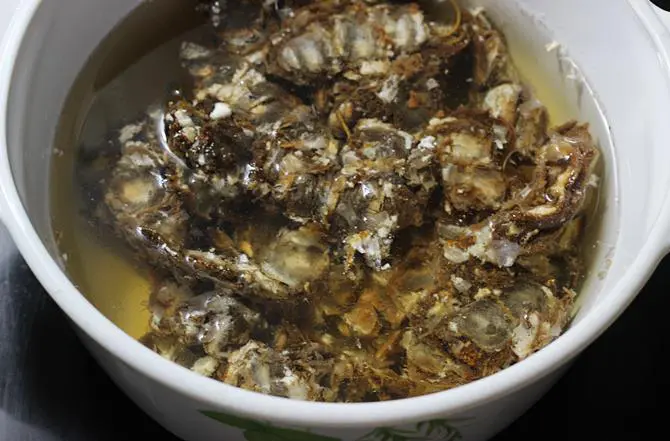 2. Leave it for about 45 minutes to 1 hour. Tamarind turns soft.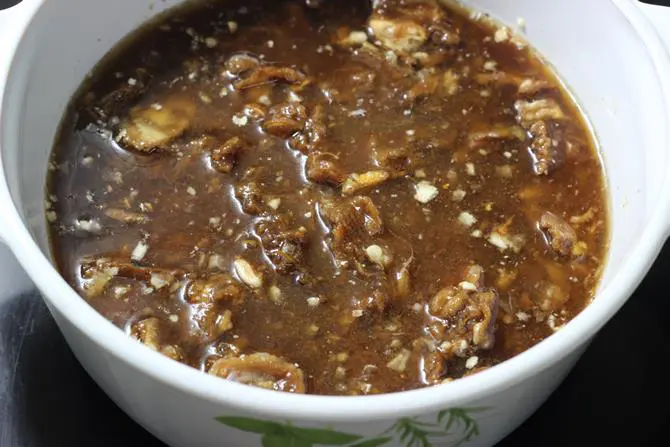 3. Squeeze off the tamarind well.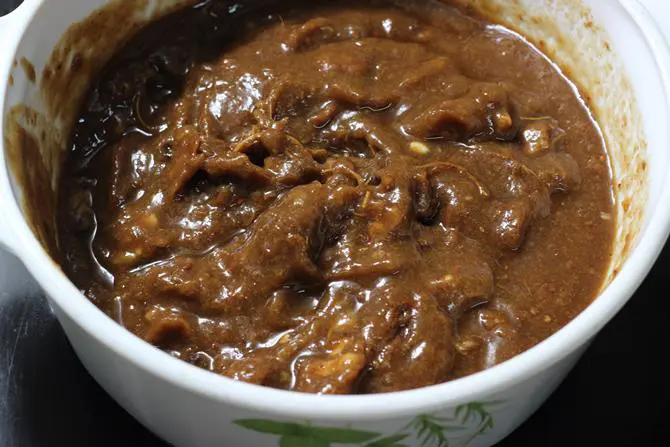 4. Pass this through a strainer to another heavy bottom tall utensil, that is non reactive. you might find stones or covering of the tamarind or seeds, discard them. Do not use a wide pan.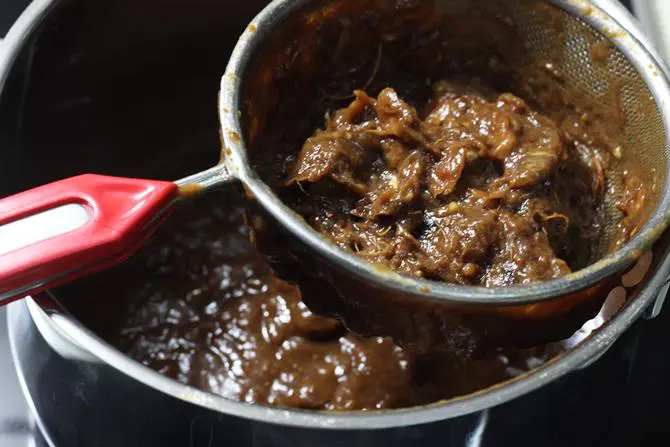 5. Add the pulp back to the tamarind pot, add more water that was set aside and squeeze it again and repeat passing the left over pulp through the filter. You can do this once more if you wish.
Do not overdo, you might get the mud or stones, just discard the pulp. or you can even make thin tamarind water and refrigerate to use the next 2 days.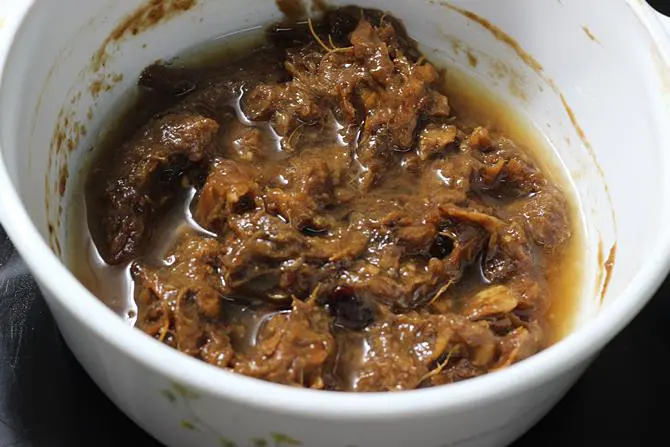 Make the Tamarind Paste
6. Now you see a thick paste.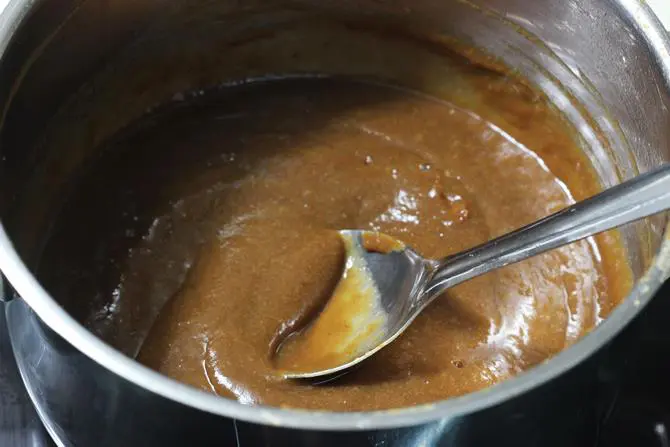 7. Boil it on a medium flame. Be careful as it splashes on to the person cooking it. I generally cover it partially with a lid (lid open towards the wall), protecting myself from the splashes and then a cling wrap on to the tiles, so that I can discard it later.
Boil just for about 4 to 5 minutes. Make sure it doesn't get burnt. I stir it twice while boiling without taking off the lid fully. Off the stove.
You can even warm up and switch off, but that may go bad depending on the weather conditions even if refrigerated.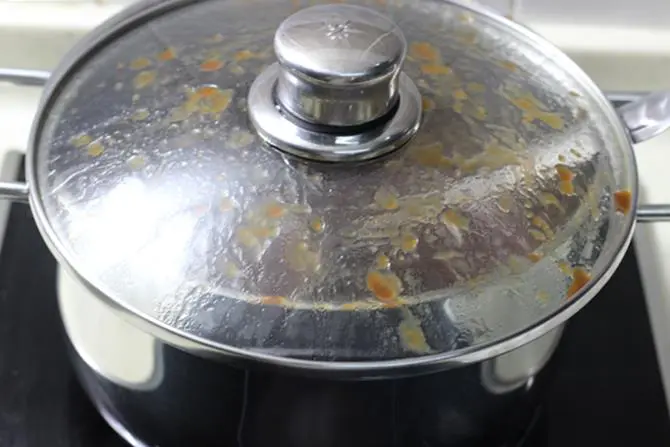 8. Cool the tamarind paste completely and store it in a clean dry glass jar.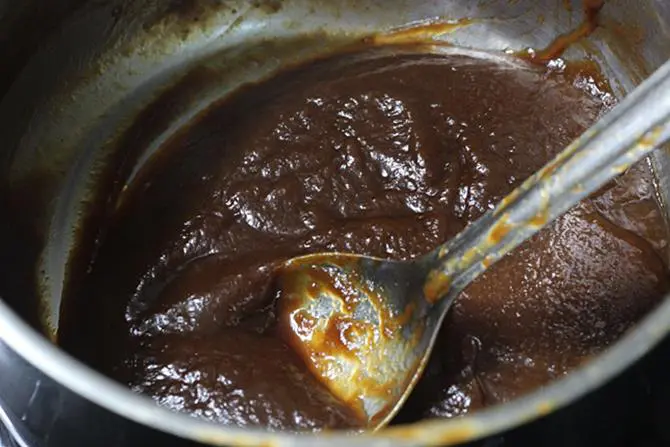 Refrigerate and use within a month. Do not use plastic jars and spoons.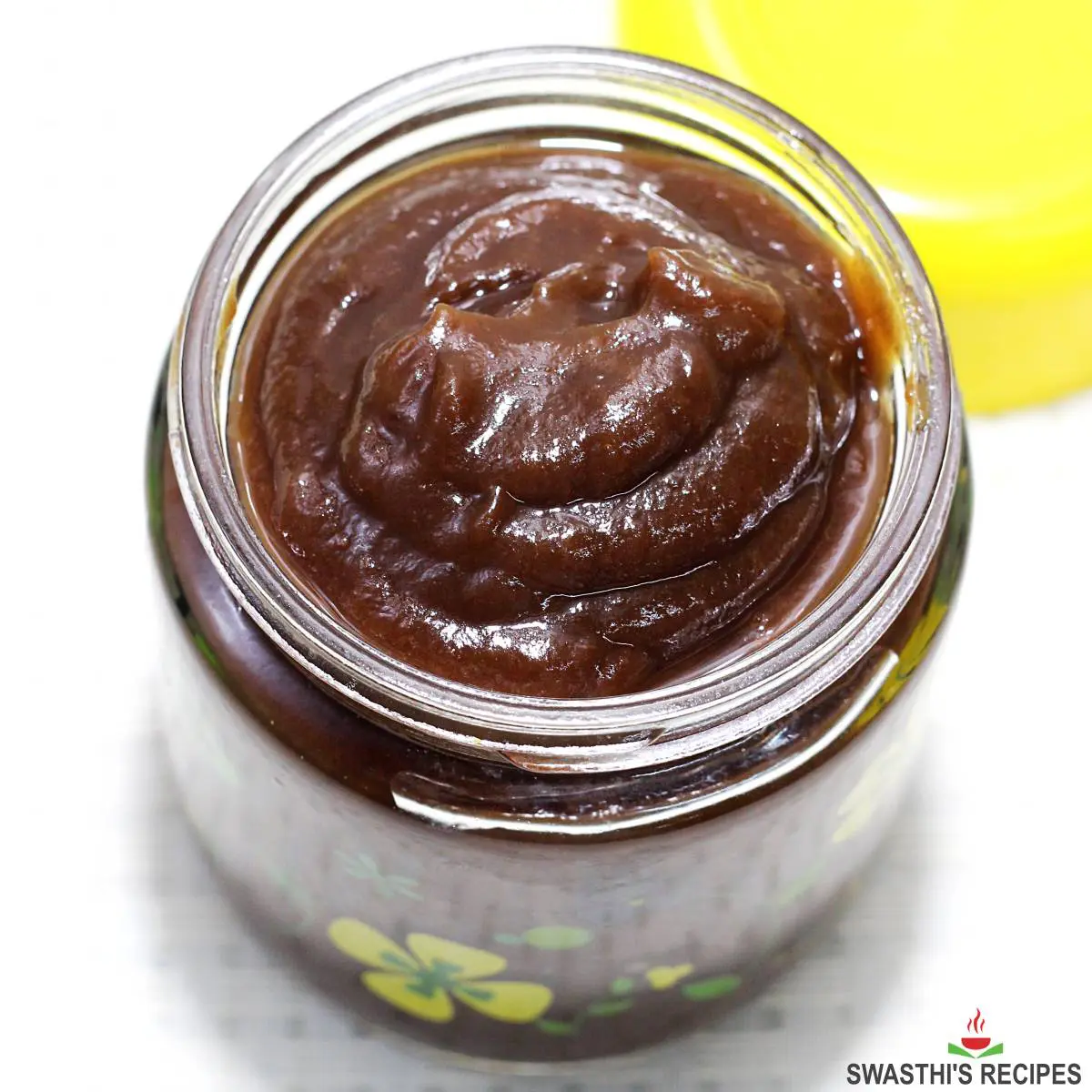 Notes and Tips to make a good tamarind paste
1. Do not overcook tamarind, the flavor and taste is lost. Soak it well to extract as much as possible.
2. Do not filter the tamarind till the last bits, you end up getting dirt and stones. Rather discard the last portion to keep the paste clean. You do not want to waste even little bit of the tamarind, you can extract further, by adding 1 cup of water and squeeze and then filter the thin tamarind water. Refrigerate and use up with in the next 2 days for sambar or pulusu.
3. Do not use utensils made of reactive materials like aluminum or copper to cook tamarind.It is harmful to health.
Storage :
Never store tamarind paste in plastic containers always use glass jars, and if using glass jars with plastic lids, make sure the paste doesn't touch the lid.
Even plastic ware that is made from virgin plastic or BPA free are not 100% safe to use since chemical plasticizers are used during the manufacturing. Also tamarind reacts with plastic.
Related Recipes
Recipe Card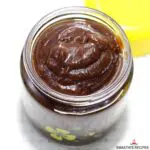 Tamarind Paste Recipe
Homemade tamarind paste is flavorful, without any additives and lasts long. This can be used in Indian, mexican, Thai and south Asian foods.
Print Recipe
Pin Recipe
Jump to Comments
For best results follow the step-by-step photos above the recipe card
Ingredients (US cup = 240ml )
250

grams

tamarind

or chintapandu

3

cups

water

(use as needed, refer notes)
Instructions
Preparation
Clean up tamarind. Check for any seeds, skin or unwanted particles and discard them.

Heat 3 cups of water.

Soak tamarind in 1.5 to 2 cups of hot water for about 45 to 60 minutes in a large bowl.

If your tamarind is clean then blend it well until smooth. This saves lot of time. Avoid blending if your tamarind has debris or is unclean.

Mash the tamarind as much as possible and pass through a filter to a heavy bottom tall pot(no wide pan). Discard more stones or debris that you might find in the filter.

Add the pulp back to the bowl along with left over water that was heated. Use only as required, we want to make a thick paste. Squeeze the pulp and pass through the filter once more.
How to Make Tamarind Paste
The filtered pulp will be thick. Boil this for about 5 minutes on a medium flame. This keeps the tamarind good for a long time.

Cover the pot partially towards you to prevent splashes. You may stir it twice while boiling without opening the lid fully from a side.

After 5 minutes, turn off the flame.

Cool tamarind paste completely and store it in an airtight glass jar. Prevent using plastic jars and spoons.
Notes
some variety of tamarind need less water since they are not pulpy. Adjust the water quantity depending on how pulpy your tamarind is.
Always handle the paste with dry hands and spoons for better shelf life. Do not use plastic spoons while using.
Some people add salt, turmeric and oil for a better shelf life. All those are optional.
Alternative quantities provided in the recipe card are for 1x only, original recipe.
For best results follow my detailed step-by-step photo instructions and tips above the recipe card.
NUTRITION INFO (estimation only)
Nutrition Facts
Tamarind Paste Recipe
Amount Per Serving
Calories 597
Calories from Fat 9
% Daily Value*
Fat 1g2%
Sodium 107mg5%
Potassium 1570mg45%
Carbohydrates 156g52%
Protein 7g14%
Vitamin A 75IU2%
Vitamin C 8.7mg11%
Calcium 208mg21%
Iron 7mg39%
* Percent Daily Values are based on a 2000 calorie diet.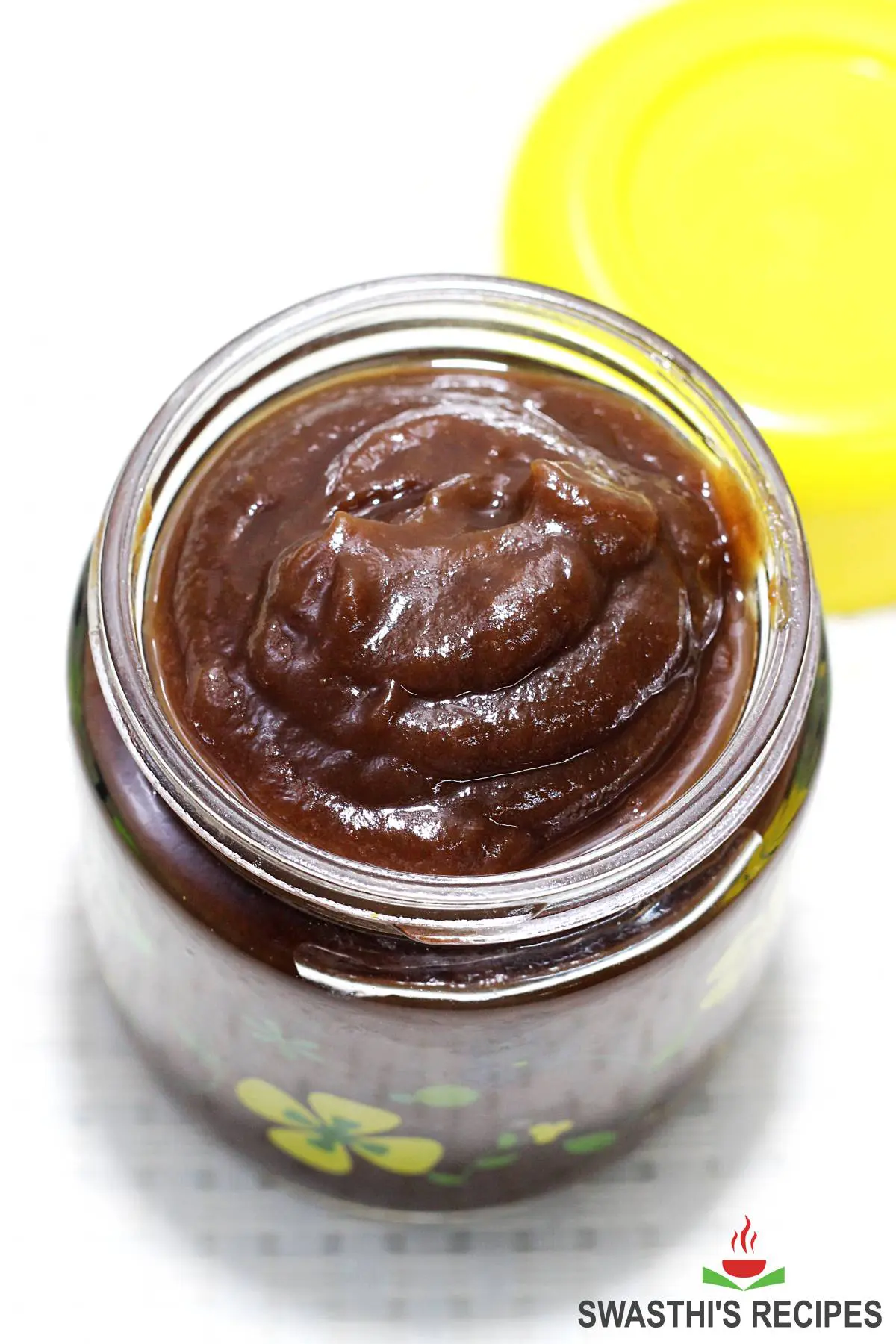 About Swasthi
I'm Swasthi Shreekanth, the recipe developer, food photographer & food writer behind Swasthi's Recipes. My aim is to help you cook great Indian food with my time-tested recipes. After 2 decades of experience in practical Indian cooking I started this blog to help people cook better & more often at home. Whether you are a novice or an experienced cook I am sure Swasthi's Recipes will assist you to enhance your cooking skills. More about me
Follow Swasthi's Recipes