Sambar recipe with step by step photos – Sambar is a South Indian lentil & mix vegetable soup that is eaten along with breakfast or meal as a side dish. Most people enjoy this with some hot Soft idli, dosa, Vada or with plain rice. Sambar is an everyday dish that is made in most south Indian homes. It is also served in tiffin centres & restaurants with a breakfast or meal.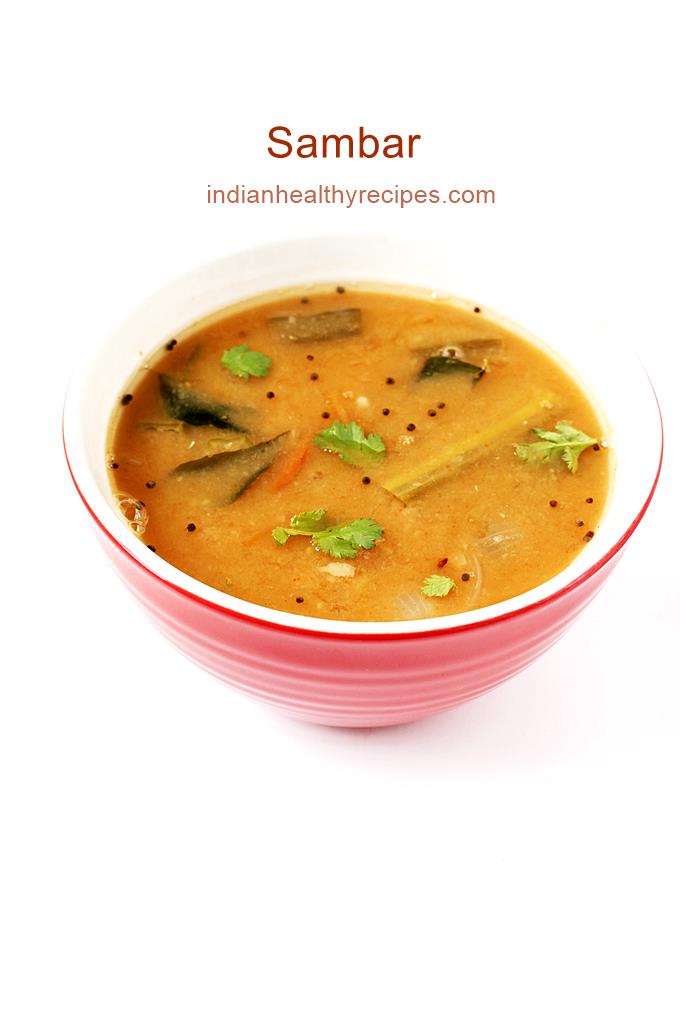 Sambar is one of the most popular traditional Indian dishes that is not only healthy & nutritious but also tastes delicious. It is said by elderly folks that sambar provides a complete nutrition to our body as it is protein packed & nutrient dense.
A larger Indian population relies on lentils or dal for their protein intake. So sambar is widely consumed as a part of healthy protein rich diet in south India. Since a variety of mixed vegetables are also used to make sambhar it becomes nutrient rich.
Sambar recipe shared here is the one which has been followed by my mum for several decades. It makes a great side dish to pair with breakfast or a meal. This also tastes good with idli, dosa, and even with rice.
If you are new to South Indian Cuisine, this may help you
What is sambar?
Sambar is a south Indian soupy dish made with lentils, mixed vegetables, tamarind, herbs, spices & a special spice powder known as sambar powder.
This spice powder is the key to making a good sambar. A variety of spices & lentils are used to make this powder. Most traditional homes make their own sambhar masala or powder to suit their taste buds.
In the modern times, many women prefer to buy or use the store bought packaged powder. I avoid buying any spice powders as I prefer to make my own for health reasons.
Most times I make the instant powder while the dal cooks as nothing beats the aroma of fresh roasted & ground sambar powder.
In this post I have also shared the recipe of sambar powder just enough for this sambar recipe. So I suggest making the sambhar powder too while you cook the dal as it is more hygienic & you know what goes into making the powder.
You also can check this post on how to make sambar powder if you prefer to stock up for a month or two. If you have the powder ready, it is very quick to make the vegetable sambhar anytime.
Which daal is used to make sambar?
Most traditional South Indian households use only toor dal / tuvar dal or arahar dal or split pigeon peas to make sambar. But usually tiffin centres and restaurants use a mix of toor and masoor dal to cut down the cost.
I always use a mix of toor dal and moong dal. This is a personal choice and you can experiment with different proportions of various dals or use toor dal alone.
During summers, some people also use only moong dal to make sambar as moong dal is cooling to the body. It reduces the body heat & is light on the tummy.
Moong dal lends a thick, creamy and delicious aroma to the sambar.
Including different kinds of lentils provide different nutrients to the body. So consider experimenting with different lentils.
Is sambar good for you?
Yes it is rich in protein, fiber and many other nutrients essential for the body. It helps to gain weight in kids and toddlers if included in the diet regularly.
Which vegetables are used in sambar
A typical south Indian sambar recipe calls for lot of vegetables like pumpkin, bottle gourd, drumstick, eggplant, cucumbers, lady finger, sweet potatoes, onions and tomatoes.
The choice of vegetables is based on a personal liking and are optional. Each vegetable lends a different flavour and taste.
However a basic sambar can be made with just shallots and tomatoes. But including a wide variety of veggies will enhance the taste & nutrition.
Here are the vegetables that can be put in sambar.
Shallots or small to medium sized onions
Tomatoes
Okra – ladies finger – bhindi
Vegetable drumsticks – (moringa)
French beans
Carrots
Golden pumpkin
Brinjal – egg plant – baingan
Yellow cucumber
We at home use even spinach called as palakura (palak) which gives a very good taste.
How is sambar made?
There are different ways sambar is made. But this is how we make it at home.
Firstly dal is rinsed well and pressure cooked until soft.
Secondly while the dal gets cooked, mixed veggies are cooked in lots of water until they turn tender and soft.
Then the vegetables & stock is flavoured up with sambar powder. Next tamarind & salt are added followed by the mashed dal.
Lastly an aromatic tempering is done to give a final touch to the sambar. This is done by frying the spices & herbs in pure ghee & poured over the cooked sambhar.
Variations of sambar
Indian cuisine is very diverse and each region has their own way of preparing the same dishes. Sambar is no exception to this and is prepared in so many ways in South India.
Udupi sambar is one of the most popular sambhar varieties loved by all. It is hard to find anyone who does not love this variation. This is very popular in the Udupi resaturants. This is served with tiffins aka breakfast.
Arachuvitta sambar is another popular variation made with freshly roasted & ground sambhar paste.
Varutharacha sambhar is another variation from kerala.
Andhra sambar is one that is entirely unique and different from these versions as very unusual veggies like yellow cucumber, bottle gourd & pumpkin are used.
Idli sambar is another much loved variety that is also known as tiffin sambar. I have also shared a similar but quick version of the Idli sambar
Similar recipes you may like to check these popular recipes on the blog that are made on the same lines as this sambar –
Bisi bele bath
Drumstick sambar
Sambar rice
Tips to make best sambar
Spice powder known as sambar powder is the key to a delicious and flavourful dish. So make a good choice of the powder you are going to use. I have also shared an instant sambhar powder in this post. If you have any readymade powder you can use it. Adjust to suit your liking, i suggest using mtr powder if you cannot make fresh for the recipe. It is one of the popular south Indian brands.
A proper combination of the veggies is also important. Use the veggies of your choice. Vegetables like brinjal, bottle gourd and cucumber do alter the taste of the dish. So use the vegetables which you think will suit your taste buds. I generally do not add any of them.
We usually soft cook the vegetables so that all the taste from the veggies comes to the stock. This makes the sambar more tasty & flavorful.
I use the Indian variety of Tamarind. If you prefer to use the concentrate then use with caution as it is salted & sourer in taste. Add tamarind to the sambhar only after the veggies are soft cooked else the sourness will prevent the veggies from cooking well.
Coriander leaves or cilantro is another herb which is much needed to flavor the sambar. We usually prefer the smaller variety of coriander leaves as the ones with larger leaves are mostly hybrid & do not lend a good aroma.
Sambar is mostly made thick but of pouring consistency. Feel free to add water as desired to bring it to a consistency you like. The tamilnadu sambhar is much thicker than the sambar made in Andhra & Karnataka.
Tempering
Traditionally sambar was tempered with ghee. However different regions use different fats. In tamilnadu sesame oil is used. In kerala coconut oil is used. But ghee lends much superior taste than any of these.
Fresh curry leaves are a must to temper the sambhar as it lends that unique aroma. However if you live in a country where curry leaves are not available then feel free to skip them. I would not suggest using dried curry leaves as they lend a weird flavour.
Tips to refrigerate sambar
If you plan to make sambar good enough for a couple of days. Then avoid tempering the entire sambhar. Just cool down the sambar and transfer to separate small portions and refrigerate.
Whenever needed, heat up the sambar until it begins to bubble well. Then make a fresh tempering and pour it. Your sambar with taste fresh & delicious.
Avoid storing the entire sambar in a single pot as the taste reduces every time you take a bit from it.
If you are new to cooking i suggest reading all the notes and tips to make the best out of this South Indian sambar recipe. It keeps good for 2 days when refrigerated. I have shared the tips on how to refrigerate it at the end of the post.
For more different sambar recipes on the blog, check
Tiffin sambhar
Drumstick sambhar
Sambar rice
In this post I have also shared the sambar powder just enough for this recipe. You also can check this post on how to make sambar powder. If you have the powder ready, it is very quick to make the vegetable sambhar anytime.
South Indian sambar recipe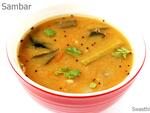 Sambar recipe
Sambar is a delicious thick lentil soup made with dal aka lentils, mixed vegetables, tamarind & spice powder known as sambar masala. Vegetables like drumsticks, tomatoes & okra are used. This south Indian sambar is the best you can make at home to enjoy with your rice.
Pin Recipe
Ingredients (1 cup = 240ml )
¾

cup

Toor dal

(or split pigeon peas) (refer notes)

1 to 2

tablespoon

Tamarind

or tamarind paste as needed

¼

cup

Coriander leaves

few with tender stalks – chopped

salt as needed

¼

teaspoon

turmeric

(skip if your sambar powder has it)
Vegetables for sambar
12 to 15

shallots

(or small onions) or 1 medium onion sliced, refer notes

1 to 2

vegetable drumsticks

(or moringa)

2 to 3

Ladies finger

(or okra, bhindi)

3 to 4

cubed

red pumpkin

pieces (optional)

1

green chili

slit (optional)

1

medium

tomato

chopped
For sambar powder or use ready made powder
1

tablespoon

coriander seeds

(or daniya)

1

tablespoon

Chana dal

(or skinned split bengal gram)

1

teaspoon

urad dal

(or skinned split black gram)

½

teaspoon

cumin

(or jeera)

¼ to ½

teaspoon

methi seeds

(or fenugreek seeds)

4 to 5

red chilies

(kashmiri or byadgi) (less spicy variety)
tempering or tadka
1

tablespoon

ghee

or oil

1

sprig

curry leaves

½

teaspoon

cumin

(or jeera)

½

teaspoon

mustard

seeds

1

Pinch

methi seeds

or fenugreek seeds

2

pinches

asafoetida

or hing

1

Red chili broken

(less spicy variety)
How to make the recipe
Preparation for sambar recipe
Wash toor dal a few times in cooker or pot until the water runs clear.

Pour 2 cups water & pressure cook on a medium heat for 2 to 4 whistles depending on the brand of cooker.

The dal needs to be cooked till smooth. It can even be cooked in a pot.

Rinse all the veggies. Scrape the drumsticks lightly & rinse. Chop them to 2 inch pieces.

Peel the shallots as well & rinse.

Chop tomatoes & okra to 1 inch pieces. If using pumpkin peel the skin & dice them. Set aside.
Make sambar powder – Skip this if you have the powder
While the dal cooks, make the sambar powder. Dry roast red chilies, urad dal and chana dal until golden & crisp. Add coriander seeds & fry till aromatic. Remove to a plate.

Next add methi seeds and saute until slightly dark. Then add cumin, fry for a minute. Cool these and powder finely.
How to make sambar
Pour 5 cups of water to a pot, add the chopped veggies.

Cook on a medium flame until the veggies are soft cooked yet hold their shape.

The flavor & taste of sambar is good when the veggies are soft cooked as all the flavor comes out to the stock.

optional – You can also saute all the veggies in a tsp of oil until the flavor comes – for 3 to 5 mins. If using brinjal then saute it first for 3 to 4 mins to bring out flavor.

When the water turns slightly hot, transfer about ¼ cup hot water with a ladle to a separate bowl and soak tamarind in it.

When the pressure goes off, mash the dal to smooth.

The dal needs to be very smooth otherwise the taste of the sambar alters within a few hours.

When the vegetables are completely cooked, add sambhar powder, turmeric & salt.

Cook for 3 to 5 minutes. Pour the tamarind pulp, filter if you desire.

Add smooth dal, mix well to blend the dal with water. Bring it to a boil.

Check if there is enough salt & sourness. If needed add more. Add coriander leaves & stir.
Tempering
Meanwhile, heat another pan with oil or ghee.

Add mustard, cumin & methi. When they begin to sizzle, add curry leaves, broken red chili.

When the leaves turn crisp, off the heat add hing. You can also add 1/8 to 1/4 tsp of sambar powder to the hot pan.

Quickly pour this seasoning to the sambar. Stir well. Simmer for 2 to 3 minutes for the sambar to become flavorful.

We usually pour 2 to 3 ladles of sambhar to the tempering pan as the aroma of the tempering will be great this way.
Tips for refrigerating
Stir well. Set aside the desired portion to refrigerate in smaller containers.

Cool completely and refrigerate immediately. To retain the taste of sambar, it is suggested to refrigerate within two hours of cooking.

It keeps good for about 2 days. Bring it to a boil whenever needed.

A fresh tadka for the refrigerated dish makes it smell and taste fresh.

Serve sambar with rice, idli, vada or dosa.
NUTRITION (estimation only)
Calories:
187
kcal
|
Carbohydrates:
32
g
|
Protein:
10
g
|
Fat:
2
g
|
Saturated Fat:
1
g
|
Cholesterol:
4
mg
|
Sodium:
352
mg
|
Potassium:
934
mg
|
Fiber:
11
g
|
Sugar:
6
g
|
Vitamin A:
910
IU
|
Vitamin C:
102.4
mg
|
Calcium:
171
mg
|
Iron:
7.5
mg
Notes
For dal – you can use a mix of
Toor (split skinned pigeon peas)
Moong (skinned split mung beans or green gram)
Masoor (skinned split red lentils)
Do not add tamarind before the veggies are cooked completely.
Do not overcook the dal, as the taste of dal diminishes. Add it only after the veggies are cooked. This way dal is not overcooked and sambhar tastes the best.
Make sure dal is very smooth. In some parts of south India, dal is ground to smooth and then used.
If you do not have shallots you can use 3 small (lemon sized) to 1 medium sized (halved) onions. The sambar will get some sweet flavor but tastes good.
If you are a beginner or new to Indian cooking, I highly suggest you to check the supporting step by step photos for best results. Step by step photos with description available below after the recipe card.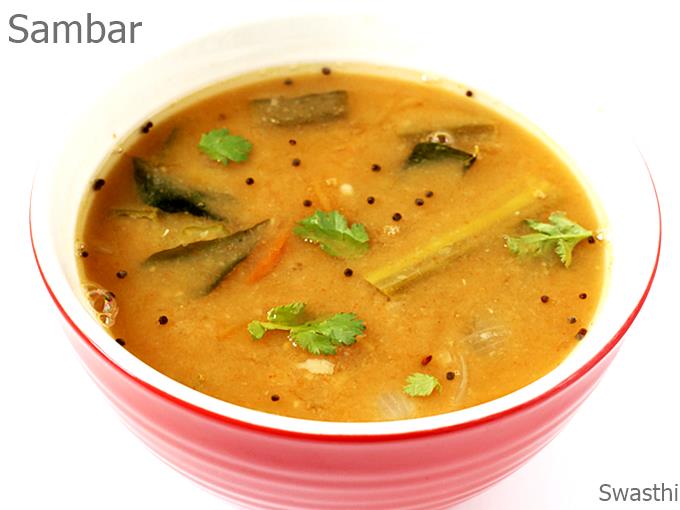 Preparation for sambar recipe
1. Cook 3/4 cup dal with 2 cups water till mushy and soft. You can use only tur dal or a combination of tur dal, moong dal and masoor dal. The taste of the sambhar depends on the dal used.
To get a hotel style sambar, use masoor dal and tur dal in equal quantities. If cooking dal in pressure cooker, let it whistle for 2 to 4 whistles on a medium flame. Mash it up.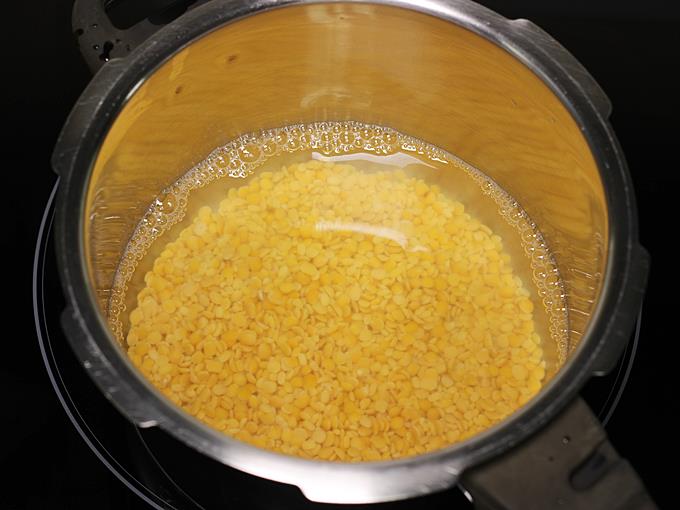 If you do not have a masher, do it with the back of a laddle or with the base of a steel glass. But dal must be very smooth. That gives a good texture to the sambhar. When we make sambar in large quantity we also blend it to smooth & use.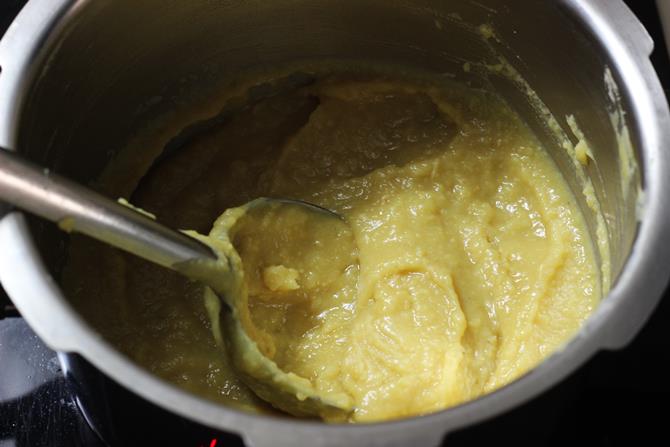 2. While the dal cooks, make the sambar powder. If you have a ready made powder skip this step. Dry roast red chilies, chana dal & urad dal till golden. Then add coriander seeds fry until aromatic. Remove to a plate.
Dry roast methi until slightly dark. Then add cumin and fry for a minute. Cool them and powder finely.
3. Wash and chop all the desired vegetables. I generally use shallots or small onions, tomato, drumstick, bhindi & carrots.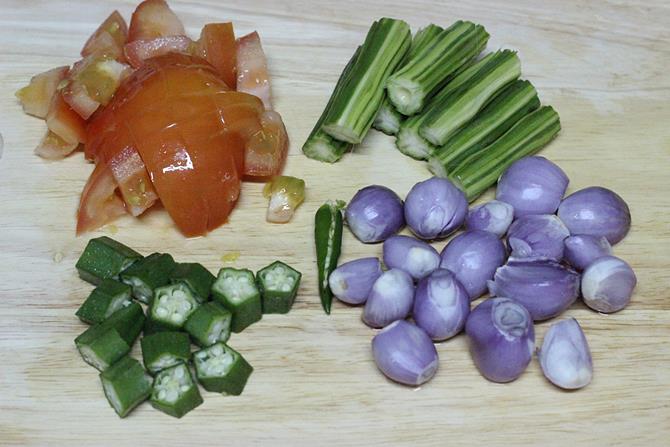 4. Add veggies to a large bowl with 5 cups water. Begin to cook them. You can also saute them first in a tsp of oil in the pot, if you want to bring out the flavors of veggies. But taste wise not much difference.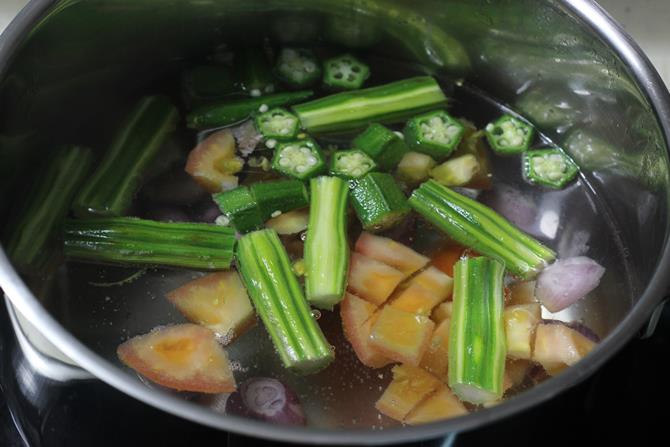 5. Take some hot water from the vegetable pot and add tamarind. Set aside to soak.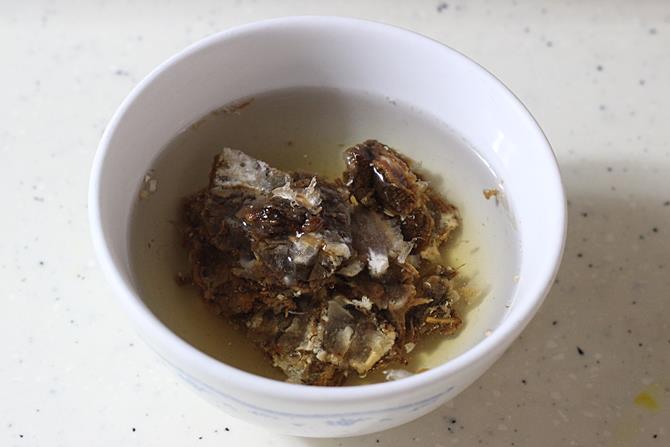 How to make sambar recipe
6. When the veggies are soft cooked. Add sambar powder,salt. Bring it to a boil and cook for 3 to 5 minutes. We usually cook until the veggies are soft cooked and the drumstick seeds turn tender.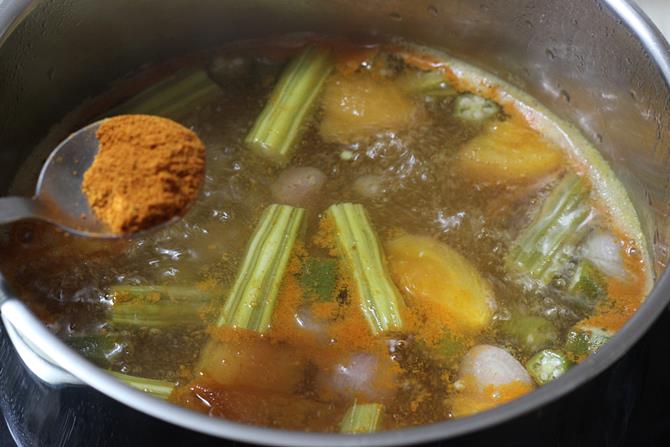 7. Squeeze up the tamarind and pour the tamarind water to the sambar. I prefer to filter the tamarind to remove unwanted particles.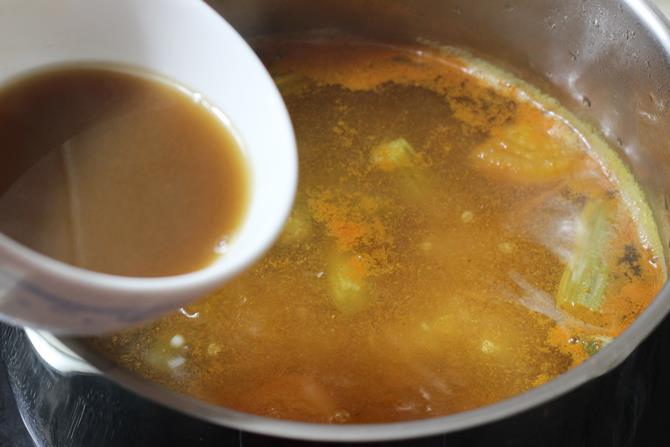 8. Add mashed dal and mix it well. Now taste it to check the sour and salt taste, add more if needed.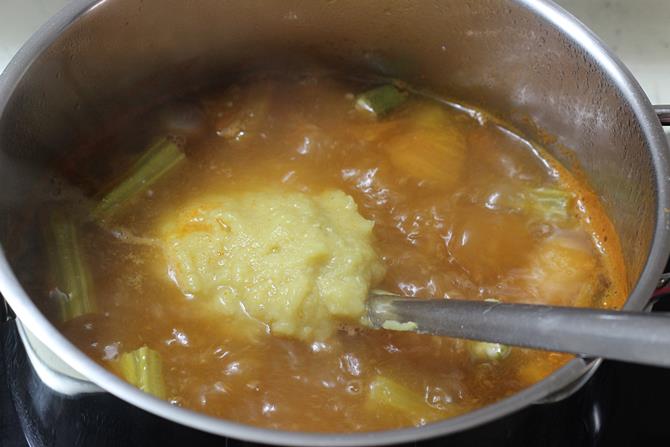 9. Bring it to a boil. Add coriander leaves.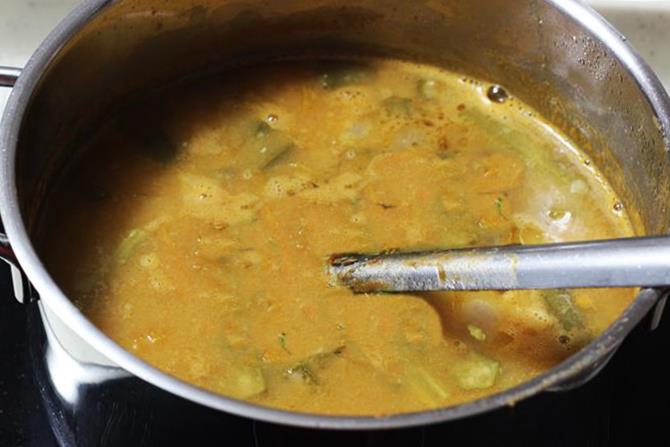 10. Add ghee or oil to a pan and make the seasoning. Add cumin, methi and mustard to hot oil. When they begin to crackle, add red chili and curry leaves. Sprinkle hing. Switch off the heat.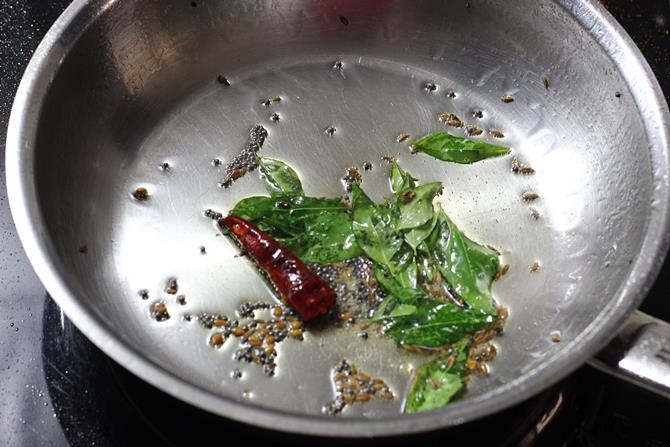 11. Add the seasoning to the hot sambar. Let the sambhar simmer for 2 to 3 minutes for a good aroma. Some folks prefer not to boil further after adding the seasoning. You can choose whatever you like.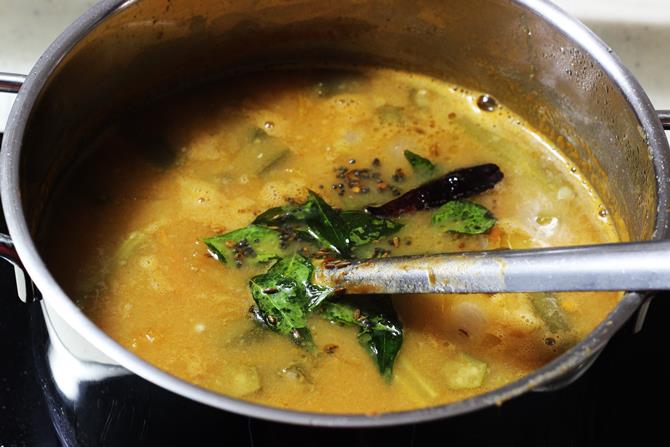 Serve sambar with rice or idli.