Samosa recipe – Learn to make perfect crunchy, flaky & delicious samosas at home with this easy video & step by step recipe post. Samosa is a potato stuffed deep fried tea time snack that is very popular not only in India but also across Asian countries and the middle east. It is believed that they originated from the middle east and was brought to India by the Merchants.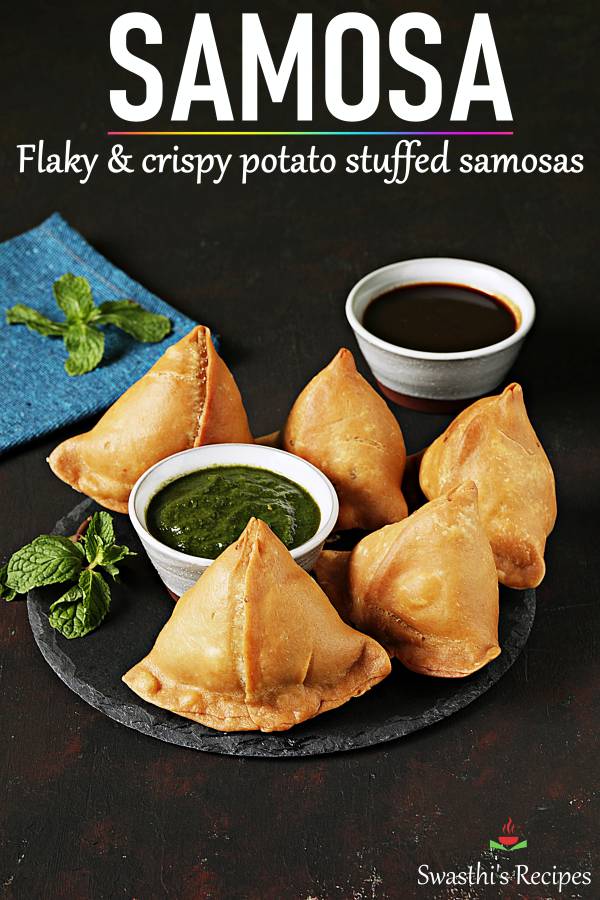 Most commonly they are made with potato stuffing but can also be made of keema/ meat.
Samosa is one of the most commonly eaten snack across India. They are hugely popular and are loved by everyone.
Samosas make their appearance everywhere as a street food, party snack, restaurants and even in cafes. They are very special during the month of ramadan and are eaten as a Iftar snack.
We usually avoid eating fried snacks in cafes and restaurants due to health reasons. Years ago I learnt making samosas as my kids keep asking for them.
Making them at home is super easy if you learn the steps correctly especially making the crust.
In this post I am sharing the samosa recipe with potato stuffing, you can also make keema samosa using this keema recipe for the stuffing. This Punjabi samosa recipe is roughly adapted from Chef Harpal singh.
For more similar snacks, you may like to check
Spring rolls
Bread rolls
Pakora
Sandwiches
Tips for crunchy & flaky samosa
A perfect samosa should be crunchy & flaky with almost no bubbles or blisters on them.
Fats (Oil or ghee) – The amount of oil added to the flour is very important to make flaky and crunchy samosas. Too little oil will make the samosa crust hard. Do not reduce the amount of oil mentioned in the recipe.
Crumb oil & flour – The process of rubbing the oil into the flour is the key step to make a flaky crust. Rub the oil & flour together very well until the mixture looks like breadcrumbs.
Texture of dough – Samosa dough has to be stiff and hard. It should not be soft like we make for rotis or parotta. Use water only as needed. Too much moisture in the dough will make lots of tiny air pockets in the crust and will prevent the samosas from turning crunchy.
Resting & kneading dough – The dough does not require kneading when it is made. But it needs resting. After the resting, it has to be kneaded well for 3 to 4 mins. It should not turn smooth but has to be tight and stiff. So do not overknead it.
Rolling the dough – It has to be rolled to neither too thick nor too thin. Please check the video. Thin layers will break the samosas while frying.
Frying – Samosa has to be fried in moderately hot oil. It should not sizzle or bubble up immediately when a piece of dough is dropped to the oil. You should see very tiny bubbles after 30 to 40 seconds. This is the right temperature.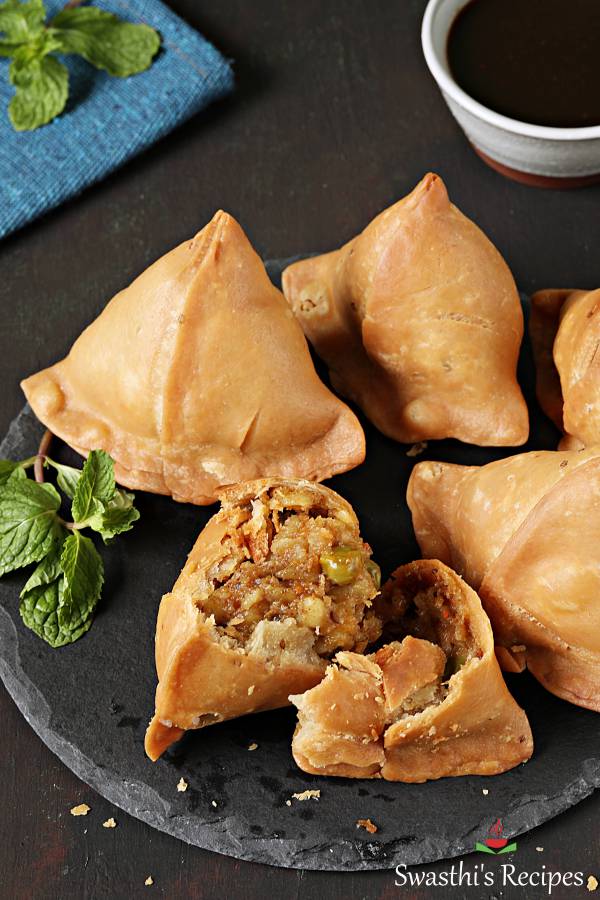 Tips for perfect samosa dough crust
This is useful in case you like to double or triple the recipe.
1. For every one kg of flour, you can use up to 200 grams of fat (oil or ghee). Anything more than this may break the crust. Using too little fats in the dough may lead to hard crust.
Faqs
Why did my samosas turn hard? – Not adding enough oil to the flour will make a hard crust.
Why did they turn oily? – Adding more water than needed while making the dough will make soft dough resulting in oily crust.
Why does the crust have too many blisters and bubbles ? – Frying them in very hot oil or too much moisture in the dough can make plenty of bubbles or blisters on the crust.
Can I use spring roll sheets for the crust? – Yes you can use spring roll sheets or puff pastry sheets to make the samosa.
Can I bake these samosas?
Yes they can be baked. But fried samosas taste the best. I have tried baking these after brushing them generously with oil at 170 to 180 C in a preheated oven for 35 to 40 mins. The results were fine but not as good as the fried ones.
If you are keen to bake them then use ready store bought frozen puff pastry sheets. Roll each sheet to a square. Cut each sheet to 4 to 5 roundels with the help of a round cutter. Then cut each one to half. Then use them as mentioned in the recipe below.
Can I use whole wheat flour / atta?
Yes you can. But for best results I would suggest all-purpose flour or maida. Samosas made with wheat flour have a nutty aroma and are dense. Read on to know the details.
Samosa recipe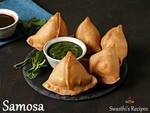 Samosa recipe | How to make samosa
Punjabi samosa are crisp fried Indian snack with spicy potato peas filling. This recipe will give you flaky & crisp samosa that are full of flavors. Samosa is served with green chutney or mint chutney.
Pin Recipe
Ingredients (1 cup = 240ml )
For samosa covering
2

cups

all-purpose flour

or organic maida (250 grams )

¼

cup

oil

or melted ghee (or 60 ml)

¼

cup

water

(+ 2 tbsp )

½ to ¾

teaspoon

ajwain

or carom seeds

¾

teaspoon

salt
Potato filling for samosa
4

potatoes

(or 500 grams)

½

cup

green peas

(boiled or frozen)

8

cashews

chopped (optional)

1

tablespoon

oil

or ghee

1

tablespoon

ginger

minced or paste

1 to 2

green chilies

chopped (optional)

1

pinch

hing

or asafoetida (optional)

4

tablespoons

coriander leaves

chopped finely

1

teaspoon

lemon juice

(or ½ tsp amchur or chaat masala)

½

teaspoon

salt

(adjust to taste)
Spices
¾

teaspoon

cumin

or jeera

¾ to 1

teaspoon

garam masala

¾

teaspoon

red chilli powder

½

teaspoon

cumin powder
How to make the recipe
Boil potatoes just until done without making mushy. You can either boil them in a steamer, pot or a cooker. (refer notes)

Crumble them, do not mash them up. Set aside.
Make samosa covering (or use frozen puff pastry sheets)
Mix together ajwain, salt, flour and ghee in a mixing bowl.

Rub the flour well for 2 to 3 mins in between the palms to incorporate the oil or ghee well.

Take handful of flour and press down with your fingers. It must hold shape and not crumble.

Add water little by little and mix the flour to dough.

It has to be stiff & hard. Do not make a soft dough.

Cover and set aside for 25 to 30 mins.
Make potato filling for samosa
Heat a pan with oil. Add cumin.

When it begins to sizzle, add ginger & fry until it smells good. Next add cashews if using. Fry for a while.

Next add green peas and saute for 2 mins.

Add red chilli powder, garam masala, cumin powder & chaat masala (optional). Saute for 30 seconds.

Next add potatoes and sprinkle salt.

Mix and saute for 2 to 3 mins. Mix in coriander leaves & set aside to cool.

Taste and add more salt if needed. If using lemon juice, add it now.
How to make samosa
Knead the dough to smoothen a bit.

Make 5 portions and roll to balls. Cover the dough.

Grease the rolling area and then flatten a ball. Drizzle some oil.

Begin to roll to oval shape of 8.5 inches long by 6.5 inches wide. It should be neither too thick or too thin.

Cut it to two. If the edges are too thick, gently roll it to thin down.

Smear water over the straight edge. Join the edges to make a cone. Press gently to seal the cone from inside as well.

Fill the cone with potato masala and press down. Smear water on the edges.

Bring the edges together and make a pleat on one side. Bring back the pleat and seal it. Make sure the samosa has been sealed well.
Deep frying samosa
Make 5 samosas and begin to heat the oil until medium hot.

The oil has to be medium hot. A piece of dough dropped in the oil should not sizzle or bubble or rise immediately.

Gently add as many samosas as you can to the oil and fry them on a low flame undisturbed for few minutes.

When the crust turns firm, flip them and fry on a medium flame until crunchy and golden.

While the first batch of samosas fry, make the rest of them.

Remove the golden fried ones on to a colander. Let the temperature of oil come down slightly before you fry the next batch.
Baking samosa in oven
Preheat the oven at 180 C or 350 F for about 20 mins.

Brush each samosa generously with oil all over and place them on a prepared tray.

Bake these for about 35 to 40 mins.

Serve samosa with mint chutney or tomato sauce.
NUTRITION (estimation only)
Calories:
222
kcal
|
Carbohydrates:
32
g
|
Protein:
6
g
|
Fat:
8
g
|
Saturated Fat:
1
g
|
Sodium:
320
mg
|
Potassium:
440
mg
|
Fiber:
4
g
|
Sugar:
1
g
|
Vitamin A:
147
IU
|
Vitamin C:
18
mg
|
Calcium:
42
mg
|
Iron:
5
mg
Notes
Crushed spices: In punjabi samosas, usually crushed coriander seeds and fennel seeds are used in the stuffing. I have not used them here as my kids don't like biting into the whole spices. You can use 1 tsp of coriander seeds & half tsp of fennel seeds crushed. Add them to the initial tempering along with cumin.
Boiling potatoes: They should not be soggy but firm and fully cooked. If cooking in a stovetop pressure cooker, cook for 4 to 5 whistles. If cooking in instant pot, I pressure cooked for 8 minutes as I used medium sized potatoes.
You may add 1 medium onion to the stuffing. But it is not at all needed. After tempering the spices you can add the fine chopped onions and saute until light brown.
If you are a beginner or new to Indian cooking, I highly suggest you to check the supporting step by step photos for best results. Step by step photos with description available below after the recipe card.
Preparation
1. Wash and boil potatoes in whatever way you like. I washed peeled, halved and pressure cooked them for 1 whistle on a medium flame. The potatoes should not turn mushy but must be fully cooked.
To boil them in instant pot, you can also pressure cook them following these timings – small potatoes – 5 mins, medium size – 7 mins and large – 10 mins. This time when I made for the video I pressure cooked them for 8 mins.
Allowed the pressure to release naturally and then used.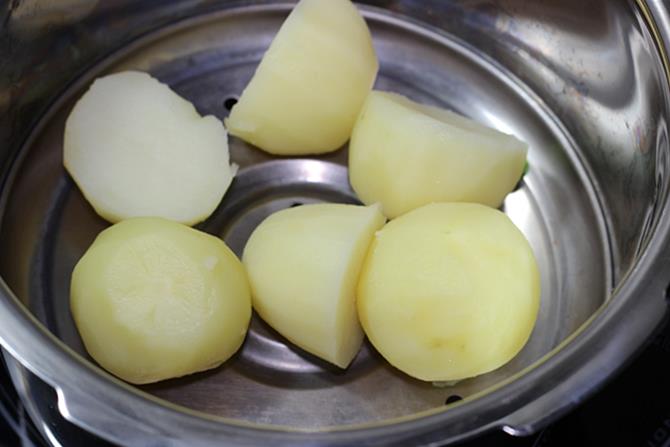 2. Cool and crumble them. Set aside.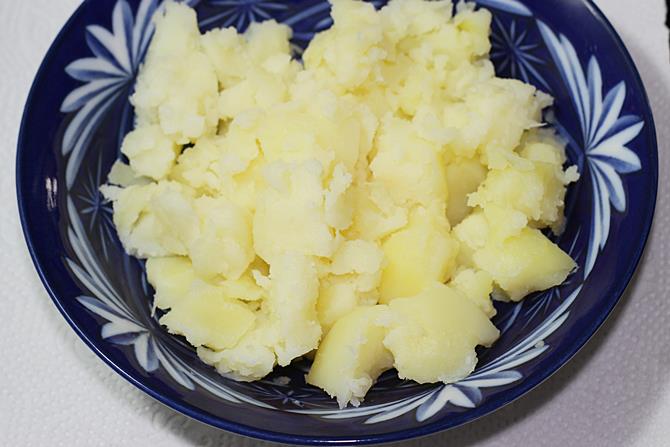 samosa covering or pastry
3. Wheat flour or plain flour? Which is better for samosa? I have tried with wheat flour too but the results are not extraordinary. If you are into healthy eating and have completely stopped eating maida, then you can make with wheat flour.
You can also use half wheat flour and half maida but all wheat flour does yield hard not very good samosa.
I used organic plain flour / maida. For health reasons prefer organic flour or at least unbromated flour. Add flour / maida, ajwain / carom seeds, salt and ghee to a large mixing bowl. You can also use half ghee and half oil.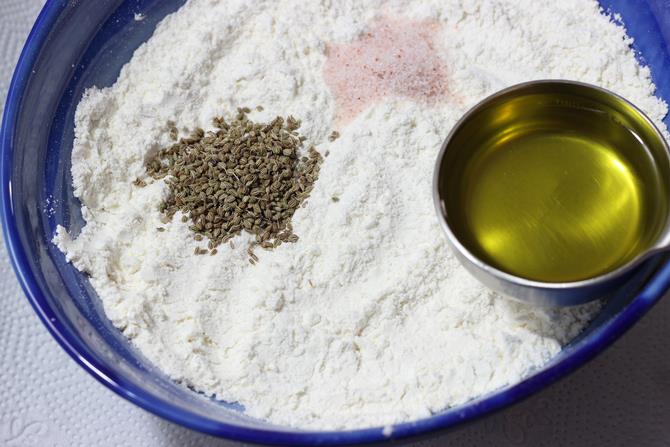 4. Mix everything very well. Rub the flour in between your palms to incorporate the ghee well. After this step the flour should resemble breadcrumbs.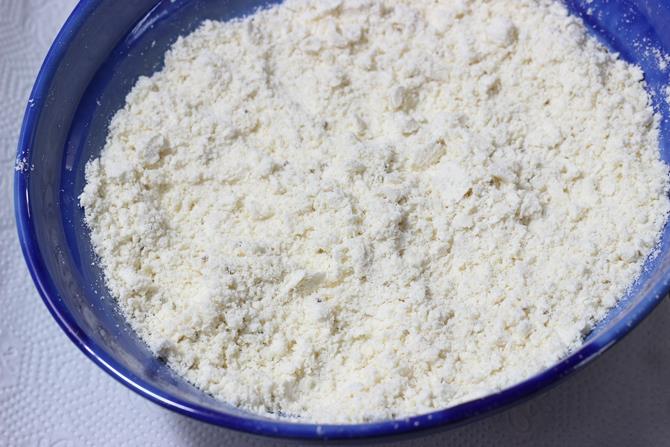 5. Add water little by little as needed. Knead it gently and make a stiff and hard dough.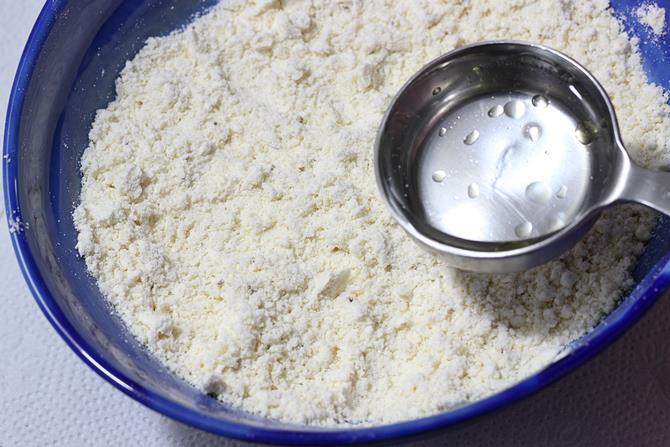 6. Dough has to be firm, hard, stiff and not sticky. Cover and set aside for 25 to 30 mins.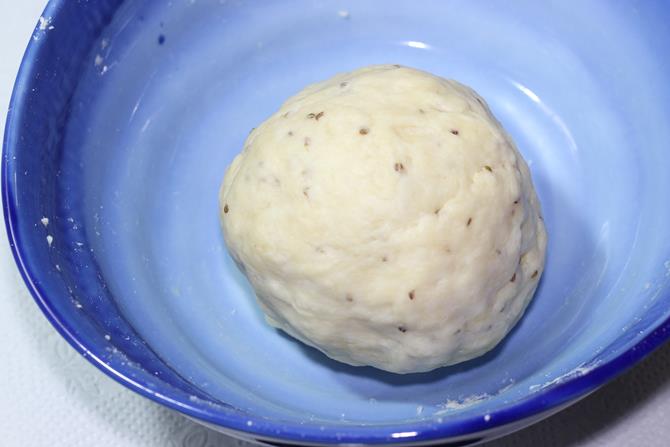 Making potato stuffing
7. Heat ghee or oil in a pan. Next add cumin/ jeera and allow them to crackle.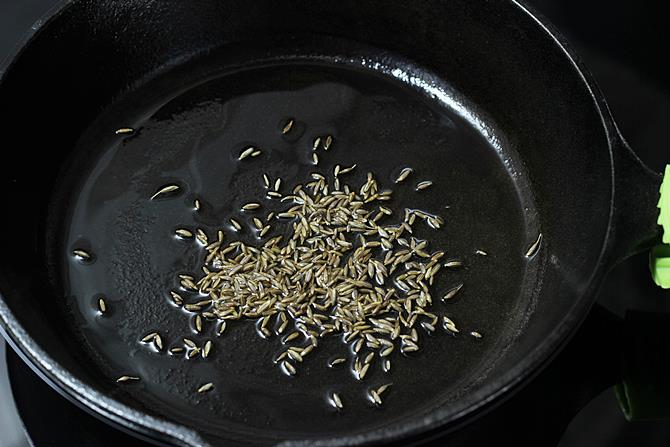 8. Add minced ginger, green chili and saute until nice aroma comes out. Sprinkle hing. You can also use some cashews if you like. Saute until the nuts turn lightly golden.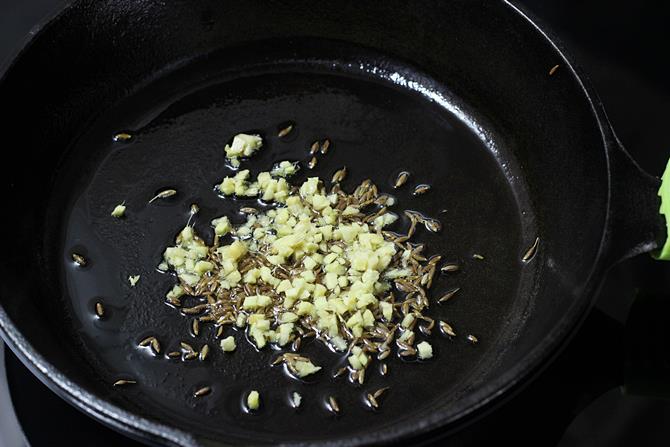 9. Add the spice powders – red chili powder, garam masala, cumin powder amchur powder or chaat masala. Saute for 30 seconds and then add green peas. Saute for 1 to 2 mins. Then add potatoes and sprinkle salt.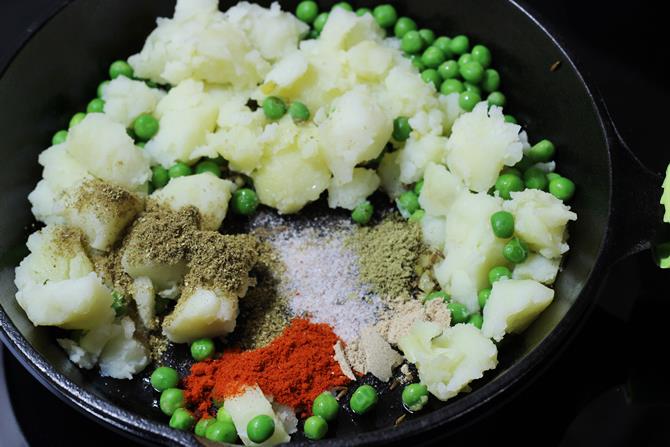 10. Saute for 2 to 3 mins until potatoes blend well with spice powders. Add chopped coriander leaves and switch off the stove. Taste this and adjust salt if needed.
Set aside to cool. If you have not used amchur or chaat masala, then add lemon juice at this stage.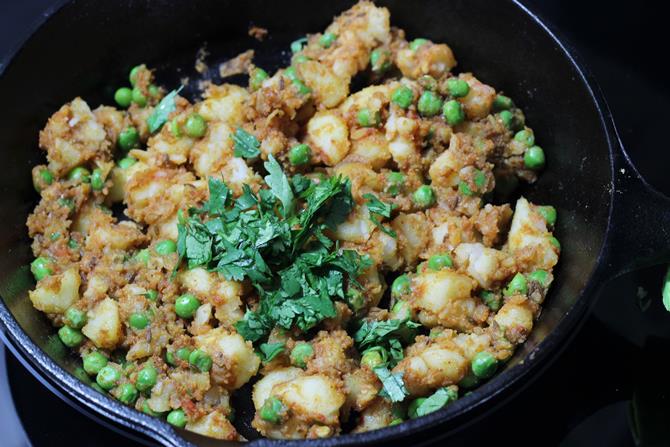 How to make samosa
11. After 25 to 30 mins, knead the dough for another 3 to 4 mins. The dough has to be stiff yet and not soft. Divide the dough to 5 equal parts.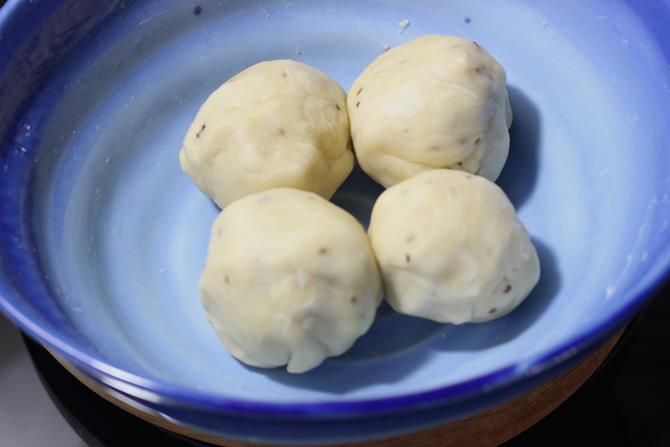 12. Oil the platform or the rolling board. Place the ball.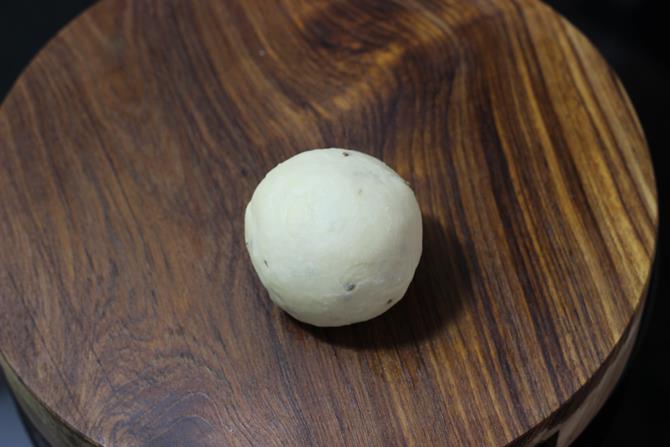 13. Roll it to a oval shaped even layer. Mine was 8.5 inches long and 6.5 inches wide. It has to be slightly thick and not too thin.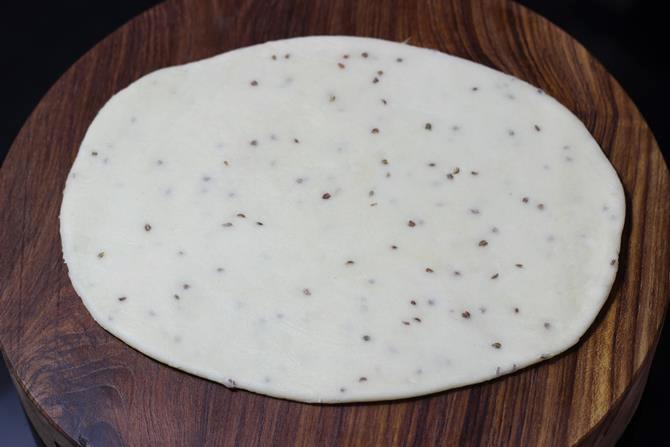 14. Cut it in the center to make 2 parts.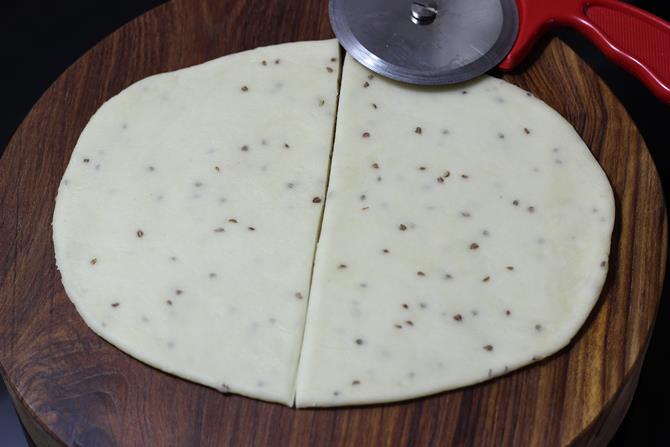 15. The roti shrinks back little due to the nature of all-purpose flour so I prefer to roll it gently again. If you feel the edges are too thick then roll a bit.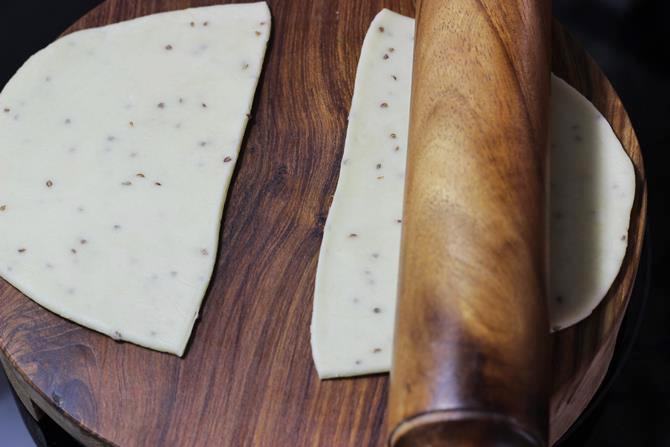 16. Apply water with your finger to the edge.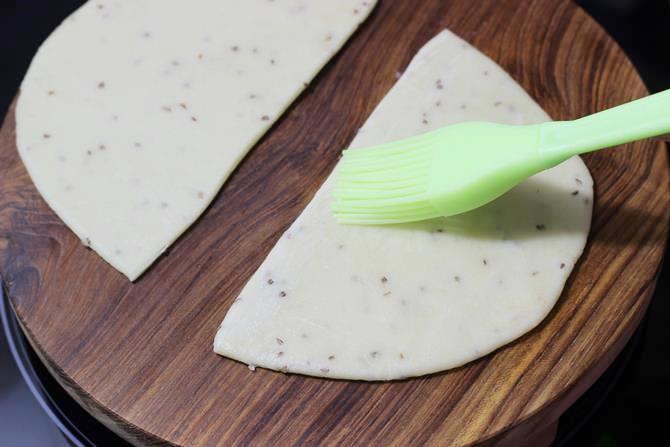 17. Make a cone shape like you see in the picture. Stick the edges well.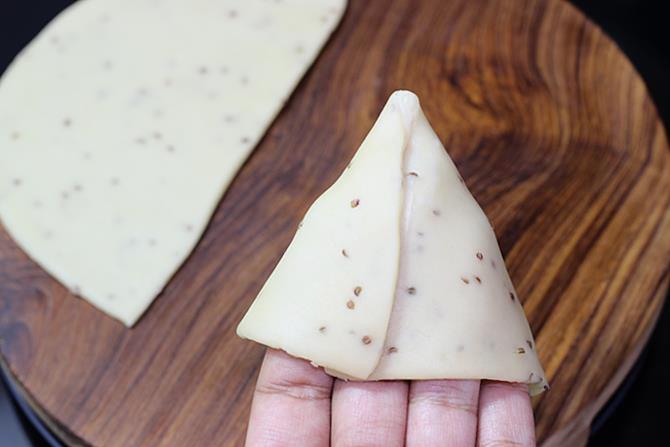 18. Stick the edge from inside the cone as well to secure. Fill the cone with potato masala. Press down a bit with a tiny spoon.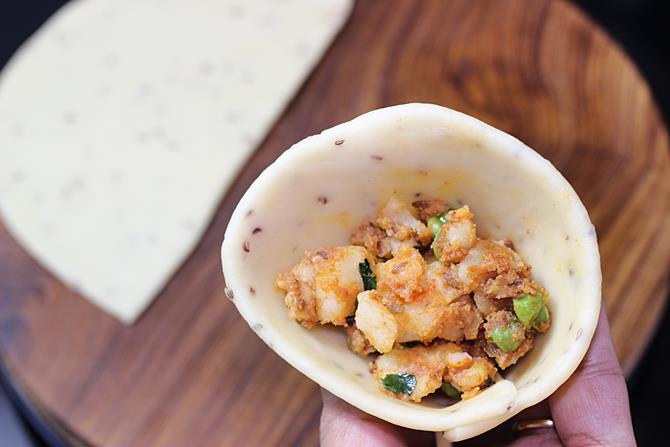 19. Apply water on the edge.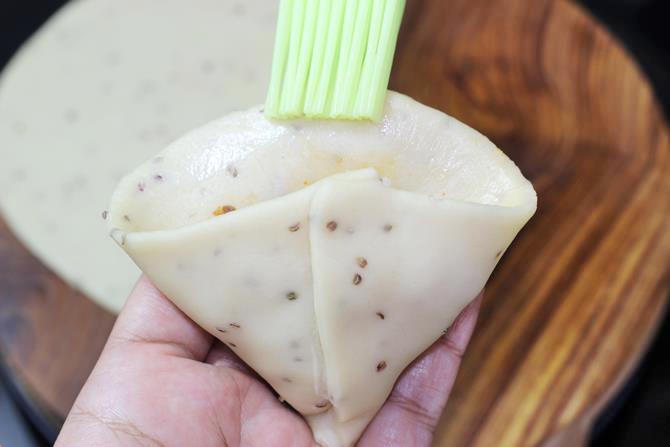 20. Stick the edges. On one of the sides, make a pleat as shown in the image. I have shown an alternate but similar method in the video do take a look at it.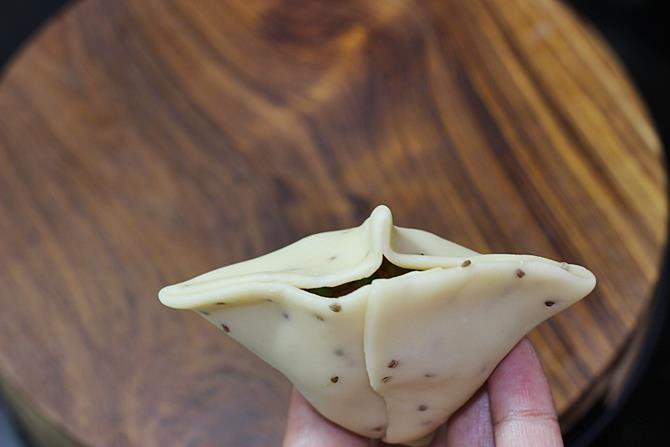 21. Bring the pleat to a side and stick it up. Make sure your samosa is sealed well. Press down on the edges very well to seal them.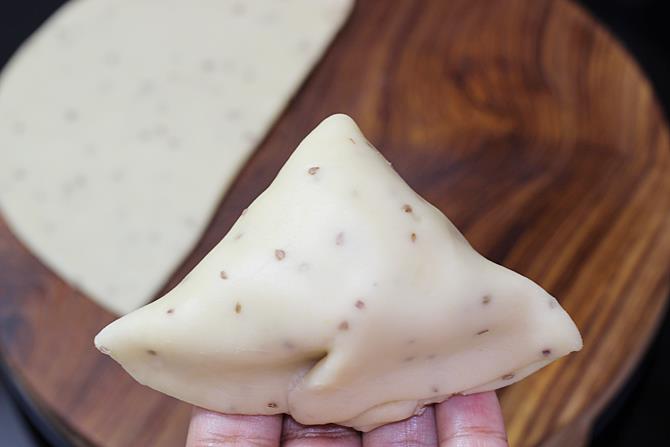 22. This will give you a perfectly standing samosa. Finish making all your samosas. If you prefer to bake them, preheat the oven at 170 C in fan forced oven, at 180 C in regular oven for 20 mins. Brush oil generously and bake them for 30 to 40 minutes, flipping them after 15 minutes.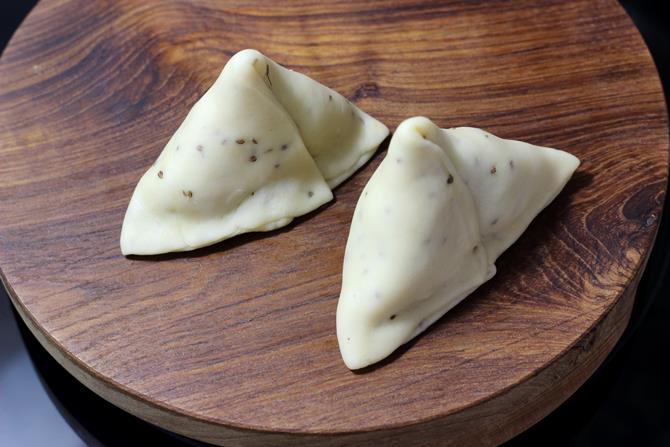 Just make 5 to 6 samosas first and then fry them. Make the rest of the samosas while you fry the first batch. This way the samosas will not dry up.
Frying samosa
23. Heat a pan with oil for deep frying. The oil should not be very hot or smoky hot. It must be medium hot. When it is just getting hot, add a small portion of dough in the oil.
It should not come up immediately and turn the dough golden. It must raise slowly up & the oil must not be bubbling or sizzling a lot. This is the right temperature.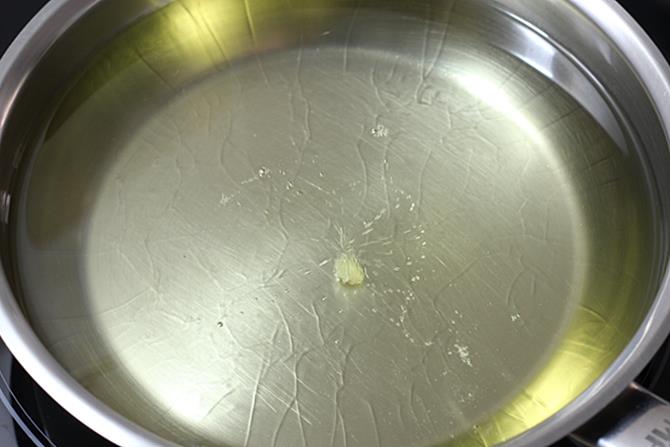 24. Gently slide the samosas one by one slowly. After you add them to the hot oil, you must see very tiny bubbles rising slowly. You should not be hearing any sizzling noise as it happens with the regular deep fried snacks.
Add as many as you can. I usually fry 5 at one time. Do not disturb them for few minutes. Later when they come up, keep stirring occasionally and fry them evenly until golden.
Half way through the crust begins to firm up, then I increased the heat to medium flame. Drain them on a kitchen tissue when they are golden fried.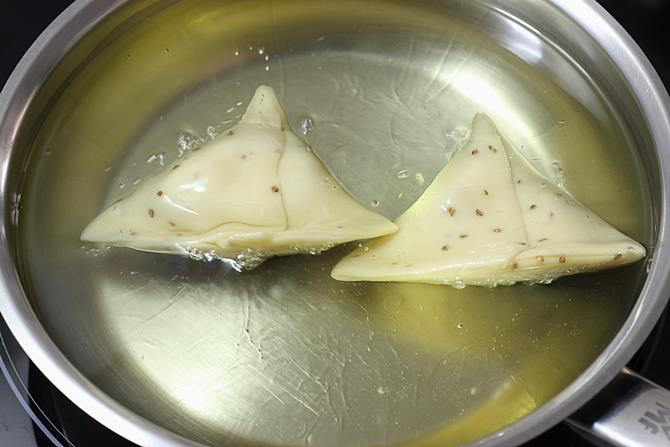 For the next batch, reduce the heat completely to bring down the temperature and add them.
Serve samosa with mint chutney, tamarind chutney or tomato sauce.