Rajma recipe also known as Rajma masala is a North Indian curried dish made with kidney beans, onions, tomatoes, spices and herbs. This delicious dish is easy enough to make for a healthy and hearty meal. Serve it over chawal (rice) or with roti. In Indian cuisine, a lot of legumes are eaten regularly as they are the main source of protein & fiber. Lentils, chickpeas, peas, black eyed peas and red kidney beans are some of them used to make curries.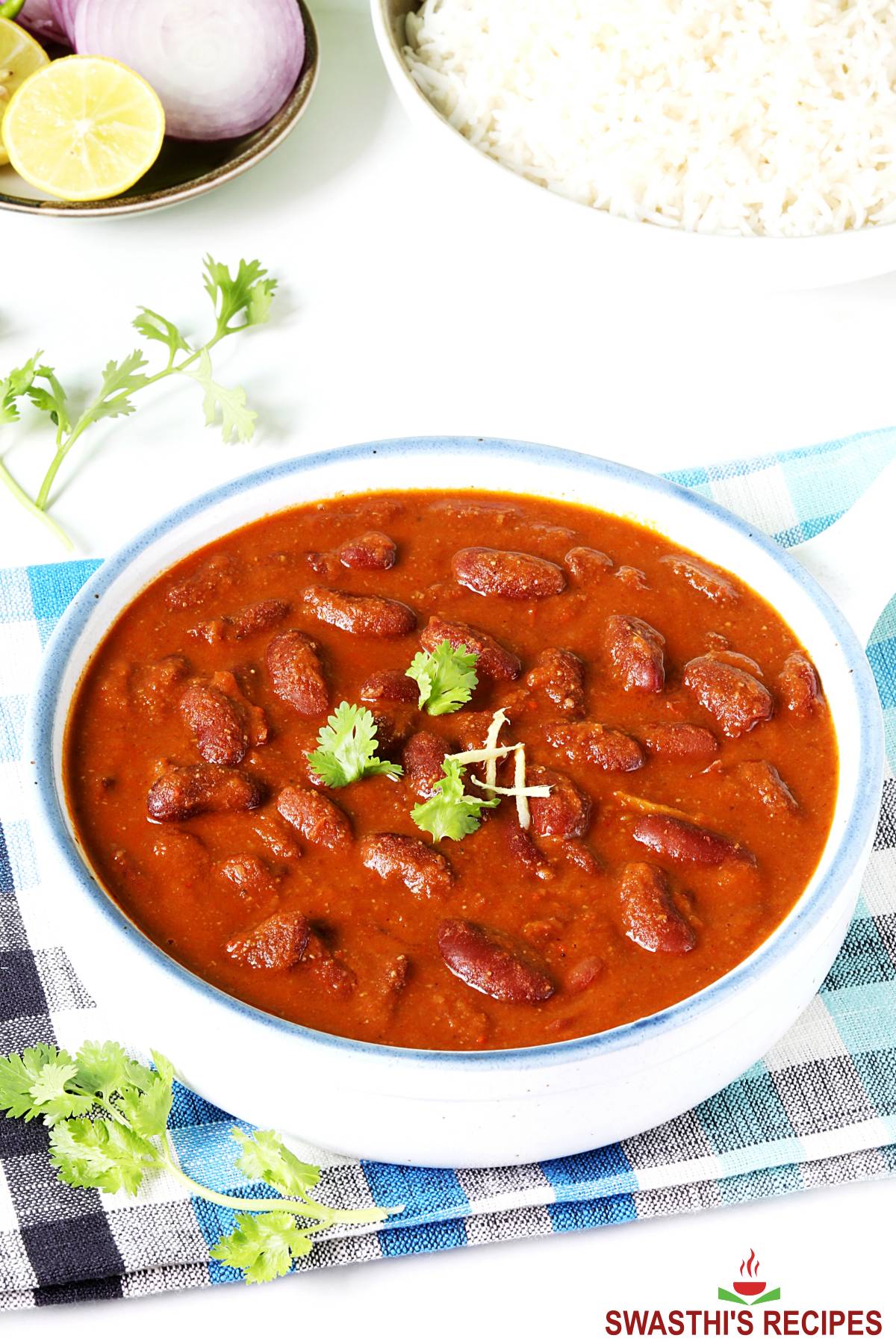 ---
Rajma chawal is a favorite combo in many North Indian households where rajma masala is served with chawal (rice). Some onion & lemon wedges on the side is all you need to enjoy this delicious dish.
Chole, dal makhani, chana masala & rajma masala are some of the popular curries from North Indian Cuisine. These are always included on the restaurant menus or even made in most households regularly.
About Rajma
Rajma is the Indian name for red kidney beans. These are soaked, cooked & then simmered with onions, tomatoes & spices to make the dish, Rajma masala. It is also just referred as rajma. It is the quintessential North Indian dish made on weekends, special occasions, weddings etc.
Rajma are fat free and have many benefits since they are high in fiber, folate and magnesium. High fiber promotes digestive tract health, folate & magnesium makes them a heart healthy food. Considering these benefits red kidney beans are widely eaten in India.
What is Rajma Masala
My recipe to make rajma masala is based on the restaurant style where pureed onions & tomatoes are used to give the best taste & texture to the dish. The flavors are so good that you won't need anything on the side other than chawal.
There are numerous ways to make rajma. But the most common method is the Punjabi way where the kidney beans are soaked overnight, pressure cooked until tender and then simmered with the bhuna masala.
A typical bhuna masala is made with chopped onions, ginger garlic, tomatoes and garam masala. Like most other Indian dishes, traditionally rajma is made with chopped onions and chopped tomatoes.
But in many standard restaurants, rajma is made with pureed onions and tomatoes to give a better texture & taste to the dish. Though the method of making is the same as Punjabi rajma, using onions & tomatoes in pureed form makes the entire dish taste so good.
This rajma recipe will give you a thick, delicious & flavorful dish that you can serve either with plain basmati rice, Jeera rice, roti or naan.
Similar recipes,
Aloo Gobi
Baingan bharta
Chana masala
Dum aloo
Palak paneer
Punjabi chole
How to Make Rajma Masala (Stepwise Photos)
Preparation
1. Add ¾ cup rajma to a large bowl and rinse them well a few times in lot of water. Pour fresh water and soak for at least 8 hours. Soaking helps to soft cook them well.
While you soak them , do not cover the pot completely. There must be a circulation of air to the soaked beans especially during hot summer days otherwise the beans turn sticky. Rinse them thoroughly before cooking.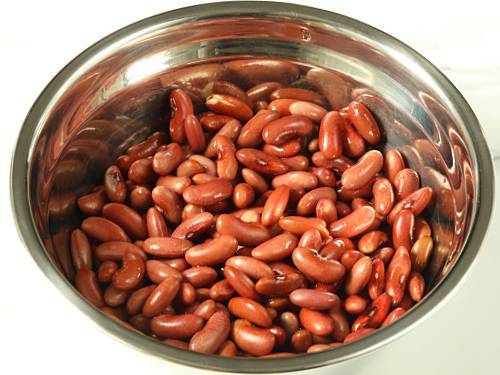 Cooking Beans
2. Pressure cooker: If cooking directly in the pressure cooker, then pour 2 cups of water along with the rajma and pressure cook for 3 to 4 whistles on a medium flame depending on your cooker.
This time I placed the rajma bowl inside the cooker and pressure cooked for 6 whistles, this is because I didn't cook them directly in the cooker. Rajma has to be soft cooked yet hold their shape.
To cook in Instant pot – Pour only ¾ cups water to the rajma bowl. More water makes mine mushy. Pressure cook on high pressure for 18 to 20 mins. Wait for the pressure to release naturally. (refer notes in the recipe card)
Check if rajma is cooked by pressing it with your thumb and fore finger. It should get mashed easily. You can also bite and check it should not be al dente. If they are al dente then cook them again for 2 more whistles.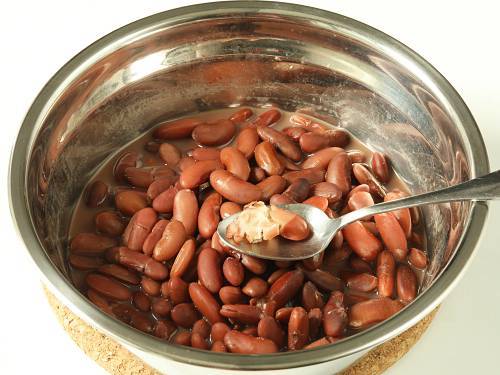 3. While the beans pressure cook, prepare the onions and tomatoes. If you want to use chopped onions and chopped tomatoes you can but for a smoother curry base I suggest to puree onions and tomatoes. So this step is optional. To make the onion paste, add 1 large onion (1¼ cups chopped) to 2 cups of boiling water. Boil them for 3 to 4 mins. Drain them, cool and make a fine paste in a blender. Set this aside to a bowl.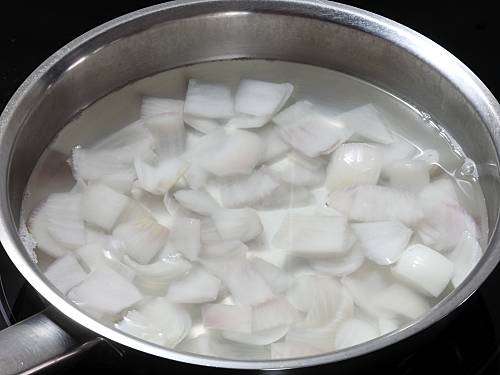 4. In the same jar, I pureed 2 medium tomatoes (about 1 cup). The puree has to be smooth. [Tip: I also added 2 tbsps of soft cooked rajma so I get a smooth & thick flavorful curry. This is the secret to my flavorful rajma masala. If you don't like you may skip it.]
Make Rajma Masala
5. Heat 2 to 3 tablespoons ghee or oil in a pan. Add 1 bay leaf and half teaspoon cumin seeds (both are optional). When the cumin sizzles, turn the flame low and add 1½ teaspoon ginger garlic paste. Saute until a nice aroma comes out.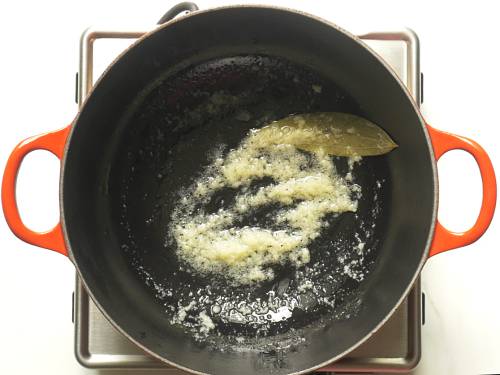 6. Then add the onion paste or fine chopped onions.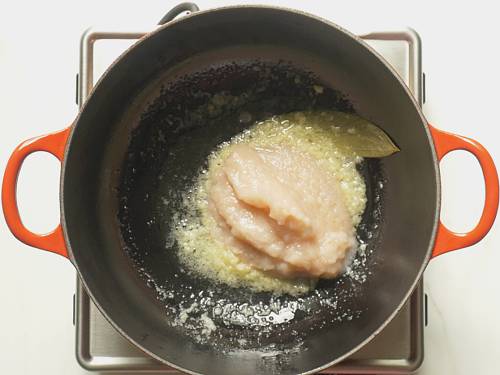 7. Saute until it turns golden. If using chopped onions make sure they become deep golden and begin to caramelize.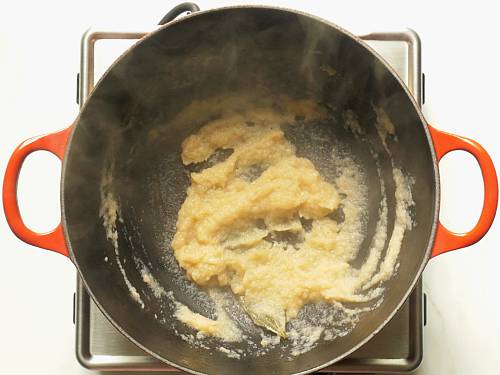 8. Add the tomato puree or chopped tomatoes.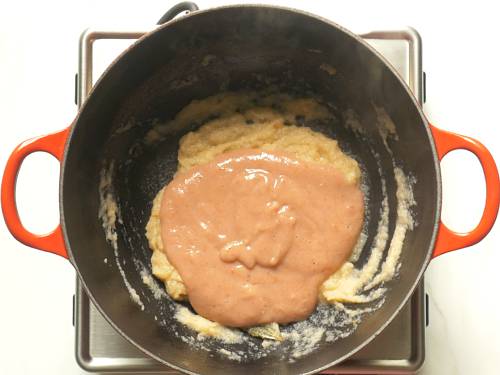 9. Add all the spice powders and salt mentioned below.
¼ teaspoon turmeric
½ to ¾ red chilli powder
1 teaspoon garam masala
1¼ teaspoon coriander powder
½ teaspoon salt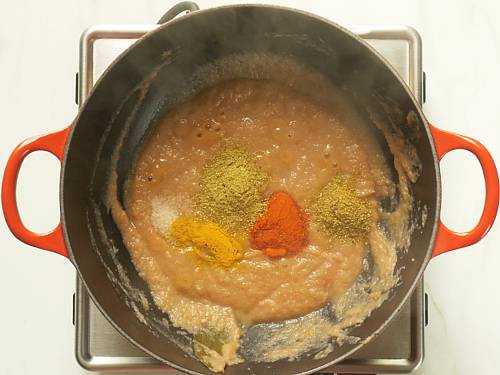 10. Saute the masala until it turns thick and leaves the sides of the pan. The onion tomato masala should be well cooked and not have any raw smell.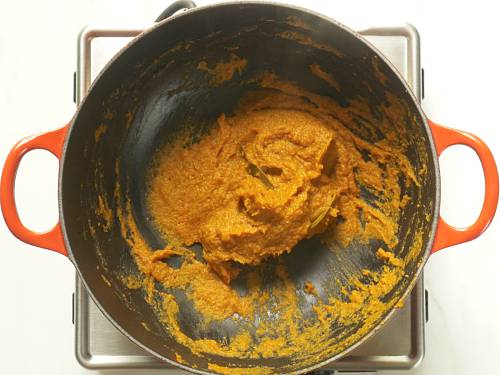 11. Then add the soft cooked rajma along with the stock (rajma cooked water).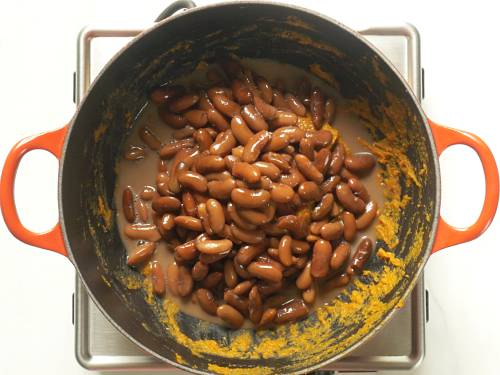 12. I added more water (¾ cup at this stage) to bring it to a consistency. Totally I used 2.75 cups water for the entire recipe. This my vary depending on the other ingredients.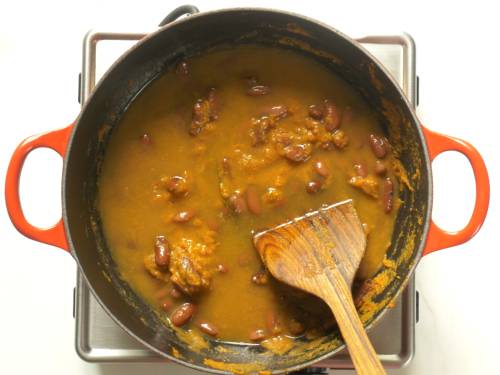 13. Mix well and add 1 tsp ginger juliennes & 1 slit green chilli (both are optional). Cover the pan. Simmer on a low flame for 10 to 15 mins.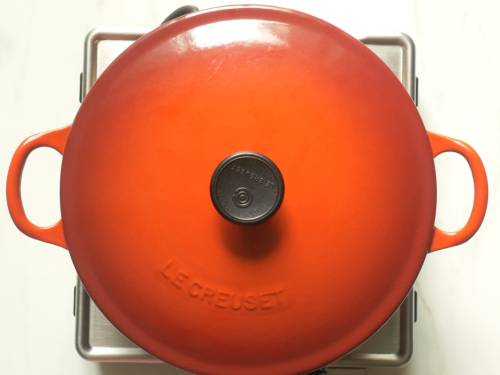 14. After 15 to 16 mins, this will be the consistency of rajma masala. They must be tender and soft otherwise pour more water and cook for a little longer.
Sprinkle ¾ teaspoon kasuri methi if using and mix well. Sprinkle coriander leaves. You can also stir in 2 tbsps cream. I did not use cream. Taste test at this stage and add more salt if needed.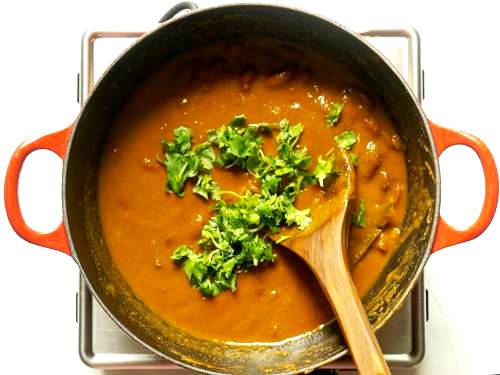 Serve rajma hot with chawal (rice), onion and lemon wedges.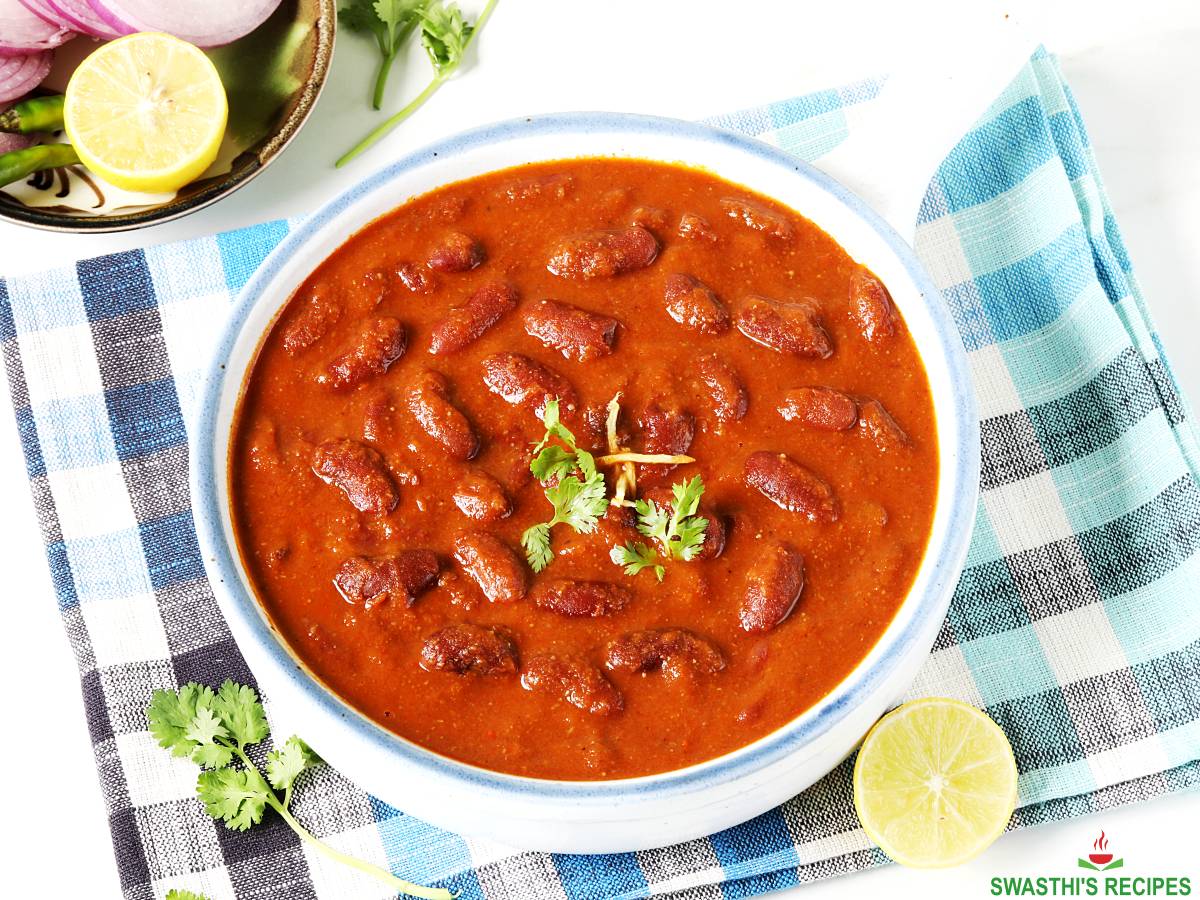 Pro Tips
Choosing Rajma: Always choose fresh stock of rajma as old stock beans don't cook well. Check the packaged date. Some brands even label the harvest date.
Soaking rajma before cooking not only enhances the bio-availability of nutrients but also prevents bloating & helps in digestion. So soak them for at least 8 hours & discard the soaked water.
Cooking: Always cook rajma until tender and soft. Al dente cooked beans do not taste good and are not good for digestion.
Spices: Use a good dose of garam masala (spices) and ginger to cook the rajma as they not only flavor up the dish but also help in digestion.
Rajma masala powder : I prefer to use a regular Punjabi garam masala for this rajma recipe. However you can also use any readymade rajma masala powder.
Slow cooking is the key to a good delicious, thick & flavorful rajma. Once the rajma is added to the gravy, ensure they are cooked on a low flame for at least 10 to 15 mins. This simmering step brings out the flavor of rajma.
Ghee or oil – I always feel ghee gives the best taste. You can also use oil for cooking and just pour 1 tbsp ghee towards the end.
This recipe is gluten-free and vegan as well if you use oil.
How to Make Rajma Masala Thick?
Slow cooking for long time to some extent makes the curry thick. I know a lot of people mash the rajma lightly once they are cooked in the masala. But I do not do it as my kids don't like the mashed rajma. Here are my tips which will help you to get a thick gravy
Blanch & puree the onions instead of grating or chopping.
Puree the tomatoes and use. Chopped or grated tomatoes often separate water in the gravy.
Blend 2 tbsp of soft cooked rajma with little water and add it to the simmering gravy. Or puree them along with tomatoes & use. This will triple the taste, flavor & texture of your rajma masala. You will be surprised at how good your rajma smells & tastes.
I haven't used any cream like they do in the restaurants. However you can add a bit towards the end if you like.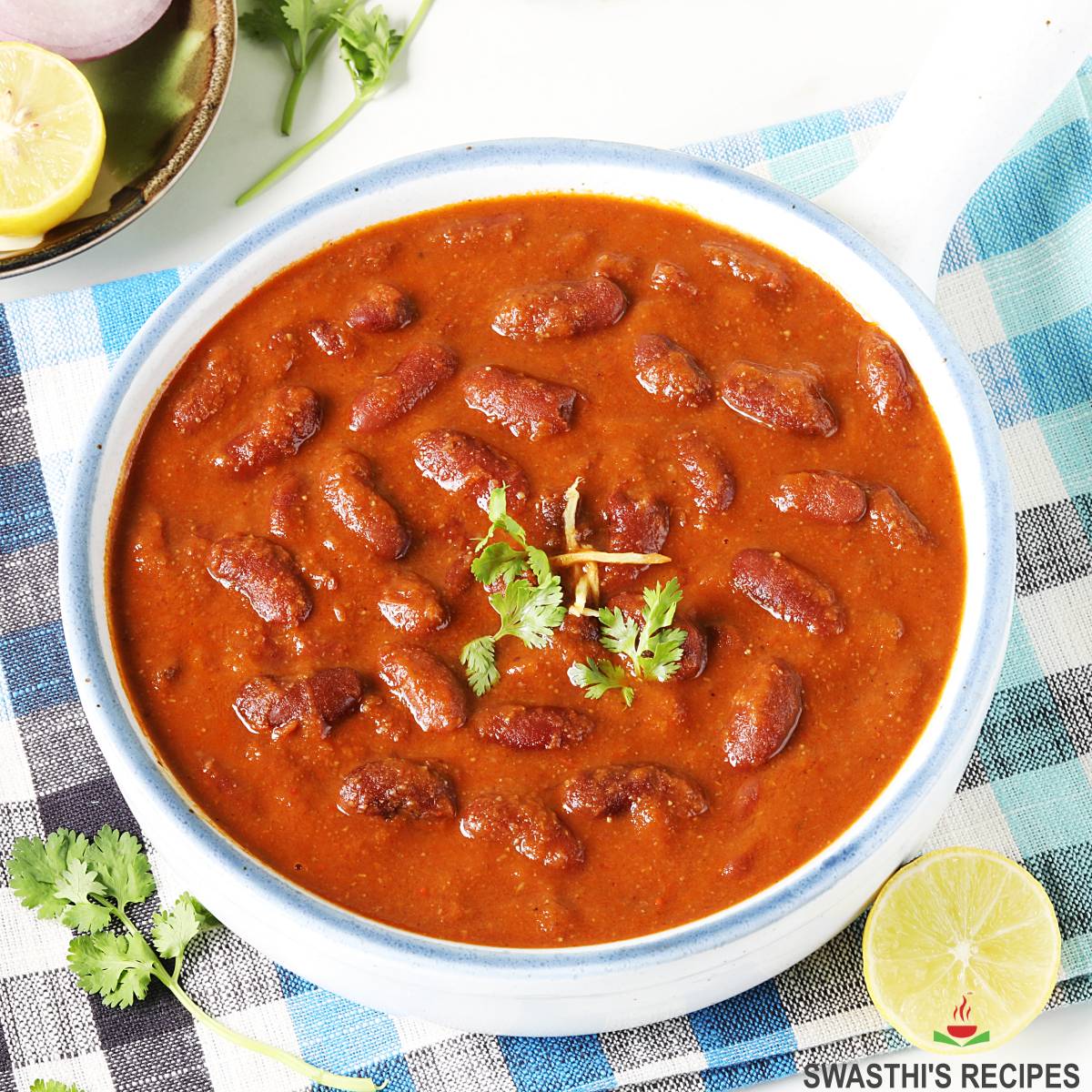 FAQs
1.Why to use pureed onions and tomatoes? Using chopped onions and tomatoes will make a chunky curry instead of a smooth and thick masala. Using pureed onions and tomatoes will bind the ingredients in the masala well and the texture is at its best.
2. Can I use chopped onions and tomatoes in this recipe? Yes you can use them chopped but your rajma won't be thick as shown in the pictures.
3. Why are onions boiled here? Onions are boiled first to remove the raw flavor so they cook faster in the pan.
4. How to soak rajma faster? Rinse ¾ to 1 cup rajma well and keep aside. Bring 6 cups of water to a rolling boil in a pot. Add the rinsed rajma and boil for 2 to 3 mins. Cover and leave them for an hour. Discard the soaked water to get rid of the tannins, phytic acid & oligosaccharides.
Rinse them well. Your kidney beans are well soaked and ready to cook.
5. Can I use canned kidney beans? Yes. For this recipe you can use about 2 to 2 ¼ cups of canned kidney beans. Drain the liquid from the can and rinse the beans well before adding to the onion tomato masala. Most canned beans have sodium added to it as a preservative. So it is good to discard the liquid in the can.
How to Make Rajma in Instant Pot?
Yes you can make it in instant pot the same way as mentioned for the stove top version. Pressure cook on high pressure with the timer set to 35 mins. Use only 2 cups water.
When the pressure releases naturally, open the lid and add kasuri methi and cook for a few more minutes until it turns thick. If you want it thicker then blend 2 tablespoons of rajma in a blender with 4 tbsps water to a smooth paste. Add it to the simmering curry.
How to Make One Pot Rajma?
Making one pot rajma is a bit tricky and sometimes may be a failure if the beans are an old stock as they don't get cooked. So it is like experimenting.
In this post I have shared 2 methods of making rajma. First one is to cook the rajma first and then separately make the gravy. Then add the precooked beans to the gravy. Second method is to make the onion tomato masala and then add the uncooked rajma. Pressure cook everything together until rajma turns soft.
To follow this method, Measure the soaked rajma in cups. We will have to add an equal amount of water to soft cook them in the gravy.
1. Heat ghee or oil in a pot, saute cumin until they begin to splutter. Add ginger garlic or ginger paste and saute until the raw smell goes off.
2. Add chopped onions or onion paste. If you like a smooth gravy, then use onion paste. You can also make a paste of onion and tomatoes together, but i prefer separately as this tastes better.
3. Saute until the paste or onions turn golden.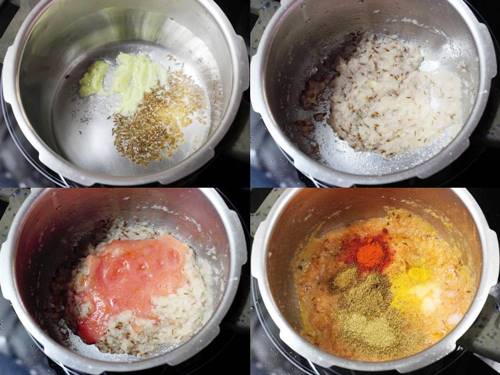 4. Add tomato puree or chopped tomatoes. Cook until the raw smell of tomatoes is gone.
5. Add red chili powder, coriander powder, garam masala, turmeric & salt.
6. Saute and cook until the mixture begins to leave the sides or the raw smell of the onion and tomato is gone.
Pressure Cooking
7. Add rajma. I have added uncooked ones here. Add same amount of water equal to the soaked rajma. For half cup rajma, you will get about 1 and 1/3 cup after soaking them for 8 hours. So I added the same amount of water to get the right consistency. You can also add little more water, if you like a thinner gravy.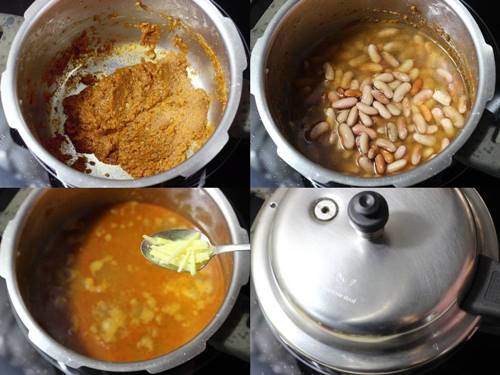 8. Add ginger slices and 1 slit green chili. Cover and pressure cook on a medium flame for 1 whistle. Lower the flame and cook for 5 more whistles. It took around 35 mins for me to get the last 5 whistles. However the timing may vary depending on the size or the base of your cooker.
9. When the pressure releases completely, open the lid. This is the consistency I got to see.

10. Beans are completely soft cooked. Rajma must be completely soft cooked. A thick restaurant style gravy is ready. You can garnish with coriander leaves.
Ways to Fix uncooked Kidney Beans
This method has always yielded me soft cooked beans, but beans that is of a very old stock don't get cooked faster, in that case you can pressure cook first for 2 to 3 whistles and add to the gravy.
or after the last step check if they are under cooked, then add more water and continue to pressure cook for another 2 whistles on a medium flame.
Serve with roti, plain rice, jeera rice, onion & lemon wedges .
Related Recipes
Recipe Card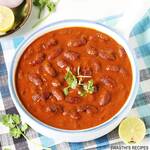 Rajma Recipe | Rajma Masala
A delicious North Indian curry made by simmering rajma (red kidney beans) in a flavorsome onion tomato masala, spices & herbs. Serve rajma with chawal (rice) or with roti.
Pin Recipe
Print Recipe
For best results follow the step-by-step photos above the recipe card
Ingredients (US cup = 240ml )
2 to 3

tablespoons

ghee

or oil

1½

teaspoons

ginger garlic paste

1¼

cup

onions

cubed (or 1 large chopped finely)

1

cup

tomatoes

fine chopped (2 medium or ¾ cup puree)

¾

cup

rajma

(kidney beans, any variety)

2½

cup

water

(more if needed)

1

teaspoon

ginger

julienned

1

green chili

slit

½ to ¾

teaspoon

salt as needed

(adjust to taste)

2

tablespoons

coriander leaves

(fine chopped)

2

tablespoons

cream

(optional, for restaurant style)
Spice powders
¼

teaspoon

turmeric

(haldi )

½ to ¾

teaspoon

red chilli powder

1

teaspoon

garam masala powder

(or 1½ tsp rajma masala powder)

1¼

teaspoon

coriander powder

(skip if using rajma masala)

¾

teaspoon

kasuri methi

(dried fenugreek leaves, optional)
Whole spices (optional)
½

teaspoon

cumin seeds

(Jeera)

1

small

bay leaf

(tej patta)
Instructions
Preparation
Rinse and soak rajma for 8 hours in lot of water. Discard the water and rinse them well. Pour 2 cups fresh water.

Cook them in a pot or pressure cook until soft but not mushy.

Regular pressure cooker – cook directly in the pressure cooker for 4 whistles on a medium flame. For pot-in-pot method, pressure cook for 6 whistles.

Instant pot – pressure cook on high pressure for 18 to 20 mins. Wait for the pressure to release naturally. (refer notes)

If done correctly, the rajma must be soft when you bite into it. It should not be al dente or even slightly hard. They must hold their shape yet & not become mushy. When you mash the rajma it must be soft.

If it is hard or al dente, pressure cook for 2 more whistles.
Onion tomato puree
You can skip this step if you want to use chopped onions but onion puree gives a smooth curry. To make the puree, add cubed onions to 2 cups of hot water and boil for 3 mins until transparent. Drain the water. Cool them and make a fine paste. Set this aside.

In the same blender jar puree tomatoes. [ I also blend 2 tbsps of cooked rajma with the tomatoes to get a thicker & flavorful gravy.]
How to Make Rajma Masala
Heat a pan with oil and saute cumin & bay leaf until they sizzle.

Turn the flame to low, saute ginger garlic paste until a nice aroma comes out.

Add onion paste and saute until it turns golden.

Saute tomato puree until the raw smell vanishes.

Add all the spice powders and salt. Saute until the mixture turns thick & the masala begins to smell good.

Then transfer cooked rajma to the masala along with rajma cooked water.(stock)

Pour half cup water and stir. Add ginger juliennes and slit green chili.

Mix well. Cover & simmer on a low flame for 10 to 15 mins.

Check if rajma are done completely. When you mash the rajma it must be soft.

Sprinkle crushed kasuri methi & stir. Add coriander leaves. Taste test and add more salt if needed.

To get a restaurant style taste, pour 2 tbsp cream. Turn off the stove.

Serve rajma with chawal (rice), onion and lemon wedges.
Notes
For a restaurant style rajma, use onion paste, tomato puree and then 2 to 3 tbsp cream.
You can also skip pureeing the onions and tomatoes. Just chop or grate them and use but the texture is different.
If beans are not soft cooked, you can add more water and cook for 2 more whistles. This may happen if you are using a very old stock of the beans or they are not soaked well.
Instant pot : I pour only ¾ cup water to cook my rajma. More water can make them mushy.
Alternative quantities provided in the recipe card are for 1x only, original recipe.
For best results follow my detailed step-by-step photo instructions and tips above the recipe card.
NUTRITION INFO (estimation only)
Nutrition Facts
Rajma Recipe | Rajma Masala
Amount Per Serving
Calories 293
Calories from Fat 171
% Daily Value*
Fat 19g29%
Cholesterol 39mg13%
Sodium 517mg22%
Potassium 269mg8%
Carbohydrates 20g7%
Protein 6g12%
Vitamin A 765IU15%
Vitamin C 23.6mg29%
Calcium 47mg5%
Iron 1.3mg7%
* Percent Daily Values are based on a 2000 calorie diet.