Rasgulla recipe. Learn how to make bengali rasgulla recipe at home. Spongy Rasgulla is one of the popular Indian sweet recipes that is made by curdling milk. Then separating the chenna (paneer or indian cottage cheese) and whey by draining in a muslin cloth. The drained chenna is kneaded and then rolled to balls. These are cooked in sugar syrup till they turn light and spongy.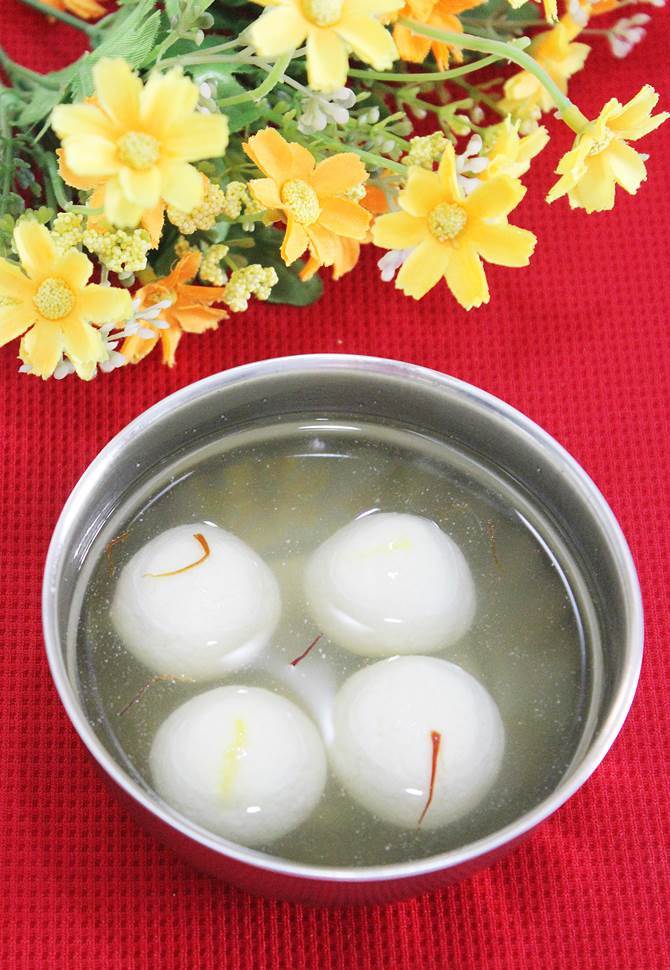 Among all the bengali sweets, rasgulla takes the first place in our home. These are delicious, easy to make and needs only basic ingredients from the kitchen. The chances of failure are very less if the procedure is followed correctly.
I have prepared these countless number of times and never been a disaster. This was the first Bengali sweet that I tried years ago when I newly tried my hands into cooking.
Rasgulla recipe can be tried even by beginners for any festive occasions like Eid, Diwali or Rakhsha bandhan. Since these are one of the easy sweet recipes, do give them a try.
You can make these one day ahead of Diwali and surprise your loved ones. I follow the same recipe to make delicious rasmalai as well and then dunk them in Rabri.
For the upcoming Festival, you can check this collection of 100 diwali recipes. Some more popular Indian sweets recipes on the blog are Gulab jamun, quick kalakand, easy coconut ladoo and coconut burfi.
Tip to make perfect rasgulla recipe
Always use good quality fresh full fat milk. Most times it is the quality of milk that affects the texture of the rasgulla.
Follow the recipe as it is to get perfect results. This recipe has been tried and tested by many.
To make rasgulla, the balls can be cooked in syrup either using a pressure cooker or in a wide pan. Both ways turn out to be perfect.
But for people trying for the first time, I suggest using a wide pan rather than a cooker. Since boiling in a pan yields perfect and soft results.
Some pressure cookers may overcook the balls and it results in rubbery balls.
Rasgulla recipe – Easy bengali rasgulla recipe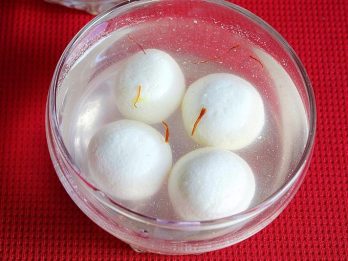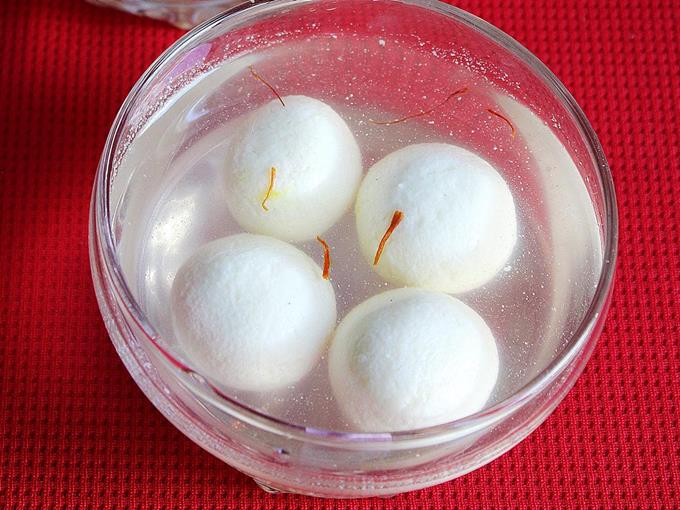 Rasgulla recipe | How to make soft spongy juicy rasgulla | Sweets recipes
Soft rasgulla recipe - Soft, spongy and delicious dessert made of milk and sugar syrup. Rasgulla is one of the popular desserts of West Bengal & Assam that is often prepared during festivals. To make rasgulla, milk is curdled & then drained to make chenna. Then the chenna balls are cooked in sugar syrup to make them light, spongy and soft.
Ingredients (240 ml cup used)
Ingredients for rasgulla
1

liter

milk

(full fat or whole milk)

½

cup

curd

or yogurt (or 2 tbsp lemon juice or vinegar, prefer curd)

1

liter

ice cold water

or 1 cup of ice cubes

1½

cups

sugar

(can increase ¼ to ½ cup)

2¼

cups

water

¼

tsp

cardamom powder

(or elaichi powder)

½

tsp

rose water

(optional)

1

pinch

saffron stands

(optional) kesar for garnishing
How to make the recipe
Making chenna for rasgulla
Bring milk to a boil in a heavy bottom pot.

When you see the milk begins to boil, pour the curd and mix. If using lemon juice, dilute 2 tbsp of it with 2 tbsp water. Use only as needed.


Let the milk curdle. Switch off the stove and leave it for 2 mins.

If the milk doesn't curdle in 2 to 3 mins, add some more yogurt while the milk is still boiling.


Add ice cubes or chilled water to the curdled milk. Leave it aside for 3 minutes. To keep the rasgullas soft, chenna needs to stop cooking immediately which is done by the ice cubes here.

Line a colander or sieve with a thin cloth. Place the colander over a large bowl.

Rinse the cheena under running water to remove the acidic flavor. Skip rinsing if curd is used.

Tie up the cloth and squeeze the excess water well. Hang it for 30 to 45 mins to drain excess water. Chenna should not have any excess whey in it.
Making sugar syrup
Add sugar and water to a wide pan or pot. Make sure you use a wide pot good enough to hold all the rasgullas. The balls will cook and almost double in size only if there is enough space in the pot.

Stir to dissolve the sugar. Bring it to a boil.
How to make rasgulla
Knead the chenna well to make it a smooth dough for 3 to 5 mins. Do not over knead to the extent that the chenna turning greasy or soggy. When you see the mixture turns uniformly smooth and no more grainy, then stop kneading.

Take small portions of this and roll to tiny balls. They should be tiny and not big as they expand in size after boiling. I made about 18.

Add cardamom powder and rose water to the sugar syrup.

Bring the sugar syrup to a rolling boil, Then add the balls one after the other gently.

Cover the pot with a lid.

Cook on a medium high flame for 10 mins .

Gently stir every 3 minutes to ensure even cooking and puffing. They double in size and also sink when cooked completely.

Remove the pot immediately from the stove to prevent them from cooking further.

Allow rasgulla to rest and cool completely. Serve them chilled.
Recipe Notes
Notes on Rasgulla recipe
Kneading to a smooth dough is very important to give a good texture to the rasgullas
Boiling the balls for the right amount of time and at the right heat is also needed.
Overcooking or cooking them at very high heat could result in rubbery balls or break the balls.
Do not stuff too many balls in a small pan. They must have enough space to float around and puff up in the pan
I have not included corn flour or semolina in this rasgulla recipe. Some people use them to prevent them from breaking. If you are new to preparing these and if you are worried, you can use 1 tsp semolina or 1/2 tbsp corn flour while kneading the paneer.
Nutrition Facts
Rasgulla recipe | How to make soft spongy juicy rasgulla | Sweets recipes
Amount Per Serving
Calories 308
Calories from Fat 54
% Daily Value*
Total Fat 6g 9%
Cholesterol 19mg 6%
Sodium 86mg 4%
Potassium 251mg 7%
Total Carbohydrates 59g 20%
Protein 5g 10%
* Percent Daily Values are based on a 2000 calorie diet.
Make chenna for rasgulla recipe
1. First rinse a heavy bottom utensil to boil milk. By rinsing, you can prevent the milk from being burnt beneath.
2. Bring the milk to a boil. If you are using cold milk from refrigerator, heat up on a low flame else it can give a weird smell.
3. When the milk is boiling, pour the diluted lemon juice or curd. Stir well. The entire milk gets curdled well within 2 or 3 mins. Off the heat and let it rest for 2 mins. If the milk doesn't curdle well, add some more curd while the milk is still boiling. If using lemon juice mix it with 2 tbsp water and stir. Use only as needed.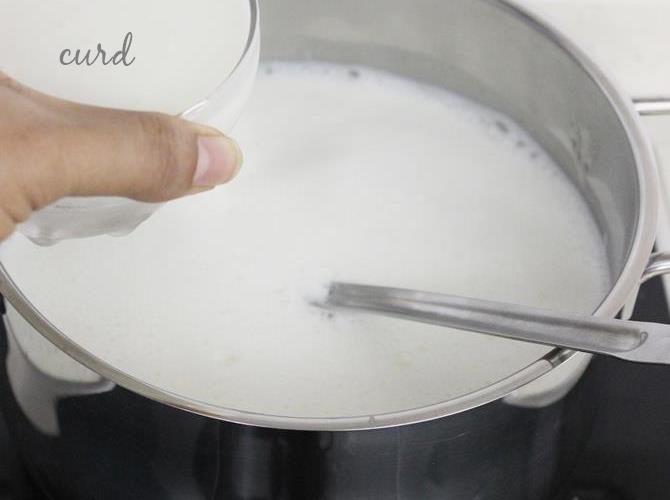 4. This is how it looks once curdled.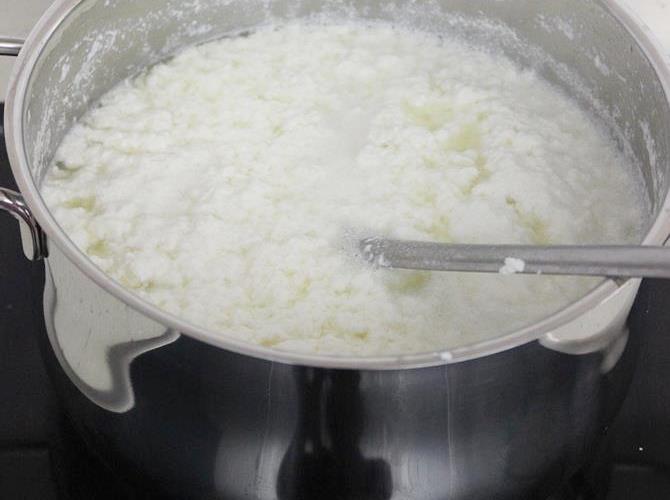 Prepare chenna for soft rasgulla
5. Next pour ice cold water or add ice cubes. This helps to stop the cheese from further cooking. This way it stays soft.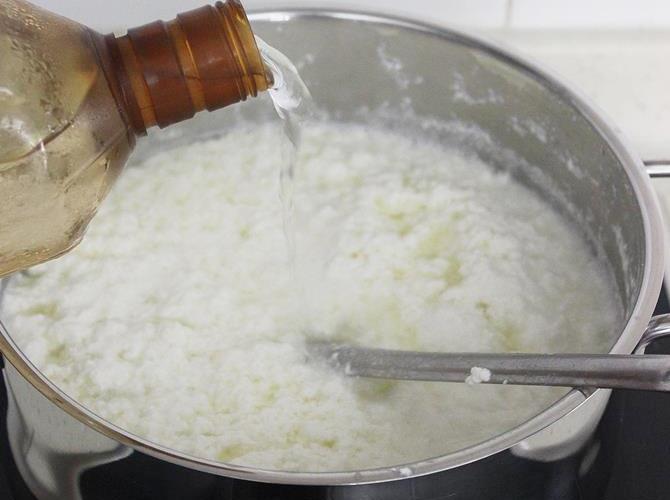 6. Let it rest for 3 mins.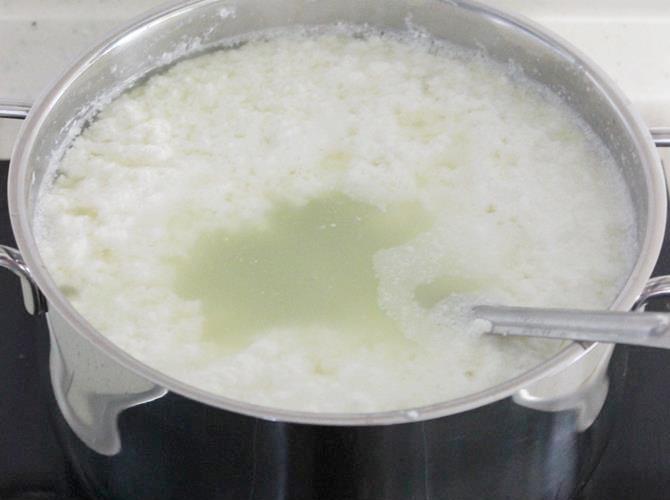 7. Place a cheese or muslin cloth over a colander. Keep the colander over a bowl. Drain it.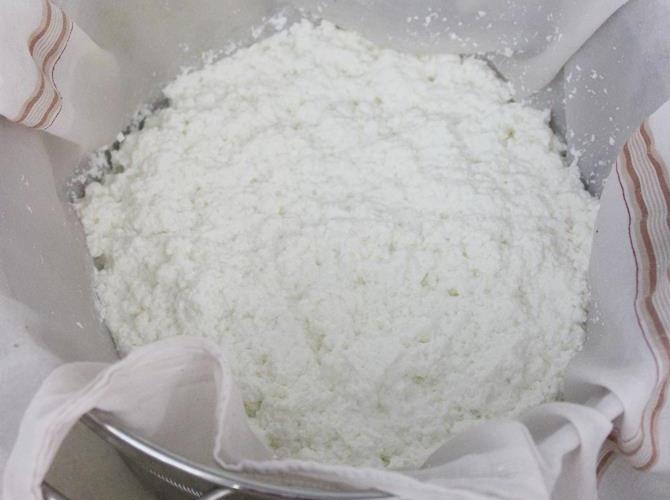 8. Rinse the chenna under running water. This is actually not needed if you use yogurt for curdling. It is rinsed to remove the smell of lemon or vinegar.
Knot the cloth. Squeeze the chenna well to remove excess water. Hang it for 30 to 45 mins. This drains excess water. Squeeze off the excess water in between to reduce the hanging time. Make sure there is no water left in the chenna before you proceed to make the balls.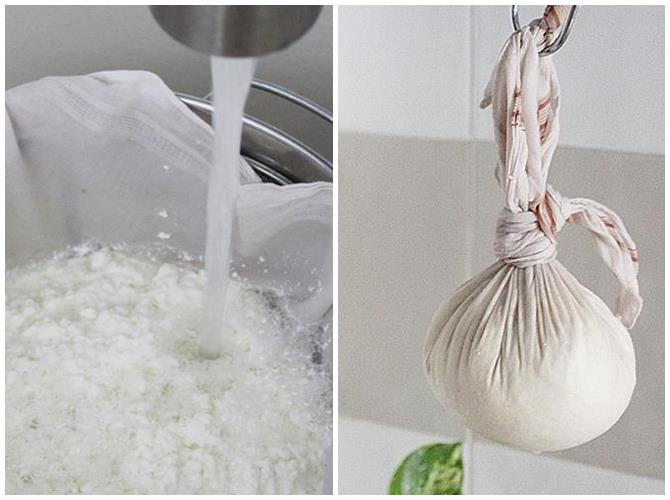 Making balls for rasgulla recipe
9.Knead the chenna or paneer for 3 to 5 mins. You must get a smooth dough. Make small balls out of these. Do not make them too big. As they will puff up and double in size when you boil them in sugar syrup. Mix sugar and water in a pan. Bring it to a boil.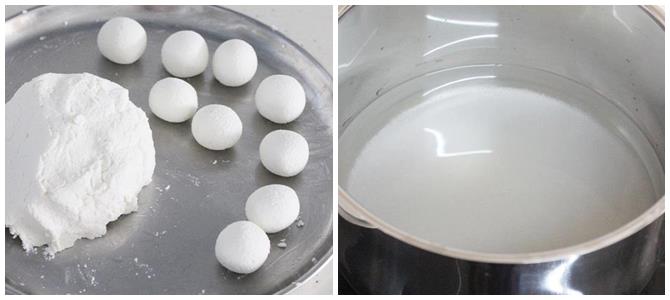 10. Add powdered elaichi and rose water as well to the syrup.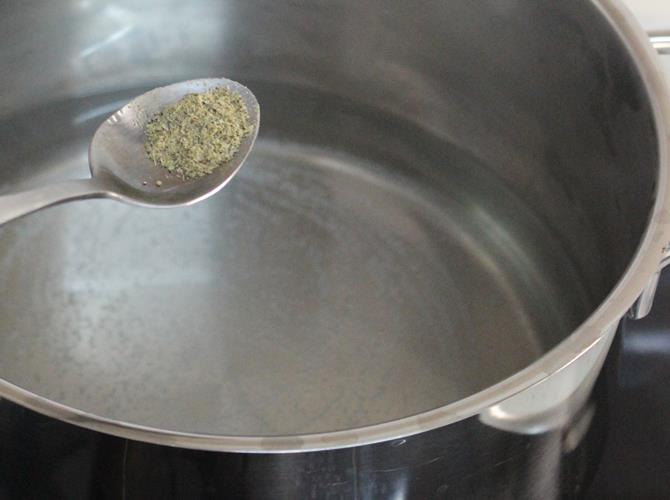 How to make rasgulla
11. When the syrup is boiling, add the balls one after the other carefully.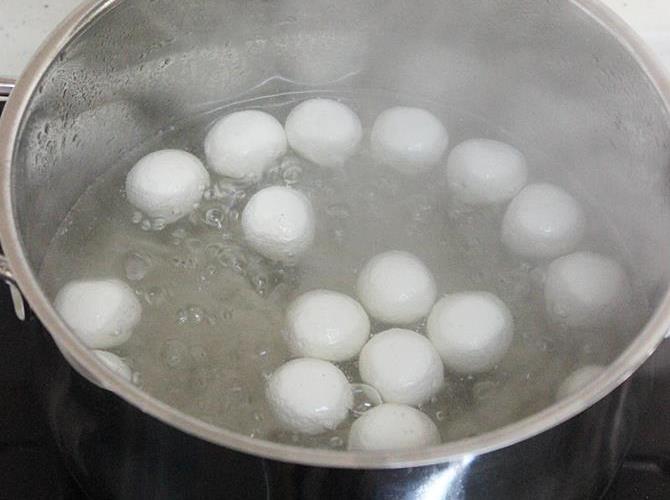 12. Next cover and cook for around 10 mins on a medium high flame. Every 3 mins, open the lid and just stir the syrup gently. If the flame is too high, rasgulla may break. Also they double in size first and then shrink back. We do not want them to shrink or either break, so adjust the flame to medium high.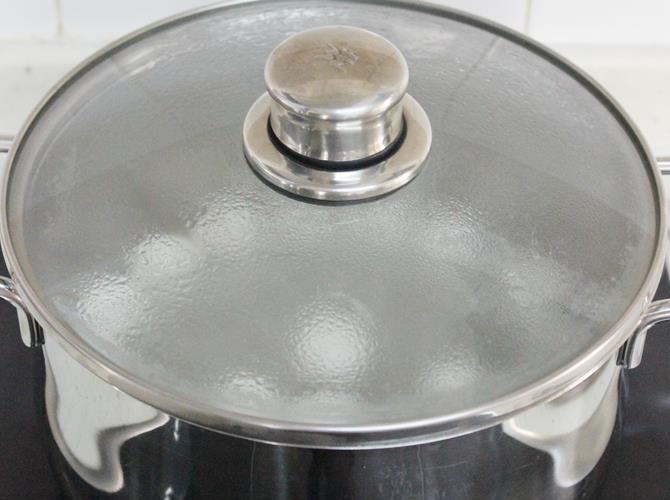 Rasgulla have doubled in size.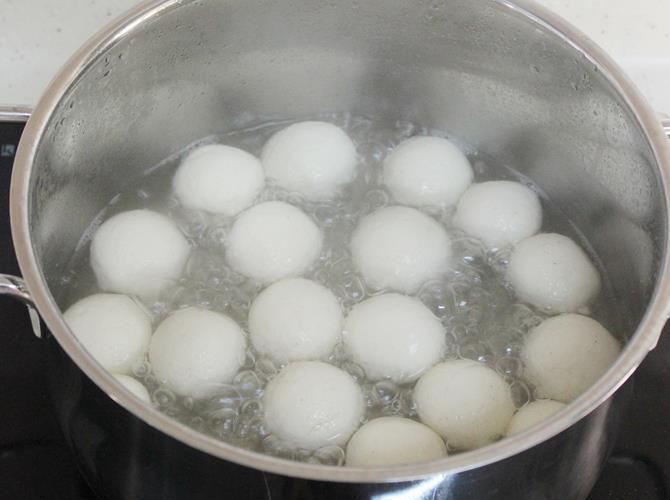 Serve rasgulla chilled or at room temperature.