Palak Paneer Recipe (Indian Spinach Paneer)
Palak Paneer is a popular Indian Vegetarian Dish consisting of paneer (Indian cheese) in a smooth, creamy and delicious spinach gravy. Learn to make the BEST Palak Paneer at home, all without blanching spinach and not over loading your dish with tons of spices. This is simply delicious, rich, absolutely flavorsome & tastes better than in any restaurant. Serve this Palak Paneer with fluffy Basmati Rice, Paratha, roti, Butter naan, Jeera rice, or Ghee rice.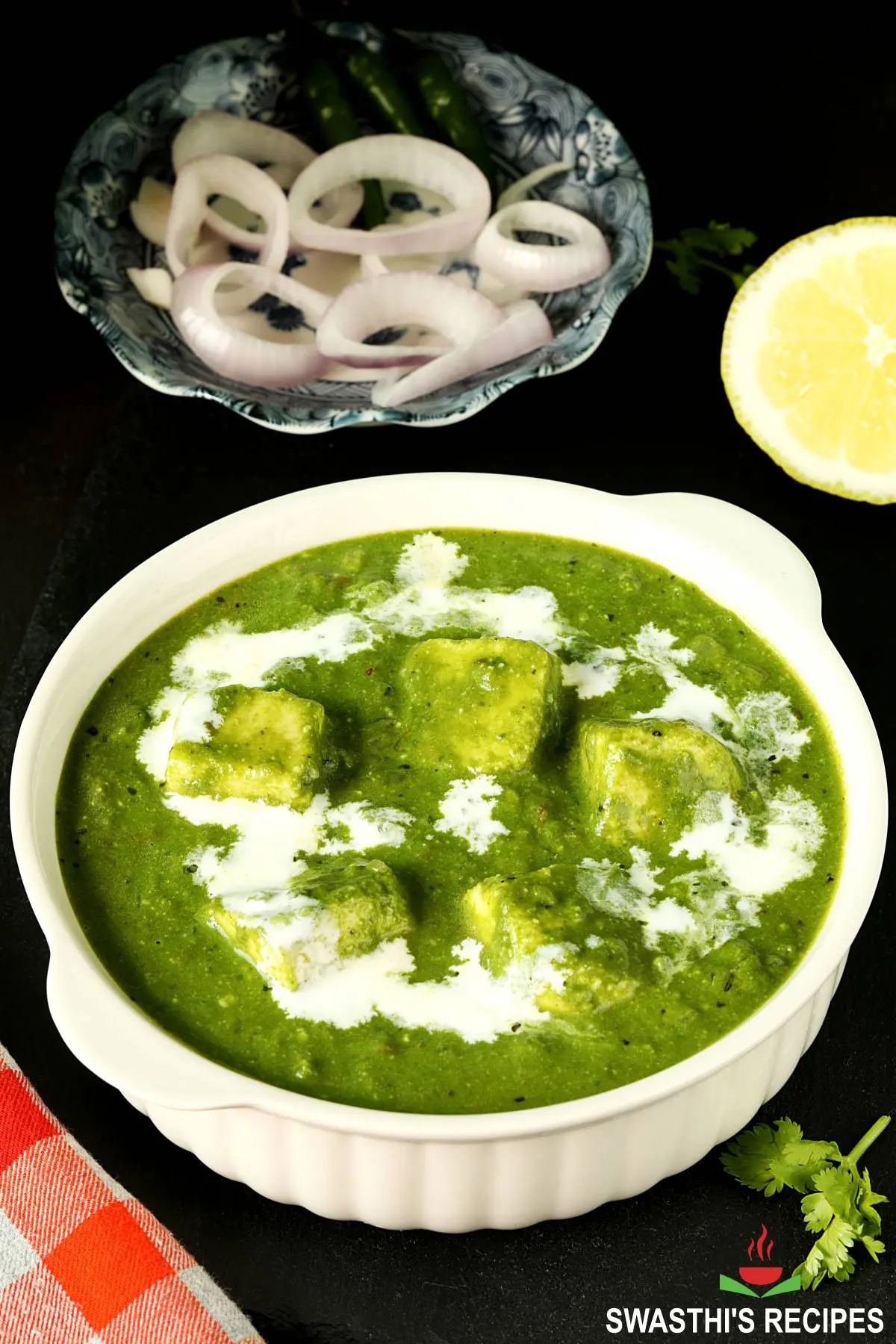 If you are new to Indian cuisine and wondering what is it..
About Palak Paneer
Palak paneer is a classic curried dish from North Indian cuisine made with fresh spinach, onions, spices, paneer and herbs. 'Palak' is a Hindi word for 'Spinach' and 'Paneer' is 'Indian cottage cheese'. So Palak Paneer translates to paneer simmered in a smooth spicy and delicious spinach gravy or sauce. The dish is more popular in the restaurants than in the households.
The conventional method of making palak paneer is to blanch the spinach leaves and then puree it. This spinach puree is later cooked with spices, onions and tomatoes until a thick curry like consistency is achieved.
Lastly paneer is simmered in that sauce. For a restaurant touch usually some cream is added to this. A lot of people also add some milk for a unique flavor.
My Recipe
If you have never loved your Palak Paneer before it is most likely for the way you cooked it. Not anymore because my recipe will help you master cooking the perfect Spinach Paneer.
Growing up we never liked Palak Paneer anywhere, even in the best restaurants for the way it tasted and looked. Later I always had a tough time getting even my toddlers to eat it in restaurants. After trying different ways of making Palak Paneer I finally arrived at this version that is always an huge hit with everyone around.
This palak paneer is the best, you are ever going to make. The best results are achieved just by not blanching your spinach and not overcooking it. So to avoid blanching we saute the spinach first and then puree.
Don't worry about your palak paneer tasting bitter it won't really, because we clean, saute the leaves until wilted & avoid overcooking similar to the way we do in a lot of other recipes like dal palak, spinach paratha, palak rice, aloo palak and many more.
A lot of people also ask if palak paneer and saag paneer are the same. I answer it here: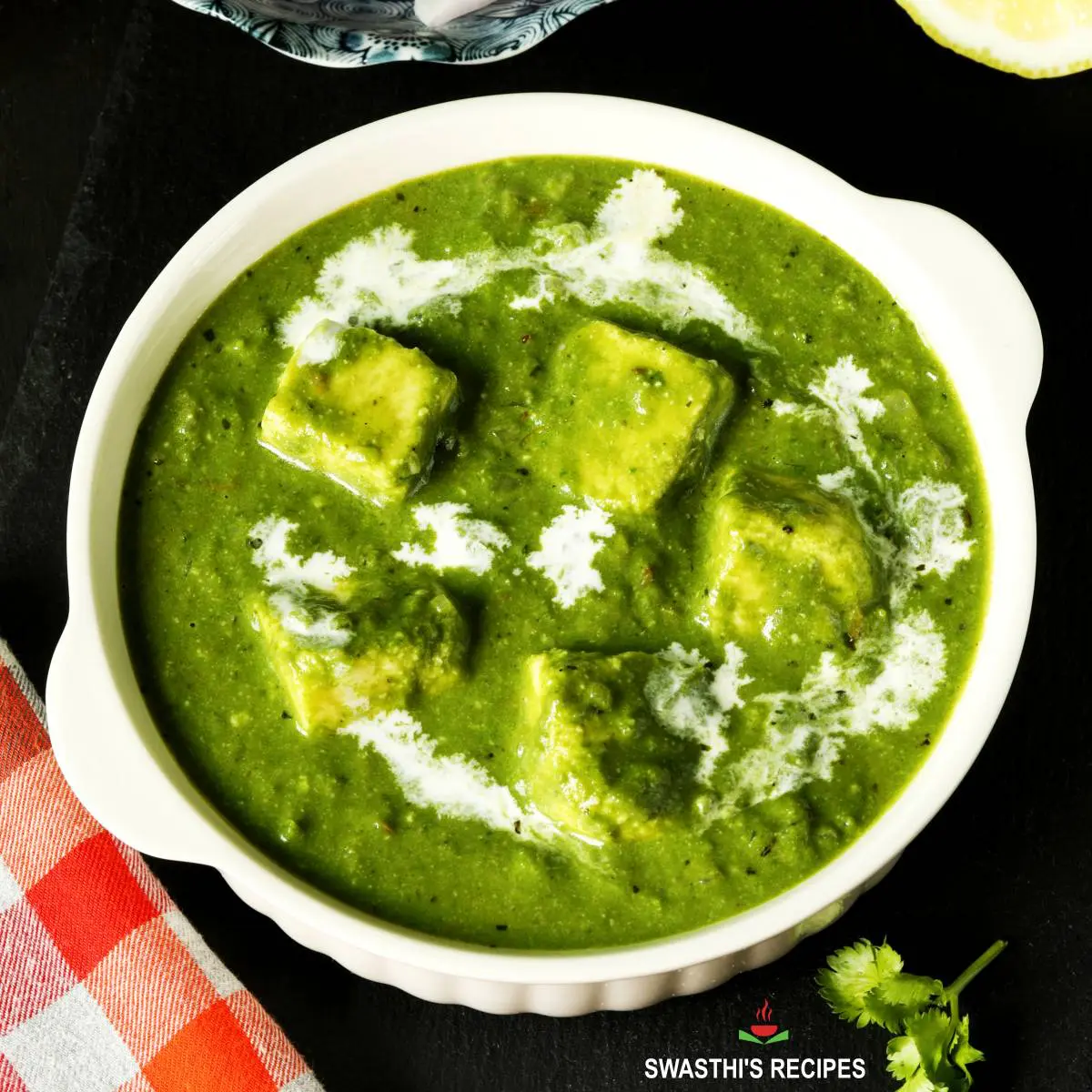 Palak Paneer vs Saag Paneer
Palak paneer is an authentic Indian dish originated in India, while saag paneer is what is invented by the chefs in Indian restaurant abroad, outside India. We would usually never find saag paneer on any restaurant menu in India. But we do find it outside.
Since palak means spinach, palak paneer is made with spinach. But saag typically refers to many different greens like mustard greens, radish greens, fenugreek leaves and few others. So usually saag is made with any or all of these. So if you order for a saag paneer in a restaurant, you are more likely to eat any or all of these in it.
There many different ways a saag paneer is made so it tastes totally different in every restaurant. The saag paneer I have eaten is made with spinach, coriander leaves and methi leaves (fenugreek leaves) which is far different from the palak paneer.
More Paneer Recipes
Paneer butter masala
Malai kofta
Paneer makhani
Easy paneer bhurji
Shahi paneer
Paneer tikka masala
How to Make Palak Paneer (Stepwise photos)
Preparation
1. This recipe needs about 4 cups loosely measured or 2 cups tightly packed (100 to 120 grams) palak leaves. Use only young and fresh spinach. Avoid using large stems or stalks, especially from mature spinach/ palak as they make the gravy bitter. If using baby spinach keep the tender stalks.
Rinse cleaned palak thoroughly in a large pot filled with water. I also spray some vinegar and salt to remove the pesticide residue first. Rinse a few times more. Drain off the water completely. If you are on a low oxalate diet then you can blanch the spinach by following the steps mentioned in the recipe card.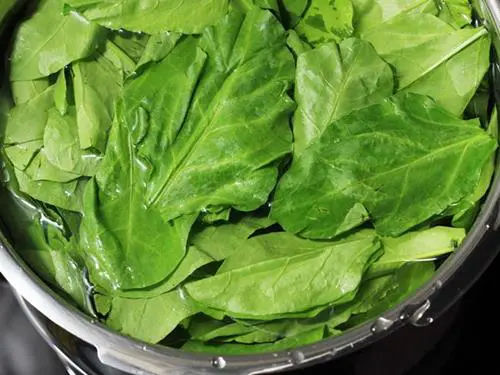 2. Add half tablespoon oil to a pan. then add 1 to 2 chopped green chilies. There is no red chilli powder used in this recipe. So use enough green chilies to give that heat. Adjust accordingly.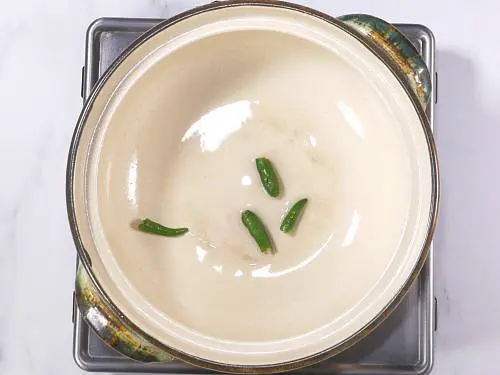 3. Add palak and 8 to 10 cashew nuts. Saute on a medium heat until the palak wilts off completely. This takes only 2 to 3 minutes. Do not overcook, spinach takes only 2 to 3 mins to cook.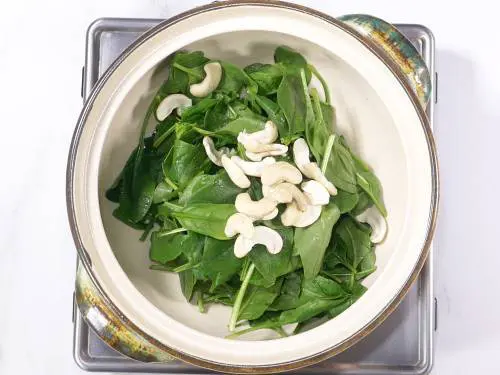 4. Ensure the raw flavor from the leaves has gone. If there is any stock (moisture) of spinach left, you can use up to blend. You need not evaporate it.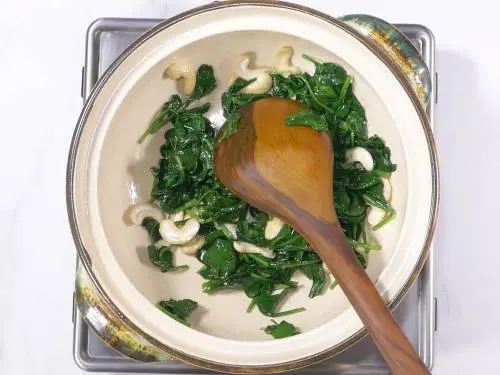 5. Cool it completely. Transfer these to a blender jar. Pour ¼ cup clean water to the blender.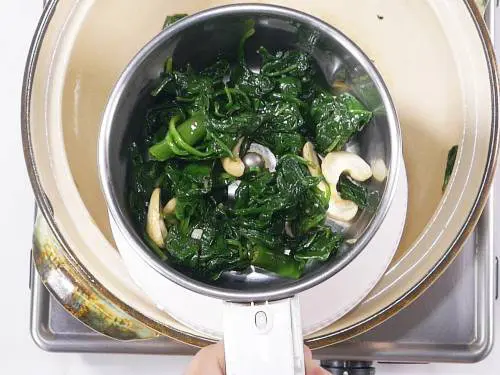 6. Blend this to a smooth puree. It has to be thick and smooth. Keep this aside.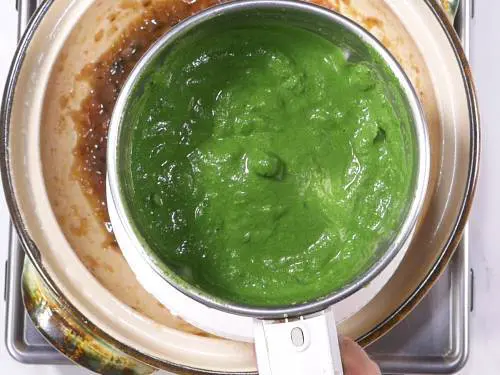 Making gravy
7. Heat the same pan with 1 tablespoon butter and half tablespoon oil . Add 2 whole cardamoms, one inch cinnamon, 2 cloves and 1/8th teaspoon cumin seeds. If you do not have whole spices you may skip them. But we are not going to use much garam masala in powder form so I use them.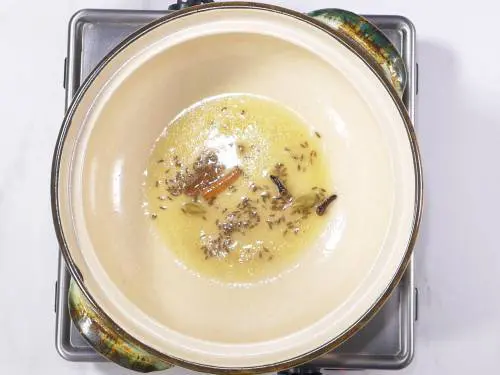 8. Add ¾ cup fine chopped onions or boiled onion paste. Fry until the onions turn golden. Then add ¾ teaspoon ginger garlic paste. Saute for 1 minute or until the aroma of ginger garlic comes out.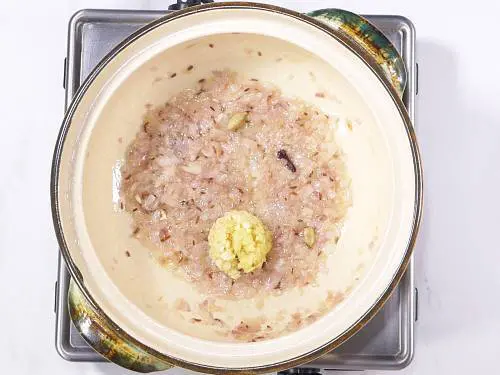 9. Then add deseeded fine chopped half cup tomatoes or tomato puree and half teaspoon salt. Saute them well.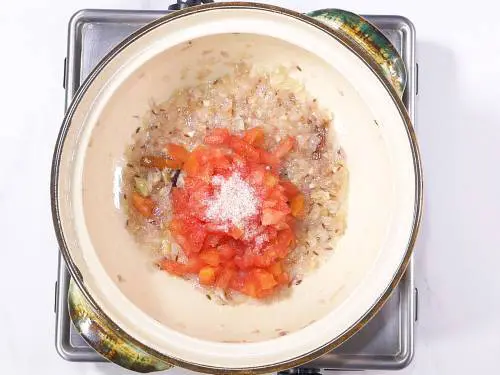 10. When the tomatoes turn fully mushy, add ½ to ¾ teaspoon garam masala. Please use a good flavorful garam masala. Saute until the masala smells good for 2 to 3 mins. (Optional if you don't like chunky curry, then you may blend this as well with ¾ cup water. More in the recipe card notes)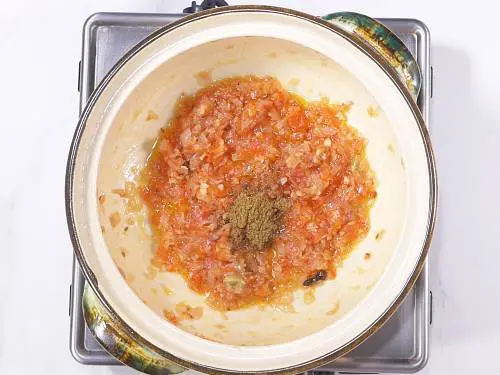 12. Pour ¾ cup water and cook covered on a medium heat until the onions are completely soft cooked. After cooking, onion tomato masala has to be thick yet should have some water. (check video for consistency) Take half teaspoon kasuri methi in your palm and crush it. Add it here.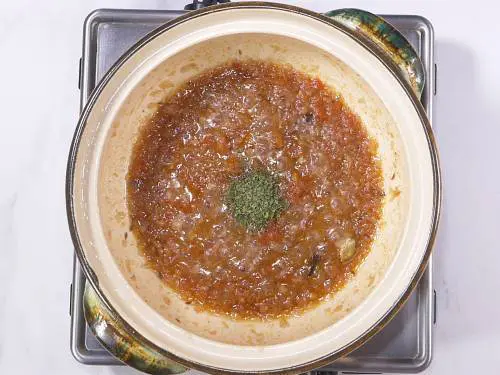 Making palak paneer
14. When the gravy thickens, lower the flame completely. Next add the palak puree. Mix it well and cook until it begins to bubble just for about 2 mins. I do not suggest cooking for long at this stage as it discolors the gravy. If you prefer your curry slightly thin, then you may stir in a few tablespoons of hot water at this stage. Taste test and add more salt.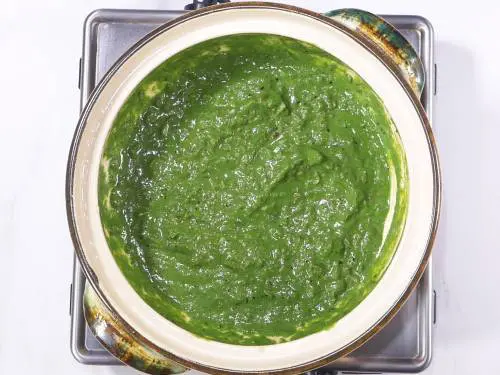 15. Add cubed paneer – (150 grams (5.5 ounces, 1¼ cups))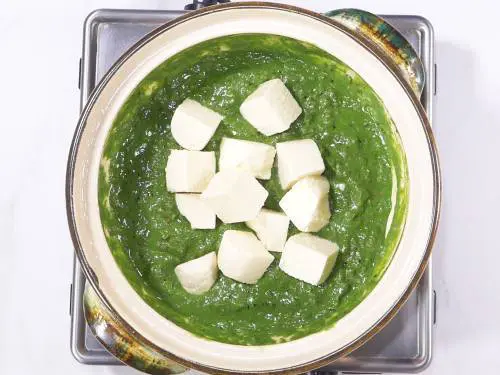 16. Give a good stir. Switch off the stove. If using cream pour it now. You can skip cream is you have used cashews while pureeing the spinach. Honestly this recipe does not need cream & I don't use on a regular basis. I only used for garnishing in the pictures below.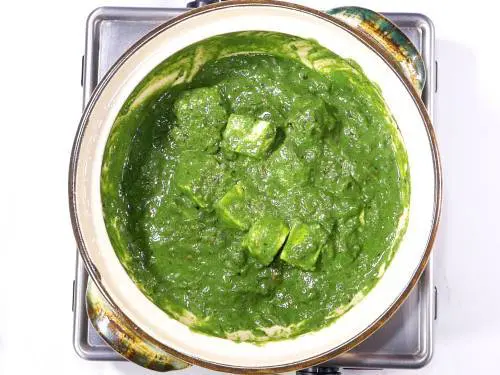 Serve palak paneer with Basmati Rice, butter naan, jeera rice, ghee rice, roti or plain paratha.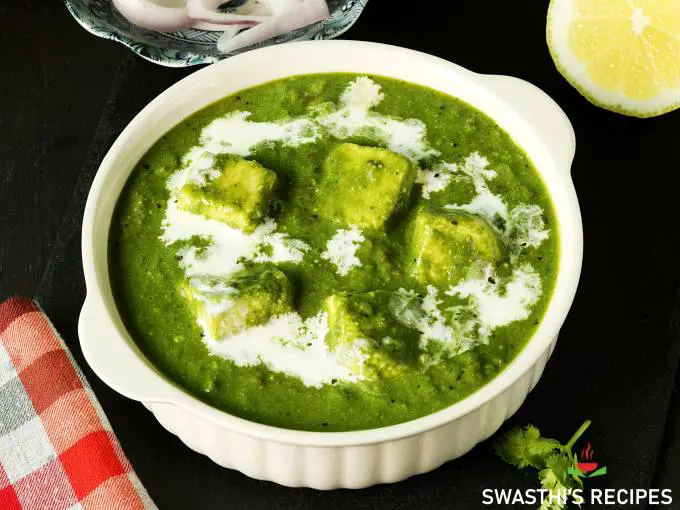 Pro Tips
1. Blanched Vs unblanched spinach: I would recommend blanching, if you have been on a low oxalate diet and do not consume spinach without blanching in any other foods like dal palak or any spinach curry.
To make palak paneer, always spinach is blanched prior to making a puree. But if you are trying to make the best palak paneer, give it a try without blanching.
I am sure you will wonder how good this tastes and completely different from the one made with blanched spinach.
2. Preserving the color of palak: To get the best color, keep garam masala to minimum in this recipe and also prevent overcooking spinach which darkens the dish.
3. Smooth creamy texture: I have used few cashews to give a slightly creamy texture to the palak paneer gravy. However you can just skip them and use about 3 to 4 tbsps cream. You can also use blanched almonds.
4. Paneer: Do choose good quality paneer as it is the key ingredient in this palak paneer recipe. I use this homemade paneer which is soft with a melt-in-the-mouth texture.
If using frozen store bought paneer then soak it in slightly hot water for 15 to 20 mins. Drain and use. This helps to keep it soft.
You can check more palak recipes here which I have shared on the blog.
Faqs
What is the difference between saag paneer and palak paneer?
Saag refers to different kinds of greens like mustard greens, spinach, fenugreek, amaranth and a few others. Saag paneer can be made with any of these greens but palak paneer is made with palak (spinach) alone.
Why does my palak paneer taste bitter?
Bitter taste in palak is due to the high concentrations of oxalic acid present in old, mature, large dark green spinach. To prevent your palak paneer from tasting bitter, simply use young spinach which is more tender and sweeter in taste and flavor. Also overcooking spinach makes it more bitter. It only requires a few minutes to cook.
Can you freeze palak paneer?
Yes you can freeze palak paneer for a month. Once the onion tomato masala is ready, turn off the heat and cool it completely & immediately. Later mix the spinach puree and transfer to air tight glass freezer safe container. When required, thaw it and heat on a low heat until bubbling and hot. You can also heat it in an instant pot.
How to Choose Palak
Always choose tender palak that is light to medium green in color. Dark leaves are usually less tasty.
Do not use the stalks or stems of palak as it makes the palak paneer bitter. It also leads to metallic taste.
I have not made this recipe with frozen spinach anytime. But a few readers have had positive results even when made with frozen spinach.
Related Recipes
Recipe Card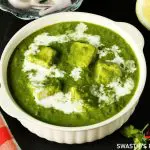 Palak Paneer Recipe (Spinach Paneer)
Palak paneer recipe – Indian cottage cheese simmered in onion tomato spinach gravy. This palak paneer is one of the best you can make at home. Tastes simply delicious, creamy and easy to make. Serve with roti, basmati rice or naan.
Print Recipe
Pin Recipe
Jump to Comments
For best results follow the step-by-step photos above the recipe card
Ingredients (US cup = 240ml )
150 grams (1¼ cups)

paneer

(Indian cottage cheese)

3½ to 4 cups (100 to 120 grams)

palak

(spinach)

2

tablespoons

oil

(or half oil & half butter)

2

green chilies

(deseeded) (less spicy kind)

¾ cup ( 90 grams, 1 small)

onions

(fine chopped)

½ cup (2 small)

tomatoes

(deseeded & chopped or pureed)

¾

teaspoon

ginger garlic paste

(read notes for substitute)

¾

teaspoon

salt

(adjust to taste)

8 to 10

cashewnuts

(read notes for substitutes)

½ to ¾

teaspoon

garam masala

(adjust to taste)

½

teaspoon

kasuri methi

(dried fenugreek leaves) (skip if you don't have)

¼

cup

water

to blend spinach

¾

cup

water

to cook the gravy

3

tablespoons

cream

(optional)
(Optional) Whole spices for palak paneer
⅛

teaspoon

cumin seeds

(jeera) (optional)

2

green cardamoms

(elaichi) (optional)

1

inch

cinnamon

(dalchini) (optional)

2

cloves

(laung) (optional)
Instructions
Preparation
Pluck only the young & tender spinach leaves and discard the stems as they may leave a bitter taste. If using baby spinach you can use the stems as well.

Add them to a large pot of water. Rinse them well few times & drain to a colander.

Allow the water to drain completely otherwise it will let out lot of moisture while cooking.

Heat half tablespoon oil in a pan. Saute green chilies, cashews and spinach for 3 to 4 mins until the leaves wilt off thoroughly & raw smell of spinach has gone away. [OR another option is to blanch the palak in 4 cups of hot water with ¼ tsp salt for 2 mins. Then immerse in ice cold water. Drain completely.]

Cool this completely. Blend this along with water to a smooth puree. The puree should be smooth and thick. You may add 1 to 2 tbsps more water to help in blending.
How to make Palak Paneer
Heat 1 tablespoon butter and half tablespoon oil to the same pan, Once they melt, add cinnamon, cardamoms, cloves & cumin seeds.

When the spices begin to sizzle, add onions and fry till they turn transparent to golden.

Next saute ginger garlic paste for 1 to 2 minutes or until you begin to smell it nice.

Then add tomatoes with salt. Saute until they break down and turn mushy.

Add garam masala & saute until the masala smells good. This may take 2 mins. (for a smoother curry refer notes)

Pour water and cook covered until onions are completely soft. There should be some water left in the pan. (for consistency check video)

Lower the flame, add kasuri methi and pureed spinach. Mix well and cook until it begins to bubble for about 2 to 3 mins. If the curry is too thick you may add a few tbsps of hot water.

Avoid overcooking. Add paneer & mix well. Turn off and remove to a serving bowl. Optionally garnish with cream.
Notes
This recipe can be doubled.
Substitute ginger garlic paste with ½ teaspoon minced ginger and ¾ teaspoon minced garlic.
Substitute cashews with 7 blanched and soaked almonds or 2 tablespoons almond flour. The taste is different with almonds.
For a smoother gravy, after sauteing the onion and tomatoes with garam masala cool it & blend to a smooth puree with ½ to ¾ cup water. Cook this until you see traces of oil. When the gravy thickens add the palak puree.
If using baby spinach, stems can be used. If using mature spinach, avoid using stalks & stems as they may lend a bitter taste. Cut off each stem from the leaves. Overcooking palak can leave a bitter taste.
You can use more spinach if you like.
Whole spices are optional. But they do add a lot of flavor to the dish. However you can skip them and add more garam masala to suit your taste.
Optional: If using store bought paneer, then cube them and add to 2 cups hot water. Keep these immersed for 10 mins. Drain and use.
Alternative quantities provided in the recipe card are for 1x only, original recipe.
For best results follow my detailed step-by-step photo instructions and tips above the recipe card.
NUTRITION INFO (estimation only)
Nutrition Facts
Palak Paneer Recipe (Spinach Paneer)
Amount Per Serving
Calories 350
Calories from Fat 270
% Daily Value*
Fat 30g46%
Cholesterol 54mg18%
Sodium 739mg32%
Potassium 388mg11%
Carbohydrates 13g4%
Protein 10g20%
Vitamin A 3831IU77%
Vitamin C 22mg27%
Calcium 303mg30%
Iron 2mg11%
* Percent Daily Values are based on a 2000 calorie diet.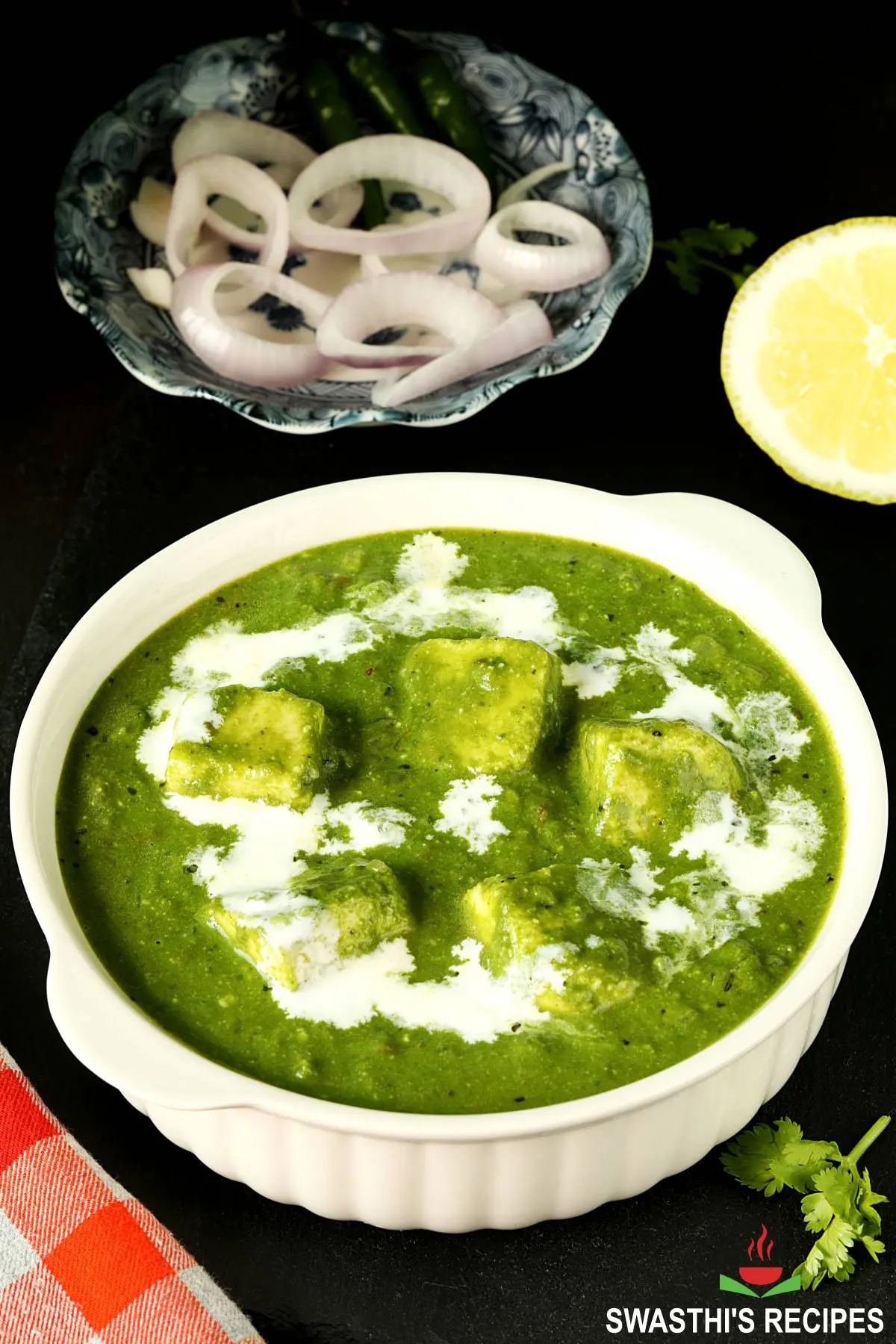 About Swasthi
I'm Swasthi Shreekanth, the recipe developer, food photographer & food writer behind Swasthi's Recipes. My aim is to help you cook great Indian food with my time-tested recipes. After 2 decades of experience in practical Indian cooking I started this blog to help people cook better & more often at home. Whether you are a novice or an experienced cook I am sure Swasthi's Recipes will assist you to enhance your cooking skills. More about me
Follow Swasthi's Recipes