Rice Recipes (Variety Indian Rice Dishes)
These 83 Indian Rice Recipes will surely help you whip up a delicious and healthy meal for your family & friends. Whether you are looking for a delicious layered biryani or a one pot comforting khichdi, here you will surely find so many amazing and easy to make rice dishes.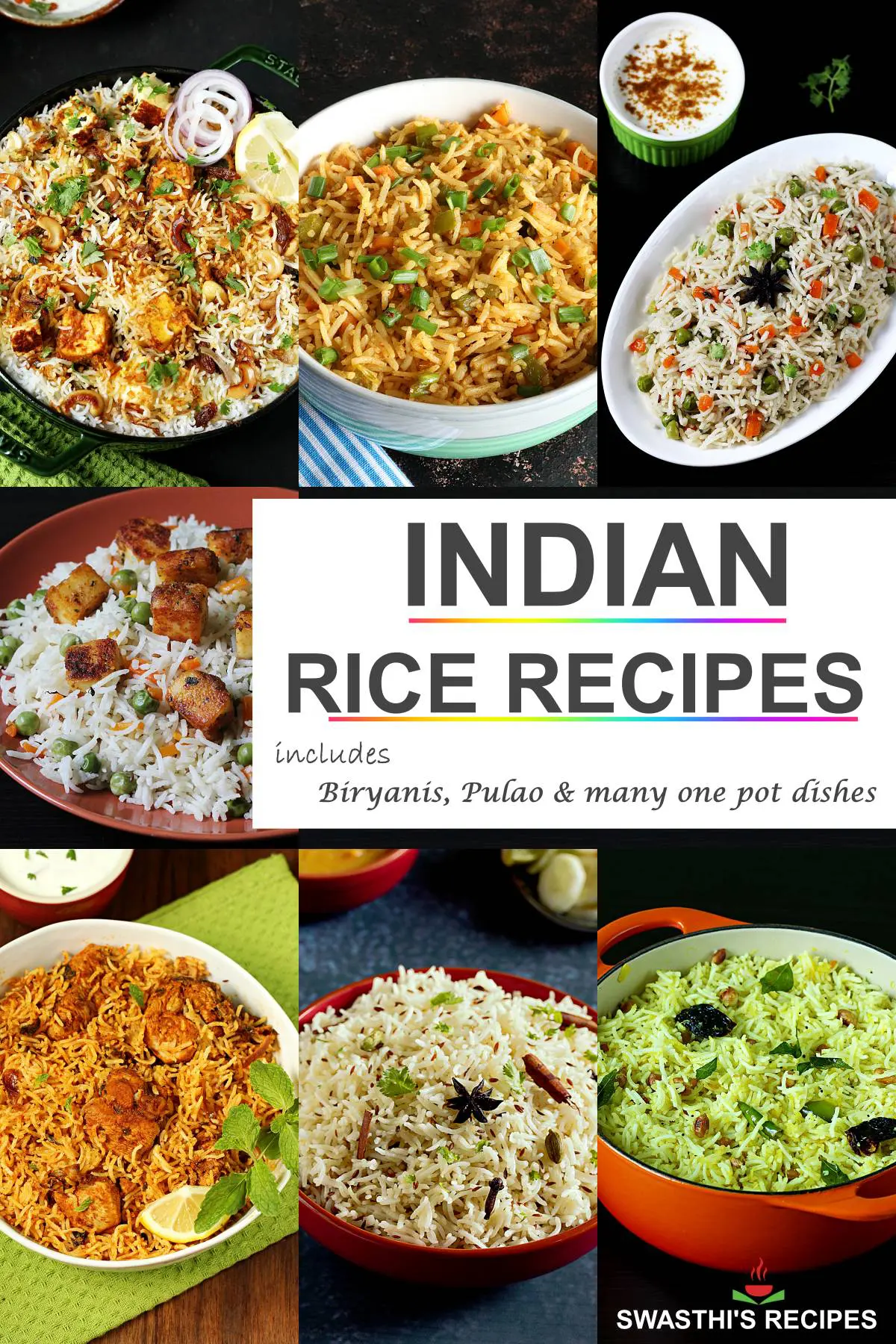 Rice is one of the wonderful grains that is available to us. It is a staple in many Asian households and is enjoyed in numerous ways. Apart from serving with curries and stew, rice can also be used to make pilaf, biryani, flavored rice and many more.
In this collection you can find over 100 Rice Recipes that are vegetarian, eggetarian and non-vegetarian as well. Every recipe has instructions to make them on the stovetop in a pot. Apart from that I have also included instructions for stovetop pressure cooker and Instant pot where ever required.
If you are a novice and wondering what to try first, then check out these sections so you can easily decide.
Easy Rice Recipes
There are a lot of dishes which can be made with precooked plain, meaning you have some already cooked rice and then you want to transform it to a flavorful dish by simply tempering or seasoning.
These dishes will only take 10 mins for you to temper – Lemon Rice, Coconut Rice, South Indian Curd Rice, Thakkali Sadam, tawa pulao, Lemon Mint Rice or Egg Fried Rice.
Indian Rice Recipes
These recipes are from traditional Indian cuisine and most of them are one pot dishes. You can make these easily when you have at least 30 to 40 mins time to make your meal.
Vegetable Pulao, Vegetable Biryani, Coconut Milk Rice, Mix Vegetable Tehri, Restaurant style Jeera Rice, Restaurant style Ghee Rice, moong dal khichdi, Tomato rice and South Indian Biryani Rice.
Restaurant style Rice Recipes
These dishes will take some time as there is a bit of preparation like chopping etc. You may want to plan making these ahead. Veg fried rice, Veg dum biryani, Bisi bele bath, Hyderabadi biryani and Chicken fried rice.
Rice Recipes with Eggs
Making any dish with rice and eggs is super quick. If you eat eggs, then you can give these a try – Egg fried rice, Egg biryani and Egg Pulao.
All Rice Recipes
Rice Dishes with Meat