Popcorn chicken recipe – Learn to make crunchy kfc style popcorn chicken at home with this simple and quick recipe. Popcorn chicken is much popular in every part of the world and makes its presence on the menus of KFC, fast food centres & even in restaurants. I am sure these delicious, flavorful & crisp fried tender popcorn chicken will be your new favorite. Enjoy them with any sauce or garlic mayo dip.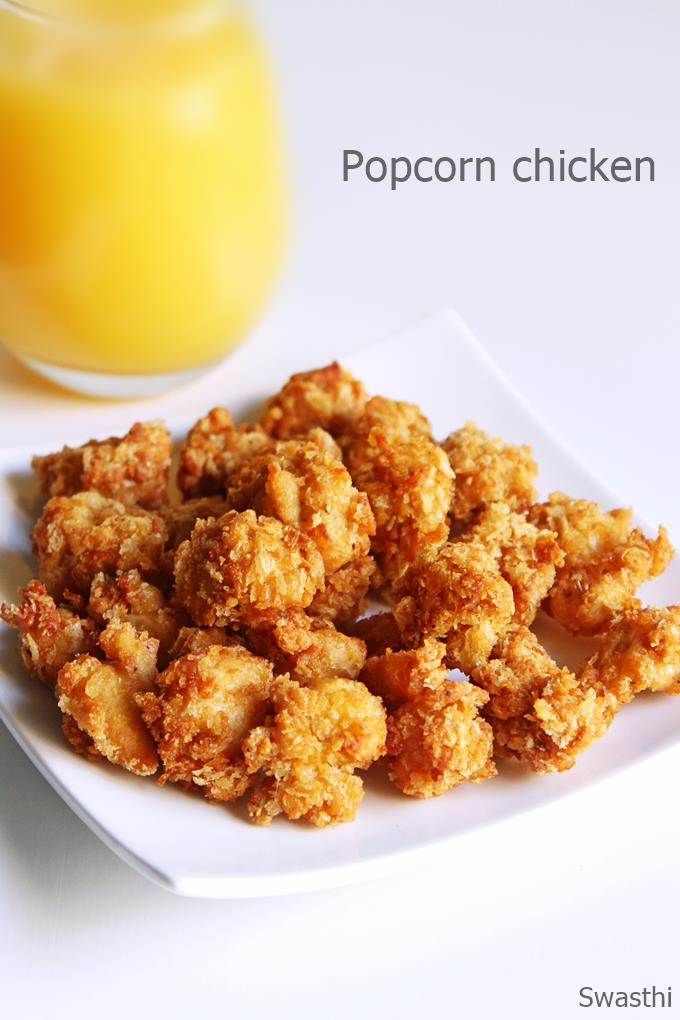 Popcorn chicken is made in many different flavors based on the region. So you can use your favorite herbs and spices to suit your taste buds. I have shared the most basic recipe here with some optional seasonings.
Bread crumbs are one of the key ingredients that makes the popcorn chicken crunchy.
To make popcorn chicken, I often make the brine by whisking 4 tbsps curd or yogurt with ¾ cup of water. Add pepper or other flavoring ingredients to it. Then soak the chicken for 4 hours to overnight in the fridge.
As a substitute to brine, you can also use egg as a quick fix like the way I have shown in this post. This recipe will yield you spicy, flavorful and the most delicious tender bites of popcorn chicken.
For more Chicken recipes check
Chicken nuggets
Chicken burger
KFC style fried chicken
Chilli chicken
Hot spicy szechuan chicken
Crunchy chicken cutlet
Crunchy popcorn chicken recipe (KFC style)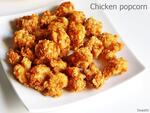 Popcorn chicken recipe | How to make kfc style popcorn chicken
Kfc popcorn chicken recipe – Crunchy, juicy, flavorful and delicious popcorn chicken that tastes better than the KFC. Simple, quick and easy recipe. You can tweak the seasonings to suit your taste,
Ingredients (1 cup = 240ml )
Ingredients for popcorn chicken
250

grams

chicken

(boneless)

2

tbsps

corn flour

(or corn starch) or all purpose flour (maida)

1

egg

(or 2 to 4 tbsp buttermilk or yogurt)

1

cup

bread crumbs

(or panko crumbs)

Salt

(about ¼ tsp or more)

¾

tbsp

ginger garlic paste

(or ½ tsp Garlic powder)

¼

tsp

black pepper

powder

½

tsp

onion powder

(optional)

¾

tsp

red chili powder

(or paprika or cayenne pepper)

1

tsp

garam masala

(or any other seasoning, use as needed)

Oil

for deep frying
Instructions
Preparation for popcorn chicken recipe
To a mixing bowl,

add paprika or red chili powder, pepper powder, ginger garlic or garlic powder, masala powder (or any seasoning) and salt.

Mix well and taste the mixture. Adjust the salt and spice as needed.

Cut chicken to tiny bite sized pieces. Make sure you cut them to uniform sizes as this helps to fry all of them uniformly.

Transfer the cut chicken to the seasoning and mix well.

Now add the flour and coat the chicken with the flour.

Pour the egg or butter milk and mix everything well. Chicken should be very moist at this stage.

Next pick up each piece and roll in bread crumbs. or Transfer the bread crumbs to the bowl. & gently mix well.

For extra crunch you can also double coat the chicken pieces by dipping in egg mixture again and then rolling them in bread crumbs again.

Rest for 10 to 15 mins for the bread crumbs to stick well to the pieces. If you have used buttermilk then it is good to rest them at least for an hour. You can also refrigerate up to 48 hours for further use.
How to make popcorn chicken
Heat oil on a medium flame.

When the oil is hot enough, check by dropping a small piece of bread crumb. It has to rise without browning a lot. 350 to 375 F is the right temperature if you are measuring.

Drop the pieces one after the other. Do not stir or disturb them for about a minute otherwise the bread crumbs may disperse in oil.

Deep fry evenly till golden. Keep stirring after a minute or two for even frying.

Drain popcorn chicken on a kitchen tissue and serve hot with ketchup, sauce or any other dip.
Notes
If you like to brine the chicken then add 4 tbsp of yogurt and your favorite seasoning to a bowl. Pour ½ to ¾ cup water and whisk it well.Then add the chicken bites and refrigerate for 4 hours to overnight. Drain the buttermilk and use them in the recipe.
Seasonings
To spice up your popcorn chicken, you can sprinkle any of the seasonings just before serving
Chiptole powder
Sri racha powder
Seaweed seasoning.
Nutrition
Calories:
371
kcal
|
Carbohydrates:
23
g
|
Protein:
16
g
|
Fat:
22
g
|
Saturated Fat:
4
g
|
Cholesterol:
87
mg
|
Sodium:
266
mg
|
Potassium:
196
mg
|
Fiber:
1
g
|
Sugar:
1
g
|
Vitamin A:
5.9
%
|
Vitamin C:
1.2
%
|
Calcium:
6.2
%
|
Iron:
11.9
%
How to make popcorn chicken recipe
1. Add red chili powder, ginger garlic (paste or powder) onion powder, pepper powder and salt. If you have rosemary or any other seasonings you can add that as well now. Mix well and taste the spice mixture. If needed add more alt and spice.
Chop chicken to bite sized pieces. Mix well with the spice mix to coat evenly.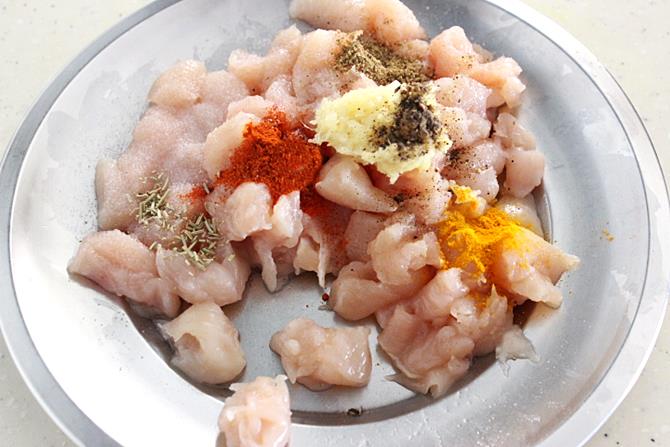 2. Add corn flour or maida. Coat the chicken with the flour. Then add egg, I used only the egg white. Mix well.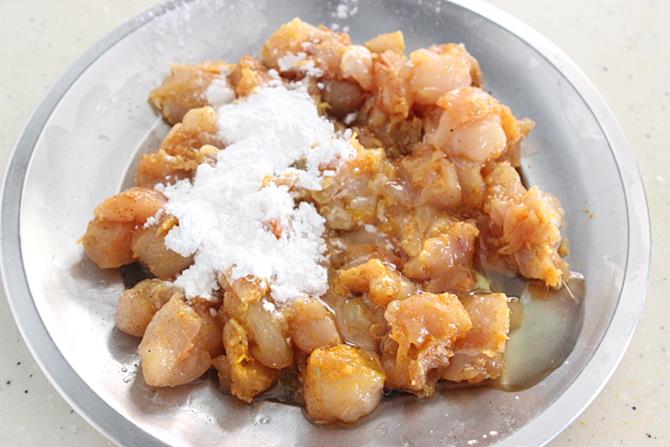 3. Pick up each piece of chicken and roll in the bread crumbs. For extra crunch you can double coat the pieces again. Dip the once coated pieces in egg mixture and coat them again in bread crumbs.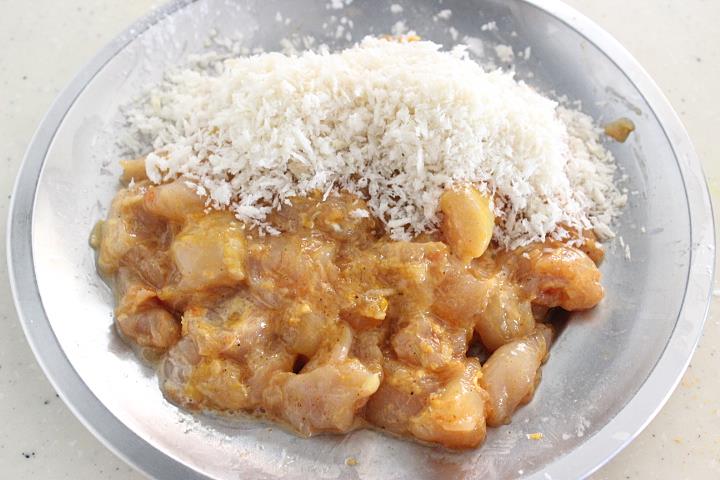 4. Mix well and set aside for about 10 to 15 minutes. This helps the bread to stick well to the popcorn chicken. You can also refrigerate for further use.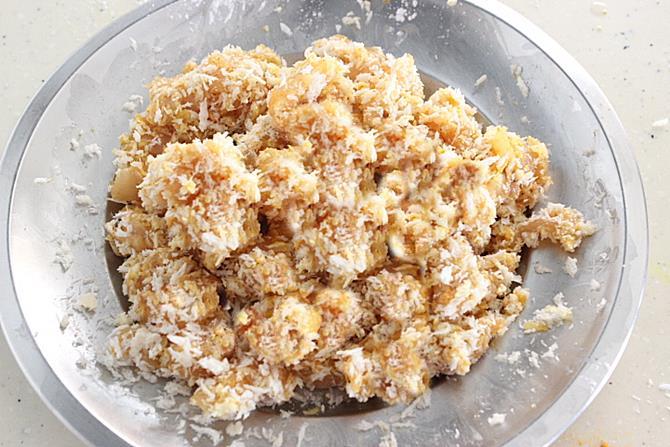 5. Heat oil on a medium flame. Check if the oil is hot by dropping a bread crumb. It has to rise without browning quickly.
6. Drop the chicken pieces one by one. Do not disturb or stir for a minute as the crumbs may mess up the oil. Keep stirring while frying for even browning. Fry in batches till you finish. Drain them on a kitchen tissue.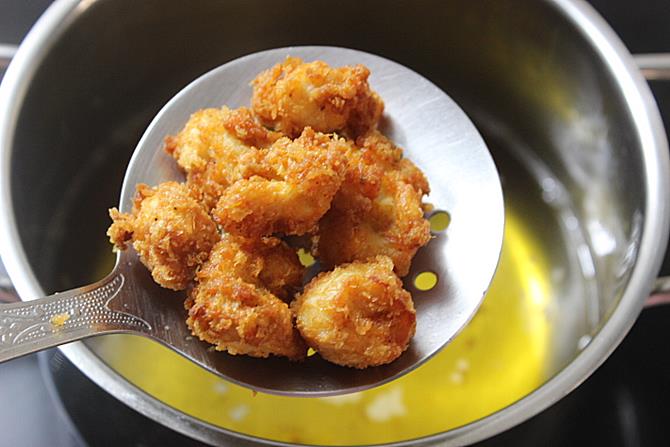 Popcorn chicken is ready
Serve hot with your favorite ketchup or sauce. You can also sprinkle your favorite seasoning on top.