Our go-to Popcorn chicken! Will soon be your's too! Everyone love's popcorn chicken and there's something nostalgic about these crispy, juicy and flavorsome tiny morsels. These popcorn chicken are tender inside and crisp outside, with bursting flavors and oh so good! Serve them as an appetizer with your favorite dip or use them to make your KFC Bowls or Rice Buckets. No matter how you serve, they are fantastic and taste super delicious. In this post I share how to make the crispiest, juiciest and delicious popcorn chicken at home. Bonus! I also have a creamy sweet chilli sauce to serve as a dip and you can whip up this in less than 5 mins.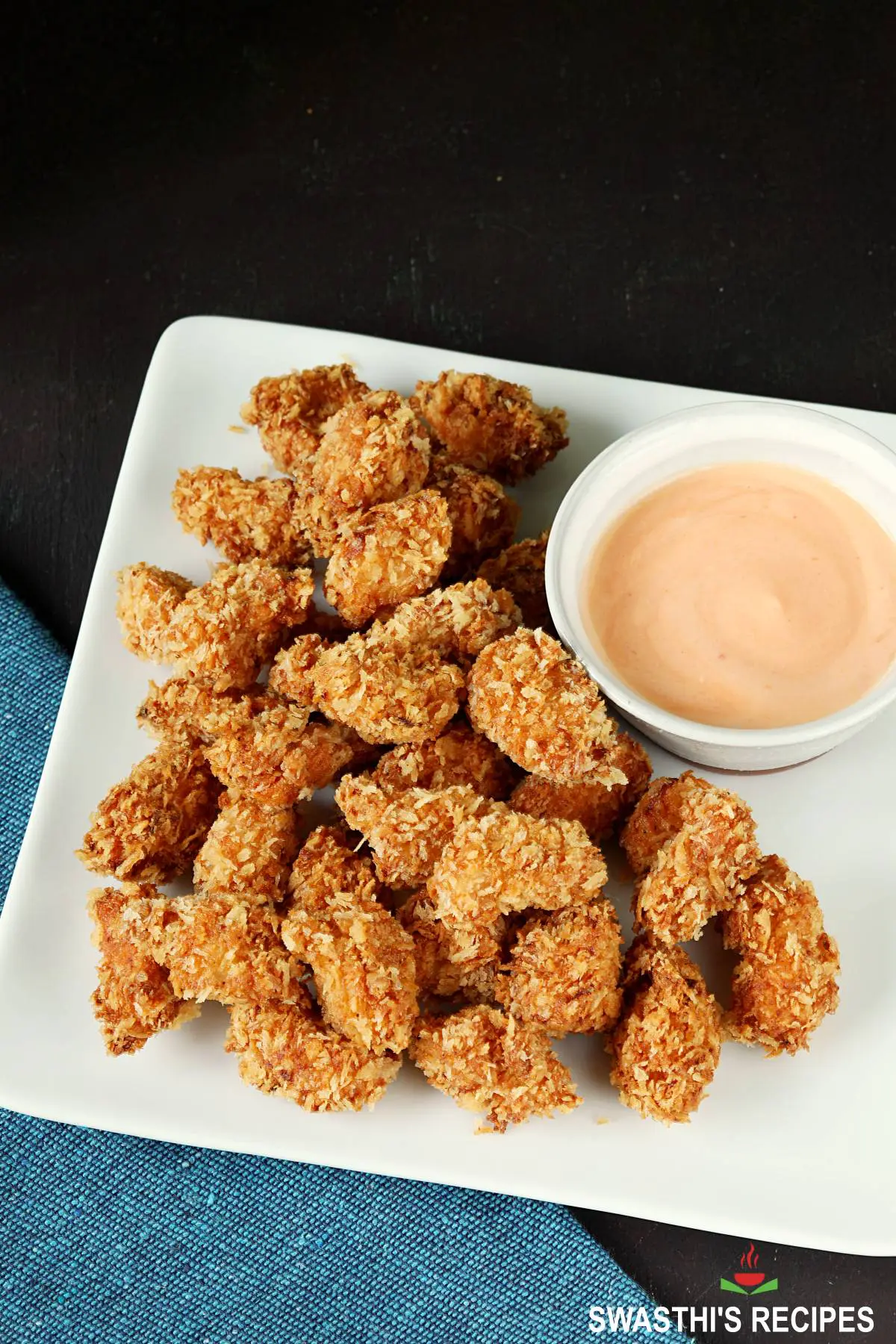 This recipe uses some spices for all those burst of flavors and you may skip some of them or reduce the quantities to make the popcorn chicken kids-friendly.
What is Popcorn Chicken?
Popcorn chicken are bite-sized tender and crisp chunks of chicken that have been seasoned, breaded and deep fried to perfection, until golden. Since the breaded tiny chunks resemble popcorn, they are named as popcorn chicken. The popular fast food giant KFC introduced popcorn chicken to the world and the delicious food has gained immense popularity since then.
Today you will find these everywhere on the menus, right from the budget fast food chains to the upscale restaurants and has been a favorite with a larger population. So you are likely to find numerous versions of the popcorn chicken all over the world.
Some are breaded and some are not but simply coated with flour, which creates a popcorn like structure with a crust. Each are seasoned differently for a unique flavor. Even in KFC, popcorn chicken is not the same in every country. These are made to match the local taste buds.
Ingredients & Substitutes
Chicken: Fresh or thawed from frozen chicken breasts are good to use here. You may use tofu, paneer or parboiled potatoes as a substitute.
Seasoning: I love using garlic powder, onion powder, red chilli powder / paprika, crushed black pepper and all-spice or garam masala for seasoning the chicken. You can simply skip all of these but you will be left with bland popcorn chicken. To make it kids-friendly, you may skip the red chilli powder and all-spice or garam masala.
Bread crumbs or panko crumbs: Panko crumbs give the best crisp results but you may use bread crumbs too. I do not add any seasoning to my bread crumbs since I season the chicken. I prefer to avoid adding the seasoning ingredients to the bread crumbs to keep the oil clear till the end of frying. This is very essential if you are frying a large batch of chicken or want to reuse the fried oil.
Flour: I use corn starch (white corn flour) as it gives super crispy chicken. You may substitute that with all-purpose flour but the results vary.
Buttermilk or yogurt: I prefer to use a small amount of yogurt while seasoning the chicken. This helps to tenderize the chicken and prevents the chicken from drying out after frying or baking. However you may skip this for a dairy-free option.
Eggs or Buttermilk: Eggs or buttermilk is used to provide some moisture to the chicken so it helps in binding the bread crumbs well. Also both these ingredients lock the chicken juices while frying and won't let the chicken dry out.
I have been making this recipe with both and sometimes with a combination of both to make it low fat. The results are almost the same with all these changes. Avoid using very sour buttermilk as it can easily make your popcorn chicken taste tangy.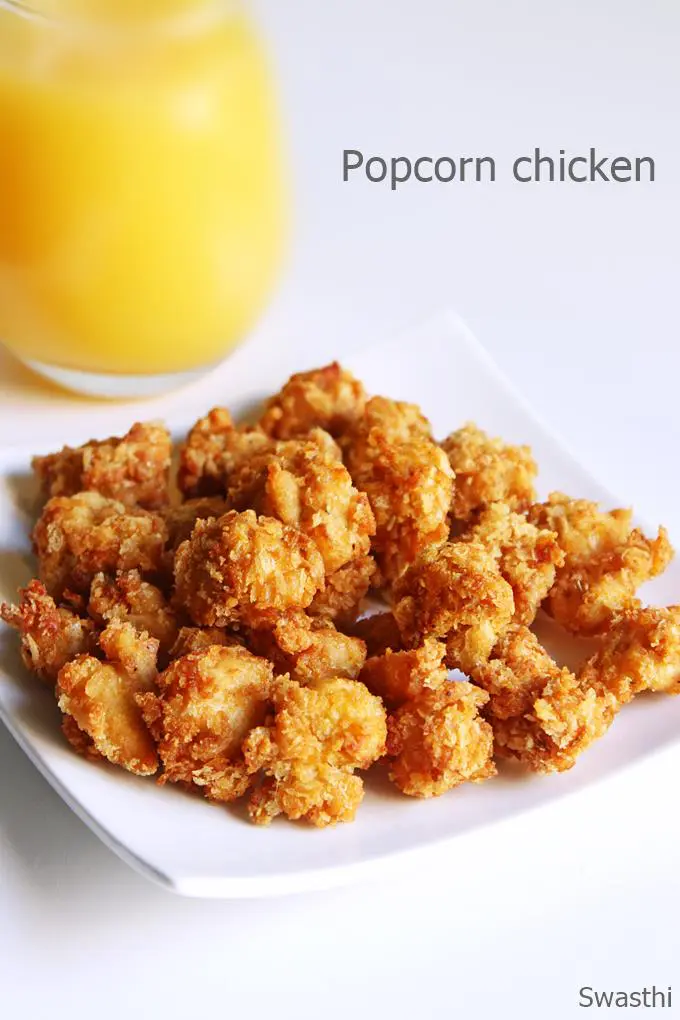 For more Chicken recipes check
Chicken nuggets
Chicken burger
KFC style fried chicken
Chilli chicken
Hot spicy szechuan chicken
Crunchy chicken cutlet
How to Make Popcorn Chicken (Stepwise Photos)
1. Chop the chicken to bite sized pieces and add them to a mixing bowl.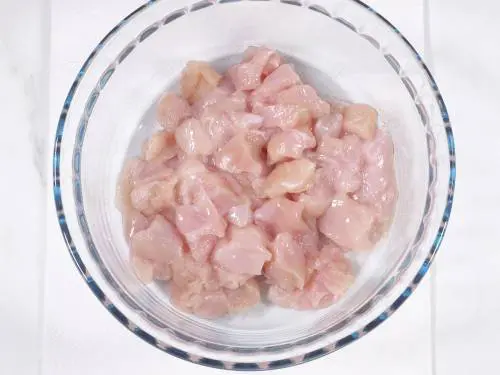 2. Add all the seasonings:
Salt
onion powder
garlic powder
black pepper crushed
red chili powder or paprika
garam masala or all-spice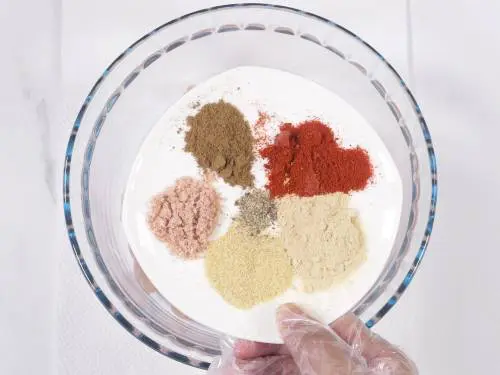 Mix well and pour 2 tablespoons yogurt (optional).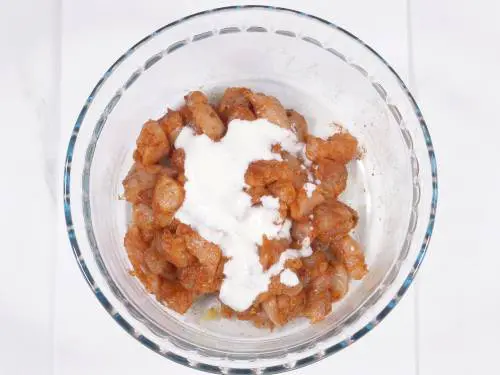 Mix and cover. Refrigerate for at least 30 mins to 8 hours.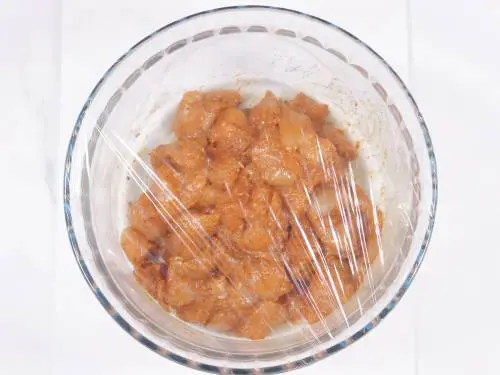 Pour Egg white or buttermilk. Make sure your buttermilk is not sour. Mix well.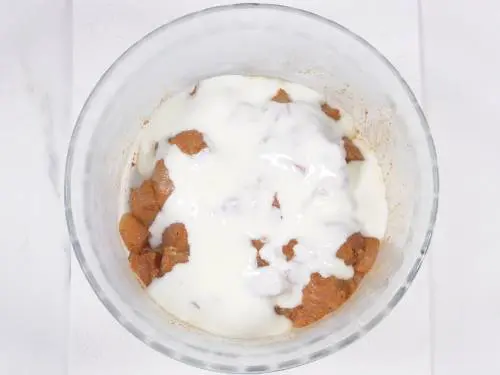 Add 4 tablespoons corn starch in 2 batches, mixing after each addition. (2 tablespoons each time). We do this to avoid the starch clumping up.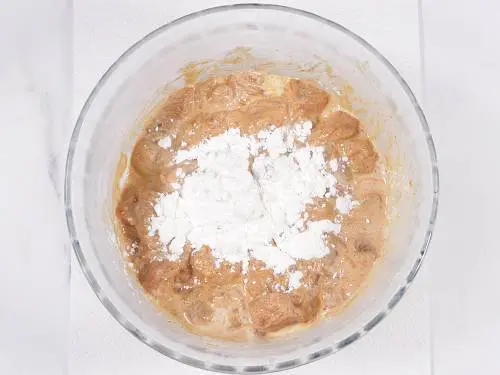 At this stage the batter has to be thick and moist enough to coat the chicken well. We don't want dry chicken at this stage.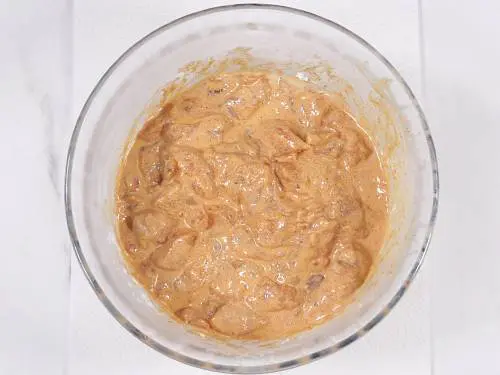 Arrange panko crumbs and chicken, side by side to work.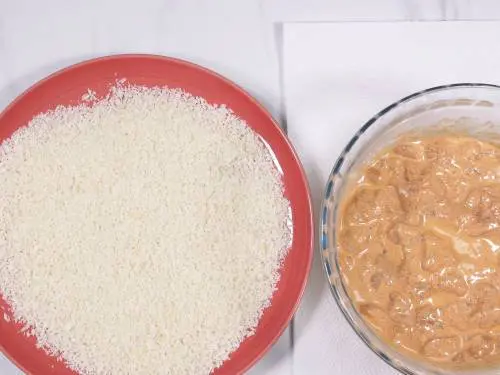 Pick up each piece of chicken and dredge in the panko crumbs. Press down the crumbs with your fingers. This step makes a huge difference.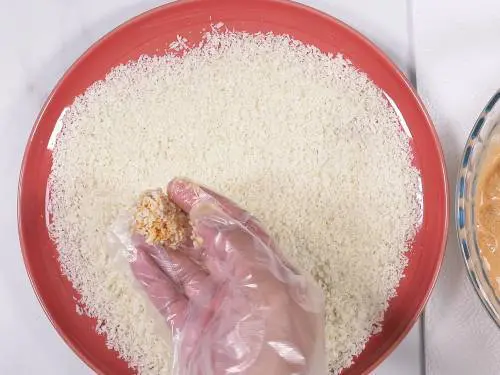 Place them on a tray.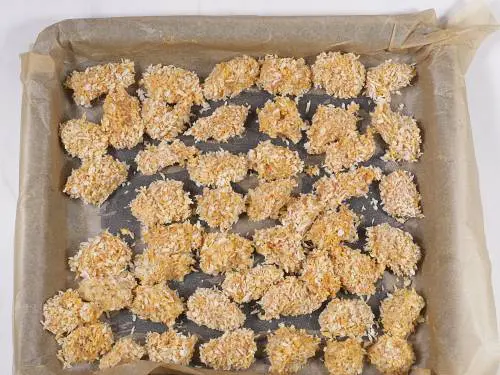 Short-Cut method
I also have a short-cut method which I have been following since very long. This one works well for me. However some people did not find success with this. So try out only with half a kg (1 pound or so). If you have more chicken, do this in batches.
For this you will simply pour the panko crumbs in 2 batches, over the batter coated chicken. First add half the crumbs and gently mix to coat the chicken well with the crumbs. Add the other half and mix lightly. Immediately be fast and press down each piece of chicken with the crumbs and place them in a plate or tray. If you are not quick enough the crumbs soak up all the batter and begin to fall off the chicken.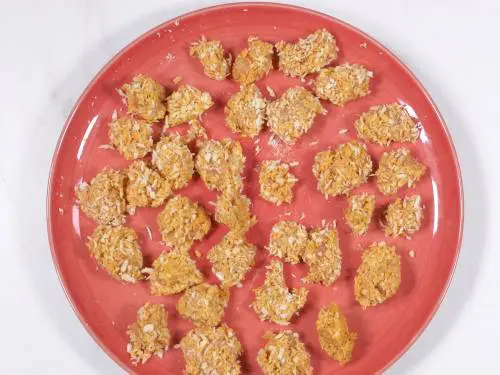 On a medium flame, heat oil in a deep pan for frying. Test if the oil is hot enough by dropping a bread crumb. It should sizzle and come up without browning or burning. If it sinks, it means the oil is not hot enough. Gently drop the breaded popcorn chicken into the hot oil. Do not disturb them for 2 mins as this will cause the bread crumbs to fall off.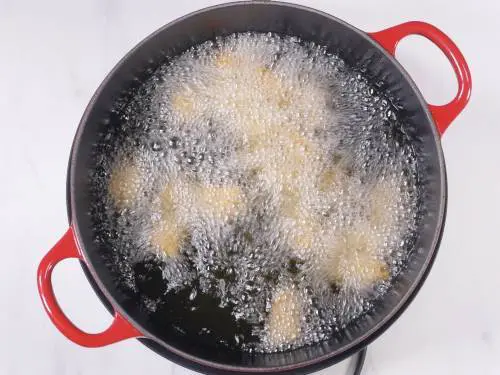 After 2 mins, stir them gently and fry until golden and super crisp. Remove them from oil.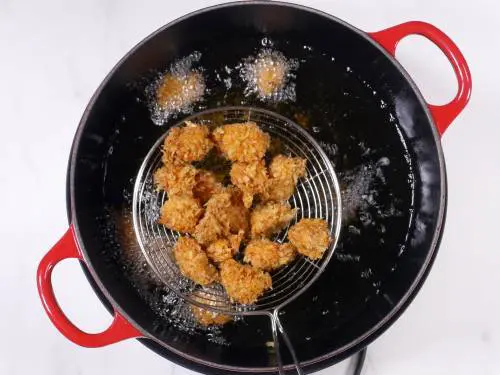 Transfer to a cooling rack or a steel colander.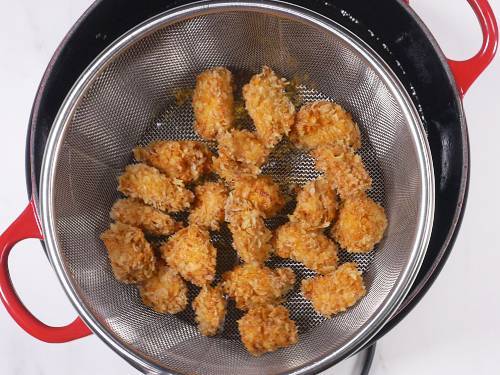 After each batch of frying, turn down the heat. Using a mesh skimmer, remove any bread crumbs that have fallen off to the oil. Bring back the temperature to medium hot and fry the next batch.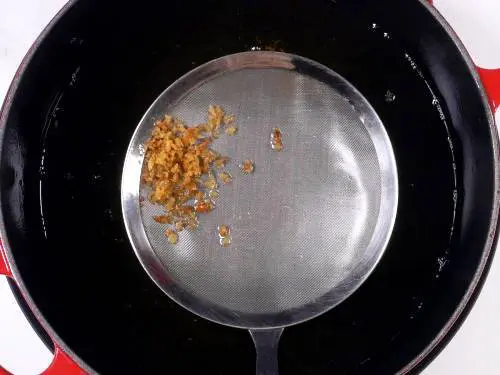 Popcorn chicken is ready. Serve hot with your favorite ketchup or creamy sweet chilli sauce. You can also sprinkle your favorite seasoning on top.
To make the creamy sweet chilli sauce, whisk together half cup softened cream cheese or Greek yogurt or mayonnaise with 4 tablespoons sweet chilli sauce, until smooth and creamy. Taste test and add more sauce as required.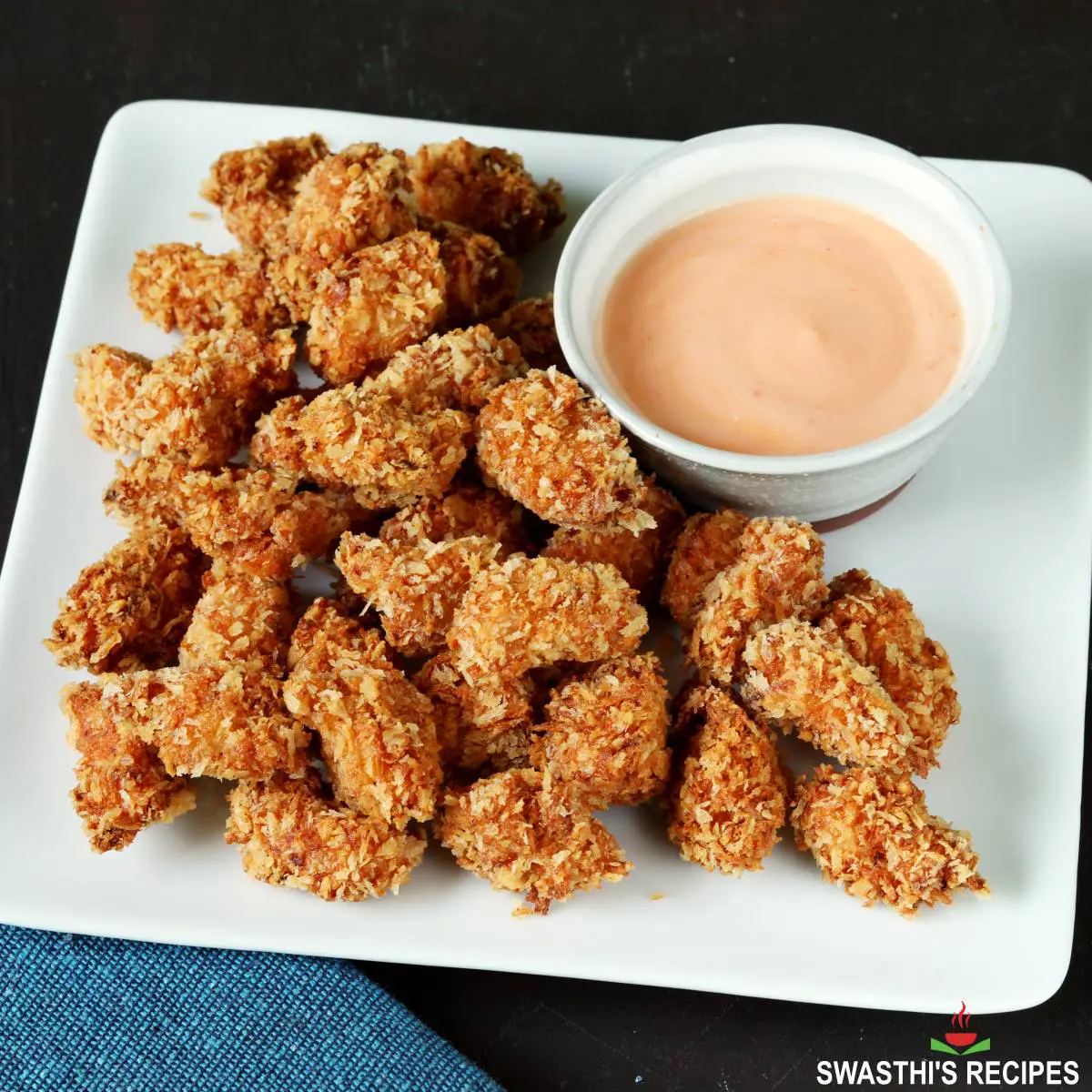 Pro Tips
Prepare chicken: Make sure you chop the chicken to almost the same size so they cook evenly and uniformly.
Buttermilk: If you do not have buttermilk, you may make your own with half cup milk and half tbsp. vinegar. Make sure your buttermilk is not too sour.
Brine: For extra soft and tender chicken, you may brine the chicken for a minimum of 4 to 8 hours in the refrigerator. To make the brine, whisk together ½ cup yogurt with 1 to 1 ¼ cup water. Soak your chicken in this. Later drain and use.
To make the recipe gluten-free, use gluten-free flour and bread crumbs.
To make this dairy free, simply skip the yogurt from the marinade and use egg for binding.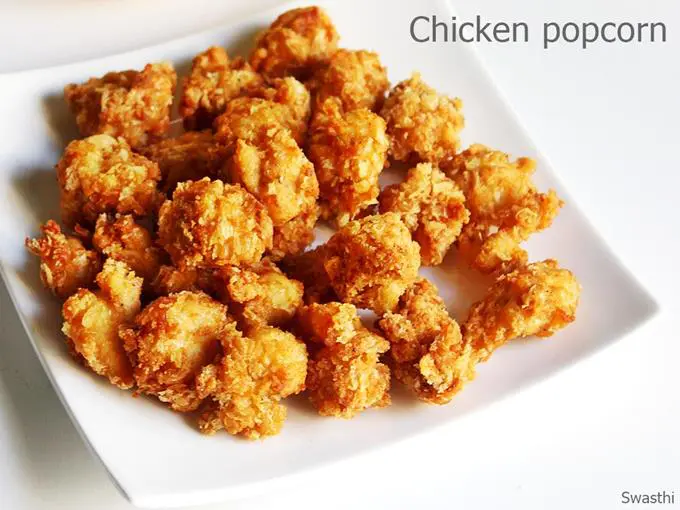 Related Recipes
Recipe Card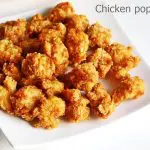 Popcorn Chicken Recipe
Crunchy, juicy, flavorful and delicious popcorn chicken that tastes better than the KFC. Simple, quick and easy recipe. You can tweak the seasonings to your taste,
Print Recipe
Pin Recipe
Jump to Comments
For best results follow the step-by-step photos above the recipe card
Ingredients (US cup = 240ml )
1

lb.

chicken breast

(boneless, 450 to 500 grams)

¼

cup

cornstarch

or all-purpose flour

2

tablespoons

buttermilk or yogurt

(optional, skip to make dairy-free)

2

egg whites

(or ½ cup buttermilk or yogurt)

2

cups

panko crumbs

(or bread crumbs)

Oil

for deep frying
Seasoning (or 1½ tablespoon cajun spice mix)
¾ to 1

teaspoon

Salt

(adjust to taste)

1

teaspoon

onion powder

(optional)

1½

teaspoons

garlic powder

(or 1 tbsp ginger garlic paste)

½

teaspoon

ground black pepper

(pepper powder)

½ to 1½

teaspoon

paprika

(or cayenne pepper or red chilli powder)

¼

teaspoon

allspice

or 2 tsp garam masala
Optional for serving
2

teaspoon

seasoning

like wasabi or sriracha powder
Instructions
Preparation
Cut chicken to tiny bite sized pieces. Make sure you cut them to uniform sizes as this helps to cook uniformly.

In a bowl, mix together seasoning and chicken well. Optionally add 2 tbsps buttermilk or yogurt and mix well. You can refrigerate this for 30 mins to 8 hours.

Pour the egg white or buttermilk and mix well. Sprinkle cornstarch in 2 batches and coat the chicken well. At this stage your chicken must have a thick and moist batter coated over it and should not be dry.

Add panko crumbs to a plate or bowl. Place the bowl of chicken and the plate of panko crumbs, side by side.

Pick up each piece of chicken & roll in the bread crumbs. Press down gently each piece with your fingers to coat the chicken with the crumbs. This gives results similar to double breading.

Place them in a wide tray. Repeat the same step until all the chicken bites are breaded.

Rest for 10 to 15 mins for the bread crumbs to stick well to the chicken. You can also refrigerate in a air tight container up to 48 hours for further use.
How to Make Popcorn Chicken
Pour oil to a deep pan and heat on a medium flame until hot enough.

Oil has to be medium hot and not smoking hot. Test by dropping a small piece of bread crumb into the oil, it should sizzle and come up to the surface without become brown or burnt. This means the oil is at the right temperature for frying. If the crumb sinks, it means the oil is still not hot enough.

350 to 375 F is the right temperature if you are measuring.

Gently drop the breaded popcorn chicken to the hot oil one after the other. Do not stir or disturb them for about a minute or 2, as this is going to separate the bread crumbs from the chicken.

Do not crowd the pan with many chicken bites at one time as this will bring down the temperature of the oil. Fry popcorn chicken in batches.

Stir after 2 mins and fry evenly till golden and crisp on a medium flame. The internal temperature of the thickest piece of fried chicken should reach 165 F. If you don't have a food thermometer, simply cut down a popcorn chicken. It should not be pink inside any more.

Remove the popcorn chicken to a cooling rack placed over kitchen tissues or a tray. Or to a steel colander.

To fry the next batch of popcorn chicken, turn down the heat to low. Using a mesh skimmer, remove any bread crumbs that have fallen off to the oil. Bring the oil back to right temperature and fry them in batches.
Baked Popcorn Chicken
Place the tray in a 375 F or 190 C, preheated oven in the middle rack. Bake for 14 mins or until the chicken is cooked through, turning them half way.
Air Fryer Popcorn Chicken
Place the breaded chicken in the air fryer basket and air fry for 10 mins at 400 F or 200 C. Turn them after 5 mins. Adjust the cook time as required as this significantly changes with marinade timings and the size of your pieces.

The internal temperature should reach 165 F or 74 C. Once done, cut down a piece of chicken to see if it is done. The inside should no more be pink in color.
Seasoning
You can sprinkle your favorite seasoning over popcorn chicken before serving. Sriracha or wasabi go great on these.
Notes
If you like to brine the chicken then add half yogurt and your favorite seasoning to a bowl. Pour 1 to 1.5 cup water and whisk it well. Add the chicken bites and refrigerate for 4 hours to overnight. Drain the buttermilk and use them in the recipe.
Seasonings
To spice up your popcorn chicken, you can sprinkle any of the seasonings just before serving
Sriracha powder
Seaweed seasoning
Alternative quantities provided in the recipe card are for 1x only, original recipe.
For best results follow my detailed step-by-step photo instructions and tips above the recipe card.
NUTRITION INFO (estimation only)
Nutrition Facts
Popcorn Chicken Recipe
Amount Per Serving
Calories 426
Calories from Fat 171
% Daily Value*
Fat 19g29%
Cholesterol 73mg24%
Sodium 824mg36%
Potassium 565mg16%
Carbohydrates 33g11%
Protein 30g60%
Vitamin A 204IU4%
Vitamin C 2mg2%
Calcium 108mg11%
Iron 3mg17%
* Percent Daily Values are based on a 2000 calorie diet.
Popcorn Chicken recipe first published in September 2012. Updated and republished in June 2022.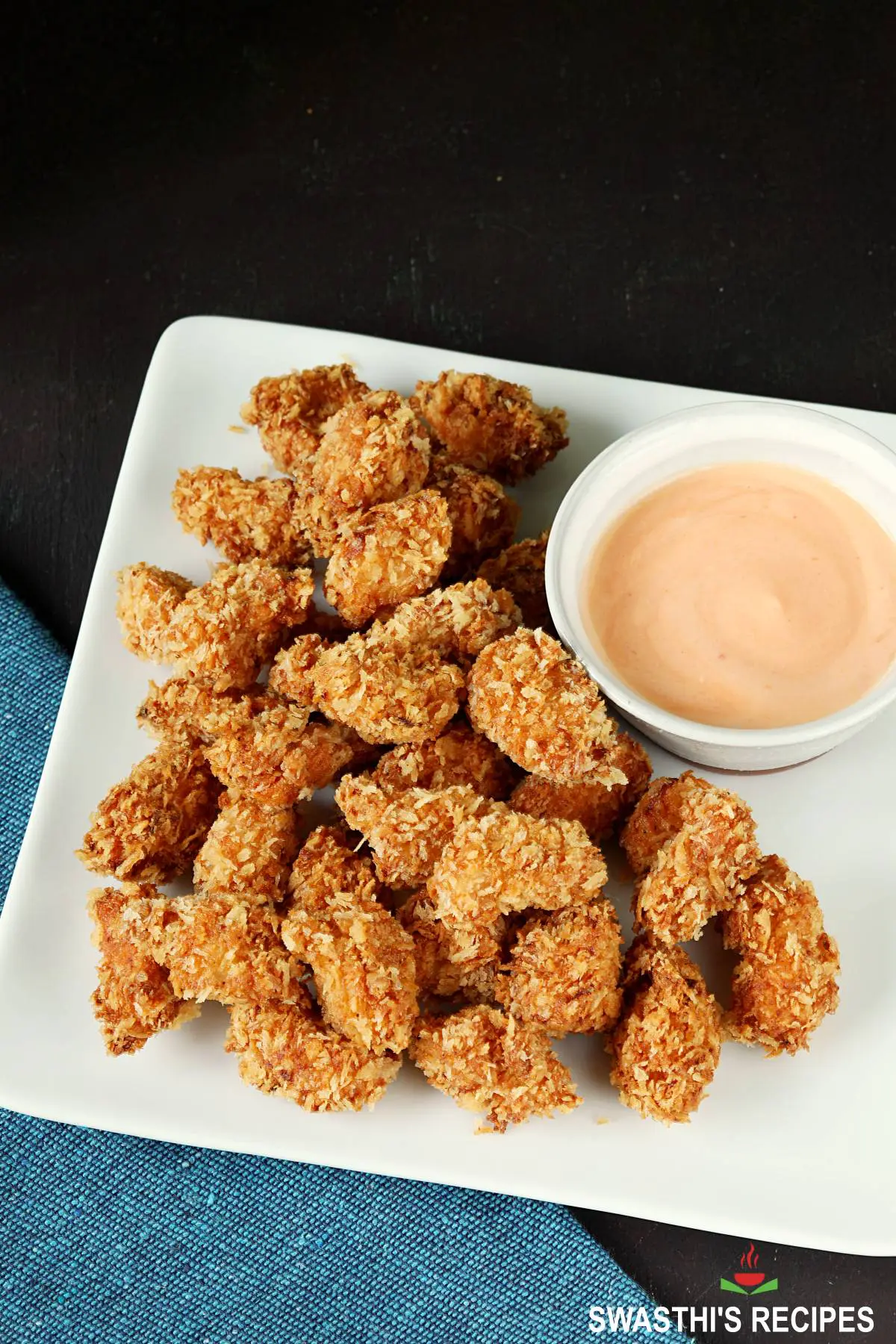 About Swasthi
I'm Swasthi Shreekanth, the recipe developer, food photographer & food writer behind Swasthi's Recipes. My aim is to help you cook great Indian food with my time-tested recipes. After 2 decades of experience in practical Indian cooking I started this blog to help people cook better & more often at home. Whether you are a novice or an experienced cook I am sure Swasthi's Recipes will assist you to enhance your cooking skills. More about me
Follow Swasthi's Recipes