Dalia khichdi & sweet daliya recipes with stovetop & instant pot instructions. Dalia is also known as cracked wheat, samba rava, godhuma rava, fada & broken wheat. Since it is made of Whole wheat grain, daliya is considered to be a good choice for those trying to reduce refined grains. In Indian cuisine it is used to make khichdi, puloa, upma, pongal and porridge. In this post I have shared 2 wholesome and nutritious dalia recipes that you can make for a meal.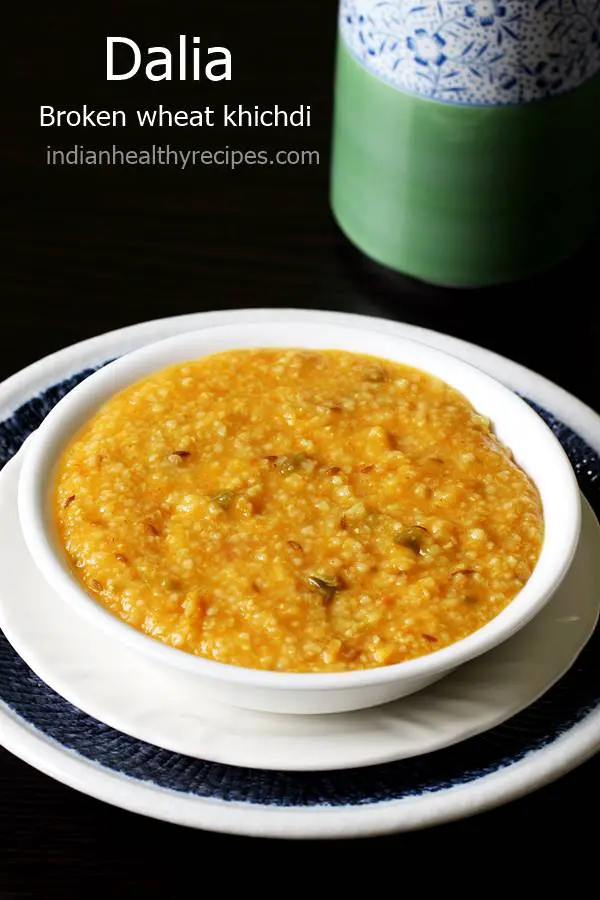 The first one is a savoury version and the second one is a sweet one. The first recipe is made much the same way as the traditional rice khichdi using lentils, spices and quick cook veggies.
The second recipe is a sweet one made with milk, jaggery, cardamom powder and an optional ingredient dal. Both these can be had anytime of the day for breakfast, lunch or dinner.
In India, dalia is mostly eaten during the winters & monsoon as wheat helps to keep the body warm. However it makes a great food to enjoy all around the year.
Daliya makes a great food even for toddlers. Both my boys have grown up enjoying it. I have also shared a recipe for babies and toddlers at the end of this post.
I have included the instructions to make in a regular pot, pressure cooker & Instant pot.
More Khichdi recipes
Dal khichdi recipe
Oats khichdi
Sabudana khichdi
Preparation
1. Rinse dalia and moong dal several times until water runs clear. Soak them for at least 30 mins. If you are using the large size broken wheat, i suggest soaking for at least an hour. You can also dry roast dal and daila first separately, then cool them and wash.
2. Heat ghee or oil in a cooker on a medium to low heat. Saute cumin until they begin to splutter. Add hing and ginger. You can also add bay leaf if you like the flavor.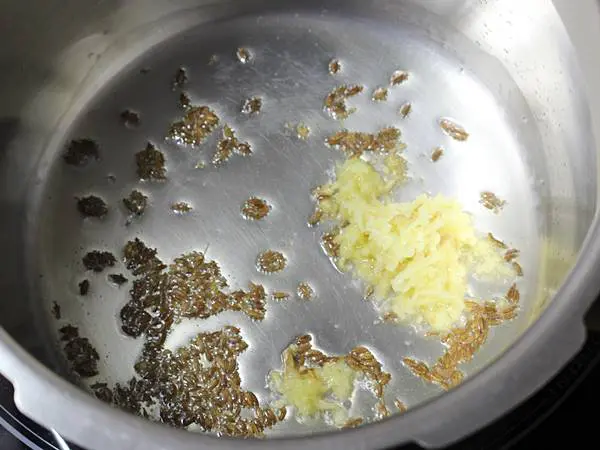 3. Add tomatoes, chilli, turmeric and salt. Cook until tomatoes turn soft. If using onions, saute onions first until slightly golden, then add tomatoes. You can also skip tomatoes and just use onions.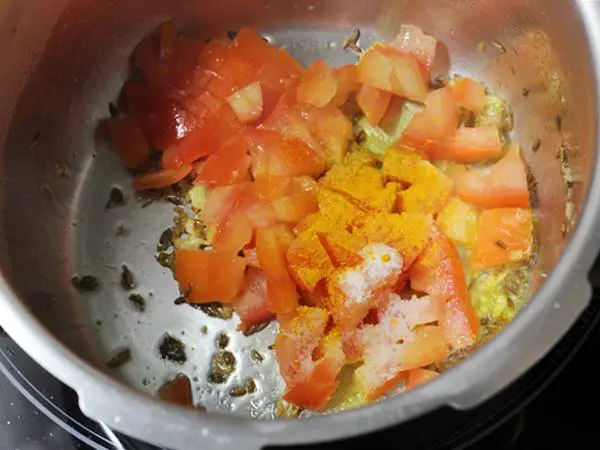 4. Add red chilli powder, saute just for a min. You can skip chilli powder if using green chilli. You can also add garam masala if you like.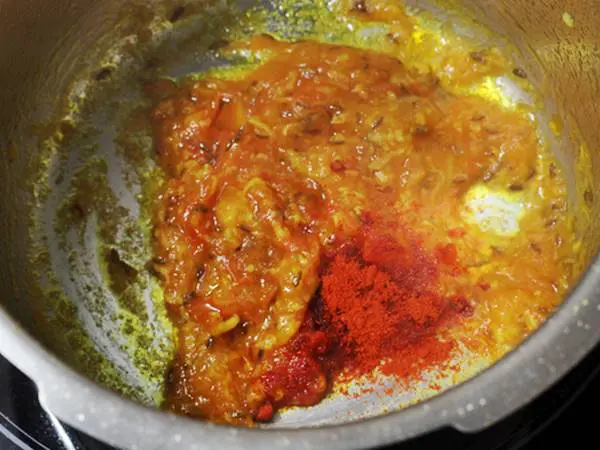 5. Add veggies. I had only capsicum. You can use beans, carrots and peas. Saute for 2 to 3 mins.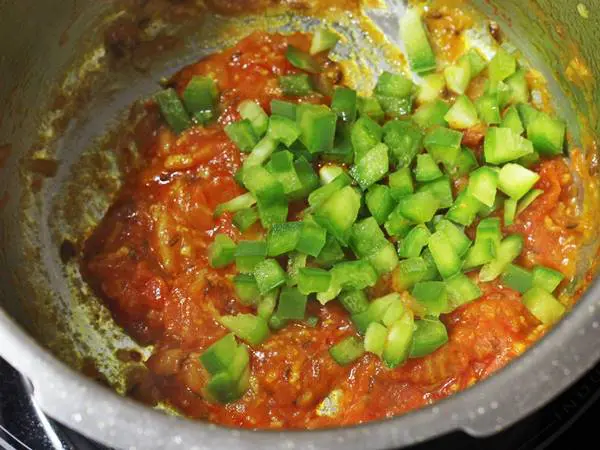 How to make dalia khichdi recipe
6. Drain off the water completely from broken wheat and dal. Add it to the pan.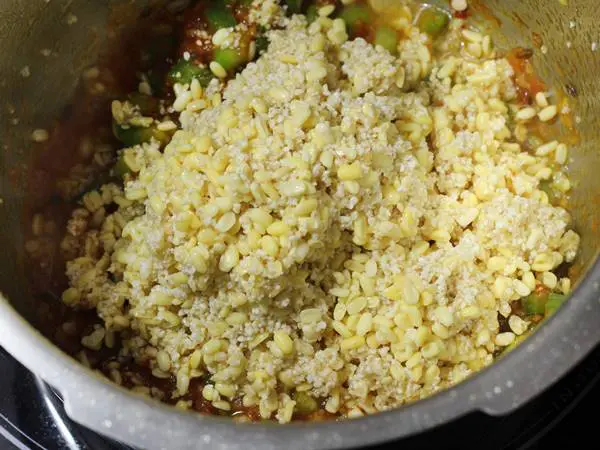 7. Fry for about 2 to 3 mins.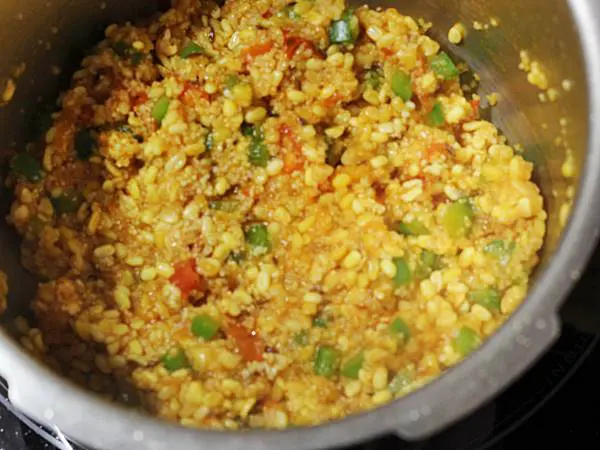 8. Pour water and check the salt.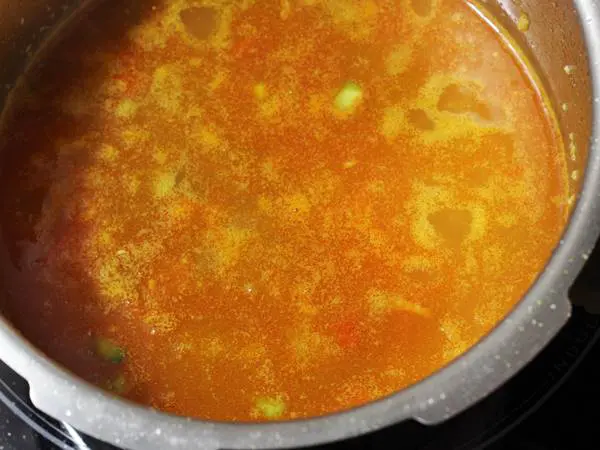 9. Cover and pressure cook on a medium to low flame for 2 whistles. Off the stove and leave it on the stove for a while.
10. When the pressure goes off. Open the lid and stir.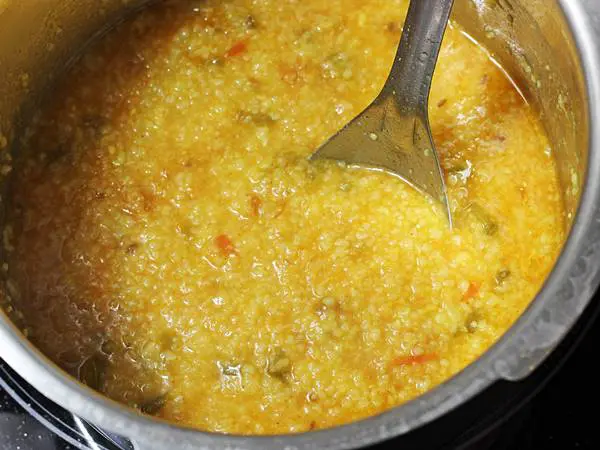 Serve hot with pickle or papad.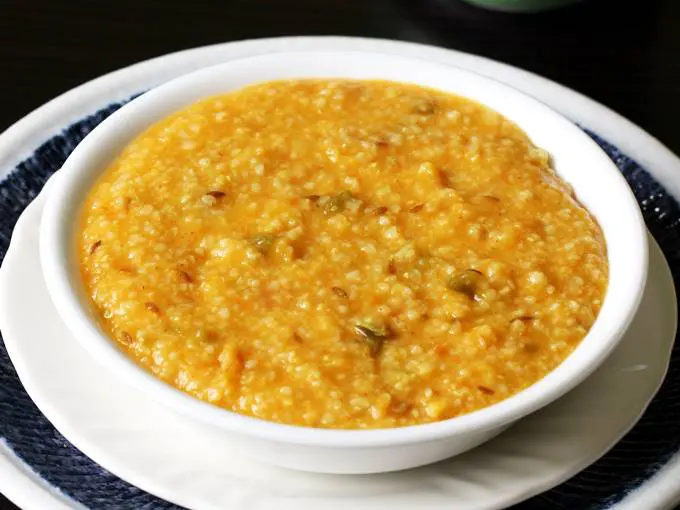 Recipe 2 – Sweet dalia recipe
I also have the Instant pot instructions below.
Ingredients
1 to 2 tablespoons ghee
½ cup daliya
2 tablespoons moong dal (optional)
½ cup grated jaggery or 3 to 4 tbsps sugar
½ teaspoon cardamom powder
2 cups water (1 ½ cups for Instant pot)
1 ½ cups milk (can use almond milk)
8 cashewnuts split or chopped
15 sweet raisins
Preparation
This recipe is healthy if you use jaggery. There are 2 ways you can use them here. One is to add it directly to the slightly cooled dalia. The other way is to dissolve it first and boil for a few minutes. Then cool it completely, filter and stir it with your cooked sweet dalia.
If your jaggery is not clean then, you have to melt it first with 3 tbsps of water, bring it to a good boil and cool completely. Set aside and use it later at the last step. Adding hot jiggery to hot dalia will split the milk or curdle it. So ensure it is cooled completely before adding.
Add ½ cup dalia and 2 tablespoons moong dal (optional) to a bowl and rinse them very well a few times. Drain the water completely and keep aside.
How to make sweet dalia (stovetop)
1. Pour 2 tbsps ghee to a pot and heat it. Add 8 split cashews and fry until golden. Stir in 15 raisins too. When they turn plumpy, remove all of these to a plate. Set aside.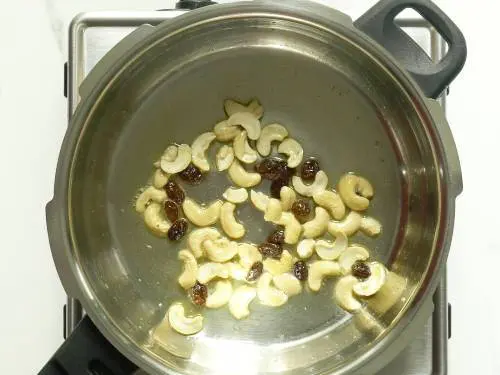 2. To the same pot, add drained daliya and moong dal.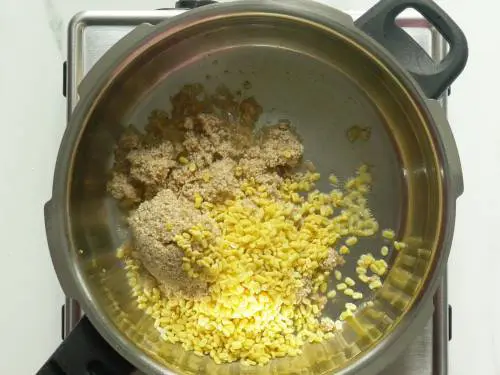 3. Saute and fry until dalia turns golden and aromatic. Keep stirring to avoid burning or browning the dalia.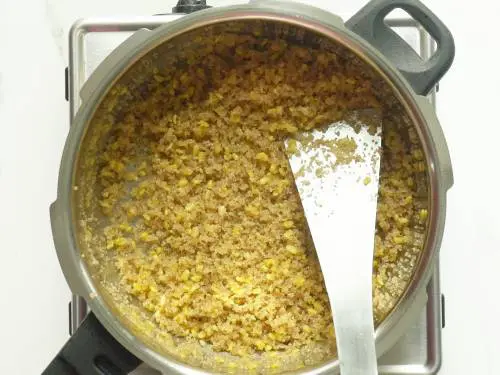 4. When you begin to get a nice smell, pour 2 cups water and bring it to a boil. To quicken this process, you can also pour hot water to the dalia.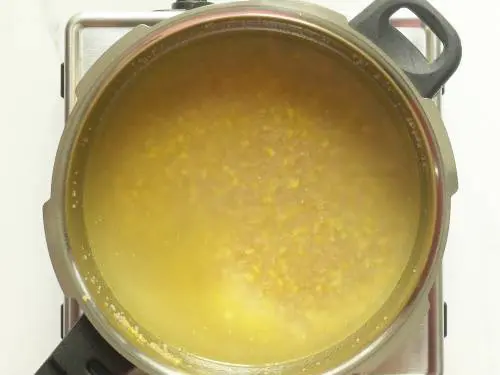 5. Give a good mix. Cover and cook on a low to medium heat until all the water is absorbed and dalia is soft cooked.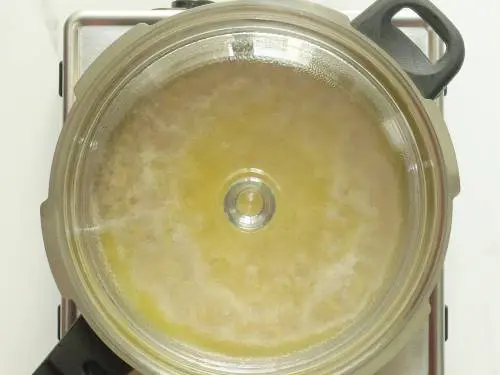 6. It will absorb all the water.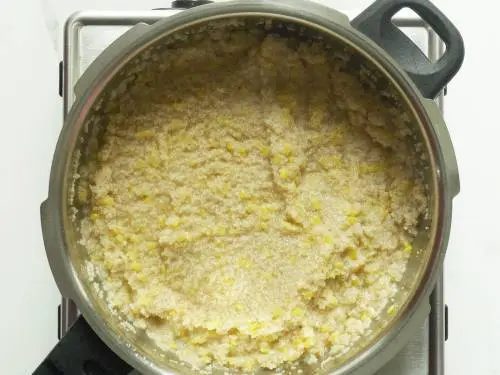 7. Pour 1 ½ cups of milk and give a good stir. Mix well and cook until the dalia turns slightly thicker yet is of pouring consistency.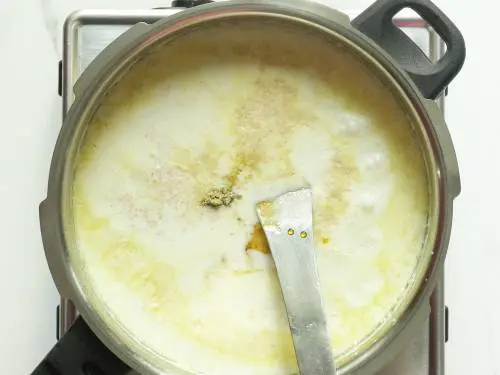 8. When it reaches a desired consistency, add cardamom powder. If using sugar, add it as well and give a good mix until it dissolves. Turn off the stove. To know the consistency, you may check the video above in the recipe card.
If using jaggery, remove the pot from the stove and cool down a bit, then stir in the jaggery. I used jaggery here.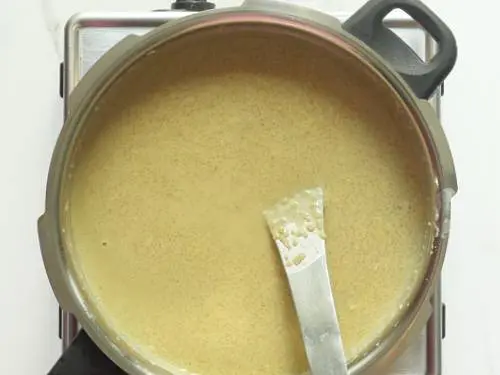 Add cashews and raisins. Serve sweet dalia warm.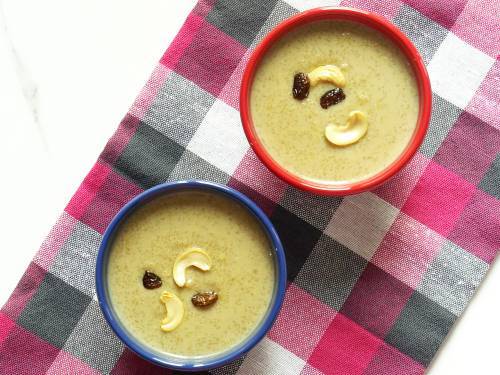 Sweet daliya in Instant pot
Press SAUTE button on the Instant pot and pour 2 tablespoons ghee to the steel insert.
Fry 10 split cashews until light golden and stir in 15 sweet raisins. Quickly the raisins will become plump. Immediately remove them.
Add half cup rinsed dalia and 2 tbsps moong dal. Saute for 2 mins.
Then pour 1 ½ cups water and 1 ½ cups milk.
Deglaze the pot by scrubbing the bottom with a wooden spatula.
Press CANCEL button. Secure the Instant pot with the lid and position the steam release handle to sealing.
Press PORRIDGE button & set the timer to 12 mins. If you use the larger cuts of dalia then it takes upto 16 mins.
When the pressure release naturally give a good stir and cook on saute mode for a few minutes to bring it to the consistency you desire.
Add cardamom powder and sugar.
If using jaggery, remove the inner pot out and cool down for a while.
Stir in the grated jaggery or cooled jaggery syrup. Serve sweet dalia hot.
Notes: I have tested this recipe in a 6 QT instant pot with the above mentioned quantities of water and milk. You can also skip the dal from the recipe. Using only milk may give a burn notice.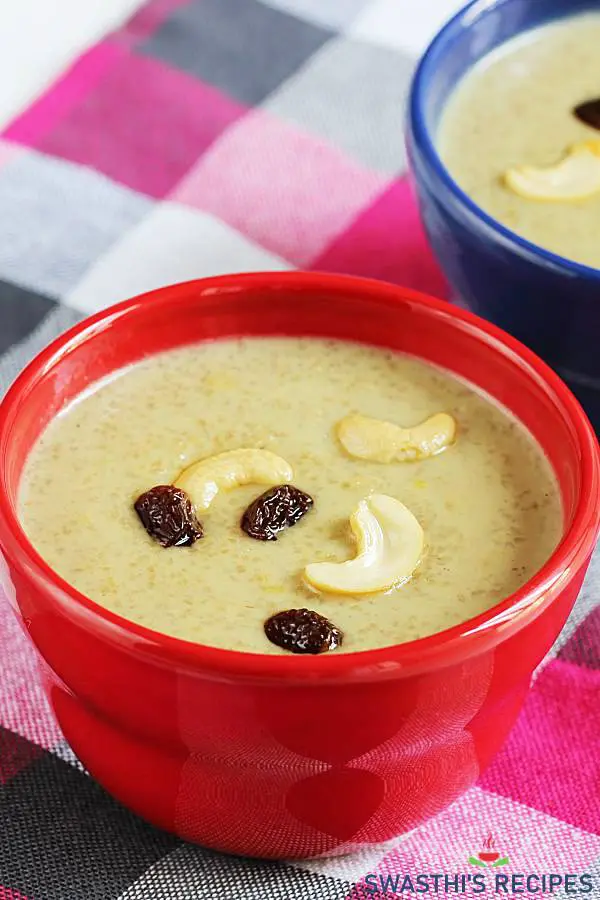 Tips (savory version – dalia khichdi)
Lentils: I prefer to use some moong dal to make dalia. Apart from adding some protein, it also gives a better texture & flavour to the dish. You may substitute moong dal with red lentils (masoor dal), toor dal or even pancharatan dal.
Veggies: You can use veggies like tomatoes, peas, carrots, beans, potatoes and bell peppers. You can also use any one of the veggies too. If you do not have any veggies, you can also just make it with dalia, moong dal and spices. Just squeeze in some lemon juice while serving.
Spices: Apart from cumin, chili powder and ginger I haven't used any spices but still it tastes delicious. However you can also add more whole spices like bay leaf, cinnamon stick, cloves and cardamoms. Alternately you may also add some garam masala. But I really don't feel the need.
Consistency: For a runny, porridge like consistency you may add more water.
Related Recipes
Recipe card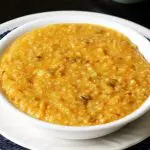 Dalia recipe | Dalia khichdi | Broken wheat khichdi
Dalia khichdi recipe – One of the most nutritious and whole some dish made with broken wheat, spices & herbs. Instructions included to make in pot, pressure cooker & Instant pot.
Pin Recipe
Print Recipe
For best results follow the step-by-step photos above the recipe card
Ingredients (US cup = 240ml )
Ingredients for dalia recipe
¼

cup

broken wheat

(dalia)

¼

cup

moong dal

(skinned mung beans)

1

teaspoon

grated ginger

½

cup

tomatoes

(deseeded & chopped)

½ to 1

cup

mix veggies

(carrots, peas, beans) chopped optional

½

teaspoon

chili powder

or as needed

1

tablespoon

ghee

(adjust)

½

teaspoon

cumin

(or jeera)

¼

teaspoon

turmeric

or as needed

½

teaspoon

salt

(adjust as needed)

2

cups

water

1

green chilli

slit (optional)
Instructions
Preparation for dalia recipe
Wash and soak broken wheat and moong dal together for 30 mins.

Chop tomatoes & other veggies you prefer and set aside. Grate ginger and set aside.
How to make dalia khichdi
Heat ghee in a pressure cooker or pot.

Saute cumin until it sizzles, then fry ginger until it turns fragrant.

Add tomatoes, salt, turmeric. Cook until mushy.

Next add chili powder and saute for a minute. You can also add little garam masala if you like.

Next add veggies and saute for 2 to 3 mins.

Drain water completely from dal and broken wheat.

Add to the pan and saute for 2 to 3 mins on a slightly high flame.

Pour 2 cups water & mix well. Check salt. Cover and cook on a medium to low flame for 2 whistles. If cooking in a pot, keep adding more hot water as and when needed until the dalia is soft cooked.

When the pressure releases naturally, open the lid and stir well. If you find the dalia to be too thick you may pour little boiling water and mix.

Serve dalia khichdi hot or warm.
Instant pot Instructions
Press the SAUTE button (medium) on the Instant pot and pour ghee or oil to the steel insert.

Add cumin. When they begin to splutter, add ginger. Then stir in the tomatoes and salt.

Saute for 1 to 2 mins until the tomatoes turn mushy. Add red chilli powder and turmeric.

Mix and then add the vegetables. Saute for 30 to 60 seconds. Add the drained dalia and moong dal. Saute for 1 to 2 mins.

Then pour water and add salt. Deglaze by scrubbing the bottom of the pot with a spatula to release any bits of food stuck there.

Press CANCEL button. Secure the Instant pot with the lid and position the steam release value to sealing.

Press PORRIDGE button and set the timer to 14 mins. Alternately you can cook for 12 mins on pressure cook mode. If you are using the fine dalia, it only takes 10 mins in both porridge mode and pressure cook mode.

Let the pressure release naturally for 8 to 10 mins. Then release the rest manually. Give a good mix. If you like the porridge like consistency, you may add ½ cup hot water and mix the dalia.
Notes
You can find the sweet dalia recipe towards the end of this post.
Alternative quantities provided in the recipe card are for 1x only, original recipe.
For best results follow my detailed step-by-step photo instructions and tips above the recipe card.
Video
Recipe 2 – Sweet dalia ingredients towards the end of the post
NUTRITION INFO (estimation only)
Nutrition Facts
Dalia recipe | Dalia khichdi | Broken wheat khichdi
Amount Per Serving
Calories 466
Calories from Fat 99
% Daily Value*
Fat 11g17%
Cholesterol 25mg8%
Sodium 358mg16%
Potassium 882mg25%
Carbohydrates 72g24%
Protein 20g40%
Vitamin A 655IU13%
Vitamin C 18.4mg22%
Calcium 82mg8%
Iron 7.9mg44%
* Percent Daily Values are based on a 2000 calorie diet.
This post was first published in November 2015, Republished in June 2020
Dalia recipe for babies
I had few requests for a good dalia recipe for babies, so sharing it. My kids refused to eat dalia until they completed 2 years, the reason – the texture was not liked as it is not very smooth like the mashed rice.
When they turned 2, i started to pressure cook dalia and moong dal together with veggies. Then season with ghee, ginger, hing, turmeric and pepper cumin.
Over the years, the recipe under went so many changes and now i make it the way i described above in step by step pictures. Here are the proportions i used to make for them. Do try and share if your little one likes it.
The below quantity makes dalia khichdi good enough for the mum and toddler. For babies under 18 months, i do not suggest feeding this for dinner.
Avoid feeding this late in the night after 7.30 pm even to normal babies. Moong dal is not suitable to some babies during winters, so you can try with toor dal. Avoid using potatoes, tomatoes if your baby has colic.
Ingredients for dalia
¼ cup broken wheat
¼ cup moong dal or toor dal (can reduce to 2 tbsp)
2 cups of water
¼ to ½ cup veggies
for seasoning
ghee 1 tbsp
cumin or jeera powder as needed
1 tsp ginger paste
pinch of turmeric
pepper powder/ajwain (avoid in summer)
Steps to make dalia recipe
You can dry roast dal and dalia separately in large quantity. Cool them and store in steel or glass jars. This step is optional but lends a good aroma.
Soak them together for at least 1 hour. If your baby has colic i suggest soaking for 2 hours. Soaking helps to cook the dalia soft and baby will like the texture. It also helps to digest better.
Drain off the dal and dalia. Add 2 cups fresh water and pressure cook on medium to low flame for 2 whistles.
When you open the lid, you will find it gooey. The texture we often feed the babies. If you like to mash it further, you can. But for 2 whistles mine gets cooked very soft.
Add salt and stir. You can skip the seasoning and add turmeric, ghee, cumin directly to the cooked dalia. Feed when it comes down to warm temperature. During winters you can also add a pinch of ajwain powder, dry ginger powder (saunt/sonti). Avoid if baby has constipation.
I used to feed my toddlers without seasoning. You can make seasoning to the mum's portion of dalia khichdi.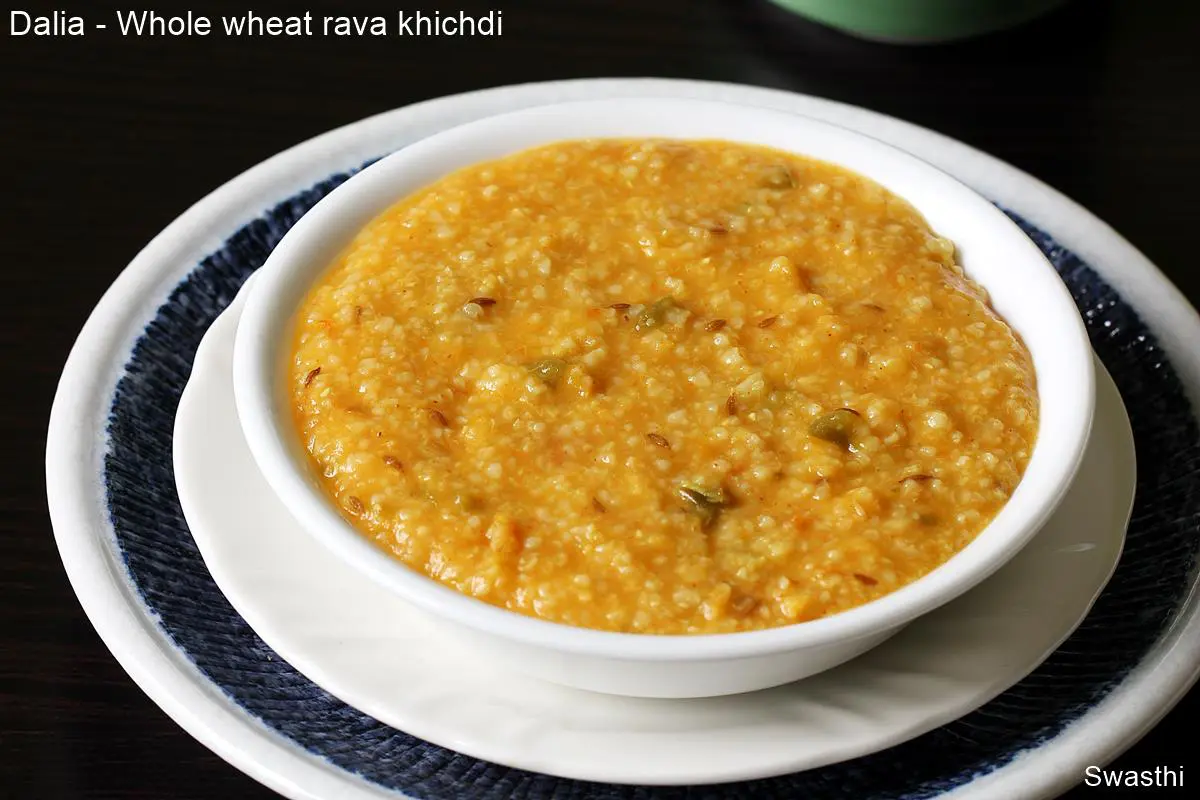 For complete baby food chart and recipes, you can check this post on
baby food chart for 6 months old and this one for
babies from 8 months.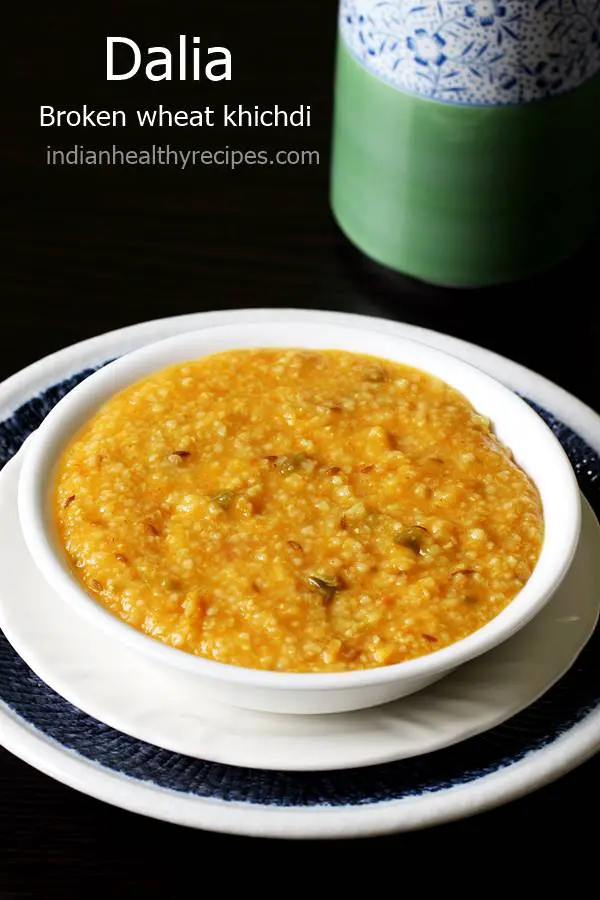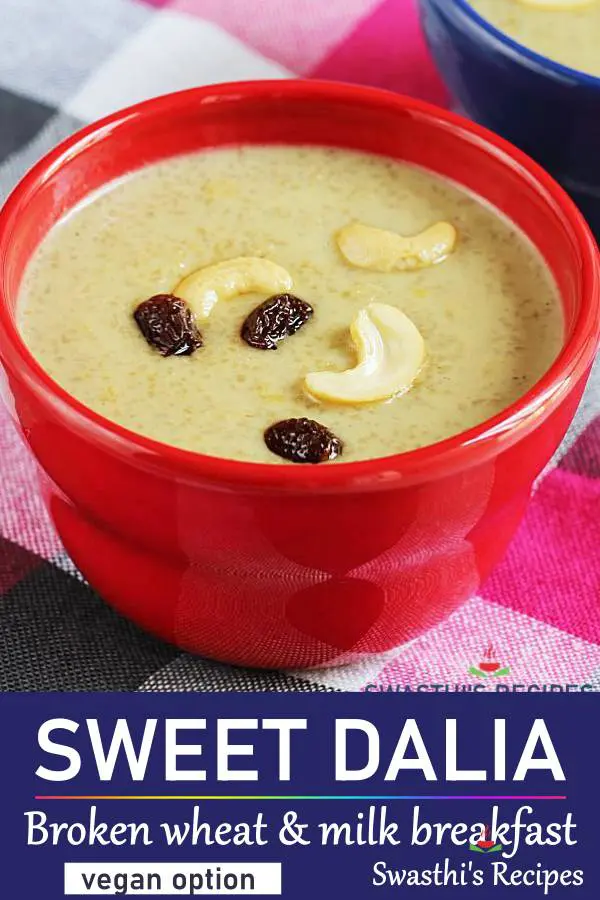 About Swasthi
I'm Swasthi Shreekanth, the recipe developer, food photographer & food writer behind Swasthi's Recipes. My aim is to help you cook great Indian food with my time-tested recipes. After 2 decades of experience in practical Indian cooking I started this blog to help people cook better & more often at home. Whether you are a novice or an experienced cook I am sure Swasthi's Recipes will assist you to enhance your cooking skills.
Follow Swasthi's Recipes