Upma recipe – A basic South Indian breakfast recipe made with semolina, spices, herbs & veggies. Most Indian breakfast foods take a considerable amount of time – to plan, prepare and to cook. Upma tops the list of easiest & quickest instant breakfasts that can be made just under 20 mins.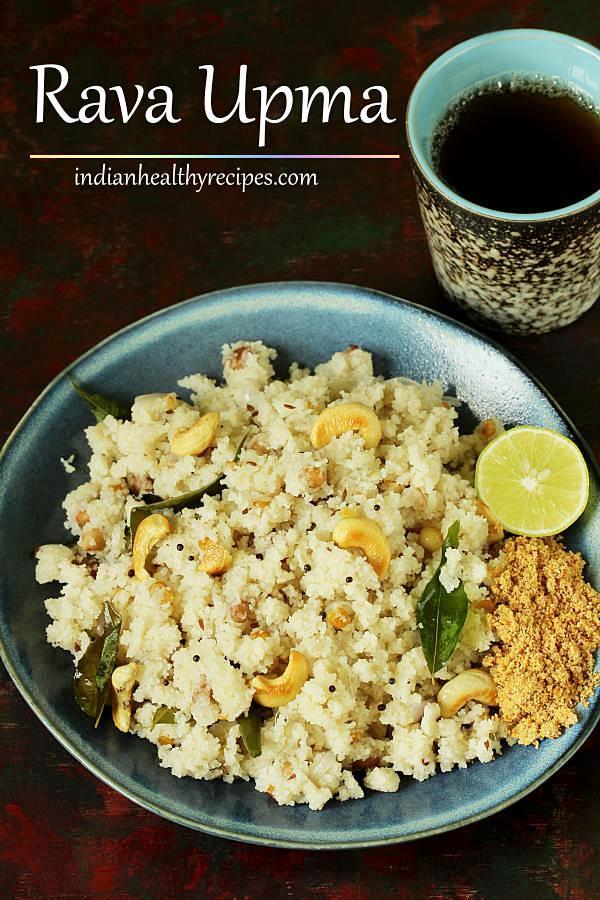 Whether you are a newbie, a student or a bachelor trying to cook for yourself with minimum effort then upma is a must try. It is tasty, nutrient rich and will be ready in no time.
If you are new to South Indian cuisine and wondering what upma is? Then read on…
Upma is made by simply cooking dry roasted wheat semolina (rava) in water that is tempered with spices & herbs.
Peanuts, cashews, onions, ginger, mixed veggies, ghee etc are also optionally used to enhance the taste of the rava upma.
Upma makes its appearance in most South Indian homes, tiffin centres and even during large gatherings like weddings, religious ceremonies etc.
It is not only simple, easy to make, but is also affordable by larger population hence it is seen so often everywhere.
Tips to make the best
Roasting rava well is the key to make good, fluffy and non-sticky upma. To reduce the cook time of the upma, you can buy double roasted suji or upma rava. You can also preroast the rava and store it in a jar for about a month.
Oil Using a good amount of oil is one of the key steps that prevents your upma from turning sticky. If you reduce the oil, the entire dish may turn sticky and will not taste good.
Choosing Rava: There are many kinds of rava available in the market, but the most commonly used one to make upma is Bombay rava.
It is also known as semolina, suji or sooji and is commonly used to make dishes like
Rava dosa
Rava idli
suji halwa
rava kesari
rava ladoo
Water: This recipe will yield you fluffy upma that is not porridge like or sticky. I know some people who love this like a thick porridge. If you like it that way, you can use about 4 cups of water for 1 cup rava.
Serving suggestions: Each state has their own way of serving this. Rava upma is usually served with
peanut podi
idli podi
coconut chutney
pickle
Most people serve rava upma to kids with a dash of sugar & ghee on top to mellow down the heat from the chillies.
Is upma healthy?
Though rava or semolina is made from whole wheat grain, it is a refined food. During the processing or milling, the fibre rich skin from the whole wheat is removed first.
This also removes the nutrient rich germ that is attached to the outer skin. The resulting starch rich part is ground to rawa. Eating upma often may not be healthy as it is made from refined food.
More upma recipes,
Tomato upma
Oats upma
Semiya upma
Bread upma
Upma recipe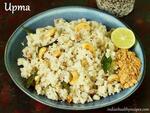 Upma recipe
Rava upma is a south Indian savory breakfast made with semolina, spices and curry leaves. It can be served with podi, sugar, chutney or sambar.
Pin Recipe
Ingredients (1 cup = 240ml )
1

cup

semolina

or bombay rava or sooji
Tempering ingredients for upma
2

tbsp

oil

or ghee (refer notes)

½ to ¾

tsp

mustard

½ to ¾

tsp

cumin

(optional, adds aroma)

1 to 1½

tsp

urad dal

1 to 1½

tsp

channa dal

(optional, adds nice aroma)

2

tbsp

peanuts

8

cashews

(optional)

1

sprig

curry leaves

pinch

asafoetida

or hing (optional)
other ingredients
1

small

onion

(chopped or sliced thinly)

2

green chili

slit

½ to ¾

tsp

ginger

very finely chopped (optional)

2½ to 2¾

cups

water

(refer notes)

½ to ¾

tsp

salt

1 to 2

tsp

ghee

(optional)

lemon juice (optional)
How to make the recipe
Preparation
Dry roast rava on a low to medium heat until crunchy.

Do not brown the rava as the flavor of upma changes. Transfer to a bowl. Cool it.

Chop onions, green chilies and ginger.
How to make upma
Next add mustard, cumin, urad dal, channa dal, peanuts and cashews.

Fry until the dals and peanuts turn golden and aromatic.

Put the hing, green chilies, ginger and curry leaves.

Saute for a minute. Add onions and fry until transparent.

Pour water and add salt as needed. Mix and check the salt. If needed as more.

Bring the water to a rolling boil.

With one hand pour rava in a stream to the boiling water, while you stir the rava in the water with the other hand.

Stir everything once to check any lumps. Break up if any.

Cover and cook on a low flame until the water evaporates.

Just 2 to 4 mins depending on the kind of pot or pan used.

Open the lid and stir once. Add ghee if you like. Give a quick stir.

Switch off the stove and cover again. Allow upma to rest for 5 mins.

Serve rava upma plain or with spiced podi, chutney, pickle or curd.
NUTRITION (estimation only)
Calories:
560
kcal
|
Carbohydrates:
73
g
|
Protein:
16
g
|
Fat:
22
g
|
Saturated Fat:
2
g
|
Sodium:
186
mg
|
Potassium:
343
mg
|
Fiber:
7
g
|
Sugar:
3
g
|
Vitamin A:
40
IU
|
Vitamin C:
28
mg
|
Calcium:
42
mg
|
Iron:
5.1
mg
Notes
You can also fry the peanuts first in 1 tsp oil until golden and set them aside for garnish. This way they remain crunchy.
How to make upma for 1
The above recipe makes upma for 2. To make 1 serving, just halve the recipe and increase the water to 1½ cups.
For ½ cup rava, use about 1½ cups water. When upma is made in small quantity it absorbs more water.
Notes on ghee and water:
To make soft and smooth upma that's moist, you can use upto 4 tbsps ghee or oil along with 4 cups of water for every 1 cup of semolina. This upma can serve upto 4 people. For this variation you will need to add more tempering ingredients proportionately.
If you are a beginner or new to Indian cooking, I highly suggest you to check the supporting step by step photos for best results. Step by step photos with description available below after the recipe card.
More Breakfast recipes,
Soft Idli
Crispy Dosa
Poha recipe
Vada recipe
Preparation
1. Clean and dry roast half cup rawa on a low to medium heat until it turns crunchy. Keep stirring to prevent discoloring. When it is crunchy set aside to cool.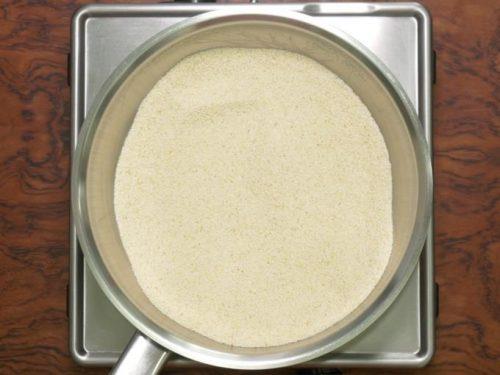 2. Pour 2 tbsp oil to the pan and heat it. Add mustard and cumin (optional).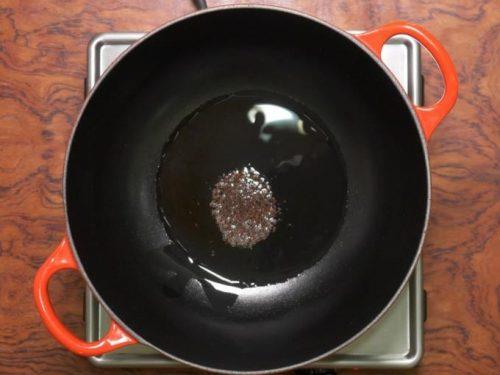 3. Next add urad dal and chana dal.
4. Then add peanuts and cashews as desired. You can use either peanuts or cashews alone.
5. Saute on a medium heat until golden. Then put in the hing.
6. Next goes in green chili.
7. Add ginger and curry leaves as well. Ginger is optional. Fry for a minute until the ginger turns fragrant.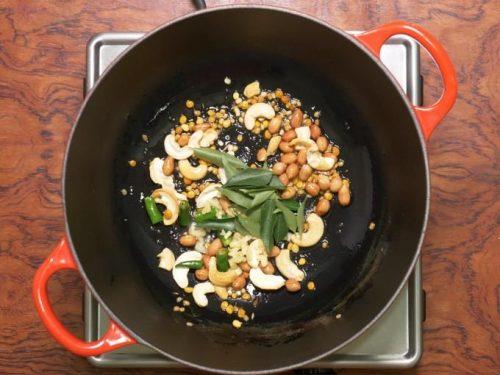 8. Then transfer chopped onions.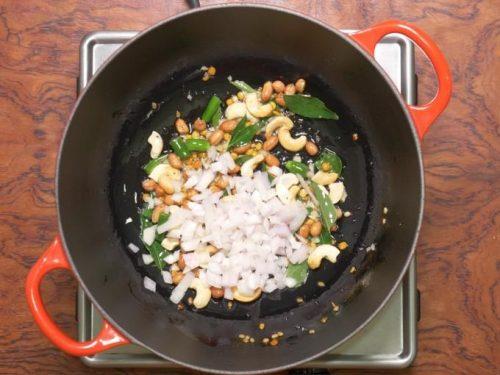 9. Saute just for 3 to 4 mins or until the onions turn transparent.
Water proportion for upma recipe
10. Pour water and add salt. Mix it well and taste the salt. If needed add more. When we make this in small quantities, it usually absorbs up to 3 times the quantity of rava.
When you make in large quantity, it can be reduced to 2 ½ times. The texture turns out to be fluffy and not sticky or mushy when cooled down.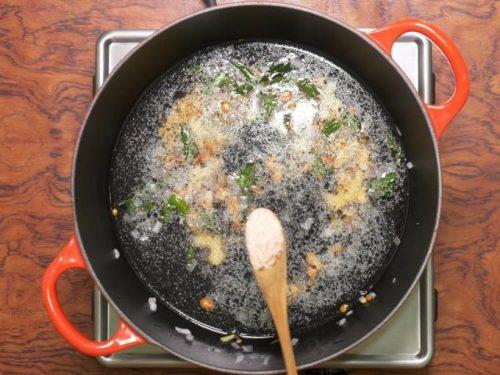 11. When the water begins to boil, adjust the flame to medium heat.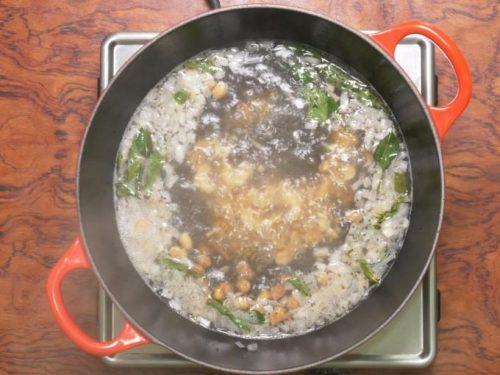 How to make upma
12. Pour the rava in a slow stream with one hand and constantly stir it in the water with the other hand. This is done to prevent any lumps.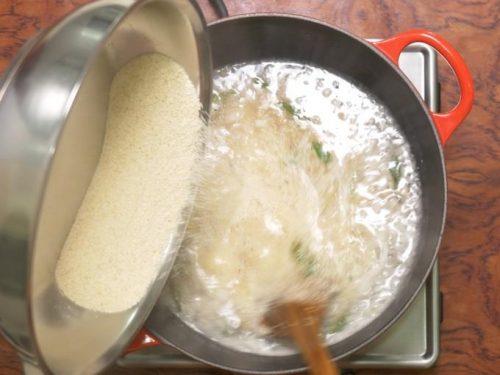 13. Quickly stir and check for any lumps. Break up if any. Be cautious at this moment, as it begins to splash.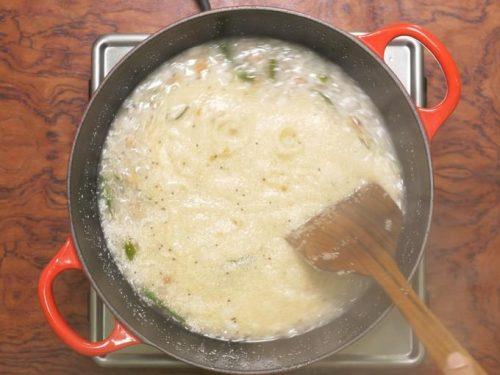 14. Cover and lower the flame.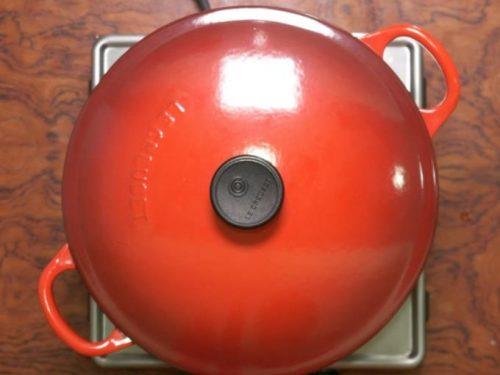 15. After 2 to 4 mins, open and stir the upma. You can also add fresh grated coconut if you like.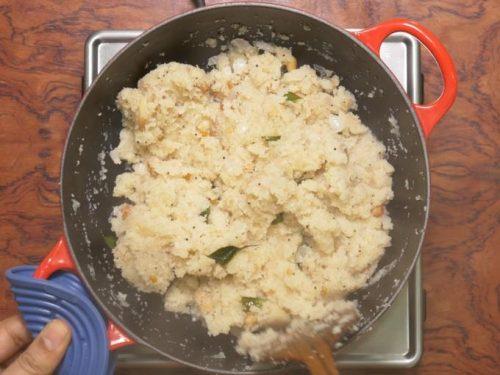 16. Switch off and keep the pan covered for about 5 mins. You can add your favorite toppings like lemon juice, podi or ghee.
Serve upma with peanut podi, chutney, pickle, papad or sambar.