Dalia recipe or dalia khichdi recipe or broken wheat khichdi. Cracked wheat, samba rava, godhuma rava, dalia are few other names to broken wheat. Since it is made of whole wheat grain, it is a good choice for those trying to reduce the intake of white rice or any refined grains. This dalia khichdi is nutritious, protein packed and is good to have any time of the day for breakfast, lunch or dinner.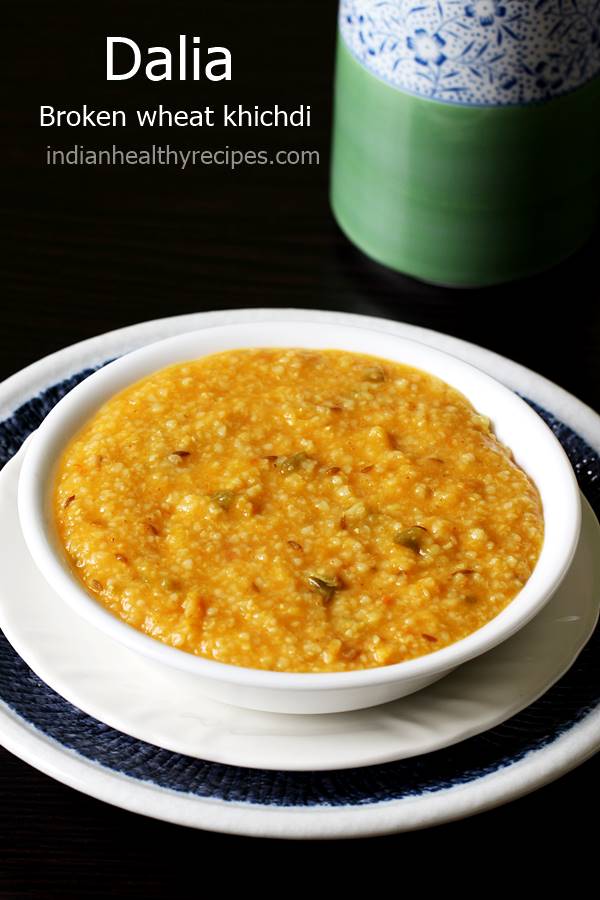 This also makes a good winter food, wheat helps to keep the body warm. I have used moong dal, you can use toor dal or panchratna dal too. I have also shared a dalia recipe for babies and toddlers at the end of this post.
There are a few different ways dalia is prepared. I also make dalia upma. You can also make it just soupy like this khichdi but it is without dal.
Dalia can also be used to make milk based sweet porridge.
The dalia recipe shared here is best when served hot with a papad and pickle. You can adjust the quantity of water to make it more gooey or dry.
You can use a variety of veggies like carrot, beans, peas and onions to make this and skip tomato. I used tomato since i had no other veggies the day i made this.
If you like the tang that comes from tomatoes, then you can use them along with veggies.
More Khichdi recipes
Dal khichdi recipe
Oats khichdi
Steel cut oats khichdi
Sabudana khichdi
Dalia khichdi recipe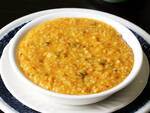 Dalia recipe | Dalia khichdi | Broken wheat khichdi
Dalia khichdi recipe – One of the most nutritious and whole some dish made with broken wheat, spices & herbs.
Ingredients (1 cup = 240ml )
Ingredients for dalia recipe
¼

cup

broken wheat

(or dalia)

¼

cup

moong dal

(or skinned mung beans)

1

tsp

grated ginger

½

cup

tomatoes

(deseeded & chopped)

½ to 1

cup

mix veggies

(carrots, peas, beans) chopped optional

½

tsp

chili powder

or as needed

1

tbsp

ghee

(adjust)

½

tsp

cumin

(or jeera)

Turmeric

as needed

Salt

as needed

2

cups

water

1

green chilli

slit (optional)
How to make the recipe
Preparation for dalia recipe
Wash and soak broken wheat and moong dal together for 30 mins.

Chop tomatoes, grate ginger and set aside.
How to make dalia khichdi
Heat ghee in a pressure cooker.

Saute cumin until it sizzles, then fry ginger until it turns fragrant.

Add tomatoes, salt, turmeric. Cook until mushy.

Next add chili powder and saute for a minute. You can also add garam masala if you like.

Next add veggies and saute for 2 to 3 mins.

Drain water completely from dal and broken wheat.

Add to the pan and saute for 2 to 3 mins on a slightly high flame.

Pour 2 cups water. Check salt. Cook on a medium to low flame for 2 whistles.

Stir well when the pressure goes off.

Serve dalia khichdi hot or warm.
NUTRITION (estimation only)
Calories:
466
kcal
|
Carbohydrates:
72
g
|
Protein:
20
g
|
Fat:
11
g
|
Saturated Fat:
6
g
|
Cholesterol:
25
mg
|
Sodium:
358
mg
|
Potassium:
882
mg
|
Fiber:
20
g
|
Sugar:
7
g
|
Vitamin A:
655
IU
|
Vitamin C:
18.4
mg
|
Calcium:
82
mg
|
Iron:
7.9
mg
If you are a beginner or new to Indian cooking, I highly suggest you to check the supporting step by step photos for best results. Step by step photos with description available below after the recipe card.
Preparation for dalia recipe
1. Rinse dalia and moong dal several times until water runs clear. Soak them for at least 30 mins. If you are using the large size broken wheat, i suggest soaking for at least an hour. You can also dry roast dal and daila first separately, then cool them and wash.
2. Heat ghee or oil in a cooker on a medium to low heat. Saute cumin until they begin to splutter. Add hing and ginger. You can also add bay leaf if you like the flavor.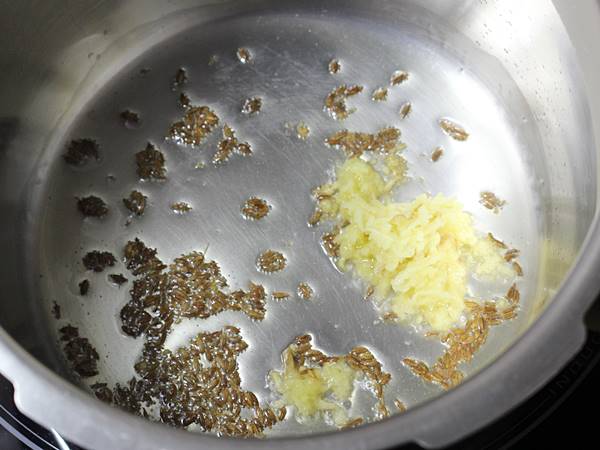 3. Add tomatoes, chilli, turmeric and salt. Cook until tomatoes turn soft. If using onions, saute onions first until slightly golden, then add tomatoes. You can also skip tomatoes and just use onions.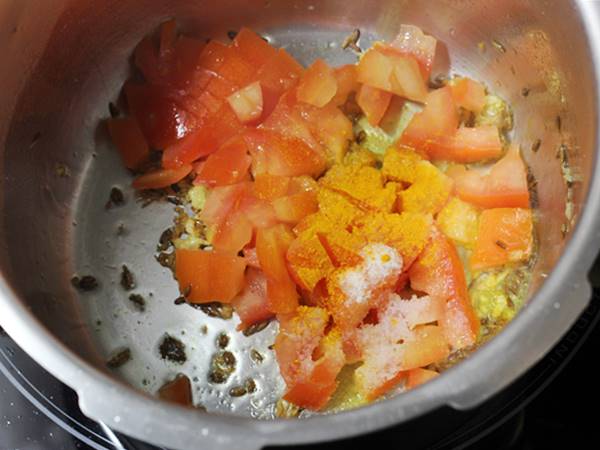 4. Add red chilli powder, saute just for a min. You can skip chilli powder if using green chilli. You can also add garam masala if you like.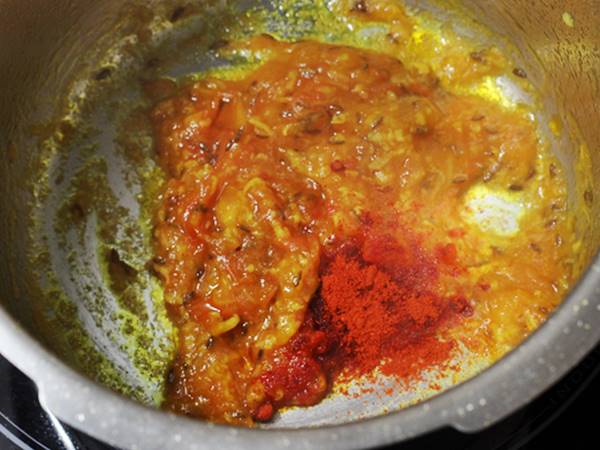 5. Add veggies. I had only capsicum. You can use beans, carrots and peas. Saute for 2 to 3 mins.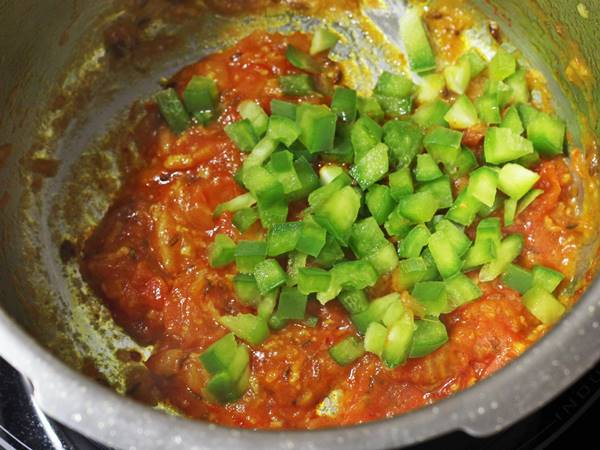 How to make dalia khichdi recipe
6. Drain off the water completely from broken wheat and dal. Add it to the pan.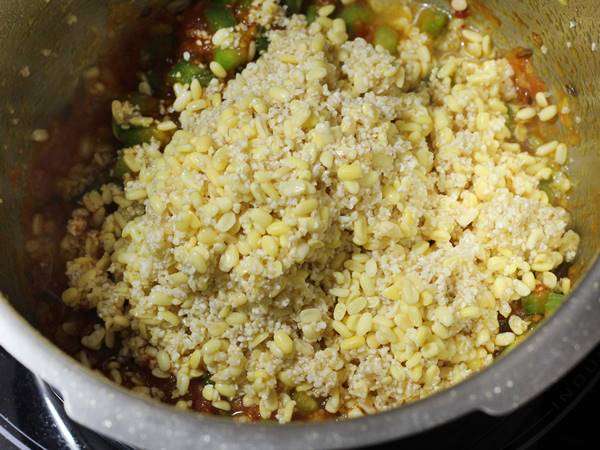 7. Fry for about 2 to 3 mins.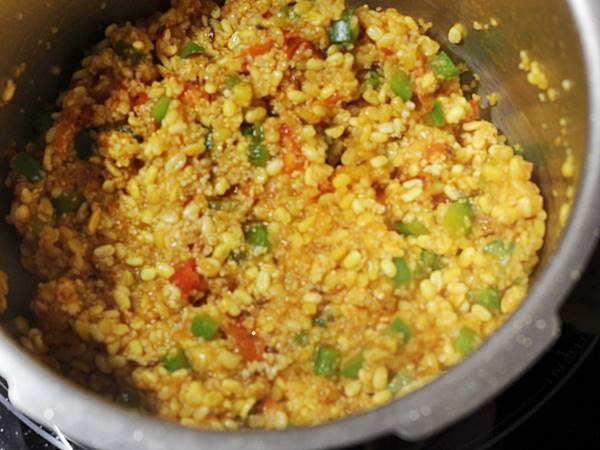 8. Pour water and check the salt.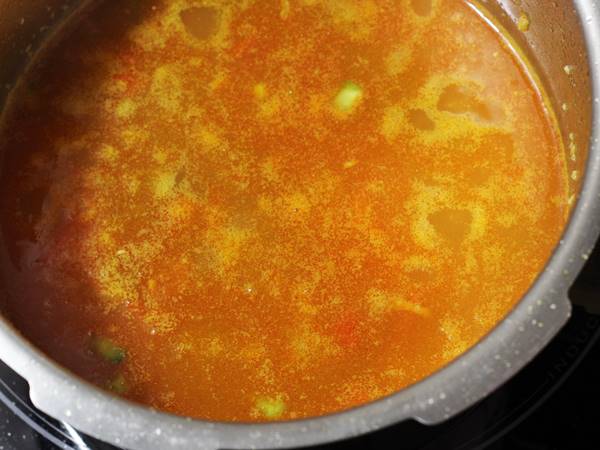 9. Cover and pressure cook on a medium to low flame for 2 whistles. Off the stove and leave it on the stove for a while.
10. When the pressure goes off. Open the lid and stir.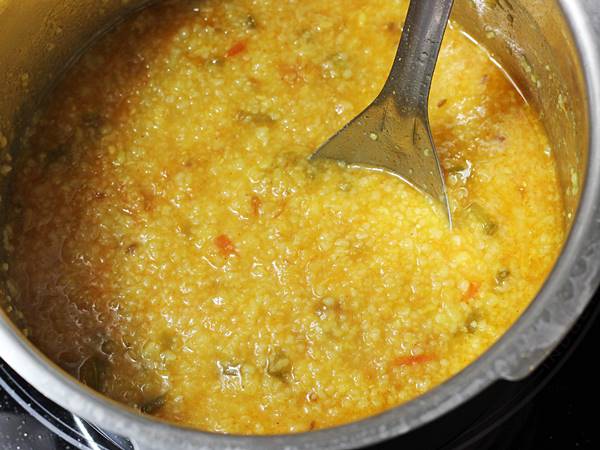 Serve hot with pickle or papad.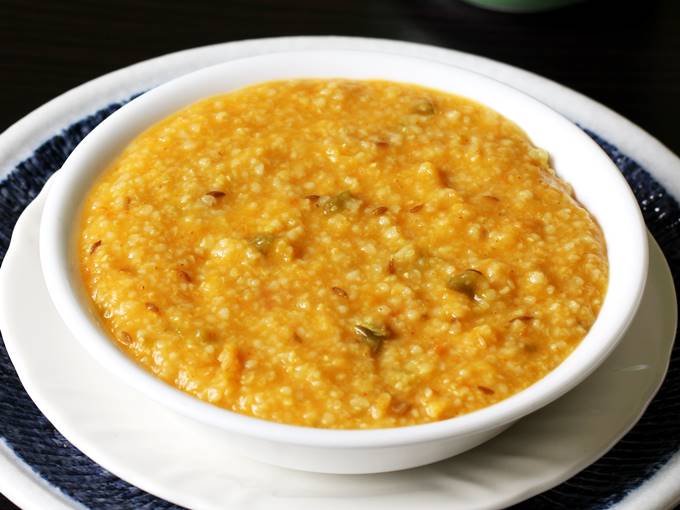 Dalia recipe for babies
I had few requests for a good dalia recipe for babies, so sharing it. My kids refused to eat dalia until they completed 2 years, the reason – the texture was not liked as it is not very smooth like the mashed rice.
When they turned 2, i started to pressure cook dalia and moong dal together with veggies. Then season with ghee, ginger, hing, turmeric and pepper cumin.
Over the years, the recipe under went so many changes and now i make it the way i described above in step by step pictures. Here are the proportions i used to make for them. Do try and share if your little one likes it.
The below quantity makes dalia khichdi good enough for the mum and toddler. For babies under 18 months, i do not suggest feeding this for dinner.
Avoid feeding this late in the night after 7.30 pm even to normal babies. Moong dal is not suitable to some babies during winters, so you can try with toor dal. Avoid using potatoes, tomatoes if your baby has colic.
Ingredients for dalia
¼ cup broken wheat
¼ cup moong dal or toor dal (can reduce to 2 tbsp)
2 cups of water
¼ to ½ cup veggies
for seasoning
ghee 1 tbsp
cumin / jeera or jeera powder as needed
1 tsp ginger paste
pinch of turmeric
pepper powder/ajwain (avoid in summer)
Steps to make dalia recipe
You can dry roast dal and dalia separately in large quantity. Cool them and store in steel or glass jars. This step is optional but lends a good aroma.
Soak them together for at least 1 hour. If your baby has colic i suggest soaking for 2 hours. Soaking helps to cook the dalia soft and baby will like the texture. It also helps to digest better.
Drain off the dal and dalia. Add 2 cups fresh water and pressure cook on medium to low flame for 2 whistles.
When you open the lid, you will find it gooey. The texture we often feed the babies. If you like to mash it further, you can. But for 2 whistles mine gets cooked very soft.
Add salt and stir. You can skip the seasoning and add turmeric, ghee, cumin directly to the cooked dalia. Feed when it comes down to warm temperature. During winters you can also add a pinch of ajwain powder, dry ginger powder (saunt/sonti). Avoid if baby has constipation.
5. I used to feed my toddlers without seasoning. You can make seasoning to the mum's portion of dalia khichdi.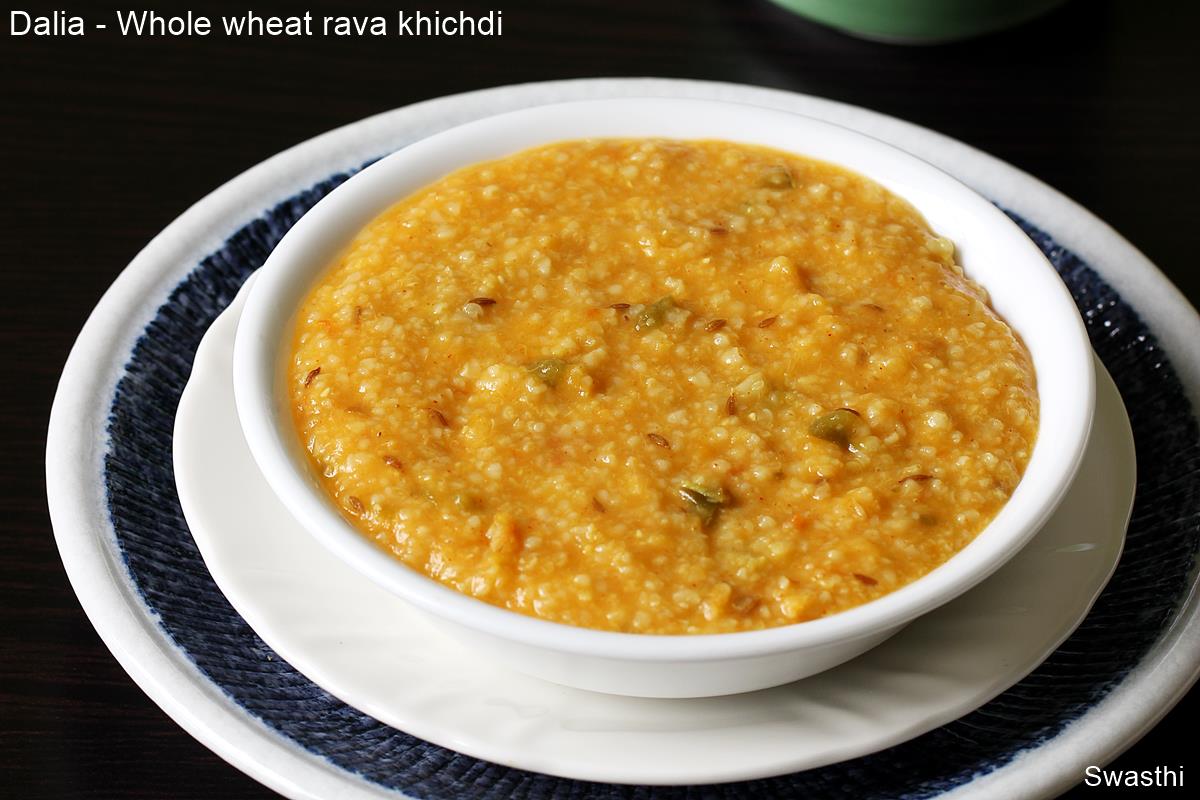 For complete baby food chart and recipes, you can check this post on
baby food chart for 6 months old and this one for
babies from 8 months.