Malpua Recipe (Crisp & Fluffy)
Malpua Recipe – Amaze your family with these incredibly delicious & flavorsome malpua that are crisp on the edges with a soft center. Be it Holi, Diwali or any other celebrations, these malpua are going to be all the rave at your next party! These Indian style pancakes have wonderfully crisp edges and soft juicy center that will have you hooked. Serve them however you like – drenched in the sugar syrup or with rabdi, they look, smell and taste incredible!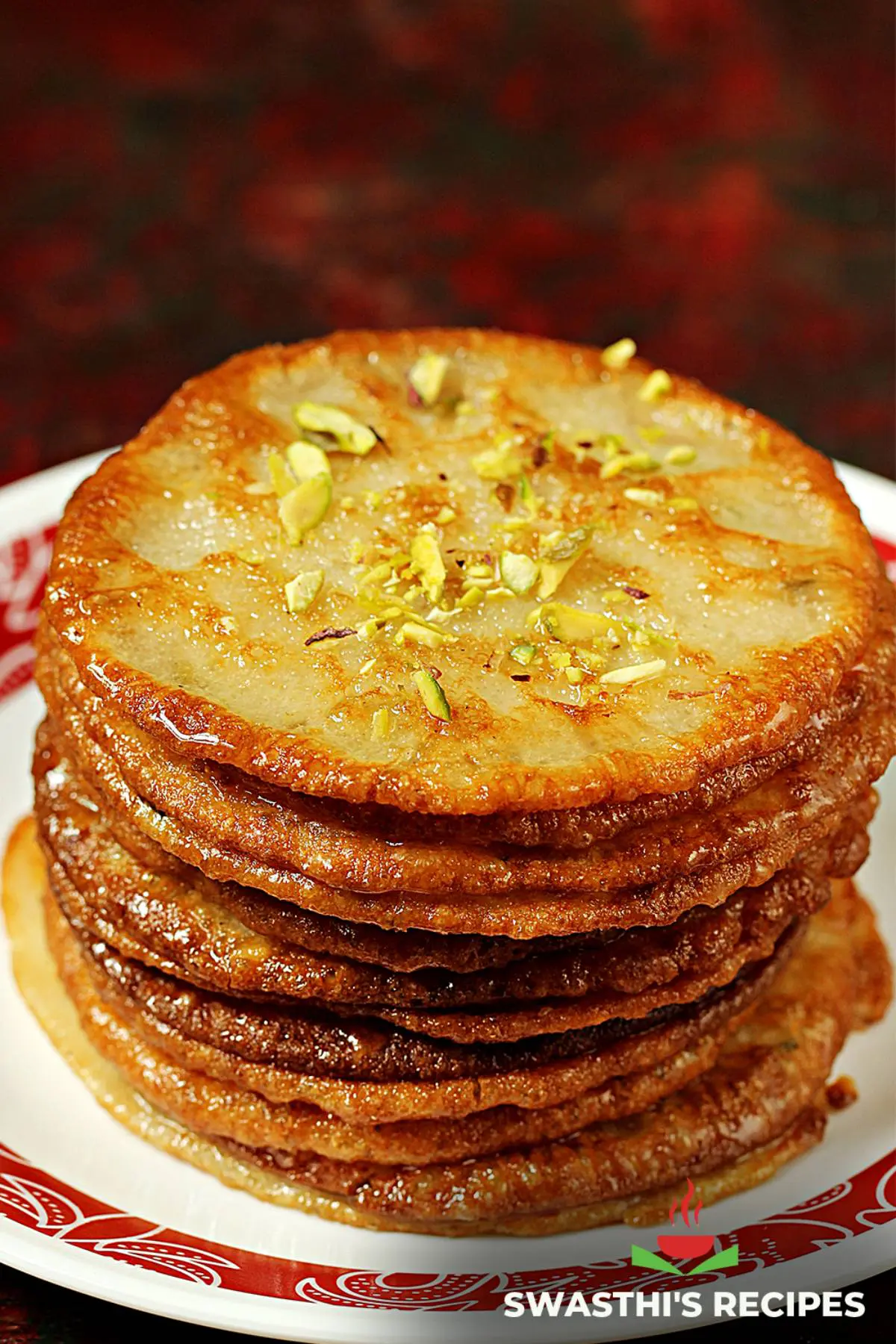 About Malpua
Malpua are traditional North Indian pancakes made with wheat flour, jaggery or sugar and cardamom powder. Various ingredients like semolina, fennel seeds, milk, khoya, coconut, yogurt and even fruits like banana are sometimes added to the malpua batter.
Malpua is a festive delight & are traditionally made in many Indian homes during festivals like Holi, Navratri and Diwali. In India, you are most likely to find a zillion versions of this celebration treat right from the households to the halwai shops (sweet shops), one different from the other depending on the region.
States such as Uttar Pradesh, Rajasthan, Bihar, West Bengal, Orissa and Maharashtra have their own versions of making and even serving them. A popular version of malpua known as Amalu are a part of the Chapana Bhog offered to Lord Jagannath in Puri Temple.
You will find them anywhere from thick & fluffy to thin & crisp served either plain or dunked in the sugar syrup or with Rabdi, sweetened thickened milk. These are topped with sliced nuts.
You may like to check this collection of 100 Diwali sweets recipes and these Diwali snacks recipes.
My Recipe
This recipe will help you make malpua that are super delicious and addictive! You will never stop with one & I am sure you will keep getting requests for them time and again just like the way I do from my boys. My recipe requires no more than pantry staples and I also have the substitutes for some of the ingredients.
Make them thick for a fluffy and hearty dessert or Make them thin for a crispy & lacey addictive treat. The combination of sugar syrup and nut toppings is good enough to make this a winner. However if you have time you may go ahead and make rabdi following this Rabri recipe.
More Sweets recipes
Puran poli
Kalakand
Rasmalai
Kaju katli
Rasgulla
How to Make Malpua (Stepwise photos)
1. To make malpua recipe usually milk is thickened, cooled and then used in the recipe. Since that does take some time, you can skip it or use mawa here.
This recipe works well with either 2 tbsps of mawa or 3 tbsps milk powder or 1/4 cup thickened milk. You can also skip using all these and just use plain milk to make the batter.
Which flour to use? –
This recipe uses plain flour, traditionally these are made with wheat flour or plain flour and some even use rice flour.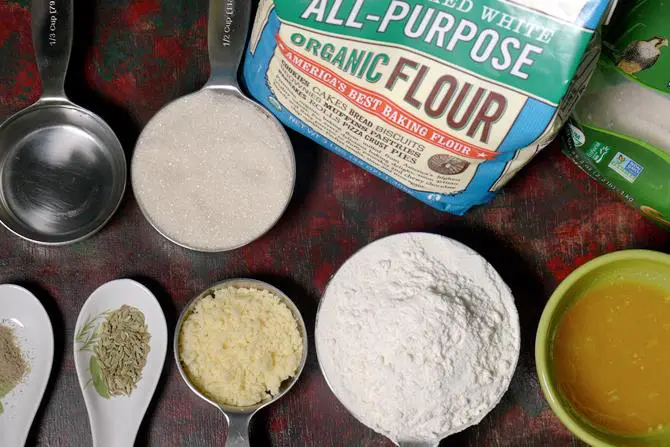 2. This step is optional. You can also use full fat milk and skip this step. Mix mawa or milk powder in 1/4 cup slightly hot water or milk.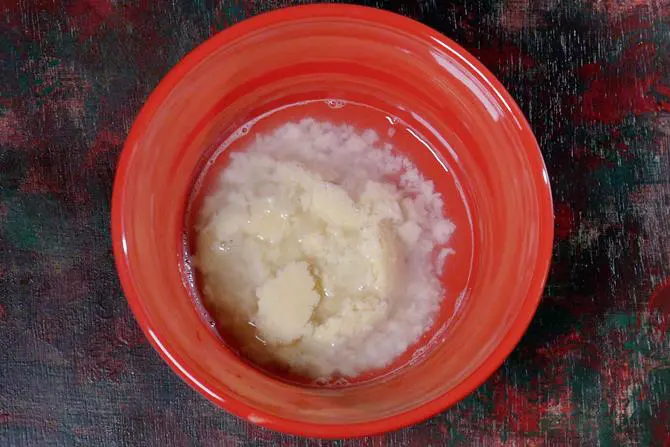 3. Stir to dissolve it.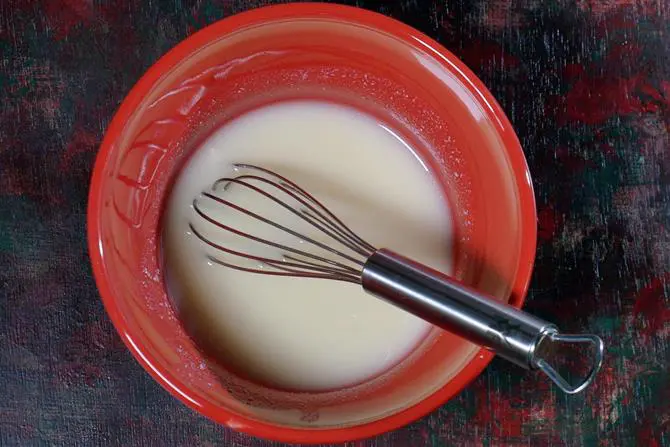 4. Add flour, fennel seeds and cardamom powder.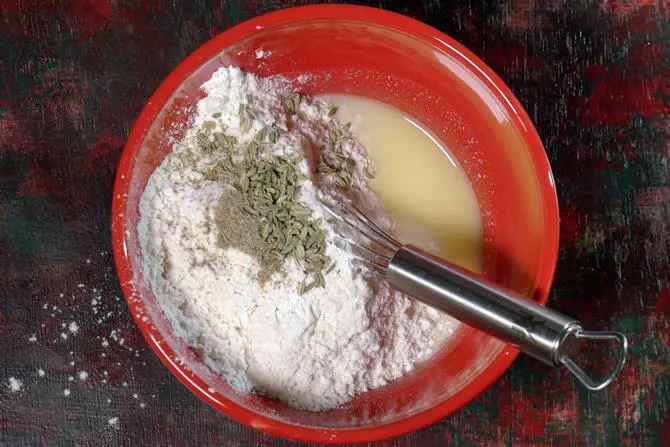 5. Add more milk as needed and make a batter. It may take up to 1 1/2 to 3/4 cup milk for the entire recipe.
Consistency of batter
Malpuas can be made thick or thin to suit your liking. If you like them fluffy and thick then the consistency of batter must be slightly thicker but of pouring consistency.
If you like them very thin then make a free flowing batter. But do not make it too runny since the batter spreads a lot when you pour it in the pan.
If you are not going to serve them right away it is good to make them slightly thick like I did.
There is no soda used in this recipe, so if you like fluffy malpuas you will need to beat the batter very well for 1 minute. Set the batter aside until the syrup is ready. You can also ferment this for 4 hours.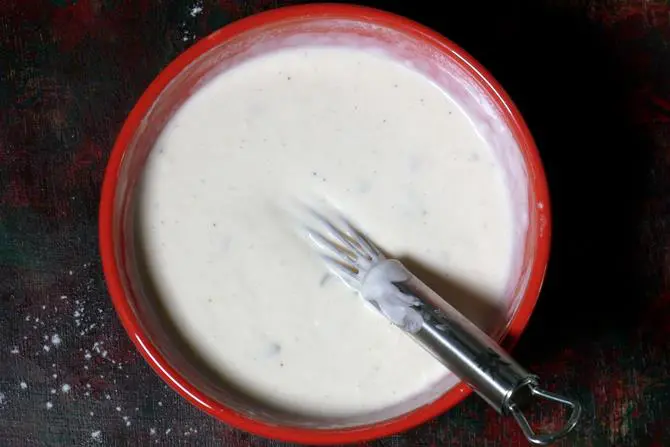 Make sugar syrup
6. Mix together sugar and water in a pot.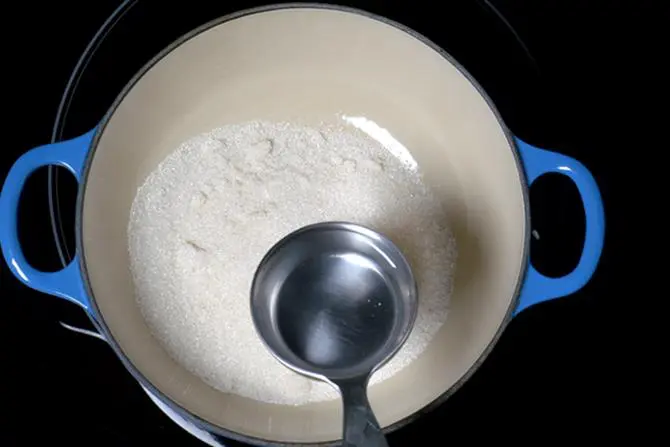 7. Boil the syrup until it turns sticky or 1 string consistency.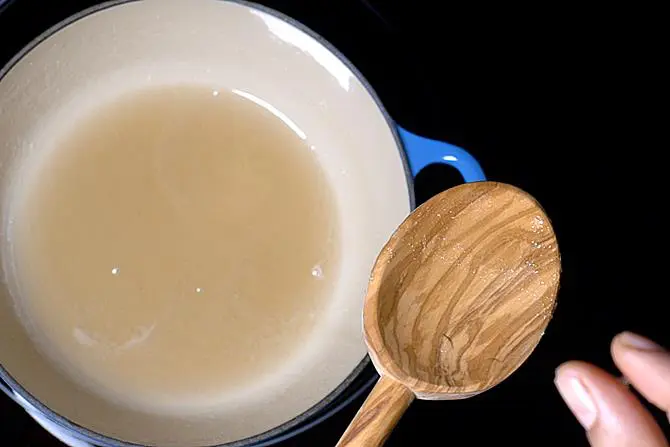 8. Heat 3 cups water in a wide pot and place the syrup pot in it to keep the syrup warm and prevent crystallizing. Alternately you can just stir in 2 tsp lemon juice.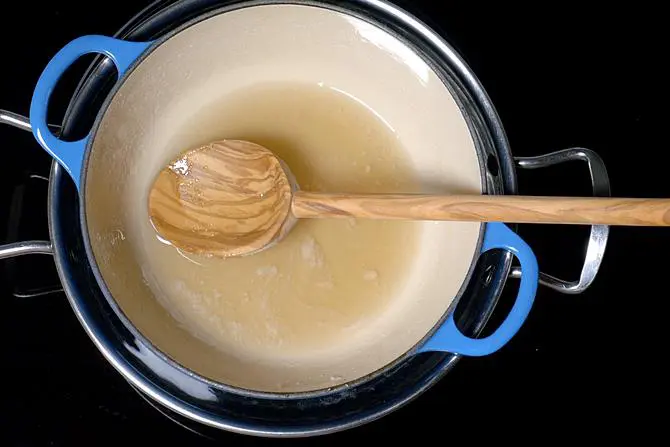 Make malpua
9. Add 2 to 3 tbsps ghee to a deep pan and heat it on a medium flame.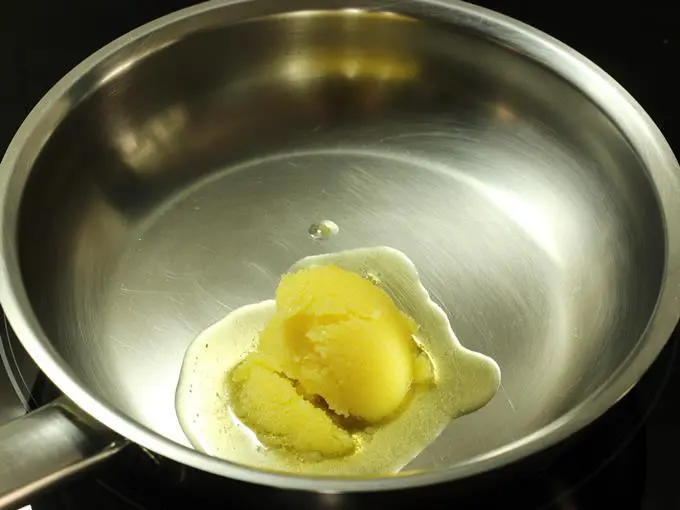 10. When the ghee turns hot, pour half ladle of batter about 2 to 3 tbsps.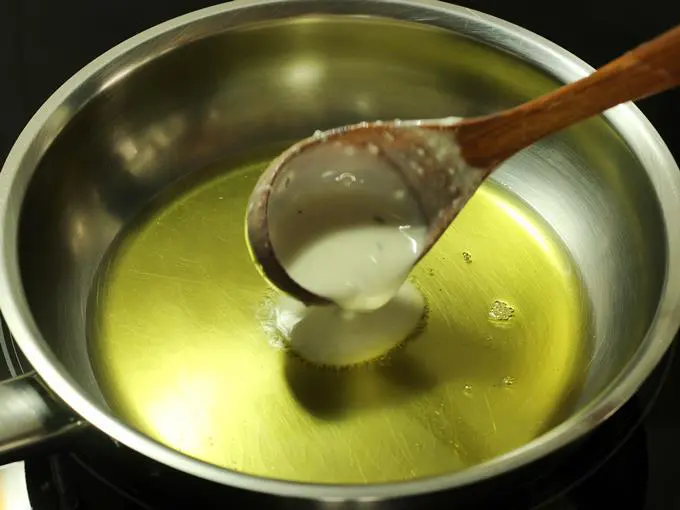 11. Do not spread the batter. It spreads on its own if it is of the right consistency.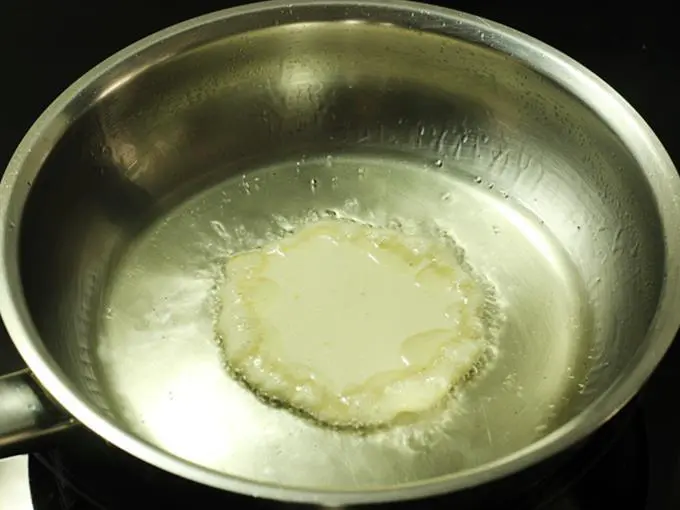 12. When the edges turn golden, flip and fry.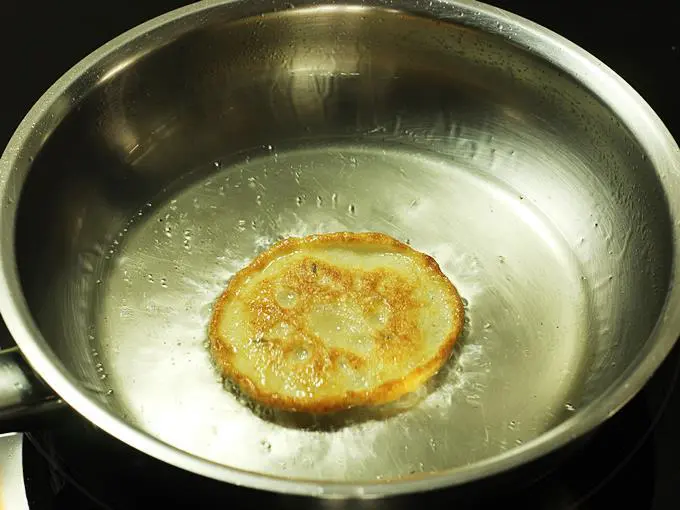 13. If you make them with thin batter, then you will get them thin and only the edges turn crisp and golden.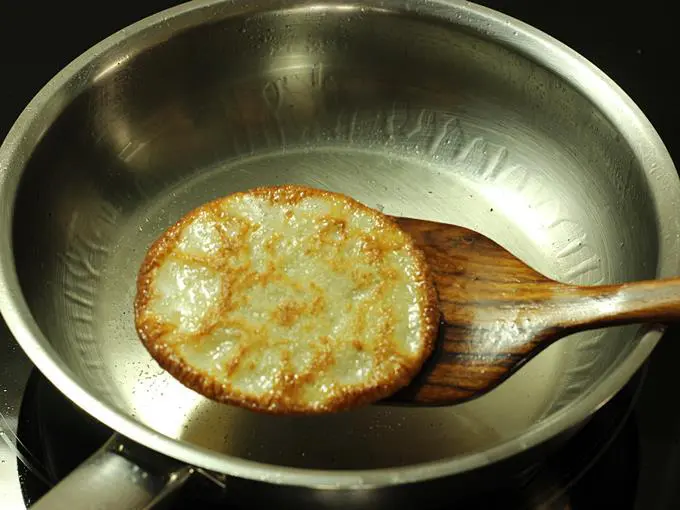 If you make them thick, malpua turns crisp all over and turns fluffy. Here is the picture.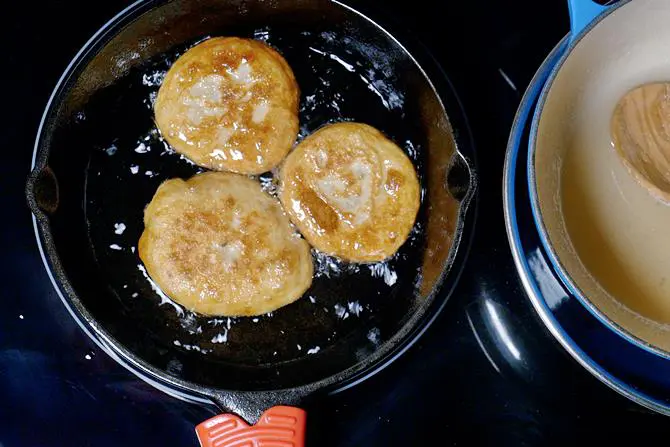 14. When malpua is done, remove from ghee. Add to the syrup directly. Make sure you stir the syrup well once before adding the malpuas.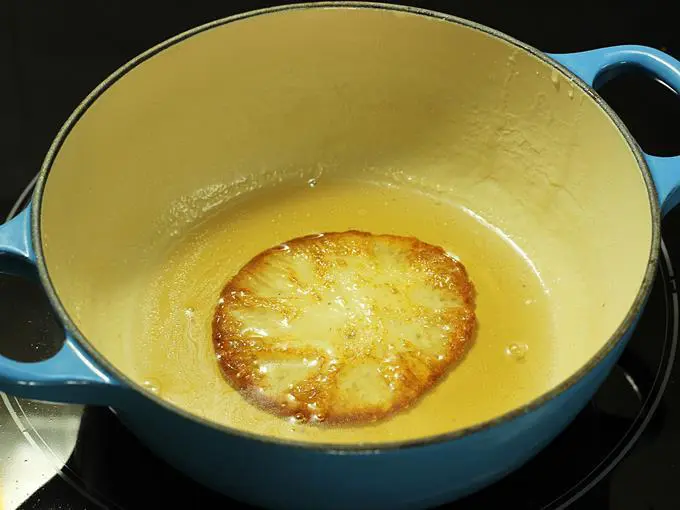 15. Remove them to a wide plate.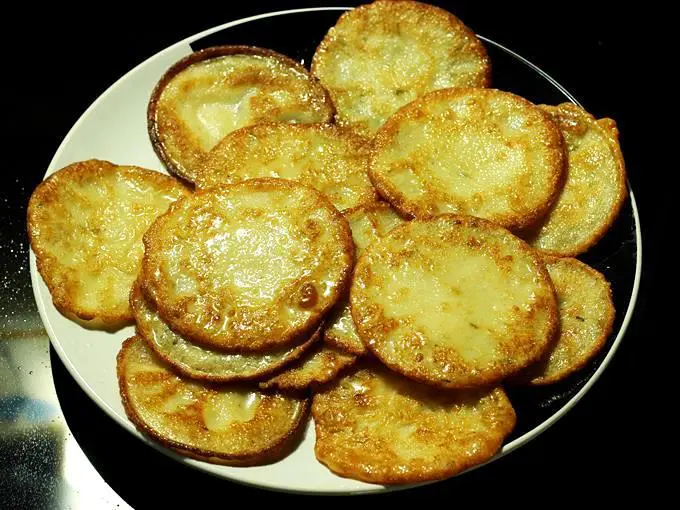 Garnish malpuas with chopped pistachios and almonds.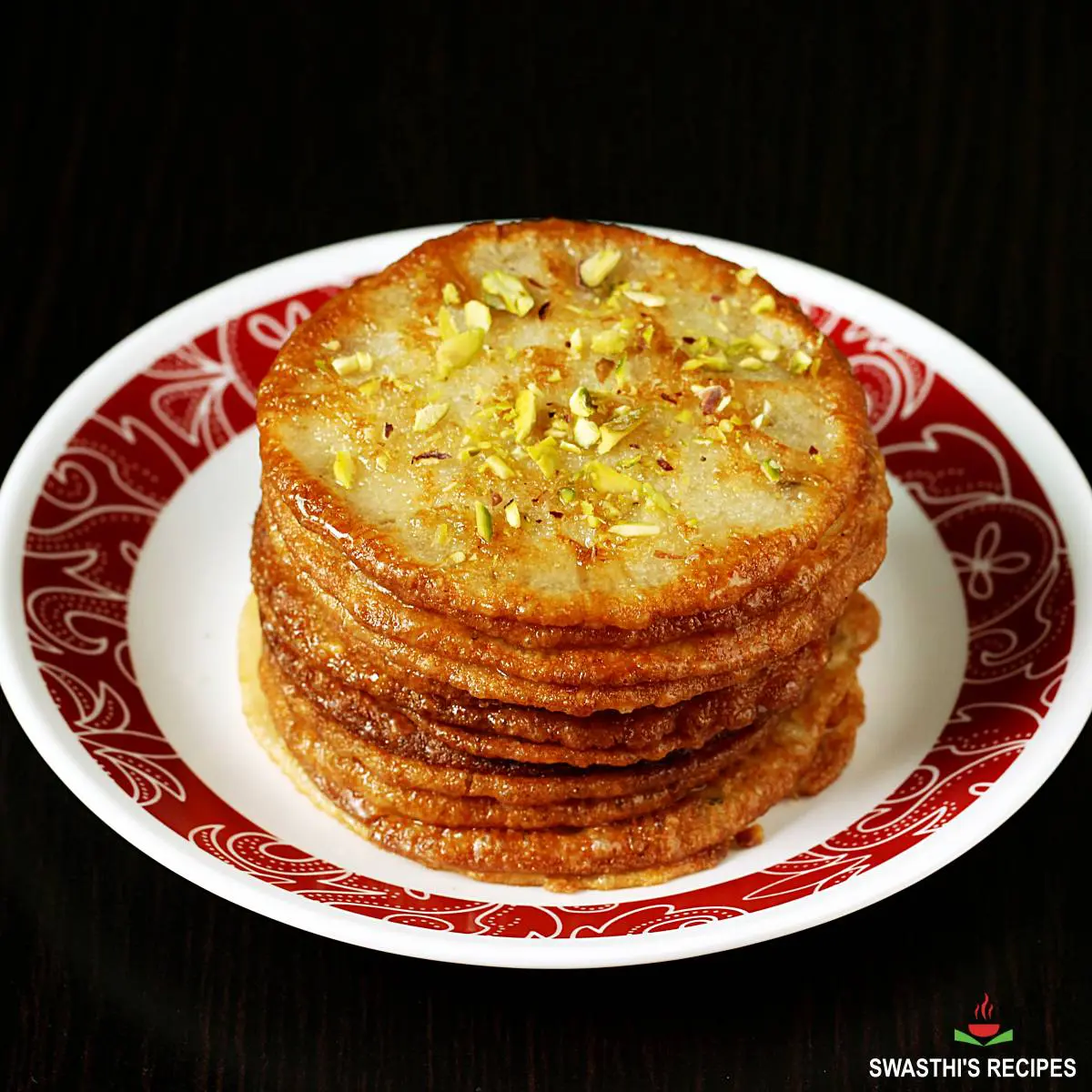 Pro Tips
Fermentation: Usually malpua batter is rested for few hours to enhance the flavor & texture. However you can also make them instantly if you do not have time. Prepare the batter & set aside until the sugar syrup is ready.
Consistency of Sugar Syrup: Make sure the sugar syrup is made right. It has to be sticky or 1 string consistency. If the syrup goes beyond 1 string consistency, then just sprinkle some water and mix it.
If the syrup is too thick & goes beyond a 1 string consistency the malpuas will not absorb the sugar syrup. They will just be coated with the syrup instead. Also thicker syrup usually crystallizes & ruins the malpuas. If the syrup is too thin and has not reached a sticky stage your malpua will get soggy too quickly.
Thickness of Malpua: Malpua can be made thin or thick to suit your liking. The most common ones are thin with crisp edges but in some regions they are made thick and fluffy.
If you prefer to make them thicker it is important to rest the batter for some time and also include 1/8 th teaspoon of baking soda & 3 to 4 tablespoons of curd before making the malpuas so they turn out fluffy. The other versions of thicker malpuas usually have the sugar, jaggery or mashed bananas added to the batter.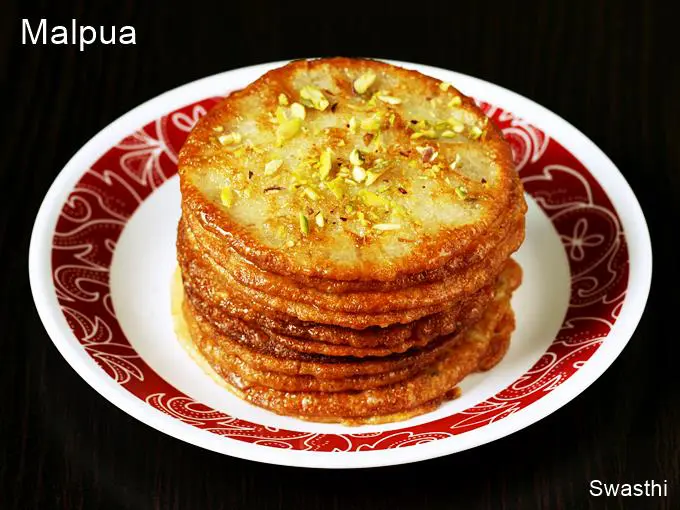 Substitutes
Flour: For this post I have used all-purpose flour. You can also use whole wheat flour. While all-purpose flour adds a milk aroma to the pancakes whole wheat flour imparts a nutty flavor. You can also use 1:1 ratios of both the kinds. If using all-purpose flour use organic or least unbleached or unbromated flour.
Milk and Milk Powder or Khoya: You can skip using milk powder and make the batter with milk. Both these ingredients impart a rich flavor and taste to the malpuas. However you can also make the batter without both these and just use water. But make thin malpuas with this batter.
Ghee: Traditionally malpua are fried in ghee but If you want to make these vegan, fry them in oil. I have made these a few times with virgin flavorless coconut oil and they were just as good.
Spices: Fennel and cardamoms are the 2 main spices I have used here. You can skip the fennel seeds if you do not like or replace with 1/8 teaspoon of ground nutmeg.
Lemon juice: To prevent crystallization in the sugar syrup, it is a common practice to add some lemon juice. If you add a lot it will ruin the taste. If you want to skip lemon juice, place the pot of sugar syrup in another large pot of hot water following the double boiler method. This way there won't be any crystallization.
Faqs & Troubleshooting
Why do my malpua stick to the pan while frying?
If the ghee or oil is not hot enough, the batter is more likely to get immersed into the ghee and get stuck at the bottom. Pour the batter only when the ghee becomes hot enough.
Why does my malpua puff like puri?
If the batter is thick and you try to deep fry the thick batter, it will result in puffed puri style malpua. To fix this, thin down the batter by adding little more liquid or remove some of the oil or ghee from the kadai. Thick batter works well only when you have a layer of oil in the kadai. (check pic for this)
Can I use jaggery to make malpua?
Yes you can use jaggery both in the batter and to make the syrup. However you should note that the flavor of jaggery malpuas is completely different from the sugar pua.
Related Recipes
Recipe Card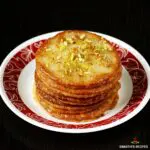 Malpua Recipe (Crisp & Fluffy)
Malpua are sweet pancakes made during festivals like holi and diwali. Malpuas are mostly served as a dessert snack with rabdi or with some nuts sprinkled on top.
Print Recipe
Pin Recipe
Jump to Comments
For best results follow the step-by-step photos above the recipe card
Ingredients (US cup = 240ml )
For Malpua
1 ¼

cup

all-purpose flour

Or wheat flour

½

teaspoon

elaichi

(green cardamoms powdered)

1

teaspoon

saunf

(fennel seeds)

1½

cup

milk

(use more as needed)

3 to 4

tablespoons

Ghee

for frying

3

tablespoons

milk powder

(optional) or replace with mawa or khoya
For sugar syrup
½

cup

sugar

organic

¼

cup

water

or as needed

2

teaspoon

lemon juice

optional
Instructions
Make Batter
Pour milk to a mixing bowl. If using mawa or milk powder, add it and mix well.

Add flour, fennel seeds and elaichi powder.

Make a batter mixing everything well.

Use more milk as needed to make a batter that is not too thick or too runny.

But should be of flowing consistency. By adjusting the consistency of batter, you can make thick or thin malpuas as per your liking.

If the batter is too thin, the batter spreads a lot and makes thin ones. Very thick batter makes thick & dense malpuas.

If you prefer fluffy malpuas, beat the batter for a few minutes with a fork or whisk.

Keep the batter aside until the sugar syrup is ready.

If you have time, you can set this aside for 4 hours.
Make Sugar Syrup
Add sugar and water to a pot.

Dissolve the sugar on a medium flame.

Boil the sugar syrup until it turns sticky or reaches a 1 string consistency.

To prevent crystallization in sugar syrup: Add 2 tsps lemon juice to the syrup or In another large pot, bring 3 cups of water to a boil. Turn off the stove. Place the sugar syrup pot in the hot water.
How to make Malpua
Heat ghee for frying malpuas.

When the ghee is hot, pour 2 to 3 tbsps of batter.

The batter spreads depending on the consistency.

You can add more milk at this stage to thin down the batter to make thin malpuas.

Allow them to fry until golden. Flip and fry on the other side as well.

Remove them from the pan and add directly to the syrup.

Give a quick stir to the sugar syrup before adding the malpuas.

If the sugar crystallizes then add 2 tbsp water and heat it.

You can allow them to soak in the syrup for 10 mins if you have made thick malpuas or remove to a plate just after dipping them.

Garnish malpua with chopped pistas.

You can also top these with rabdi and then garnish with pistas.
Alternative quantities provided in the recipe card are for 1x only, original recipe.
For best results follow my detailed step-by-step photo instructions and tips above the recipe card.
NUTRITION INFO (estimation only)
Nutrition Facts
Malpua Recipe (Crisp & Fluffy)
Amount Per Serving
Calories 98
Calories from Fat 27
% Daily Value*
Fat 3g5%
Cholesterol 9mg3%
Sodium 10mg0%
Potassium 40mg1%
Carbohydrates 14g5%
Protein 1g2%
Vitamin A 35IU1%
Calcium 29mg3%
Iron 0.5mg3%
* Percent Daily Values are based on a 2000 calorie diet.
Malpua Recipe first published in October 2016. Updated and Republished in Dec 2021.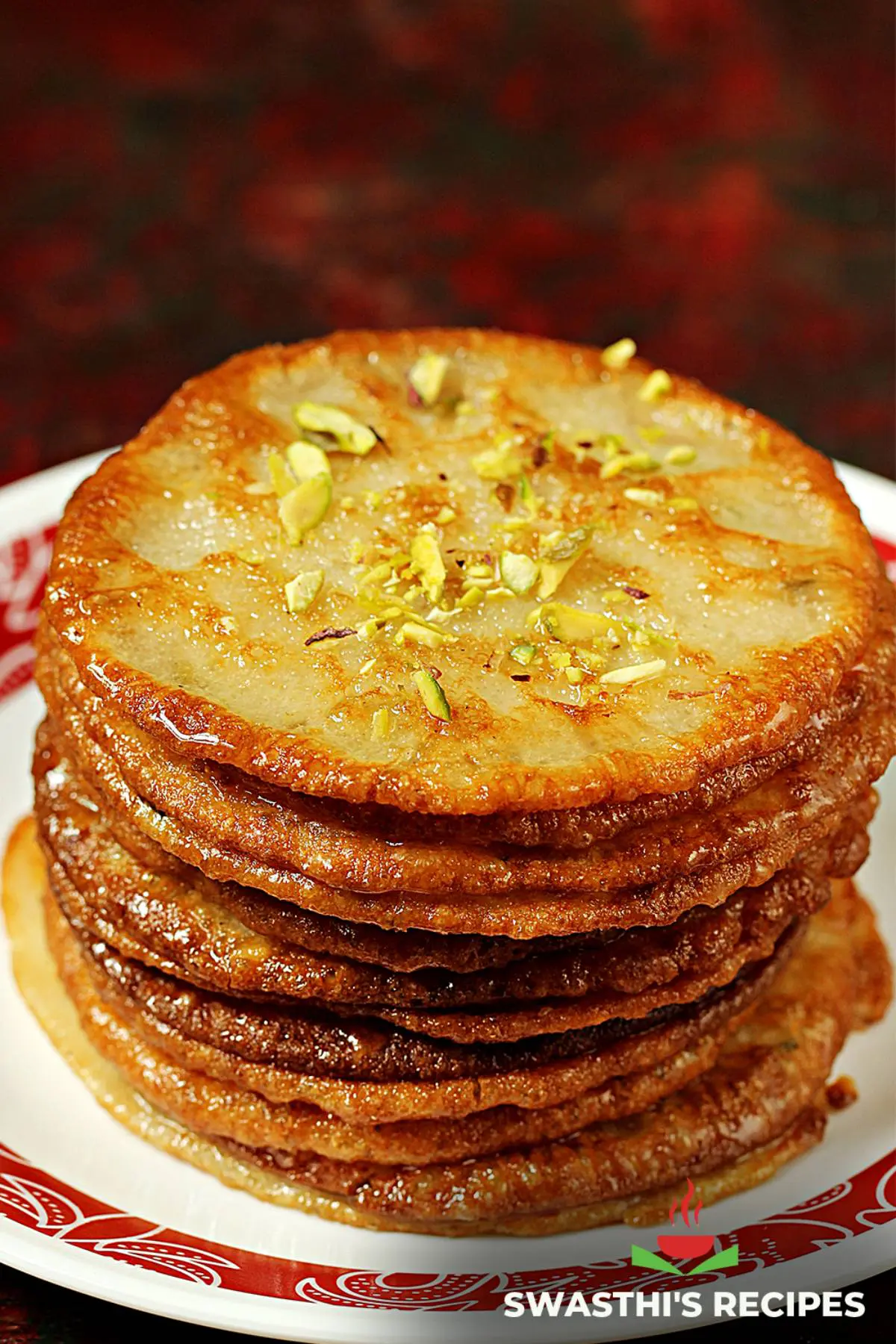 About Swasthi
I'm Swasthi Shreekanth, the recipe developer, food photographer & food writer behind Swasthi's Recipes. My aim is to help you cook great Indian food with my time-tested recipes. After 2 decades of experience in practical Indian cooking I started this blog to help people cook better & more often at home. Whether you are a novice or an experienced cook I am sure Swasthi's Recipes will assist you to enhance your cooking skills. More about me
Follow Swasthi's Recipes