Kalakand Recipe (Kalakand Sweet)
Kalakand Recipe – Simple, delicious and quick Instant kalakand under 10 mins. Make this last minute dessert this Diwali and amaze your family! Kalakand is a popular Indian sweet made by reducing milk and sugar. This soft set sweet is widely sold in sweet stalls and is not commonly made in households. Kalakand is moist, juicy, tastes delicious & has a delicate grainy texture which is the hall mark of this dessert. It is flavored with cardamom powder and optionally garnished with fine chopped nuts.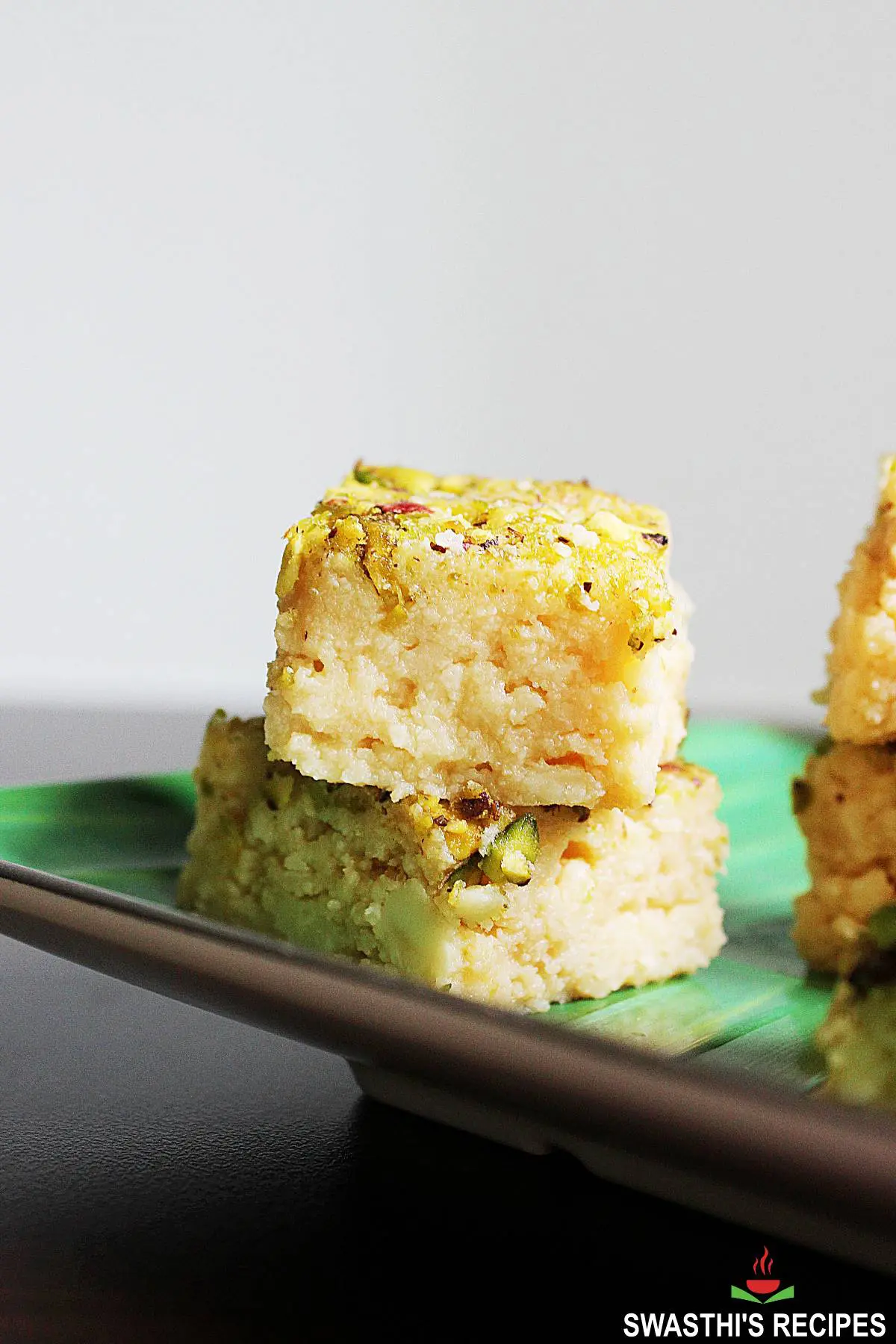 This 10 mins instant kalakand recipe using condensed milk is a great alternate to the traditional recipe which is made by simmering milk for a very long time. This recipe is a keeper and has never failed to impress my guests.
I make this often for celebrations as it doesn't take much time and is simply great tasting & gets done effortlessly. If you are new to this and wondering what is it?
About Kalakand
Kalakand is an Indian milk dessert made with full fat milk, sugar and cardamom powder. This 3 ingredient sweet is hugely popular in the Indian Mithai shops. It is said that kalakand was invented in 1947 by a sweet maker named Baba Thakur Das.
Since he was residing in Alwar, a city in Rajasthan, this sweet is known as Alwar kalakand. Making the original kalakand takes several hours & is a lot of arm work as it requires continuous stirring. This lengthy process of reducing the milk to form the solids refrains most people from making this at home.
Kalakand vs Burfi
Burfi is an Indian fudge which is basically made with flour, nuts, ghee, milk and sugar. It is a well set fudge and not delicate. But kalakand is a soft set delicate cake like sweet and is not completely dry like a burfi. So this is not something like a badam burfi, mawa burfi or besan burfi.
My Recipe
My 10 mins Kalakand recipe is an instant hit always and uses only 3 basic ingredients – condensed milk, homemade paneer and cardamom powder. It gives kalakand that is soft, juicy & has a grainy texture similar to the traditional one.
In the traditional recipe, a small quantity of acidic ingredient like alum or citric acid is added to achieve a grainy texture. But in this instant recipe, chenna/ homemade paneer does that job.
Chenna/ homemade paneer is the main ingredient used in this recipe. It is not the same as the store bought paneer. Chenna or homemade paneer has some amount of whey in it which prevents kalakand from turning rubbery and chewy.
So homemade paneer is the key here. If you can't make it then use store bought ricotta which is the same as homemade paneer.
To make chenna/paneer, avoid using vinegar. Use yogurt, lemon juice or a mix of yogurt with citric acid.
Can I use Store Bought Paneer?
Store bought paneer has no whey in it so a lot of times I ended up with hard and chewy kalakand. Some brands don't work at all. If you still want to try add 3 tbsps of hot milk to the grated paneer and mix. Rest for 10 mins and then use it.
A close substitute is ricotta cheese which is the same as Chenna/ unset paneer.
100 diwali recipes
Sandesh
Coconut burfi recipe
Paneer kheer / payasam
Chocolate burfi
Rasmalai
How to Make Kalakand (Stepwise Photos)
Make chenna/paneer/ricotta
1. For this recipe we need 250 grams soft homemade chenna/paneer or 400 grams of ricotta. Bring 6 cups full fat milk to a boil. You can also boil the milk in a instant pot following the pot-in-pot method. Pressure cook for 0 minutes and let the pressure drop naturally.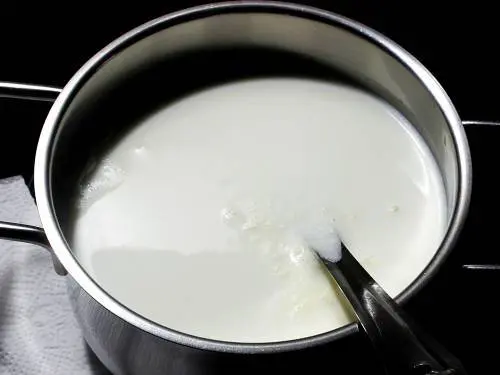 2. Add 2 tbsp lemon juice or half cup yogurt/curd. I used homemade yogurt with whey.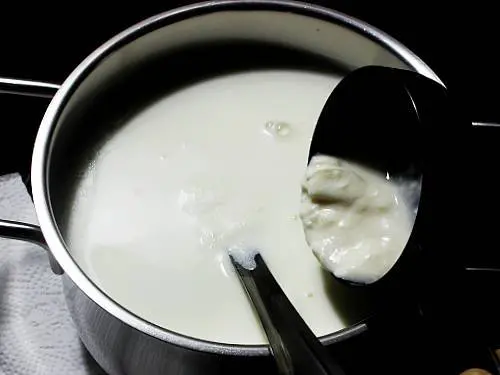 3. Stir well & boil until it curdles fully. If the milk doesn't curdle, then add more lemon juice or yogurt. Do not add a lot as it can make the cheese hard. I added 1/8 teaspoon pure citric acid at this stage. Turn off the stove. Immediately pour 2 cups of cold water. Let it rest for 1 to 2 minutes.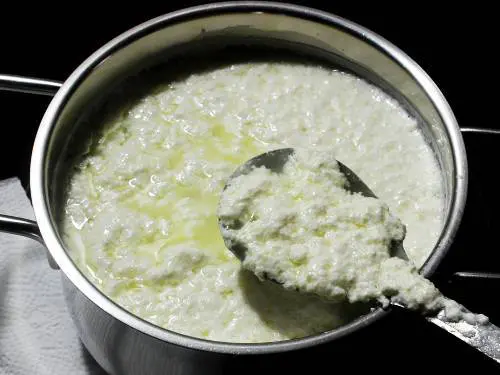 4. Drain to a clean muslin or cotton cloth lined over a colander. Rinse it very well under running water until all of the lemon flavor is gone. You can skip rinsing if you have used curd.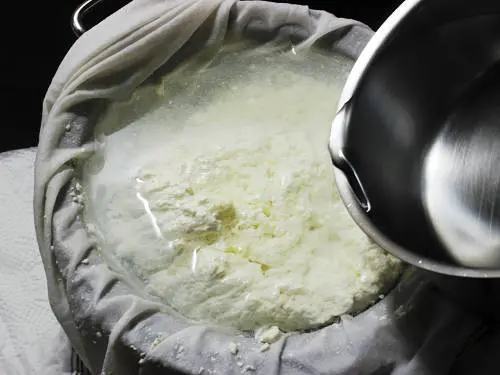 5. Squeeze off the excess whey as much as possible and hang it for about 10 to 20 mins. Meanwhile chop nuts and line a small greased tray with parchment paper.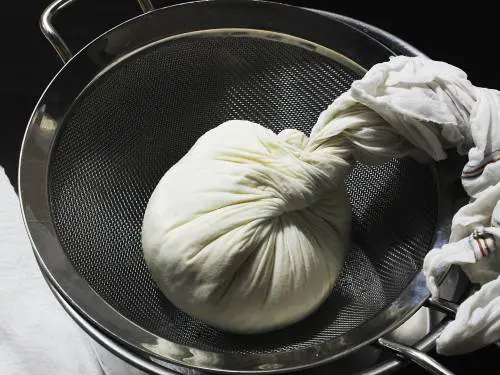 6. Crumble this and set aside. I weighted it at this stage. It was about 265 grams, 2 cups loosely measured or 1¼ cups tightly packed.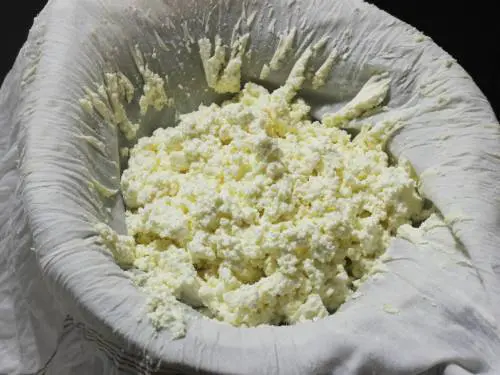 Cooking Kalakand in 10 Mins
7. Pour 1 tin of sweetened condensed milk (392 to 400 grams, 14 oz) to a heavy bottom non-stick pan. Stir in crumbled paneer/ricotta. Mix them and begin to cook on a medium low flame.
Condensed milk substitute: If you are trying to avoid store bought condensed milk, you can make it at home using 3 cups milk and half cup sugar. Simmer the milk until it reduces to half, then add sugar. Continue to simmer stirring continuously until it reduces to 1 cup. Then add the chenna/ paneer.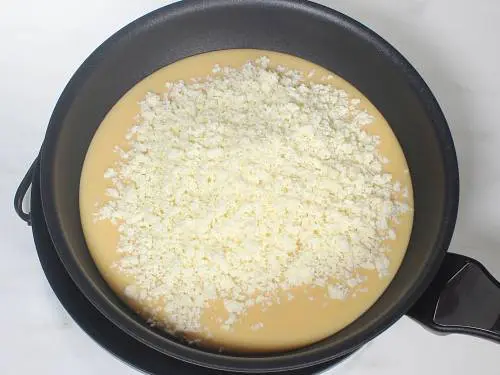 8. As the condensed milk heats up, the whole mixture will become runny. Pour 1 teaspoon kewra or rose water (optional) at this stage.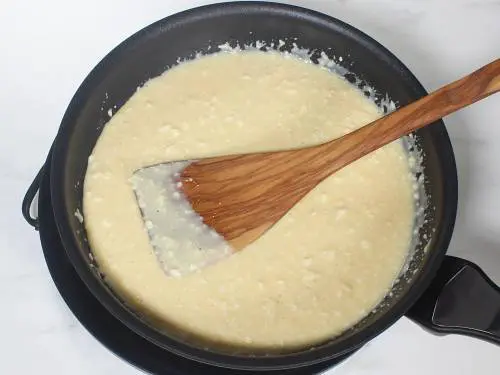 9. Keep stirring and continue to cook. The mixture begins to thicken in 3 to 4 mins.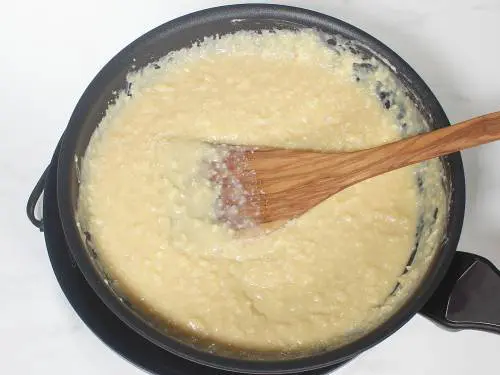 10. Reduce the flame to low and Stir constantly to prevent burning.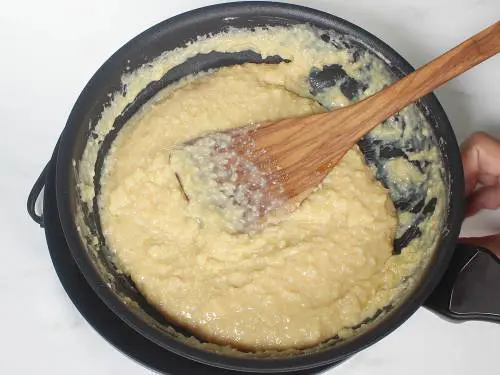 11. Very soon it becomes a thick mass and begins to leave the sides of the pan. Turn off the stove. Add cardamom powder and mix well. It took about 8 to 9 minutes for me. This will take longer with ricotta cheese as there is much more whey in it than homemade paneer.
Texture of kalakand mixture: The texture of the mixture has to be grainy and moist. Do not overcook otherwise the kalakand will turn dry. It has to be moist since this is a soft set sweet.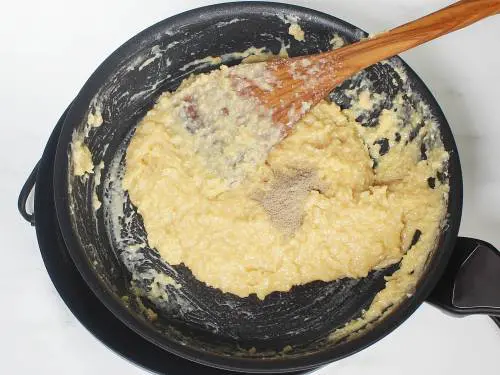 12. Transfer to the prepared greased tray. Spread it to ½ to ¾ inch thickness. Level it and sprinkle chopped nuts. Press down with a spatula.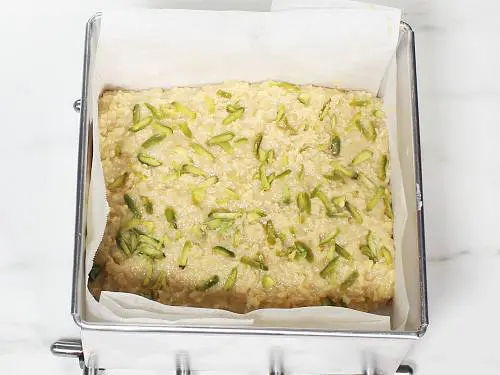 13. Refrigerate it for at least 2 hours and then cut to desired sizes. I sliced mine to 12. You can also cut them to bite sized pieces.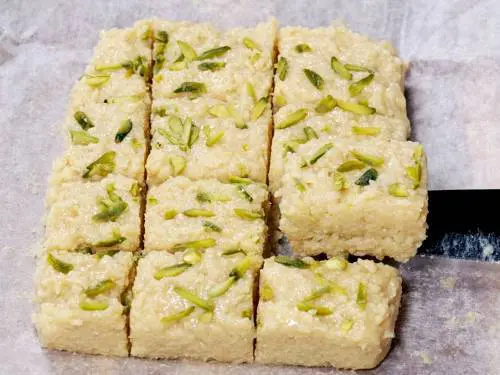 Easy kalakand is ready. Keep refrigerated and finish it in 4 to 6 days. Best served chilled. If you do not like chilled kalakand, leave it out for around 30 mins before serving. It comes down to room temperature. Alternately you can warm up for few seconds in microwave.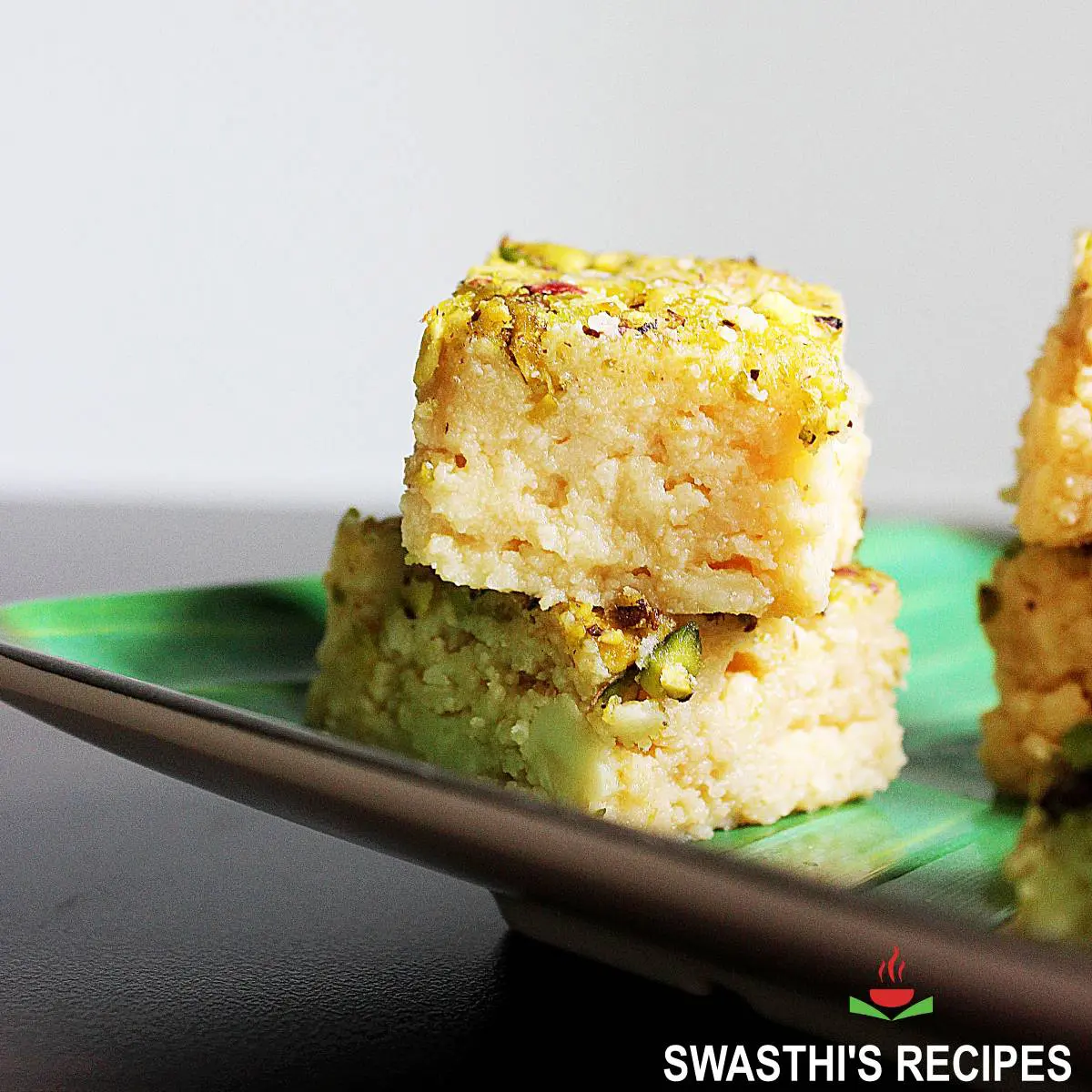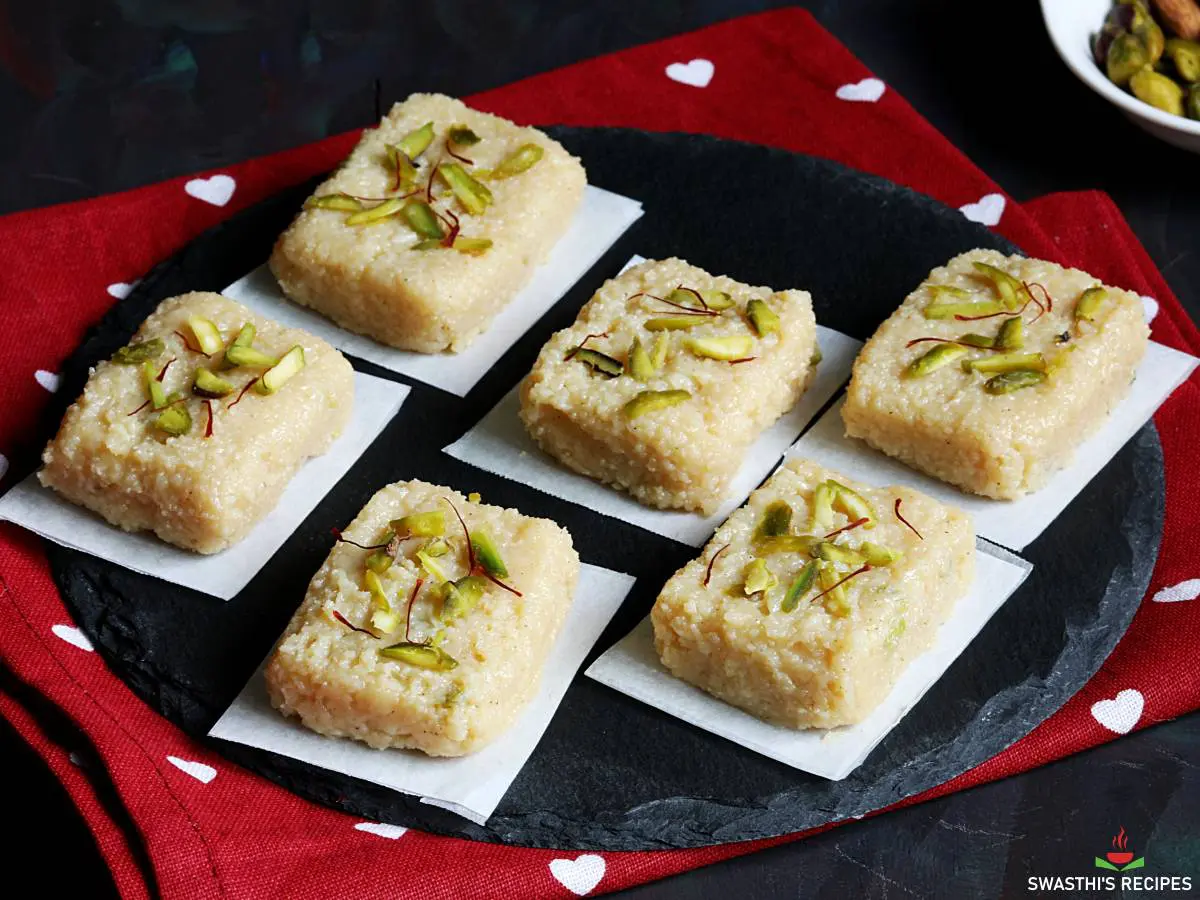 Pro Tips
Avoid overcooking the kalakand mixture, to the extent where it dries up completely. If you do so, you will be left with hard dry cubes of kalakand after it is set.
The mixture has to be moist yet thick and not runny. It is at this stage you will remove it.
Homemade paneer can be made ahead and refrigerated.
Kalakand won't set at room temperature. It had to be set in the refrigerator.
You can adjust the amount of condensed milk as required. I have given the quantities that work well for us. If you prefer less sweeter kalakand, simply reduce the condensed milk and add a bit of plain milk. For this you will cook the condensed milk first with milk and later add the paneer.
Do not cut down a lot of condensed milk in the recipe, this will dry out the kalakand. You can reduce upto 2 tbsps.
Related Recipes
Recipe Card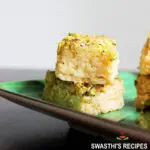 Kalakand Recipe (Kalakand Sweet)
Easy kalakand recipe made in 10 minutes with condensed milk and paneer. Moist, juicy and soft set with a delicious flavor and great texture.
Print Recipe
Pin Recipe
Jump to Comments
For best results follow the step-by-step photos above the recipe card
Ingredients (US cup = 240ml )
1

can/tin

condensed milk

(392 to 400 grams, 14 oz)

250

grams

homemade paneer

(or 15 oz / 400 grams ricotta cheese)

½

teaspoon

cardamom powder

2

tablespoons

chopped nuts

(pistas, cashews or almonds)

1

teaspoon

edible rose water

or kewra water (optional)
Instructions
Make chenna/paneer/ricotta
Skip this section if you have homemade paneer or store bought ricotta. Your homemade paneer/chenna has to be moist and unset with some amount of whey in it.

Pour 6 cups of full fat milk to a pot and bring it to a boil. Add 2 tablespoon lemon juice or half cup yogurt to the hot milk.

Stir and continue to boil till the milk begins to curdle. Turn off when you see the whole pot of milk curdled well & whey has separated completely.

Pour 2 cups cold water immediately. Drain this to a cheese cloth lined over a colander. Hold the cheese cloth carefully under running water and rinse it well to remove the lemon flavor.

Bring the edges together and squeeze off to drain all the excess whey from the cheese. Hang it for about 10 to 20 mins.
How to Make Kalakand
Grease a small tray and line with parchment paper. Keep this aside.

Pour condensed milk to a heavy bottom non-stick pan. Add the paneer or ricotta cheese. Mix them well and begin to cook on a medium flame stirring continuously.

The mixture thins down initially and then slowly begins to thicken. Continue to stir and cook until the mixture begins to thicken.

Then reduce the flame to low and continue to cook stirring until it becomes thick. It took about 8 to 9 mins for me. If you are using store bought ricotta it will take longer. (Check the video or step by step photos)

Do not overcook. The mixture has to be moist and juicy but not dry.

When you see the mixture begins to leave the sides yet remains juicy (not runny) transfer the kalakand immediately to the greased tray.

Spread it to ½ to ¾ inch thickness. Sprinkle nuts and gently level with a spatula.

Refrigerate kalakand for at least 2 hours. It will set to a soft set crumbly cake. Then cut to desired sizes. I cut mine to 12 (¾ inch thickness) or to 16 (½ inch thickness)

Remove it from the fridge 30 to 60 mins before serving. Kalakand is best served warm or chilled but the texture won't be good if it is too cold.
Notes
To make substitute condensed milk, boil 3 cups full fat milk with sugar until it reduces to 1 cup. Then add paneer.
To make your own paneer for this recipe, simply boil 6 cups full fat milk and curdle it with yogurt or lemon juice. Rinse it well. drain the whey for 10 mins and use. (more in the step-by-step photos).
In some countries milkmaid (condensed milk) is sold in 392 grams tins. You can also use that.
Highly suggested using a heavy bottom pan. Stainless steel heavy bottom pan too works fine.
Do not use low fat paneer or low fat condensed milk, it doesn't turn out tasty .
Kalakand keeps good for 4 to 6 days if refrigerated.
Alternative quantities provided in the recipe card are for 1x only, original recipe.
For best results follow my detailed step-by-step photo instructions and tips above the recipe card.
NUTRITION INFO (estimation only)
Nutrition Facts
Kalakand Recipe (Kalakand Sweet)
Amount Per Serving
Calories 128
Calories from Fat 54
% Daily Value*
Fat 6g9%
Cholesterol 17mg6%
Sodium 35mg2%
Potassium 101mg3%
Carbohydrates 14g5%
Protein 4g8%
Vitamin A 65IU1%
Vitamin C 0.7mg1%
Calcium 141mg14%
Iron 0.1mg1%
* Percent Daily Values are based on a 2000 calorie diet.
Kalakand Recipe first published in August 2013. Updated and republished in October 2022.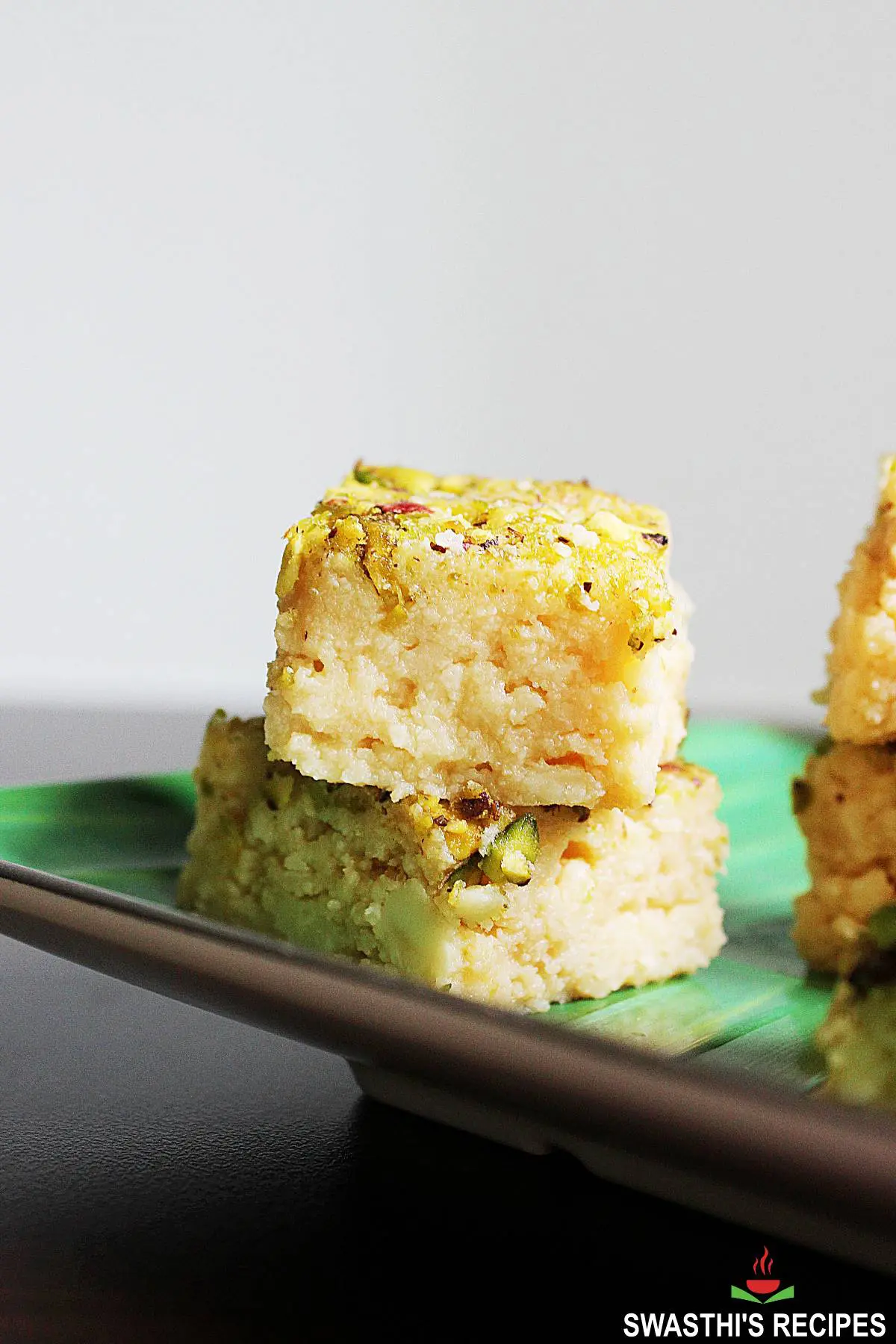 About Swasthi
I'm Swasthi Shreekanth, the recipe developer, food photographer & food writer behind Swasthi's Recipes. My aim is to help you cook great Indian food with my time-tested recipes. After 2 decades of experience in practical Indian cooking I started this blog to help people cook better & more often at home. Whether you are a novice or an experienced cook I am sure Swasthi's Recipes will assist you to enhance your cooking skills. More about me
Follow Swasthi's Recipes