Ghee recipe with video & step by step photos. A detailed post with lots of tips to make traditional ghee at home. Ghee is a pure fat used in Indian cooking from the ancient times. It is considered to be an healthy & ideal fat for cooking & deep frying due to its high smoke point of 250 C.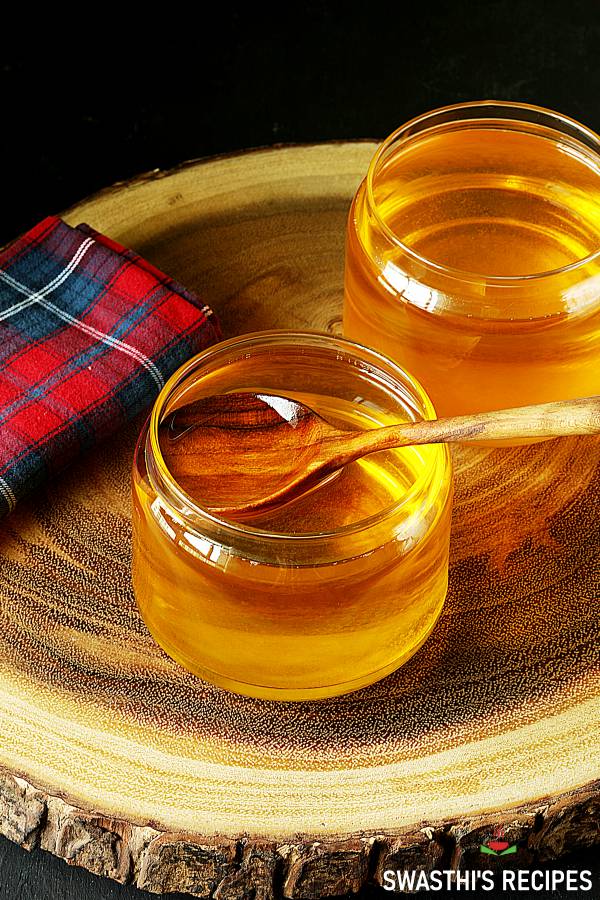 But why homemade? Just like most other foods, homemade ghee is much superior in taste & flavor. It is pure and unadulterated. If you have never tried homemade ghee, then you got to try it! I am sure you will never go back to the store bought one.
If you are new to Indian food & wondering what is it?
What is ghee?
Ghee is a form of pure milkfat prepared by simmering butter to separate the milk solids from the fat. It is widely known as clarified butter & is used in most Indian recipes.
It is used as a replacement to oil for tempering dal, curry & sambar. Many popular Indian sweets like kheer, gulab jamun, halwa, jalebi and malpuas are also made with ghee.
We also top our idli, dosas, rice, rotis & parathas with a generous amount of ghee as it is believed to aid digestion.
Traditionally ghee is made by boiling milk, then making yogurt and then churning the yogurt to separate the cultured butter. This is further simmered to make pure ghee.
I also have shared in detail the process that is followed to make it traditionally. If you do not want to go through the entire process, just skip the steps of churning cultured butter and start with making ghee from store bought unsalted butter like the way I have shown in the step-by-step photos.
How to make ghee
Making ghee at home really doesn't take much of your time. I usually add butter to the pot and leave it on a very low flame while we eat our dinner. It does on its's own with minimum monitoring. The ladle does the magic for me & I do not stir it at all.
1.Add ghee to a heavy bottom deep pot and begin to heat it on a medium flame. Using a deep pot is essential to avoid overflowing.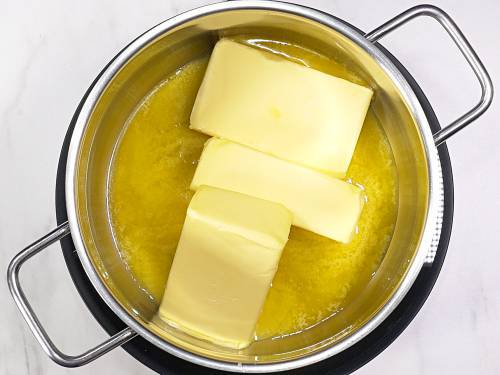 2.I always leave a ladle in the pot as it prevents overflowing.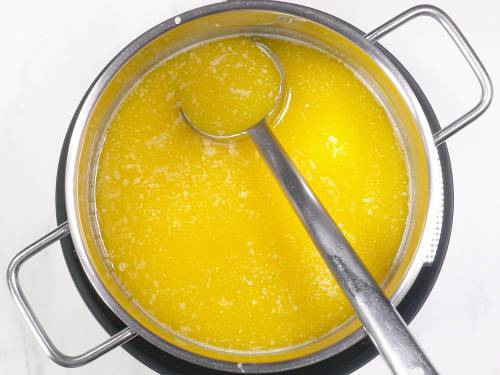 3.As the butter begin to turn hotter, it will froth up a lot. Give a good stir and reduce the flame.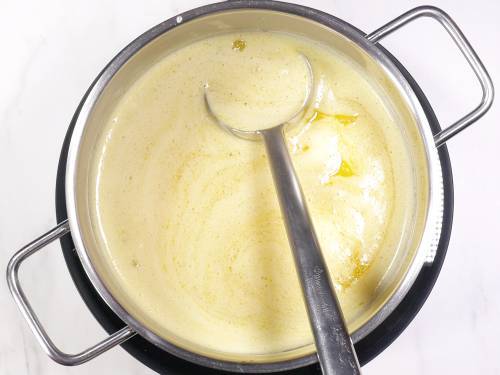 4. Soon the froth evaporates and butter begins to bubble rapidly.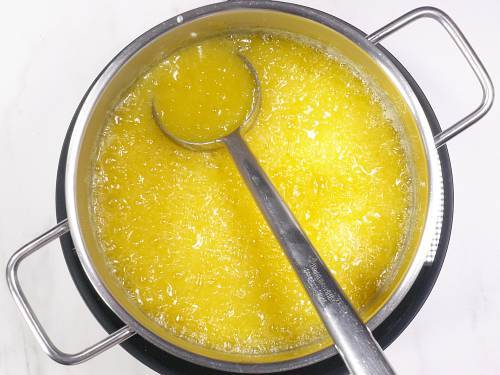 5. Within a few minutes, the color of the butter begins to change from yellow to light golden.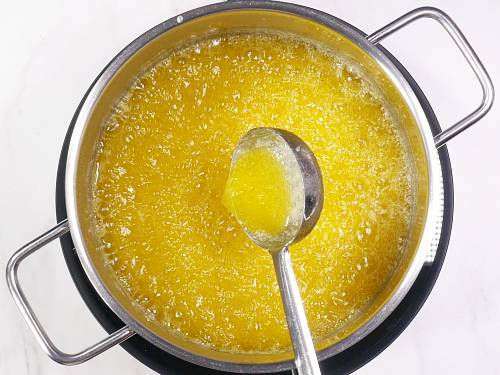 6. At this stage, the milk solids begin to settle at the bottom & the bubbles will reduce significantly. You can see them in the picture. I have shown little milk solids in the ladle. When they just begin to turn light brown, remove the pot from the stove.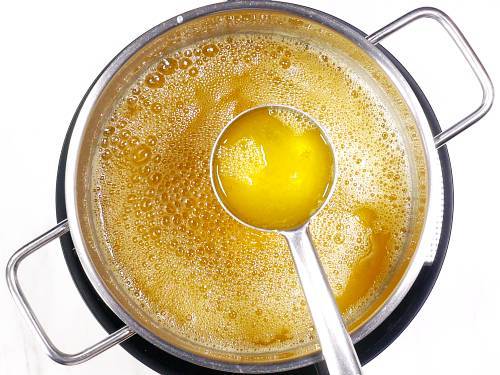 7.Ghee will continue to cook in the hot pot and brown the milk solids. Let the temperature cool down a bit.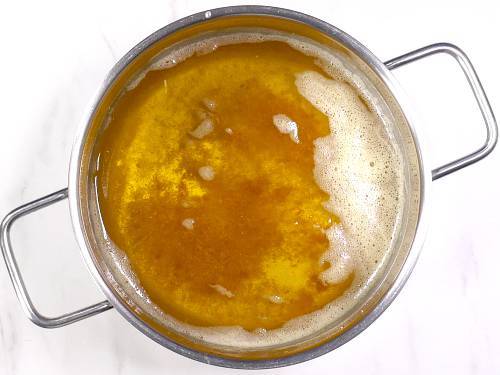 8.Place a clean and dry strainer/filter over a clean jar. Pour the ghee through the strainer/ filter. Press down the milk solids.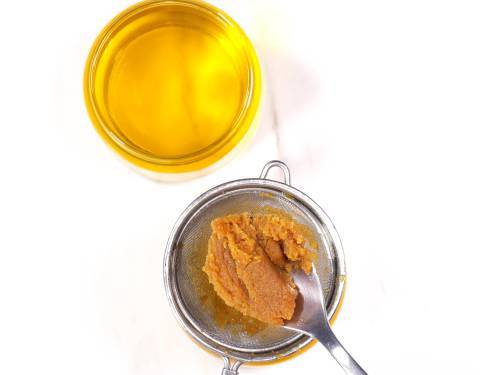 Cool down the ghee completely and cover with a air tight lid.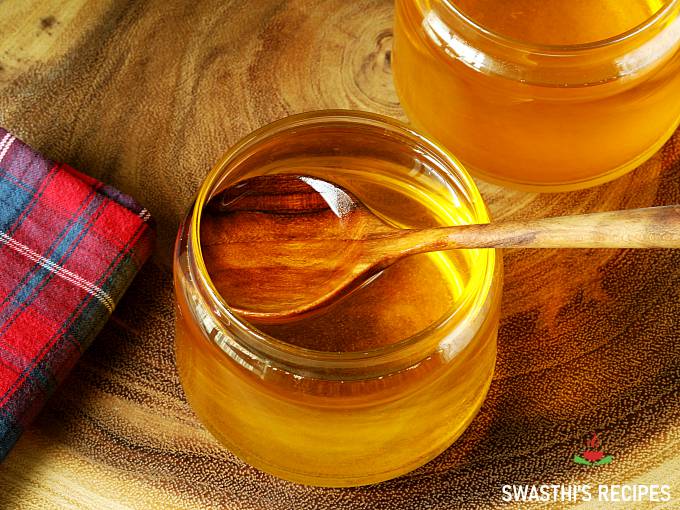 Traditional way of making ghee
Why cultured butter?
The taste and flavor of ghee made from cultured butter is much superior than the one made with regular butter churned from cream. So most traditional Indian households make ghee from scratch without any shortcuts.
Ghee made from cultured butter is believed to be easily digestible & is a better choice especially for babies & kids.
How to make it?
You may scroll down to the recipe card if you are using store bought regular butter. Here are the steps to make traditional ghee – culture the cream, churn the cultured cream to get cultured butter and then simmer the butter to make ghee.
Step 1.Collect & culture the cream : Follow either method (A) or (B) or (C) based on your convenience. Methods B and C are traditionally followed.
Method A – Heat up 2 cups of heavy cream until warm enough. Stir in 2 tablespoons of yogurt (at room temperature). Cover and keep it in a warm place for 8 to 16 hours as you would keep to make yogurt. When your cultured cream is ready, it smells like yogurt. Chill it for few hours and then proceed to step 2 to make your own cultured butter.
Method B – Boil non-homogenized full fat milk. When the temperature comes down you will see a layer of cream over it. Make yogurt using both the cream and milk, following this post on homemade yogurt or curd.
When the yogurt is set remove the top portion of the cultured cream and store in a separate jar. Refrigerate and keep adding the cream to it every time you make yogurt. You will need at least a cup of this cultured cream to go ahead and make your butter, followed by ghee.
Method C – Boil milk and let it cool down for a few hours. Remove the milk cream that forms on top & store in a separate jar. Refrigerate this and keep adding more cream every time you boil the milk.
When you have a cup of this cream, heat it to warm temperature and then add a tbsp of yogurt/curd culture to this and mix well. Allow this to set in a warm place like regular yogurt for 5 to 8 hours depending on the temperature.
Churn butter to make ghee
Step 2.Churning butter from cultured cream: Add the cultured cream from step 1 to a blender jar and pour 3/4 to 1.5 cup chilled water depending on the size of your blender. Run the blender in intervals of 40 to 80 seconds. After a few minutes of blending you will see all the cultured butter floats on top.
Rest for a while until it comes together. To quicken the process you may pour some chilled water to the jar.
Remove the butter and add it to a separate bowl. The rest of the liquid in the blender is the traditional or old fashioned buttermilk. You can drink it or use in recipes calling for buttermilk.
Rinse the butter well with plenty of clean water at least thrice. This step is very important and will prevent the butter from splattering while making ghee.
Next comes the actual process of simmering this butter to ghee which I have shared in the recipe card. You can also follow the step by step photo guide below.
How to make flavored ghee?
Here are some ways to flavor up your ghee. My mom would always make a variety of flavored ghee. I suggest trying these in smaller quantities.
Curry leaves or moringa leaves: I have shared the curry leaf flavored ghee in recipe notes. Follow the same to make the moringa flavored ghee. You can add the moringa leaves to your chutney.
Dried Red chilies: Add a few broken dried red chilies to the hot ghee just before turning off the stove. The chilies turn crisp under 30 to 40 seconds, remove them immediately.
This infuses a spicy and hot flavor to the ghee. You can smear this over your rotis, parathas, dosas or top it over plain rice. You can use the chilies in your chutney. Please do not try it with fresh chilies.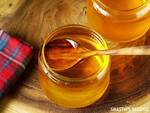 Learn to make ghee at home with this simple recipe. Use it for your regular cooking or serve with dal, rice, roti or parathas.
Pin Recipe
Print Recipe
For best results follow the step-by-step photos above the recipe card
Ingredients (US cup = 240ml )
227

grams

unsalted butter

(8 OZ or ½ pound)
Optional – for flavoring
5

sprigs

fresh curry leaves

(refer notes)
Instructions
Making ghee on stovetop
Add butter to a heavy bottom deep pot and begin to melt on a medium flame.

Butter melts and turns frothy. Then lower the flame & simmer until all of the froth evaporates. I usually leave a ladle/spoon in the pot as this prevents overflowing.

Next butter will begin to bubble a lot. Stir it occasionally & continue to cook on a low heat.

Soon the butter changes its color from yellow to clear golden. At this stage milk solids will settle at the bottom & begin to turn slightly light golden/brown. Also bubbles will reduce significantly indicating it is done.

Turn off the stove and set the pot aside to cool down. This step is important to avoid overcooking or burning it.

Ghee will continue to cook on its own for another 1 to 2 mins since the pot is hot. By then the ghee is perfectly done – clear, golden in color and all the milk solids browned but not burnt.

When the temperature comes down, place a strainer over a clean jar and filter it. Press down the brown solids with a spoon.

Cool the ghee completely and cover it with a tight lid. Store at room temperature in a dry cabinet for upto 3 months or refrigerate for an year. Ghee will solidify in a few hours or days depending on the temperature.
Instant pot ghee
Press SAUTE button (normal) on the Instant pot and add the butter to the inner steel pot.

Butter will melt and turn frothy. Press the saute button twice again to adjust from normal to less.

After a few minutes, the butter changes its color from yellow to clear golden. The milk solids settle down at the bottom.

Press the CANCEL button. If the milk solids turn to light brown then remove the steel insert from the Instant pot. If the solids are still white in color you may leave the pot in. Ghee will continue to cook there and brown the milk solids.

Filter the ghee to a clean jar.
Notes
Nutritional values are per serving – 1 serving size is 1 teaspoon.
It is important to cook the butter until the ghee turns to golden and the milk solids to light brown. This is essential for a good shelf life & flavor.
Ghee will continue to cook in the pot for 1 to 2 mins even after the heat is turned off.

Be cautious & avoid overcooking as it only takes 30 seconds for the perfect well done ghee to burn off & alter the flavor.

To flavor the ghee: 5 to 10 sprigs of fresh clean curry leaves can be added to the ghee just before turning off the stove. The leaves fry in the hot ghee and turn crisp. This flavors the ghee. (Avoid adding wet leaves as the ghee will splatter.)
Remove the crisp fried curry leaves and keep them in a small glass jar. Refrigerate them. Add a few leaves to curries, sambar or any other recipes when you are not accessible to fresh leaves.
Making ghee in Instant pot: There is no benefit of making ghee in an instant pot unless you want to use the deep pot (steel insert). It is very important to remove the steel insert from the Instant pot once the ghee is done. Otherwise the ghee may burn off. Use kitchen cloth or mittens & be extremely cautious while you remove it.
Alternative quantities provided in the recipe card are for 1x only, original recipe.
For best results follow my detailed step-by-step photo instructions and tips above the recipe card.
NUTRITION INFO (estimation only)
Nutrition Facts
Ghee recipe
Amount Per Serving
Calories 44
Calories from Fat 45
% Daily Value*
Fat 5g8%
Cholesterol 13mg4%
Sodium 1mg0%
Protein 1g2%
* Percent Daily Values are based on a 2000 calorie diet.