I have already posted a recipe on almond milk for babies and kids, the ayurvedic way to combat growth problems in kids, malnutrition, debility and insomnia in all age groups. Ayurveda does not encourage extracting the milk from almonds and using the milk alone, instead almonds have to be ground to smooth and used as there are nutrients even in the pulp too.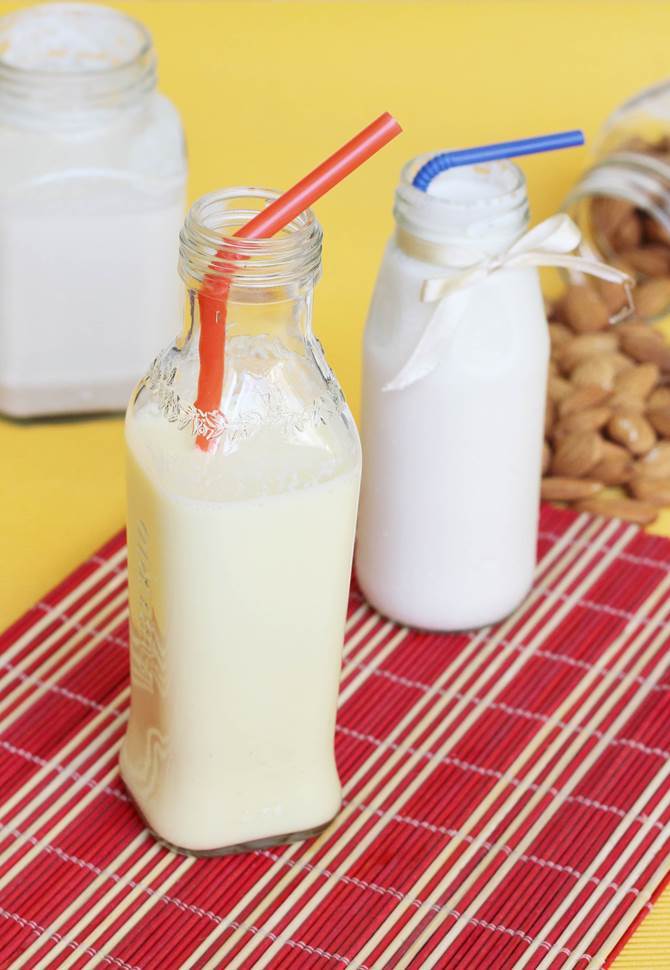 Extracted milk should be considered as a processed milk, somewhat like the store bought packaged processed almond milk, WHFoods refers this as "filtered almond water". My almond milk recipes are not for extracting the milk but making milk from ground almonds with pulp. so it is as good as eating whole almonds but in a better way that aids in better digestion and nutrient absorption.
Almonds must be thoroughly soaked for at least 6 hrs to get smoother and richer milk. Almond milk is rich in calcium and helps to prevent and deal with Osteoporosis. This milk can be used as an alternate to cow's milk for kids with lactose intolerance as well.
It can also be used to make payasam, coffee, chocolate smoothie or hot chocolate……….the list merely doesn't seem to end.
This post on how to make almond milk comes after few of my readers who were preparing the almond milk (the recipe that i had posted earlier), were interested to know if it can be made in bulk & stored and how to get smoother and richer milk with less wastage (left out from filtering).
Today iam sharing easy steps on how to make almond milk at home, you can make on a weekend, refrigerate and use it throughout the week to make the saffron almond milk for your kids instantly or you can use it as it is adding a sweetener. This post comes after 5 days of making this milk and refrigerating it and the milk tasted as good as on the first day. For those who want to introduce this milk to your kids I recommend reading my almond milk for babies and kids post to know the benefits of that milk before you introduce this milk to your child.
Some don'ts
1. Do not soak your almonds in hot water, as nutrients may leach in the water
2. Do not add lot of water at one time while blending, as this leaves lot of coarse grains in the milk. Add water little by little, blending after each addition.
3. Do not use almonds that are not soaked well, as this doesn't yield you smoother milk.
more posts on how to,
how to make blanch and make almondmeal
how to make curd
how to make aloe vera juice
how to make tamarind paste
learn how to make almond milk from the recipe below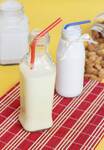 how to make almond milk at home
Healthy, fresh and tasty homemade almond milk .
Pin Recipe
Print Recipe
For best results follow the step-by-step photos above the recipe card
Ingredients (1 cup = 240ml )
1

cup

almonds

or blanched almonds

3

cups

boiled water

and cooled completely to room temperature for blending.

Additional water as needed for soaking (use boiled and cooled water)
Equipment
A heavy duty mixer grinder or a blender

Fine strainer (I use a coffee filter) not a cheese cloth
Instructions
how to make almond milk
Wash and soak almonds in water (at room temperature) for at least 6 hrs. Refrigerate them while they soak.

After they are soaked well, remove the skin, wash and drain water.

From 3 cups water, add little by little and blend smoothly. Very smoothly. Use up the entire water at the end and blend.

Using the filter, strain the milk to a clean and dry utensil or bowl. Use a spoon to stir the thick milk while you filter. You can use the left over coarse paste for some curry or smoothies. Refer the pic I was left with hardly ½ tsp paste for 1 cup of almonds. But if your blender cannot grind it smooth or if you use a cheese cloth to filter, you might be left with more coarse paste.
Storing raw almond milk
I did not freeze this milk as iam sure the texture and taste will change. If you wish you can try. I used glass bottles whatever I had in my kitchen. Olive oil bottles, baby juice bottles etc. I had washed with mild soap and vinegar. Thoroughly rinsed them. Dried them completely. Pour the milk and close the lid. You can store them in separate tiny bottles for each serving, this way they keep good as well.
How to use almond milk
If you are a raw food lover, can drink it up as it is after stirring in some sweetener.

You can mix ½ cup of raw almond milk with half a cup of hot cow's milk. Stir in the sweetener and consume.

Pour it over your favorite cereals and enjoy or can use even for your curries.

use half a cup of raw almond milk with half a cup of cow's milk and Make kesar badam milk.
NUTRITION INFO (estimation only)
Nutrition Facts
how to make almond milk at home
Amount Per Serving
Calories 155
Calories from Fat 117
% Daily Value*
Fat 13g20%
Sodium 9mg0%
Potassium 190mg5%
Carbohydrates 5g2%
Protein 5g10%
Calcium 77mg8%
Iron 1mg6%
* Percent Daily Values are based on a 2000 calorie diet.
Notes
Serving size
Though iam not an expert, I will share what is an ideal serving size according to me. ½ a cup of the above made almond milk makes a single serving for kids above 4 yrs, you can dilute it with water or milk to make it 1 cup. This ½ cup of milk consist app 9 t0 10 almonds. For younger children reduce the serving size to whatever quantity you think is appropriate. Notes:
I have soaked the almonds to get smoother milk; you can use the blanched nuts directly for blending as well, but there would be more coarse granules left out in the filter.
I have made this using boiled and cooled water for a better shelf life. The results of shelf life might vary if you use regular water.
Alternative quantities provided in the recipe card are for 1x only, original recipe.
For best results follow my detailed step-by-step photo instructions and tips above the recipe card.
Step by step pictures