Badam burfi recipe or badam katli recipe with almond powder (badam powder), without milk or ghee. Burfi or Barfi is a Indian delicacy traditionally made of milk, sugar and cardamom powder. Among all the Indian sweets, barfi holds a special place during festivals and celebrations as they make wonderful return gifts to the guests.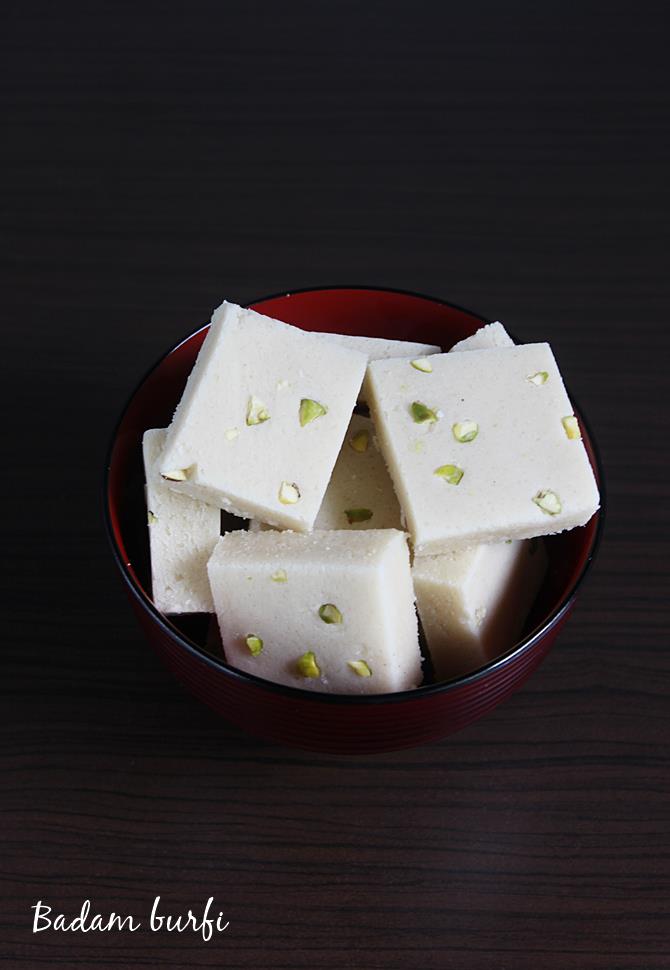 Traditionally badam barfi or almond barfi is prepared by soaking, peeling off the skin, grinding and cooking with condensed milk to get the burfi consistency.
I am sharing a quick and vegan almond burfi recipe that requires no milk and no ghee, tastes great and definitely a recipe for beginners, since there is no need to check for the string consistency of sugar syrup.
If you believe that almond skin provides heart healthy benefits, you can make a badam burfi with skin following the same recipe minus blanching. I have made it several times.
Related recipe : badam halwa recipe
To make this badam burfi, I have blanched the almonds, toasted them lightly and then powdered. Almond powder lends a delicate and non-sticky taste to the burfi, exactly like the one we get in sweet stalls. The taste and the shelf life of this badam burfi is much more than the one made with milk or almond paste. You can use rose water or saffron for added flavor, I didn't use any.
You can also use store bought blanched or silvered almonds for this.
More similar recipes,
Jalebi recipe
Gulab jamun
Rasgulla
Kaju katli
Anjeer barfi
Badam burfi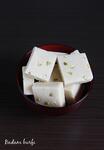 Badam burfi
Badam burfi is a Indian style fudge made with blanched almonds. sugar and cardamom powder. This recipe is simple to make and tastes great. You can also use store bought almond flour to make the badam burfi.
Ingredients (1 cup = 240ml )
1 ½

cups

almonds

1 ¼

cup

sugar

¼

teaspoon

cardamom powder

90

ml

Water

(6 tbsp)

2

tablespoons

cashew nuts

or pistas chopped for garnish (optional)
How to make the recipe
Blanching: Bring 2 cups of water to a boil. Then add almonds and leave them for a minute or 2. Immediately pour cold water and rinse them. Rest them for a minute. Drain off the water. Peel the almond skin. Air dry them for a while.

Powder: Add the moist free almonds to a blender jar and make a powder by pulsing them. Do not over blend the mixture to a state where it begins to release oils. Pulse them for a few seconds, scrape the sides & repeat.

Dissolving sugar: Add sugar to a pan and dissolve it completely. Then add cardamom powder.
How to make badam burfi
Bring the sugar syrup to a boil. Then add the powder and mix well to blend everything well. You can take it off the stove for a while and do it.

On a medium flame, cook till the mixture becomes thick and a mass. It should be moist, thick and slightly sticky but not dry. Transfer it to a plate and let the temperature come down.

When it is still slightly hot, knead it well to get a smooth dough. If it looks dry or cracks a lot, you can use little boiled and cooled milk or warm water to help it smoothen. If the dough does not firm up and looks very sticky at this stage, you can put it back on the stove and cook further for few seconds.

When it is still warm place it on a greased plate or parchment paper. Roll it to a thin square . Then slice to squares or diamonds. Cool completely

Store badam burfi in an airtight jar. Keep refrigerated and use.
NUTRITION
Calories:
237
kcal
|
Carbohydrates:
35
g
|
Protein:
4
g
|
Fat:
10
g
|
Sodium:
1
mg
|
Potassium:
142
mg
|
Fiber:
2
g
|
Sugar:
31
g
|
Calcium:
5.3
%
|
Iron:
4.2
%
For more similar recipes, you can check
mawa peda
easy kalakand
chocolate burfi
quick rasmalai
How to make badam burfi
1. For a detailed steps, check my post on how to blanch almonds and make the almond powder. However the description is still here with a small picture. Add almonds to hot boiling water. Off the stove and rest them for a minute or 2.
2. Drain off the water and rinse under running water in a colander.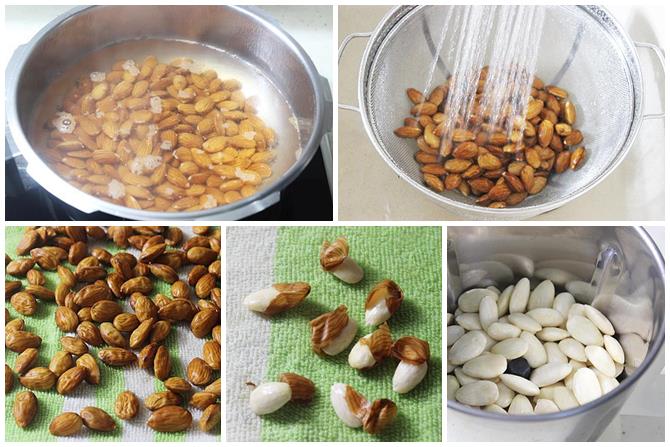 3. Spread them on a clean absorbent cloth. Skin becomes loose, just remove them, they come off easily.
4. Add them to a wide pan and roast them lightly till they look dry and moist free
5. Cool them and powder them in a blender. Keep this aside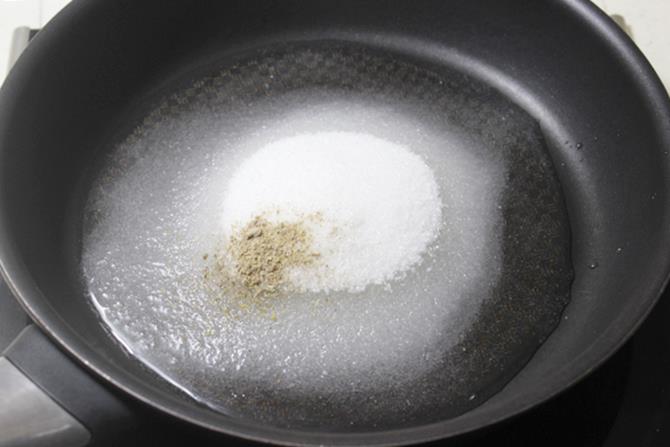 6. Add 1 ¼ cups sugar, ¼ tsp. cardamom powder and 5 tbsps. Water to a nonstick pan. Dissolve the sugar completely on a low flame.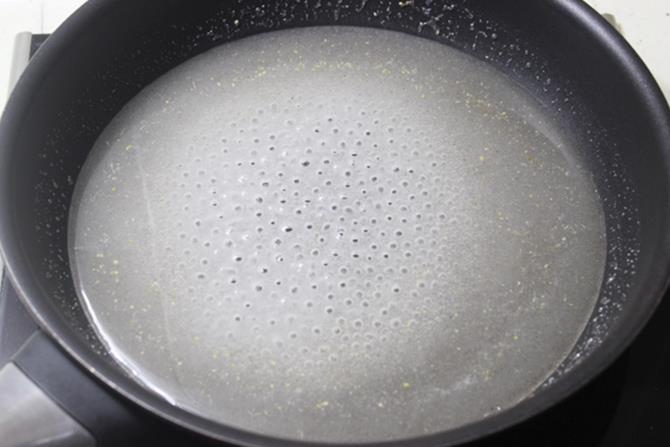 7. Make sure the sugar dissolved, bring it to a rapid boil.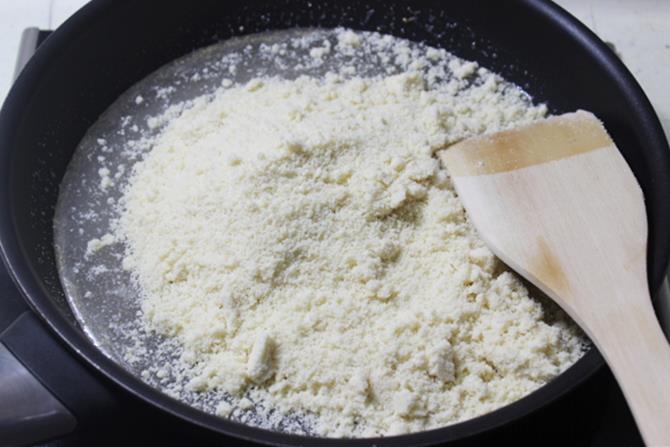 8. Immediately add the almond powder. Take off from the stove, set aside and mix well to break lumps.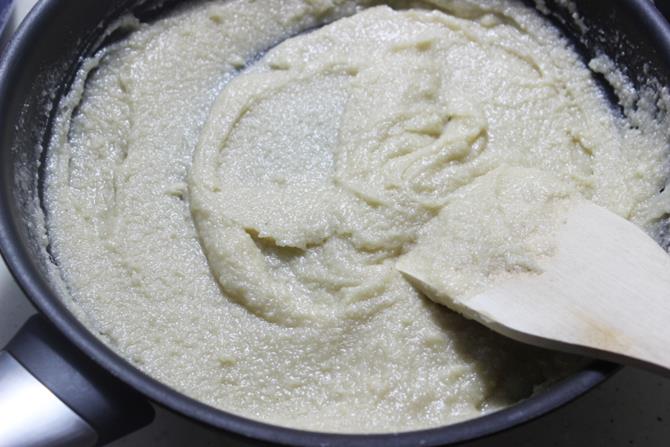 9. Put it back on the stove. Cook till it becomes a thick mass, but moist and sticky. Do not let it turn dry. In between add one tsp. oil if using. At the end add one more tsp oil. This is optional, but is helpful for the beginners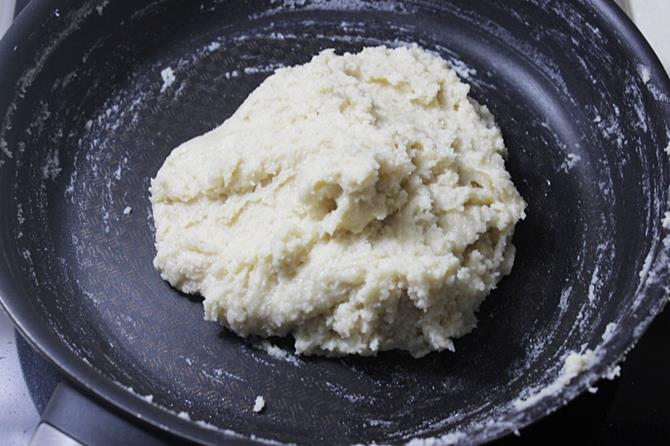 10. Transfer this to a plate and cool slightly, but still slightly hot.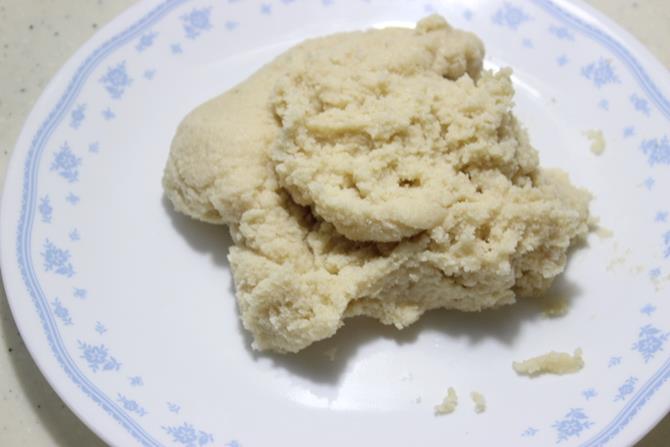 11. Knead it well and shape to a ball. If your mixture looks dry, sprinkle 1 tsp milk or boiled and cooled water and knead. The ball must be smooth with minimum cracks. After the temperature comes down, if the mixture looks very sticky, it means there is more moisture left than needed. You can add a tbsp. or more milk powder or corn flour to firm up the dough. Corn flour however leaves a slight floury taste.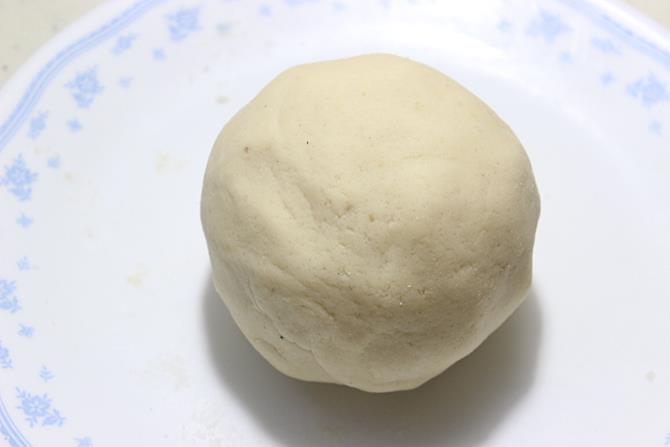 12. Place it on a greased plate or foil or butter paper. Shape it to a rectangle with your palms or rolling pin.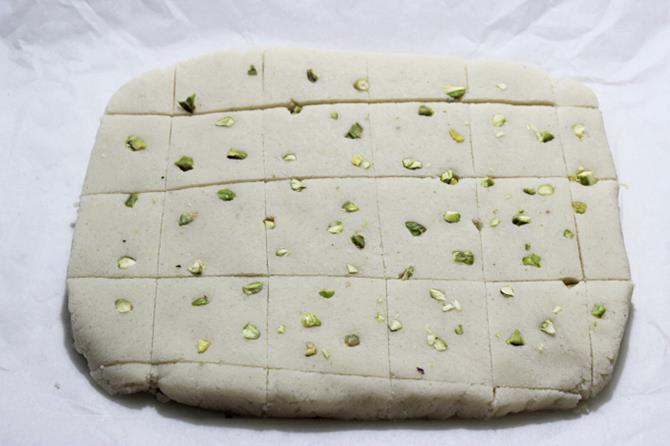 13. Cut badam katli to desired shapes with a greased knife or pizza cutter.