almond yogurt recipe – Almonds are categorized as one of the best superfoods for the body as well for the mind as they have high concentrations of most nutrients. Today's fast paced life is filled with stress for everyone from kids to old. Almonds are the best food to beat stress and to calm down the mind. They have been highly revered in Ayurveda from the ancient days to revitalize the body & brain and to cure many ailments. They help in building stronger bones, increasing the memory power, lowers the risk of heart diseases, diabetes, bad cholesterol and cancer.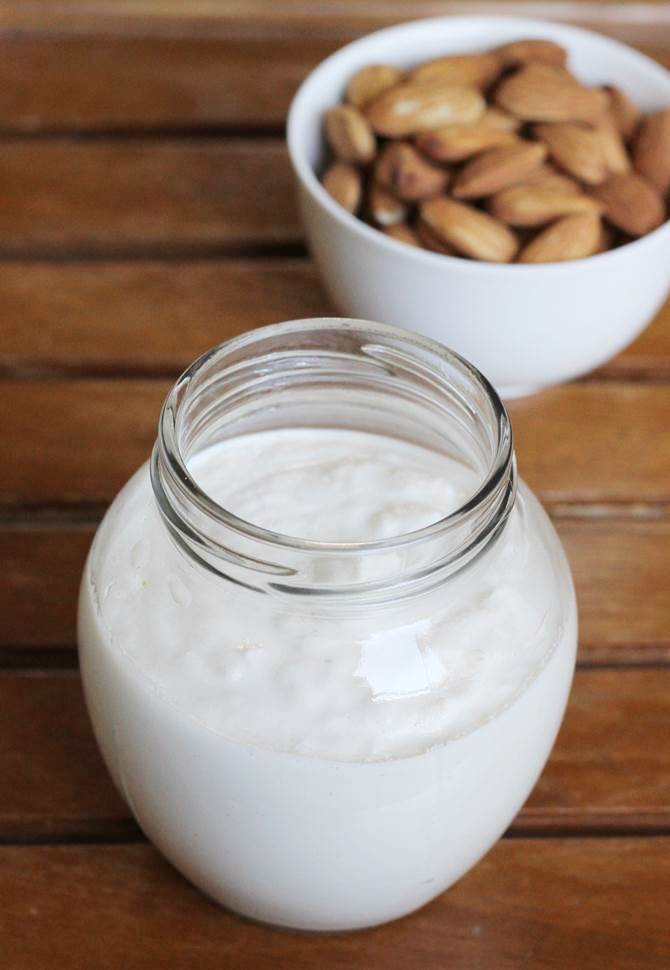 Using almonds the right way is very important. They must be soaked thoroughly before consumption for better digestion and absorption of nutrients. Eating almonds without soaking or cooking can lead to indigestion & accumulation of toxins in the body in the long run.
Today iam going to share a simple almond yogurt recipe that is very healthy. You need not be a vegan to enjoy this. If you are not a vegan, you can go ahead with dairy yogurt as starter and if you are a vegan, explore your local stores for the availability.
Just follow the instructions on the pack along with my preparation method. I have personally never used a non-diary yogurt starter as iam not a vegan. But I have seen a friend using it for making this yogurt as she is a vegan due to some health issues. I have tried making this yogurt without any starter too, that too turned out good, but tastes different. I have mentioned at the end of the post how to make almond yogurt without starter
If your kids do not like to drink almond milk, try this yogurt. Beat the summer heat with almond yogurt.
Almond yogurt recipe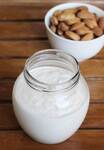 almond yogurt recipe – how to make almond yogurt at home
almond yogurt – absolutely delicious, smooth, nutritious and healthy.
Pin Recipe
Print Recipe
For best results follow the step-by-step photos above the recipe card
Ingredients (1 cup = 240ml )
1

cup

almonds

with skin or blanched

½

tsp

diary yogurt

starter or any non-dairy starter (culture) (use as mentioned on the pack)

1

tsp

sugar

or as needed (optional, if you want to sweeten)
Instructions
Soak almond for at least 5 to 6 hrs. Make sure they are not soaked any longer.

Peel off the skin and grind with little water or milk to a very smooth paste.

Pour this grinded mix in a jar or bowl, place the bowl in hot water to warm up, if you have used iced cold water to grind. Else you can skip this step.

Add your dairy starter (yogurt) and mix well and set aside for 2 hrs in a warm place. The standing time depends on your starter. You can achieve perfection only by trying repeatedly.

If you intend to use a non-dairy starter, just set aside the grinded mix for 2hrs in a warm place along with the starter. (Also refer the instructions on the pack).
variations:
If you have any leftover almond pulp or meal after extracting milk from almonds, you can grind it up along with some freshly soaked almonds. Use half pulp and half fresh almonds.

Bring 1 cup of milk to boil, cool it down to a warm temperature, add some almond meal and proceed with adding starter.
NUTRITION (estimation only)
Calories:
639
kcal
|
Carbohydrates:
27
g
|
Protein:
23
g
|
Fat:
53
g
|
Saturated Fat:
4
g
|
Sodium:
2
mg
|
Potassium:
761
mg
|
Fiber:
13
g
|
Sugar:
8
g
|
Calcium:
285
mg
|
Iron:
4
mg
Notes
Do not leave the yogurt to set for longer than 2 hrs, I advise you to check after 2 hrs, if you intend to keep it for longer. The yogurt can turn sour and ferment and begins to rise like the dough or batter. It will go bad.
Puree the almonds to very smooth texture or paste.
Alternative quantities provided in the recipe card are for 1x only, original recipe.
For best results follow my detailed step-by-step photo instructions and tips above the recipe card.
Step by step pictures