This homemade almond yogurt is refreshing, nourishing and is a great alternate to dairy yogurt or store-bought yogurt. If you are looking for a healthy plant-based yogurt without any additives then you got to try this. Made with just 2 ingredients, this thick and delicious almond yogurt has no additives, no added starch or no fillers.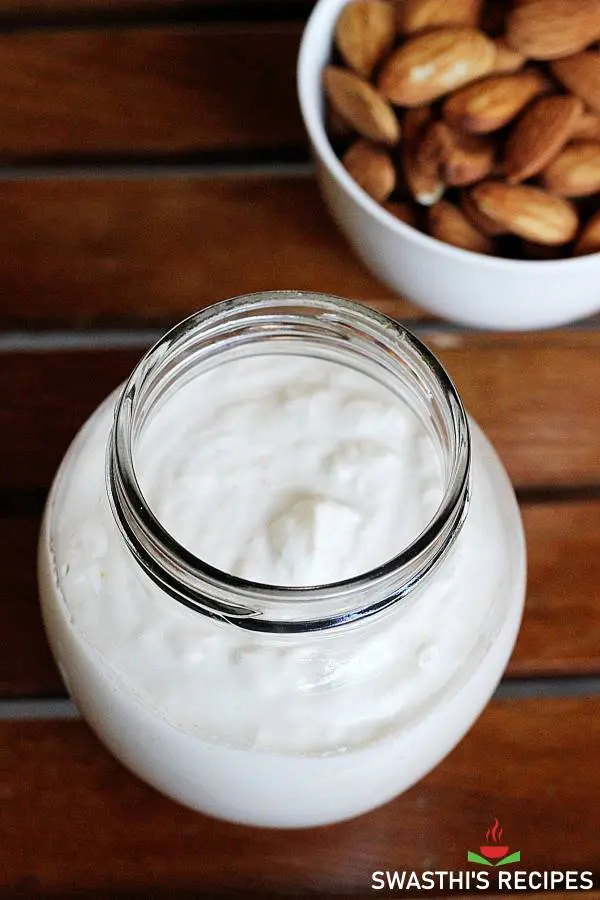 It can be enjoyed in so many ways. Serve it straight away or simply make lassi, chaas or yogurt smoothie. It can also be used in recipes that call for yogurt like raita, korma, curries or kadhi. Most of the times we use it for making raita & curry that don't require heating yogurt, so the cultures are still alive.
Almond yogurt also tastes great in your salads, sandwiches, wraps, burgers and dips.
Whether you are a vegan or not, this almond yogurt is a great way to include nuts in your diet. Almonds are believed to be one of the best superfoods for the body and mind as they are nutrient rich.
This yogurt is made with soaked almonds so the nutrients are better absorbed by the body. Plus since it is cultured, this homemade almond yogurt is simply the best choice if you are keen to include almonds in your diet in a healthier way.
Most vegan yogurt have additives or starch added to them to thicken the yogurt. But this recipe uses nothing of that kind so it is low in carbs.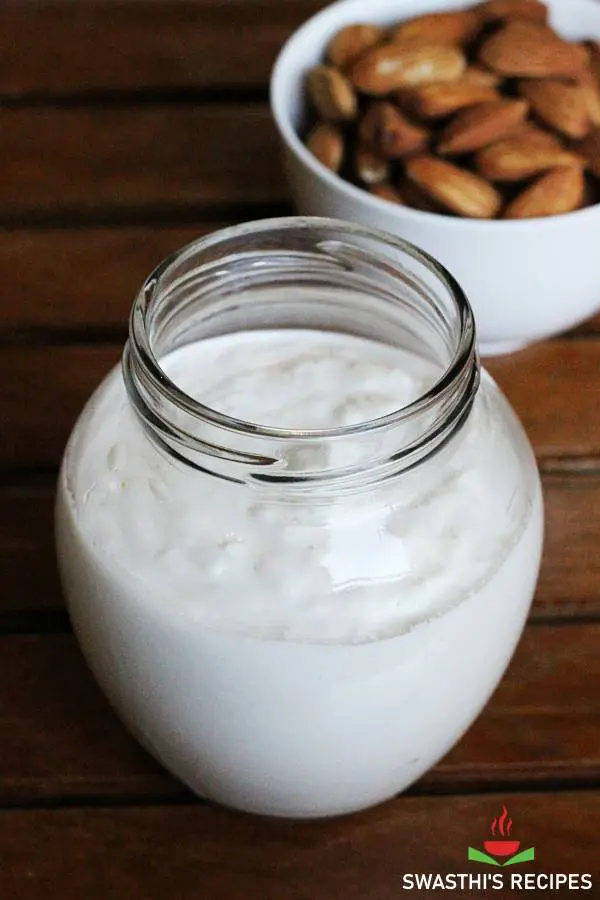 Many years ago I started to make this for my year old boy as he had troubles with homogenized dairy milk. Non homogenized milk was impossible to get in the country where I live. So I switched over to almond milk and almond yogurt. This homemade almond yogurt is something he really loves.
Since he is not into vegan diet, I use the regular dairy yogurt as a starter. If you are a vegan you may use any starter of your choice & follow the instructions mentioned on the pack.
About this recipe
This recipe is simple and pretty straight forward. To begin with soak almonds well in fresh water. Blend to a very smooth paste that resembles cream. Then warm it up slightly. Add a starter to make the almond yogurt.
So there is no making almond milk or straining the pulp in this recipe. The ground pulp acts as a thickener here. I won't say it is easy to make this almond yogurt as it requires peeling the almonds.
However over the years I have found out few easier ways to peel the almonds which I have shared below.
What's new in my updated recipe? As per my old recipe, I would rinse and soak the almonds. Then peel them before blending. Lately I started to feel blanching is easier than to peel the skins from soaked almonds. So blanch them first and then soak.
Alternately, freeze the almonds and then add them to warm water. Rest for 15 to 20 mins. You will see the skins loosen on their own. It is easy to peel them at this stage. But if you leave them too long it won't work the same way.
More almond recipes
Badam burfi
Almond milk
Indian Badam milk
Badam halwa
How to make almond yogurt
1. Heat 2 cups water in a pot. Add almonds and leave them for a minute or two.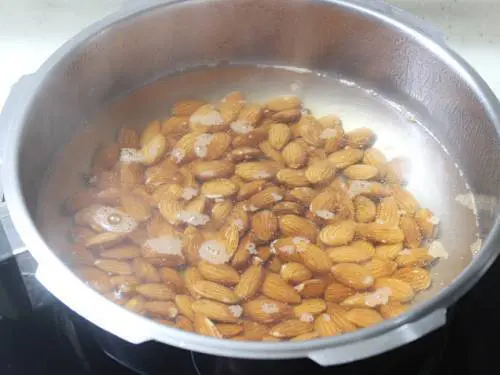 2. Drain them to a colander and rinse under running water.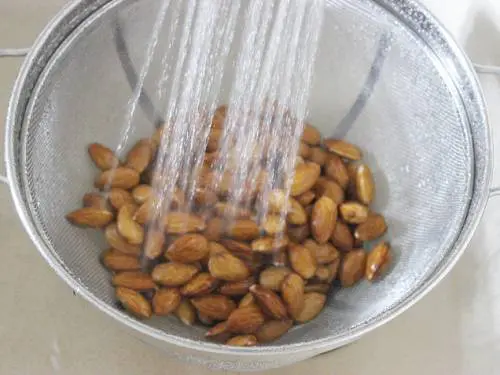 3. Then spread them on a clean cloth. You will see the skins loosen.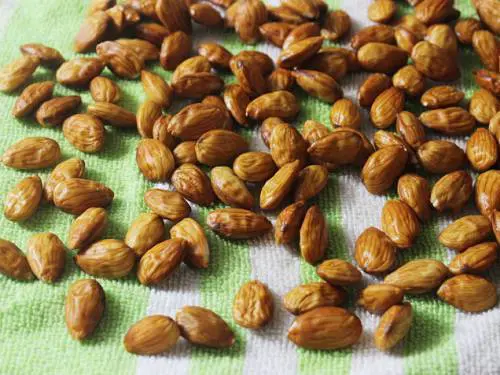 4. You can easily peel them.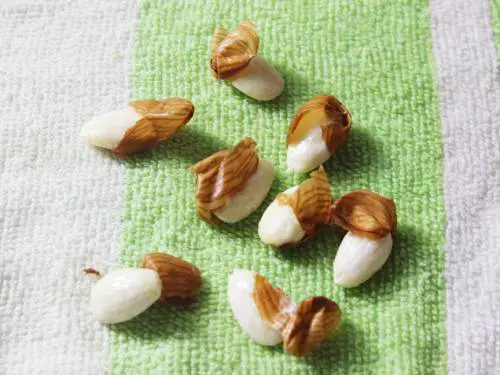 5. Then add these peeled almonds to the pot and cover them with clean water. Soak for 6 hours. do not cover the bowl or pot. If you want cover with a thin cloth so air circulates. These are the almonds after soaking.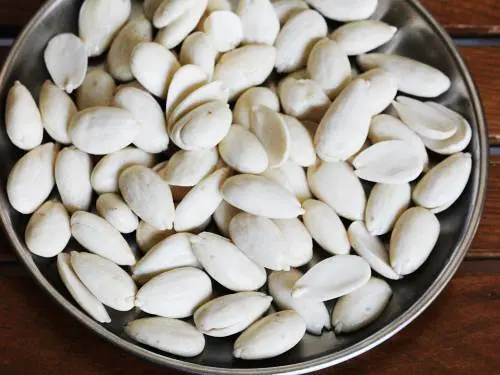 6. Rinse the soaked almonds and then transfer to a grinder. Pour water little by little and begin to grind until you get a smooth paste. Keep adding water as you grind the mixture.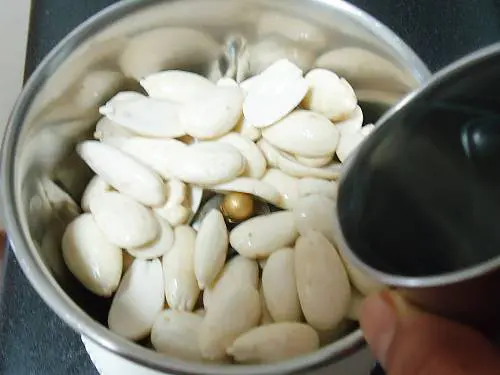 7. The puree has to be smooth. You won't get a very smooth consistency like flour mixture though. If it is not smooth you will feel the grits in your yogurt. Transfer this to a steel bowl.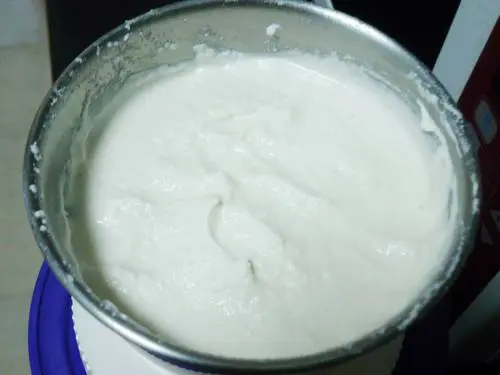 8. Heat 1 cup water in a small pot. Turn off the heat. Then place the bowl in the water and keep stirring till the mixture becomes warm. Do not let the mixture become hot as this alters the flavor completely. When it is warm, transfer this to a clean glass or ceramic jar. Add your yogurt starter. If using powdered starter, you may dissolve it in 1 tbsp water and pour it here. I used 1 teaspoon regular homemade yogurt here.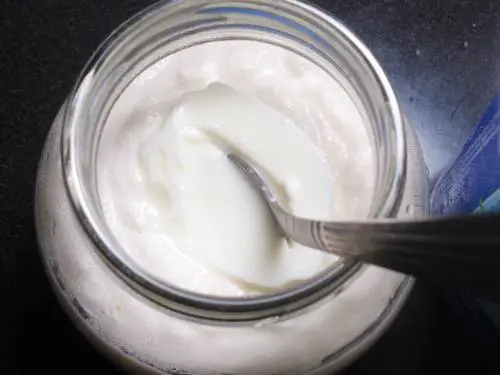 9. Cover this and keep in a warm place for 3 to 8 hours depending on the temperature. When the almond yogurt is ready you will get a faint smell of yogurt. However if it is the first time you are making this then you need to be careful and keep checking after 3 hours. If you leave it too long it will ferment and rise which we don't want.
Serve almond yogurt as is or use it to make lassi, chaas, smoothie, raita or curry.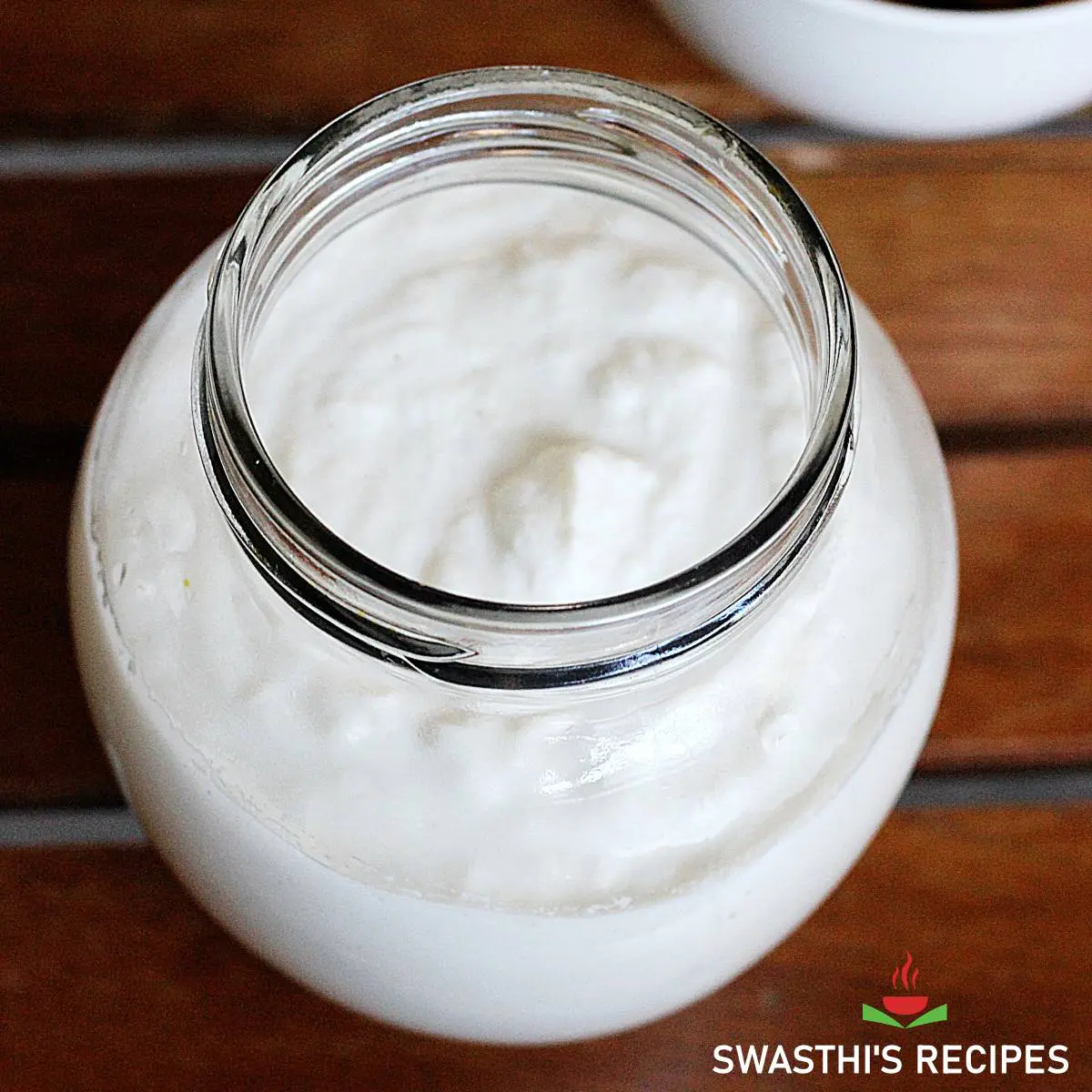 Tips
Use only clean jars to make the yogurt. I usually rinse them well with vinegar and hot water a day before and dry them completely.
If you do not intend to finish the yogurt in 2 days, make it in separate smaller containers to make individual servings. I found this keeps the almond yogurt fresher.
Use dechlorinated water to soak and grind the almonds.
Recipe card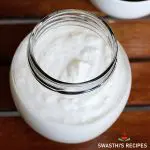 Almond yogurt
Zero waste homemade almond yogurt made with just almonds, water and a starter. No additives, no starch used!!
Print Recipe
Pin Recipe
Jump to Comments
For best results follow the step-by-step photos above the recipe card
Ingredients (US cup = 240ml )
1

cup

almonds

(180 grams)

yogurt starter

(or ½ teaspoon yogurt)
Instructions
Bring 2 cups water to a rolling boil. Add almonds and turn off the heat. Rest them for 2 minutes and remove them to a colander. Pour cold water over the almonds and rinse them well.

The skins will loosen. Peel them and rinse them. Soak them in 3 cups of clean water for 6 hours.

After 6 hours, discard the water and rinse them well to get rid of the enzyme-inhibitors and anti-nutrients.

Transfer them to a clean grinder. I use the chutney grinder jar. Pour half cup water and begin to blend until smooth. Keep adding water as need to get a thick paste like consistency. The mixture has to as smooth as possible. You may adjust the amount of water while you blend. Check my pictures for consistency and texture.

Transfer this to a steel bowl. Heat 1 cup water in a pot until hot enough. Turn off and place the bowl of almond mixture in the water and keep stirring until it becomes warm. This takes some time about 4 to 5 minutes.

Spoon this to a clean dry glass or ceramic container. Add your yogurt starter. If using powdered starter, dissolve it in 1 tbsp water and then stir it.

Cover and keep this in a warm place for 3 to 8 hours depending on the temperature. When almond yogurt is ready you will notice a faint smell of the cultures. If this is your first try, keep checking every 3 hours so you know when it is done perfectly. If you leave it too long it will begin to ferment and rise. It can become inedible.

Serve almond yogurt fresh. You can also refrigerate for 2 to 3 days.
Alternative quantities provided in the recipe card are for 1x only, original recipe.
For best results follow my detailed step-by-step photo instructions and tips above the recipe card.
NUTRITION INFO (estimation only)
Nutrition Facts
Almond yogurt
Amount Per Serving
Calories 822
Calories from Fat 639
% Daily Value*
Fat 71g109%
Sodium 1mg0%
Potassium 1008mg29%
Carbohydrates 31g10%
Protein 30g60%
Calcium 378mg38%
Iron 5mg28%
* Percent Daily Values are based on a 2000 calorie diet.
This almond yogurt recipe post was first published in February 2013. Updated and republished in January 2021.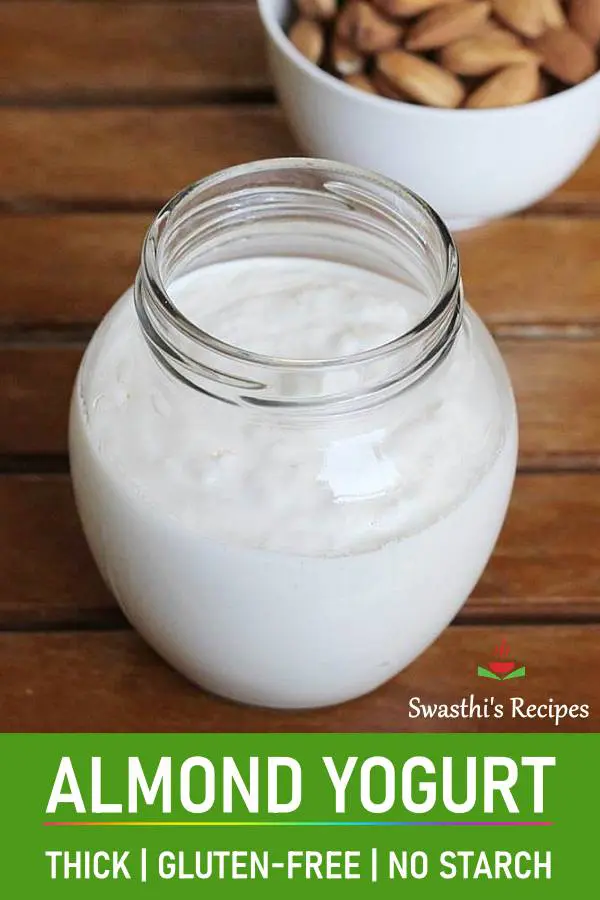 About Swasthi
I'm Swasthi Shreekanth, the recipe developer, food photographer & food writer behind Swasthi's Recipes. My aim is to help you cook great Indian food with my time-tested recipes. After 2 decades of experience in practical Indian cooking I started this blog to help people cook better & more often at home. Whether you are a novice or an experienced cook I am sure Swasthi's Recipes will assist you to enhance your cooking skills. More about me
Follow Swasthi's Recipes