Murukku recipe – Murukulu or murukku is a deep fried Snack made with rice flour and dal flour. Chakli, chakuli, chakralu and jantikalu are the other Indian names to these. There are so many varieties of murukku, the one I am sharing here is a basic, very old and standard recipe that is followed by many South Indian women including my Mom and Mil.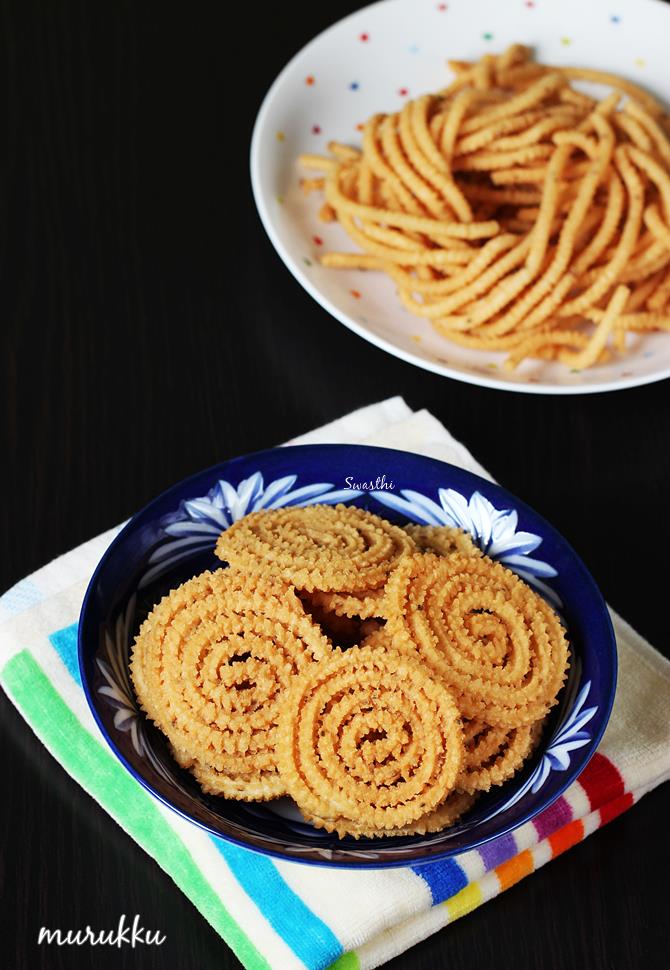 There are so many variations of making murukku using sago, besan, wheat flour, fried gram, rice batter etc, all lend a different texture and taste. This one is very different with an aroma of roasted urad flour and are crunchy as well light in texture.
I had few requests for easy chakli (chakralu), butter murukku, ribbon murukku /ribbon pakoda, omapodi and few other snacks. I made this basic version in small quantity as my kids don't eat these deep fried snacks much. This recipe can be doubled as well and can be used to make both murukulu and jantikalu.
More murukku recipes
Butter murukulu
Karasev
Thattai recipe
Sweet muruku
Ribbon pakoda
Omapodi/ sev
Chakli
You may like to check this collection of Diwali snacks recipes and Diwali Sweets recipes.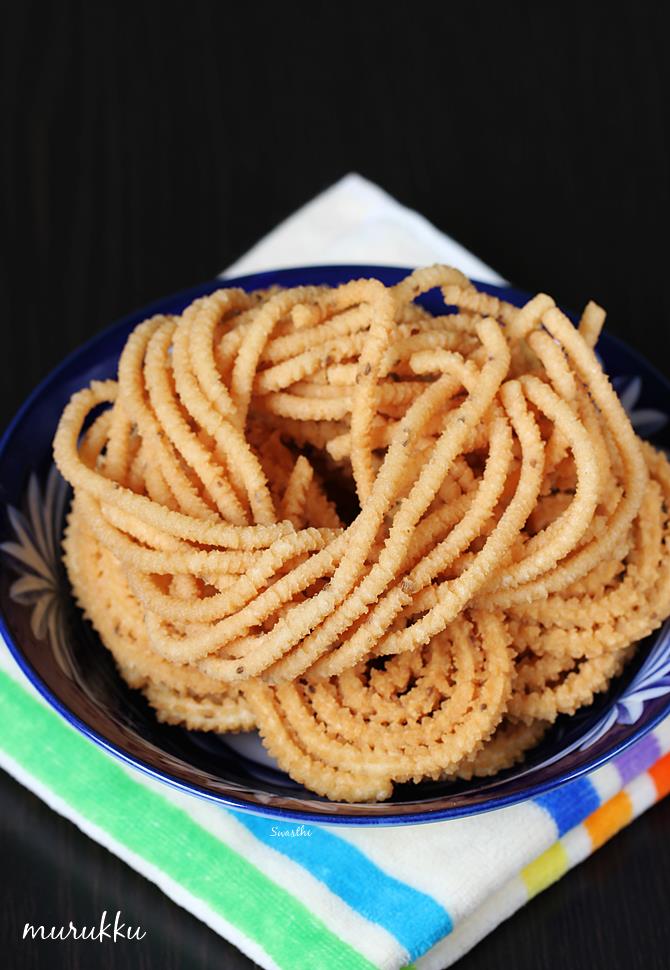 Murukku recipe – (murukulu or jantikalu)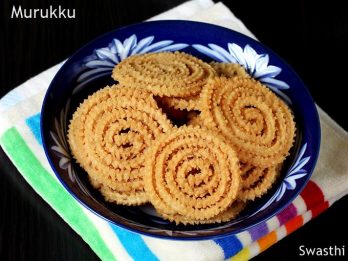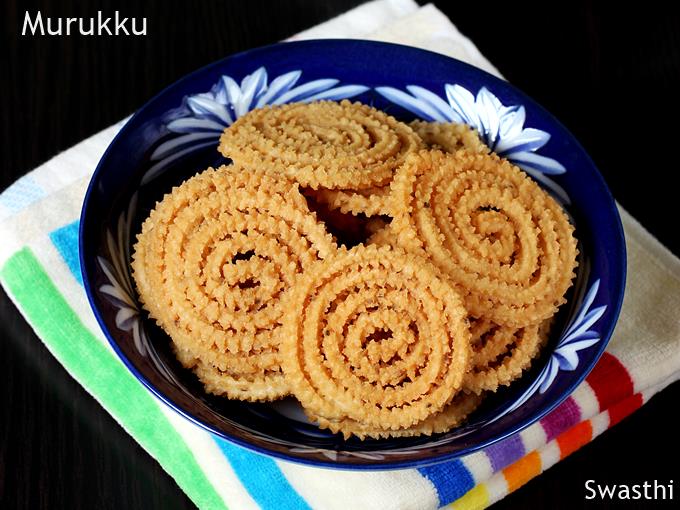 Murukku recipe | How to make murukku | Murukulu | Jantikalu
Murukulu or murukku is a south Indian deep fried snack made with rice flour and urad dal flour. These are crispy, light, aromatic and delicious.
Ingredients (240 ml cup used)
1

cup

rice flour

(good quality)

4

tbsp

urad dal

(about ¼ cup) (refer notes)

1

tbsp

oil

hot oil

¾

tsp

sesame seeds

¾

tsp

carom seeds

or ajwain or omam or vaamu

½

tsp

salt

or as needed

½

tsp

red chili powder

or as needed (optional)

1/8

tsp

asafoetida

or hing (optional)

oil for deep frying
How to make the recipe
Preparation for murukulu
Grease the murukku mould with little oil. Also grease the star shaped plate.

Dry roast urad dal on a medium heat until lightly golden.

Cool and make a fine powder. If the powder is not fine then sieve it. Use only 2 to 3 tbsp flour from this. For details refer notes.
Making murukku dough
Add rice flour, urad dal flour, ajwain, salt, sesame seeds to a bowl and mix well.

Next heat 1 tbsp oil in a small pan and pour it to the flour. Mix well.

Pour water little by little, just enough to make a smooth dough. Do not add too much water at one time.
How to make murukku
Heat oil in a kadai.

Fill the mould with dough.

Press the mould to make spirals either on a cloth, butter paper, foil or flat holed ladle.

Set the flame to medium high.

Check if the oil is hot enough by dropping a small portion of the dough to the hot oil. The dough must not sink but has to rise steadily without browning.

Place the laddle in the oil or remove the murukku and drop gently in the hot oil.

Fry until golden and crisp. Drain them on a kitchen tissue to remove excess oil.

Cool them completely. Store murukku in a airtight jar.
Recipe Notes
The quantity of urad flour can be increased upto 4 tbsps, They turn very aromatic and light but absorb little more oil than the ones made with 2 tbsp. flour. So you can even use 3 or 4 tbsp flour to suit your liking.
They have to be fried on medium high heat. Make sure you do not fry them on a low heat.
Nutrition Facts
Murukku recipe | How to make murukku | Murukulu | Jantikalu
Amount Per Serving
Calories 137
Calories from Fat 72
% Daily Value*
Total Fat 8g 12%
Sodium 99mg 4%
Potassium 48mg 1%
Total Carbohydrates 13g 4%
Protein 1g 2%
* Percent Daily Values are based on a 2000 calorie diet.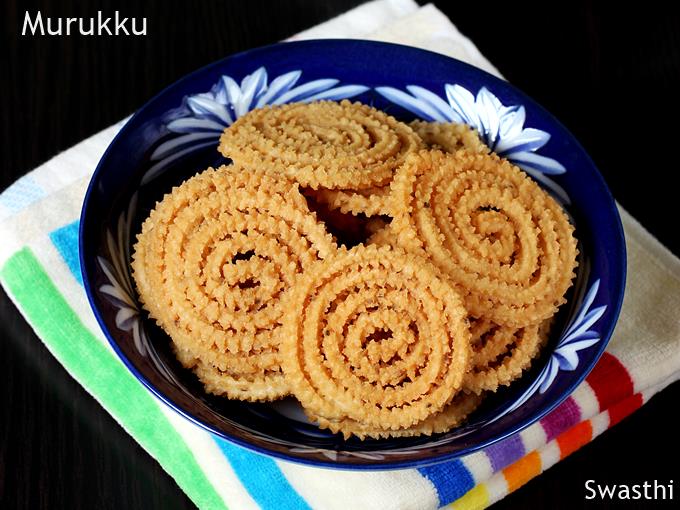 Preparation to make murukku recipe
1. Clean and roast ¼ cup or 4 tbsp urad dal/ minapappu on a medium flame. I do not suggest skipping the roasting part as it may make murukulu chewy after a day or two. Refer the notes.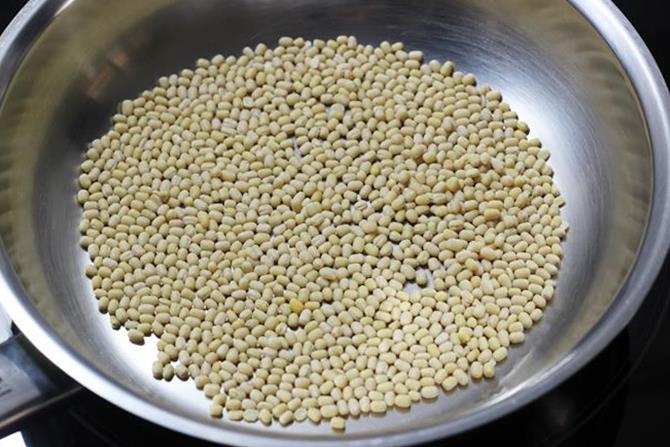 2. Keep stirring and roast evenly. When they turn lightly golden, off the heat. Do not over roast.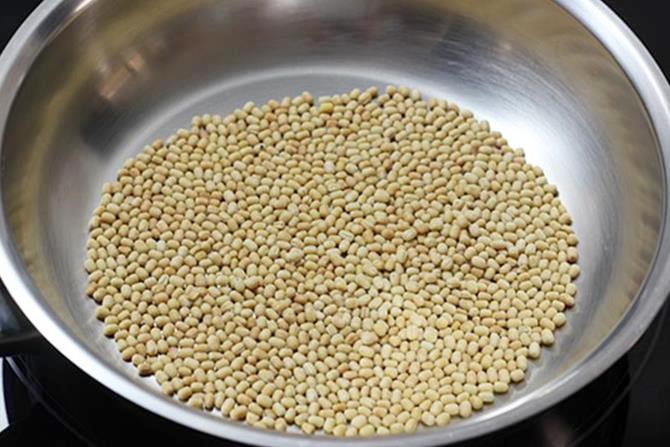 3. Cool and add to a blender.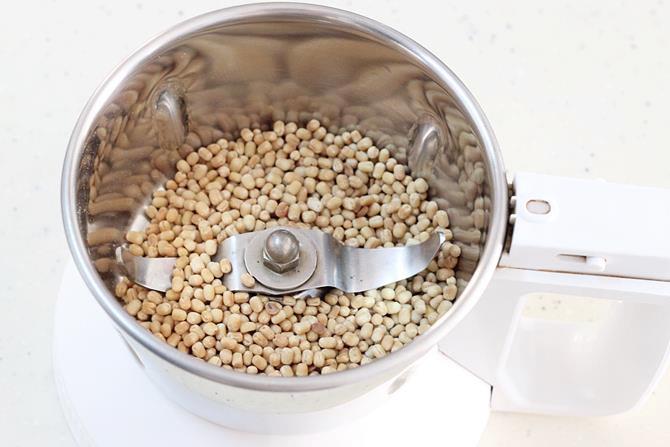 4. Powder to a fine flour. If the flour is coarse and not fine, then seive it.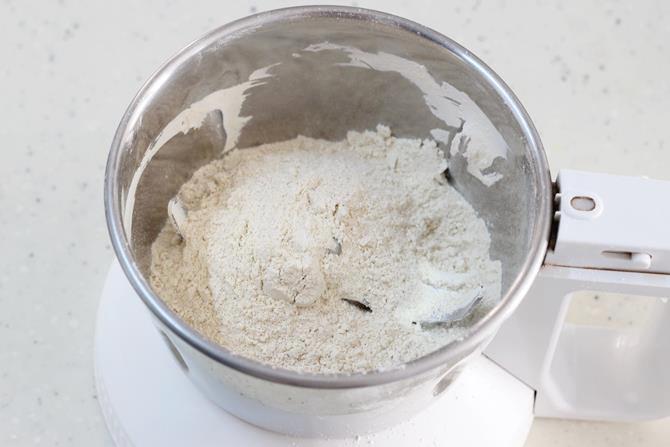 Dough for murukku recipe
5. Add 1 cup rice flour, 2 to 3 tbsp uraddal flour, ajwain (omam/ vammu), chilli powder, sesame seeds and salt. I did not have sesame seeds so skipped. I also skipped red chili as my little kid cannot eat spicy foods.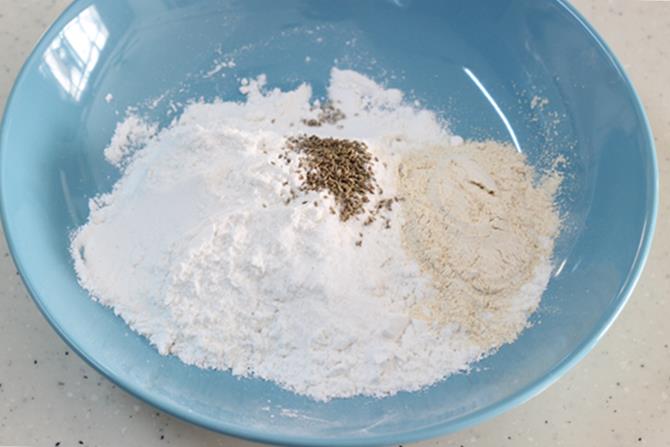 6. Mix everything well. Then heat up 1 tbsp oil in a kadai and pour it. Mix everything well. Hot oil makes them light.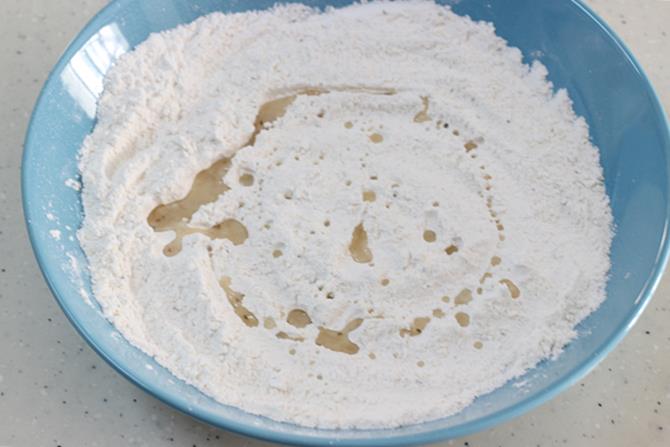 7. Pour water little by little and knead the flour to make smooth non sticky dough.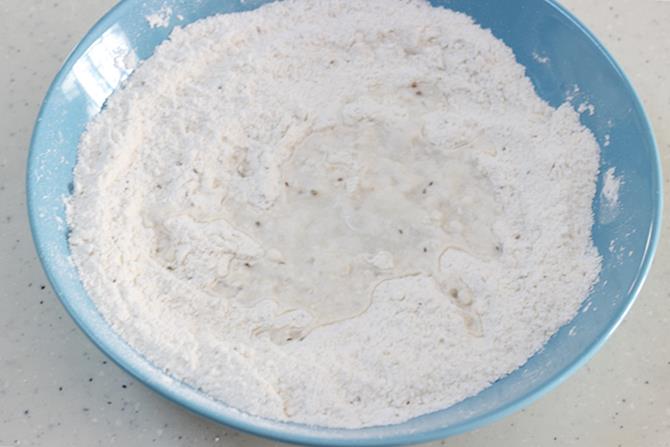 8. If the dough is sticky and soggy, it will absorb lot of oil while frying. If very dry then murukku / murukulu will break while making them.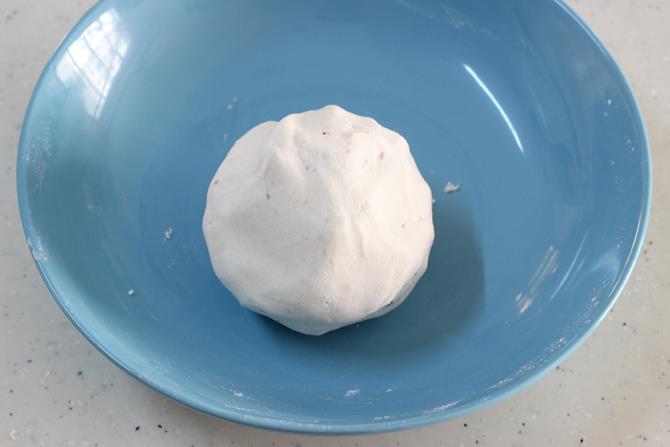 9. Grease the mould, fit the star muruku plate. Stuff the dough inside.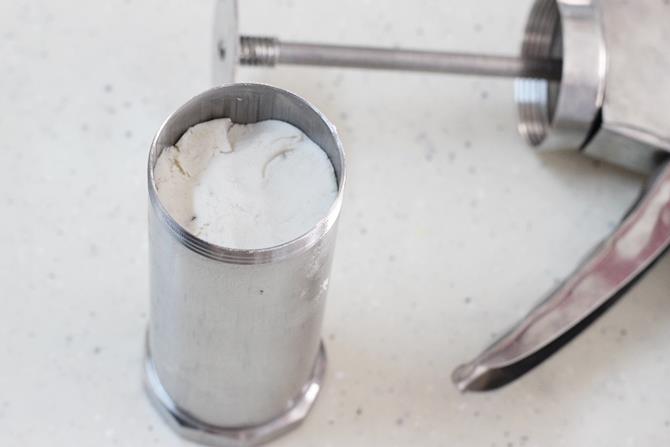 Keep it ready.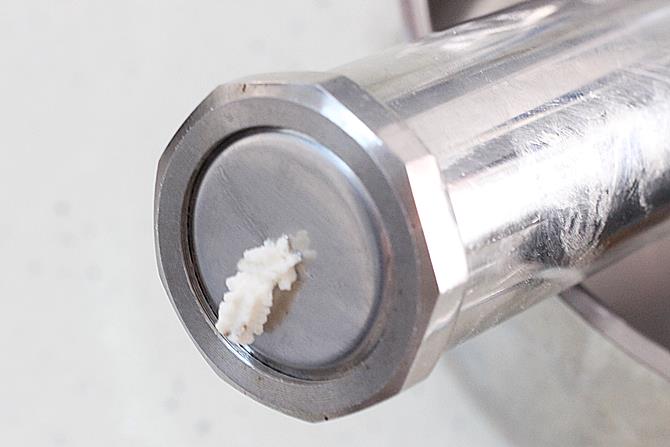 How to make murukku
10. Slowly begin to press the mould to release the dough and make a spiral. A moist cloth, foil or butter papper can be used to place the murukku. I prefer to use small cuts of butter paper for convenience, as it is easy to lift each one and fry.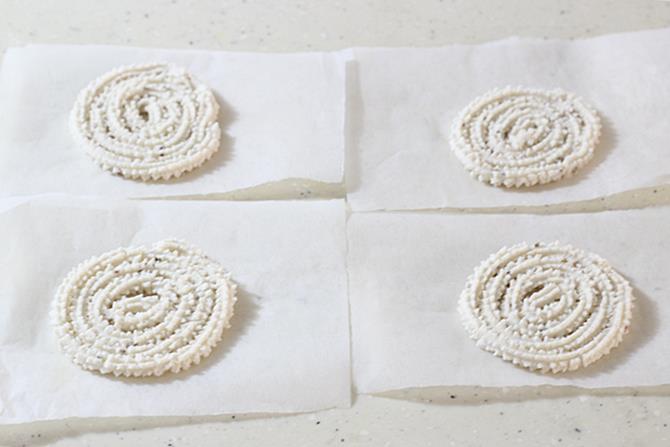 11. If you are a beginner, you can also make these on steel spatulas. A holed spatula works better.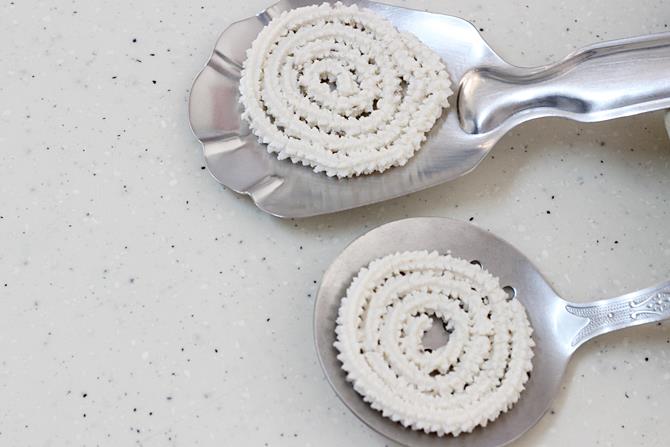 12. Put on the flame to medium high. Make sure the oil is hot enough. Place them when the oil is hot enough. To check if the oil is hot, drop a tiny flat piece of dough in the oil, it floats if the oil is ready. The muruku will come out from the spatula when it is getting fried.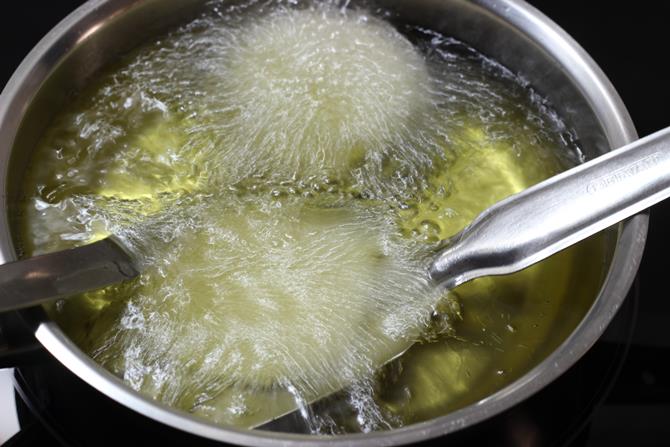 13. If made on a cloth or foil, you can lift them gently and drop in oil. Fry on a medium flame and keep stirring for even frying. Fry until golden and crisp. Bubbles begin to reduce when fried well. If not fried well, they will turn chewy after 1 to 2 days, so make sure to fry evenly on a medium flame.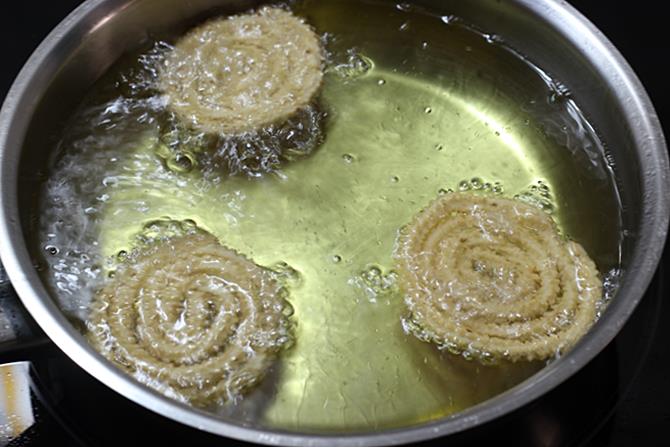 14. Drain the murukku on a kitchen tissue.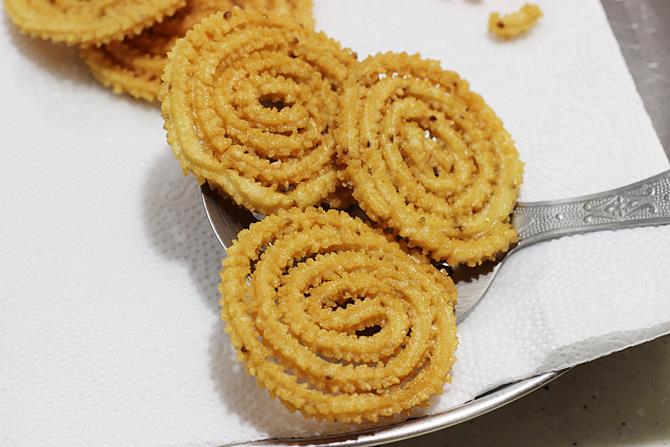 Store murukku in a air tight stainless steel or glass jar.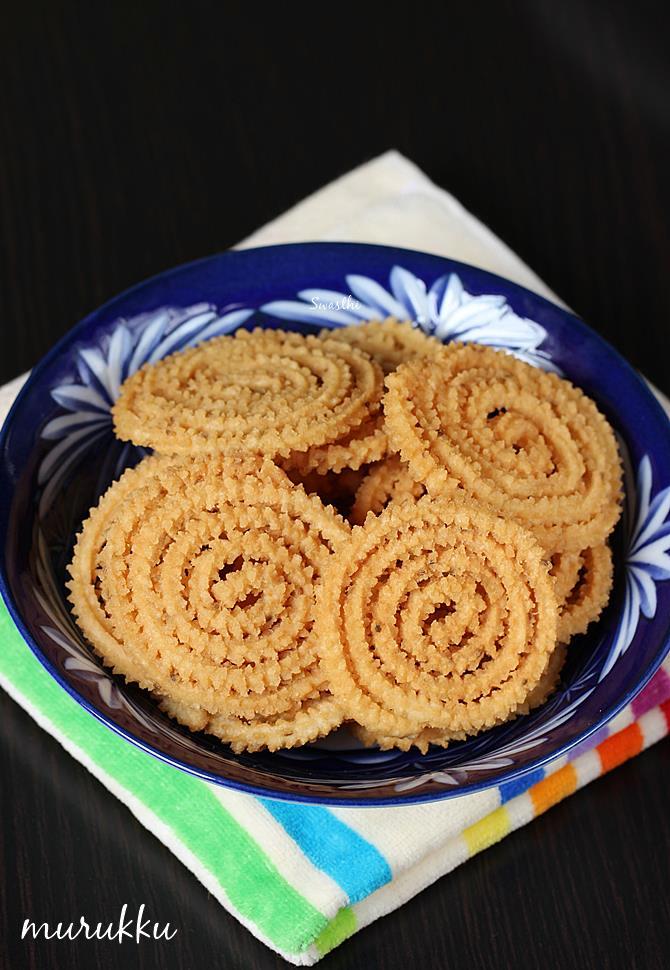 15. The same dough is used to make jantikalu. They are made with large holed sev plate or jantikalu plate. These are fairly easy and can make them directly in the hot oil.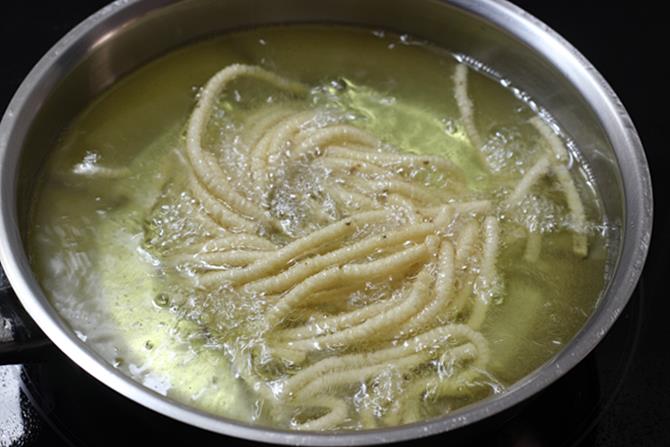 16. Fry murukulu until golden stirring often. Drain on a kitchen tissue.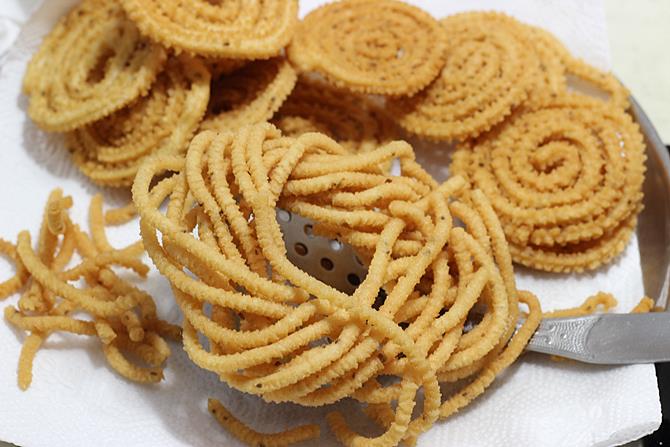 Break to pieces and store in a air tight jar.