Palak Chicken (Spinach Chicken Recipe)
This Palak Chicken aka Spinach Chicken is creamy, flavorsome, amazingly delicious & makes for a comforting meal! It is minimally spiced, yet the warm Indian flavors will keep you coming back for more. Serve Palak Chicken over steamed rice, flavored rice varieties or with Roti, Chapati, Naan or Plain Parathas. It's Gluten-free with dairy-free option!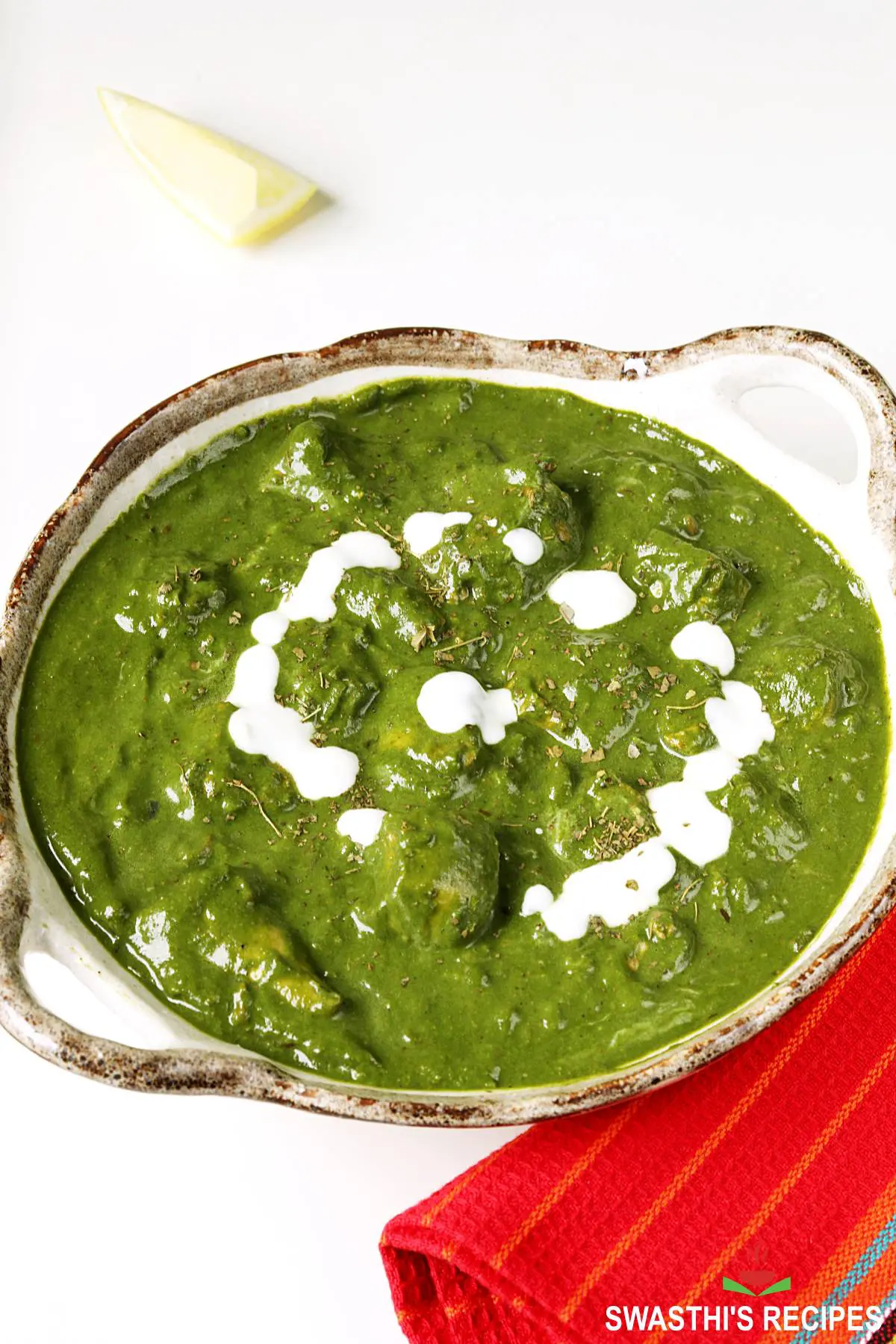 If you haven't tried my Palak Paneer yet, you missed out some thing really delicious! This Palak chicken is roughly adapted from the same & I can't tell you how good & unique this one tastes.
About Palak Chicken
Palak Chicken is an Indian curried dish where chicken is cooked with onions, tomatoes, spices, herbs and plenty of spinach. It is not a traditional or popular dish but you will find it in a few Indian restaurants as Palak Murgh, where Palak means Spinach and Murgh means Chicken.
The simplest version of this dish is to simply add chopped baby spinach to any chicken curry & simmer for sometime. I reserve that for a lazy day & make this special creamy palak chicken often because this is super delicious.
A lot of restaurants outside India use the terms Palak chicken & Saag Chicken/ chicken saagwala interchangeably and serve one for the other, same like Palak Paneer & Saag Paneer. That's because "Saag" means any leafy greens.
But some restaurants specialized in serving North Indian food do have both these listed separately or at least customize and cook for you on request.
The main difference is that Palak chicken is made with spinach & has no other leafy greens included just like Palak Paneer. But Chicken Saagwala is made with a few different leafy greens like mustard greens, spinach, bathua (wild spinach), coriander leaves (cilantro) and sometimes fenugreek leaves (methi).
A lot of times Palak chicken also has some yogurt or cream in it which makes it creamy. Saag chicken is made without these and also the leafy greens are mashed or ground to a coarse texture. So Palak Chicken & Saag Chicken are not the same!
More Chicken Recipes
Chicken Jalfrezi
Butter Chicken
Chicken tikka Masala
Cooking this palak chicken just takes about 35 minutes but preparation takes some time & all of it goes in cleaning and rinsing palak. Opt for pre-cleaned and ready to use spinach, or at least fresh & clean spinach so you don't need to spend a lot of time to prep up.
How to Make Palak Chicken (Stepwise photos)
Preparation
1. To a mixing bowl add,
½ Kg (1.1 lbs) boneless chicken or ¾ kg (1.7 lbs) bone-in chicken
¼ to ⅓ teaspoon Kashmiri red chilli powder (leave out for kids)
¼ to ⅓ teaspoon crushed black pepper (powder)
¼ teaspoon salt
1 tablespoon lemon juice (15 ml)
Marinate the chicken and keep covered until we use it.
2. Clean and rinse your spinach well, add to a colander. Shake off well in your kitchen sink to drain excess water. This recipe requires 7 to 8 cups baby spinach (8 to 9 ounces, about 250 grams), 2 to 4 green chilies (use as required) and 16 to 20 whole cashews which are optional.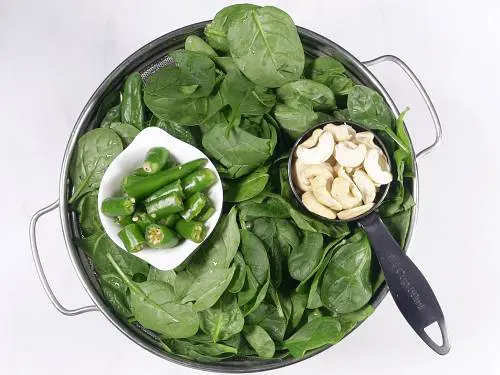 3. Chop 1 medium onion very finely to make it ¾ to 1 cup. Deseed and chop tomatoes to make ¾ to 1 cup. (If you want you may peel the tomatoes like I did before chopping.)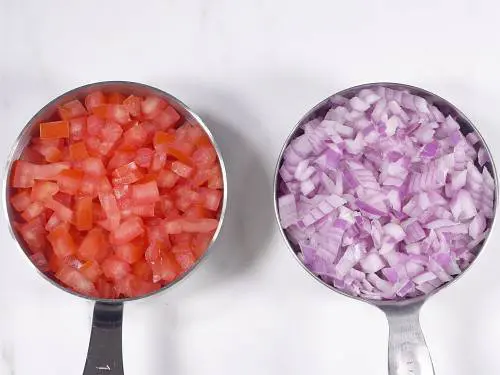 4. Gather your spices, You need
2 teaspoons ginger garlic paste (1 teaspoon each)
1 small bay leaf
3 green cardamoms
1 black cardamom
4 cloves
1 inch cinnamon piece.
½ teaspoon cumin seeds
You will also need ½ to ¾ teaspoon garam masala, 1 tablespoon kasuri methi and ¾ teaspoon salt.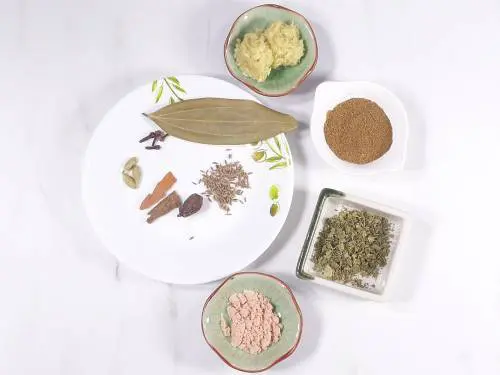 Make Spinach Puree
If you are on a low oxalate diet leave out this section, boil the leaves instead of sautéing. I have a separate section below for the instructions.
5. Pour 1 teaspoon oil to a hot pan. Stir fry cashews (optional) and green chilies (slit) until the chilies are blistered.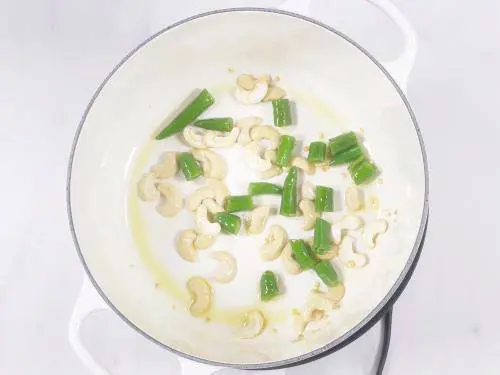 6. Add the spinach and stir fry on a medium heat until the leaves wilt fully.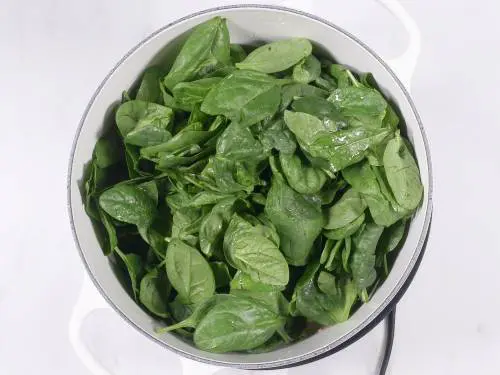 7. The raw flavor of spinach should have gone away. This takes about 6 minutes.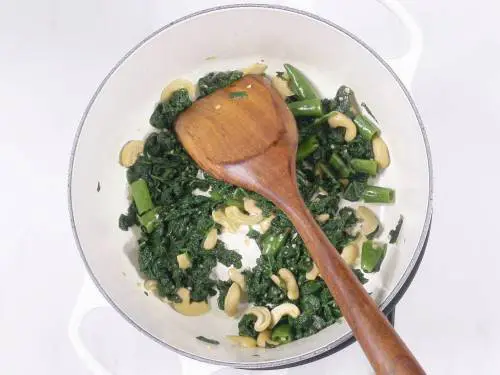 8. Transfer this to a plate to cool & later blend to a smooth puree in a grinder with ½ cup cold water. Set aside a few green chilies before you blend (or all of the chilies if making for kids). After blending taste test and add the green chilies back if you want more hot/ spicy. If you don't use cashews, reduce the amount of water.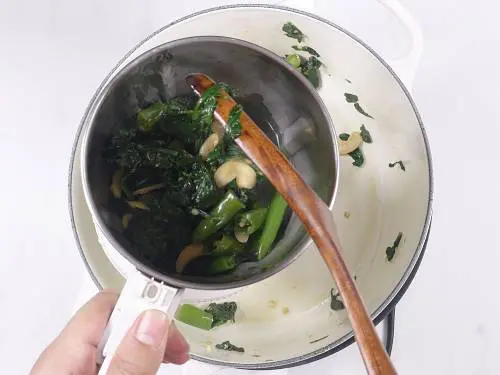 Make Spinach Chicken
9. Pour 2 tablespoons oil (or 1 tbsp oil & 1 tbsp ghee) to the same hot pan. If you don't have whole spices, you may skip this step and add more garam masala later. Add the whole spices – bay leaf, black cardamom, green cardamom, cinnamon, cumin seeds and cloves.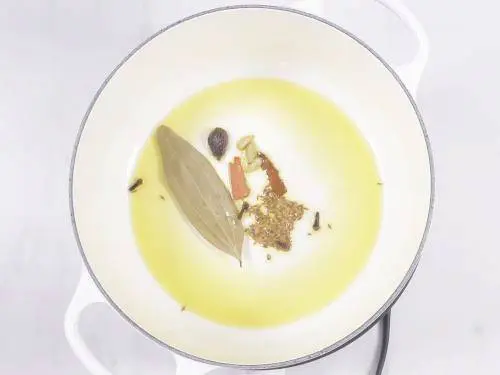 10. When the spices begin to splutter, add fine chopped onions and saute until golden. Stir in the ginger garlic paste and saute for 1 minute.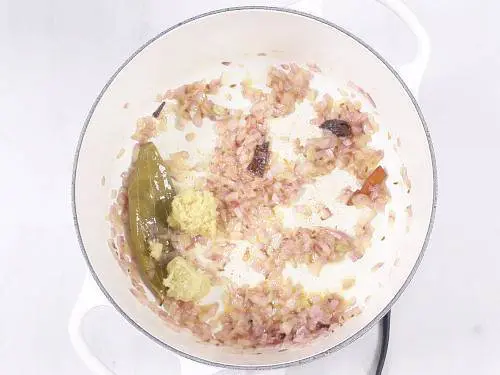 11. Add the tomatoes and salt. Saute on a medium heat until soft and mushy.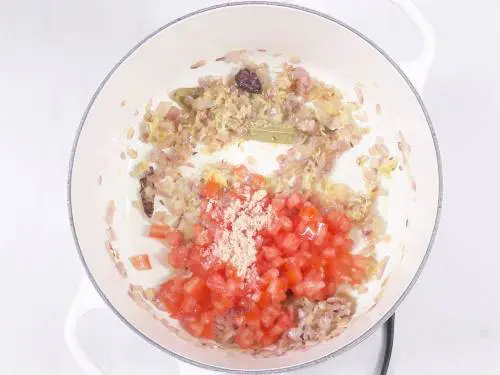 12. At this stage make sure your onions are soft and almost cooked. Else cover and cook on a low heat until soft. If you skip this step you may be left with crunchy undercooked onions.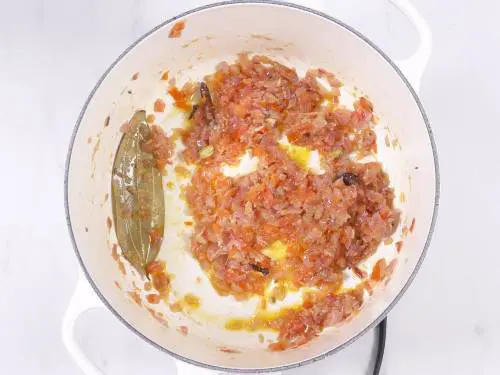 13. Add the marinated chicken and stir fry on a medium heat until it turns white or pale in color.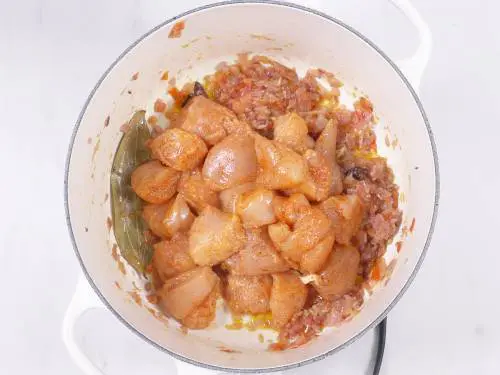 14. Stir in the garam masala.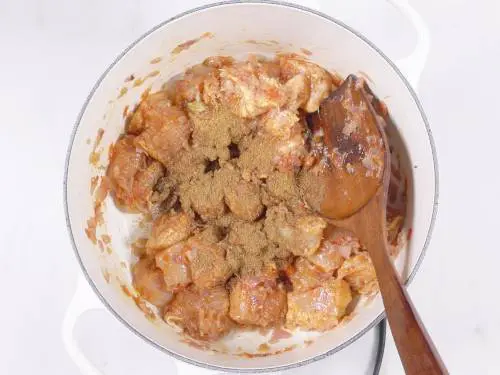 15. Pour ½ to ¾ cup hot water and cook until the chicken is tender.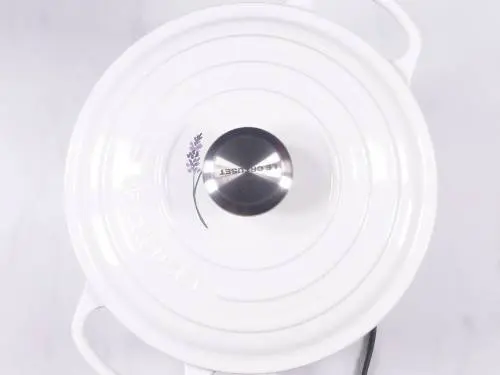 16. Check if the cooked is done.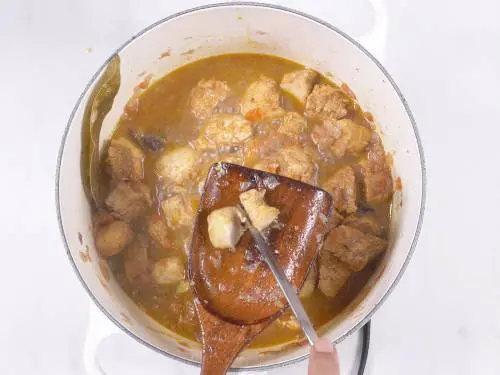 17. Pour the palak puree and bring it to a gentle boil. If your curry is too thick, you may add some hot water. I had to add about ¼ cup more. Mix well and cook on a low heat for a 3 to 4 minutes and the gravy is thick to your liking.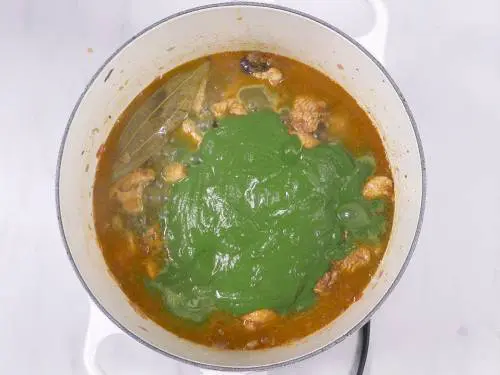 18. Stir in kasuri methi. Taste test. If required add more garam masala, sugar, more salt and cream (if you left out cashews). I don't use sugar. Make sure your curry does not have a raw flavor. If yes, cook for a little longer.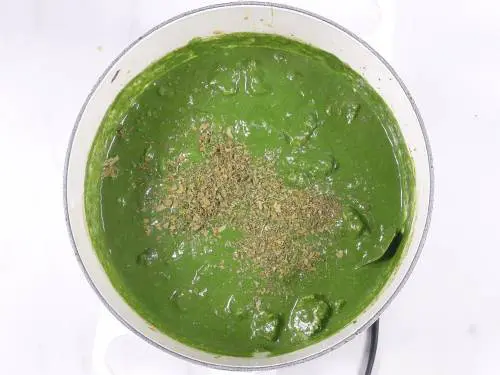 19. Turn off when your curry reaches the desired consistency. Thick curry goes well with roti, chapati or naan. Make it slightly runny to serve with basmati rice or flavored rice varieties. I made mine on the thicker side as we served with roti.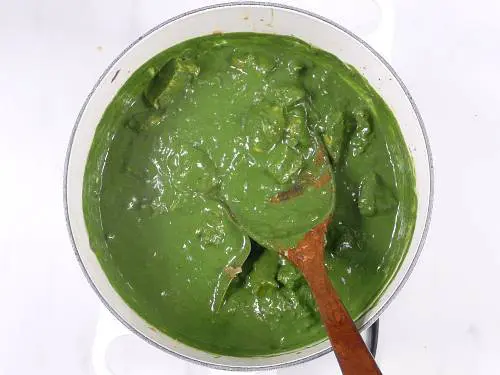 Garnish Palak Chicken with cream if you want. You can also use cashew cream to keep the dish dairy-free. Serve with steamed rice, flavored rice, Roti, Naan, Chapati or Plain parathas. For an extra punch of flavors, you may temper the dish following my instruction in the recipe card below.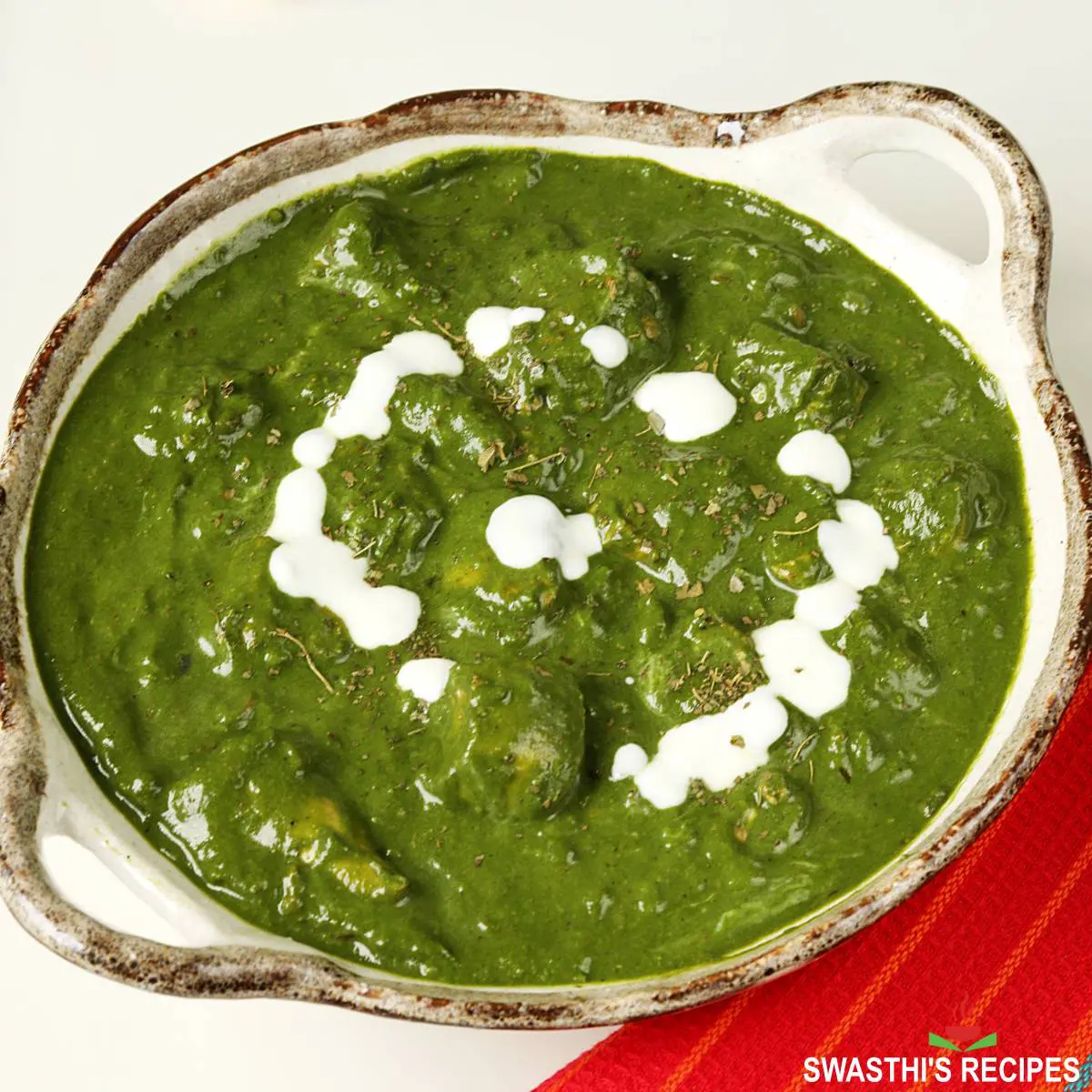 Blanch Spinach for a low-oxalate diet
If you are on a low-oxalate diet & yet permitted to eat a bit of palak this tip may be helpful. Boil the palak & skip the tomatoes too. Also cut-down your serving size. Here is how to Prep-up the spinach:
Bring 4 cups of water to a rolling boil. Meanwhile pour 2 cups clean water to another bowl and add 6 to 8 ice cubes. When the water begins to boil, take ¼ cup water to a bowl and soak your cashews.
Add the spinach & chilies. Stir well and boil for 2 to 3 minutes. Lift them with a tong and add to ice cold water. Remove and add to blender along with cashews. With this step you have to cook the curry for a little longer after adding to the pan.
Discard the water in which you boiled the spinach.
Pro Tips
Whole Spices: You may leave out the whole spices and use a bit more of garam masala to compensate for the flavors. But I feel the combination of the whole spices I mentioned here makes your chicken and the broth both very flavorful. The broth flavors up your spinach puree after mixing them.
Spinach: Make sure you stir fry the spinach very well until all of the raw flavor is lost. This step is important. Use baby spinach if possible or at least fresh young spinach. Discard all the stalks and even hard fibrous stalks on the larger leaves. These tend to taste bitte.
Cashews: This dish works well without cashews too, it won't be creamy. You may simply add ¼ cup cream at the last step. Use water with caution if you skip cashews. Almond flour can be used in place of cashews. Soak the flour in hot water for sometime & grind with stir fried palak.
Coconut Milk: Yes coconut milk works as a substitute but the taste is different. Cashews impart a milky flavor while coconut milk imparts a nutty flavor. Use ¼ cup thick coconut milk. Blend your palak with one part thick coconut milk (from the can) & one part water. If using homemade coconut milk or coconut milk from carton, use only that (first and second extract or only first).
Related Recipes
Recipe Card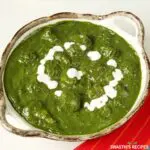 Palak Chicken (Spinach Chicken Recipe)
This Indian Palak Chicken is delicious and flavorsome! Serve it over steamed rice or with Indian flatbreads like Roti, Chapati, Naan or Plain Parathas.
Pin Recipe
Print Recipe
For best results follow the step-by-step photos above the recipe card
Ingredients (US cup = 240ml )
To Marinate
1.1

pounds

Boneless Chicken

(1 to 1½ inch cubes, ½ Kg or 1.7 lbs, ¾ kg bone-in chicken)

1

tablespoon

lemon juice

¼ to ⅓

teaspoon

black pepper

(crushed/powder)

¼ to ⅓

teaspoon

Kashmiri red chilli powder

(leave out for kids)

¼

teaspoon

salt
To Make Palak Paste
8 to 9

ounces

Baby Spinach

(250 grams fresh palak, 7 to 8 cups)

2 to 4

green chilies

(slit, Indian/ Thai/ Serrano chili peppers, read notes)

16 to 20

cashews

(or ¼ cup heavy whipping cream)
Other Ingredients
2

tablespoons

oil

(divided, or 1 tbsp oil & 1 tbsp ghee)

¾ to 1

cup

onions

(very fine chopped, 1 medium onion)

¾ to 1

cup

tomatoes

(deseeded & fine chopped, peeled if required)

2

teaspoons

ginger garlic paste

(1 teaspoon each)

½ to ¾

teaspoon

garam masala

(adjust to taste)

1

tablespoon

kasuri methi

(dried fenugreek leaves)

¾ to 1

teaspoon

salt

(adjust to taste)

1 to 2

tablespoons

whipping cream

or any cream to garnish
Whole Spices (read notes)
1

small

Indian bay leaf

½

teaspoon

cumin seeds

3

green cardamoms

3 to 4

cloves

1

inch

cinnamon piece

1

black cardamom

(masala elaichi)
Instructions
Preparation
Add chicken to a large mixing bowl. Sprinkle ¼ teaspoon salt, black pepper, red chilli powder and lemon juice. Mix and set aside until we need it.

Pour 1 teaspoon oil to a hot pan and add cashews and green chilies. Stir fry until the chilies blister. Add spinach (cleaned, rinsed and drained) and stir fry on a medium heat until wilted and fully cooked, for 6 mins. Turn off the heat & cool this.

Pour ½ cup cold water to a blender and transfer the spinach, chilies and cashews. You may set aside some of the green chilies which you can adjust later.

Make a smooth puree and taste test. If you want more heat add back the green chilis that we set aside and blend.
How to Make Palak Chicken
Add the rest of the oil (along with ghee if using) to a hot pan. Add all the whole spices and let them sizzle. Stir in the chopped onions and saute until light brown & really soft.

Stir in the ginger garlic and saute for a minute, until aromatic.

Add tomatoes and salt. Stir well and cook until the tomatoes lose their raw flavor. If you want you may cook covered at this stage.

Add the marinated chicken and stir fry on a medium high heat, until pale. Stir in the garam masala.

Pour ½ to ¾ cup hot water and mix well. Cook covered on a medium heat, until chicken is fully cooked through.

Stir in the Spinach puree. If the palak chicken gravy is too thick , you may pour little hot water.

Simmer until bubbling hot and cook for 3 to 4 minutes. Taste test and adjust salt. Take kasuri methi in your palms and crush it well. Sprinkle all over. Turn off the heat. Keep the gravy slightly runny if you want to serve it with rice. It thickens slightly upon cooling.

Garnish Palak Chicken optionally with cream. Squeeze lemon juice while serving. Serve with Steamed rice, Naan, Roti or Chapati.
Optional Tempering
This is not a part of the recipe but if you love authentic Indian flavors, make a nice tadka and pour it over the dish. Heat 1 tablespoon ghee on a medium heat. Add 2 to 3 sliced garlic cloves and 2 dried red chillies. Fry on a low heat for a minute, until garlic turns light golden. Add ¼ teaspoon hing (optional). Turn off and pour it over palak chicken.
Notes
Whole spices make a lot of difference. However if you do not want to use them, leave out and add more garam masala.
Whole spices are discarded while eating.
You can leave out the cashews, the dish still turns out good. But you need to reduce the green chilies and water.
Alternative quantities provided in the recipe card are for 1x only, original recipe.
For best results follow my detailed step-by-step photo instructions and tips above the recipe card.
NUTRITION INFO (estimation only)
Nutrition Facts
Palak Chicken (Spinach Chicken Recipe)
Amount Per Serving
Calories 304
Calories from Fat 135
% Daily Value*
Fat 15g23%
Cholesterol 84mg28%
Sodium 864mg38%
Potassium 1017mg29%
Carbohydrates 13g4%
Protein 30g60%
Vitamin A 5882IU118%
Vitamin C 31mg38%
Calcium 97mg10%
Iron 3mg17%
* Percent Daily Values are based on a 2000 calorie diet.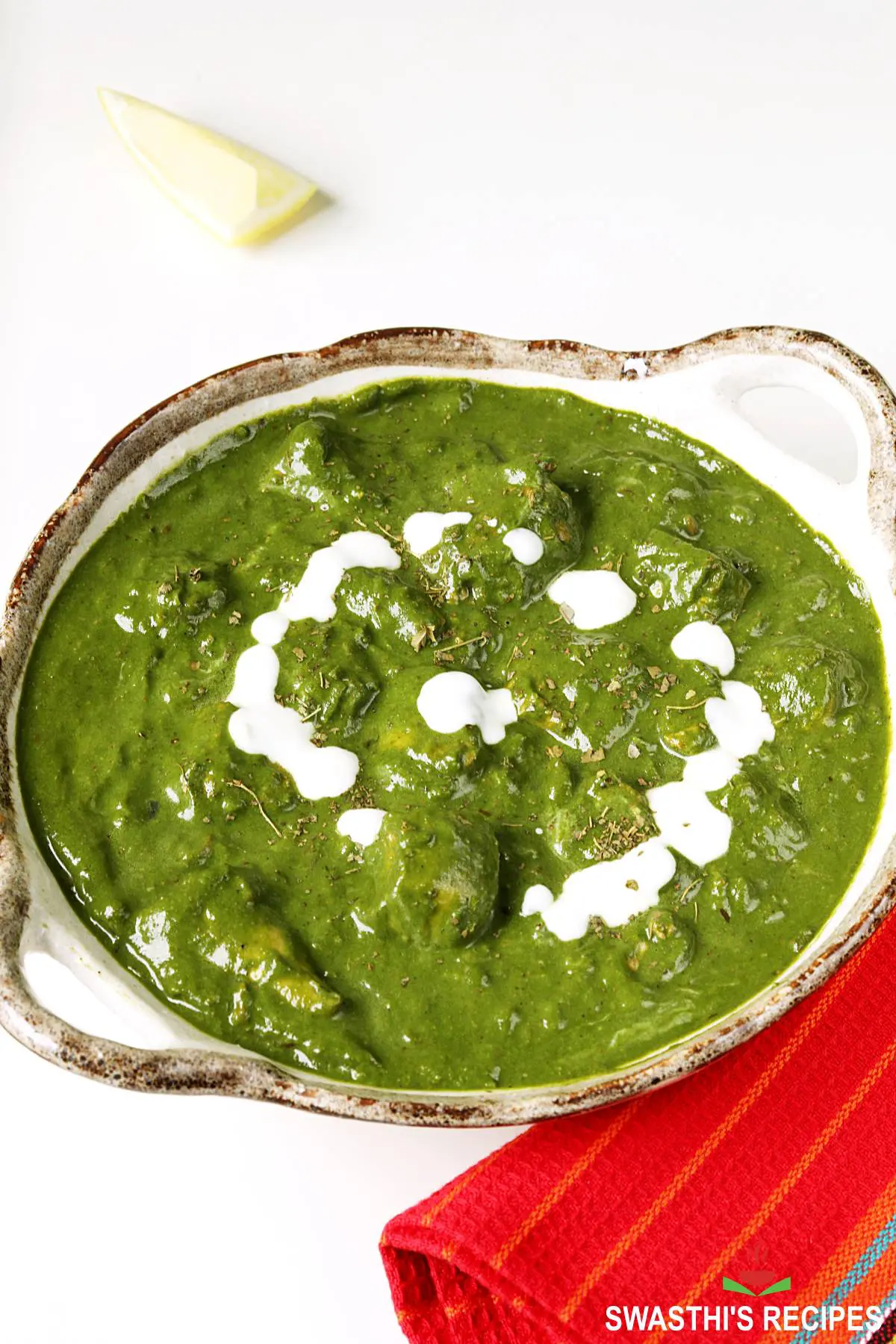 About Swasthi
I'm Swasthi Shreekanth, the recipe developer, food photographer & food writer behind Swasthi's Recipes. My aim is to help you cook great Indian food with my time-tested recipes. After 2 decades of experience in practical Indian cooking I started this blog to help people cook better & more often at home. Whether you are a novice or an experienced cook I am sure Swasthi's Recipes will assist you to enhance your cooking skills.
Follow Swasthi's Recipes