Turmeric milk recipe – Learn how to make Indian turmeric milk for kids, toddlers and grown ups. Turmeric milk known as Haldi ka doodh in Indian language is an age old ayurvedic remedy used to combat cold, cough, congestion, arthritis and many more ailments. Haldi or Turmeric known as Haridra in Sanskrit is a rhizome that is considered to be Tridoshic and is said to balance all the doshas (disturbances) in the body.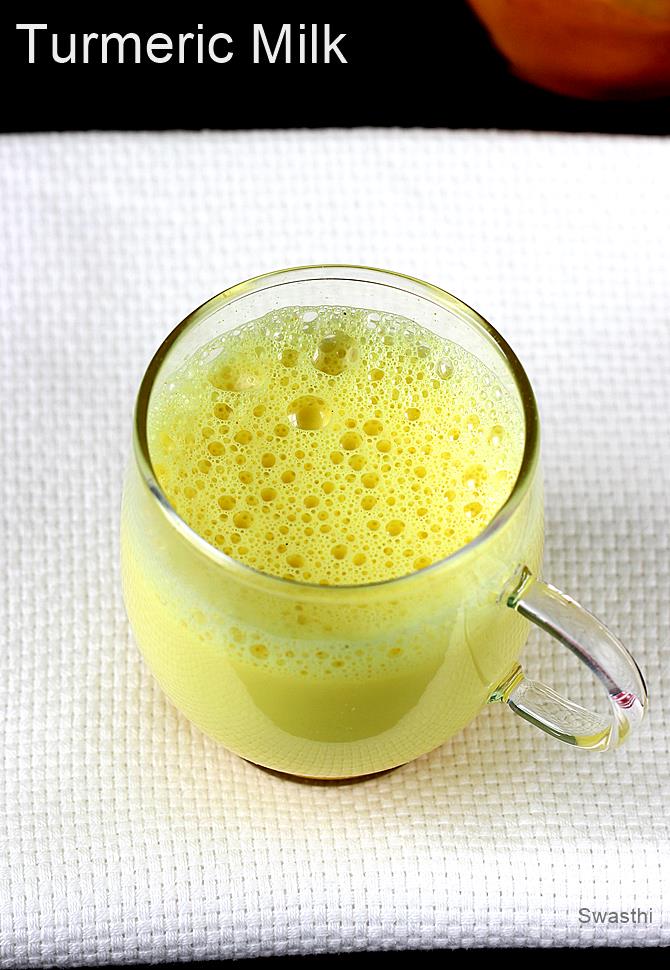 Turmeric helps to build immunity by reducing allergies, inflammation, purifying blood, detoxifying the liver and promoting overall health. It is widely used in Indian foods not only for health benefits but also due to religious belief that it sanctifies/ purifies the food.
When taken internally as a medicine, Turmeric may not be suitable to all and may result in adverse effects like nose bleeds, severe rashes, dehydration, acidity or constipation. Hence care should be taken when consuming turmeric for treating ailments.
What is turmeric milk or golden milk
Haldi ka doodh or Turmeric milk is been most commonly consumed in India during the harsh winters to prevent and treat cold, congestion, clear up phlegm from the airways inside the lungs and to help sleep better.
Turmeric added to whole milk (full fat milk) avoids dehydration due to the high hydration index of milk. So turmeric milk is safe to consume by kids and toddlers with no known reactions to turmeric/haldi.
Traditionally turmeric milk was prepared with turmeric root & crushed long pepper known as Pipli or Pippali in Indian language. Piperine, a compound found in long pepper was believed to enhance the bioavailability of curcumin in turmeric.
Over the years long pepper has been replaced by black pepper which also has piperine and been effective.
You may like to check
Badam milk
Masala chai
Chocolate shake
Cold coffee
Dry fruits milkshake
Instant masala tea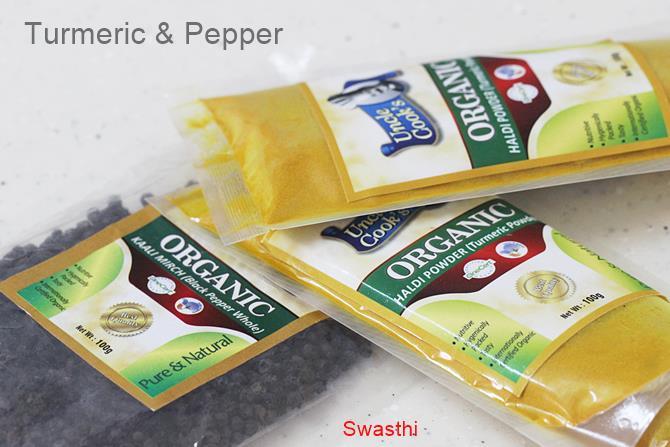 I had several requests from readers asking for the right amount of haldi powder to use for toddlers and kids. The pictures were taken last November but couldn't share the post due to time constraints. All the tips in this post are my own, the way I have made turmeric milk for my kids and family.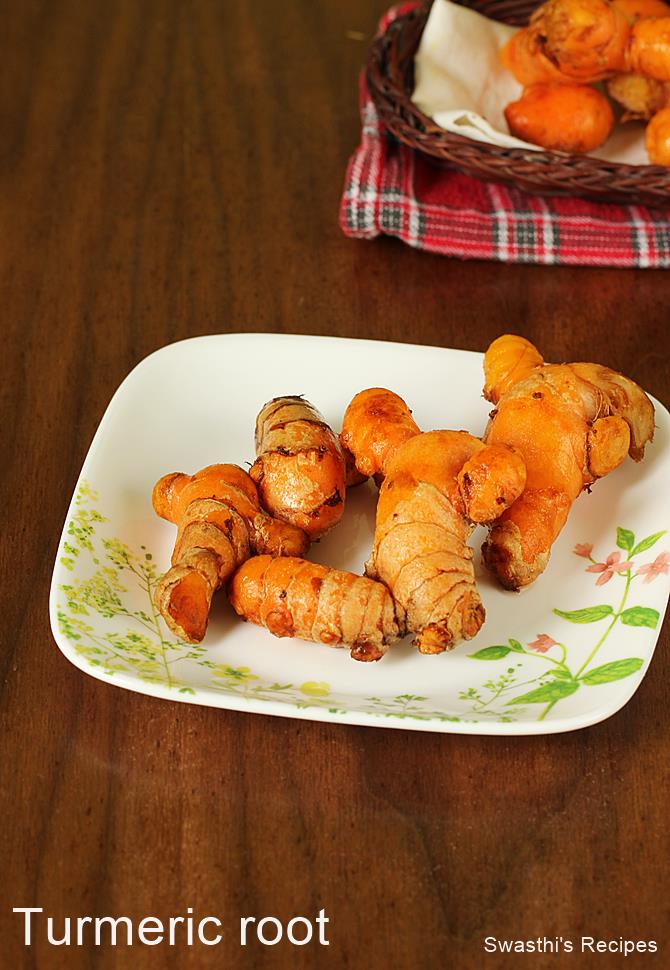 Tips on How to use turmeric
1. Always use organic turmeric powder or turmeric root and avoid chemically treated roots which are worse for our body.
2. Fresh turmeric root is more effective than ground powder. But finding a organic fresh root is hard. If you are able to source it you can freeze it and use as and when needed within 3 months.
To use the root, wash it thoroughly and rub it against a flat stone with few drops of clean water. Special flat stone tables are available which are used for rubbing sandal wood and turmeric root. You will get a smooth paste after rubbing the root for 5 to 7 minutes.
Can turmeric milk be given to toddlers & kids?
This can be given to your toddler only if he/she has completed 18 months of age. If you have never given turmeric to your toddler before, then I suggest testing for suitability. To test, add 1 pinch of turmeric powder to the regular milk and feed before bed time.
Repeat this for 3 nights, if you see no rashes, colic, constipation, itchy eyes, watery eyes etc then you can go ahead with the turmeric milk with the below recommended quantity.
How much turmeric per day?
Here are the quantities I had given to my toddlers/ kids
18 to 24 months: 2 generous pinches for not more than 5 to 6 nights.
2 to 3 years: 1/8th tsp for 4 to 5 days.
4 to 7 years: 1/4th tsp for 5 to 7 days or even more if needed.
8 years + : 1/2 tsp as needed.
How to consume turmeric milk
It is good to start turmeric milk at the first onset of the symptoms like stuffed nose, congestion or cold. It can also be used to prevent cold. If your child is prone to cold and congestion very often, then you can start this after you finish the last dose of your allopathic medications (regular medications prescribed by your doctor).
Turmeric milk can also be started after you finish your course of antibiotics as a precaution to prevent repeated flu and cold. It is good to consider having live probiotics every morning which also helps in improving digestion and overall immunity.
Turmeric Milk & kids
1. I give turmeric milk to my kids for maximum of 3 to 5 day as a preventive measure before we travel out of Singapore. I ensure they also drink lot of water & fruit juices with high vitamin C that helps to keep them hydrated & build immunity.
2. I have never experimented turmeric with any formula milk or pediasure or any other drink except full fat buffalo & cow's milk.
What are the side effects of turmeric?
Turmeric does not cause any side effects unless it has been consumed in excess (over dosage). Most common side effects of turmeric are dehydration, nose bleeds, constipation and restlessness.
When a over dose of turmeric has been administered to my kids, I see them dehydrated, nose bleeds, constipation and restless. During such times, I had to stop turmeric milk for a month.
What is the best way to consume turmeric
Turmeric milk is more effective if taken as a course to build immunity or beat cold and congestion. When taken regularly for more than 10 days, I felt the effects were nullified and it doesn't work any more as it used to in the beginning. So a stop-gap method is much more effective for kids.
All the tips, notes and experiences have been shared only for educational purpose and please do not conclude that it is the same for all kids. Each kid may react differently with turmeric milk depending on the nature of body, place of living and food habits etc. But I have learnt that it can be dangerous if given without care.
Turmeric milk recipe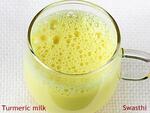 Turmeric milk recipe | How to make turmeric milk for health benefits
Golden milk or Turmeric milk is a traditional drink often consumed to relieve symptoms of cold and congestion.
Ingredients (1 cup = 240ml )
1

cup

full fat milk or whole milk

3/4 to 1

tsp

organic turmeric powder for adults, 2 pinches to 1/4 tsp for kids

1/8 to 1/4

tsp

pepper or long pepper powder (Freshly crushed), 1 to 2 pinches for kids
How to make the recipe
Bring milk to a boil and cool down slightly hot temperature.

Add pepper powder and turmeric. Mix well.

Transfer turmeric milk to a cup and consume while still warm.
NUTRITION
Calories:
157
kcal
|
Carbohydrates:
13
g
|
Protein:
7
g
|
Fat:
8
g
|
Saturated Fat:
4
g
|
Cholesterol:
24
mg
|
Sodium:
105
mg
|
Potassium:
377
mg
|
Sugar:
12
g
|
Vitamin A:
395
IU
|
Calcium:
276
mg
|
Iron:
0.9
mg
How to make turmeric milk – step by step photos
1. Bring milk to a boil. Allow the milk to cool down a bit.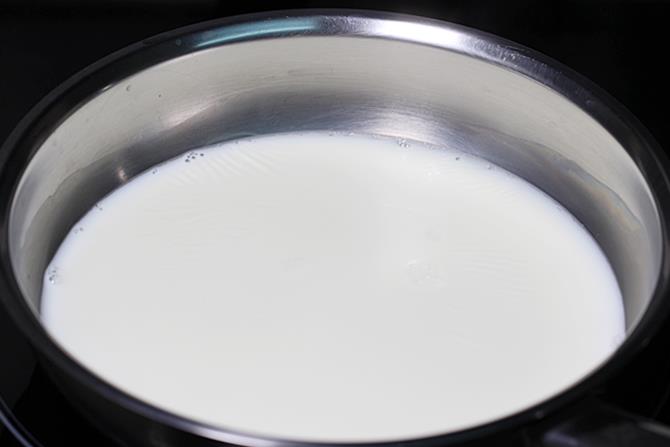 2. When the milk is slightly hot, add pepper powder and turmeric powder or paste. My kids drink unsweetened milk, so I do not add any sweetener.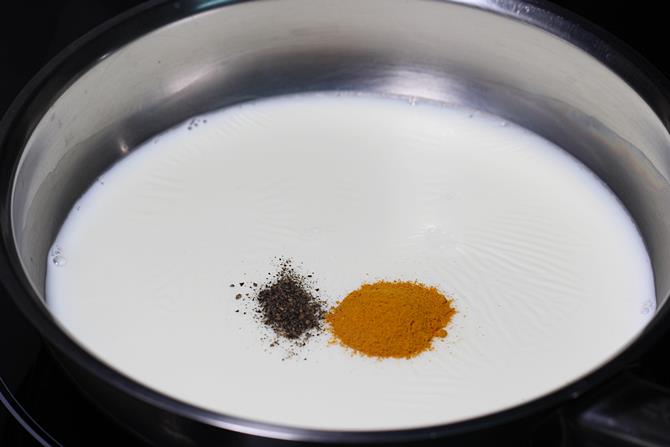 3. Stir well until the turmeric blends well with milk. Mix well with a spoon and transfer to a cup. I do not filter the cream or pepper, if you prefer you can.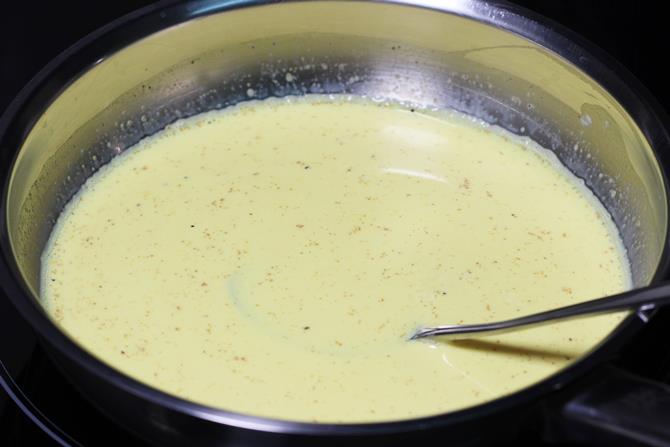 It is best to consume turmeric milk when it is warm preferably at bed time.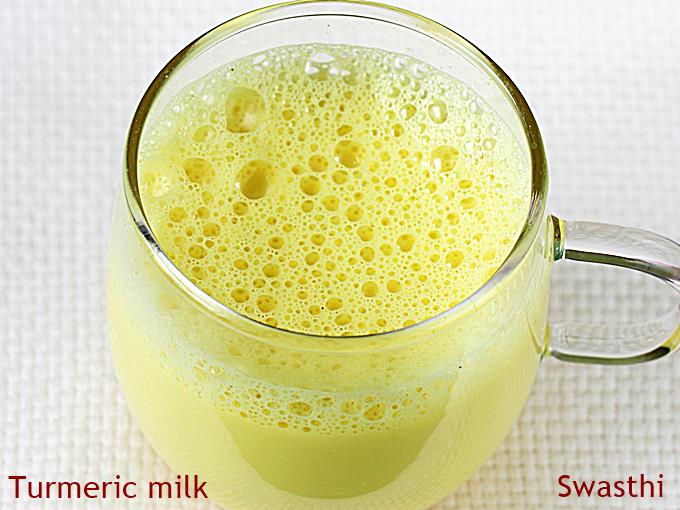 Disclaimer: This post is to provide information only and should not be considered for treatment or cure of any disease. Please see the doctor for appropriate treatment.