Turmeric Shots are the easiest way to incorporate the goodness of turmeric into your diet. Made with fresh turmeric root or ground turmeric, citrus juice, crushed pepper and honey, this wellness shot has all the immune boosting and anti-inflammatory properties required for a healthy body system. In this post I share an easiest way to make Turmeric shots which you can easily customize to your taste and body requirements.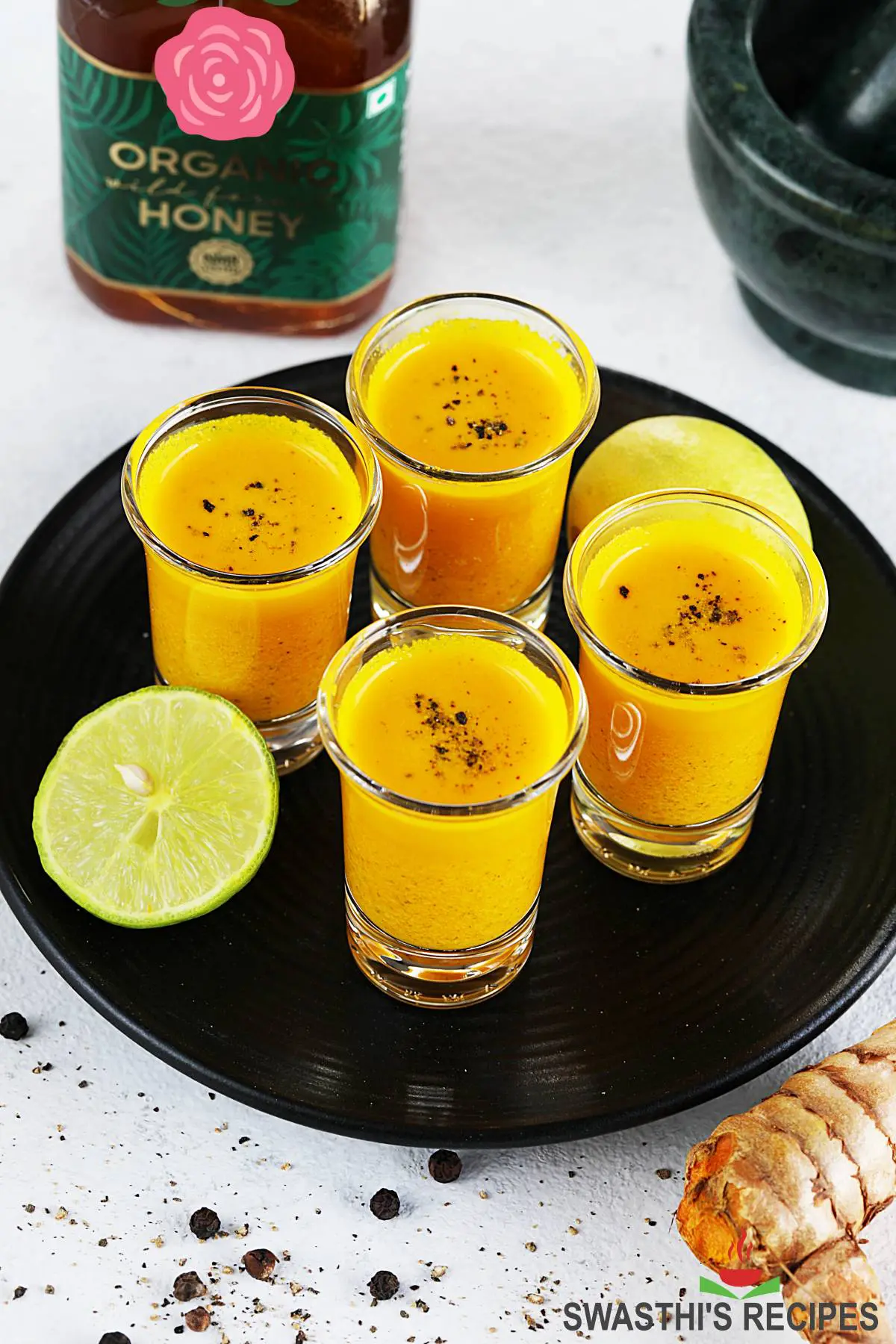 What is a Turmeric Shot?
Turmeric Shot is a small serving of drink which has turmeric infused into it along with crushed black pepper and honey. Piperine, an alkaloid present in black pepper is said to enhance the bioavailability of curcumin in turmeric. Honey is believed to enhance & build Ojas (vigor & radiance) in the body (as per Ayurveda).
Optionally a few drops of high quality fat is added for better absorption of curcumin. Even more some lemon juice or orange juice & ginger can be added to enhance and balance out the flavors & taste.
The health benefits of turmeric have been well recognized by ayurvedic medicine for thousands of years. As of late, Western medicine has gotten on board as well, touting curcumin, the compound in turmeric that gives it its golden color for its anti-inflammatory properties.
It is believed that turmeric can help to relieve pain and as well as help fight depression. With everything it has to offer, it is not surprising that it is a great addition to a healthy diet.
More Similar Recipes
Turmeric Latte
Golden Turmeric Tea
Turmeric Milk
Ginger Tea
Turmeric Rice
My Recipe
My basic Turmeric Shot recipe is based on Ayurveda and uses only 3 main ingredients – turmeric, black pepper and honey. Many ayurveda experts suggest consuming these ingredients regularly for the overall health. However you are free to use other ingredients like ginger, lemon juice or Orange Juice to boost the health benefits of the shot.
I share 2 ways to make your turmeric shots. One way is to make it with fresh turmeric root and the other is to use ground turmeric.
While the fresh turmeric is said to possess high amounts of curcumin, dried ground turmeric is a good alternate in the absence of fresh one. Making turmeric shot with ground spice is a breeze as you just mix the ingredients and serve it.
To use the fresh root, you either use a blender or a juicer on hand & is quite simple to make with the freshest and finest ingredients available.
Turmeric shots are easy, affordable and, above all, really beneficial to your health and well-being.
Benefits of Turmeric Shot include a healthy dose of antioxidants, improved digestion and a boost to the immune system. It also has a good amount of naturally occurring anti-inflammatories that have a favorable effect on the body's overall well-being.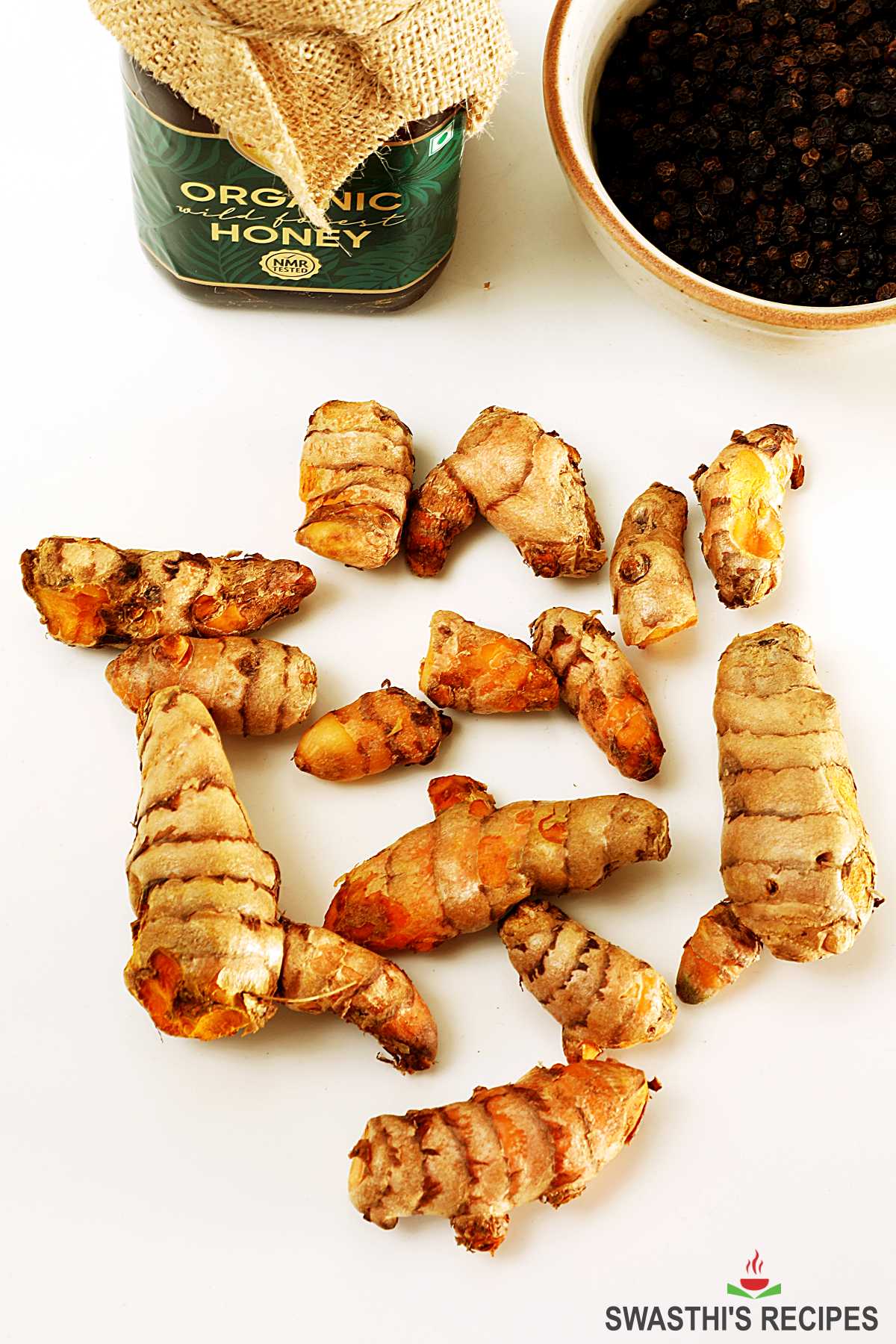 Why Homemade?
While turmeric shots are available at some grocery stores and specialty food markets, making them in your home kitchen enables you to ensure that you are getting the best quality ingredients that are at the peak of freshness.
Beyond that, you can tailor the combination of honey, ginger and lemon or orange to your taste specifications so that you are making something that you look forward to each morning.
You will save money by making them at home, as well. Overall, it is a great way, knowing you are giving your body a boost of curcumin that will deliver many health benefits.
How to make Turmeric Shots (Stepwise photos)
This recipe makes 4 shots. You will use about 7 ounces (20 grams) of fresh turmeric root.
1. We start with fresh whole turmeric root which can be found in many grocery stores and specialty markets. If you are not able to get hold of the fresh turmeric, feel free to use the ground turmeric aka turmeric powder.
2. Wash the fresh turmeric root well and scrub it with a soft bristled brush. Peel it with a spoon or a butter knife. Later slice it with a sharp knife. Cooking and heating turmeric enhances the nutrients and bioavailability. So Optionally – If you do not prefer raw turmeric shots, add the slices to a small pot and boil them with half cup water, for about 4 to 5 mins. When the water reduces to half, turn off the heat and cool completely.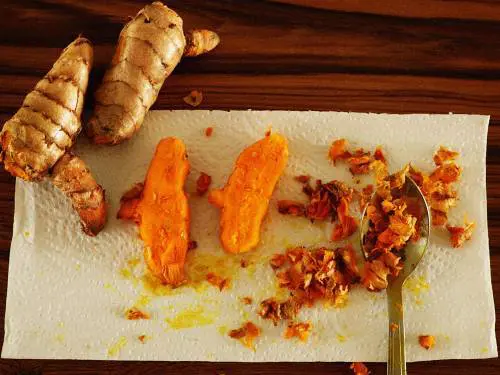 3. Add them to a blender along with ¼ cup water (or turmeric boiled water) and ½ teaspoon whole black peppercorns which help boost the absorption of curcumin. You can also add ½ inch peeled ginger if you like to include it.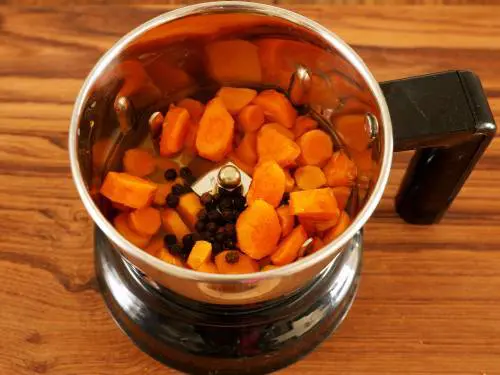 4. Make a smooth puree.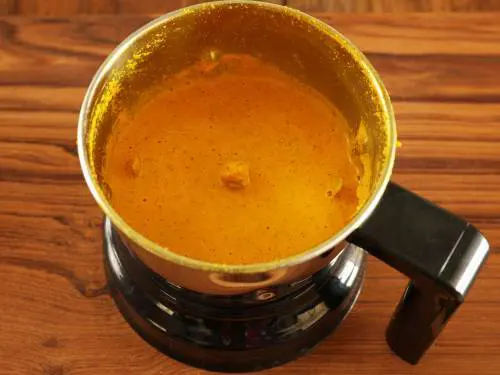 5. Strain the puree through a fine mesh strainer or cheesecloth to extract all of the juice.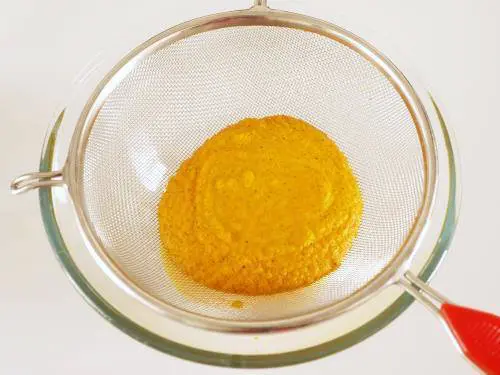 6. We prefer not to use the coarse turmeric fiber here. I stir it into curries, soups, smoothies, sambar or rasam. This goes very well in a banana shake or smoothie as well.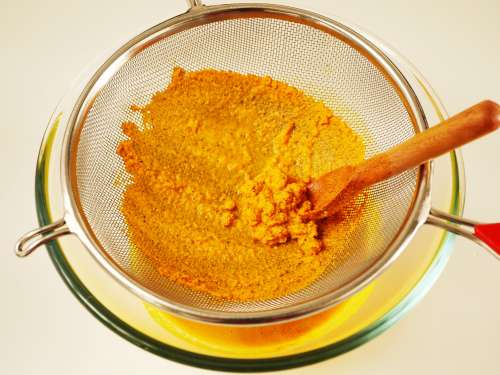 7. This potent liquid is the base of the turmeric shot that has a lot to offer in itself. But the addition of a few more ingredients contribute additional benefits.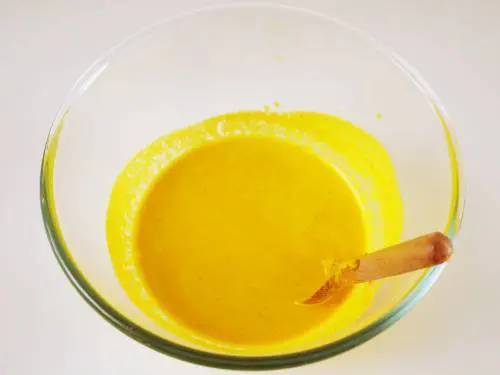 Make Turmeric Shots
8. Into each shot glass, add 1½ tablespoons slightly hot water (not very hot) & 2 tablespoons of liquid turmeric. Mix well. The temperature of your shot should be luke warm. Stir in 1 teaspoon honey until well combined. Consume it immediately.
To use ground turmeric (powder), Stir together half teaspoon ground turmeric with 2 tablespoons of warm water. Add 1/8 pinch of crushed black pepper & 1 teaspoon honey. Mix very well and consume it.
This is the basic turmeric shot. You may add 1 teaspoon lime juice or 1 tablespoon lemon juice and a few drops of healthy fats like cold pressed avocado oil or coconut oil, as per your choice.
More details about the add-ins:
Lemon & Honey: With the addition of freshly squeezed lemon juice and honey these turmeric shots deliver a delightfully tart-yet-sweet flavor. If you want you may add orange juice instead of lemon juice, as much as you like. In India, for most ayurvedic remedies and drinks, we use lemon and honey but not oranges.
Healthy Fats: Add either cold pressed avocado oil, coconut oil or an alternate fat which is key to enhancing the absorption of the curcumin.
I garnished the turmeric shots with black pepper. You don't need to add any more while serving.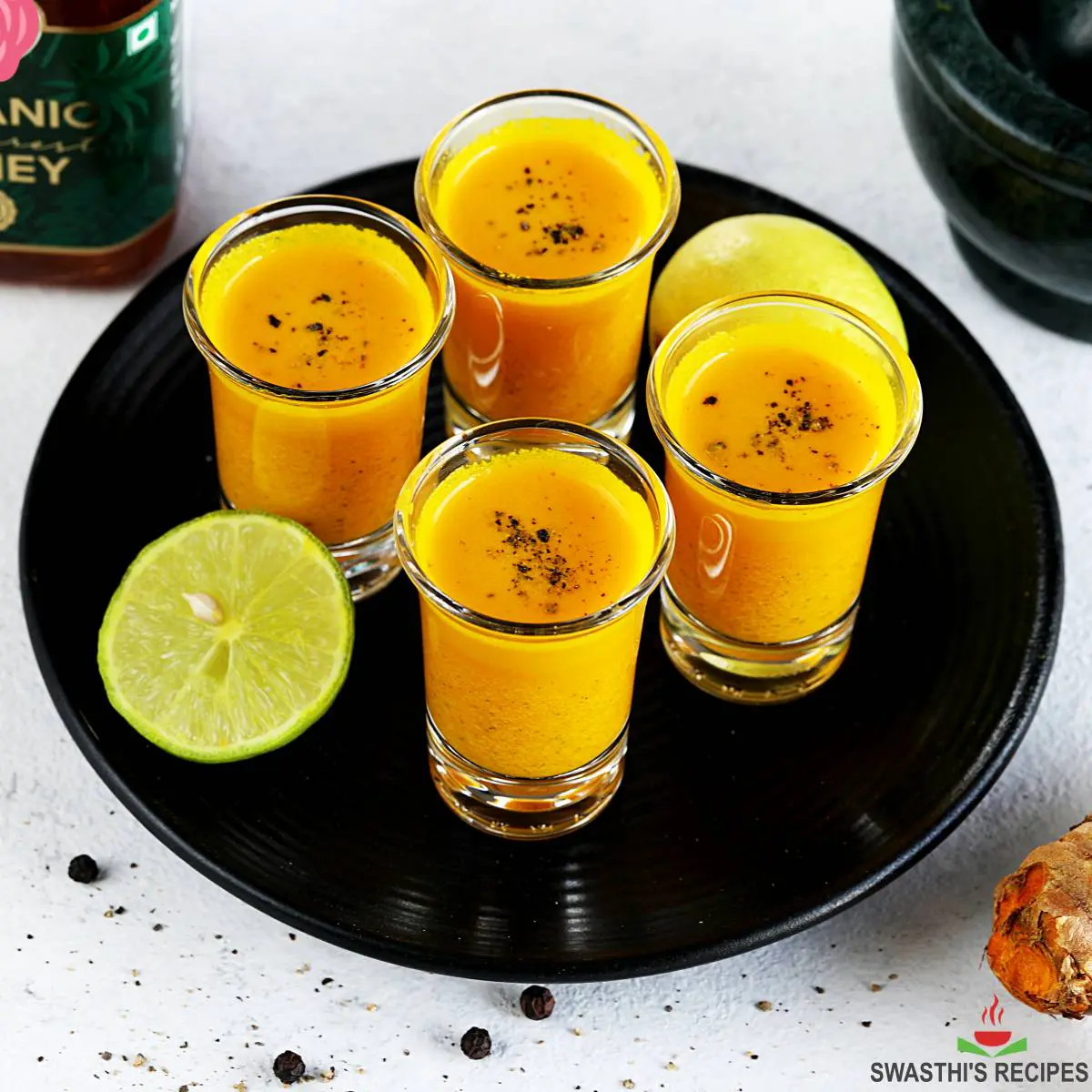 To make in a slow juicer: You can juice it in a slow juicer with some plain water, lemons or oranges or pineapple slices. You can also optionally add ginger.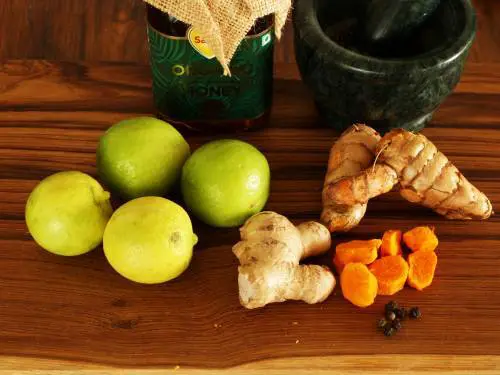 Related Recipes
Recipe Card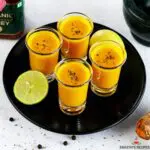 Turmeric Shots Recipe
Turmeric shot is a wellness drink with anti-inflammatory and immune boosting properties. Made with 3 main ingredients – turmeric, black pepper and honey, you can optionally use an additonal healthy fat and lemon juice for added benefits.
Print Recipe
Pin Recipe
Jump to Comments
For best results follow the step-by-step photos above the recipe card
Ingredients (US cup = 240ml )
7 ounces (15 to 20 grams)

Organic Fresh turmeric root

(or 2 teaspoon organic ground turmeric)

¼

cup

water

6

tablespoons

hot water

(1½ tablespoons per shot)

½

teaspoon

black pepper corn

4

teaspoons

honey

(skip if you are diabetic)

¼

cup

lemon juice

(or 4 tsps lime juice or orange juice, refer notes)

½ to 1

teaspoon

cold pressed avocado oil

(or melted coconut oil or ghee)
Instructions
Turmeric shot with fresh root
Rinse fresh turmeric root under running water. Scrub it well with a brush to get rid of any mud deposits. Rinse well and peel it with a spoon or a butter knife. Slice the root.

Optional – heating turmeric enhances the bioavailability. So if you want add the turmeric slices to a pot along with ½ cup water. Boil until the water reduces to half, for about 5 to 7 mins and cool completely.

Add to a blender jar with ¼ cup water and black pepper corn. Blend until smooth.

Place a fine mesh strainer over a bowl and strain the turmeric puree. OR You can also use a cheese cloth. Using a wooden spoon, extract the liquid to the bowl. You will see a lot of smooth turmeric makes through the strainer. Use the leftovers in the strainer in your curry, soups, smoothies etc.

To make the turmeric shots, pour 1½ tablespoons slightly hot water to each shot glass and stir in 2 tablespoons of the liquid turmeric.

Mix well and make sure it is luke warm. If it is cold, you may add little more hot water. Stir in honey until well combined. Consume turmeric shot immediately.

Optionally you may add ⅛ teaspoon avocado oil and 1 tablespoon lemon juice or 1 teaspoon lime juice to each serving. If you prefer orange juice you may add as much as you want.
Shots with ground turmeric
Pour 1½ to 2 tablespoons luke warm water to each shot glass. Stir in half teaspoon ground turmeric, ⅛ teaspoon freshly crushed black pepper and 1 teaspoon honey.

Stir very well and consume turmeric shots immediately. If you want you can add lemon juice and healthy fats.
Notes
I have been using 2 to 3 grams of fresh turmeric root per shot serving. This is the quantity experts suggest.
Raw and boiled turmeric each have their own benefits. If you do not prefer raw turmeric shots, you may boil the sliced turmeric root first. Experts suggest boiling for a short duration for better absorption.
Too much turmeric can cause side effects like nose bleeds, stomach cramps, constipation etc. So be cautious if you consume it regularly, for over 5 days.
Note that turmeric can interfere with your medications. If you are on any medications, please check with your doctor before you consume these shots.
We do not consume turmeric shots on empty stomach. My experience is they work better when your stomach is neither empty nor too full.
Please do not use regular turmeric roots or regular ground turmeric for making these shots as they are mostly treated chemically or even contain additives. Use organic products only.
Avoid using cold shots. Shots that are warm or at room temperature are best for digestion and absorption.
Alternative quantities provided in the recipe card are for 1x only, original recipe.
For best results follow my detailed step-by-step photo instructions and tips above the recipe card.
NUTRITION INFO (estimation only)
Nutrition Facts
Turmeric Shots Recipe
Amount Per Serving
Calories 40
Calories from Fat 9
% Daily Value*
Fat 1g2%
Sodium 4mg0%
Potassium 121mg3%
Carbohydrates 10g3%
Protein 1g2%
Vitamin A 4IU0%
Vitamin C 7mg8%
Calcium 12mg1%
Iron 2mg11%
* Percent Daily Values are based on a 2000 calorie diet.
Disclaimer: The information shared in this post should not be considered for treatment or cure of any disease. Please see the doctor for appropriate treatment. I have shared my personal experience along with our family recipe.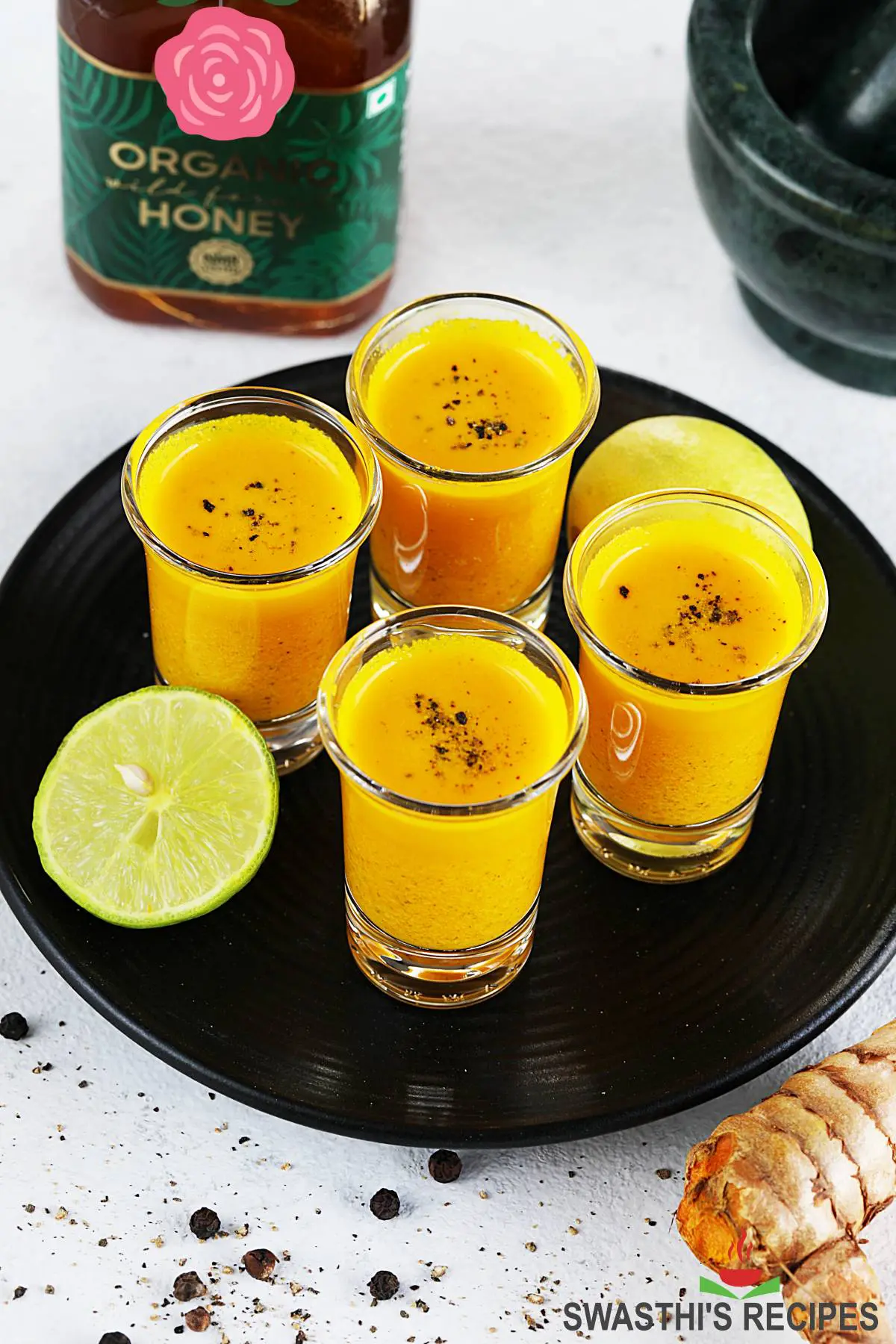 About Swasthi
I'm Swasthi Shreekanth, the recipe developer, food photographer & food writer behind Swasthi's Recipes. My aim is to help you cook great Indian food with my time-tested recipes. After 2 decades of experience in practical Indian cooking I started this blog to help people cook better & more often at home. Whether you are a novice or an experienced cook I am sure Swasthi's Recipes will assist you to enhance your cooking skills. More about me
Follow Swasthi's Recipes