Rice kheer recipe – Kheer is a one pot traditional Indian sweet dessert made for festivals & celebrations. Chawal ki kheer or rice kheer is one of the most made sweet dishes in many Indian homes. Kheer and payasam are the terms used interchangeably and both are derived from the sanskrit terms "ksheer" & "payasa" both meaning milk. Rice kheer is made with full fat milk, rice, sugar and cardamom powder.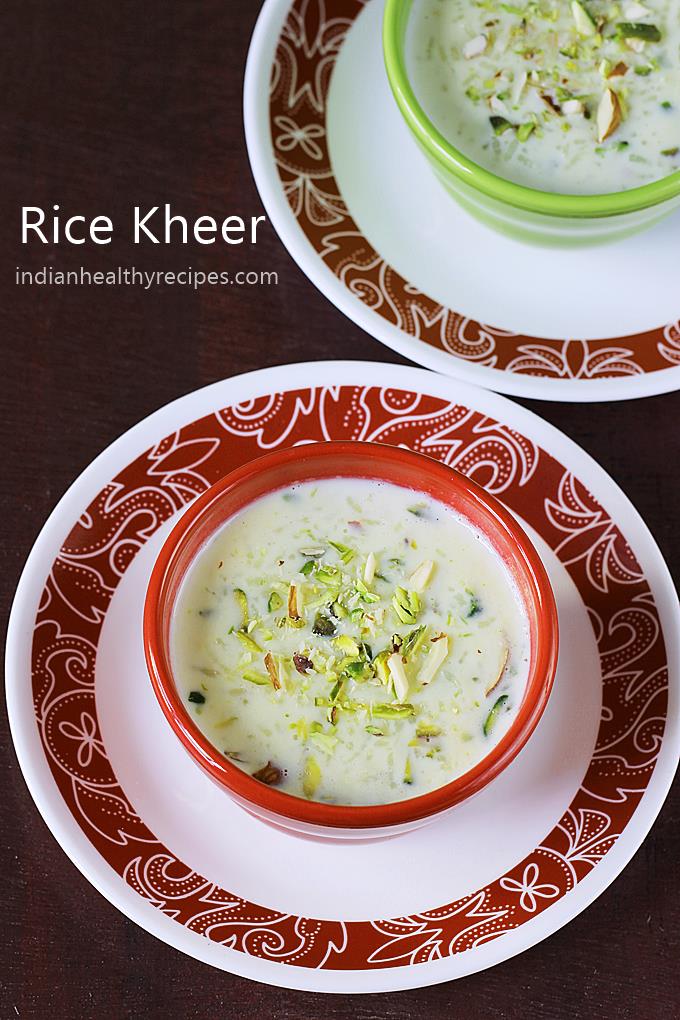 Though there are many kinds of kheer, the one made with rice is most common one. This is similar to the rice payasam made with jaggery in the south.
We make kheer at home during festive occasions. Most times with jaggery and sometimes with sugar.
To make rice kheer, many people prefer basmati rice since it makes the dish very flavorful. The rich, creamy and delicious taste comes from simmering the milk on a low heat for some time. If you are new to Indian cuisine, these FAQ may help you.
What is kheer?
Kheer is a traditional Indian pudding made using milk, rice and a sweetener. Instead of rice it can also be made with other ingredients like vermicelli, sago and even with carrots. But rice kheer is the traditional one.
How to make kheer?
Kheer is made by simmering rice in full fat milk until it is cooked. Then it is sweetened and flavored with cardamom powder. It is garnished with nuts and raisins.
Which rice is used to make kheer?
Most commonly basmati rice is used to make kheer as it lends a fragrant & delicious aroma. However in different regions of India, different kinds of rice are used which are grown locally. So feel free to use any normal rice if you do not have basmati rice.
Can I use jaggery to make kheer?
Yes kheer can be made with jaggery. There are 2 ways to add jaggery. The first method is to bring down the temperature of the kheer first and then add the powdered jaggery.
The second method is to make a jaggery syrup first, filter to remove impurities and then cool it down completely. Just stir it to the cooked milk & rice
More kheer recipes
Vermicelli kheer
Badam kheer
Sheer khurma
Sabudana kheer
Moong dal kheer
Rice kheer recipe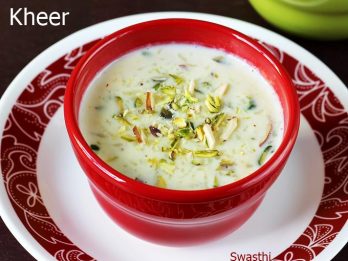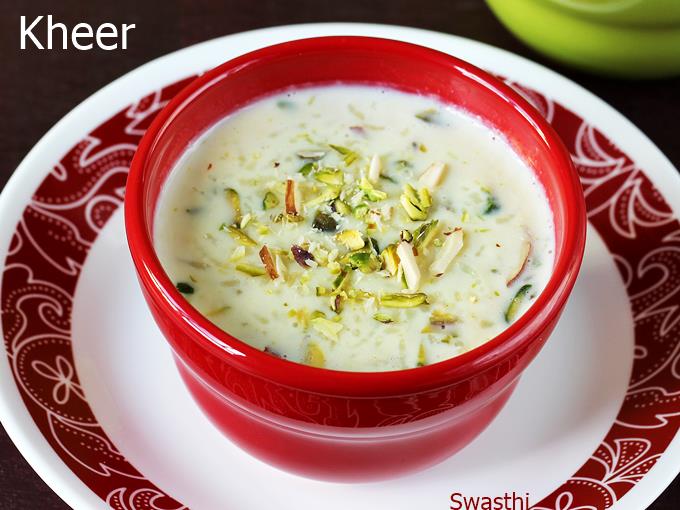 Kheer recipe
Rice kheer recipe - Kheer is a Indian pudding made with rice, milk and sugar. This rice kheer is one of the most delicious dessert made on festive occasions and celebrations. Garnish with sliced nuts.
Ingredients (240 ml cup used)
Ingredients for kheer
4

cups

milk

(or 1 liter full fat milk)

¼

cup

rice

(basmati or any rice)

1/3 to ½

cup

sugar

(prefer organic) (1/3 cup for moderate sweetness)

2 to 3

green cardamoms

(or elaichi powdered)

2

tbsp

almonds

or badam (blanched & chopped) or cashews

2

tbsp

pistachios

(blanched & chopped)
How to make the recipe
Preparation for rice kheer recipe
Wash rice and soak in water for about 30 mins. This helps to cook the rice quickly.

Bring 1 cup water to a boil. Then add nuts and soak for about 10 mins. Peel off the skin and pat dry. Chop them as desired. Alternately, you can just use some dry roasted cashews.
How to make rice kheer
While the rice soaks, bring milk to a boil in a large heavy bottom pot.

Add drained rice and begin to cook on a medium flame until the rice is soft, completely cooked and lightly mushy.

Then add sugar. Stir and continue to cook until the kheer turns thick. Keep stirring often in between to prevent burning.

Add cardamom powder and nuts. Stir and continue to cook for 5 minutes.

Switch off when the rice kheer reaches a desired consistency. It is good to switch off when it is of a runny consistency. It thickens once it cools down.

Garnish rice kheer with more nuts and serve.
Recipe Video
Video of rice kheer recipe
Nutrition Facts
Kheer recipe
Amount Per Serving
Calories 307
Calories from Fat 108
% Daily Value*
Total Fat 12g 18%
Cholesterol 24mg 8%
Sodium 105mg 4%
Potassium 420mg 12%
Total Carbohydrates 40g 13%
Protein 10g 20%
* Percent Daily Values are based on a 2000 calorie diet.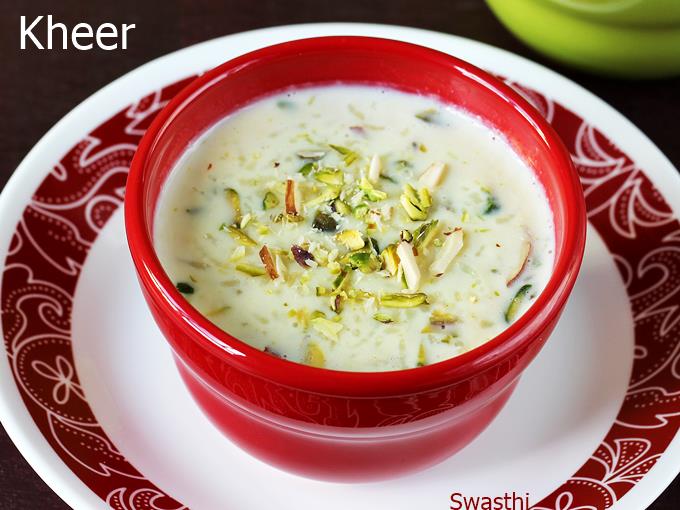 Preparation for rice kheer recipe
1. Keep your ingredients ready. We will need about 4 cups or 1 liter of full fat milk. 1/3 to ½ cup of sugar, ¼ tsp cardamom powder, ¼ cup basmathi rice, you can also use any other rice. Nuts as desired. You can also use sweet raisins.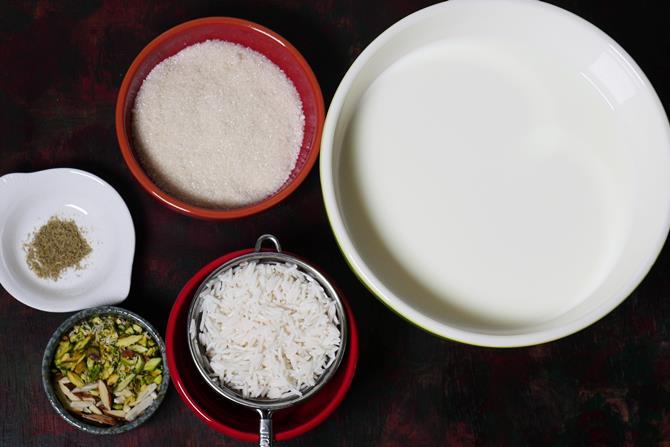 2. Wash and soak rice for about 30 mins. This helps to cook the rice quickly. Drain and set aside.
3. While the rice soaks, you can blanch the nuts in hot water and peel off the skin. Chop them and set aside. OR Alternately, you can just use some roasted cashews and skip blanching nuts.
How to make rice kheer
4. Add milk to a heavy bottom pot and bring it to a boil on a medium flame. You can also grease your pot with ghee or rinse it before use. This prevents the milk fats from sticking up to the bottom.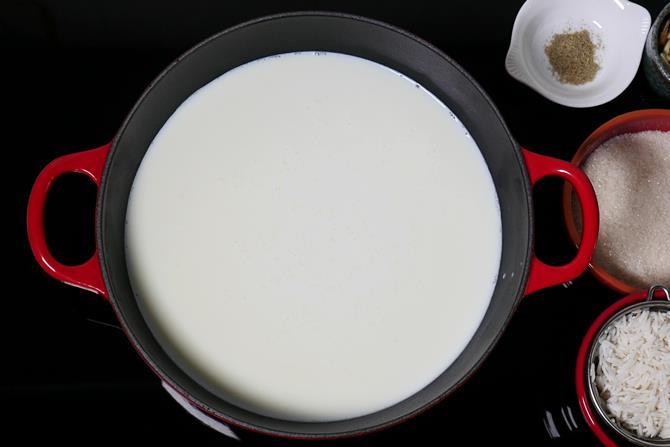 5. When it turns hot or comes to a boil. Add drained rice.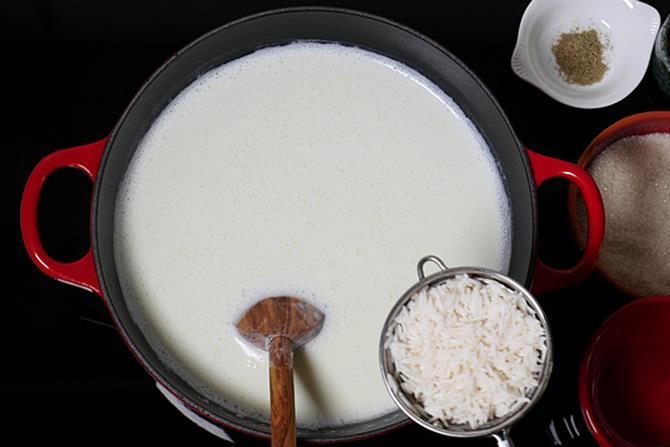 6. Keep stirring often to prevent burning. Keep the flame on low to medium.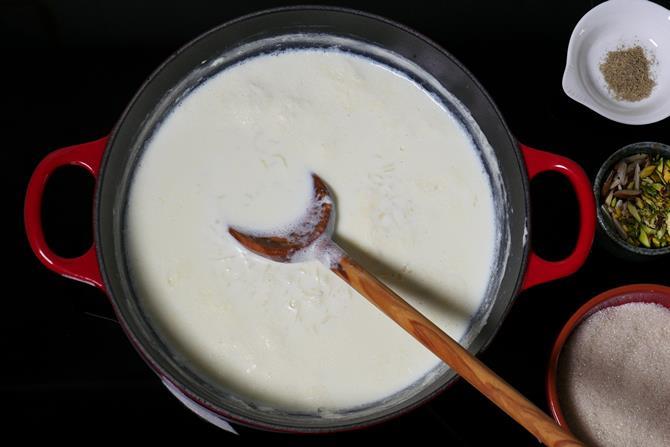 7. Cook until rice is soft and slightly mushy. You can mash it with a spoon and check.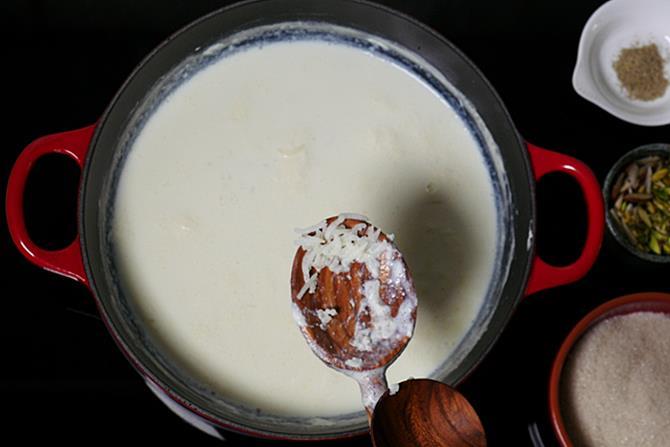 8. Add Sugar. You can add more or less to suit your taste.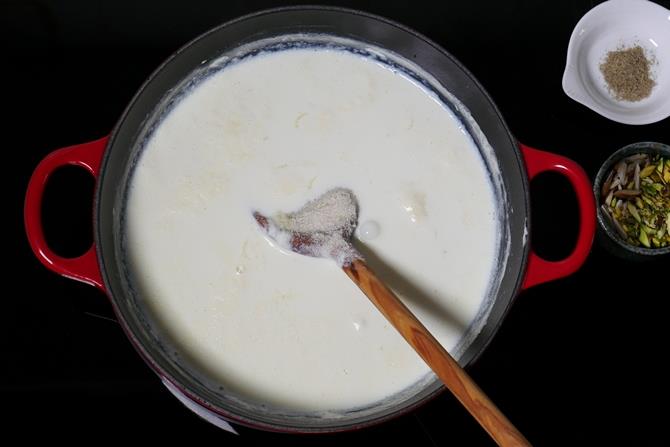 9. Lower the flame and cook until the kheer thickens. You will have to scrape the sides and stir often.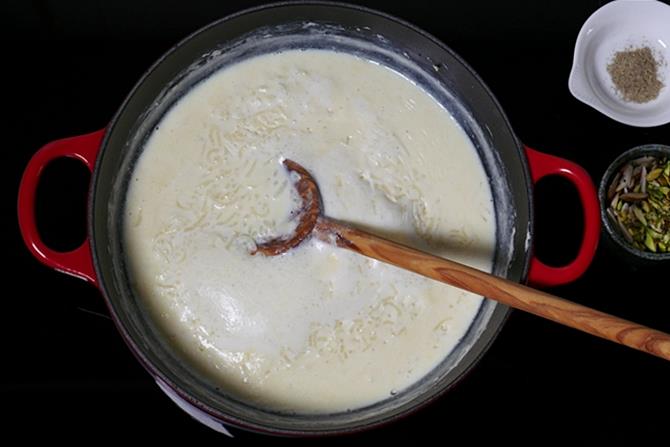 10. Add nuts and cardamom powder. Stir and cook for 5 mins. If adding raisins just do it towards the end. Do not cook after adding them.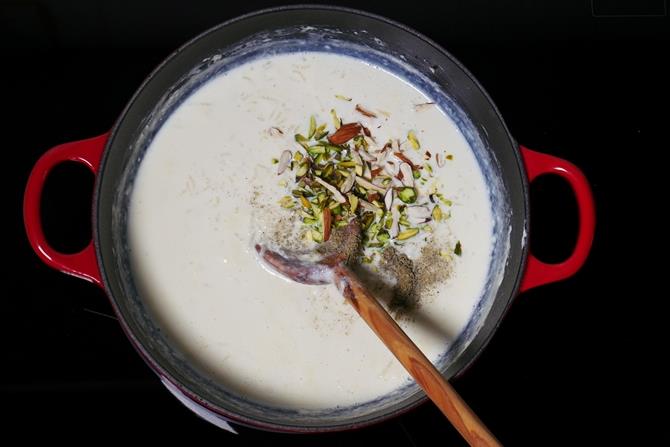 11. When it reaches a thick but of runny consistency switch off the stove. It thickens upon cooling down.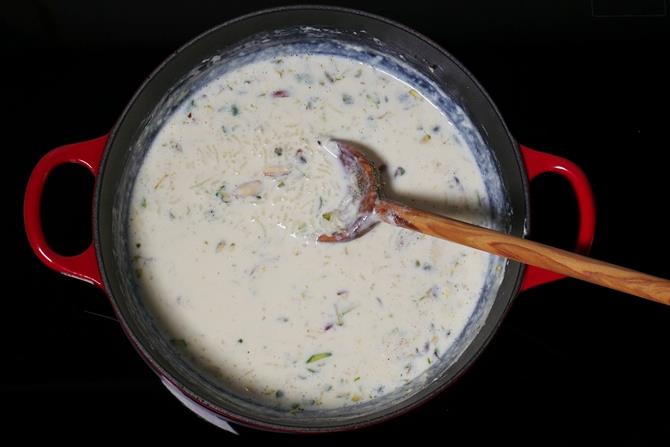 Garnish rice kheer with nuts before serving.