Badam burfi recipe – Badam katli is an Indian sweet made with almonds, sugar & cardamom powder. This delicately flavored almond burfi is delicious & rich with a melt-in-the-mouth texture. It is apt to make this for any festivals or celebrations. Badam katli also make an amazing gift.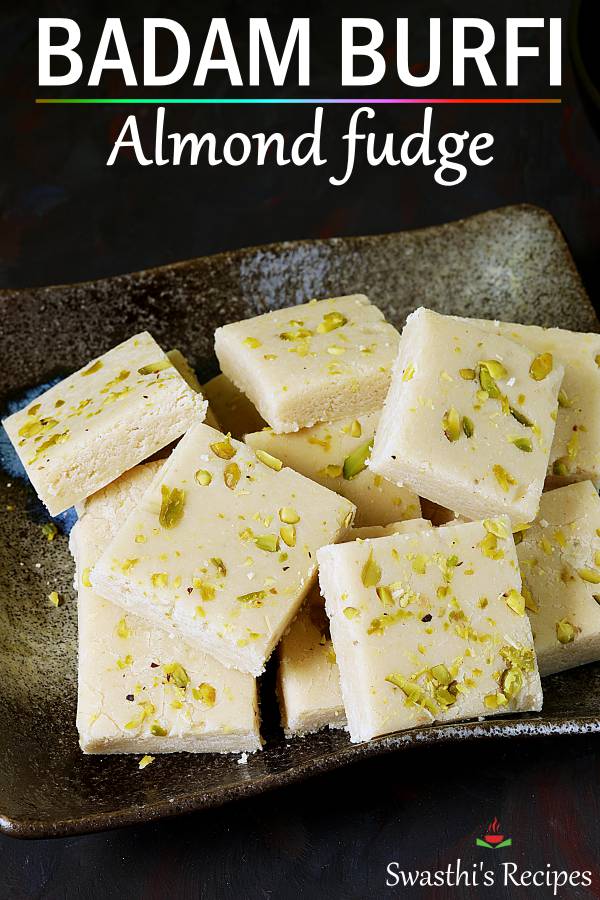 There are a few different ways to make almond barfi. Traditionally it was made by soaking, peeling, blending and then adding it to reduced milk. Cooked further to get a thick consistency that would set to burfi upon cooling.
This almond burfi is vegan as there is no milk or ghee used in the recipe. Making this is quite easy and can also be tried by beginners since the recipe does not require any sugar syrup or string consistency.
If you have the ready almond meal, you can also use that in the recipe. More details in the recipe card below.
More badam or almond recipes on the blog
Badam milk
Easy badam ladoo
Badam payasam
badam halwa recipe
Tips
Toasting almonds: Blanched almonds have some moisture in them. So I have toasted them lightly just to dry them up. You may also air dry or sun dry them.
Trying to blend moist almonds most times makes the almond meal very coarse. So dry them well and then blend them.
Making almond meal: The key to a good almond burfi is not to over blend the almonds. Almond meal can be slightly coarse and is just fine to use the coarse one here. Do not over blend the almonds to the extent they begin to release oils.
Sugar syrup: We don't need a string consistency for this recipe. You can just add the almond meal once the sugar dissolves completely in the water.
Water: Adding too much water to make the syrup will increase the cook time and may also affect the color of the badam burfi. So just use as mentioned in the recipe.
Color: I do not use any kind of food coloring in our foods. So I have not added anything here. But you may add some organic color if you prefer.
Flavor: We love the cardamom flavor so I have used only that. However you may also use few drops of rose or kewra water for fragrance.
Substitutes:
Almonds: You can also use store bought blanched or silvered almonds or even almond meal for this.
More similar recipes,
Jalebi recipe
Gulab jamun
Rasgulla
Kaju katli
Anjeer barfi
I have made these the same way I make the Kaju katli. The only difference is the almonds need to be blanched and then almond meal has to be prepared. You can take a look at the video to get an idea of the recipe.
Badam burfi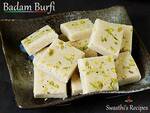 Badam burfi | Badam katli | Almond burfi
Badam burfi is a Indian style fudge made with blanched almonds. sugar and cardamom powder. This recipe is simple to make and tastes great. You can also use store bought almond meal to make the badam burfi.
Ingredients (1 cup = 240ml )
¾

cups

almonds

or badam or 1 cup almond meal

½

cup + 2 tbsps

sugar

¼

teaspoon

cardamom powder

¼

cup

Water

1

tablespoons

pistachios

chopped for garnish (optional)

1

teaspoon

fats

(optional) (Ghee or flavorless oil or almond oil)

1

teaspoon

fats

for greasing (ghee or flavorless oil)
How to make the recipe
Preparation for almond burfi
Blanching: Bring 2 cups of water to a boil.

Then add almonds and leave them for a minute or 2. Drain them to a colander.

Immediately pour cold water and rinse them.

Rest them for a minute. Drain off the water completely.

Spread them on a absorbent cloth and wipe off.

Peel the almond skin. Air dry them for a while. Do not powder moist almonds.

To quicken the process, I toast the almonds on a low heat just until the moisture vanishes.

Powder: Add the moist free almonds to a blender jar and make a powder by pulsing them.

Do not over blend the mixture to a state where it begins to release oils.

Pulse them for a few seconds, scrape the sides & repeat.
How to make badam burfi
Add sugar to a non-stick pan and pour water. Dissolve it completely.

Bring the sugar syrup to a rapid boil. Reduce the flame to medium.

Then add the powder and mix to blend everything well.

You can also take it off the stove for a while and mix it.

On a medium flame, keep stirring and cook till the mixture begins to leave the sides of the pan.

optional – If it doesn't then add 1 tsp of ghee or almond oil. I haven't used any.

Then add cardamom powder. Cook until it leaves the pan.
Check if mixture is ready
When the mixture leaves the pans & turns thick, set the pan aside. Take ¼ tsp of the mixture and cool it.

Grease your fingers and roll it to a ball. You must get a ball that isn't sticky. If not then cook it further.

Immediately transfer the mixture to a parchment paper or greased plate.

Let the temperature cool down a bit.

When it is still slightly hot, grease your hands and knead it well for 2 to 3 mins to get a smooth dough.

Do not leave it to cool completely as the mixture will harden and cannot be kneaded.

Place it on a parchment paper and cover it.

Roll it with a rolling pin to desired thickness.

Sprinkle chopped nuts and roll it again lightly to tuck the nuts.

Then slice to squares or diamonds. Cool completely.

Store badam burfi in an airtight jar. Keep refrigerated and use.
NUTRITION
Calories:
171
kcal
|
Carbohydrates:
22
g
|
Protein:
3
g
|
Fat:
9
g
|
Saturated Fat:
2
g
|
Cholesterol:
5
mg
|
Sodium:
1
mg
|
Potassium:
104
mg
|
Fiber:
2
g
|
Sugar:
19
g
|
Calcium:
35
mg
|
Iron:
1
mg
Notes
I did not use any kind of fats to cook the mixture. If the mixture doesn't leave the pan, then do add a tsp of ghee or any flavorless oil. So for ease use non-stick pan.
For greasing my hand, I used refined coconut oil that has no flavor. You can use ghee or any other fats that do not have flavor. 
After the mixture is poured to the parchment paper, the mixture should turn very thick and become like a soft mass as it cools down a bit. After you knead it should not be sticky and should be able to make a soft ball. This is the right consistency.
If you go wrong at this step, put back the mixture immediately on the stove and cook further for a short time.
I doubled the recipe and got about 15 pieces.
For more similar recipes, you can check
mawa peda
easy kalakand
chocolate burfi
quick rasmalai
Preparation
1.Add almonds to 2 cups of hot boiling water. Off the stove and rest them for a minute or 2.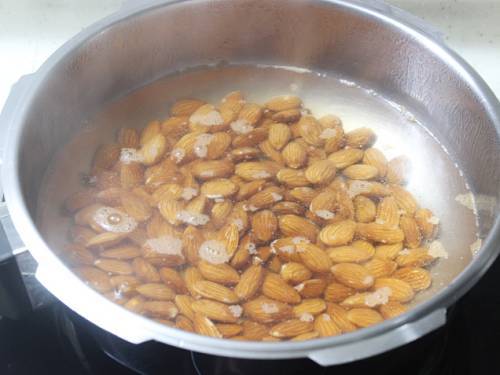 2. Drain off the water and rinse under running water in a colander.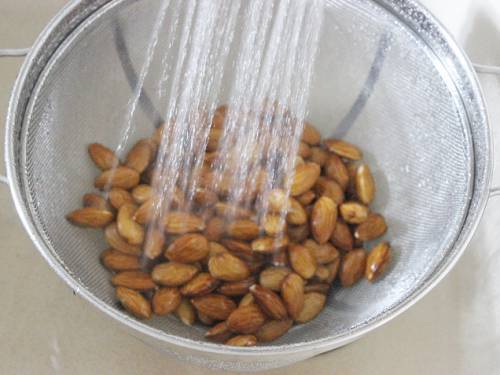 3. Spread them on a clean absorbent cloth.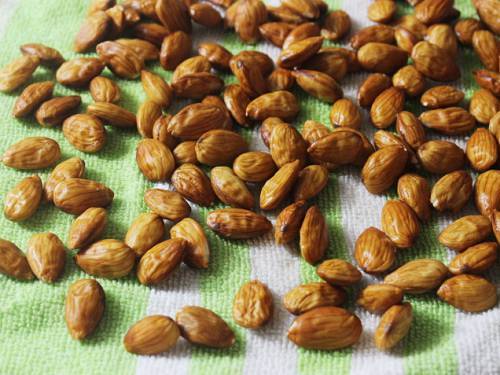 4. Skin becomes loose. Just remove them, they come off easily.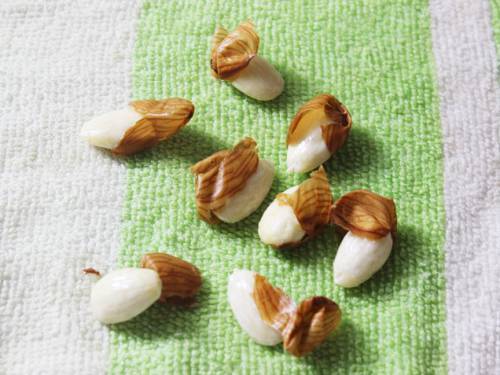 5. Air dry them until completely dry. Do not powder moist almonds as the almond powder will be too coarse.
Optionally you can add them to a wide pan and roast them lightly till they look dry and moist free. Do not discolor the almonds.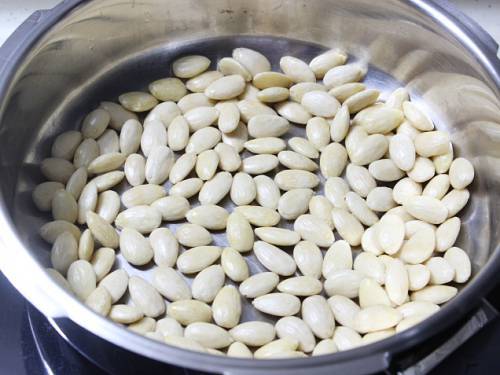 6. Cool them and powder them in a blender. Keep this aside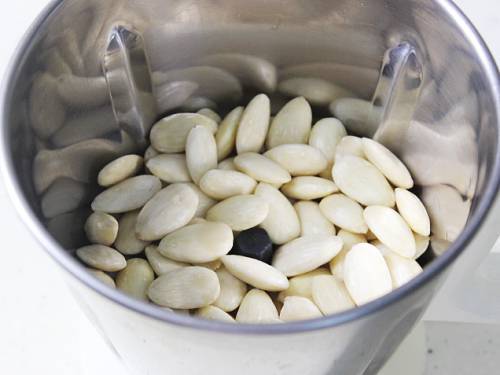 7.Do not aim to get fine powder. A slightly coarse powder will do. Do not over blend otherwise the nuts will release oil.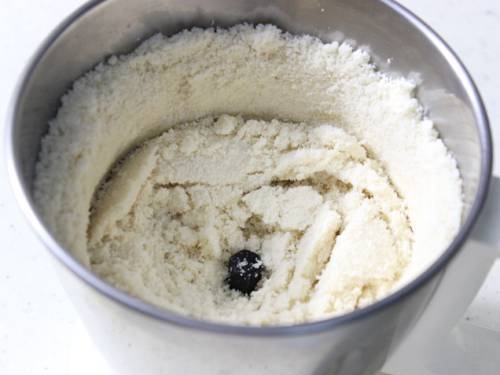 How to make badam burfi
8. Add sugar and water to a nonstick pan. Dissolve the sugar completely on a low flame. I also added the cardamom powder here.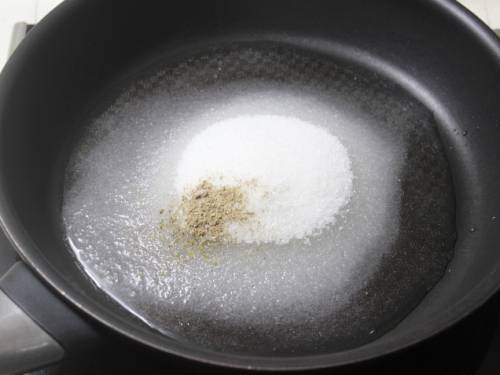 9. Make sure the sugar has dissolved completely. Bring it to a rapid boil.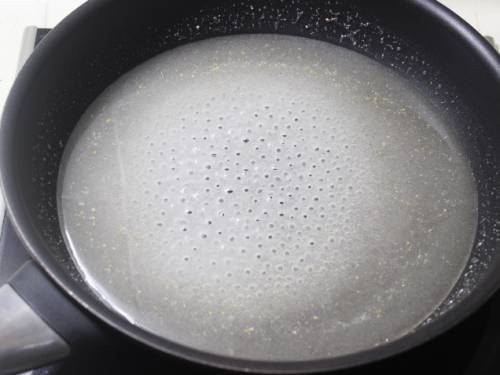 10. Immediately add the almond powder. Take off from the stove, set aside and mix well to break lumps.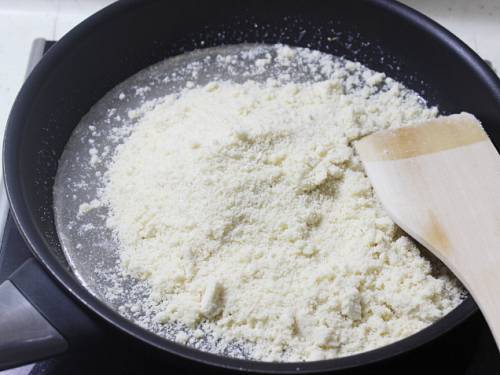 11. Put it back on the stove. Begin to cook stirring continuously on a medium flame.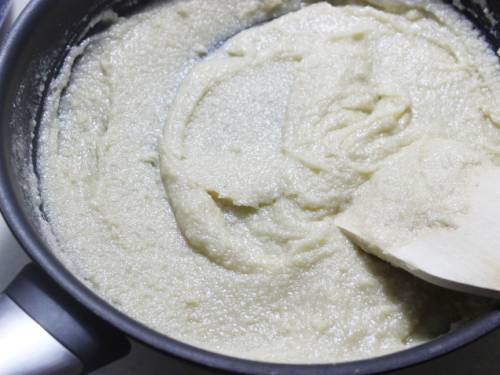 12. Very soon the mixture will thicken and begin to leave the sides. Add cardamom powder at this stage.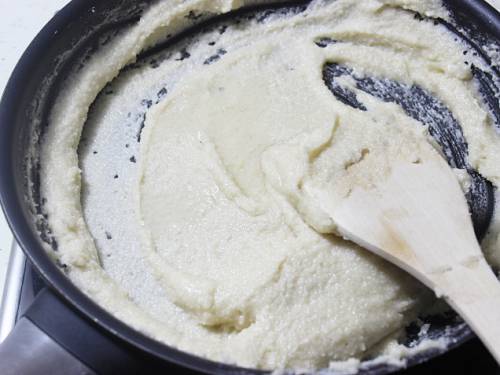 13.Then add ghee or oil and mix well. Cook until the mixture begins to leave the sides & turns very thick. I did not add any fats but just cooked a bit further to ensure the mixture is thick.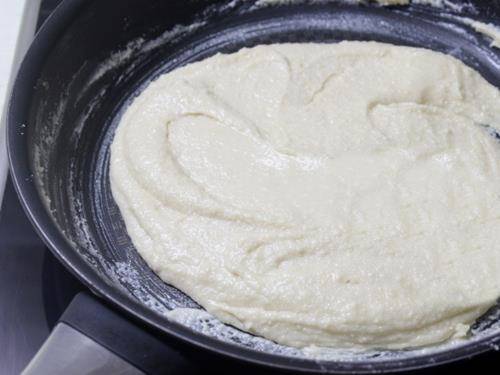 Test the mixture
When the mixture leaves the sides of the pan, remove the pan from the stove and keep aside. Take about 1/4 tsp of this mixture and cool a bit. Grease your fingers and roll it to a ball.
This is the right consistency. The ball must be non-sticky and dry.
14. Pour this to a greased plate or foil or butter paper. Cool down a bit until you can handle it. Do not cool completely as the mixture will harden and cannot be shaped.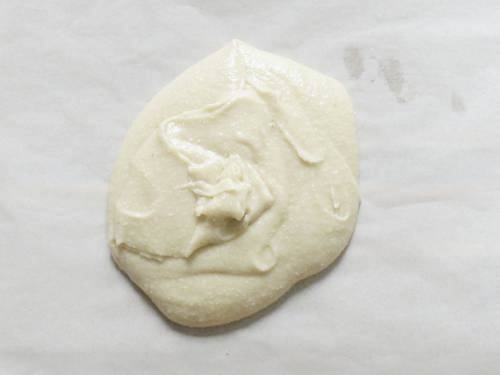 15. Grease your fingers and knead it well until you get a smooth dough.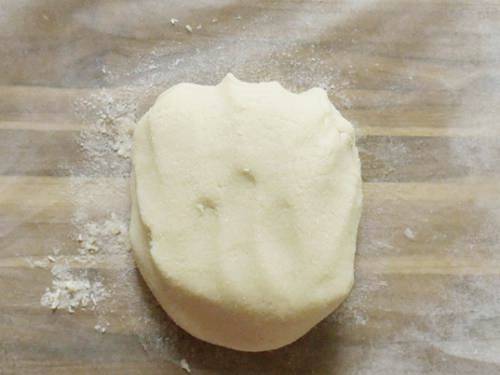 16. Cover the dough with a parchment paper and and roll it using a rolling pin to desired thickness. I did mine to 1/4 inch.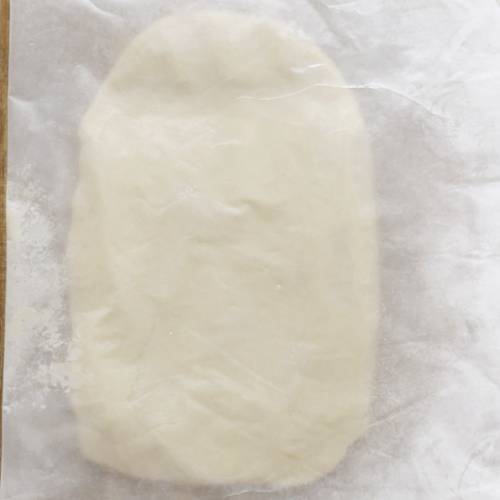 17.Sprinkle some nuts and roll it again gently. Cut to desired shape. Since I doubled the recipe I got 15 badam burfi pieces. With the above recipe you will get 8 pieces.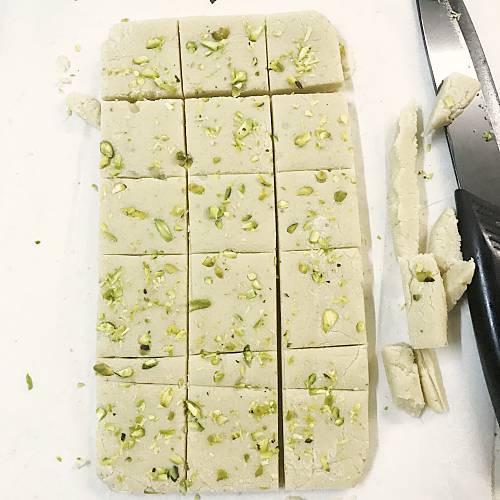 Cool completely and store them in a air tight jar.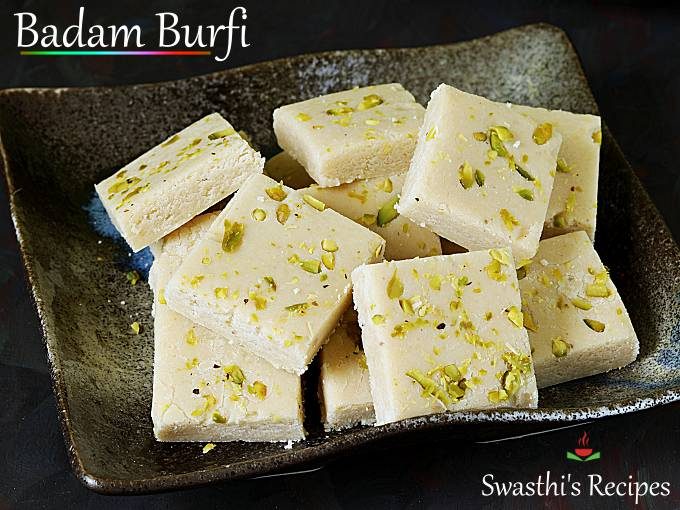 13. Cut badam katli to desired shapes with a greased knife or pizza cutter.