Cumin Powder, How To Make & Use It
Learn How to make Cumin Powder at home – a quintessential of Indian cooking. Homemade Cumin Powder is pure, with a burst of flavors, easy to make and is more economical. Cumin is the seed of the flowering plant cuminum cyminun which belongs to the Apiaceae family. Apart from imparting an earthy, smoky and delicious flavor to the food, cumin also provides some nutritional and health benefits.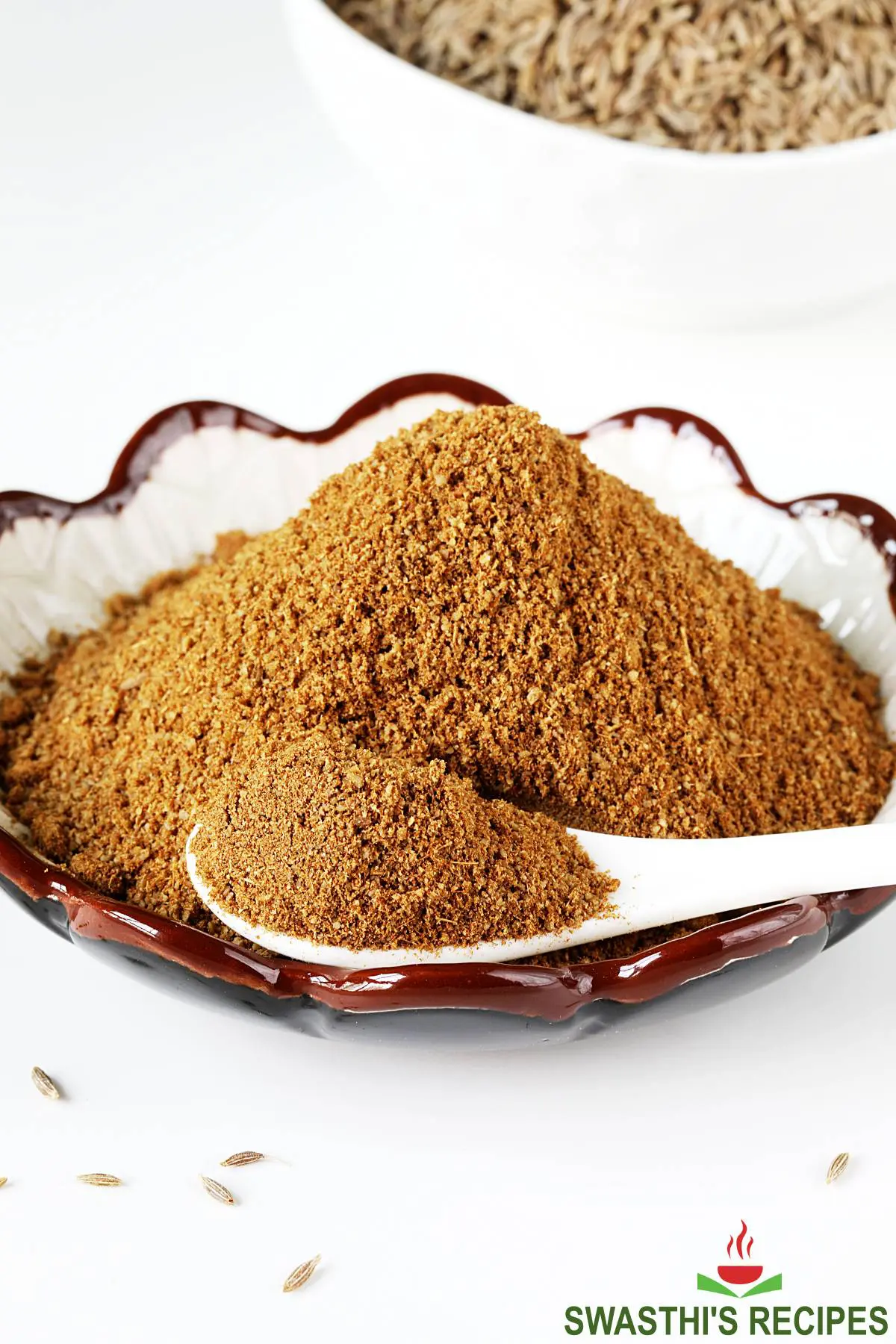 It is basically used in 2 different forms – 1. Whole seeds and 2. Ground form which is known as ground cumin, cumin powder and jeera powder (in Indian languages). While it is commonly used in the Indian sub-continent, it is also used in the Mediterranean region, Latin America, North Africa, Mexico and the Middle East.
In Indian cooking, the whole seeds are usually added to hot oil or ghee. This process known as tadka or tempering brings out the complex flavor and aroma of the spice. Whereas cumin powder is added to dishes while simmering (curries/gravies) or at the finishing stage like in stir fry dishes, soups, salads, chaats etc.
Cumin powder plays a very important role in a recipe and it cannot be substituted with the whole seeds and vice versa.
Why Homemade Cumin Powder?
Homemade cumin powder is more flavorful than the store bought bottled one for the simple reason that ground spices oxidize and begin to lose their real flavor overtime. Store bought cumin powder can never have the same amazing depth of flavor as the homemade one.
So I always make it at home in small batches. All you need is good quality whole cumin seeds, preferably organic or at least NON-GMO kind & a good spice grinder. Store bought cumin powder comes in 2 kinds.
Raw cumin powder where the seeds are simply ground without roasting. This is mostly labelled as ground cumin. This kind of cumin powder is always added while simmering/ cooking dishes like curries, soups etc.
Roasted cumin powder which is made by roasting the seeds first. Then they are ground. This kind of powder can be used while simmering, finishing or for garnishing. It is also known as bhuna jeera powder.
Why Roasting is Important?
Whole cumin seeds naturally taste sharp and slightly bitter. Roasting them not only reduces these sharp and bitter tastes but also enhances the flavor profile by releasing a more earthy and warming flavors. Once you begin to use the roasted cumin powder you will never want to go back to the unroasted one. Also this step of roasting makes it more shelf stable and lasts longer.
However unroasted cumin powder can be used in marinades, grilled dishes, fried foods, soups and stews where it is added much earlier in cooking.
Making your own cumin powder at home is a 2 step process. The first step is to roast the whole seeds on a really low heat to bring out the aroma. Then they are cooled down and ground in a spice grinder to a very fine powder. Stored in a clean air tight glass jar, this homemade ground cumin retains its flavor for 2 to 3 months.
So this well-known spice not only flavors & adds nutrition to your dishes but also has immense potential to work on the overall body system.
Recipes using Cumin
Jeera water
Jeera Aloo
Garam masala
Jeera rice
How to Make Cumin Powder (Stepwise Photos)
1. Add cumin seeds to a pan.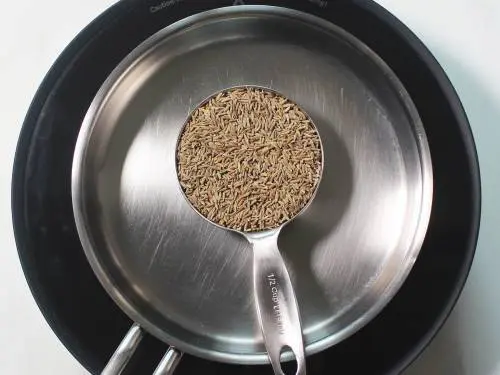 2. Begin to dry roast on a medium heat stirring often for 1 to 2 minutes.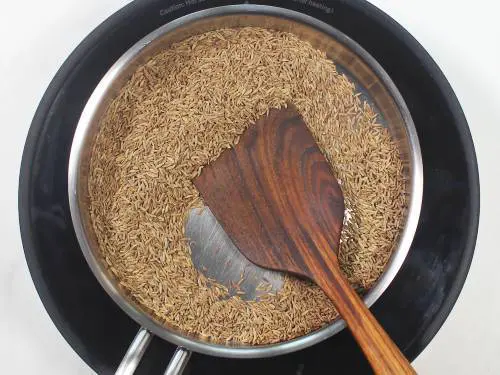 3. Once they become hot, turn down the flame to lowest and keep stirring. Within 1 to 2 minutes, they will begin to smell good, earthy, strong and aromatic. They will also turn slightly deeper in color. Turn off the heat and remove from the stove. Keep stirring for another 1 to 2 minutes after taking it off the heat. Cool completely.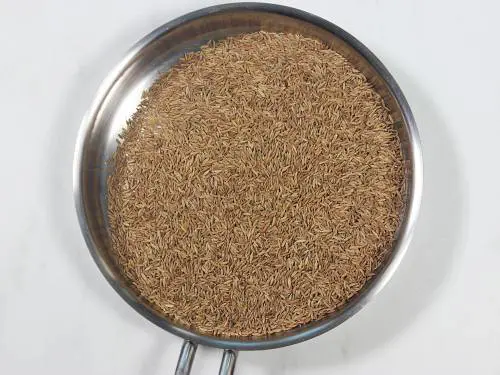 4. Add them to a spice grinder and grind in intervals of 30 to 50 seconds until fine.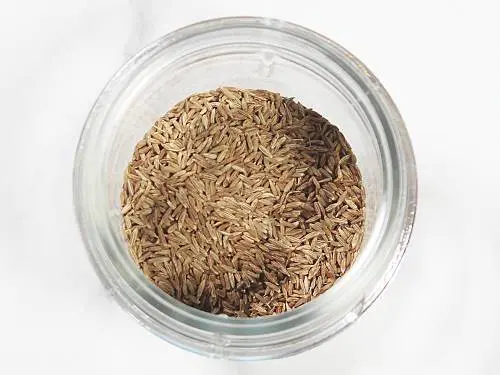 5. Scrape down the sides with a spoon and grind a little longer if needed.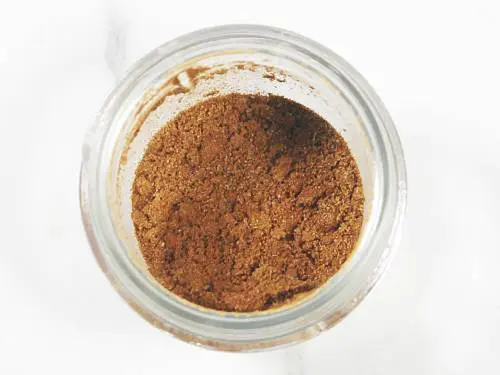 6. If you do not have a powerful grinder, sieve it and grind the coarse ground spices again. Let the cumin powder cool down completely after grinding. Store in a air tight glass jar and store it in pantry for 2 to 3 months. If stored in the refrigerator it keeps good for 6 months or even longer. If you make it in larger quantities, store them in separate smaller jars and use them one after the other so the flavors remain intact for longer.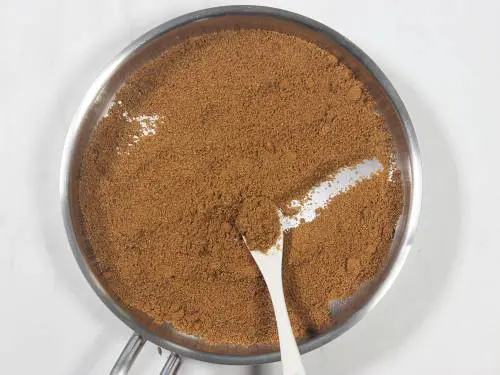 How to Use Cumin Powder?
You can sprinkle this in your stir fry dishes, curries, soups, salads, chaats etc. It is best to use this when you are about to finish in stir fry and soups. To use it in curries, use it along with coriander powder or garam masala. To use it in raita, salads and chaats, sprinkle as much when you are serving.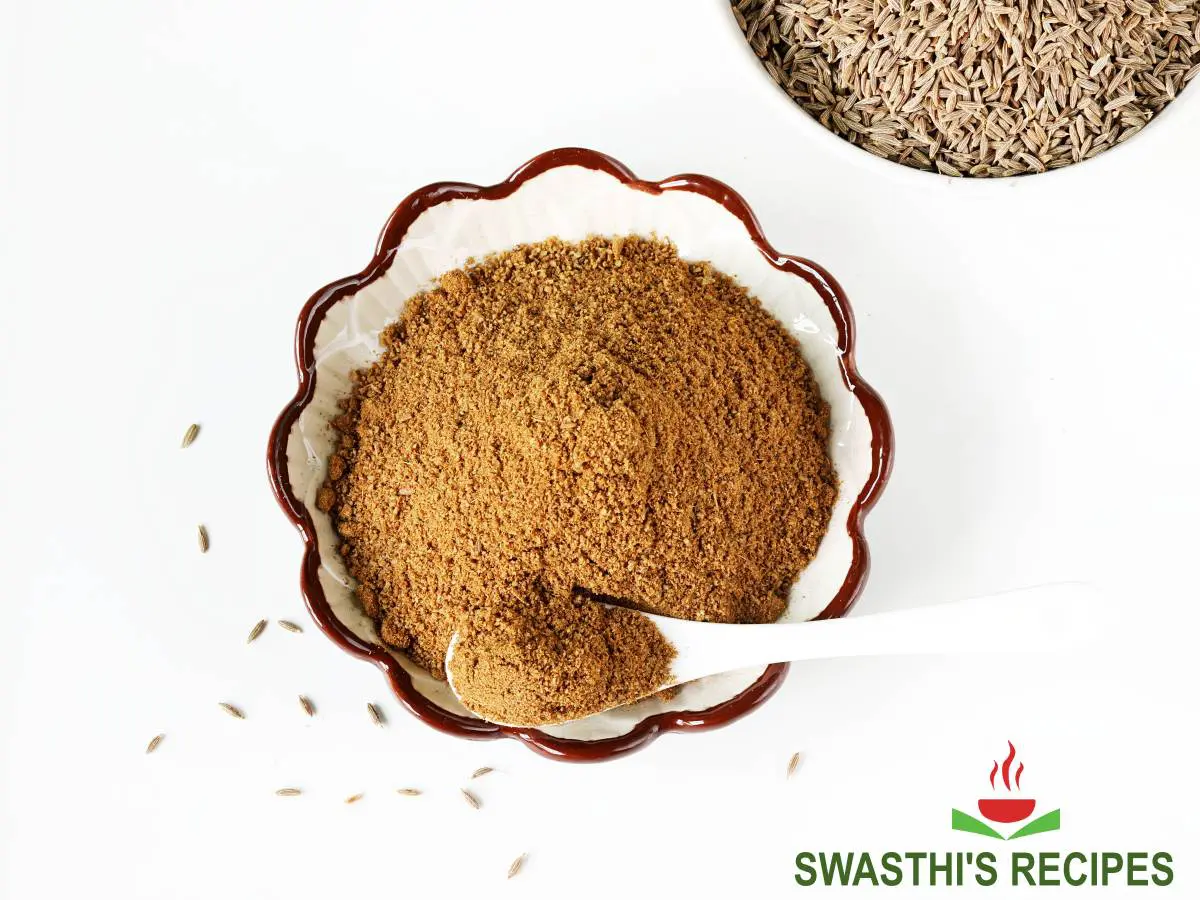 What does Ayurveda say about cumin?
According to Ayurveda, Cumin is very helpful in balancing the doshas (imbalances in the body) but it should be had with another ingredient, depending on your predominant dosha (imbalance).
Because its effects are hot, if you have a Pitta tendency, you need to take jeera with a cooling ingredient to mitigate its hot effects. Ghee or coconut oil is cooling, so have the jeera powder with either of these fats.
If you have a high Vata, then mixing it with sesame seed oil will be beneficial to balance the doshas. For people with Kapha, jeera is automatically balancing. Its health giving properties improve when had with honey for Kapha dominant people.
Benefits of Cumin
Here are some health benefits this spice offers:
Digestion – Cumin improves digestion by stimulating digestive enzymes. This helps with the digestive process, increasing the absorption of nutrients from food and making fat easier to break down. Cumin reduces indigestion & hyperacidity and improves appetite.
Weight loss – Cumin helps with weight loss as it increases metabolism, enabling your body to lose weight naturally. It also detoxifies the body and reduces belly fat.
Immunity – when your immune system works well, you can ward off many infections caused by viruses and bacteria naturally. Cumin improves immunity and reduces the risk of falling ill. It is very helpful if you are prone to catching colds and coughs due to seasonal change and lowered immunity.
Diabetes – For diabetics, blood sugar fluctuates a lot during the day. Cumin especially cumin water helps balance sugar levels in the body by improving insulin in the body.
Blood pressure – hypertension is a factor in many ailments and can lead to heart problems and brain stroke. Potassium in cumin helps balance the blood sugar since it counteracts salt, which increases blood pressure.
Anemia – low levels of hemoglobin in the blood causes anemia. Lower than normal levels also result in reduced energy and sluggishness. Thanks to the high iron content, cumin increases hemoglobin and combats anemia.
Anti-aging – rich in Vitamin E and antioxidants, cumin may help fight free radicals that cause premature aging and is believed to increase longevity.
Improves lactation – many women face a problem with breast milk when they are lactating. Cumin water improves milk secretion and also builds strength in mother and baby.
Memory – Cumin gives better brain health, has memory boosting properties and may be helpful in nervous system disorders.
References: https://www.ncbi.nlm.nih.gov/
Recipe Card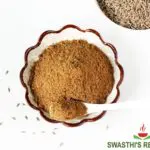 Cumin Powder
Learn to make cumin powder at home with the help of these simple steps. Homemade ground cumin is more aromatic, pure, hygienic and economical than the store bought.
Pin Recipe
Print Recipe
For best results follow the step-by-step photos above the recipe card
Ingredients (US cup = 240ml )
½

cup

cumin

seeds (72 grams)
Instructions
How to Make Cumin Powder
Clean cumin seeds and add them to a heavy bottom pan. Turn on the heat to medium and keep stirring until the seeds become hot to touch.

Reduce the heat to the lowest and roast them. Keep stirring continuously so the seeds roast evenly.

When done, they will emit a strong earthy, pungent and smoky aroma. Remove from heat. Do not over roast they will burn and taste bitter.

Cool them completely and add to a grinder. Grind in short intervals of 30 to 50 seconds until ground to a fine powder.

Cool completely and transfer to a air tight glass jar. If you plan to store for longer, store in smaller jars and use them one after the other so most of the aroma is retained.

Use cumin powder as needed in curries, stir fry dishes, soups, salads and chaats.
Notes
The nutrition values is for 1 gram (half teaspoon) of ground cumin.
Alternative quantities provided in the recipe card are for 1x only, original recipe.
For best results follow my detailed step-by-step photo instructions and tips above the recipe card.
NUTRITION INFO (estimation only)
Nutrition Facts
Cumin Powder
Amount Per Serving
Calories 3
Calories from Fat 9
% Daily Value*
Fat 1g2%
Sodium 1mg0%
Potassium 13mg0%
Carbohydrates 1g0%
Protein 1g2%
Vitamin A 9IU0%
Vitamin C 1mg1%
Calcium 7mg1%
Iron 1mg6%
* Percent Daily Values are based on a 2000 calorie diet.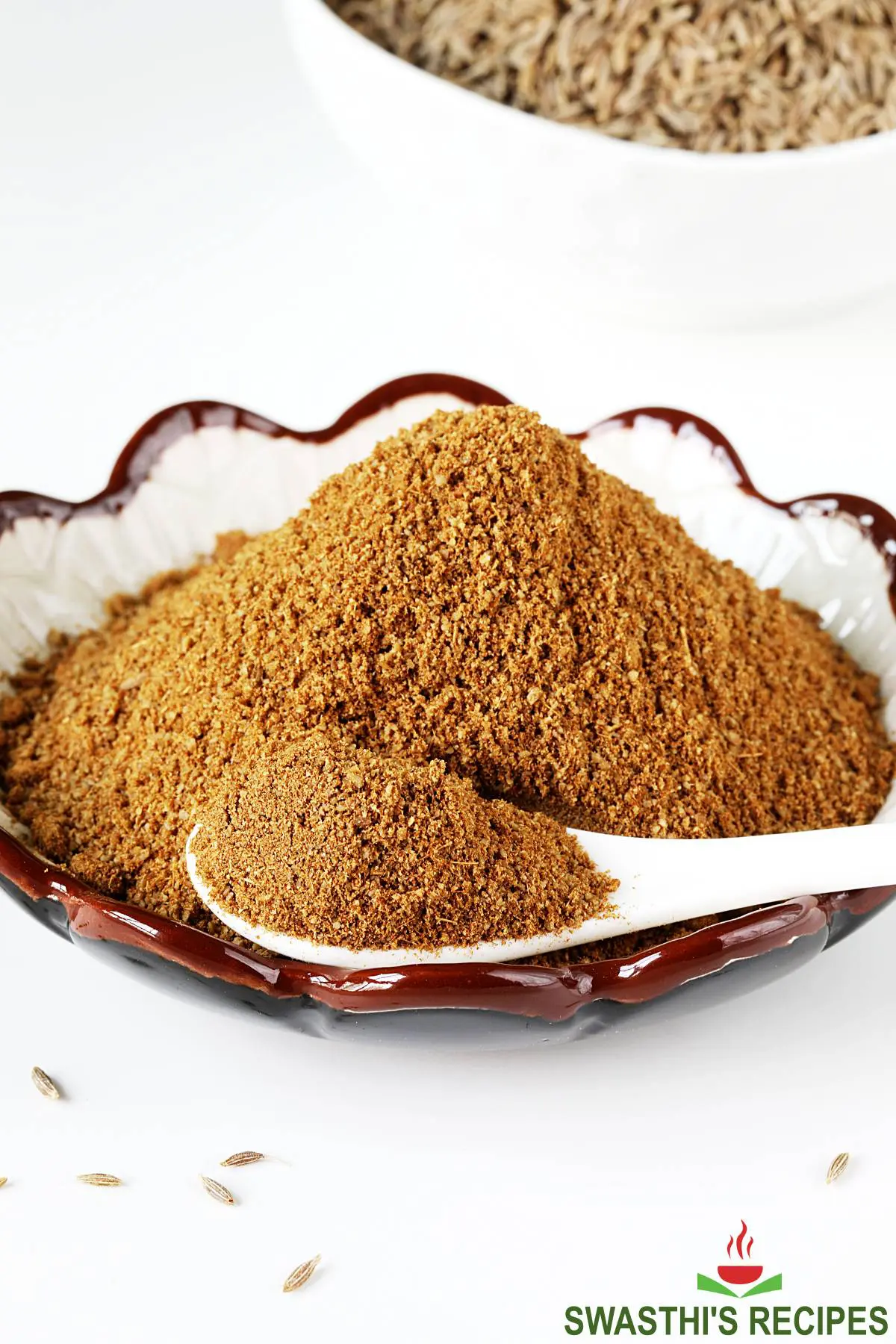 About Swasthi
I'm Swasthi Shreekanth, the recipe developer, food photographer & food writer behind Swasthi's Recipes. My aim is to help you cook great Indian food with my time-tested recipes. After 2 decades of experience in practical Indian cooking I started this blog to help people cook better & more often at home. Whether you are a novice or an experienced cook I am sure Swasthi's Recipes will assist you to enhance your cooking skills.
Follow Swasthi's Recipes