Jeera Rice Recipe (Cumin Rice)
Fluffy Jeera Rice that will elevate any meal! This Jeera Rice is a quick way to add flavor and texture to your plain boring white rice & miraculously it tastes delicious with just anything. Fluffy soft Naan or fragrant Indian Cumin Rice is a must when you plan to make an Indian restaurant style curry. I know you can always serve a curry with plain rice but this Jeera Rice is simply superb and enhances your palate.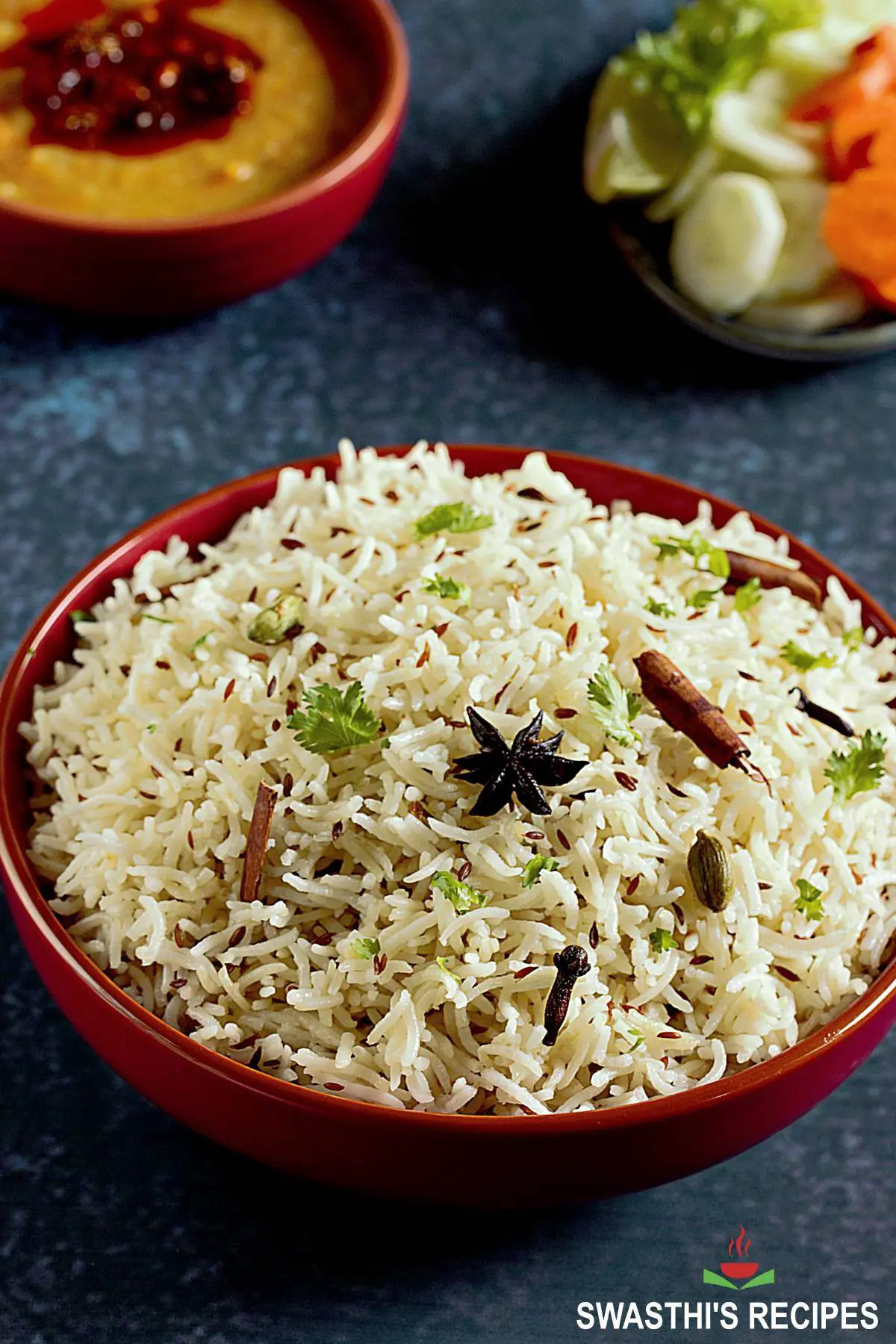 In this post I share 2 ways to make a fluffy, non-sticky and aromatic Jeera Rice every time.
About Jeera Rice
Jeera is the Indian word for cumin seeds. So Jeera Rice is simply rice cooked with cumin seeds & ghee or butter. Other whole spices like cardamoms, bay leaf, cloves, cinnamon & mace are also sautéed in ghee to impart deeper flavors.
The resulting dish is super fragrant with a warm & earthy aroma infused by the cumin seeds.
A lot of spices go into cooking authentic Indian food & cumin plays a key role. It not only flavors & add texture to the foods but also enhances the nutritional values. These tiny seeds are a good source or iron, zinc, copper & many other nutrients.
Cumin /jeera has natural medicinal values & work great on the digestive system. Indians have been serving this rice with everything heavy like curries & dal, considering the medicinal values of jeera.
Indian curries are usually heavy in fats so Jeera Rice may help in digestion.
After Biryani, Jeera Rice is one of the most ordered rice dishes in Indian restaurants. It is eaten with curries, dal and even with a simple Raita.
Here are some popular Indian dishes you may want to make with this Jeera Rice
My Recipe
As I said there are 2 ways you can make Jeera rice – Home style method and restaurant method. I follow the first method more often as it cooks in one pot & is convenient to make for the school & office boxes in the early mornings.
I reserve the second one for occasions especially when I have guests or making a special restaurant style curry.
1. One pot Jeera Rice : This is good for a home preparation as it is quick to make even by newbies. In this method, the spices along with cumin are tempered in ghee or oil on a low heat until aromatic. Then basmati rice is fried/ sautéed along with the spices and later cooked with water.
This way of making jeera rice is as simple as cooking plain rice but you just makeover with some spices added to it. You will have some fragrant, fluffy & non-sticky rice to serve with your everyday sides.
This one pot dish can be made in a regular pot, traditional pressure cooker or Instant pot. I have instructions for all of them in the recipe card below.
So this jeera rice is always my choice to go with
Chana Masala
Paneer Makhani
Aloo Gobi
Rajma Masala
Punjabi Chole
2. Restaurant style Jeera Rice : This is great to make when you have some precooked rice and you want to use up by flavoring it. Often this method is followed in the Indian restaurants as it is convenient for them to cook plain basmati rice in large quantity.
Then temper the rice as needed to make different dishes like jeera rice, pulao, fried rice, lemon rice etc.
I have shown this method of making restaurant style jeera rice in the step by step photos as method 2.
Serve this jeera rice with
Paneer Butter Masala
Paneer Tikka Masala
Palak Paneer
Dal Makhani
Butter Chicken
Method 1
How to make Jeera Rice (Stepwise photos)
Pressure cooker method
1. Rinse 1½ cups basmati rice a few times until the water runs clear. Then soak it for at least 20 mins. You can also follow the instructions on the pack. Drain and set aside.
2. Heat 2 tablespoons ghee or oil in a pot or cooker. Add the following whole spices:
1 bay leaf
2 inch cinnamon piece
4 cloves
4 green cardamom
2 teaspoons jeera (cumin seeds).
1 strand of mace (javitri) (optional). You can also skip all the whole spices and just use jeera but you will miss on the other flavors.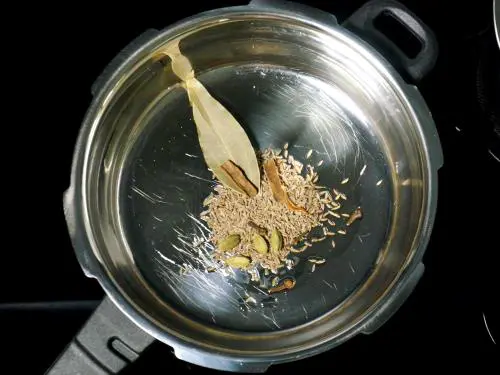 3. Saute them on a medium to low flame until jeera gets roasted well and begins to smell good. This is the key step that brings out the flavor from jeera.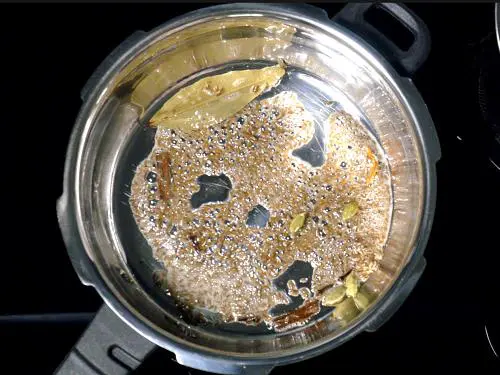 4. Optional – You can also add 1 thinly sliced onion and 1 deseeded green chilies. Earlier I would use onions, In the recent times I have begun to skip them as my kids don't prefer onions in jeera rice.
Some people also use red chilli. If you like you can deseed and use them now. If using onions saute them until golden and get caramelized.
Cook Cumin Rice
5. Add drained basmati rice.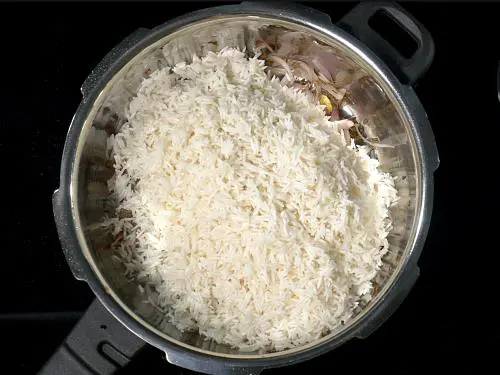 6. Fry for 2 to 3 mins on a high flame. Do not stir vigorously the rice grains will break. This step will help keep the jeera rice fluffy and will prevent from turning mushy.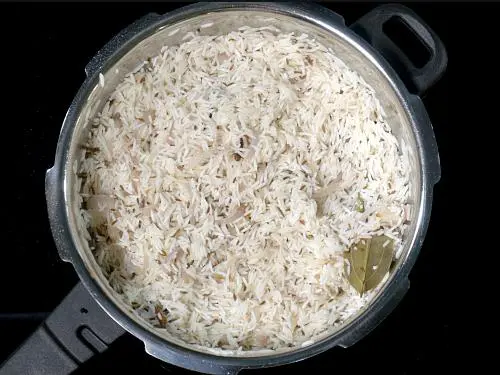 7. Measure & pour hot water. If making in pressure cooker, pour 2½ cups. If cooking in pot, pour 3 cups. Then add ½ to ¾ teaspoon salt and stir. Taste the water and adjust salt as needed.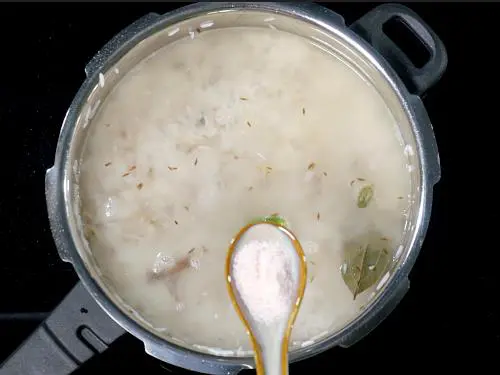 8. Cover and pressure cook on a high flame for 1 whistle.
If cooking in a pot, bring the water to a rolling boil on a high heat, turn down the heat. Cover and cook on a low heat until all of the water is absorbed and the jeera rice is fully cooked. Keep checking after every 3 to 4 minutes. Turn off the stove and keep the pot covered for at least 15 mins for the rice to be done well.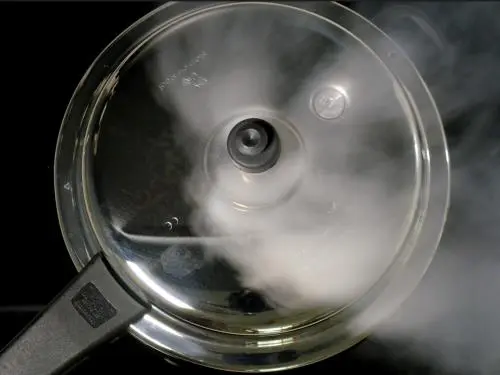 9. When the pressure releases naturally, open the lid. Fluff up the jeera rice gently with a fork. You can also add a bit more of ghee if desired.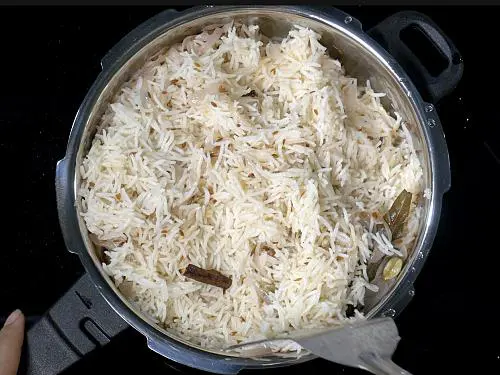 10. Serve it with your favorite curry or dal.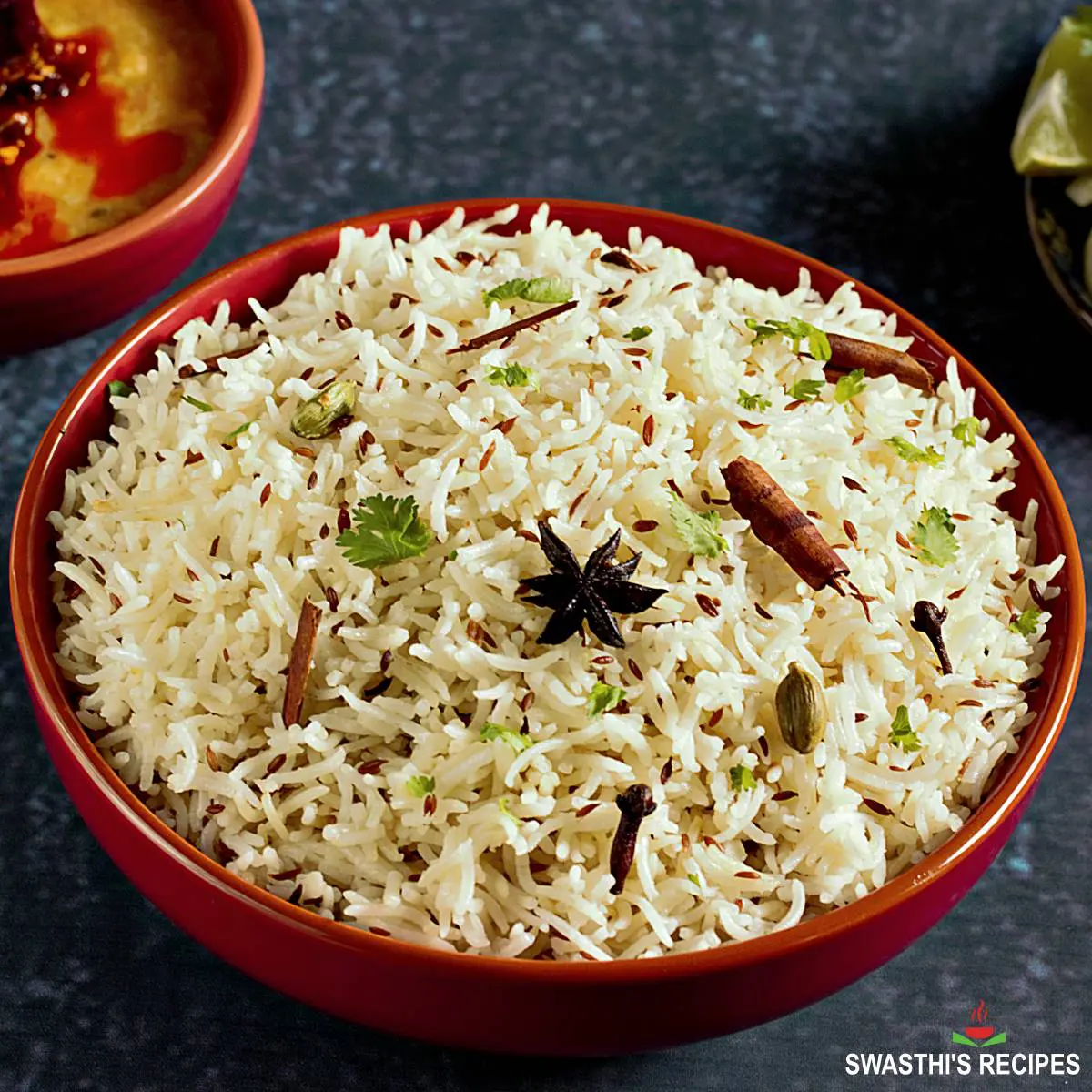 Pro Tips
Perfectly cooked jeera rice should be fluffy, non-sticky & aromatic. To make it the best do follow the tips given below:
1. Rice to Water Ratio: Here are my time-tested rice to water ratios. These ratios are for aged basmati rice. However if you are unsure of what kind of basmati you have, simply use the same amount you use to cook it plain. Also you may refer the package.
1:2 (Rice:water) ratio for cooking aged basmati rice in a pot.
1: 1½ cups + 2 tablespoons for cooking aged basmati rice (soaked) in a pressure cooker.
1: 1¾ cups cups for cooking aged basmati rice (unsoaked) in a pressure cooker.
2. Choosing rice: Always use the best quality aged basmati rice as it is the key to making fragrant jeera rice. Aged rice grains are less starchy so do not mush up after cooking. If you do not have basmati rice, you can use any other kind of rice that is less starchy. If using newly harvested rice, do not soak and reduce the amount of water.
3.Preparing rice: Rinse the rice well a few times in lot of water. I rinse it thrice. This helps to get rid of the excess starch from the rice grains & makes the rice non sticky. Avoid using the grains without thorough rinse even if they are organically grown.
4.Soaking rice: Soak the rice for at least 20 mins. Refer the package for soaking instructions & time. Well soaked basmati rice grains expand & cook up well to long fluffy grains.
5.Frying Jeera: Saute the Jeera well in ghee or butter along with other spices, on a low flame for 2 to 3 mins to bring out the aroma. This is another key step to make flavorful jeera rice.Frying the spices elevates the flavor & aroma of the entire dish.
6.Frying rice: To make jeera rice always fry the drained rice along with spices on a medium to high flame. While frying do not stir up much as the rice grains may break. This makes the cooked up jeera rice fragrant.
7.Onions: It is totally optional to use onion in the recipe. Yes they do add some flavor but can be skipped as this reduces the preparation & cooking time.
8.Spices: Jeera or cumin is the key in this recipe, but spices like cardamoms, bay leaf, cloves, cinnamon & mace do elevate the flavor of jeera rice to a considerable amount. So I always add these. If you do not have them you may avoid them and make.
Variations
I experiment a lot in my kitchen with various dishes as my little boys get bored eating the same dishes repeatedly. Though the following variations of jeera rice are very uncommon, they have always been a quick way to whip up dinner in no time.
These variations are more nutritious than a regular jeera rice plus they cut down the need to cook another side dish when you have no time. These ideas are my own and are not a part of jeera rice recipe.
If you are experimental like me in the kitchen then do try these variations:
1.You can follow the one pot method and make vegetable jeera rice. Add some mix veggies to the pot after frying the spices. This will be similar to a veg pulao but with milder aroma as there is no ginger garlic & mint used here. Plus the taste & flavor is totally different.
2. The second restaurant style jeera rice can be easily transformed to a roasted egg jeera rice. The same can be made with fish & prawns. To make this just fry eggs or marinated prawns or fish until golden. Set aside.
Then saute the spices until fragrant. Then add the rice and mix gently. I made this several times with all 3 of them & was surprised at how good this turns out.
Restaurant style Jeera Rice (Stepwise Photos)
This method is more flavorful with the aroma of butter and cumin. This is good to make for occasions or when you have guests home since a good amount of butter goes into this.
For this recipe, you can cook the rice in whatever way you like. The rice grains have to be fluffy and not mushy. In the instructions below I have shared how to cook rice perfectly in a pot.
You can also cook in a pressure cooker or instant pot.
Ingredients
1 cup basmati rice
2 to 3 tbsp ghee or oil
1 bay leaf
1 star anise
4 green cardamoms
2 tsps jeera or cumin
1 to 2 green chilies slit
4 cloves
1 strand of mace or javithri
3 to 4 tbsps fresh fine chopped coriander leaves
Instructions
1. Wash rice very well a few times. Drain and soak it for 20 mins. Drain the rice to a colander. Bring 4 cups of water to a boil. Then add some salt. When the water comes to a rolling boil, add the drained rice and cook on a medium high heat until the rice is just done. The rice has to be al dente meaning just cooked and not mushy. Then drain off the rice to a colander and keep it covered.
2. After 2 to 3 mins, fluff up the rice with a fork. You will have al dente cooked soft yet fluffy rice. Cool this completely.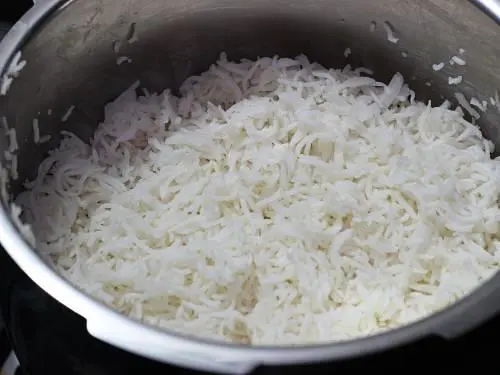 3. Add 1 tbsp butter to a hot pan. Next add star anise, mace, cloves, cinnamon, cardamom, bay leaf and green chili. Saute for 1 to 2 mins.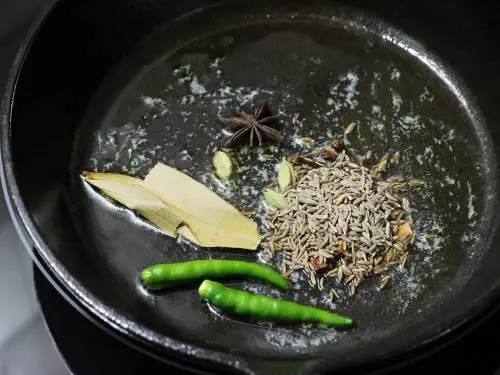 4. Lower the heat, add jeera.
5. Saute until you begin to smell them good. It takes around 2 to 3 mins. Switch off the stove. If using butter it will froth up, you can just ignore it.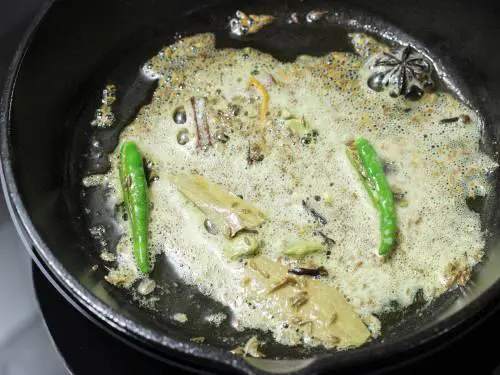 6. Add 1 tbsp more of butter along with finely chopped coriander leaves. If your rice isn't got enough salt you can add a bit more to the pan.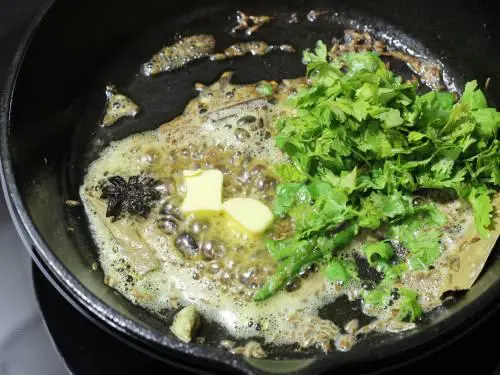 7. Then add the tempering to the rice. Mix gently all the spices & herbs. Make sure the rice is cooled completely before mixing it otherwise it will clump up and turn mushy.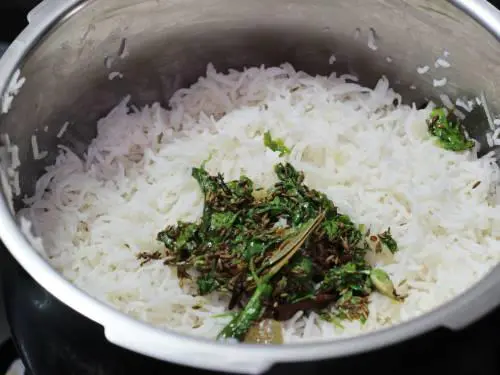 Serve jeera rice with any gravy, curry or dal.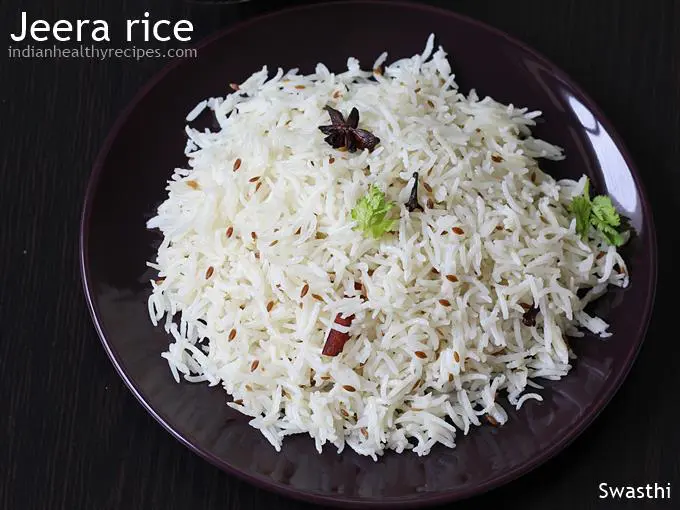 Related Recipes
Recipe Card- Method 1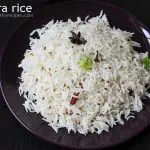 Jeera Rice Recipe
Make the perfect jeera rice that's non sticky, fluffy & aromatic. Instructions included to make jeera rice in a regular pot, traditional pressure cooker & Instant pot.
Print Recipe
Pin Recipe
Jump to Comments
For best results follow the step-by-step photos above the recipe card
Ingredients (US cup = 240ml )
1½

cups

basmati rice

(aged rice, refer notes)

2

tablespoon

ghee

or oil or butter

1

green chili

slit and deseeded (optional)

2½

cups

water for pressure cooker

or (1¾ cups + 2 tbsps for instant pot) or (3 cups for regular pot)

½ to ¾

teaspoon

salt

as needed
Whole spices
2

teaspoons

cumin seeds

(jeera)

1

bay leaf

(tej patta)

4

green cardamoms

(elaichi)

2

inch

cinnamon piece

(dalchini)

4

cloves

(laung)

1

strand

mace

(javitri) (optional)
Instructions
Preparation
Wash rice a few times until water runs clear.

Then soak it in lot of water for at least 30 mins. Drain it completely.
How to make Jeera Rice
Heat ghee or oil in a pressure cooker or a pot.

Saute bay leaf, cloves, cinnamon, cardamoms and mace until they begin to sizzle.

Fry jeera on a low flame until a nice aroma comes out. Add green chilli.

Transfer drained rice to the pot or cooker and fry for 2 to 3 mins. Do not stir vigorously as the rice grains will break.

This frying step helps to bring out the aroma of the rice.

Pour water and add salt. Stir well and taste the water. It must be slightly salty. Bring water to a boil on a high flame.

Making Jeera rice in pot – Cover and cook on a low to medium heat until water is absorbed & rice is done. Once done, turn off the heat and let the rice rest in the pot for 15 mins. This helps the grains to expand and become fluffy.

Making Jeera rice in pressure cooker – Cover the pressure cooker with a lid. Cook on a high heat for 1 whistle. For al dente rice, I release the pressure carefully after 2 mins with the help of a wooden spatula.

When the pressure releases completely, open the lid and fluff up jeera rice with a fork. Serve with any curry.
Instant pot Jeera Rice
Press saute button and pour ghee to the inner pot of instant pot.

Add all the spices & saute for 1 min until they turn fragrant. Add the drained rice and chilli. Saute for 2 mins stirring occasionally. Do not stir a lot, rice grains will break.

Pour 1¾ cups plus 2 tbsps water and add salt. Stir and taste the water. If needed add more salt.

Secure the lid & position the steam release handle to sealing.

Press the pressure cook button, set to high pressure. Set the timer for 5 mins.

When done the instant pot beeps. Let the pressure release naturally for a min and release the rest of the pressure manually with the help of a long spoon (moving the vent from sealing to venting). This will give you al dente cooked jeera rice. (Do this always for a larger batch, even for softer rice, refer notes).

For softer rice, let the pressure release naturally for 3 to 4 mins.

Fluff up the Jeera rice with a fork & add some coriander leaves. Serve with dal or your favorite curry.
Notes
Instant pot Notes: This recipe has been tested in a 6 Qt & 3 Qt Instant Pot. You can only cook up to 4 cups rice in a 6qts IP. To double the recipe, I use the same cook time but increase the other ingredients proportionality including water. If you make a large batch (up to 4 cups), release the pressure immediately even if you want softer rice and transfer to a large tray. Wear mittens to handle this and you will also need help to hold the tray so it doesn't move away.
Please note that the jeera rice recipe is tried with aged basmati rice (premium quality only). To use newly harvested or other kinds of delicate rice, stovetop cooking in a pot is best. Use water as you would use to cook your plain basmati rice. The amount of water mentioned here are only for aged rice only, you may need to reduce if using other kinds of basmati rice.
You can also make this dish just by sautéing the spices in butter and then mixing with the precooked salted rice. For more details please check method 2 in step by step photos below.
Alternative quantities provided in the recipe card are for 1x only, original recipe.
For best results follow my detailed step-by-step photo instructions and tips above the recipe card.
NUTRITION INFO (estimation only)
Nutrition Facts
Jeera Rice Recipe
Amount Per Serving
Calories 450
Calories from Fat 99
% Daily Value*
Fat 11g17%
Cholesterol 25mg8%
Sodium 458mg20%
Potassium 160mg5%
Carbohydrates 78g26%
Protein 7g14%
Vitamin A 15IU0%
Vitamin C 2.4mg3%
Calcium 49mg5%
Iron 2mg11%
* Percent Daily Values are based on a 2000 calorie diet.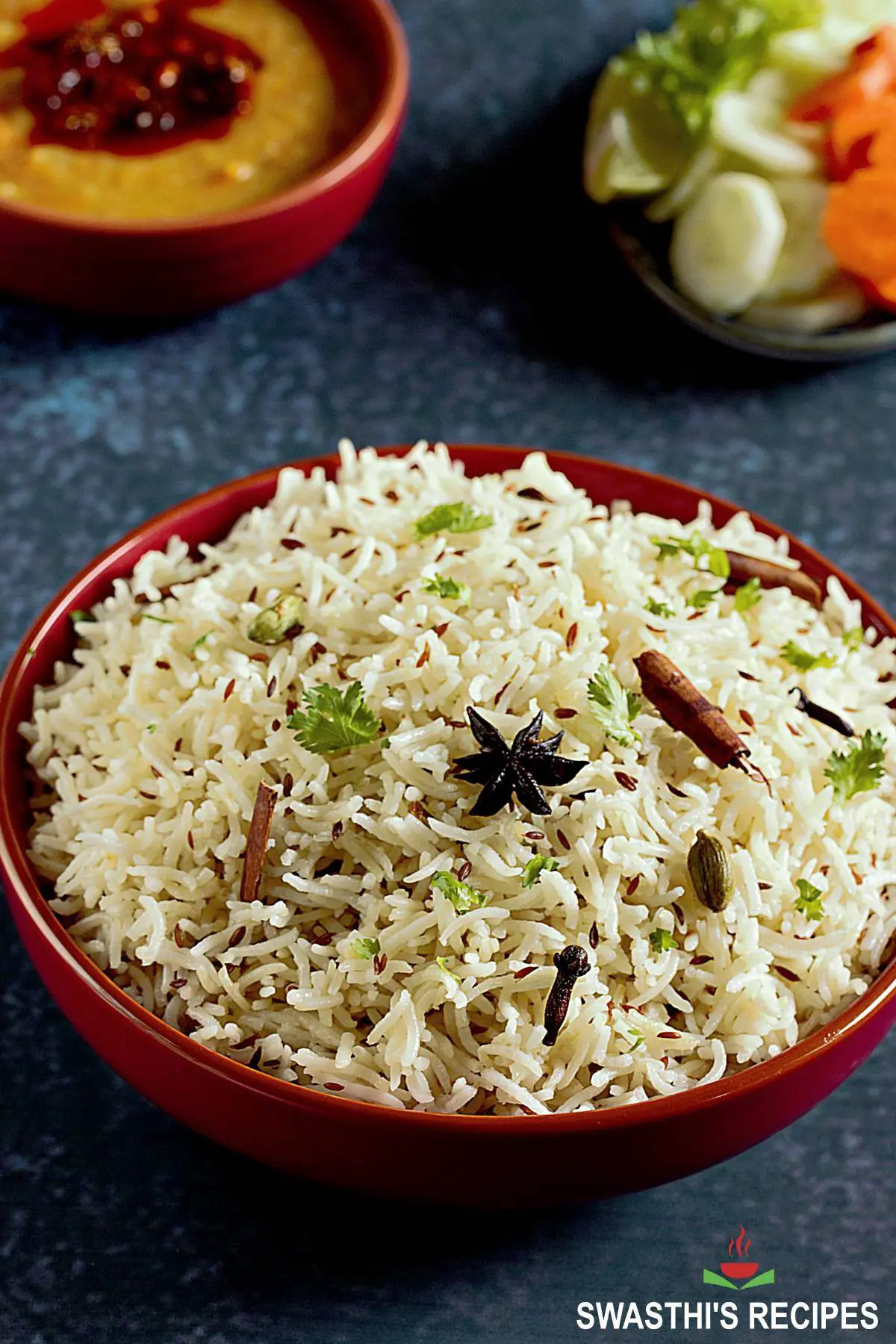 About Swasthi
I'm Swasthi Shreekanth, the recipe developer, food photographer & food writer behind Swasthi's Recipes. My aim is to help you cook great Indian food with my time-tested recipes. After 2 decades of experience in practical Indian cooking I started this blog to help people cook better & more often at home. Whether you are a novice or an experienced cook I am sure Swasthi's Recipes will assist you to enhance your cooking skills. More about me
Follow Swasthi's Recipes