How to make paneer at home – an easy step by step recipe to make paneer at home. Making paneer at home is very easy and there is no rocket science involved to get perfect soft paneer each time you make. Most store bought Indian cottage cheese or paneer contains additives or at least citric acid that is not good for health so I make my own paneer at home.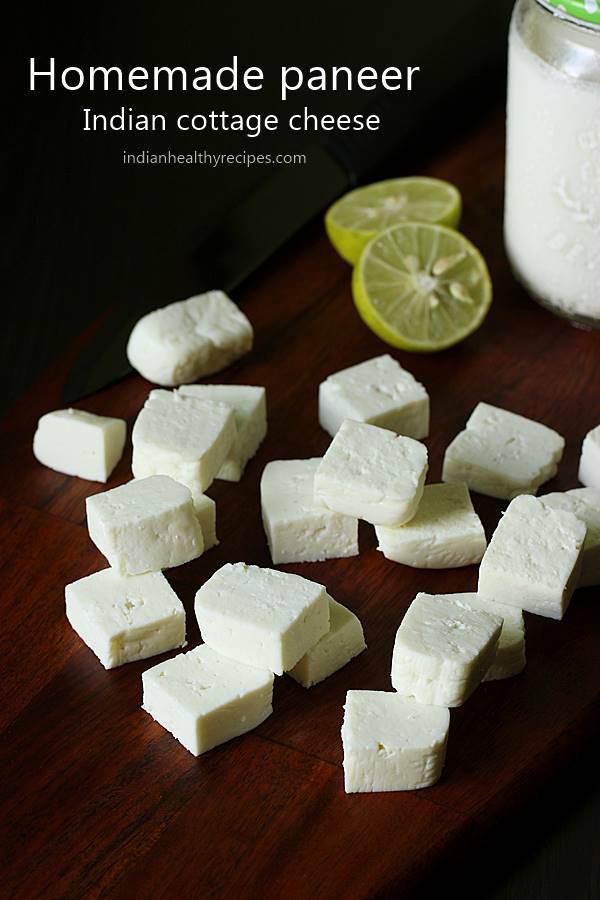 Homemade paneer is much superior in taste, freshness and flavor than the store bought ones. You also have the chance to choose the milk you desire. If you are new to Indian Cuisine, then these FAQ may help you.
What is paneer?
Paneer is a kind of fresh cheese made by curdling milk using an acidic food ingredient like lemon juice, vinegar, buttermilk, curd (yogurt) or citric acid. Paneer is a soft yet firm, non melting cheese that is made without using any kind of rennet. It is also not fermented or aged like other kinds of cheese.
To make paneer or chenna, milk is boiled and then curdled with a acidic ingredient. The curdled milk solids are then drained to a muslin or cheese cloth. Later it is pressed with a heavy object to set and then it is cubed to pieces.
These cubes are used to make various Paneer recipes like
Paneer butter masala
Matar paneer
Paneer tikka masala
You can also use paneer without setting in recipes like
Malai kofta
Paneer bhurji
Paneer sandwich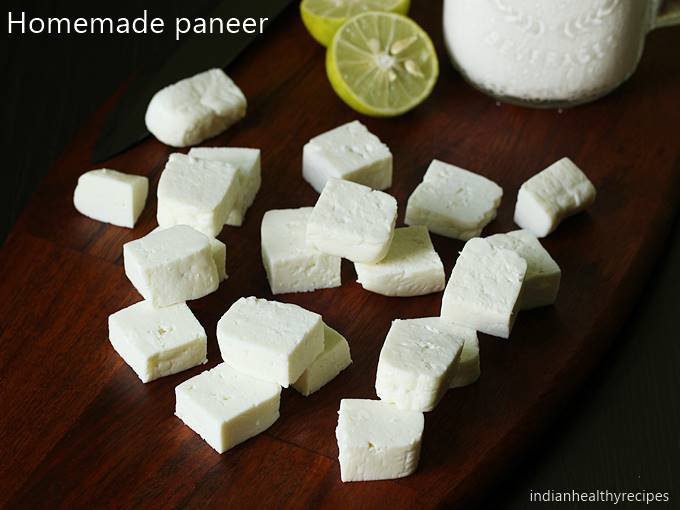 Acids used to make paneer
Commercially sold paneer is made using citric acid. For homemade paneer – curd (yogurt), lemon juice, or vinegar are the choices to curdle the milk. The taste, flavor & texture of the Indian cottage cheese depends on the kind of acidic ingredient.
1. Curd or yogurt yields very soft yet firm paneer. You can skip rinsing the chenna but it has to be very well drained by hanging it for at least 30 mins. Then it has to set. Using too much curd to curdle will impart a mild yogurt flavor to the cheese.
2. Lemon juice imparts a lemony flavor to the chenna so it has to rinsed well. Too much lemon juice will make the cheese grainy.
3. Vinegar – too much vinegar will make the chenna grainy.
How to choose milk for paneer
1. Always use full fat cow or buffalo milk to make paneer. If using buffalo milk, you can remove the cream on top or keep stirring while boiling to prevent layers of cream forming on top.
2. Non-homogenized full fat milk yield the best. However homogenized milk can also be used. Avoid toned & skimmed milk as the quantity and quality of chenna is not that good.
3. It can be made with raw or pasteurized milk.
Tips to make soft paneer
The following tips will help you to make soft and well set paneer.
1. Add the acidic ingredient only after the milk comes to a boil.
2. Do not continue to boil after the milk has curdled completely.
3. Using too much of acidic ingredient makes the chenna grainy and rubbery.
4. Always drain, squeeze and hang the chenna (curdled milk solids) for 30 mins to remove excess whey before placing a heavy object. This helps the paneer to stay firm and avoids disintegrating after adding to gravy dishes.
Why do paneer cubes break in the gravy
Low amount of fats or excess whey in the curdled milk solids won't set the paneer well. They may break as soon as it is added to the gravy. So I always ensure to hang the curdled milk solids or chenna for 30 mins before setting.
Add it to the gravy only after it has thickened. Cover the pan after adding the cubes. Turn off the stove. The heat in the pan is enough to cook it.
Homemade paneer recipe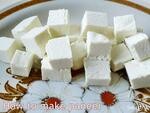 How to make paneer
Homemade paneer recipe , making paneer at home is easy following this simple recipe. Paneer made at home is softer & more fresh than the store bought one. Learn how to make paneer with this easy step by step guide.
Ingredients (1 cup = 240ml )
1 ½

liters

full fat milk

or 6 cups

1 ½ to 2

tbsp

Lemon juice

or ¼ cup curd or yogurt
Instructions
Preparation to make paneer at home
Bring milk to boil in a heavy bottom pot.

When the milk comes to a boil, pour lemon juice or curd or vinegar. Then gently stir the milk.

Immediately you can see the entire milk begins to curdle. Turn off the flame.

At this stage if your milk doesn't curdle, pour some more lemon juice immediately to curdle the milk. If you continue to cook at this stage, panir can be hard, so to prevent that you need to use a bowl full of ice cubes or ice cold water to stop it from getting cooked further.

Allow it to settle for 1 min.

Pour it in a thin cheese cloth lined over a colander.

Rinse it under running water to remove the smell of the lemon juice. If using yogurt you can skip rinsing.
How to make paneer at home
Make a knot to the cheese cloth. Squeeze any excess water and hang it for 30 mins to remove excess whey.

Place muslin cloth on a plate with wholes, place a heavy object on it for the paneer to set. After 1 hour, Remove the cloth and cut it to cubes.

Refrigerate the paneer and use up with 2 to 3 weeks. Or freeze up to 3 months.
Notes
Milk may not curdle if the lemon juice is not sufficient, immediately you must add little more lemon juice/vinegar in that case. Adding too much of lemon juice will make your paneer harder, use just as needed.
Do not overcook the paneer. It can become hard. As soon as the milk begins to curdle switch off the flame.
Nutrition
Calories:
229
kcal
|
Carbohydrates:
18
g
|
Protein:
11
g
|
Fat:
12
g
|
Saturated Fat:
6
g
|
Cholesterol:
37
mg
|
Sodium:
161
mg
|
Potassium:
495
mg
|
Sugar:
19
g
|
Vitamin A:
12.2
%
|
Vitamin C:
2.6
%
|
Calcium:
42.4
%
|
Iron:
0.6
%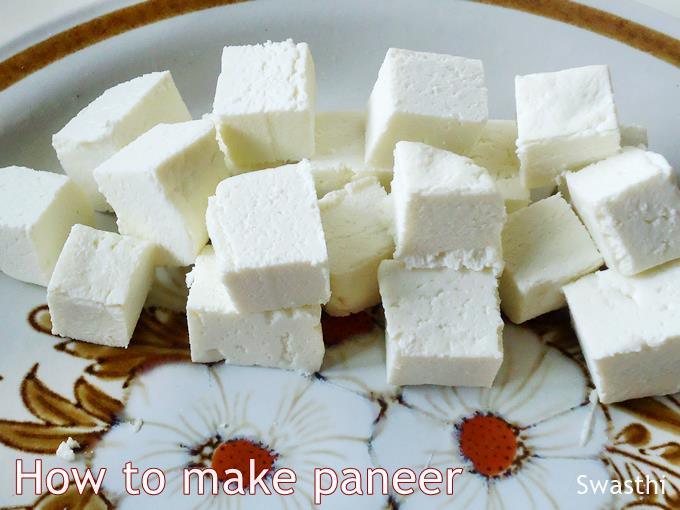 Preparation – How to make paneer at home
1. Bring milk to a boil on a medium flame. If using very cold milk, it is a good idea to boil on a low heat till the milk becomes warm. Then boil on a medium flame. Boiling very cold milk on high flame can lend a weird smell to paneer.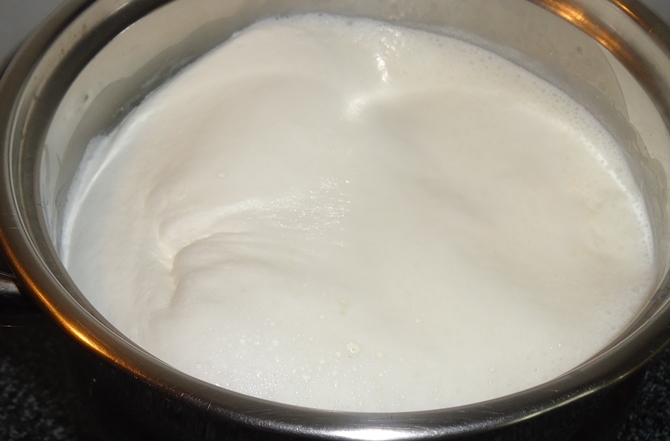 2. When the milk comes to a good boil, add the lemon juice or curd. Using curd for curdling milk yields the best soft paneer. But lemon juice or vinegar can also be used. I used lemon juice.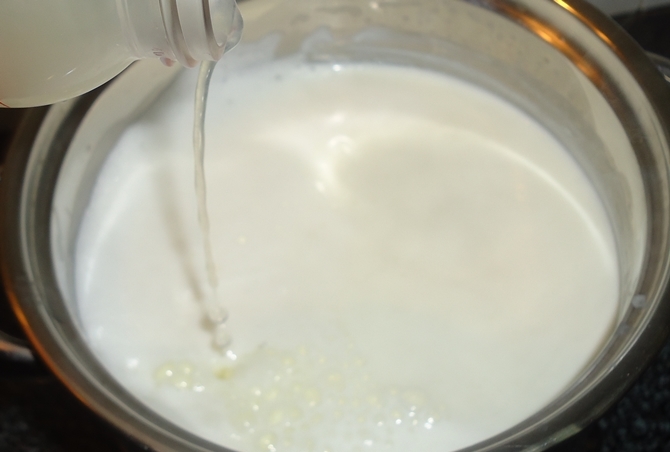 3. As soon as you see milk curdling, switch off the stove. If the milk does not curdle with in a short while, add little more lemonjuice or curd. Make sure the milk curdled well before you switch off the stove.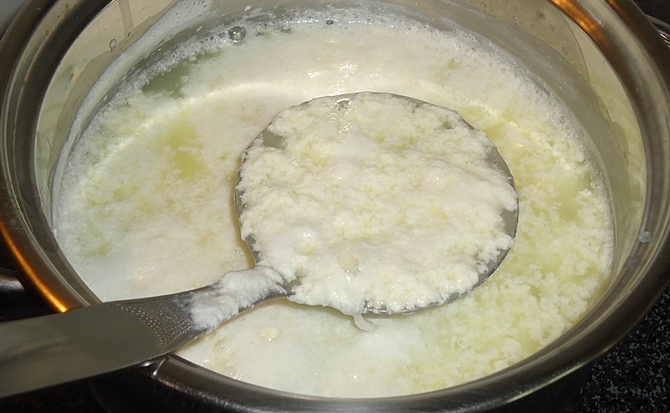 4. If you continue to cook longer, it may become hard and grainy. We need to use a bowl full of ice cubes or ice cold water to stop it from getting cooked further. I suggest using some ice cold water or ice cubes after the milk is curdled completely. Allow it to rest for a minute.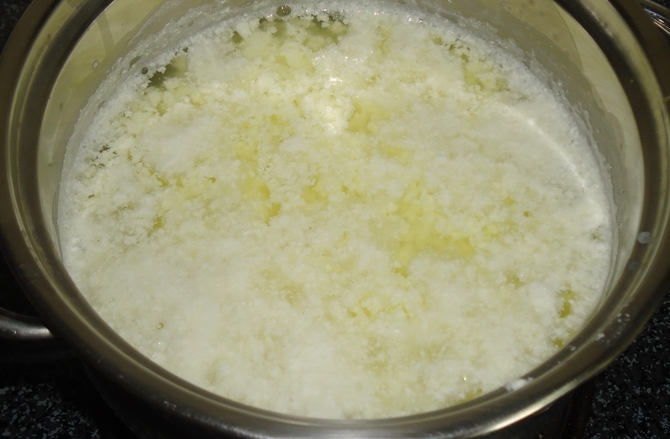 How to make paneer at home with step by step photos
5. Place a colander over a pot, layer it with a thin muslin or cotton cloth. A thin handkerchief works well too. If you have used yogurt, no need to rinse the paneer. If lemon is used then we need to rinse under running water to remove the smell of lemon.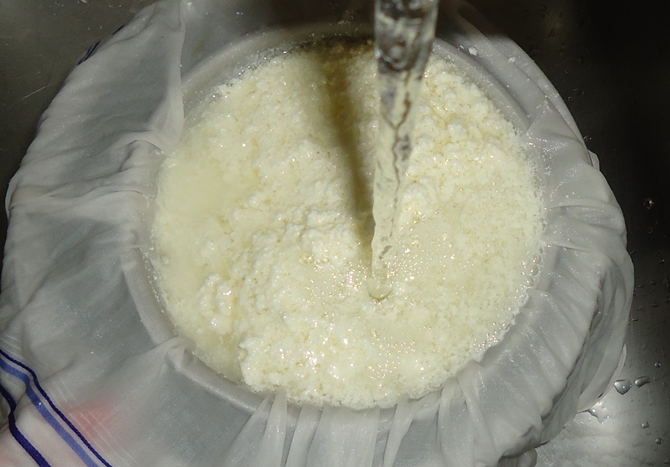 6. Drian the water completely. Squeeze off the excess water.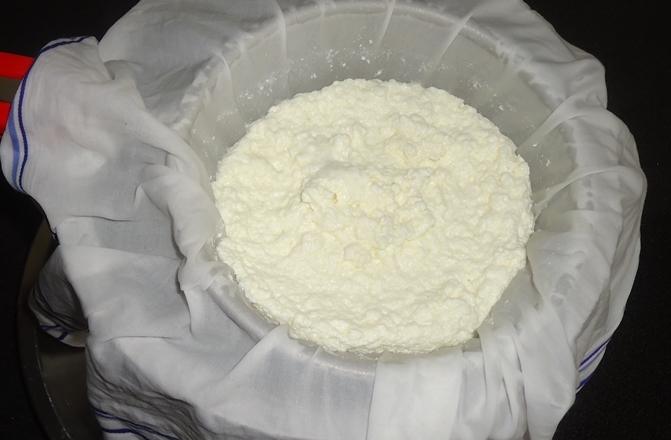 7. Hang it for about 30 minutes.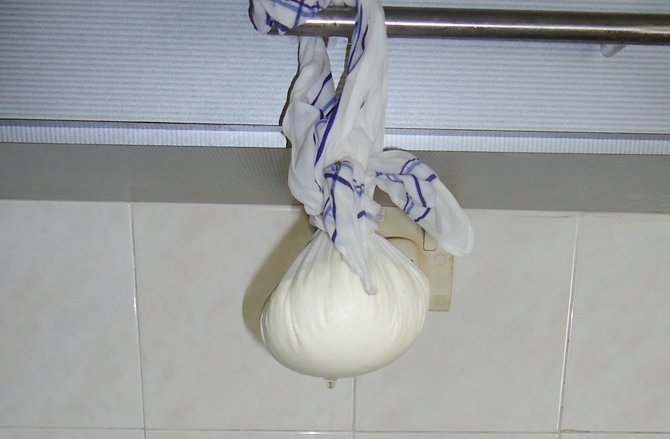 8. Keep the muslin cloth on a plate with wholes. I used my electric rice cooker steaming basket. You can also use a plate with holes that comes with a pressure cooker. Place a heavy object over it. I fill my pressure cooker with uncooked raw rice and place over it.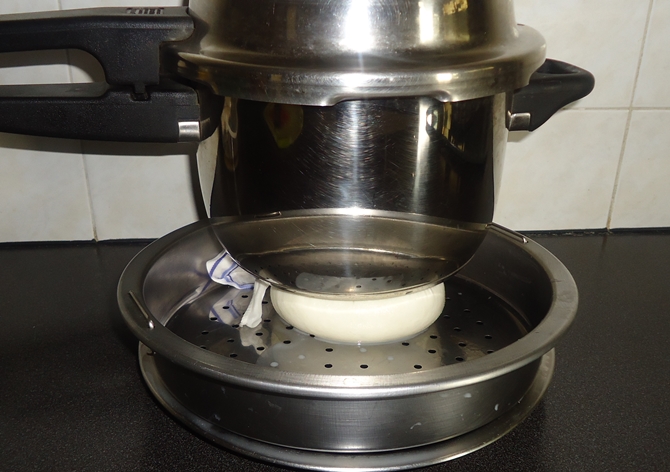 9. Allow it to set for about 1 hour. Cut to cubes. Use or Refrigerate for further use. I usually put the entire block in a steel box and refrigerate. I cut only when needed.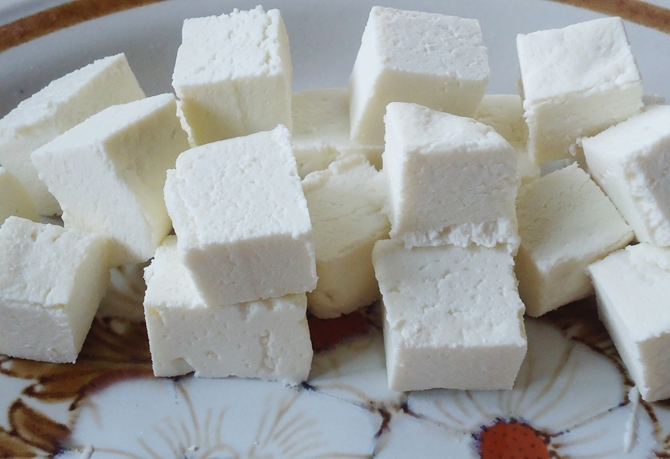 How to prevent paneer cubes from breaking in gravy?
I suggest using cornflour only if your homemade paneer cubes ever broke in the gravy. Do not use more than suggested as it may turn the cubes hard after cooking.
Knead the chenna well. There should be no water left it must be only moist. Add 1.5 tsps corn flour, knead it again thoroughly. Make a nice moist rectangle in a plate. If needed can wet your palm to make a moist rectangle. (Not soggy)
Cover the plate with a moist cloth. Refrigerate for 1 hour. Cut to cubes after it is set.