Matar Paneer Recipe (Mutter Paneer)
Matar Paneer recipe made in restaurant style. This Matar Paneer is a filling, delicious and hearty vegetarian Dinner with tons of North Indian flavors. It's easy and perfect to make when you are in a mood to enjoy something restaurant style at home. Also known as Mutter Paneer, this is a rich, spicy, creamy and tasty paneer peas curry that your entire family will enjoy. Serve it over steamed Basmati Rice, any flavored rice, Butter Naan, roti or flatbreads of your choice.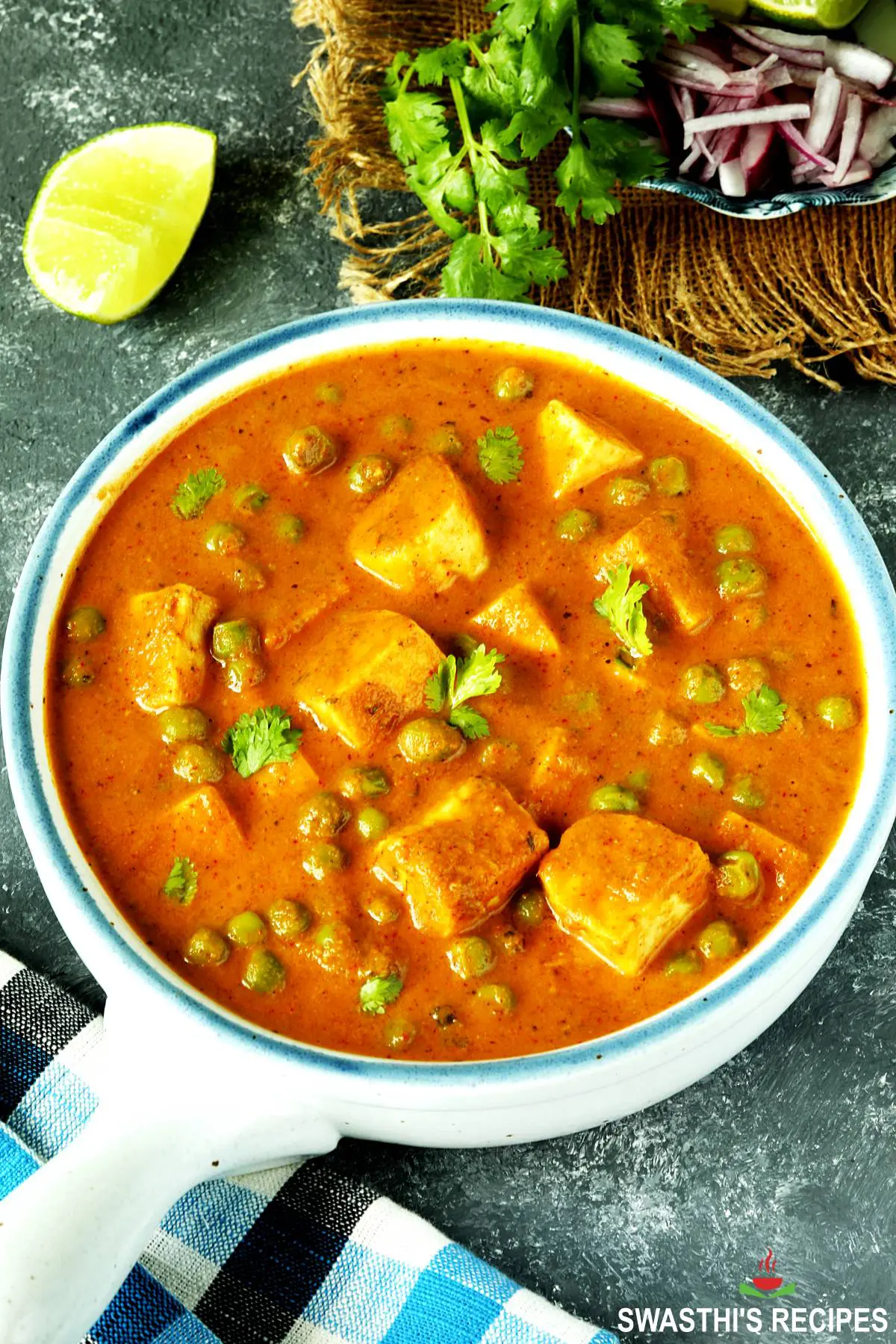 About Matar Paneer
Matar Paneer is a popular North Indian dish of Indian cottage cheese aka Paneer and peas cooked in a spicy and flavorsome curry. Matar Paneer translates to peas paneer where 'Matar' is the Hindi word for 'peas' and 'paneer' for "Indian cheese".
This classic dish is said to have originated in Punjab region but is made in numerous ways across the country. Every Indian home and even every family may have a different recipe. For the same reason, Matar Paneer in every home and restaurant tastes different.
In this Matar Paneer Recipe, to make the gravy, we first sauté the onions & tomatoes with some spices. Then cool down and blend this to a smooth paste. Later we spice it and simmer with water until a thick consistency is achieved. To this delicious curry base, green peas and paneer are added.
The process of sautéing brings out the subtle sweet flavor from onions and tomatoes. This step also enhances the depth of various tastes & flavors in the gravy. This sautéing part is what makes this Matar Paneer simply superb and unique.
Though this extra step consumes a bit of time it is totally worth the effort when you want to make something special like the restaurant kind. Sometimes when I am in a rush, I make it in a short cut way by simply blanching the onions and pureeing them with raw tomatoes.
I have shared that method too as method 2 below upon readers' request. You can also make that in the Instant pot, for which I have included the instructions in the recipe card.
This recipe is roughly adapted from my Paneer Butter Masala which is a popular recipe on the blog. But this tastes completely different as there is no butter used & the process is slightly different. If you want you can also add a few tablespoons of yogurt when you blend the ingredients.
To make this dish vegan, simply use extra firm tofu in place of paneer. I also have a similar but different recipe to make Tofu Curry here.
More Paneer Recipes
Dhaba Paneer Curry
Kadai paneer
Paneer makhani
Paneer tikka masala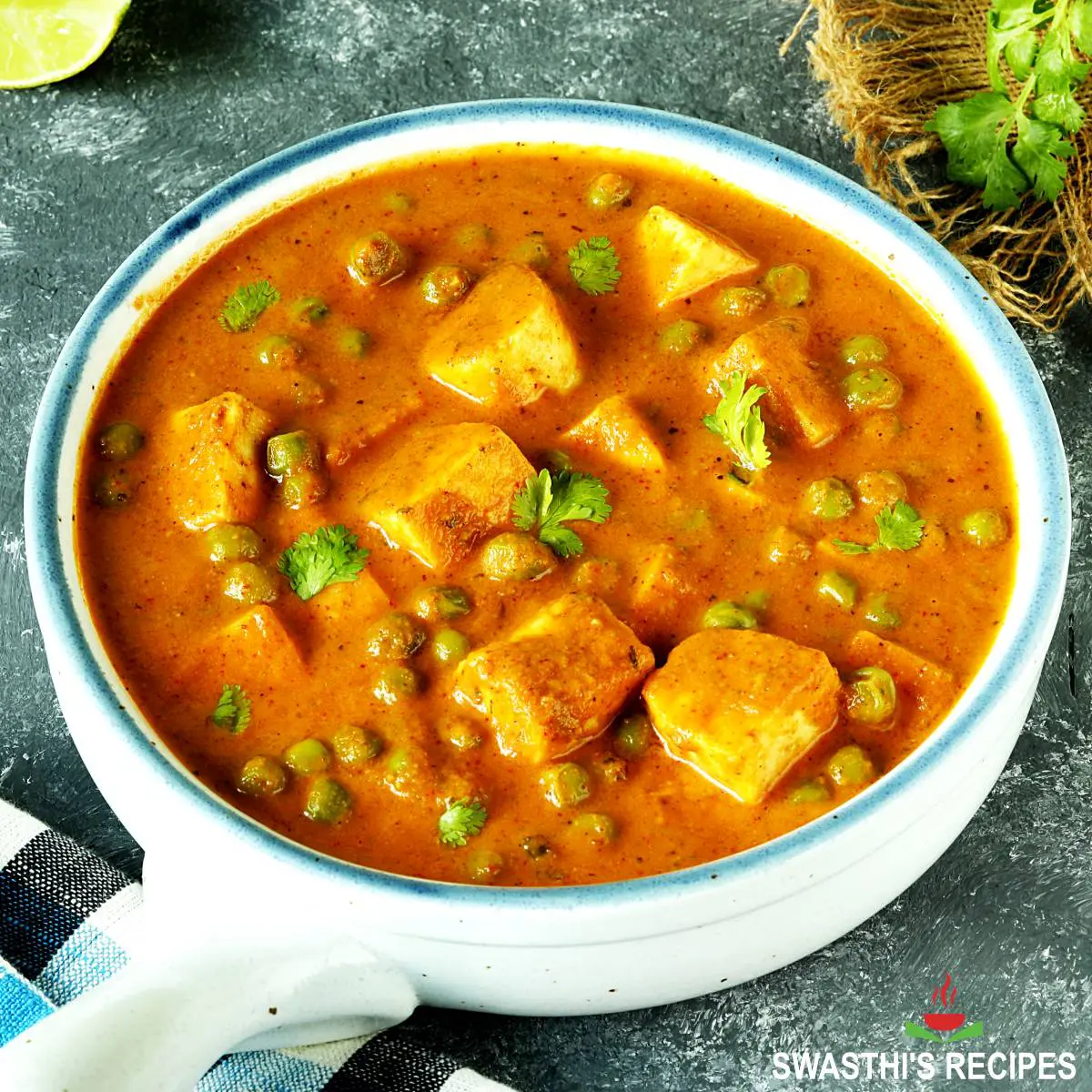 How To Make Matar Paneer (Stepwise Photos)
Preparation for gravy
1. Heat a pan and add 1 tbsp oil. When the oil turns hot, add
1 to 2 green cardamoms (optional, skip if you don't like)
1 inch ginger (chopped)
3 garlic cloves (chopped). Saute just for a minute.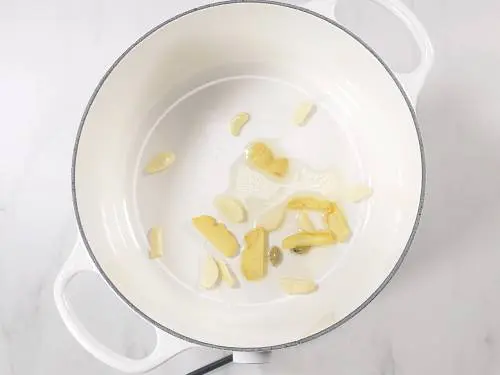 2. Add 1 cup cubed onions. Saute them until they turn pink to light golden. The raw smell of the onions has to go away.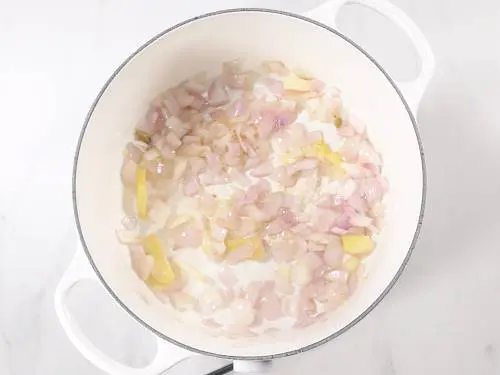 3. Then add 1½ cup chopped tomatoes, ½ teaspoon salt and 12 whole cashew nuts.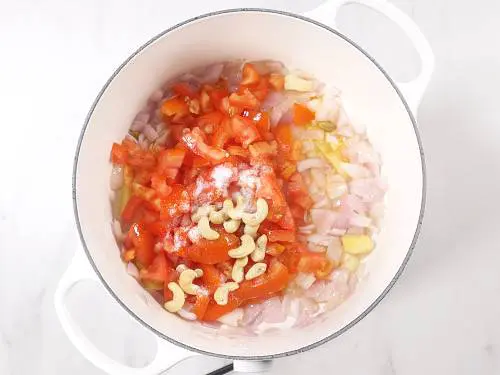 4. Saute for 2 to 3 mins. Cover the pan. Cook on a medium flame until the onions and tomatoes turn mushy. Turn off the stove.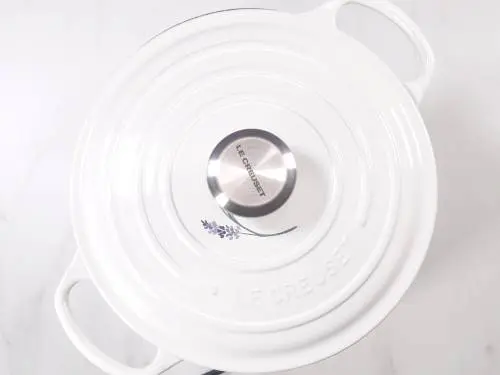 5. Cool this mixture completely.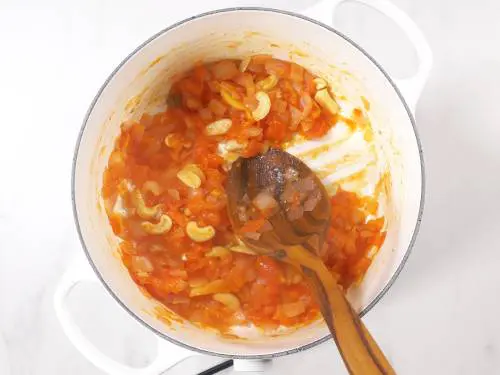 6. Transfer to a blender jar and add ¼ to ⅓ cup curd (yogurt). Using curd is optional, use it for a rich and tangy flavor. This matar paneer tastes great even without curd.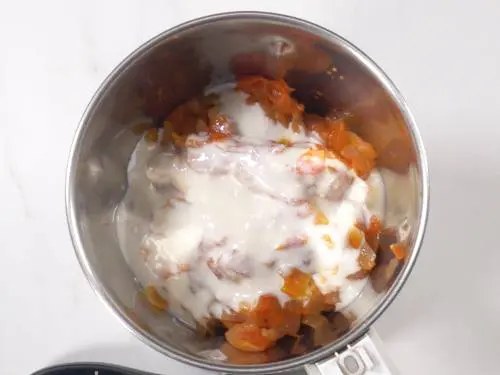 7. Grind to a smooth puree without adding water. We don't want any grits in the curry, so make sure this is smooth.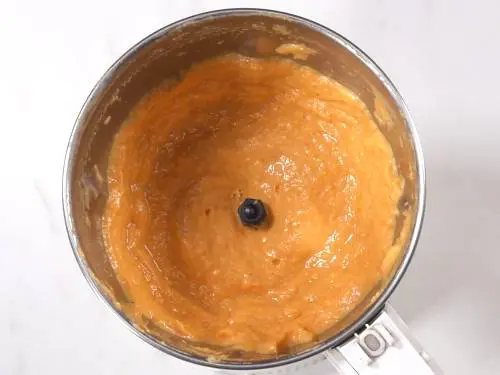 Make Gravy
8. Heat a pan with 2 tablespoons oil. Add 1 inch cinnamon and a small bay leaf. You can also skip them and just add half teaspoon cumin seeds. Fry them for a min.
9. Reduce the heat to low. Add ¼ teaspoon turmeric, ¾ to 1 teaspoon red chili powder, ¾ to 1 teaspoon garam masala and ½ to ¾ teaspoon coriander powder.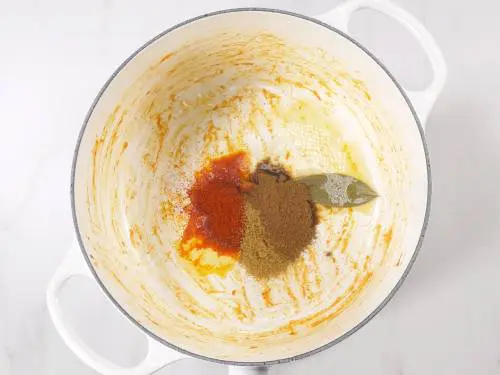 10. Mix well. If the pan is too hot , the spices will burn so do it on a low heat.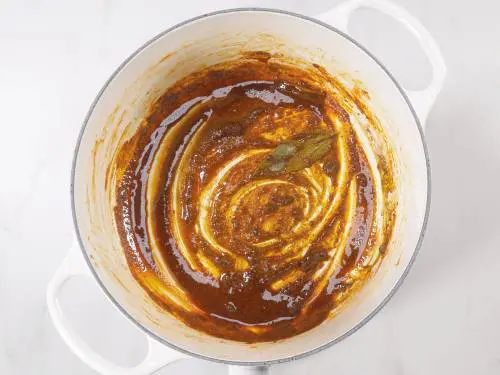 11. Pour the onion tomato puree. If your puree is not smooth, turn off the stove and then pass it through a strainer. Saute all of these until the mixture comes together & turns thick. This only takes 2 to 3 mins. Keep stirring often.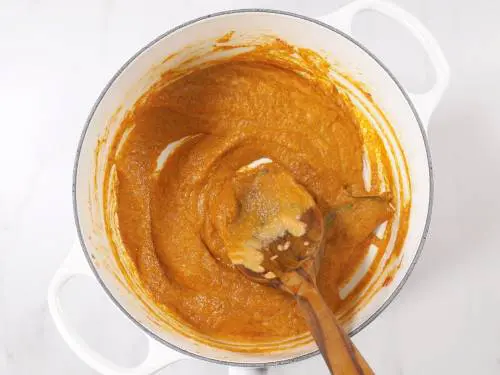 12. Add ¾ cup boiled green peas or frozen peas. If using fresh peas, then you may need to boil them. Drain and use here. I use frozen peas which are ready to use, so I just rinse well and add. Pour 1 to 1¼ cups water to make a gravy.
If you are in India & using frozen peas, boil them in water separately in a small pot, for a few mins. Drain the peas and add here.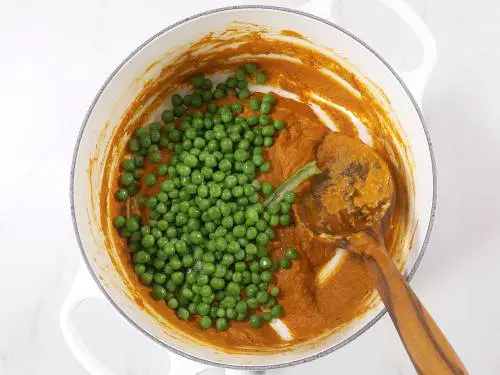 13. Mix well. Cover and cook until the gravy thickens. Taste the gravy and add more salt if needed. Crush 1 teaspoon kasuri methi and add.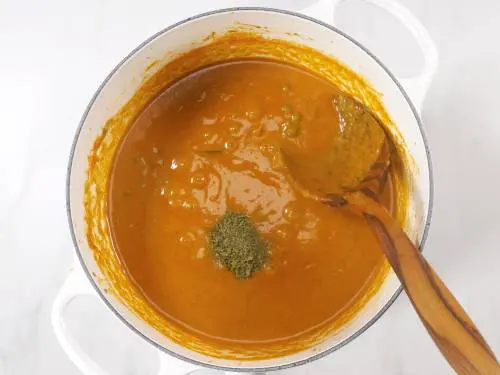 11. Add 1 slit green chilli (optional) and 250 grams paneer. Mix gently and cover. Cook just for 1 to 2 mins. Adding green chilli at this stage gives a unique flavor but you may skip. Turn off the heat. Do not over cook.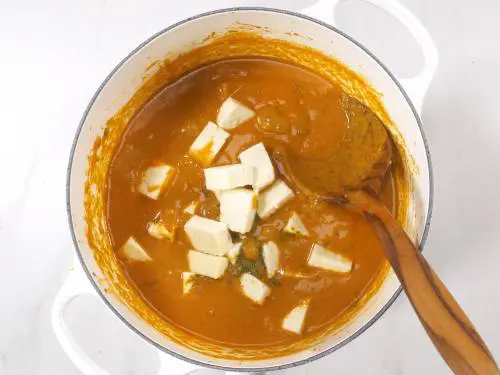 12. Add chopped coriander leaves and 3 to 4 tablespoons cream. Mix well. Transfer to a serving bowl.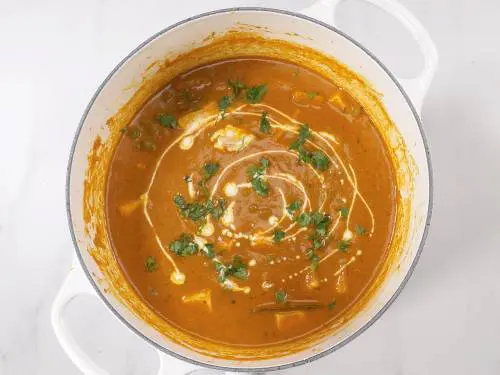 Serve matar paneer with fluffy Basmati Rice, Naan, roti, phulka, Jeera rice or ghee rice.
Here is a picture of the mutter paneer made in Instant pot.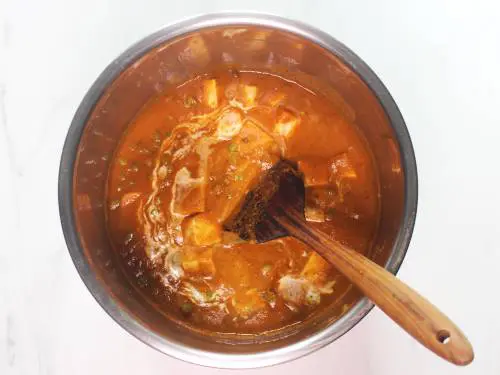 Matar Paneer Recipe – Easy Method 2
Instructions
1. Though I have skipped this step in the step by step pictures below, I don't suggest skipping it because a lot of times raw onions taste bitter after blending and ruin the entire dish. Bring 2 cups of water to a boil & add the 1 cup cubed onions (100 grams). Boil for 2 to 3 mins. Drain the blanched onions.
2. Add blanched onions, 1½ cups tomatoes (340 grams), 1 to 2 small cardamoms, 1 green chili (optional) and 12 to 14 cashew nuts to a grinder jar. If you want you can also add ¼ cup yogurt at this stage and then blend.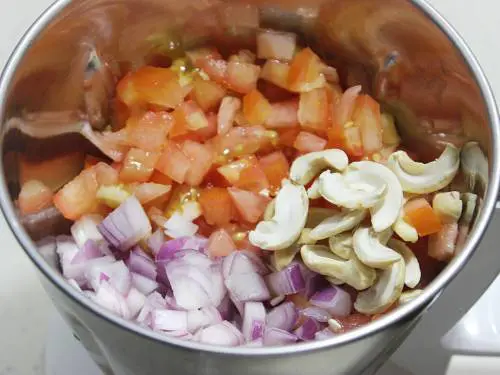 3. Make a fine smooth puree. We don't want any chunks of cashews in the puree. If you do not have a powerful blender, you may pass through a sieve and blend the coarse mixture again.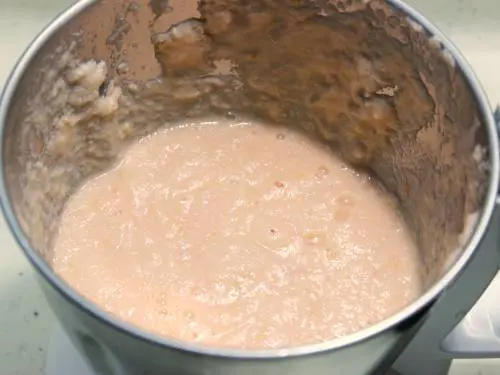 4. Optional step. Saute paneer in little oil and immerse them in warm water until used.
5. Heat 2 tablespoons oil or ghee in a pan. Add ½ teaspoon cumin seeds, 1 green cardamom, 2 cloves, 1 inch cinnamon & bay leaf. When the spices sizzle, add 1½ teaspoon ginger garlic paste.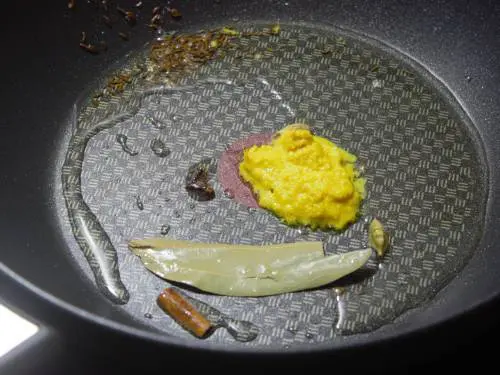 6. Fry ginger garlic paste until the raw smell goes off.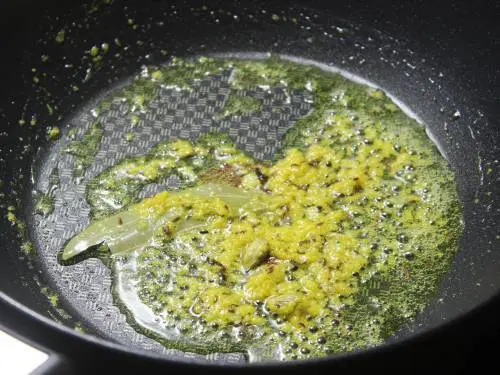 7. Add the ground onion tomato puree & saute on a medium heat stirring often. You can partially cover the pan if it splatters a lot.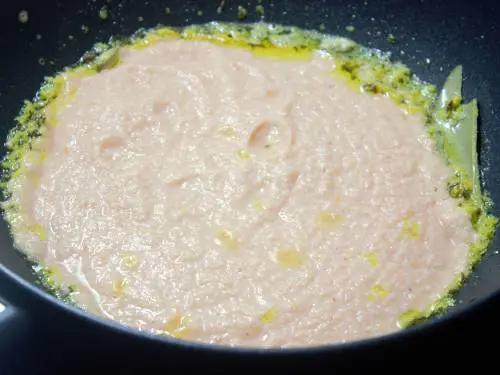 8. Saute until the masala cooks well and the raw smell disappears completely.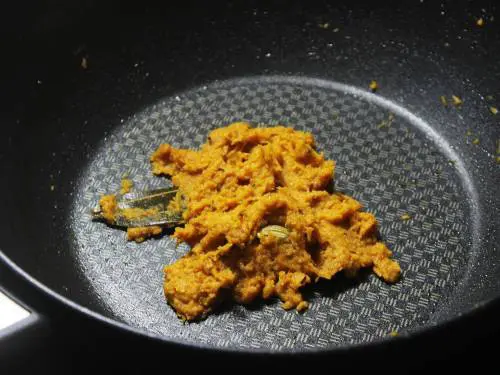 9. Add ¾ to 1 teaspoon chili powder, ¾ to 1 teaspoon garam masala, ½ to ¾ teaspoon coriander powder, 1 teaspoon sugar and ½ to ¾ salt. Sauté for 2 to 3 minutes.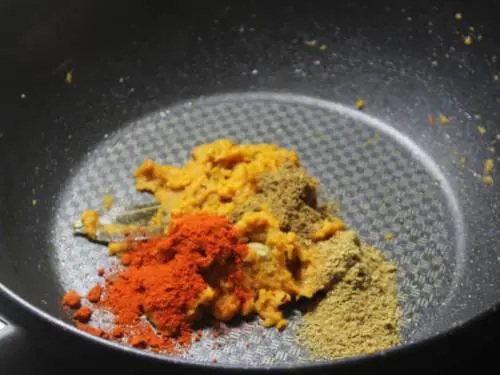 10. Add1 cup peas and pour 1.5 cups water. If you are using frozen peas, you may add them later.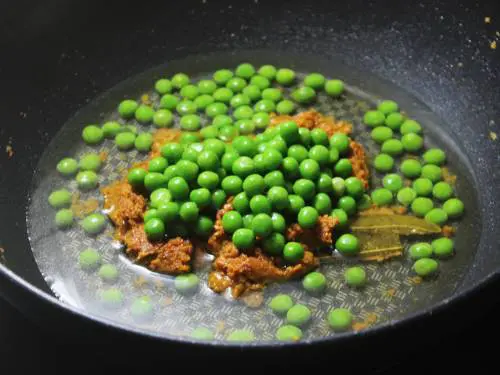 11. Mix well and cook until the gravy thickens and the peas soft cook. If using frozen tender peas, you can add them after the gravy cooks for a while as the frozen ones cook faster.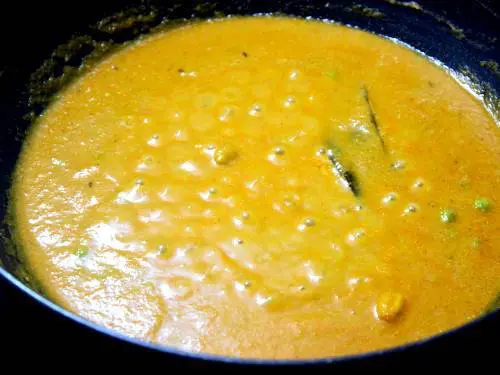 12. When the gravy turns thick, you will also see some oil on top of the gravy. There is not much oil used in the recipe so you can see very little oil on top. To the thick gravy, add paneer and crushed kasuri methi. Crush the kasuri methi in between your palms and then add.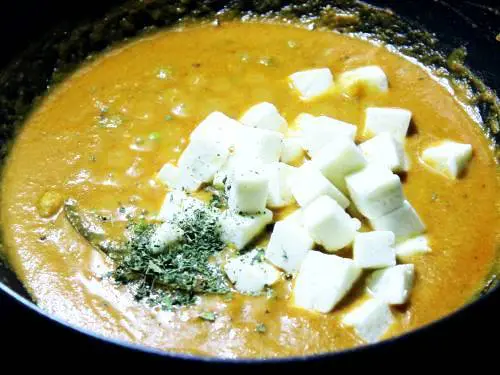 13. Cook for just 1 to 2 minutes. If you fry the paneer at the earlier step, skip cooking again here. Using cream is optional. Pour cream to a small bowl, add little gravy and mix well. Stir this into the pan.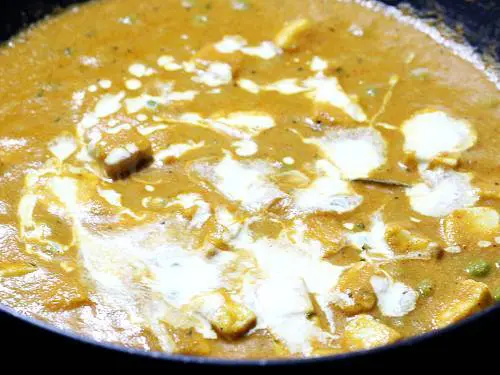 Switch off the stove and add finely coriander leaves. Serve matar paneer with roti or rice.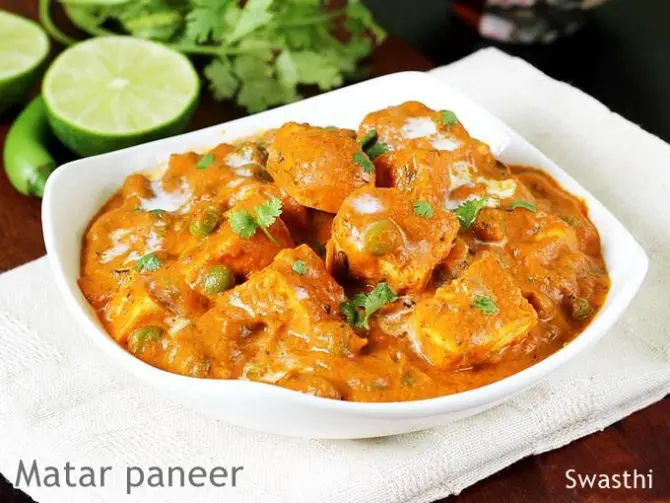 Ingredients & Substitutes
Paneer: Paneer is Indian vegetarian non-melting cheese made by curdling milk. It is easily available in Indian stores in the frozen section. You can also make your own by following this homemade paneer recipe.
If you are a vegan then you can easily substitute it with extra firm tofu or Quorn. Just note that you will need to precook Quorn until tender and then add them along with green peas
Green peas: In India, fresh green peas are in season during the winters and most people use them as they are easily available. But mutter paneer can be made anytime of the year with frozen peas, like the way I did here.
Garam masala is the key spice blend in this recipe. The flavors of your matar paneer will depend highly rely on how aromatic your garam masala is. So do use a good garam masala.
Whole spices can be easily skipped but they slowly infuse the flavors when you simmer the gravy. The depth of flavors is not comparable when you skip them.
Kasuri methi are dried fenugreek leaves. They are easily available in the Indian stores selling North Indian groceries. You may skip them if you don't find but they impart a unique aroma and there is no substitute to it.
Cashews are used for a creamy texture. They can be replaced with soaked and blanched almonds. Alternately you may use 3 tbsps of white poppy seeds. Soak the seeds for 2 hours in warm water and grind them separately in a small grinder to a thick creamy consistency. Pour it at the last step before adding paneer. Simmer until it thickens then add paneer.
Cream adds a milky flavor to the gravy and also makes the dish creamier. However you may just skip it and use 6 more whole cashews.
Variations
Matar Paneer gravy can be made in many ways. Here are a few variations:
For the simplest version, saute fine chopped onions until deep golden, then ginger garlic and then add pureed tomatoes & cashews. Saute until thick and add spices. Pour water and make a thick gravy. Add matar and paneer to this.
To add yogurt & skip cream, you can follow my restaurant dum aloo recipe. Just skip the aloo and use matar and paneer instead with the amount of water mentioned in this post. I also have instant pot version in that post.
To make matar paneer without onions and garlic, you can follow my paneer makhani recipe.
FAQs
Do you need to soak paneer?
If using store bought paneer, it is always good to soak it in warm water for 15 to 20 mins. This softens the paneer and prevents it from turning rubbery.
Can I freeze matar paneer?
Yes you can freeze the matar paneer gravy without adding peas, paneer & cream. Cool the gravy immediately after cooking. Store it in air tight glass containers. Add both peas and paneer when you reheat it.
Is matar paneer healthy?
Yes! This homemade matar paneer is healthy if you eat in moderation. It has a good amount of protein from green peas and paneer. Also it is not excessively loaded with butter and cream, so healthy people can include it in their weekly diet.
Related Recipes
Recipe Card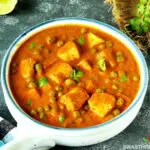 Matar Paneer Recipe, How to Make Mutter Paneer
Matar paneer is a delicious dish made by cooking paneer & green peas in spicy onion tomato masala. This recipe will give you restaurant style creamy & rich matar paneer. It tastes amazing to serve with rice, naan or paratha. Stovetop and instant pot instructions included.
Print Recipe
Pin Recipe
Jump to Comments
For best results follow the step-by-step photos above the recipe card
Ingredients (US cup = 240ml )
To Saute & Puree
1

tablespoon

oil

1 to 2

green cardamoms

(optional, skip if you don't like)

3

garlic

(cloves )

1

inch

ginger

chopped

1

cup

onions

cubed (1 large or 2 medium)

1½

cup

tomatoes

(2 large) chopped

12

cashewnuts

(or almonds, soaked for 2 hours and blanched)

½

teaspoon

salt

¼ to ⅓

cup

curd

(yogurt, optional, refer notes)
For Matar Paneer Gravy
1

inch

cinnamon

(dalchini) (optional)

1

small

bay leaf

(optional)

¼

teaspoon

turmeric

¾ to 1

teaspoon

Kashmiri red chili powder

(adjust to taste)

¾ to 1

teaspoon

garam masala

(adjust to taste)

½ to ¾

teaspoon

coriander powder

1

teaspoon

sugar

1

cup

green peas

(matar) (boiled or frozen)

1 to 1 ¼

cup

water

(use more if needed)

1

green chili

deseeded & slit (optional)

250

grams

paneer

(indian cottage cheese)

1

teaspoon

kasuri methi

(dried fenugreek leaves)

¼

teaspoon

salt

as needed (about ¼ to ½ tsp)

2

tablespoon

coriander leaves

(cilantro)

3 to 4

tablespoon

cream

(optional)
Instructions
Preparation
If using store bought paneer, soak it in a bowl of hot water for 20 mins. Drain the water and use. This step helps to keep the paneer soft.

Pour oil to a hot pan. When the oil turns hot, add green cardamoms (optional), ginger & garlic.

1 tablespoon oil,

1 to 2 green cardamoms,

3 garlic,

1 inch ginger

Fry for a minute. Next add chopped onions & saute until they turn light golden.

1½ cup tomatoes,

½ teaspoon salt

Saute for 2 to 3 mins. Add cashews. Cook covered until soft & mushy.

Cool this completely. Add to a grinder along with curd/ yogurt (optional) and make a smooth puree.
How To Make Matar Paneer
Heat oil in the same pan. Add cinnamon & bay leaf, let sizzle in oil for a minute.

Lower the heat and add turmeric, chili powder, sugar (optional), garam masala and coriander powder. Mix well.

Pour the pureed onion tomato mixture. If your puree is not smooth, then pass it through a filter/sieve.

Saute until the masala comes together and turns thick. Keep stirring to prevent burning.

Next add green peas. Pour water. If using fresh peas, boil them until tender in a pot, drain and use. If using frozen peas then you can rinse and use.

Mix well to make a thick gravy. Add more water if needed.

Mix and cook covered on a medium heat until the gravy thickens and traces of oil appear over the gravy.

Crush kasuri methi in your palm & sprinkle all over. Mix well.

Check salt and add more if needed. Add green chilli (optional) & cubed paneer.

Cover and cook just for 2 mins. Sprinkle coriander leaves and cream.
Instant Pot Matar Paneer
Grate or crush the ginger garlic. Keep aside. Sauté onions in 1 tbsp oil for 5 mins in the Instant pot. Or Alternately bring 1½ cups water to a rolling boil and add the onions. Boil for 5 mins and remove them.

To a blender jar, add boiled/sauteed onions, chopped tomatoes, cashews, cardamoms and yogurt (optional). Blend them to make a very smooth puree without adding water.

Press saute button on the instant pot and pour oil. Do not let the pot become too hot. Add bay leaf, cinnamon and ginger garlic (to a side into the oil). Saute for 30 seconds.

Pour the onion tomato puree. Add red chilli powder, turmeric powder, salt, sugar, coriander powder and garam masala.

Saute until the mixture turns slightly thicker and aromatic. Cover with an external lid to avoid splatters. This step takes about 5 minutes. Press cancel button.

Pour 1 cup water and deglaze the pot well. Secure the Instant pot with the lid and position the steam release valve to sealing.

Press pressure cook button (low) & set the timer to 5 mins. If you want to put your rice together, soak basmati rice for 30 mins and drain the water. Place the rice bowl over a trivet and pour hot water.

When the IP is done, wait for 6 to 7 minutes & then release the rest of the pressure manually.

Stir the gravy. Add green peas and cook for 2 minutes. (If you are using fresh peas, you will need to boil them separately and then add here.) To avoid splatters, cover the pot when you cook.

Taste test and add more salt if needed. If the curry is runny, cook it on saute mode for a few minutes.

Add kasuri methi, cream and paneer. Stir and Press cancel. Remove the steel insert carefully & cover the pot immediately. Let matar paneer rest for 10 minutes.
Notes
You can substitute tofu for paneer.
Yogurt adds a bit of richness and brings a slightly tangy flavor to the matar paneer. I have made this for many years without curd, it tastes as good even without the curd. But using very sour yogurt may impart a sour flavor and taste to the curry so use with caution.
Alternative quantities provided in the recipe card are for 1x only, original recipe.
For best results follow my detailed step-by-step photo instructions and tips above the recipe card.
NUTRITION INFO (estimation only)
Nutrition Facts
Matar Paneer Recipe, How to Make Mutter Paneer
Amount Per Serving
Calories 371
Calories from Fat 252
% Daily Value*
Fat 28g43%
Cholesterol 41mg14%
Sodium 764mg33%
Potassium 386mg11%
Carbohydrates 18g6%
Protein 12g24%
Vitamin A 515IU10%
Vitamin C 20.1mg24%
Calcium 351mg35%
Iron 1.9mg11%
* Percent Daily Values are based on a 2000 calorie diet.
Matar Paneer Recipe first published in Sept 2015. Updated and Republished in November 2022.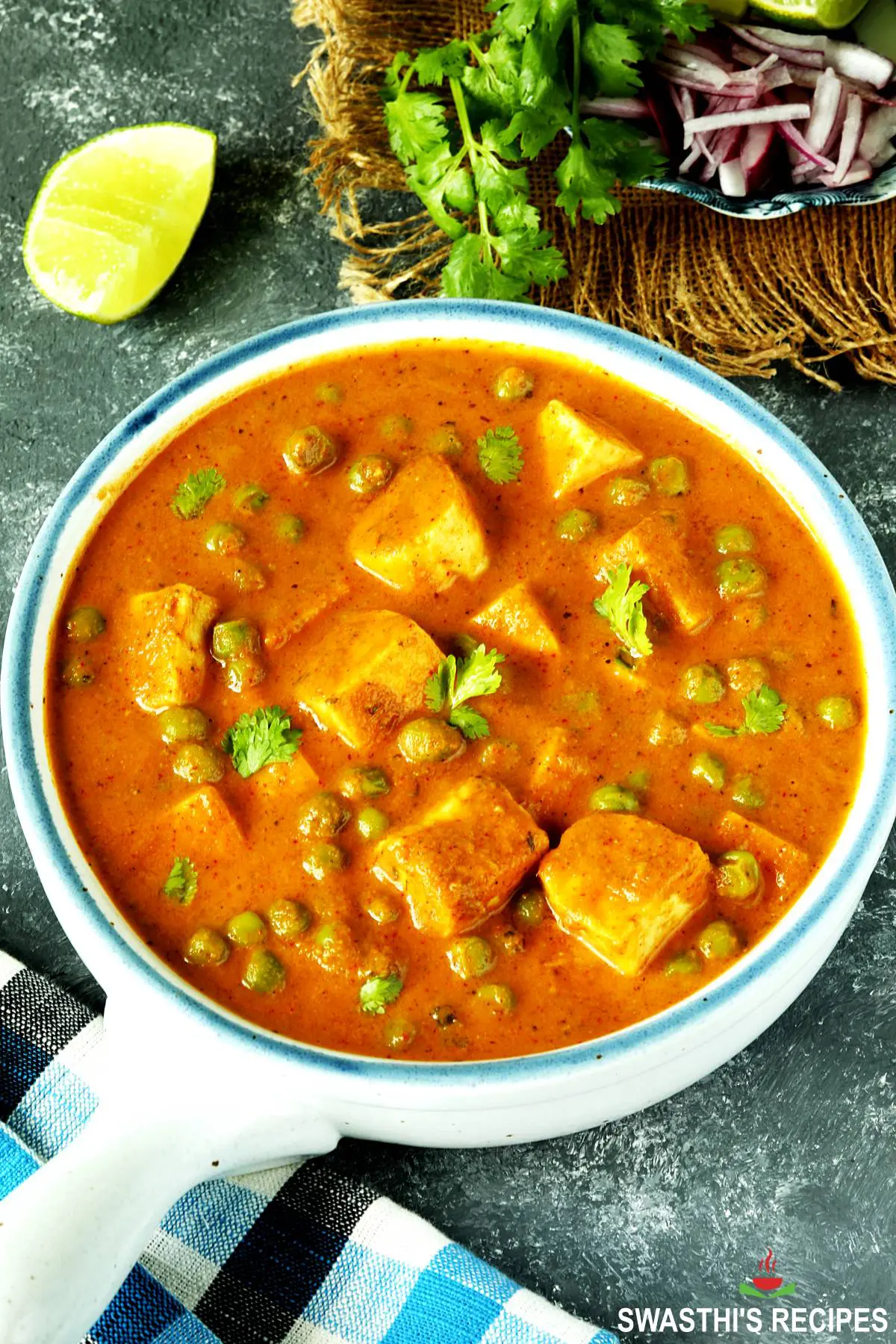 About Swasthi
I'm Swasthi Shreekanth, the recipe developer, food photographer & food writer behind Swasthi's Recipes. My aim is to help you cook great Indian food with my time-tested recipes. After 2 decades of experience in practical Indian cooking I started this blog to help people cook better & more often at home. Whether you are a novice or an experienced cook I am sure Swasthi's Recipes will assist you to enhance your cooking skills. More about me
Follow Swasthi's Recipes