Chilli paneer recipe – A restaurant style paneer chilli dry & gravy recipe with video & step by step photos. Chilli paneer is a popular Indo Chinese starter made by seasoning fried Indian cottage cheese aka paneer in chilli sauce. We love the restaurant served Indo chinese foods. But I try to limit eating them out due to the MSG and large amount of sauces used. Most times I make them at home using the best possible ingredients and without MSG.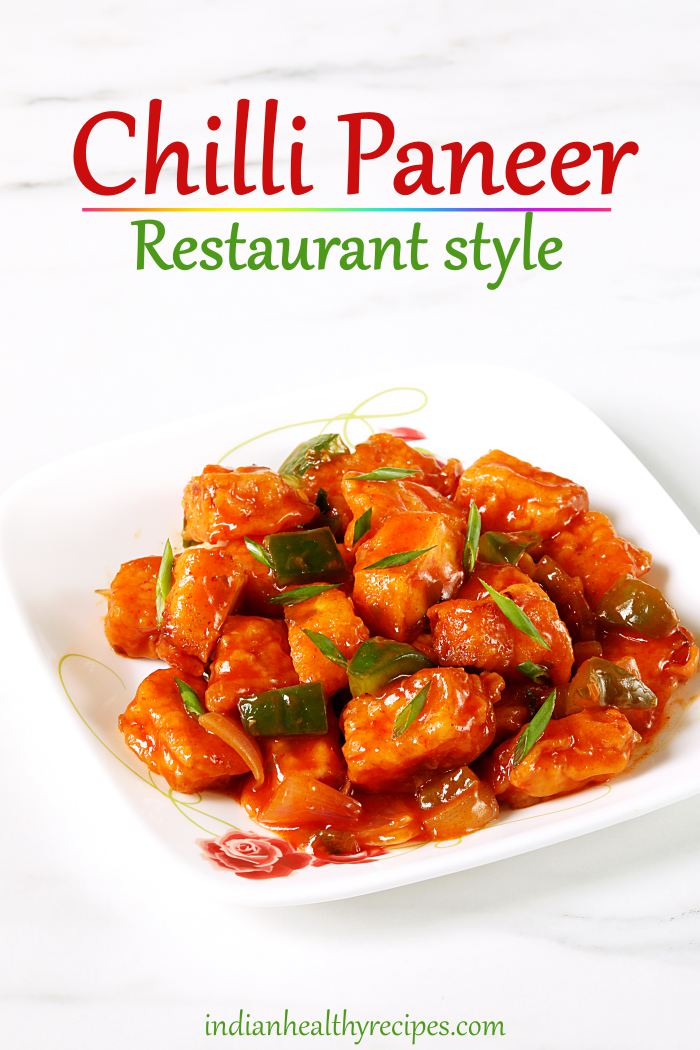 This recipe yields one of the best chilli paneer dry & gravy. It pairs so well with veg fried rice, schezwan fried rice & hakka noodles, & can also be served as a appetizer.
A slightly different version of this is the Paneer manchurian recipe. A dry version goes well as a starter. While a gravy version goes well as a side dish to veg fried rice, restaurant style hakka noodles or this easy veg noodles.
The recipe of chilli paneer is quite simple & easy even for beginners. Firstly paneer is coated in corn starch batter and fried until crisp.
Then a fresh chilli sauce is made by sauteing ingredients like garlic, capsicum and spring onions. Next red chili sauce, soya sauce and vinegar are added to make the sauce.
A slurry made of corn starch is added to thicken the chilli sauce. Lastly the crisp fried paneer bites are tossed in this yummy sauce.
In restaurants the entire seasoning is made in a Chinese wok on a very high flame which lends a unique smoky flavor. So it is hard to recreate the same flavors at home.
Here are some tips which will help you make the best chilli paneer at home.
Tips to make chilli paneer
Paneer can be shallow fried, grilled or deep fried.
Avoid over frying paneer especially on a low flame as it tends to turn hard & chewy.
Do not use lot of chilli powder in the recipe as it totally alters the taste. Instead use a red chilli paste made of soaked red chilies.
You can use any chilli sauce that you prefer just adjust the quantity to suit your taste.
To make chilli paneer gravy, you can double or triple the amount of corn starch & water in the chilli paneer recipe.
If you add more corn starch, then you will also need to add a proportionate amount of garlic, soya sauce, chilli sauce, pepper, salt, sugar and vinegar.
2 tsp corn starch for every 1 cup of water gives me the right consistency.
Adding too much water to the sauce will over cook onions & capsicum making them soggy. So use additional water with caution.
Next too much corn flour and not enough water will not yield a good tasting sauce. The corn starch turns too thick and tastes starchy.
Tips to limit refined flour
If you are a health nut like me and prefer to limit refined flour, then here are the tips I follow
Skip all-purpose flour or maida from the recipe completely. Use wheat flour or whole wheat pastry flour to make the batter.
Sometimes I totally skip the corn starch for the sauce and just pour 3 to 4 tbsps water. As red chilli sauce already has some starch in it, adding water thins it down and helps to coat the paneer well. I have followed the same in the step by step photo method.
Other option is to just replace corn starch (for sauce) with arrowroot powder.
Always choose naturally brewed or organic soya sauce.
Check the labels before you buy the red chilli sauce. Avoid those having msg & colors.
Use organic apple cider vinegar.
For more Paneer recipes check
Paneer tikka
Crispy paneer 65
Paneer cheese toast
Crispy paneer popcorn
Garlic paneer
Chilli paneer recipe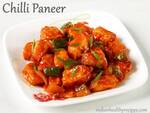 Chilli paneer
Crispy chilli paneer is a Indo chinese starter or appetizer made by tossing fried paneer in sweet sour and spicy chilli sauce. This recipe will help you to make the best restaurant style dish. Serve it as a snack or as a side with noodles & fried rice.
Pin Recipe
Ingredients (1 cup = 240ml )
200

grams

paneer

(Cubed to ¾ by ¾ inch pieces)

¼

teaspoon

red chilli powder

(kashmiri or less spicy kind) (optional)

3

tablespoons

corn flour

(corn starch)

3

tablespoons

all-purpose flour

(maida) (optional)

2

pinches

black pepper

(crushed or ground)

⅛

teaspoon

salt

(adjust to taste)

water

( as needed)

3 to 4

tablespoon

oil

(as needed for shallow frying)
Sauce for chilli paneer recipe
1

tablespoon

soya sauce

(naturally brewed or organic)

2

tablespoons

red chilli sauce

(or 1 tbsp hot sauce)(adjust to taste)

2

tablespoons

tomato ketchup

½ to 1

teaspoon

vinegar

(i use apple cider)

½

teaspoon

red chili powder

(or red chilli paste)

1

tsp

sugar

(adjust to taste)
other ingredients
1

tablespoon

garlic

(finely chopped )

2

tablespoon

spring onions

(greens chopped )

2

tablespoon

spring onion

(whites chopped)

½

cup

capsicum

(bell pepper) cubed

1

medium

onion

(cubed, layers separated)

1

green chilies

(slit and deseeded)

¼

teaspoon

pepper powder

(crushed black pepper)

1

teaspoon

corn flour

(2 tsps for more gravy)

½

cup

Water

(1 cup for more gravy) (adjust as needed)
How to make the recipe
Preparation
Add 3 tablespoons cornflour, 3 tablespoons all-purpose flour (optional) to a mixing bowl.

Then add in ¼ teaspoon red chilli powder, 2 pinches of crushed black pepper, 1/8 teaspoon salt and little water.

Mix together to make a batter.

Consistency: If you are health conscious and prefer to use less refined flour then make a thin batter. If you like the restaurant style chilli paneer which has a thick coating of flour, then make thick batter.

Add 200 to 250 grams of cubed paneer and gently coat the batter.

Heat 3 to 4 tablespoons oil in a deep pan for shallow frying.

Check if the oil is hot enough by dropping a small portion of batter.

It must rise without browning. This is the correct temperature.

Pick up each batter coated paneer with a spoon and gently slide them in the hot oil.

Do not disturb them for a minute or until the batter firms up.

Stir and fry them on a medium heat until crispy. Drain to a kitchen tissue or a steel colander.
How to make chilli paneer
For dry chilli paneer : Stir in 1 tsp corn flour to a bowl and mix with half cup water. Stir well & set aside.

Remove the oil from the pan retaining 1 tbsp. Fry one tablespoon finely chopped garlic until it smells good.

Then add in 2 tablespoons of spring onion whites and 1 medium onion cubed & layers separated.

Also add in 1 slit green chili and half cup diced capsicum. Saute on a high flame for 1 to 2 mins.

Stir in soya sauce, red chilli sauce, tomato ketchup, sugar, vinegar and red chilli powder or paste.

Mix the corn flour mixture and pour it to the pan. Cook till the sauce thickens.

Check the taste of the sauce. You can add more sauces or salt if you wish to adjust to your taste.

If you want to thin down the sauce, just add more water to get the desired consistency.

Add fried paneer cubes, crushed pepper (powder) to the chilli sauce and mix.

Add the spring onion greens.

Serve paneer chilli hot as a appetizer. You can also serve this with noodles or fried rice.

For chilli paneer semi gravy : Add 2 tsp corn flour & 1 cup water to a bowl. Stir well and make a lump free slurry. you will need to add in 1 tablespoon more of soya sauce, 1 tbsp more of chilli sauce, half teaspoon of vinegar and little more salt & sugar.

Next sprinkle pepper powder. If the sauce turns too thick, just add little more water.

Add paneer and spring onions. Toss well.

Serve chilli paneer as a appetizer or with rice or noodles.
Video
In the video I have shown making chilli paneer that has more sauce than the one shown in step by step pictures. The recipe is the same as mentioned in the recipe card with 1 tsp cornflour and half cup water.
NUTRITION (estimation only)
Calories:
443
kcal
|
Carbohydrates:
26
g
|
Protein:
14
g
|
Fat:
32
g
|
Saturated Fat:
13
g
|
Cholesterol:
56
mg
|
Sodium:
522
mg
|
Potassium:
99
mg
|
Fiber:
2
g
|
Sugar:
10
g
|
Vitamin A:
1015
IU
|
Vitamin C:
29.3
mg
|
Calcium:
415
mg
|
Iron:
0.5
mg
If you are a beginner or new to Indian cooking, I highly suggest you to check the supporting step by step photos for best results. Step by step photos with description available below after the recipe card.
Preparation for chilli paneer recipe
1. Add 3 tbsps corn flour, 3 tbsps maida (optional), 1/8 tsp salt, 1/4 tsp red chilli powder and 1/8 tsp pepper powder to a bowl.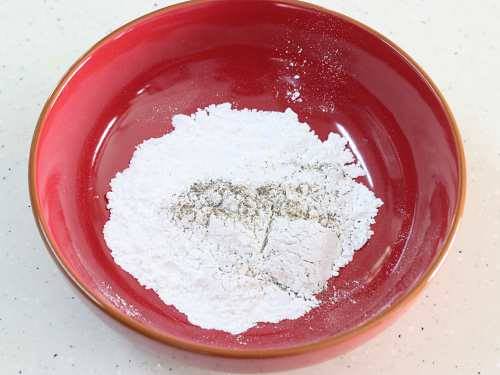 2. Make a thick or thin batter adding water only as needed. If you like the restaurant style flour coated paneer then make a thick batter.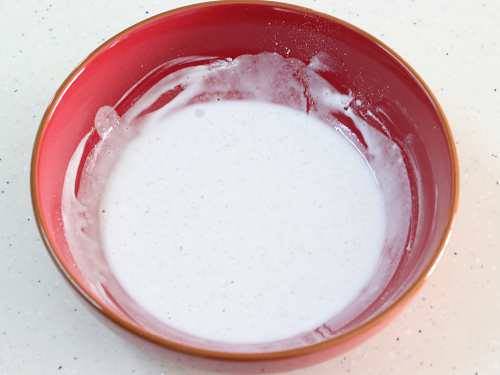 3. Add 200 grams cubed paneer to the batter. Then coat them well with batter.
Alternate way: If you like, you can also marinate paneer with ½ tbsp chilli sauce, ¼ tbsp soya sauce and just add some dry flour to the paneer. It can be grilled, tawa fried, shallow fried or deep fried.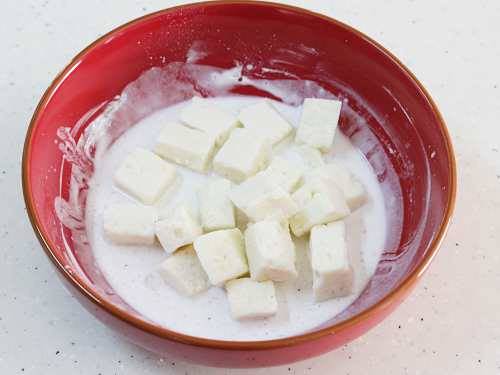 4. Heat a pan with 3 to 4 tbsps oil. Check if the oil is hot enough by adding a small portion of batter to the hot oil. It must rise up without browning. This is the correct heat.
5. Gently slide the paneer one by one. Fry them on a medium high flame. Spread them evenly while frying else they stick to each other.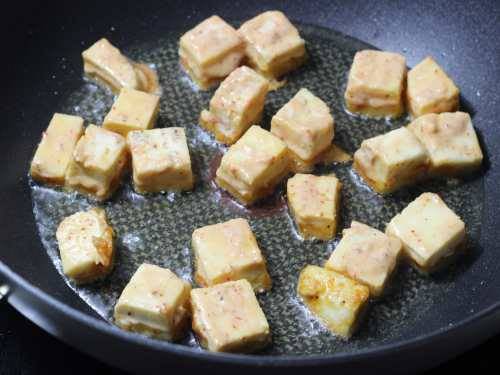 5. Stir well and fry evenly until golden. You may not get the golden color if you have not used chili sauce or chilli powder.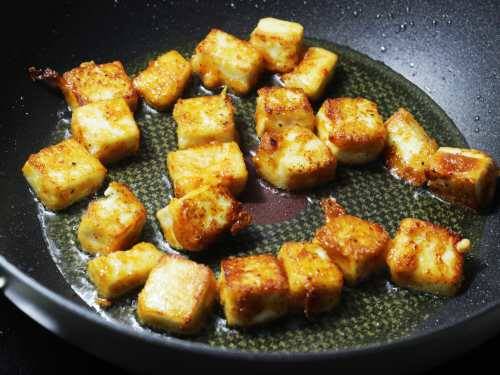 6. Drain them on a kitchen tissue or colander.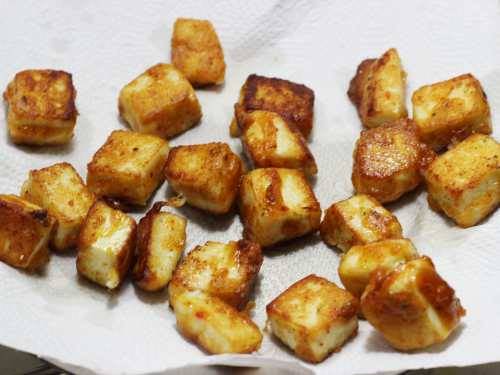 7. Heat 1 tbsp oil in the same pan. Add garlic and saute until they smell good.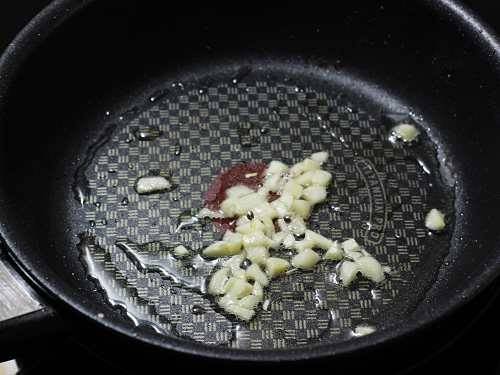 8. Switch the flame to high. Add cubed onions, spring onions greens, capsicum, sliced and deseeded chilli. Saute on a high flame till they are slightly cooked but still crunchy. While the veggies fry, go ahead to the next step.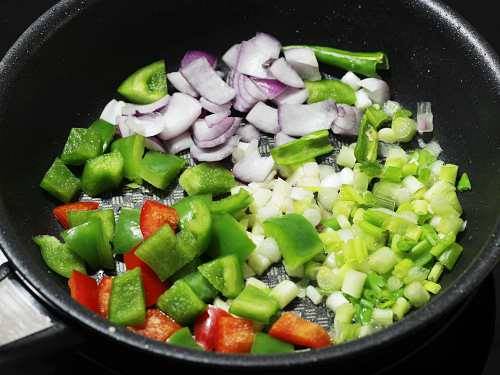 9. For the restaurant style dry chilli paneer with glossy look – Add 1 tsp of corn flour with half cup water to a bowl. Stir well and set aside.
For a healthier version, you can even skip using corn flour like the way I did. The smooth feel of sauce and the glaze will be missing.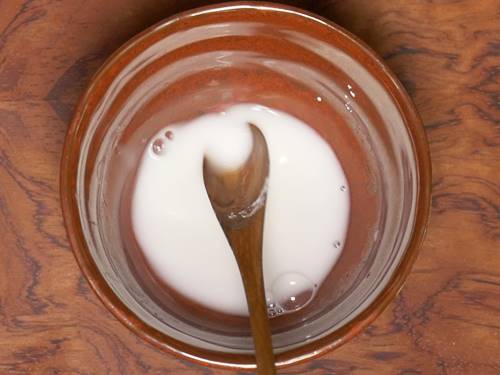 How to make chilli paneer recipe
10. Once the veggies are fried for a minute, pour 1 tablespoon soya sauce, 1/2 to 1 teaspoon vinegar, 1 to 2 tablespoons red chilli sauce, 2 tbsps tomato ketchup and 1/2 teaspoon chilli powder (optional) or paste.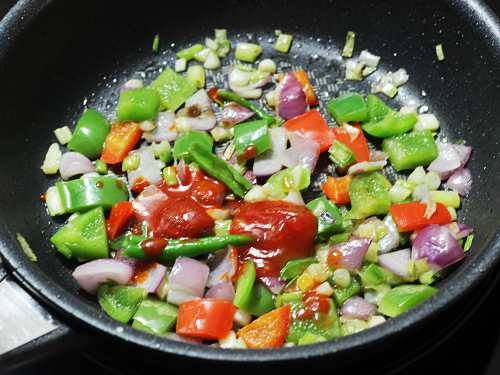 11. Stir the corn flour mixture we made earlier with a spoon and pour it to the pan. If you are trying to reduce corn starch in your foods then just add 3 tbsps water here instead of corn flour slurry.
Red chilli sauce has some starch in it. So that will be enough to coat the paneer.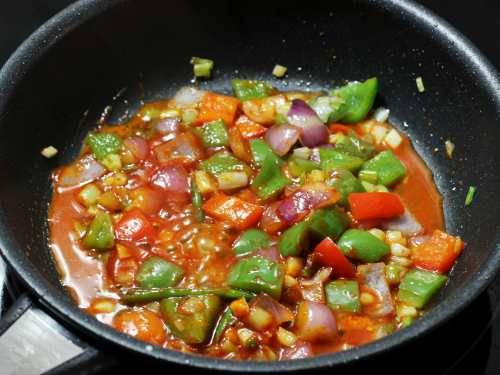 Then allow the sauces to bubble and thicken as well. Taste the sauce and add more salt & sauces if needed.
14. Next add 1/4 teaspoon pepper powder, paneer, 2 tablespoons spring onion greens and toss on a high flame for 1 to 2 minutes.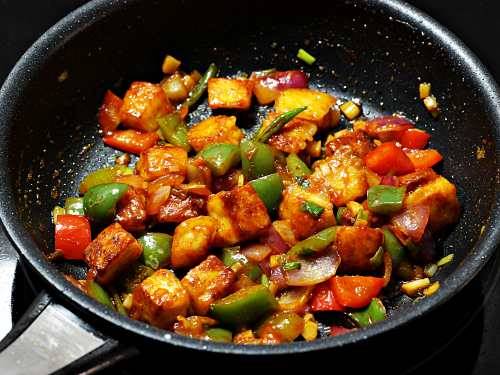 To make chilli paneer gravy, you will have to use more of soya sauce, chilli sauce as desired. Next Add 2 tsp corn flour, pinch of salt, half cup of water to a bowl. Stir well to break any lumps. You can also add a tsp tomato ketchup.
Lastly pour the mixture to the pan. Stir well. When the mixture comes to a boil and thickens, add paneer. Switch off the stove. Adjust more or less water, corn flour and salt as needed to get make more gravy.
Garnish chilli paneer with spring onions. This one is with 1 tsp corn starch and half cup water.