Chilli Paneer Recipe (Restaurant Style)
Make restaurant style Chilli Paneer recipe with options to prepare dry, semi-dry & gravy versions. Chilli Paneer is one of the popular vegetarian appetizers served in the Indian-Chinese restaurants. Indo-Chinese Cuisine has introduced plenty of toothsome foods to Indians and in fact everyone loves them for their amazing Chinese flavors. But most often the restaurant served foods are loaded with oil, MSG and food colors. This post will help you make delicious chilli paneer using easily available ingredients & without MSG. This homemade version tastes as good or even better than the restaurant served!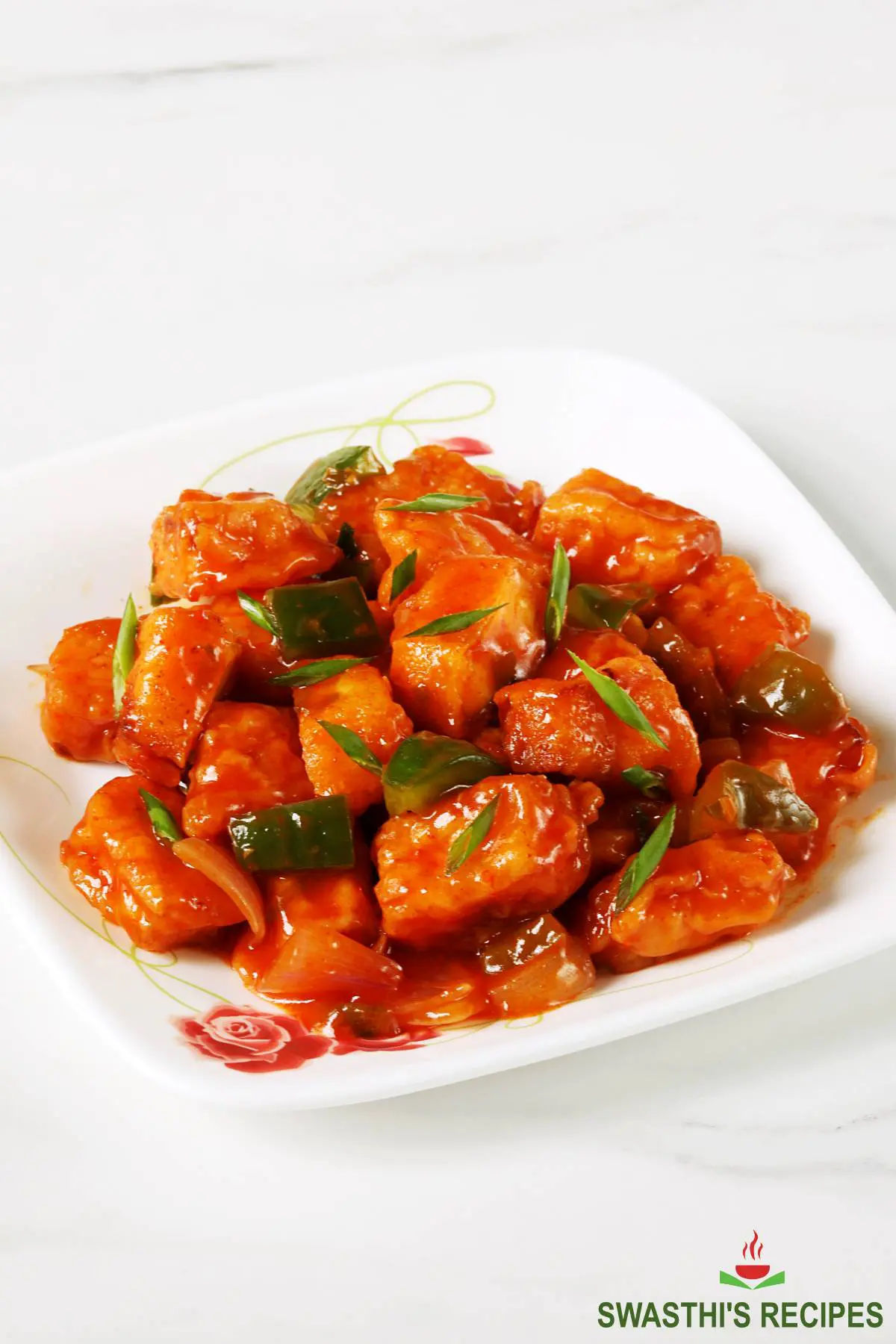 About Chilli Paneer
Chilli Paneer is an Indo-Chinese appetizer where crisp batter fried paneer is tossed in slightly sweet, spicy, hot and tangy chilli sauce. While Garlic and green chilies bring in hot & pungent aroma, various sauces like chilli sauce, soya sauce and vinegar are used to impart some Chinese flavors.
Veggies like onions, spring onions & bell pepper add body to the dish & corn starch brings an essential silky and smooth feel to the chilli paneer sauce.
There are basically 3 versions of chilli paneer – gravy, dry & semi-dry. The dry version is best served as an appetizer. In standard restaurants, on request you get the semi-dry version which is in between the gravy and dry. This is slightly saucy and kids' will love it with rotis & naans.
The gravy version has plenty of sauce and is great to serve with veg Fried rice, Schezwan fried rice, and Veg noodles or even with Hakka noodles.
If you are short on time to make fried rice, make the chilli paneer gravy and simply serve it with plain basmati rice. Without making a separate meal, sometimes I simply stir in some cooked & cooled noodles into the gravy.
On Occasions I also make roti rolls with the chilli paneer & my kids absolutely love that. Overall this Chilli paneer is delicious, addictive and is easy to make. The homemade version is even more special as we have the option to use the best or organic ingredients.
I always find ways to minimize the refined ingredients and store bought sauces in home cooked foods. Below in the pro tips section I share my tips for the same. My boys are okay with all of those healthy versions. If you are a health freak like me, you will surely love them.
For more Paneer Recipes check
Paneer tikka
Crispy paneer 65
Paneer Manchurian
Paneer cheese toast
Crispy paneer popcorn
Garlic paneer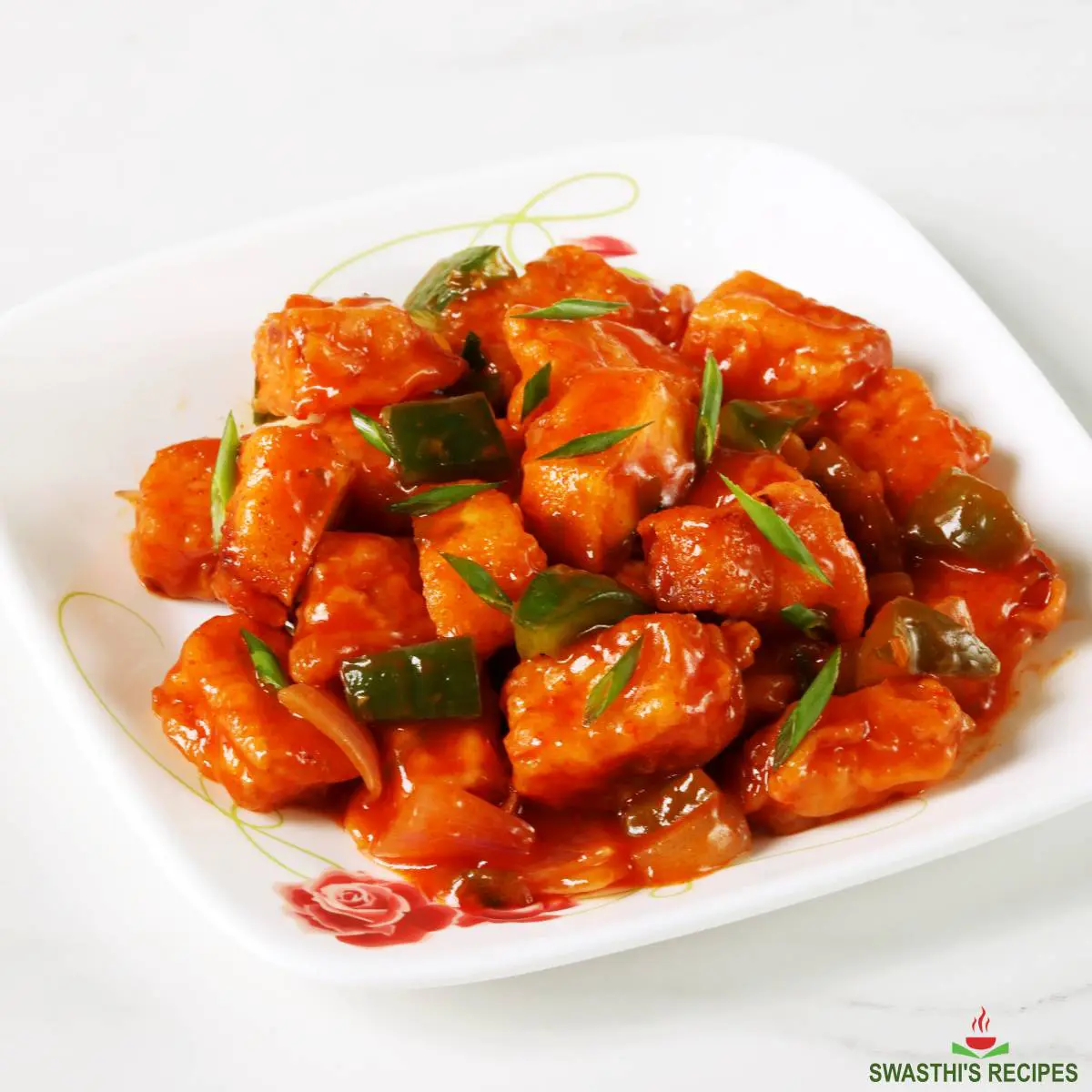 How to Make Chilli Paneer (Stepwise Photos)
Make Batter
1. Add 3 tablespoons corn flour, 3 tablespoons all-purpose flour (maida, optional), 1/8 teaspoon salt, ¼ teaspoon red chilli powder and 1/8 teaspoon pepper powder to a mixing bowl.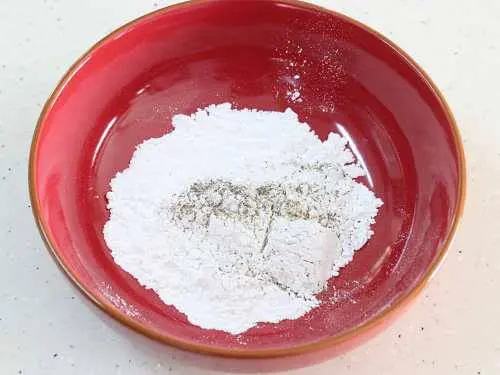 2. Pour 5 to 6 tablespoons water and make a batter that is neither too thick nor too thin. If the batter is too runny, it will not coat the paneer. Add more water only if needed. Check video for batter consistency. Restaurant style chilli paneer has a thick coating of batter.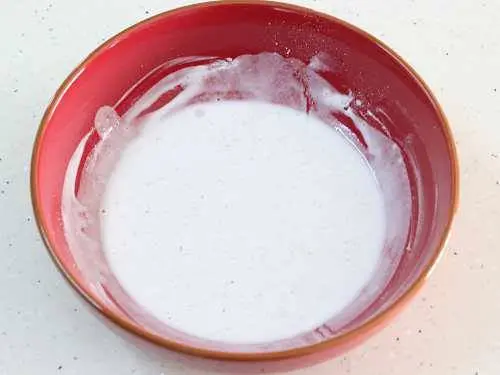 3. Add 200 grams cubed paneer to the batter. Then coat them well with batter.
Alternative way: If you like, you can also marinate paneer with ½ tbsp chilli sauce, ¼ tbsp soya sauce and just add some dry flour to the paneer. It can be grilled, tawa fried, shallow fried or deep fried.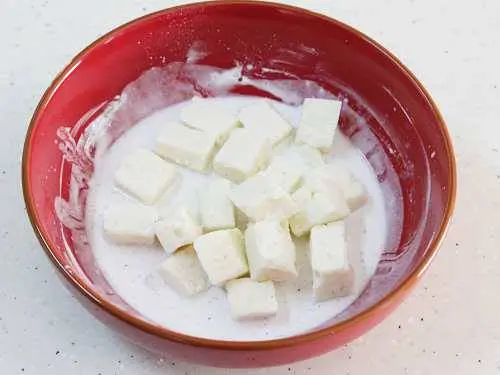 Fry Paneer
4. Heat a pan with 3 to 4 tablespoons oil. Check if the oil is hot enough by adding a small portion of batter to the hot oil. It must rise up without browning. This is the correct heat.
5. Gently slide the paneer one by one spacing them apart in the oil. This prevents them from sticking to each other. Fry them on a medium high flame. Important: Spread them in the pan while frying else they stick to each other.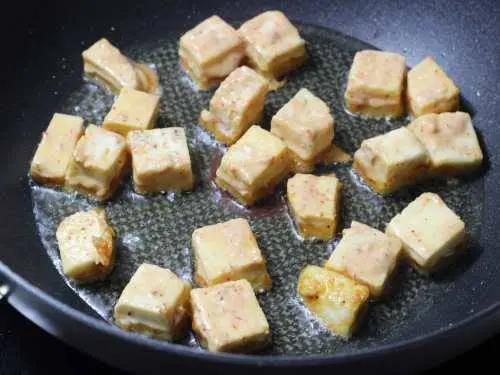 5. Stir well and fry evenly until golden. You may not get the golden color if you have not used chili sauce or chilli powder.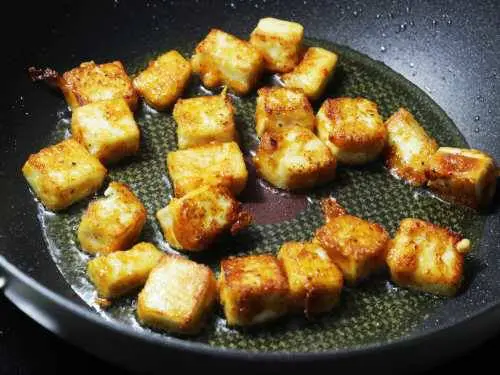 6. Drain them on a kitchen tissue or colander.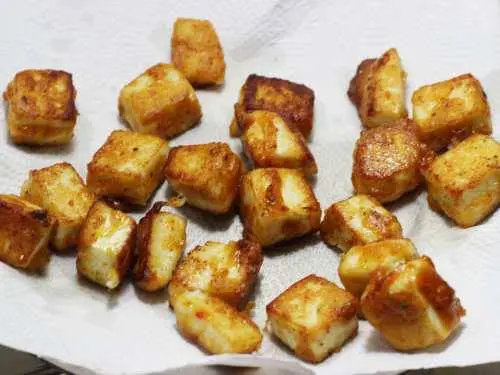 Season Chilli Paneer
7. Heat 1 tbsp oil in the same pan. Or remove the excess oil from the pan and retain 1 tablespoon in it. Add 1 tablespoon garlic and saute until they smell good.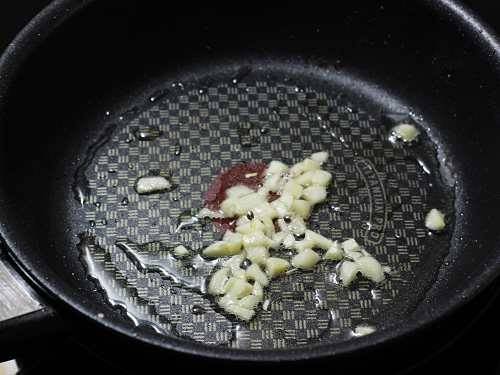 8. Switch the flame to high. Add cubed onions, spring onions greens, capsicum, sliced and deseeded chilli. Saute on a high flame till they are slightly cooked but still crunchy. While the veggies fry, go ahead to the next step.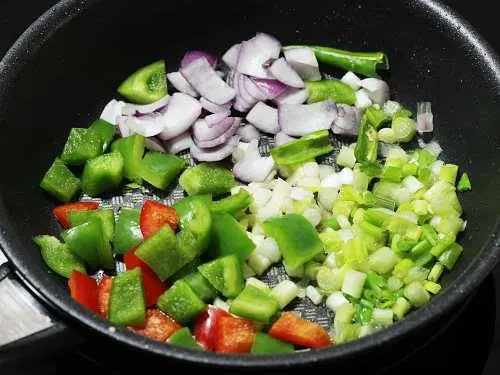 9. For the restaurant style dry chilli paneer with glossy look – Add 1 tsp of corn flour with half cup water to a bowl. Stir well and set aside.
For a healthier version, you can even skip using corn flour like the way I did. The smooth feel of sauce and the glaze will be missing.
If you want to make the gravy version scroll down to step 15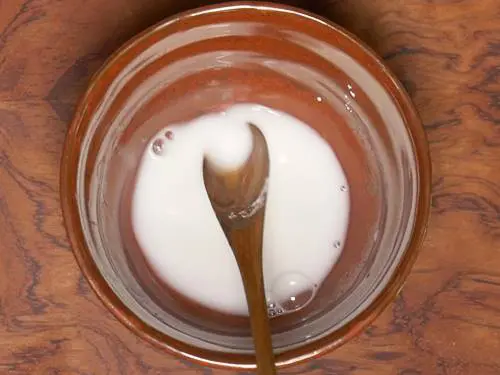 10. Once the veggies are fried for a minute, pour 1 tablespoon soya sauce, ½ to 1 teaspoon vinegar, 1 to 2 tablespoons red chilli sauce or green chilli sauce, 2 tbsps tomato ketchup and ½ teaspoon chilli powder (optional) or paste.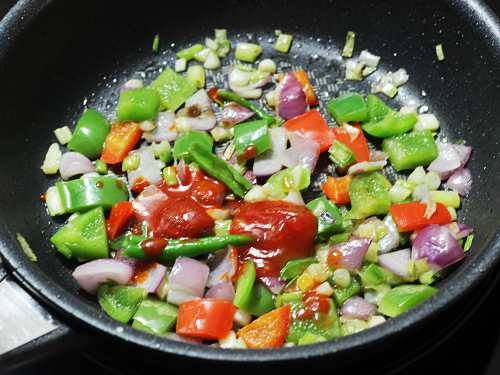 11. Stir the corn flour mixture we made earlier with a spoon and pour it to the pan. If you are trying to reduce corn starch in your foods then just add 3 tbsps water here instead of corn flour slurry.
Red chilli sauce has some starch in it. So that will be enough to coat the paneer.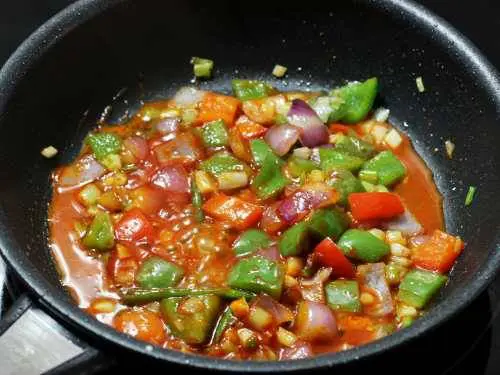 Then allow the sauces to bubble and thicken as well. Taste the sauce and add more salt & sauces if needed. Turn off the stove and let the sauce cool down a bit.
14. Next add ¼ teaspoon pepper powder, fried paneer, 2 tablespoons spring onion greens. If you have not used any corn slurry for the sauce then toss on a high flame for 1 to 2 minutes to bring a smoky aroma.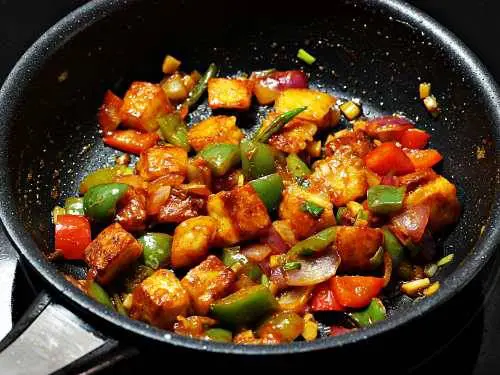 Garnish chilli paneer with spring onions. This picture is when I made it without cornstarch for sauce.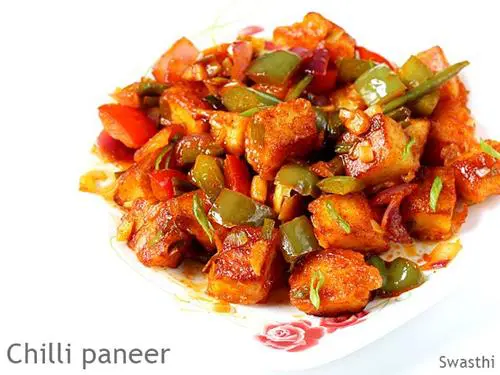 This one is with 1 tsp corn starch and half cup water. This is from the video.
Make Chilli Paneer Gravy (Extra Sauce)
This gravy version is the same I make for chilli chicken.
15. In a small bowl, mix together 4 tablespoons chilli sauce, 2 tablespoons soya sauce, 3 tablespoons ketchup. Mix together 2 teaspoons cornstarch with 1 cup water to make a slurry. Stir well to break any lumps.
16. After sauteeing the bell peppers and onions for 2 minutes, pour sauces. Turn the flame to low, and then stir the corn slurry in the bowl with a spoon. Pour it slowly to the pan and give a good mix.
17.When the mixture comes to a boil and thickens, taste test it and add half teaspoon black pepper. Add more sauces or salt as desired. If the mixture turns too thick, then pour some hot water and stir. When the sauce is ready turn off the heat.
Cool down a bit and then add the crisp fried paneer and give a good stir. Garnish with spring onions and serve hot.
Here are some tips which will help you make the best chilli paneer at home.
Pro Tips
Paneer can be shallow fried, grilled or deep fried.
Avoid over frying paneer especially on a low flame as it tends to turn hard & chewy.
Do not use lot of chilli powder in the recipe as it totally alters the taste. Instead use a red chilli paste made of soaked red chilies.
You can use any chilli sauce that you prefer just adjust the quantity to suit your taste.
To make chilli paneer gravy, you can double or triple the amount of corn starch & water in the chilli paneer recipe.
If you add more corn starch, then you will also need to add a proportionate amount of garlic, soya sauce, chilli sauce, pepper, salt, sugar and vinegar.
2 tsp corn starch for every 1 cup of water gives me the right consistency.
Adding too much water to the sauce will over cook onions & capsicum making them soggy. So use additional water with caution.
Next too much corn flour and not enough water will not yield a good tasting sauce. The corn starch turns too thick and tastes starchy.
Tips to limit refined flour
If you are a health nut like me and prefer to limit refined flour, then here are the tips I follow
Skip all-purpose flour or maida from the recipe completely. Use wheat flour or whole wheat pastry flour to make the batter.
Sometimes I totally skip the corn starch for the sauce and just pour 3 to 4 tbsps water. As red chilli sauce already has some starch in it, adding water thins it down and helps to coat the paneer well. I have followed the same in the step by step photo method.
Other option is to just replace corn starch (for sauce) with arrowroot powder.
Always choose naturally brewed or organic soya sauce.
Check the labels before you buy the red chilli sauce. Avoid those having msg & colors.
Use organic apple cider vinegar.
Related Recipes
Recipe Card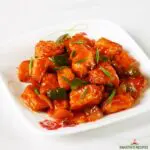 Chilli Paneer Recipe (Dry & Gravy)
Crispy chilli paneer is a Indo chinese starter or appetizer made by tossing fried paneer in sweet sour and spicy chilli sauce. This recipe will help you to make the best restaurant style dish. Serve it as a snack or as a side with noodles & fried rice.
Print Recipe
Pin Recipe
Jump to Comments
For best results follow the step-by-step photos above the recipe card
Ingredients (US cup = 240ml )
200

grams

paneer

(cubed to ¾ by ¾ inch pieces)
To Make Batter
¼

teaspoon

red chilli powder

(kashmiri or less spicy kind) (optional)

3

tablespoons

cornstarch

(white corn flour)

3

tablespoons

all-purpose flour

(maida) (optional)

⅛

teaspoon

black pepper

(crushed or ground)

⅛

teaspoon

salt

(adjust to taste)

water

( as needed)

3 to 4

tablespoon

oil

(as needed for shallow frying)
For Sauce
1

tablespoon

soya sauce

(naturally brewed or organic)

2

tablespoons

red chilli sauce

(or 1 tbsp hot sauce or green chilli sauce)(adjust to taste)

2

tablespoons

tomato ketchup

½

teaspoon

vinegar

(i use apple cider)

½

teaspoon

red chili powder

(or red chilli paste, optional)

1

teaspoon

sugar

(adjust to taste)
For Chilli Paneer Gravy
1

tablespoon

garlic

(finely chopped )

2

tablespoon

spring onions

(greens chopped )

2

tablespoon

spring onion

(whites chopped)

½

cup

capsicum

(bell pepper) cubed

1

medium

onion

(cubed, layers separated)

1

green chilies

(slit and deseeded)

¼

teaspoon

black pepper

(crushed black pepper)

1

teaspoon

cornstarch

(2 tsps for more gravy)

½

cup

water

(1 cup for more gravy) (adjust as needed)
Instructions
Make batter to fry paneer
Add cornstarch, all-purpose flour, red chilli powder, crushed black pepper and salt to a mixing bowl.

Pour water, about 6 tablespoons and begin to mix to make a batter. It should be neither too thick nor too runny. You may add 1 to 2 tablespoons more water if required. The batter has to be smooth without any lumps.

On a medium flame, heat 3 to 4 tablespoons oil in a deep pan for shallow frying.

Add 200 to 250 grams of cubed paneer to the batter. Gently coat paneer with the batter.

Check if the oil is hot enough by dropping a small portion of batter. It must sizzle and come up to the surface without turning brown. This is the correct temperature.

Pick up each batter coated paneer with a spoon and gently slide them in the hot oil. Space them apart from each other, do not crowd. Do not disturb them for a minute or until the batter firms up.

Later stir and fry them on a medium heat on all the sides until crispy. Drain to a kitchen tissue or a steel colander.
Prepare sauce
Option 1 – For dry chilli paneer : Stir in 1 tsp cornstarch to a bowl and mix with half cup water. Stir well & set aside. To another small cup, add 2 tbsps chilli sauce, 1 tbsp soya sauce, 2 tbsps ketchup, 1 tsp sugar, half tsp vinegar and half tsp red chilli powder (optional). Set this aside.

Option 2 – For chilli paneer gravy : Add 2 tsp corn flour & 1 cup water to a bowl. Stir well and make a lump free slurry. Keep aside. Add in 2 tablespoon soya sauce, 4 tbsp chilli sauce, 1 teaspoon of vinegar, 3 tablespoons tomato ketchup and little more salt & sugar. For color add ¾ tsp red chilli powder. Stir well and set this aside.
How to Make Chilli Paneer
Remove excess oil from the fry pan retaining 1 tbsp. Fry one tablespoon finely chopped garlic until it smells good.

Then add in 2 tablespoons of spring onion whites and 1 medium onion cubed & layers separated.

Also add in 1 slit green chili and half cup diced capsicum. Saute on a high flame for 2 mins.

Stir the prepared sauce in the bowl and pour it to the pan.

Next stir the prepared corn slurry and pour it to the pan. Mix every thing & cook on a medium heat till the sauce thickens.

Check the taste of the sauce. You can add more sauces or salt if you wish to adjust to your taste.

If you want to thin down the sauce, just add some hot water to get the desired consistency. Turn off the heat and cool down slightly.

Add crushed black pepper & fried paneer cubes to the chilli sauce and mix. Add the spring onion greens.
Notes
To make the dry version, you can completely skip the corn slurry and just add the sauces. Pour 3 tbsps water and bring the sauce to a boil. Turn off and then add the paneer.
In the video I have shown making chilli paneer that has more sauce than the one shown in step by step pictures. The recipe is the same as mentioned in the recipe card with 1 tsp cornflour and half cup water.
Alternative quantities provided in the recipe card are for 1x only, original recipe.
For best results follow my detailed step-by-step photo instructions and tips above the recipe card.
NUTRITION INFO (estimation only)
Nutrition Facts
Chilli Paneer Recipe (Dry & Gravy)
Amount Per Serving
Calories 443
Calories from Fat 288
% Daily Value*
Fat 32g49%
Cholesterol 56mg19%
Sodium 522mg23%
Potassium 99mg3%
Carbohydrates 26g9%
Protein 14g28%
Vitamin A 1015IU20%
Vitamin C 29.3mg36%
Calcium 415mg42%
Iron 0.5mg3%
* Percent Daily Values are based on a 2000 calorie diet.
Chilli Paneer Recipe was first published in June 2015. Updated & republished in November 2022.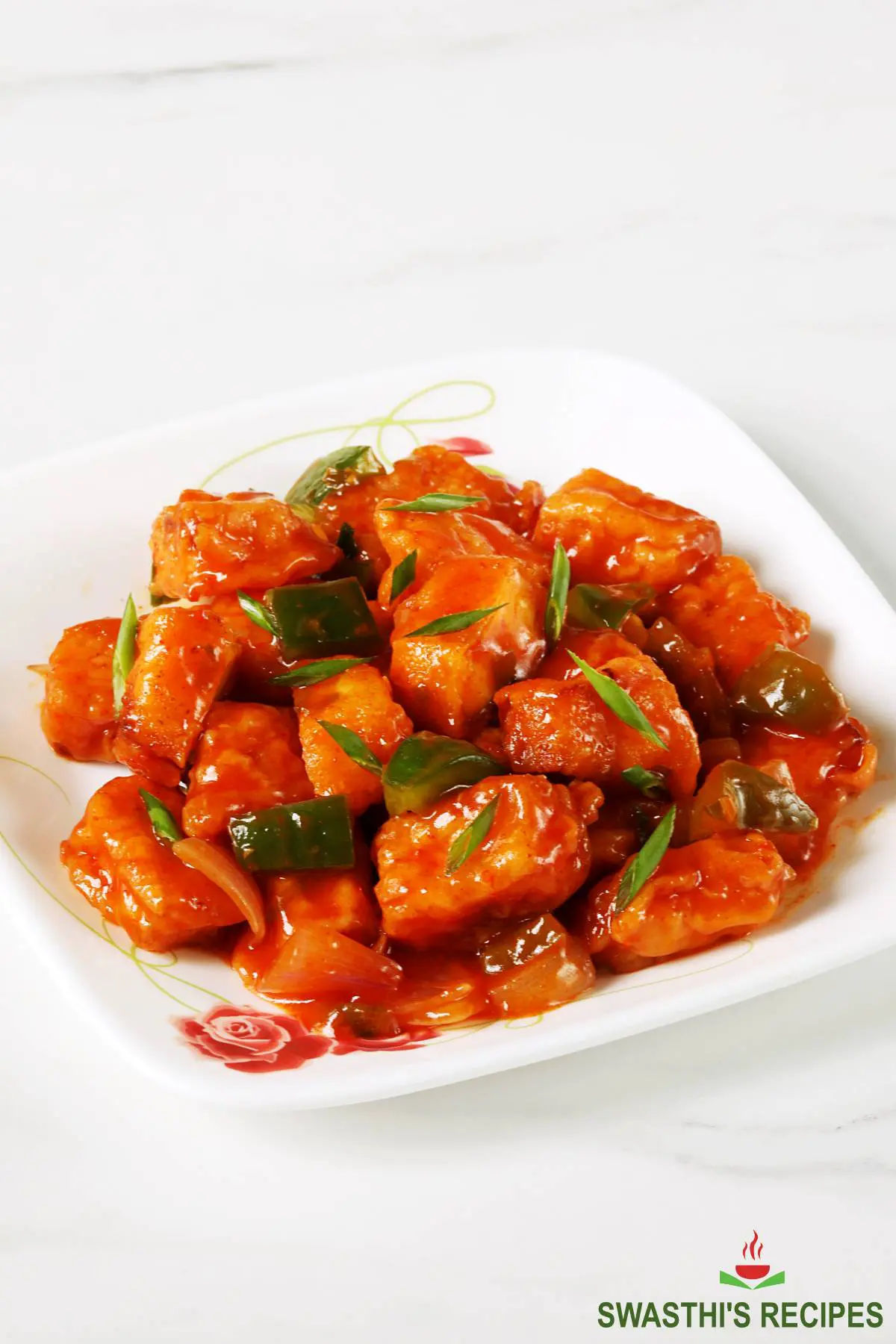 About Swasthi
I'm Swasthi Shreekanth, the recipe developer, food photographer & food writer behind Swasthi's Recipes. My aim is to help you cook great Indian food with my time-tested recipes. After 2 decades of experience in practical Indian cooking I started this blog to help people cook better & more often at home. Whether you are a novice or an experienced cook I am sure Swasthi's Recipes will assist you to enhance your cooking skills. More about me
Follow Swasthi's Recipes