Paneer tikka recipe on tawa and in oven. Tandoori paneer tikka is one among the most after sought North Indian starters in Indian restaurants. Paneer tikka literally translates to grilled chunks of Indian cottage cheese. Paneer refers to Indian cottage cheese and tikka translates to chunks of grilled food.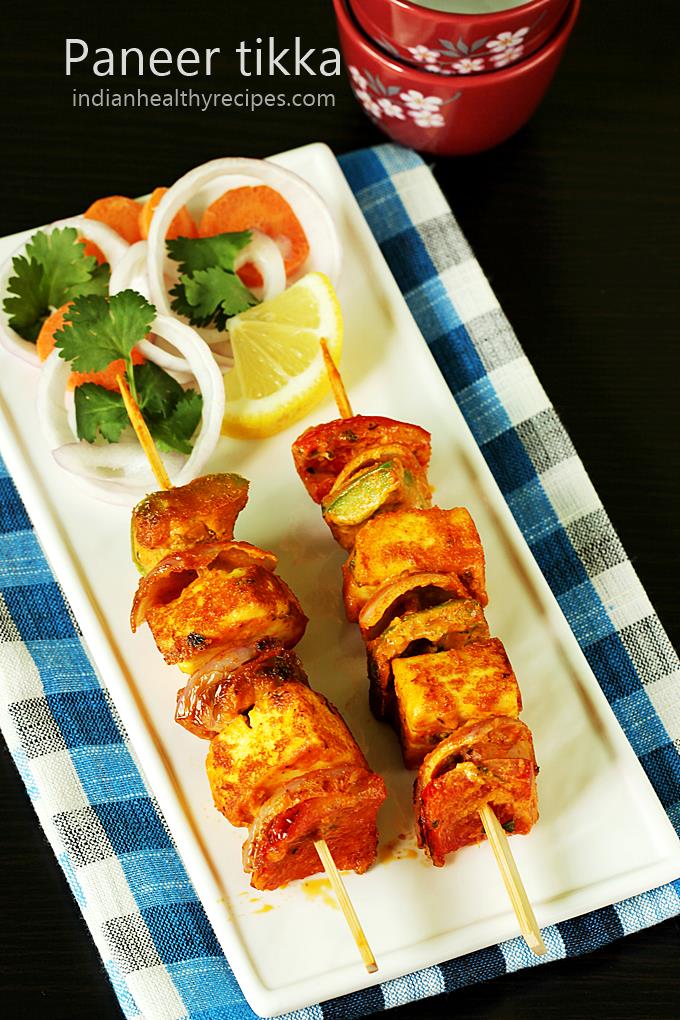 These chunks are marinated in spiced yogurt and grilled in tandoor. The resulting chunks are delicious, flavorful and makes a meal exotic when served with this.
Traditionally paneer tikka was made in clay ovens known as tandoor. With time and trend now they are also made in electric ovens and even on gas stove using tawa (Indian griddle/pans). I am sharing both the methods i.e paneer tikka in oven and on tawa using gas stove or stove top.
No matter whether we make on tawa on stove top or in oven or in tandoor or barbeque, the marinade made is standard and same. This recipe yields a delicious starter that is just like the one served in restaurants.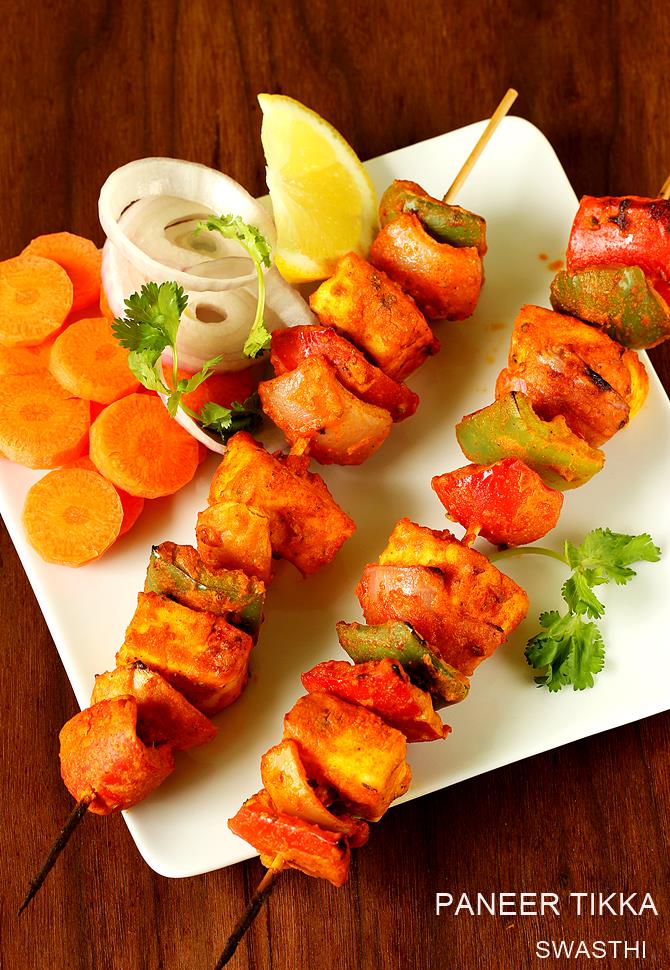 Making paneer tikka is a frequent affair at home. Since I use them in so many ways like wraps, sandwich, pizza and even for making fusion fried rice and for making paneer pulao.
To make paneer tikka, I have not used any food color. Adding little oil to the marination helps to get a good color from turmeric and red chili powder. Use a good and enough quantity of chili powder to get a vibrant colour.
Tips to make best paneer tikka
1. Usually besan is added directly to the marinade. But roasting the besan in mustard oil, cooling it and then making a marinade out of it brings in a lot of aroma to the tikka.
2. Marinating or smearing mustard oil over the tikkas elevates the flavor of the dish.
I have mentioned these two tips as optional steps in the recipe card.
You may like to check Paneer recipes
Paneer popcorn
Paneer pakora
Paneer tikka masala
Paneer butter masala
Matar paneer
Kadai Paneer
Easy paneer tikka recipe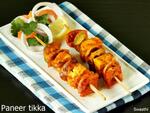 Paneer tikka
Paneer tikka is very a popular starter made using Indian cottage cheese. Restaurant style paneer tikka is marinated in spiced yogurt mixture and then grilled usually in a clay oven known as tandoor. To make paneer tikka you can use a electric oven, a gas stove.
Ingredients (1 cup = 240ml )
Ingredients for paneer tikka
1 to 1 ½

tbsp

oil

(preferably mustard oil)

1 to 1 ¼

tbsp

gram flour

or besan

1 to 1 ¼

tsp

red chilli powder

(mild variety)

Salt as needed

1/8

tsp

turmeric

or haldi

½ to ¾

tsp

garam masala

½

tsp

coriander powder

(optional)

¼

tsp

chaat masala

½ to ¾

tsp

kasuri methi or dried fenugreek leaves

1¼

tsp

ginger garlic paste

½

tsp

carom seeds

or ajwain (optional)

6

tbsps

thick curd

or hung yogurt or greek yogurt (or ¼ cup + 2 tbsp)

Lemon juice

as needed (skip if curd is sour)

200

grams

paneer

(cut to 9 cubes)

1

large

onion

– 10 to 12 cubes layers separated

1

red capsicum

– 6 to 8 cubes

1

green capsicum

– 6 to 8

1

tbsp

butter

for brushing the tikkas (optional)
How to make the recipe
Preparation to make paneer tikka
If you do not have hung curd or thick curd, add about 1 ½ cups of dahi or curd to a muslin cloth. Squeeze off and drain the excess whey from curd.

Tie a knot and hang it to a hook for 1 to 2 hours. If the cliimate is hot, put it in fridge.

Optional – for extra flavor. Mix together besan and oil in a pan. Fry on a low heat until fragrant. Cool the mixture and follow the rest of the steps.

Add red chili powder, turmeric, salt, garam masala, coriander powder, chaat masala, ajwain, ginger garlic paste, oil, besan, kasuri methi and lemon juice to the mixing bowl.

Add 6 tbsps hung curd to the mixing bowl.

Mix everything well and check the salt and spice. If needed add more salt and chilli.
Marination
Add the cubed capsicum and onions. Mix well. Then add paneer cubes and gently coat them with the marinade.

Cover and rest this in the fridge for 1 hour.

Begin to thread the chunks of capsicum, onion and paneer alternately on the skewer.

If making in oven, you can use large bamboo skewers. If making on tawa, you can use small ones. You will be able to thread these on 3 large or 4 small skewers.
How to make paneer tikka on tawa or gas stove
Heat a tawa with 1 tbsp oil and spread it evenly all over.

When the tawa is hot enough, place the skewers and cook on a medium heat.

Keep checking and turning them around to all sides for even grilling.

When they turn golden, transfer them to a serving plate.
Making paneer tikka in oven.
Preheat the oven at 220 C for at least 15 mins.

Grill them for 7 mins. Turn the skewers around to the other side and grill for another 5 to 7 mins.

Do adjust the grill timings based on your oven and the size of paneer cubes. Over cooking may char them. When they are golden, take them off the oven.

If desired brush paneer tikka with butter or mustard oil. Serve them with mint chutney, onion and lemon wedges.
Video
Video of paneer tikka
NUTRITION
Calories:
352
kcal
|
Carbohydrates:
14
g
|
Protein:
13
g
|
Fat:
27
g
|
Saturated Fat:
13
g
|
Cholesterol:
59
mg
|
Sodium:
91
mg
|
Potassium:
327
mg
|
Fiber:
3
g
|
Sugar:
6
g
|
Vitamin A:
36.3
%
|
Vitamin C:
104
%
|
Calcium:
38.1
%
|
Iron:
4.3
%
You can find the recipe of Kebab chutney here.
Preparation
1. To make this recipe, we need hung curd or thick curd. If you do not have thick curd, you can check this post on how to make hung curd. I have used thick curd here.
2. To a mixing bowl, add curd,red chili powder, turmeric, salt, coriander powder (optional), garam masala and chaat masala.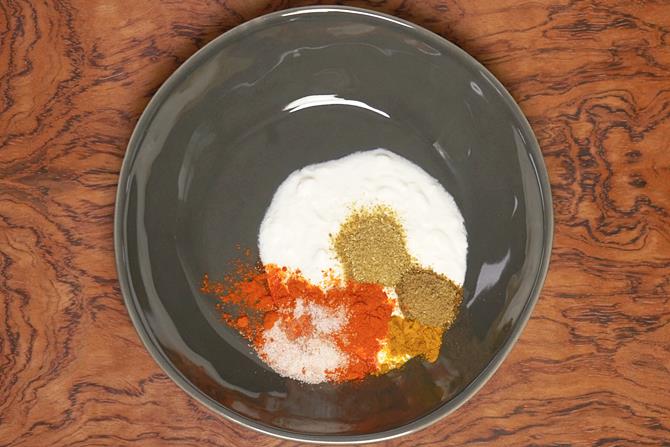 3. Add ginger garlic paste, kasuri methi, ajwain (optional) and besan. Do not skip besan as it helps to hold the curd well to the paneer tikka. It also brings out a good flavor and will avoid messing up the tawa.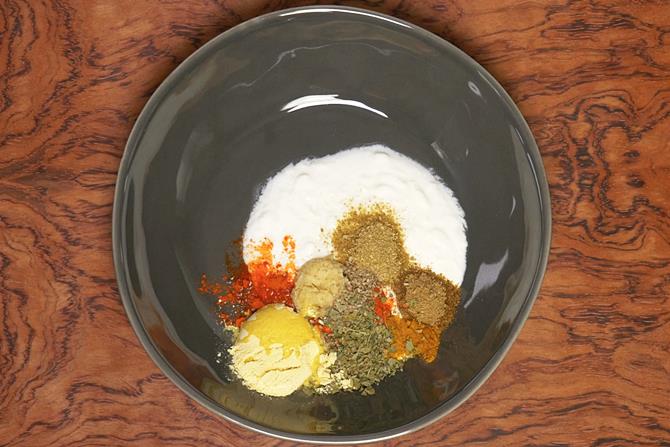 4. Add lemon juice and oil. I have used mustard oil, you can also use any other oil. Skip lemon juice if your curd is sour.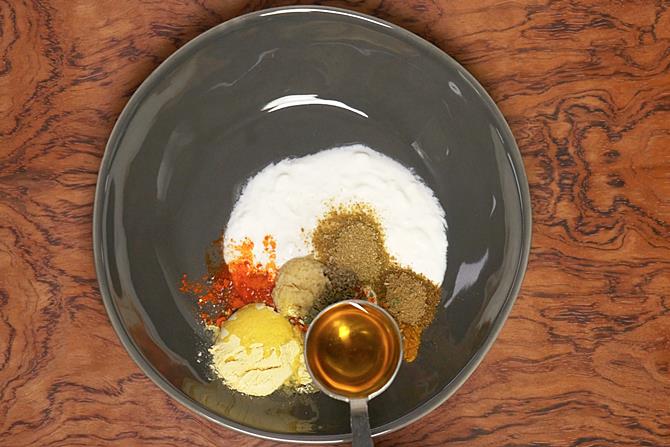 5. Mix everything well. The marinade must be thick.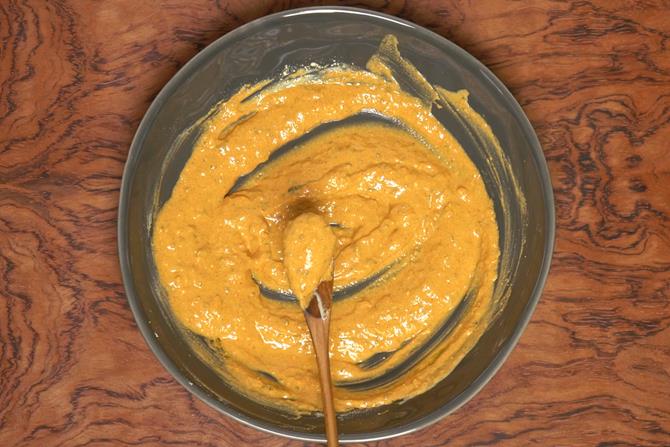 6. Add capsicum and onions. Coat them well with marinade.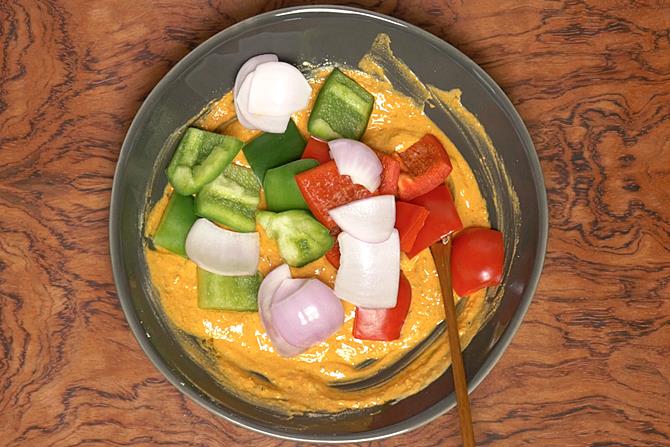 How to make paneer tikka
7. Add paneer and gently coat them as well. Handle with care they may break.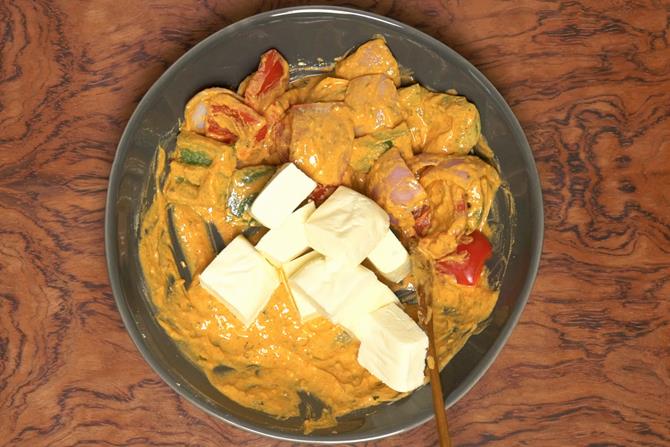 8. Rest them in the fridge for an hour.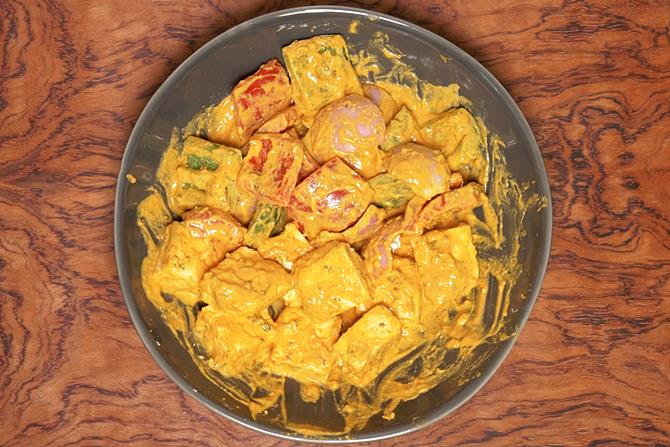 9. Next begin to thread them on skewers. With the quantities mentioned in the recipe card you can thread them on 3 large or 4 small skewers. Paneer tikka on tawa and oven were made at 2 different times so the number of skewers seen in the pictures will not match the recipe.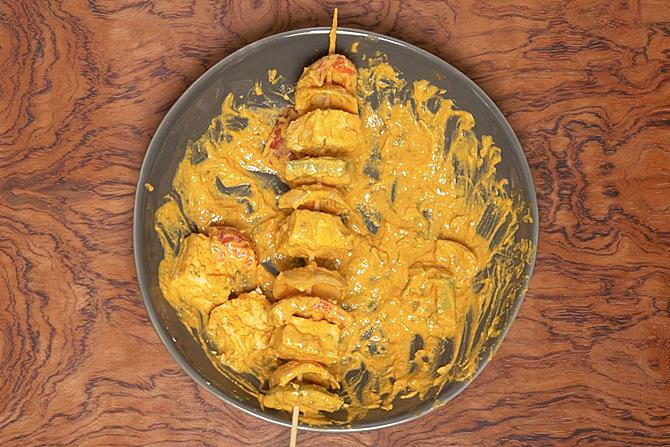 10. If making on tawa, heat a tawa with 1 tbsp oil. When it turns hot, place the skewers in the center and grill them on a medium heat.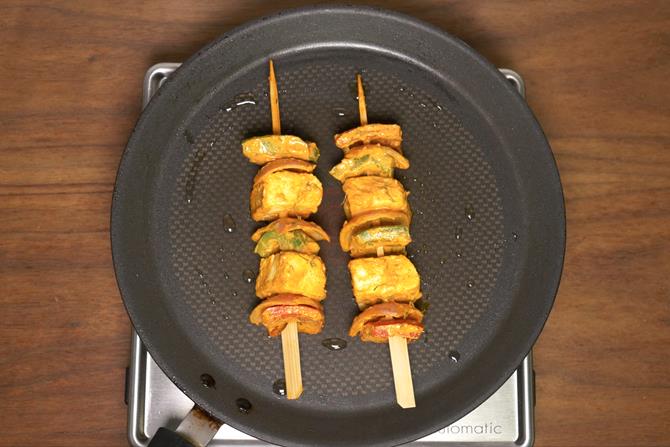 11. Finally turn them around to grill evenly until they turn golden.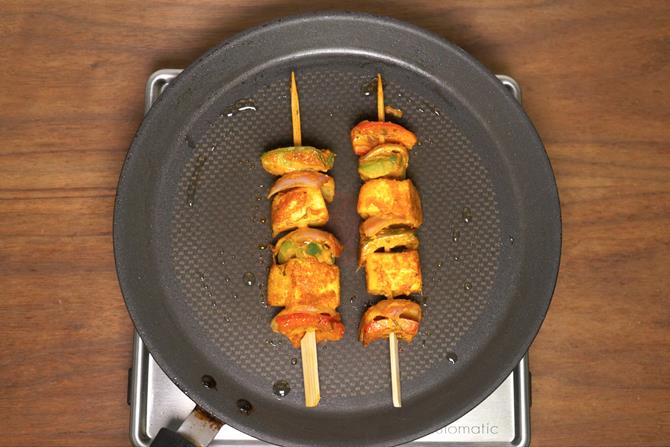 Serve them hot with onion, lemon wedges and mint chutney.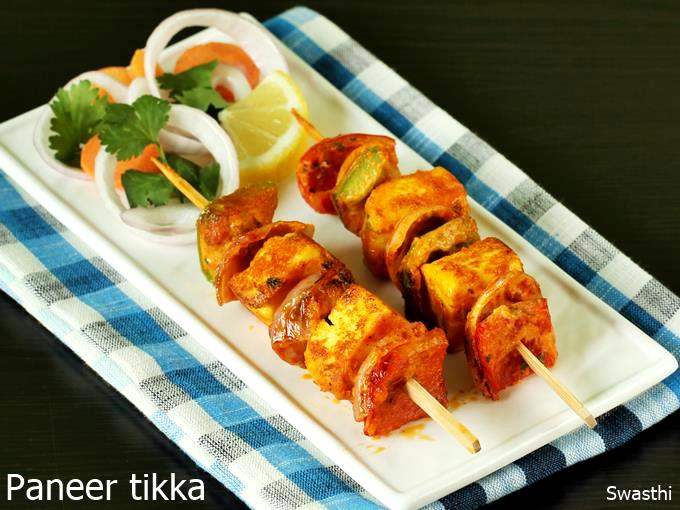 Making paneer tikka in oven
Preheat the oven to 220 C for at least 15 to 20 mins. Place the skewers on a tray lined with greased foil or parchment paper.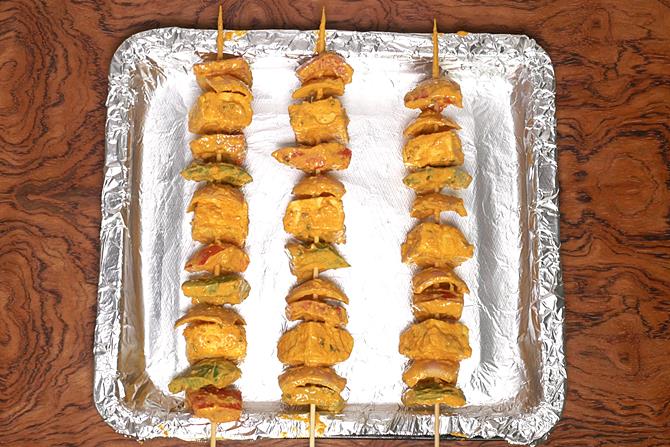 Grill for 7 mins. Turn them around and grill for another 5 to 7 mins. Do adjust the timing depending on the kind of oven and the thickness of the paneer cubes.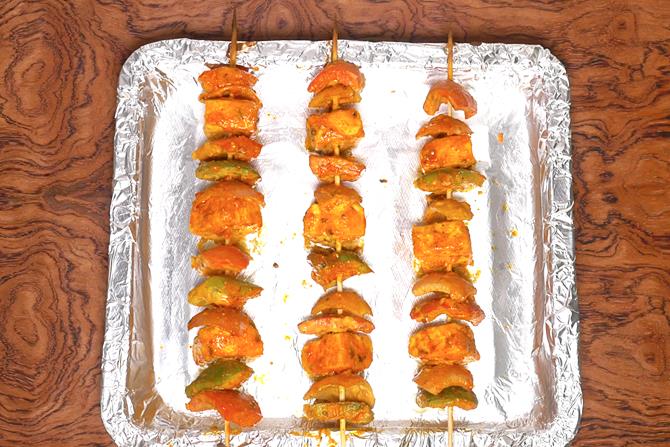 If desired brush paneer tikka with butter and serve hot.