Cilantro Chutney (Coriander Chutney)
Cilantro Chutney made with fresh cilantro and basic spices. You just need 5 mins and 6 ingredients to whip up this flavor-packed Indian chutney. This cilantro chutney is bright, refreshing & delicious with just anything. Serve it with Sandwiches, Samosas, Pakoras, Cutlets, Dhokla, Kathi rolls or with any kind of snacks you love. Cilantro chutney also goes well with Grilled veggies, Paneer Tikka and grilled meat. No matter you use it as a dip or a spread, you will just love it for the amazing flavors.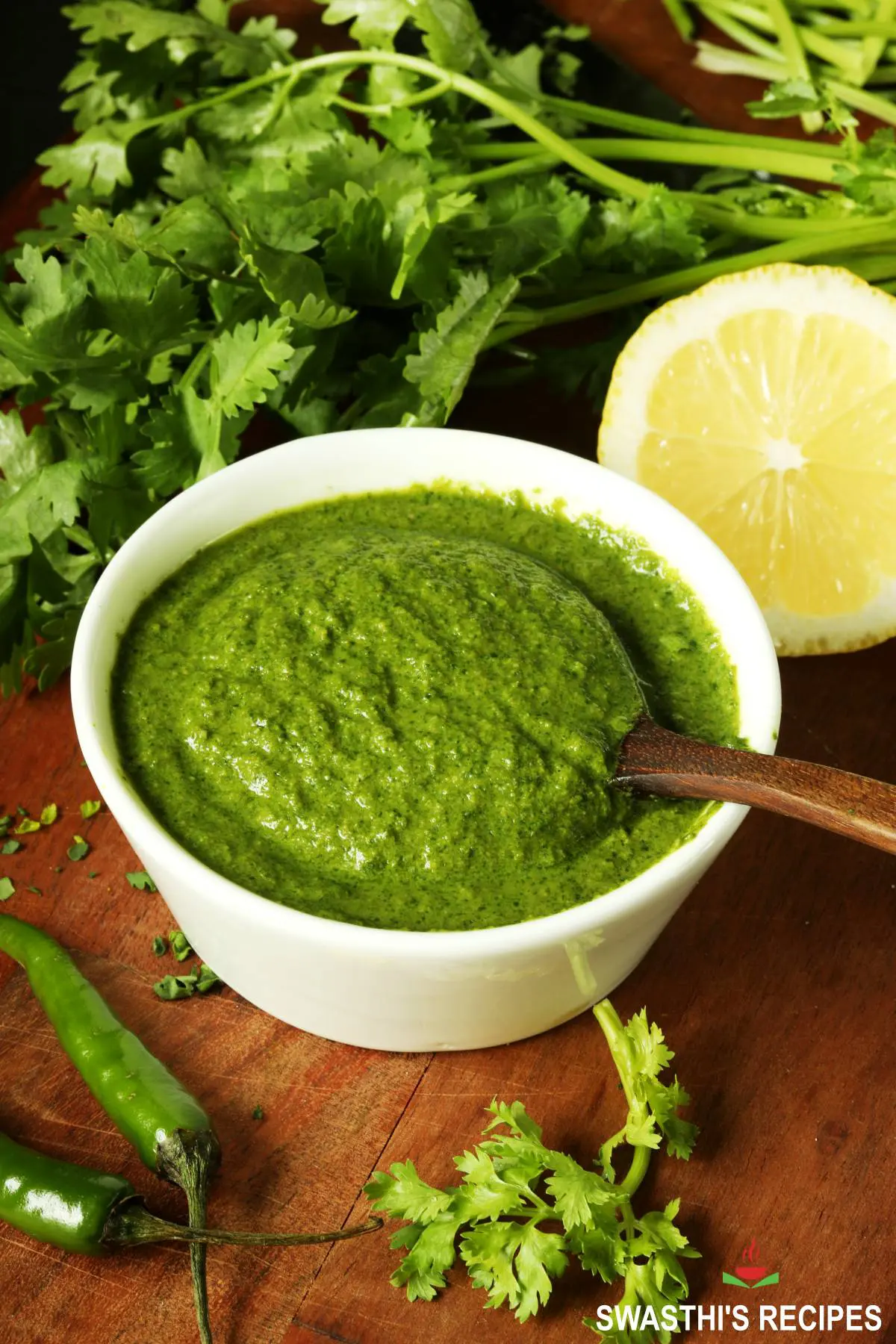 About Cilantro Chutney
Cilantro chutney also known as coriander chutney in Indian Cuisine, is a basic condiment made by grinding fresh cilantro (coriander leaves) with spices like cumin, green chilies and garlic or ginger. It is slightly spicy, hot, and herby with citrusy notes, making it a great side for snacks and Indian meals.
A coriander chutney is made in numerous ways across India. You will find almost every Indian home, restaurant and a street vendor having their own unique recipe to make a coriander chutney. Some versions also use onion, coconut, peanuts, roasted chana dal or yogurt.
Don't be surprised! A slice of white bread or a handful of blanched spinach or raw curry leaves are also added a lot of times. For the same reason, every cilantro chutney tastes different, with varying flavors and spice levels.
My Recipe
In this post I share the ever popular Mumbai Street Style Cilantro Chutney recipe, plus my variations with tips & tricks to make the best. Mumbai street food is hugely popular all over India and you will find the best Indian sandwiches there on the streets & cafes.
This cilantro chutney is the main component of Bombay Sandwiches & the Grilled Veg Sandwiches. It is this coriander chutney that contributes to the awesomeness of the sandwiches!
Apart from being delicious, this chutney is also healthy since coriander leaves have many health benefits. Eating this coriander chutney may aid in digestion, prevent heartburn and bloating. This may be one of the reasons this chutney is eaten with fried snacks and heavy to digest foods.
More Chutney Recipes
Mint Chutney
Mango Chutney
Tamarind Chutney
What you need to make this
The basic version of this chutney uses just 6 ingredients – fresh coriander leaves, green chilies, garlic, lemon juice, cumin and salt. However adding one extra thickening ingredient to the chutney adds so much flavor, deliciousness, texture and also makes it easier to blend.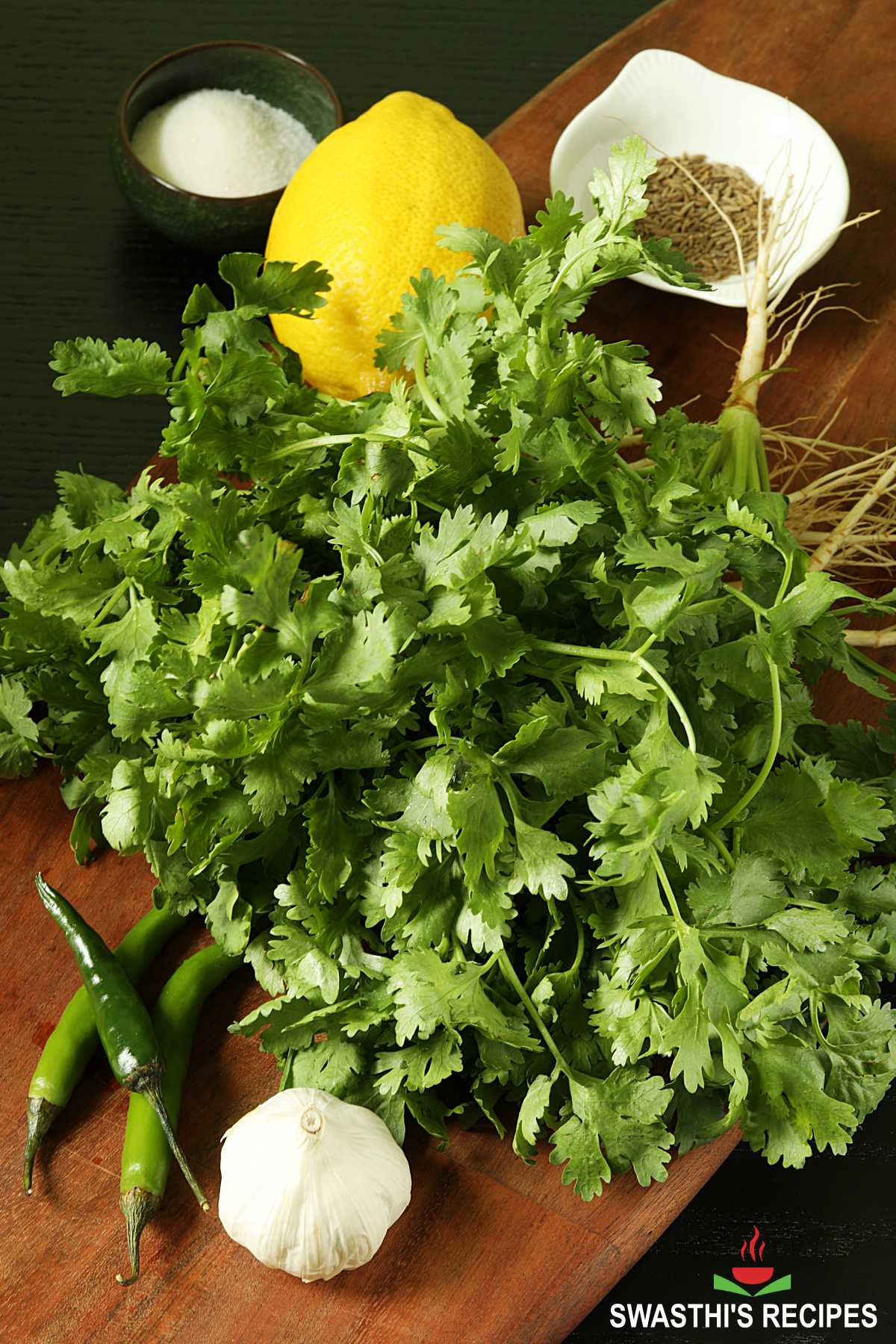 Basic Ingredients
Cumin can be used whole or in the ground form. Roasted cumin imparts a nutty aroma, so if you are using whole cumin seeds, roast them on a low heat until fragrant and use them directly to grind the chutney. If using store bought cumin, make sure you are using roasted cumin powder. Raw ground cumin tastes pungent and sometimes bitter.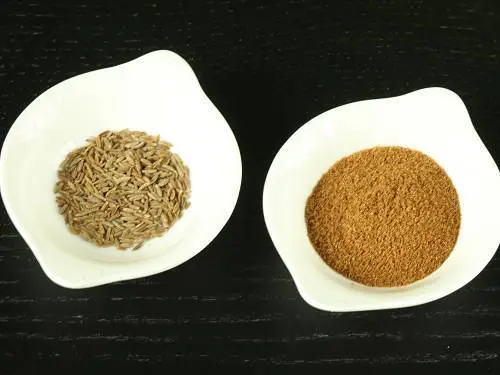 Garlic or Ginger: In the street style chutney, garlic is used. But you can also use ginger and even fresh Homemade Ginger garlic paste works well. On occasions I have used both but only garlic is our favorite. If using ginger, skip using garlic or use both in halve the quantities mentioned in the recipe card notes. Ginger can be bitter, so peel and rinse well before using.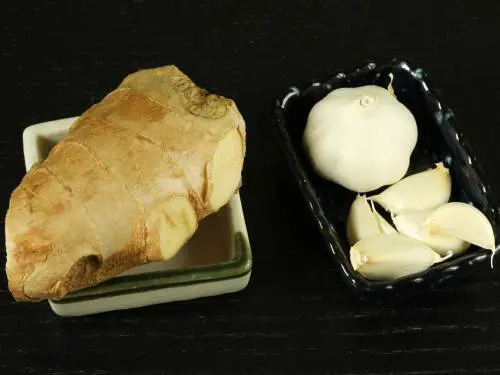 Green chilies add heat and flavor to the chutney. You can use any kind of chilies available to you. I prefer using a combination of hot and low-heat chilies. To make the chutney less spicy, deseed the green chilies and use. If you can't eat hot foods, then simply add black pepper. You won't get the same flavors but it will still be good.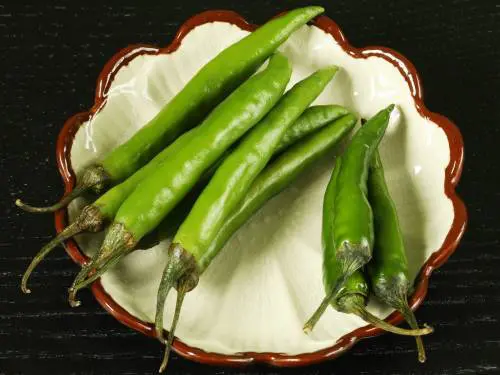 Lemon or Chaat Masala : I prefer lemon juice because it enhances the flavor and preserves the green color to some extent. However a lot of street food vendors do not add lemon juice instead add some chaat masala. Chaat masala is an Indian spice blend used in preparation of chaat foods.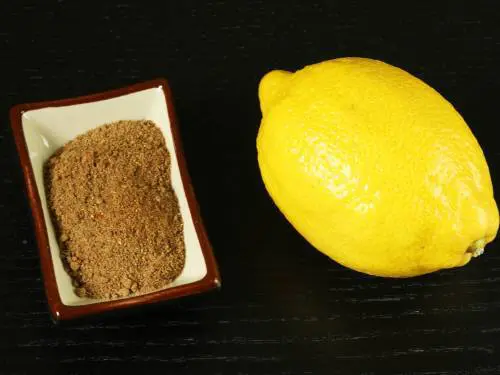 Salt or Black Salt: You can use any kind of salt. A lot of people prefer to use black salt known as kala namak. It is a kind of rock salt that imparts an egg-like flavor to the dishes. You can add up to ⅛ teaspoon in this recipe, cut down the regular salt. I prefer to use the regular salt.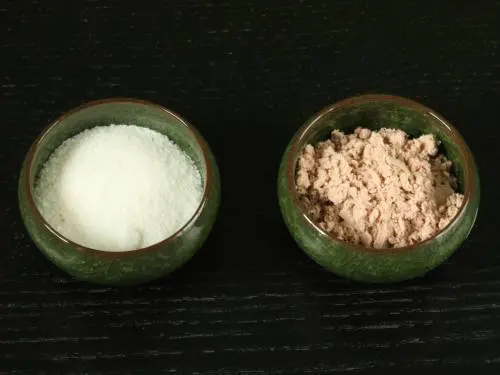 Optional Ingredient
Peanuts, roasted chana dal, bread slices or desiccated coconut: Adding one of these ingredients while blending helps the chutney to bind well, else it will let out water after sometime. This optional ingredient transforms your average cilantro chutney to an amazing one.
The Street side vendors usually throw in a few slices of white milk bread while blending. However roasted peanuts are my choice. Sometimes I also use roasted chana dal or desiccated coconut, both these are mainly for texture and won't add much flavor. We don't eat white bread at home so I don't add it.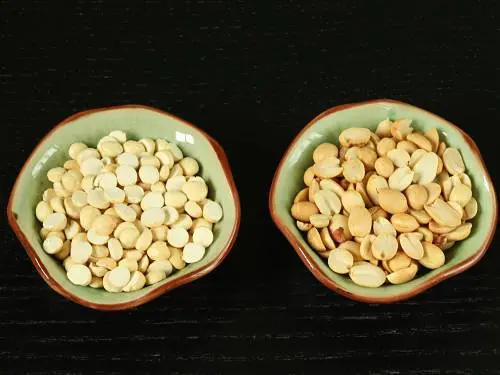 How to Make Cilantro Chutney (Stepwise photos)
Preparation
Rinse coriander under running water. Shake them off well to get rid of excess water. Cut off the stems and roots.
Cleaning Tip: I usually spray some vinegar on the cilantro and sprinkle little baking soda. Leave it for 2 to 3 minutes. Then rinse under running water. You have to do this properly to get rid of the vinegar and soda. This step helps to get rid of any pesticide residue. Shake off to drain the excess water.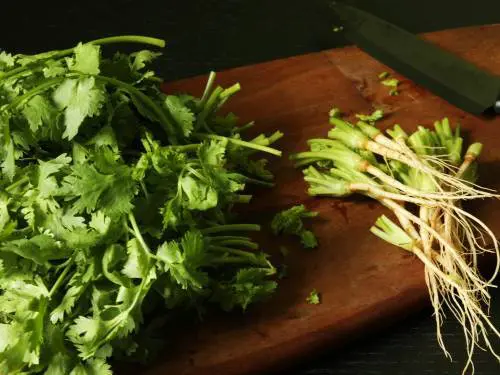 Also remove & discard any fibrous mature stalks. If your cilantro is mature, a lot of times these stalks can make your chutney taste soapy, metallic or even bitter.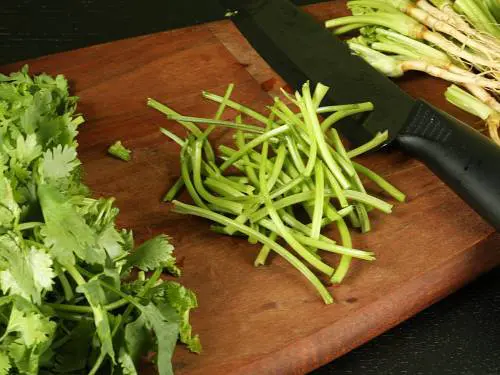 If you do not have a high speed blender or an Indian mixer grinder, chop the leaves roughly. This way the ingredients blend fast. Blending for too long can make your chutney taste bitter. I am using about 3 cups of chopped leaves with tender stalks (75 grams).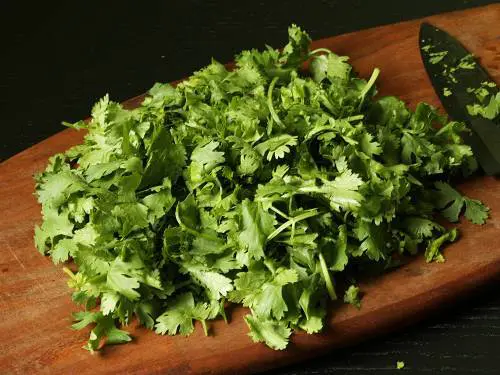 Make Cilantro Chutney
To the blender jar, first add 3 tbsps roasted peanuts (or desiccated coconut or roasted chana dal), ½ teaspoon salt and 1½ teaspoon cumin powder or 2 teaspoons roasted cumin seeds.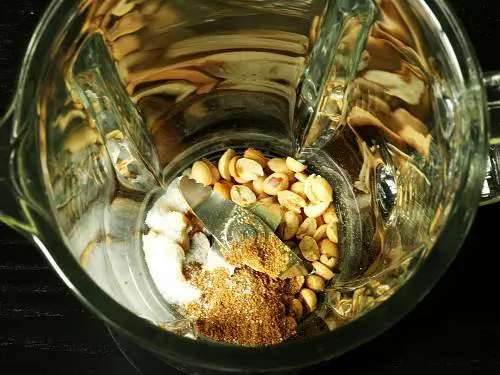 Add 3 medium garlic cloves and 1 to 2 green chilies. You can start with lesser green chilies. I added 2 halves here.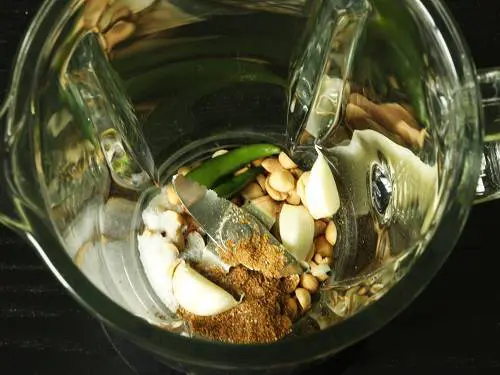 Then add all of the coriander leaves, 1 tablespoon lemon juice and 6 tablespoons water. Be careful with the amount of water, do not add a lot. If you are using lesser amount of ingredients, use less water.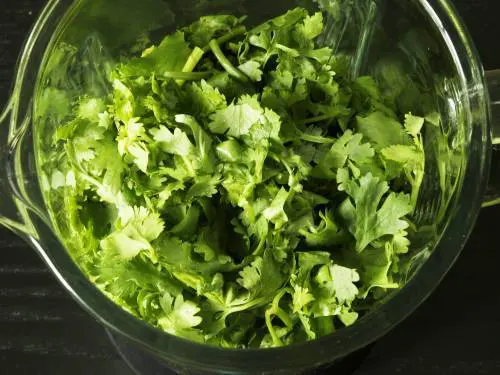 Blend the ingredients to a smooth chutney, scraping the sides after every 30 to 40 seconds of blending. If you find your coriander chutney is too thick you may splash some water. I didn't have to add any more. Taste test the coriander chutney and adjust salt, green chilies and lemon juice. I usually set aside the kids' portion and add more green chilies before blending once more.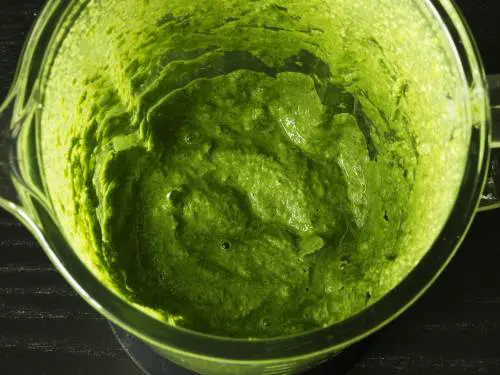 Transfer the coriander chutney to bowl and serve with pakoras, sandwiches, wraps or any of your favorite snacks. Store the leftovers in the refrigerator for 3 to 4 days.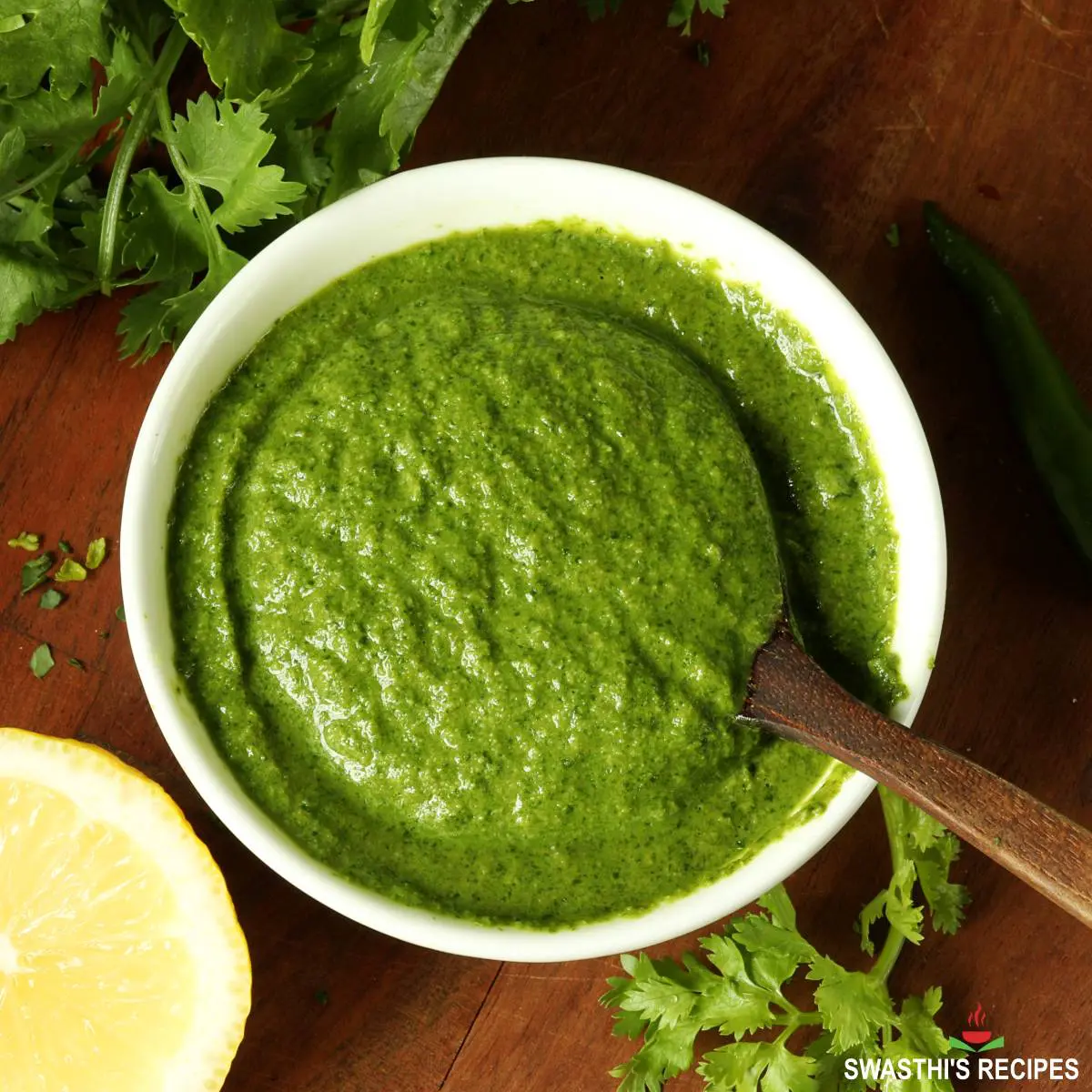 This chutney turns darker after a few hours due to oxidization. The next day, it gets a makeover in my home. I mix it with a few tablespoons of Homemade Yogurt.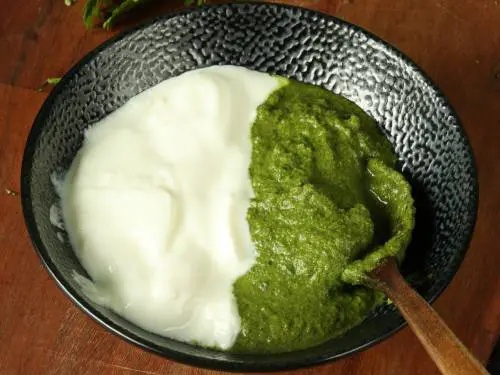 This tastes even more delicious! It goes well with roti, paratha or simply add some chopped cucumbers and serve it as a Raita with a meal.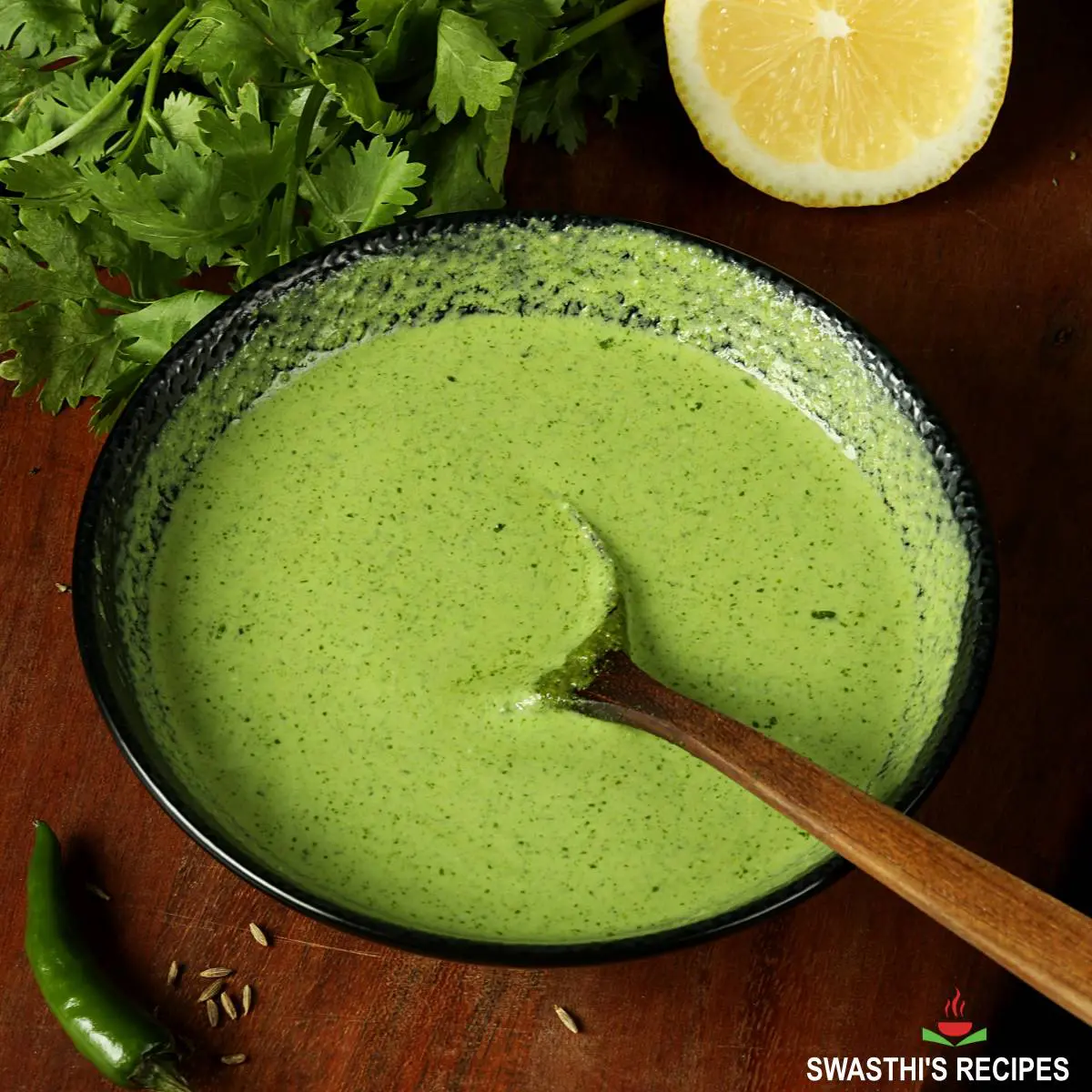 Pro Tips
Cleaning coriander leaves: Spray some apple vinegar over the coriander and sprinkle some baking soda. Leave for 2 to 3 mins before rinsing off under running water. Alternately you may leave the vinegar and soda sprinkled coriander in a bowl of water for 5 mins. Then rinse well a few times.
Chop the coriander leaves roughly before adding them to the grinder. This helps in grinding the chutney fast. This way you don't grind the chutney for too long which results in bitter taste.
Avoid using mature stalks and stems to avoid bitter taste. Sometimes they also impart a soapy and metallic taste.
Check your garlic if it has begun to sprout if so discard the sprouted portion. Often sprouted garlic tastes bitter and can make your chutney bitter.
Related Recipes
Recipe Card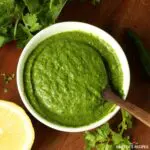 Cilantro Chutney (Coriander Chutney)
Make this delicious and refreshing Indian cilantro chutney with pantry staples. Serve it as a side with your favorite snacks, sandwiches, wraps and even with parathas.
Print Recipe
Pin Recipe
Jump to Comments
For best results follow the step-by-step photos above the recipe card
Ingredients (US cup = 240ml )
3

cups

cilantro

(coriander leaves with tender stalks, 75 grams)

1 to 2

green chilies

(adjust to taste, deseed for low heat)

1½

teaspoon

roasted cumin powder

(or 2 teaspoons roasted cumin seeds)

2 to 3

medium

garlic cloves

(adjust to taste)

½

teaspoon

salt

(or ¼ teaspoon salt & ⅛ teaspoon kala namak)

1

tablespoon

lemon juice

(or chaat masala as required)

4 to 6

tablespoons

cold water
Optional (read notes)
3

tablespoons

roasted peanuts

(or roasted chana dal or desicatted coconut)
Instructions
Rinse cilantro under running water and shake off very well to get rid of the excess moisture. Cut down the stems and roots, discard them. Remove & discard mature stalks and keep the tender/ young ones. Roughly chop leaves & tender stalks.

Peel the garlic and make sure they have not sprouted or begun to sprout.

Remove the stalks of green chilies. If you prefer low heat, deseed the chilies.
How to Make Cilantro Chutney
Add the peanuts, green chilies, salt, cumin and garlic to the base of the blender jar. If you can't eat spicy and pungent foods, you may start with a little piece of chili and 2 garlic cloves, adjust towards the end.

Transfer coriander leaves, lemon juice and water. Start with only a few tablespoons of water.

Blend the ingredients to a smooth cilantro chutney, scraping the sides every 30 to 40 seconds. Add more water only as required while blending.

Chutney has to thick, of spreading consistency. If it is too thick add a tbsps more water.

Taste test and add more salt, green chilies or lemon juice as required to taste.

Cover and refrigerate the leftovers for 4 days. You may optionally refresh the chutney the next day with few tbsps of thick yogurt. Give a good stir.
Notes
To clean the coriander leaves, I usually spray some apple vinegar and then sprinkle little baking soda/ cooking soda. Leave for 2 to 3 minutes and rinse them under running water. This step helps to get rid of the pesticide residue. Shake off gently to drain the excess water.
To avoid bitter taste we cut the coriander leaves before blending. This way you don't have to blend the chutney for long. Blending the coriander too long can make it taste bitter.
Getting rid of the mature stalks and stems is essential to prevent the chutney from turning bitter.
Make sure you don't use garlic that has just begun to sprout because it can leave a bitter taste. To check slice the garlic to 2 and check the center. Discard if you find any green centers.
You may substitute garlic with 2 teaspoons of peeled and fine chopped ginger.
Alternative quantities provided in the recipe card are for 1x only, original recipe.
For best results follow my detailed step-by-step photo instructions and tips above the recipe card.
NUTRITION INFO (estimation only)
Nutrition Facts
Cilantro Chutney (Coriander Chutney)
Amount Per Serving
Calories 37
Calories from Fat 27
% Daily Value*
Fat 3g5%
Sodium 249mg11%
Potassium 97mg3%
Carbohydrates 2g1%
Protein 2g4%
Vitamin A 554IU11%
Vitamin C 4mg5%
Calcium 18mg2%
Iron 1mg6%
* Percent Daily Values are based on a 2000 calorie diet.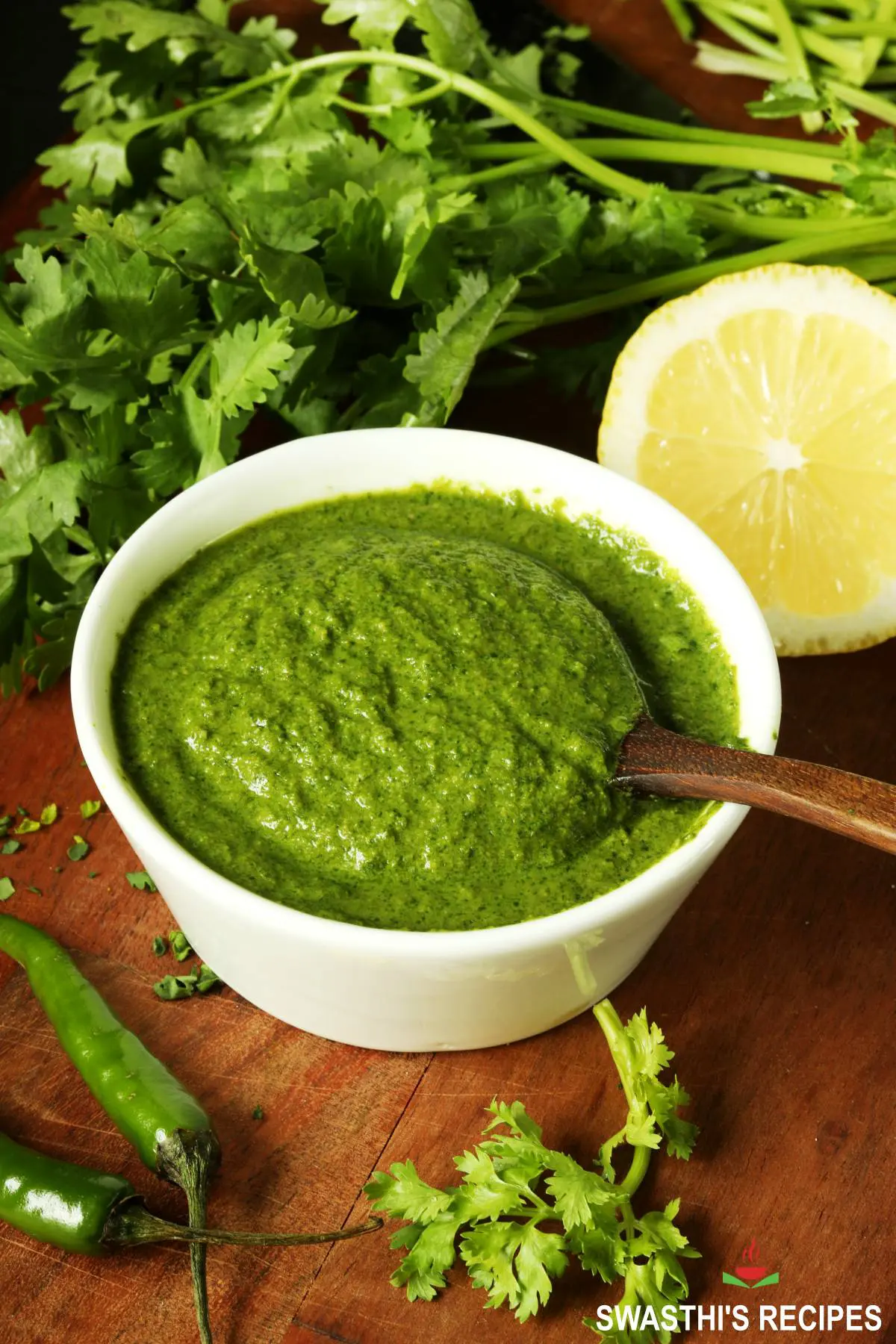 About Swasthi
I'm Swasthi Shreekanth, the recipe developer, food photographer & food writer behind Swasthi's Recipes. My aim is to help you cook great Indian food with my time-tested recipes. After 2 decades of experience in practical Indian cooking I started this blog to help people cook better & more often at home. Whether you are a novice or an experienced cook I am sure Swasthi's Recipes will assist you to enhance your cooking skills. More about me
Follow Swasthi's Recipes