Pudina Chutney Recipe (Mint Chutney)
Pudina Chutney also known as Mint Chutney is the perfect refreshing side to your Breakfasts, appetizers and Snacks. If you love Indian foods, you will be in love with this. You are most likely to make this mint chutney often to spice up your meal & finger foods. Made with just a handful of pantry ingredients, this spicy, hot and tangy mint chutney pairs well with anything and everything! Enjoy it with Samosas, Pakora, Sandwiches, soft Idli, Crispy Dosa, Fluffy Vada and kebabs.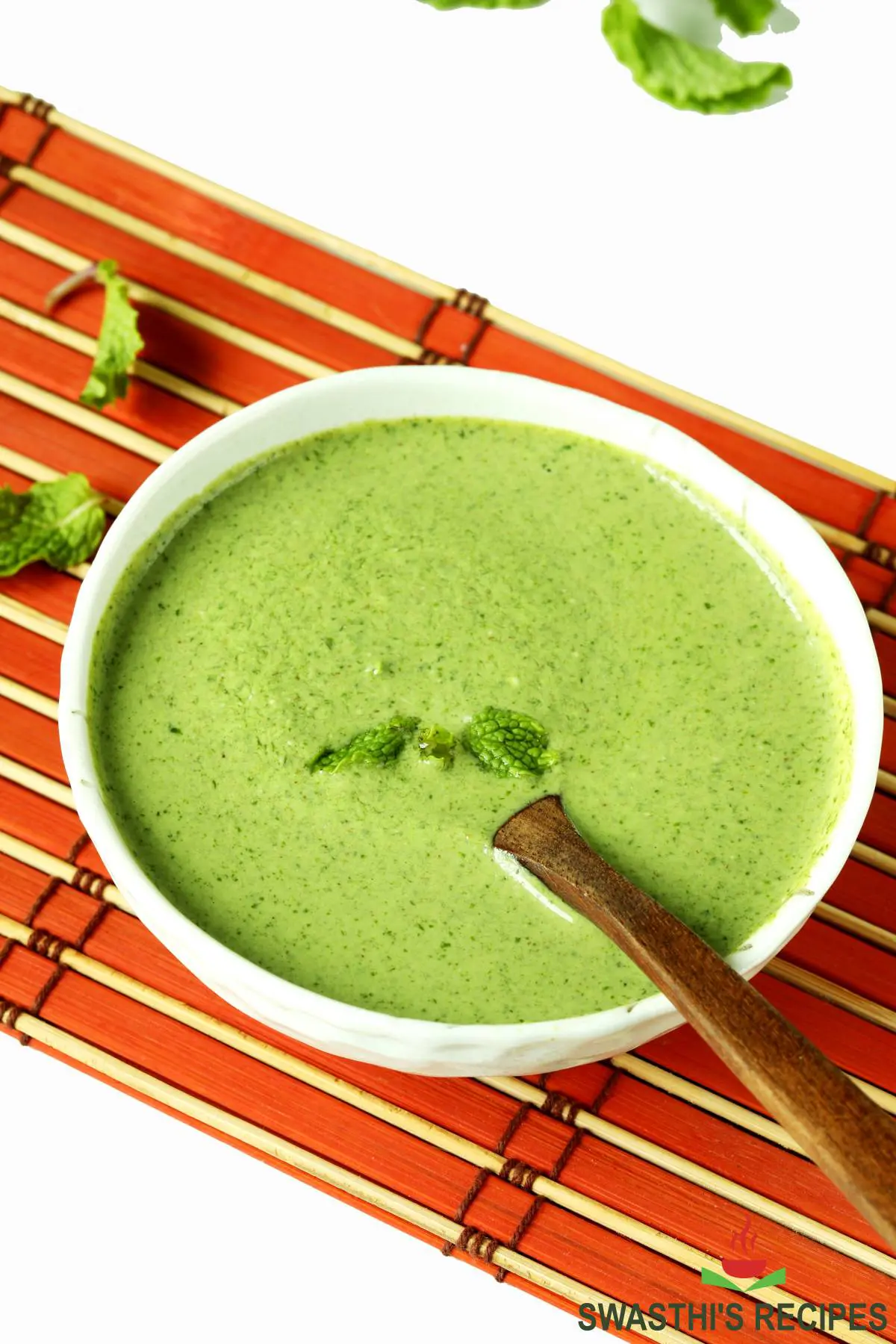 Apart from that you can also use it as a spread in your wraps, sandwiches, kathi rolls and frankies. Make this pudina chutney the way you want in one of the 3 ways I show in this post.
About Mint Chutney
Mint Chutney also known as Pudina Chutney is a spicy, flavorsome and healthy Indian side dip made with fresh mint leaves and spices like chilies, garlic & cumin. Mint leaves are known as "pudina" in Hindi and many other Indian regional languages. Chutney is a traditional Indian side dip made with spices, herbs, vegetables and sometimes even with fruits.
This traditional Indian pudina chutney has fresh mint leaves as the main ingredient. It is one of the most popular sides often made in households and restaurants. Apart from refreshing and spicing up your palate, it is also nutritious and helps in digestion.
Mint chutney is made in numerous ways depending on what you want to serve it with. No matter which recipe you follow read my pro tips below to make the best.
Many people make pudina chutney often because they love the flavor and taste. But not to forget pudina is an amazing herb with loads of benefits.
Benefits of Mint
Mint is an herb that has been used in Ayurvedic practices since the ancient times. It is a healing herb that also has some nutritional values and health benefits especially when eaten fresh and in raw form without cooking.
Mint leaves are said to be tridoshic, meaning they have the potential to balance all kinds of imbalances (doshas) in the body. They are calming, refreshing, detoxifying and aids digestion. Probably this is one of the reasons our ancestors used fresh mint in many ways.
Mint leaves are one of the herbs with the highest antioxidants & benefits the body to fight the free radicals.
Pudina is an herb that helps to calm & sooth the upset digestive system. It helps in digesting heavy foods so it is great to serve with any snacks & appetizers.
The leaves are a good source of iron, folate & many other nutrients. You can easily convince even your picky eating kids to enjoy mint this way in a pudina chutney.
Pro Tips
Mint leaves are the star of this recipe so please use fresh mint leaves that are vibrant green in color. Avoid using very dark leaves as they tend to taste bitter after grinding.
Avoid using stalks and stems of the mint plants. The stalks are too strong in flavor and can impart a bitter and pungent taste to the mint chutney.
Pudina chutney can be made ahead and refrigerated but is most likely to discolor after a while due to oxidization.
Adding a few teaspoons of lemon juice not only adds a slight tang to the chutney but also helps to preserves the bright green color. But still the chutney will discolor overtime.
If you plan to make pudina chutney for parties, keep all the ingredients ready the previous night. Blend the chutney just before serving.
Recipe 1
Yogurt mint chutney (Kebab chutney)
North Indian Restaurants serve a mint chutney with tandoori appetizers. We call it kebab chutney at home and is very very delicious with a creamy taste that comes from the yogurt. It tastes different in every restaurant because everyone has a different recipe.
A little research with many chefs helped me develop this recipe that beats even the standard North Indian restaurants. After years of trying out many variations I can say this recipe will give you the best mint chutney for your tandoori chicken, Chicken tikka, grilled kebabs, Paneer tikkas and cutlets. At home we serve this even with sandwiches, wraps and rolls.
Simply dip your toasted bread, roti, paratha into it or drizzle the chutney over salads. It tastes amazing!!
Make sure you use good thick yogurt that isn't too sour. Runny yogurt is likely going to make your pudina chutney too runny. Some restaurants also add some fresh malai (cream) while blending to neutralize the tangy flavour and taste.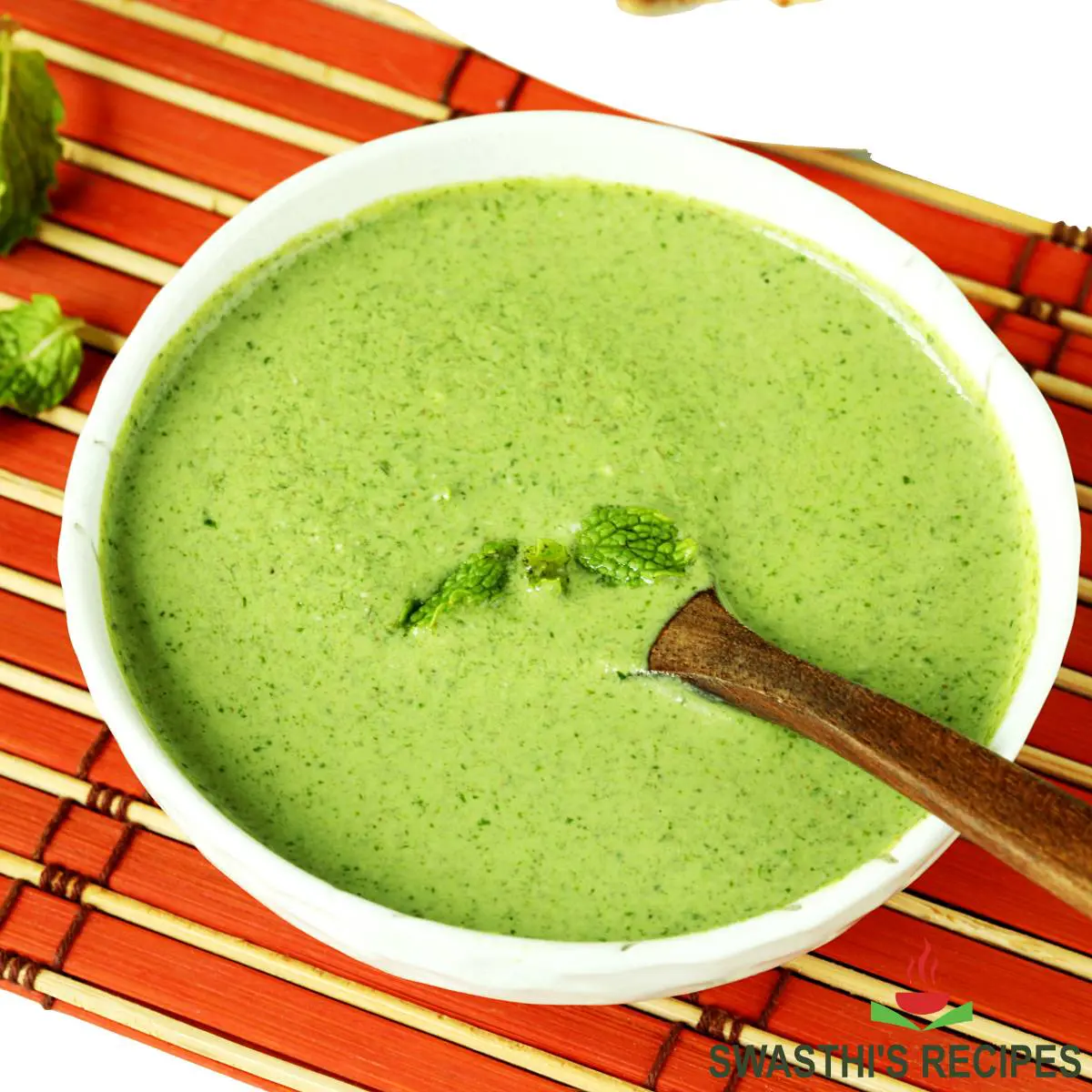 More Chutney recipes
Tomato chutney
Coconut chutney
Onion chutney
Peanut chutney
Recipe 1
How to Make Mint Chutney (Stepwise Photos)
1. Pluck 1 cup mint leaves (tightly packed, 15 grams). We don't want to use stalks here. Add them to a bowl of water and rinse them very well a few times. Rinse half cup coriander leaves with tender stalks (tightly packed, 15 grams), a few times. Drain completely and add them to a grinder jar.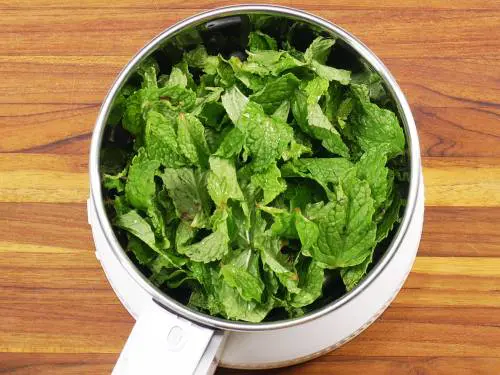 2. Add ¼ inch ginger, 1 small garlic clove and 1 to 2 green chilies.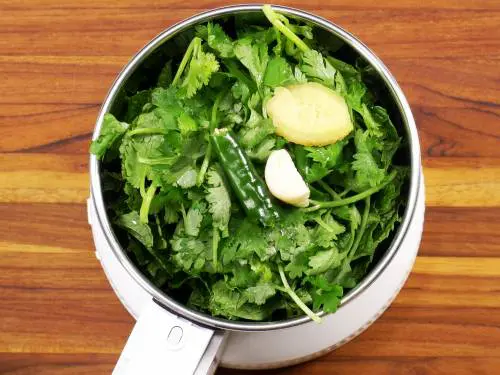 3. Add ½ teaspoon sugar and 1/3 teaspoon salt.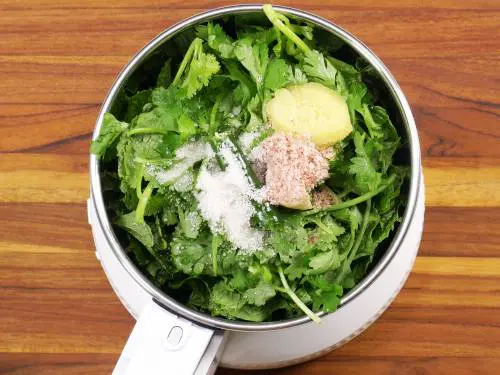 4. Add 1 tablespoon chilled thick yogurt. Do not use runny yogurt. If you double or triple the recipe then add yogurt accordingly. Do not add too much yogurt at this stage.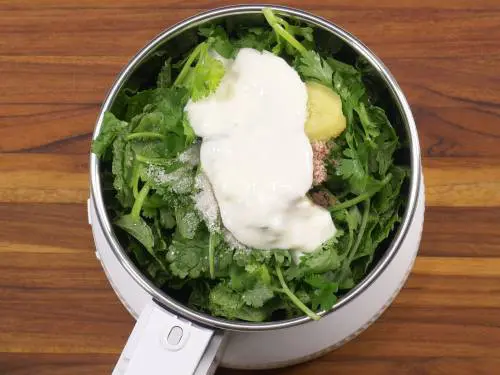 5. Grind until smooth. Do not over blend. Over blending may cause the mint leaves to release oils and can taste bitter. Keep this aside. If you want you can serve this as is or even refrigerate at this stage for later.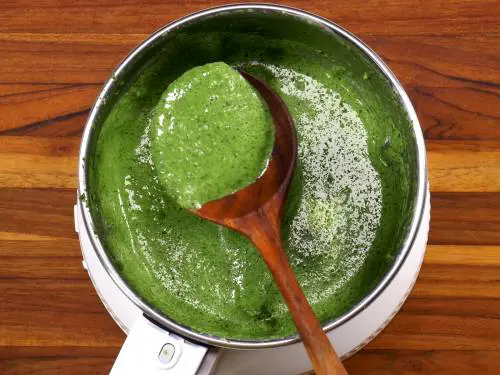 6. Add the rest of the thick yogurt (1 cup minus 1 tbsp) to a bowl. Add ½ to ¾ teaspoon roasted cumin and ½ to ¾ teaspoon chaat masala. Skip chaat masala if you don't have. If you want you can reduce the quantity of yogurt but this is what we like at home.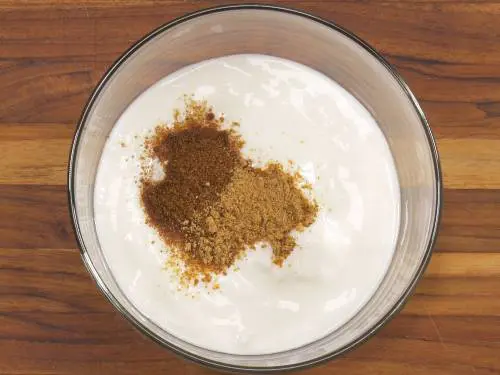 7. Whisk very well until smooth.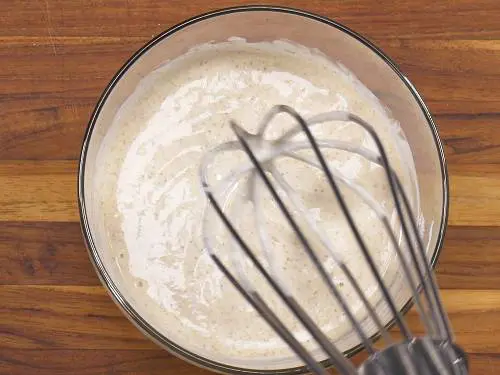 8. Add the mint chutney to the yogurt.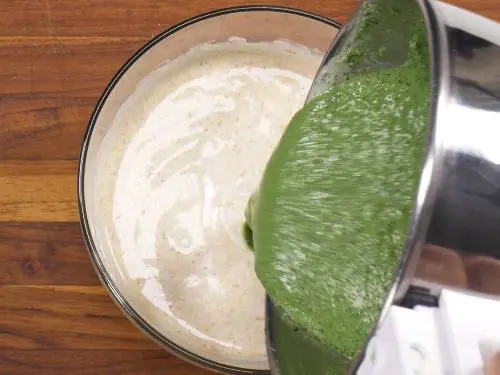 9. Mix well and taste test. Adjust salt and spice to taste. Serve mint chutney as a side.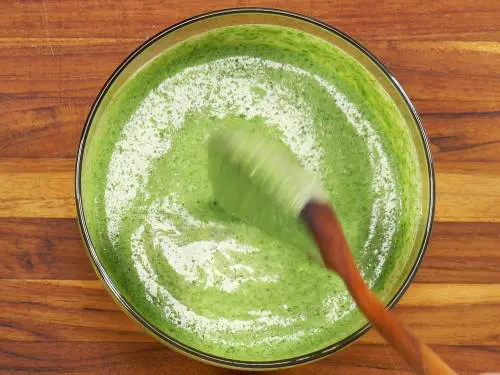 Recipe 2
South Indian Pudina chutney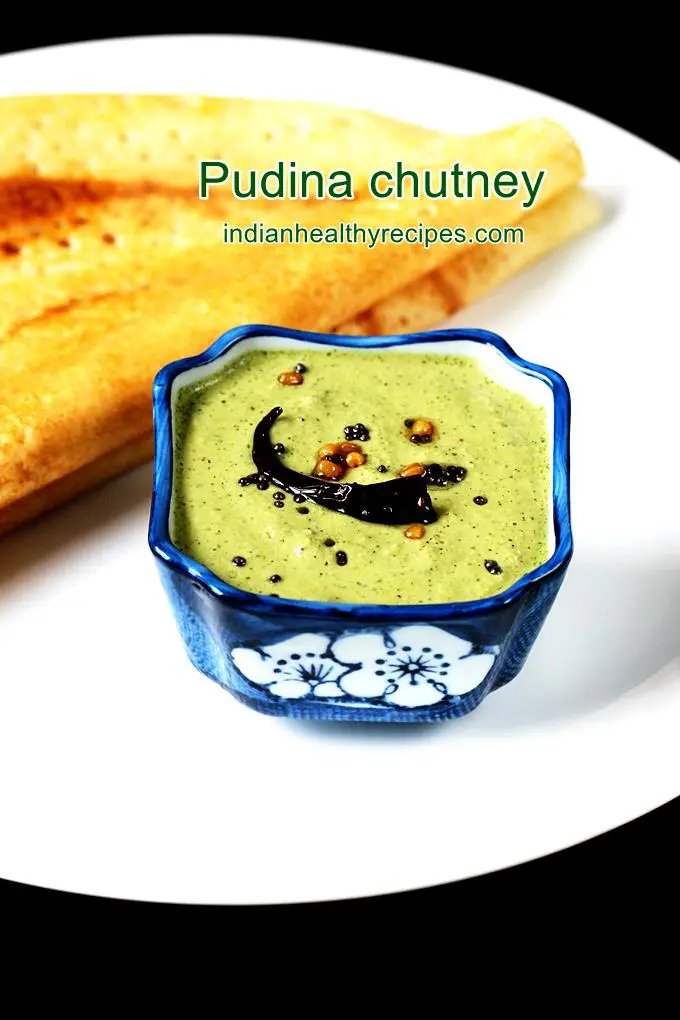 This version is spicy and vegan. Made in South Indian style with mint, coconut, green chilies, lentils or peanuts. Pudina chutney goes well with idli, dosa, uttapam, vada or Pongal. It is also a multipurpose version and can be served with anything, even as a side in your meal, can be used as a spread on your sandwiches, wraps or rolls.
Again South Indian pudina chutney is made in numerous ways. My mom would always add a handful of home-grown fresh mint leaves with most chutneys like tomato chutney, peanut chutney, mango chutney and even with coconut chutney. Most of her chutneys have either slightly sautéed pudina or the fresh leaves.
This recipe is roughly adapted from one of her recipes. You can also add this chutney to curries or while cooking pulao.
Recipe 2
How to make Pudina Chutney
1. Wash pudina in a pot filled with clean water. Repeat the wash a few times and drain them in a colander.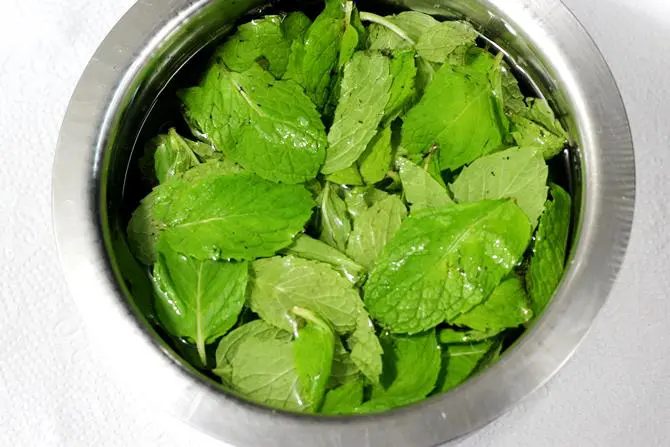 2. Dry roast ¾ tbsp each of chana dal and urad dal on a low flame until golden. Add ½ tsp cumin to the hot pan and switch off. Cool these. If using bhuna chana skip roasting. You can also saute pudina in oil for 2 to 3 mins first and use. You can also use peanuts. Just roast the peanuts until aromatic and golden.
3. Add ½ cup chopped coconut, 2 to 3 green chilies, ½ inch ginger or 2 small garlic cloves, pudina, roasted dal, cumin and salt. You can also add a tsp of tamarind paste if you like the tang.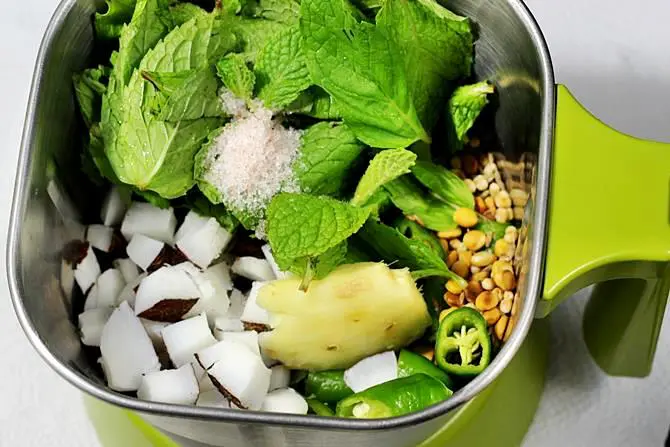 4. Blend them all together first for pudina chutney.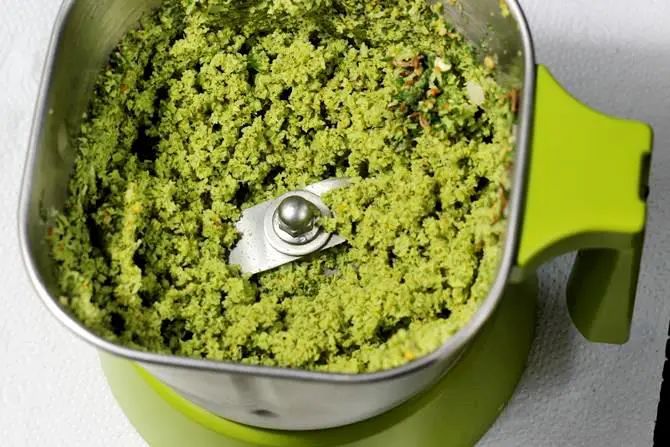 5. Add water as needed and blend to a smooth or coarse chatni to suit your liking. I prefer to use lemon juice now. Transfer the pudina chutney to a serving bowl.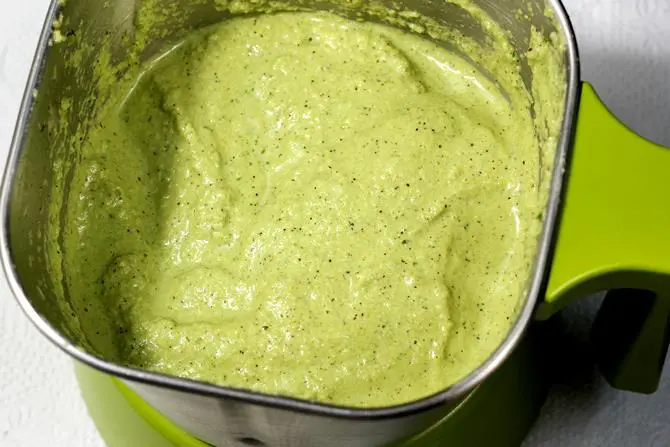 6. Pudina chutney can be served without tempering too. To temper heat a small pan with little oil on a low flame. Add red chili, ¼ tsp mustard and ½ tsp urad dal. When the dal turns golden, add hing and switch off the stove. Pour this to the chutney. Mix well.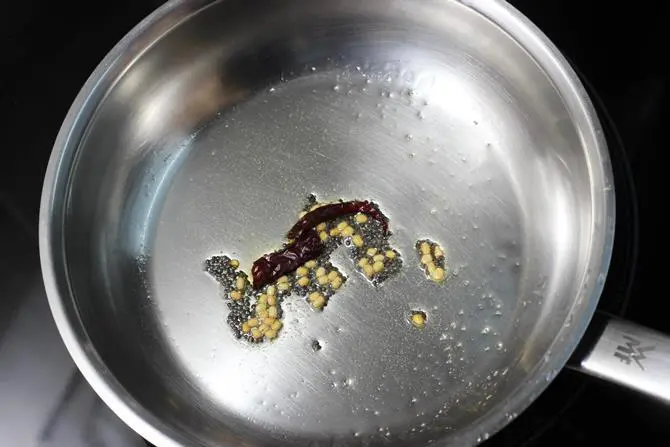 Serve pudina chutney with south Indian breakfasts like
idli
dosa
evening snacks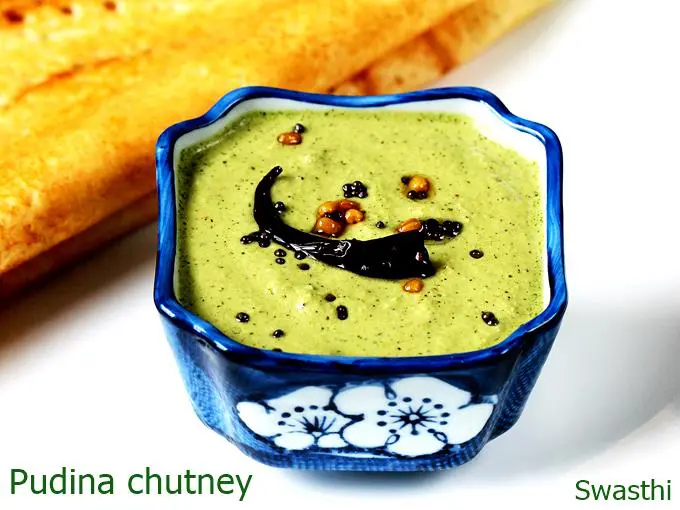 Recipe 3
Mint chutney recipe (vegan)
This mint chutney is vegan and goes well with any snacks tikkis, cutlets, samosas & pakoras. You can also use this for your chaats like bhel puri, sev puri, pani puri etc.
If using for chaats you can also add a handful of coriander leaves. What I have shared in this post has no coriander leaves. I have shared another similar recipe of green chutney here which I follow if making the chutney exclusively for chaats.
But this recipe is an all-in-one which I use in so many ways as I mentioned above. To keep the pudina chutney thick I sometimes add a tbsp of fried gram or roasted gram or roasted peanuts.
These add texture and helps to keep the color slightly brighter. Get this recipe below from the recipe card.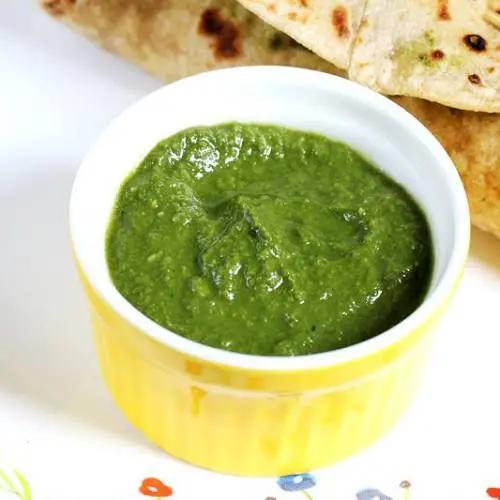 Related Recipes
Recipe Card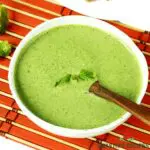 Pudina Chutney Recipe | Mint Chutney
Mint chutney also known as Pudina Chutney is a popular Indian side dip made with fresh mint leaves, green chilies, garlic and cumin. Make it in one of 3 ways as shared below.
Print Recipe
Pin Recipe
Jump to Comments
For best results follow the step-by-step photos above the recipe card
Ingredients (US cup = 240ml )
Recipe 1 – Ingredients (for Kebab Chutney)
1

cup

mint leaves

(pudina, tightly packed 15 grams)

½

cup

coriander leaves

(cilantro with tender stalks, tightly packed 15 grams)

½

teaspoon

sugar

½

teaspoon

salt

(adjust to taste)

¼

inch

ginger

(peeled)

1

small

garlic clove

1 to 2

green chilies

deseeded

1

cup

yogurt

(thick curd)

½ to ¾

teaspoon

roasted cumin powder

(jeera powder)

½ to ¾

teaspoon

chaat masala

(optional)
Recipe 2 – Ingredients for Pudina Chutney
½

cup

coconut

fresh chopped or 1 cup grated

¼ to ½

cup

pudina

(mint, loosely packed, do not use stalks)

1

tablespoon

roasted bengal gram

(or roasted peanuts (or ¾ tbsp each chana dal, urad dal)

½

teaspoon

cumin seeds

(jeera)

½

inch

ginger

(or 1 to 2 garlic cloves)

salt as needed

2 to 3

green chilies

1

tablespoon

lemon juice

or 1 tsp tamarind paste

1

teaspoon

Oil

1

dried red chili

broken (optional)

¼

teaspoon

mustard seeds

½

teaspoon

urad dal

1

pinch

hing

(asafoetida)
Recipe 3 – Mint chutney for Snacks, Chaats, Sandwiches
1½

cup

mint leaves

(pudina) (tightly packed)

½

teaspoon

roasted cumin powder

(jeera powder)

½

inch

ginger

1 to 2

green chilies

salt as needed

½

teaspoon

lemon juice

(adjust to taste)

¼ to ½

teaspoon

chaat masala

(adjust to taste)

1 to 2

tablespoon

water

or as needed

1 to 2

tablespoon

fried gram or roasted peanuts

(skip if making for chaats)
Instructions
Preparation
Pluck the mint leaves from the stalks or stems. Rinse them well in a large bowl of water a few times. Drain them completely to a colander.
Recipe 1 – Mint Chutney for Kebabs & Snacks
Add mint, coriander leaves, salt, ginger, garlic, green chilies, roasted cumin powder, sugar, salt and 1 tbsp yogurt to a blender jar.

Blend to a fine paste. Whisk yogurt to smooth consistency and add the blended paste. If using chaat masala add it now.

Mix well and adjust salt, chili and sprinkle lemon juice if required. Serve with kebabs, snacks & sandwiches.
Recipe 2 – South Indian Pudina Chutney
If using chana dal and urad dal dry roast them until golden in a pan. Add cumin seeds and roast lightly. Turn off and cool.

Optional – You can also saute pudina in oil for 2 to 3 mins first and use.

Add green chili, coconut, fried gram or dal, salt, ginger or garlic and mint to the blender jar. You can also skip coconut and use roasted peanuts.

Blend everything well. Add water little by little scrape off the sides.

Blend again until it reaches a desired texture. If adding lemon juice, add it now. Adjust salt and chili as needed.

Heat a pan with oil to temper pudina chutney. Next add red chili, mustard and dals. Fry until dal turns golden. Add hing and switch off.

Add this to the chutney. Stir and serve pudina chutney with sandwich, idli, dosa or any other breakfast or snack.
Recipe 3 – Mint Chutney for Snacks & Chaats
To a blender jar, add mint leaves, roasted cumin powder,ginger, green chilies, chaat masala and salt as needed.

You can also add some roasted fried gram or roasted peanuts if you prefer the chutney thick & smooth.

Squeeze in the lemon juice. Blend them well adding 1 to 2 tbsps water as needed.

Make a fine smooth Mint chutney.
Notes
Discard the stalks and stems of mint or pudina as they can taste bitter.
Do not over blend the mint chutney as the leaves can release oils that taste bitter.
Nutrition values are for recipe 1 with 1 tbsps dry roasted peanuts
Alternative quantities provided in the recipe card are for 1x only, original recipe.
For best results follow my detailed step-by-step photo instructions and tips above the recipe card.
NUTRITION INFO (estimation only)
Nutrition Facts
Pudina Chutney Recipe | Mint Chutney
Amount Per Serving
Calories 31
Calories from Fat 9
% Daily Value*
Fat 1g2%
Sodium 205mg9%
Potassium 112mg3%
Carbohydrates 4g1%
Protein 1g2%
Vitamin A 715IU14%
Vitamin C 6.9mg8%
Calcium 41mg4%
Iron 1mg6%
* Percent Daily Values are based on a 2000 calorie diet.
This Pudina Chutney recipe post is from the Archives. First published in February 2016. Updated and republished in June 2022.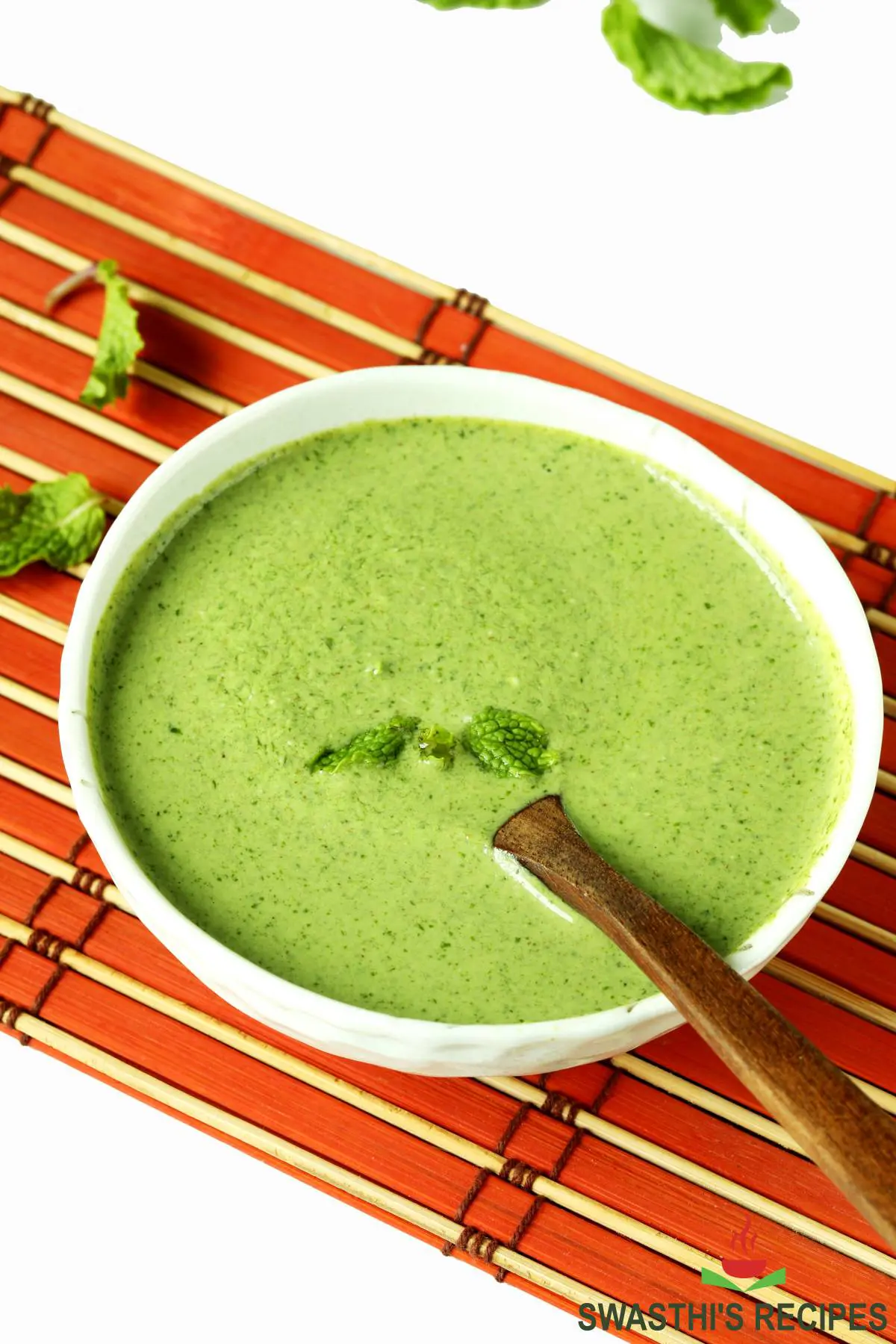 About Swasthi
I'm Swasthi Shreekanth, the recipe developer, food photographer & food writer behind Swasthi's Recipes. My aim is to help you cook great Indian food with my time-tested recipes. After 2 decades of experience in practical Indian cooking I started this blog to help people cook better & more often at home. Whether you are a novice or an experienced cook I am sure Swasthi's Recipes will assist you to enhance your cooking skills. More about me
Follow Swasthi's Recipes