Kadai Paneer Recipe (Dry & Gravy)
Kadai Paneer is a spicy, warming, flavorful and super delicious dish made by cooking paneer & bell peppers in a fragrant, fresh ground spice powder. This uniquely flavored and spiced Kadai Paneer is so much different from the other popular paneer gravy dishes like paneer butter masala and shahi paneer. If you love the real North Indian flavors and spicy foods, this dish is a must try! This restaurant style curry is best served with Butter Naan, roti, Jeera rice or steamed basmati rice.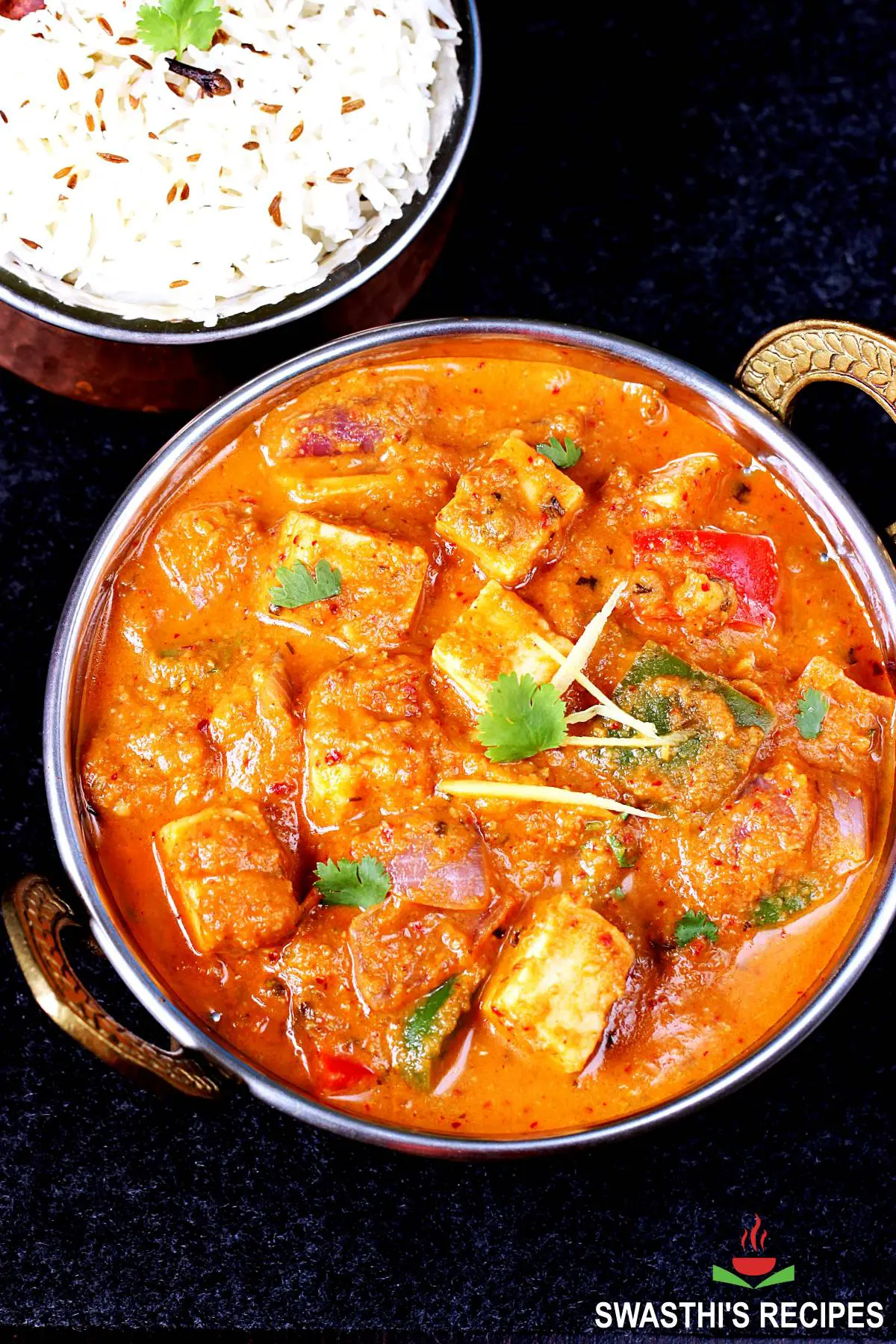 There are 2 ways of making Kadai Paneer – Gravy & semi dry. I share both the methods in this post. Recipe 1 – My kadai paneer gravy turns out to be much more flavorful & delicious than what is served in most Indian restaurant. It's a winner always and is so simple to make.
This Kadai paneer gravy is good when you are home for a meal. It goes well with hot butter naan, roti & even with jeera rice or plain basmati rice.
Recipe 2 – Quick kadhai paneer semi dry curry just in 15 minutes. This recipe can be made without onions (optional). So it saves a lot of time as there is no chopping and sautéing of onions involved.
I often make this for the school and the office lunch box along with jeera rice & simple vegetable salad. This also goes well inside roti or wraps as a filling.
About Kadai Paneer
Kadai paneer is a simple yet amazingly flavorful paneer dish made by cooking paneer and bell peppers with fresh ground spices known as kadai masala. It is called as kadai paneer since it is cooked in a special Indian wok called kadai, which is a basic kitchen essential of Indian Cuisine.
However the dish can be prepared without a kadai just like the way I cooked it in a regular pan.
How is Kadai Masala made?
Kadai masala is a unique blend of spices specially used to make kadai dishes. It is much more flavourful and stronger than the regular garam masala that is used in regular Indian cooking. Kadai masala is made with coriander seeds, red chilies, cloves, cardamoms, cinnamon & fennel seeds.
These whole spices are dry roasted to bring out the aroma and then ground to a slightly coarse powder.
Here coriander seeds are used in higher quantity than it is used for the regular garam masala. So if you do not have all of these spices, then the simple trick is to use coriander seeds, red chilies & garam masala.
Since most garam masala powders already have cinnamon, cloves, cardamoms and fennel seeds, sometimes I go the easy way and use coriander seeds, red chilies & garam masala.
Related Paneer Recipes.
Dhaba Paneer Curry
Paneer Butter Masala
Paneer Lababdar
Malai Kofta
Palak Paneer
Matar Paneer
How To Make Kadai Paneer Gravy (Stepwise photos)
Make Kadai Masala
1. Prepare the following:
Cube 1 heaped cup onions (to saute)
Chop 1 cup tomatoes
Cube 1 more onion (separate the layers)
Cube half cup capsicum preferably the same size as of paneer
Measure 2 cups cubed paneer (¾ inch, 230 to 250 grams)
2. To make kadai masala, add the following ingredients to a grinder jar:
2 tablespoons coriander seeds
3 to 4 deseeded red chilies (kashmiri)
¾ teaspoon fennel seeds
2 green cardamoms
If your spices are soft due to weather conditions, you may toast them first in a pan until crunchy, cool and grind them. I use the spices form the refrigerator so they are crisp.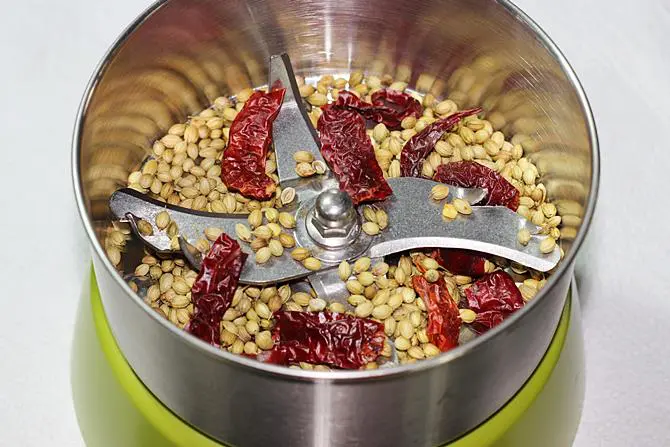 3. Pulse all of them to make a slightly coarse or fine powder to suit your liking. Kadai masala is usually ground to a coarse powder. But if you leave it too coarse you may get the grits in the gravy. So make sure it is fine or slightly coarse.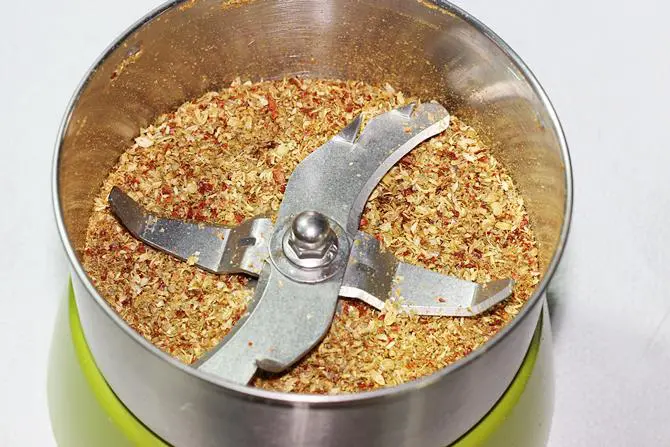 Make Onion Tomato Masala
4. Heat a pan with half tablespoon oil on a high flame. Saute 1 heaped cup of cubed onions along with 6 to 7 split cashews until they turn transparent or lightly golden.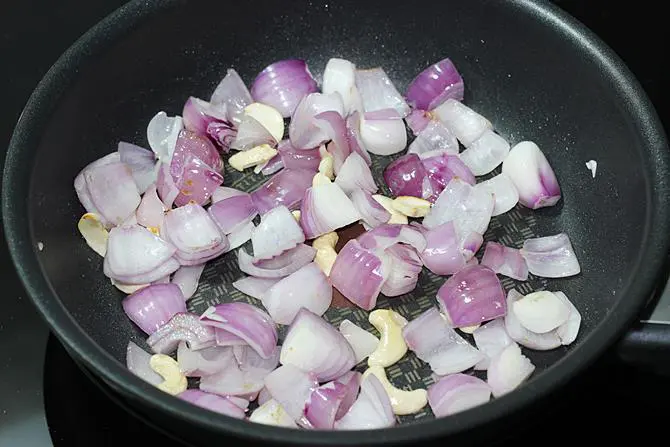 5. Add 1 cup chopped tomatoes and continue to saute on a medium heat until tomatoes turn mushy and soft. If needed add little salt or cover and cook to fasten the cooking.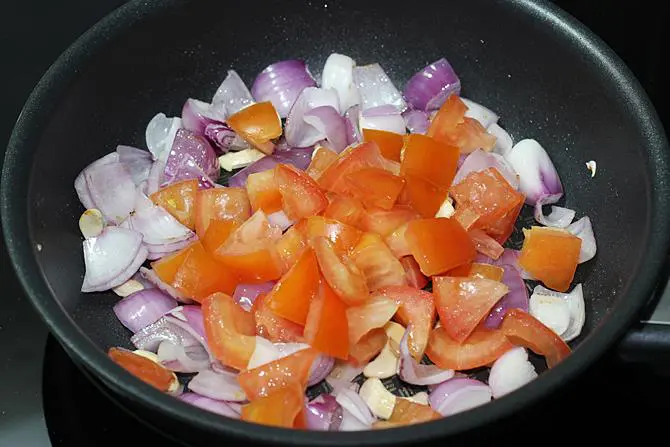 6. Cool this completely.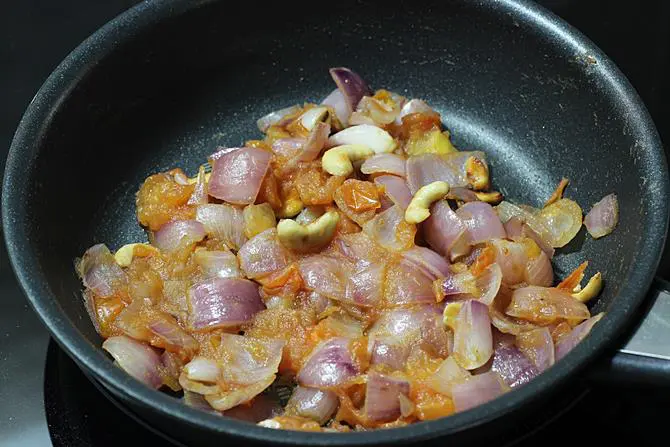 7. Add the cooled onion tomatoes to a grinder jar.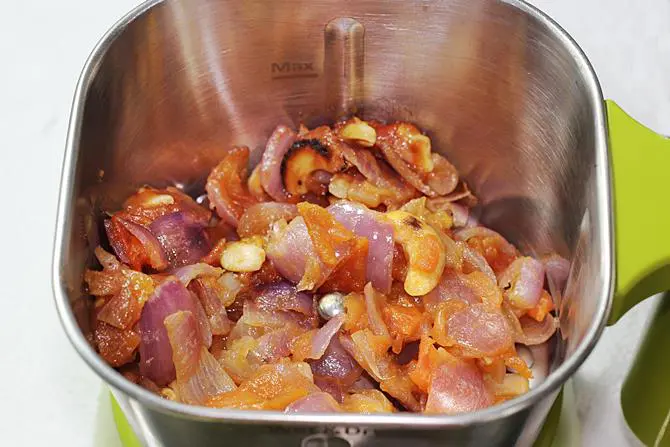 8. Blend it to smooth paste without adding water.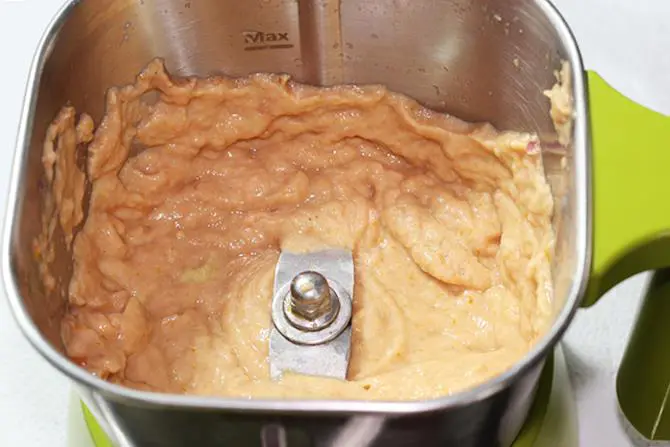 Make Kadai Paneer
9. Add another half tablespoon of oil to the pan and heat up on a high flame. To get the restaurant style smoky flavor, use the same pan used for sauteing onion tomatoes earlier. Add capsicum and onions, saute on a high flame just until half cooked (must remain crunchy). Constantly toss to prevent burning.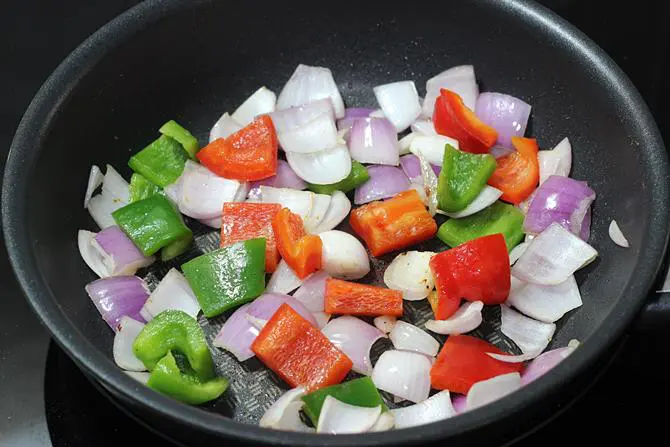 10. Add paneer. Make sure it is not too moist before you add. Toss it in the hot pan for 60 to 90 seconds on a medium heat. Less than 2 mins. Do not overcook else the paneer turns hard. Transfer all these to a plate.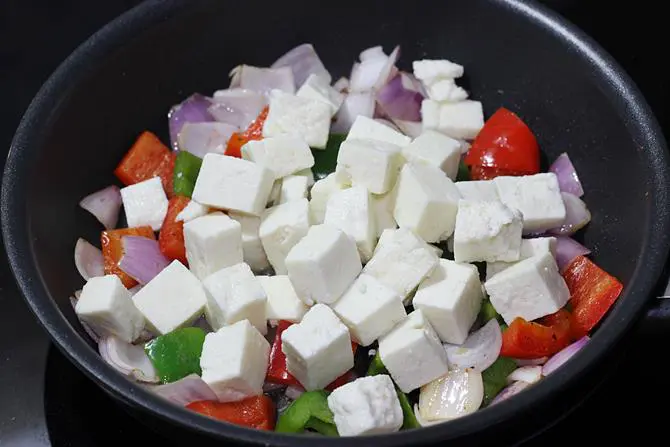 11. Add 1 tablespoon oil and heat it on a medium flame. Saute ginger & garlic paste until the raw smell goes away.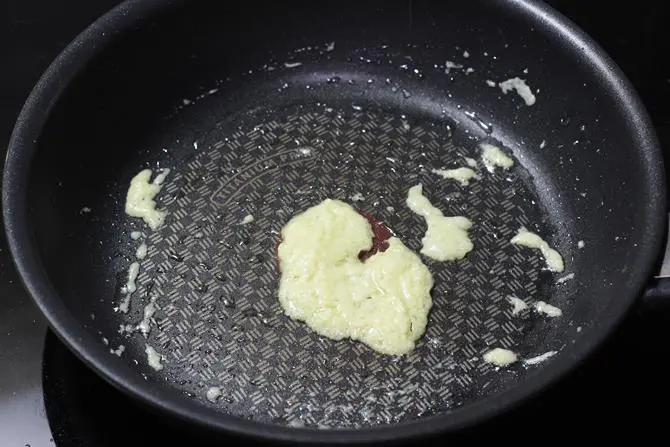 12. Add the ground spices – kadai masala and saute it well on a medium to low heat. We have not roasted the spices earlier so we need to do it well here until it turns aromatic & the raw flavor goes away.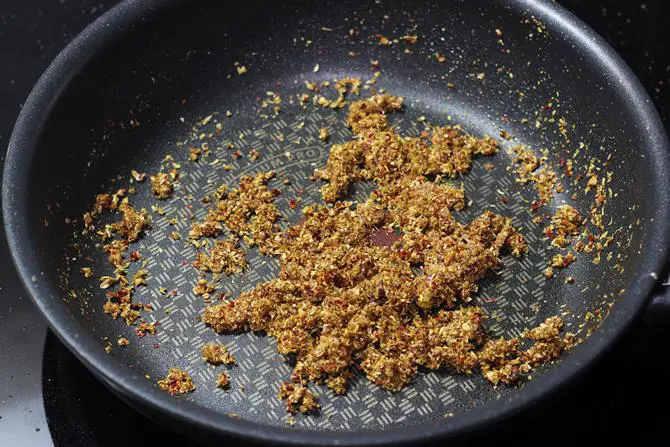 13. Add onion tomato puree.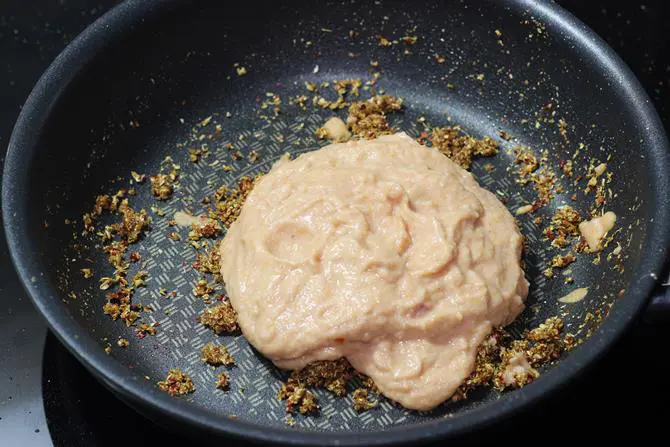 14. Saute it well for about 2 mins. Add half tsp garam masala. I have added half tsp kashmiri red chilli powder just to bring a good color and this is optional.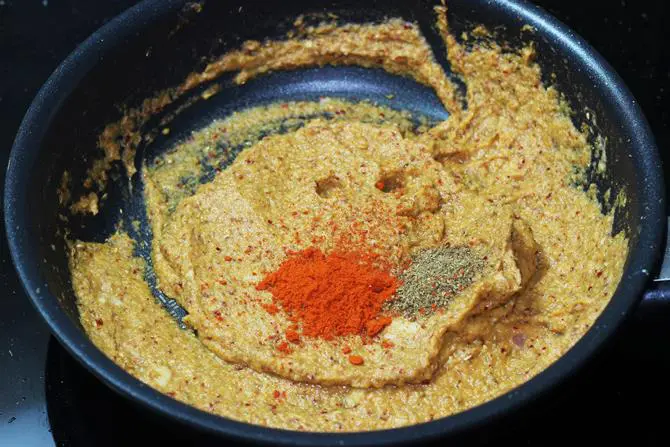 15. Next saute well for 2 mins again. Since we have sauteed onions and tomatoes well in the earlier steps, we don't need to cook the masala a lot.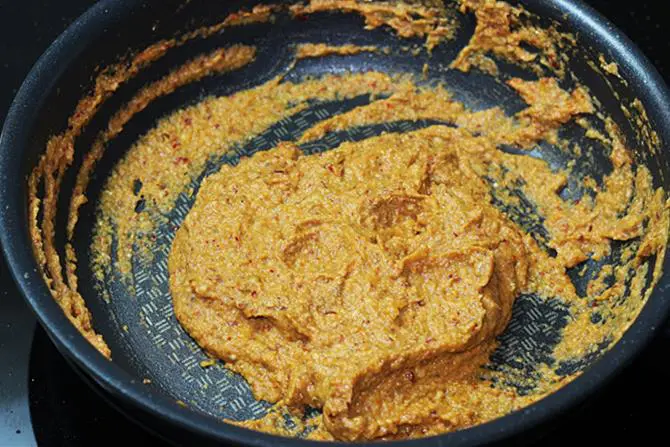 Make Kadai Paneer Gravy
16. Add 1 cup water and mix well. Bring this to a boil. If the gravy is too thick pour another ¼ to ½ cup water.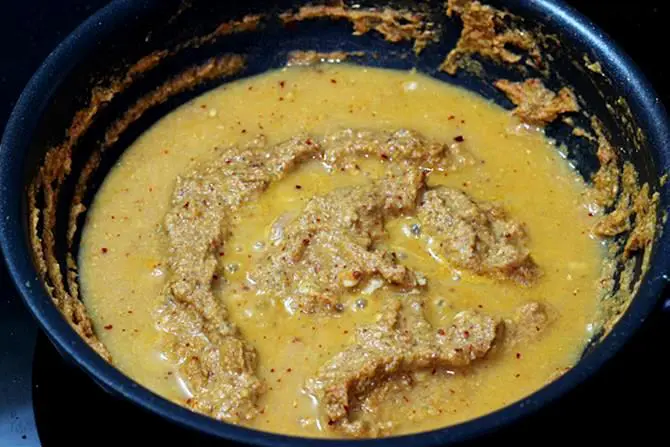 17. Cook until the gravy turns thick and flavorful. Make sure the gravy doesn't look runny at this satge. After boiling it well, you will see traces of oil on top of the gravy. Next towards the end add 1 teaspoon crushed kasuri methi.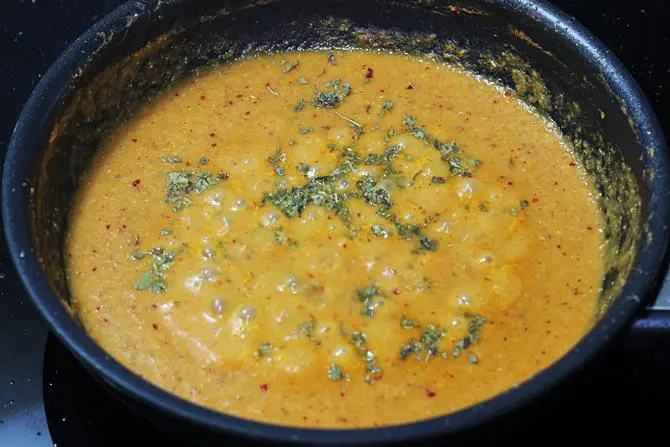 18. Add the sauteed onion, capsicum and paneer that we had set aside. Turn off the stove.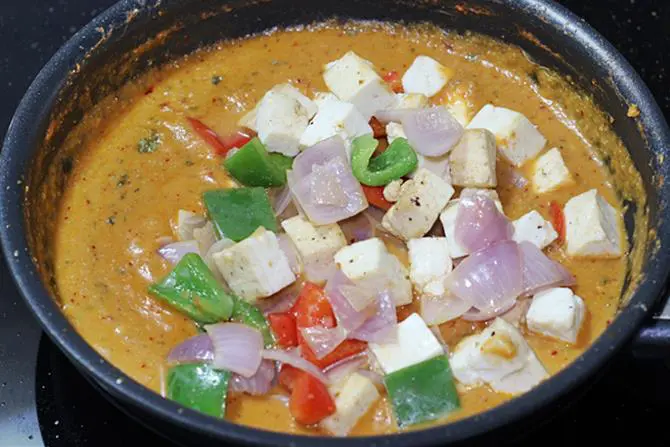 19. Mix well. Add ginger juliennes and chopped coriander leaves. Cover and set aside for 2 mins. Do not leave on the hot stove since it will continue to cook further. Transfer to a serving bowl.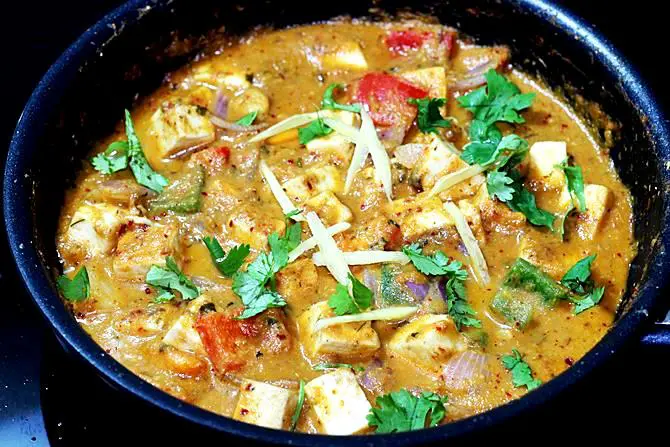 Allow kadai paneer to rest for at least 15 mins so the paneer to absorbs the flavors. You can also smoke the curry if you like following my dal makhani post.
This delicious kadai paneer gravy goes very well with roti / chapathi, plain paratha, butter naan or plain basmati rice or flavored rice like jeera rice, ghee rice or Pulao.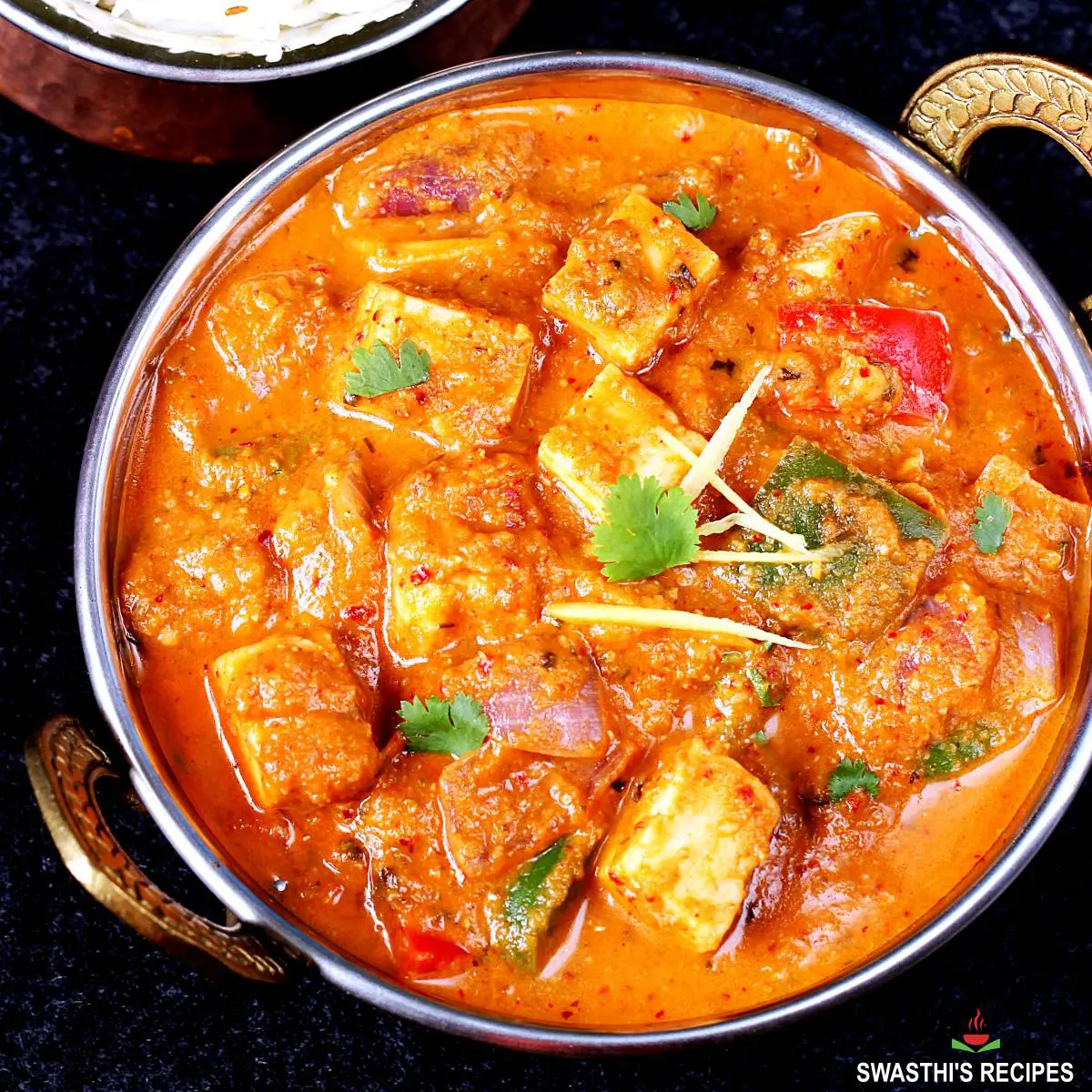 Pro Tips
Kadai masala: The key to a good kadai paneer is in using the right combination of spices to make kadai masala. So use them as mentioned in the recipe. Substituting it with a regular or normal garam masala will give you a regular paneer curry. However it will still taste good but you won't find any kadai flavors in it.
Dry roasting the whole spices before grinding is optional. But if you do not have a good grinder/blender then you may roast them to crisp up. I do not roast them as I keep all my spices in the fridge and they remain crisp.
Dried red chilies are used in this recipe as they impart a smoky flavour to the dish. Using good quality dried red chilies that are not too spicy or pungent is very important. I usually use Kashmiri or byadgi red chilies. Otherwise the dish may turn very spicy with bitter tones. You can also reduce the amount of red chilies and use red chilli powder.
Ginger: Adding ginger julienne towards the end of cooking infuses a great aroma to the dish. Do not skip this.
Paneer: Using good quality fresh paneer makes a lot of difference to the dish. If you prefer to make your own paneer at home, you can follow this post on How to make paneer. If using store bought paneer then immerse it in slightly hot water for 15 mins. Drain completely and use it.
How to make best kadai paneer
Always saute the powdered kadai masala in oil until it turns fragrant. This is the key to an aromatic kadai paneer.
Smoky flavour: Kadai paneer served in some restaurants get a mild smoky flavor as the bell peppers & onions are tossed on a high flame on large burners.
To get similar flavors toss the veggies on the highest flame as mentioned in the recipe. This lends a mild smoky aroma to the dish.
Substitutions:
You can use any store bought kadai masala.
For a creamy version you can also use a few tablespoons of cream towards the end.
You can easily substitute tofu for paneer in the recipe.
If you do not eat onions and garlic, you may skip both of them completely. Without onions the dish will be on the tangy side. So to balance that you may need to add some cream at the last stage. Without onions, the quantity of the prepared kadai paneer will be lesser.
For the gravy version, I have used cashews. You may substitute them with blanched almonds.
Recipe 2 – Kadai Paneer Semi Dry
Semi dry kadai paneer is the most common one served in restaurants. This is easier to make than the first recipe as it needs only sautéing the basic masala with ground kadai masala. Then bell peppers are sautéed and lastly paneer is added to it. This goes well with rotis and can also be used to make roti rolls.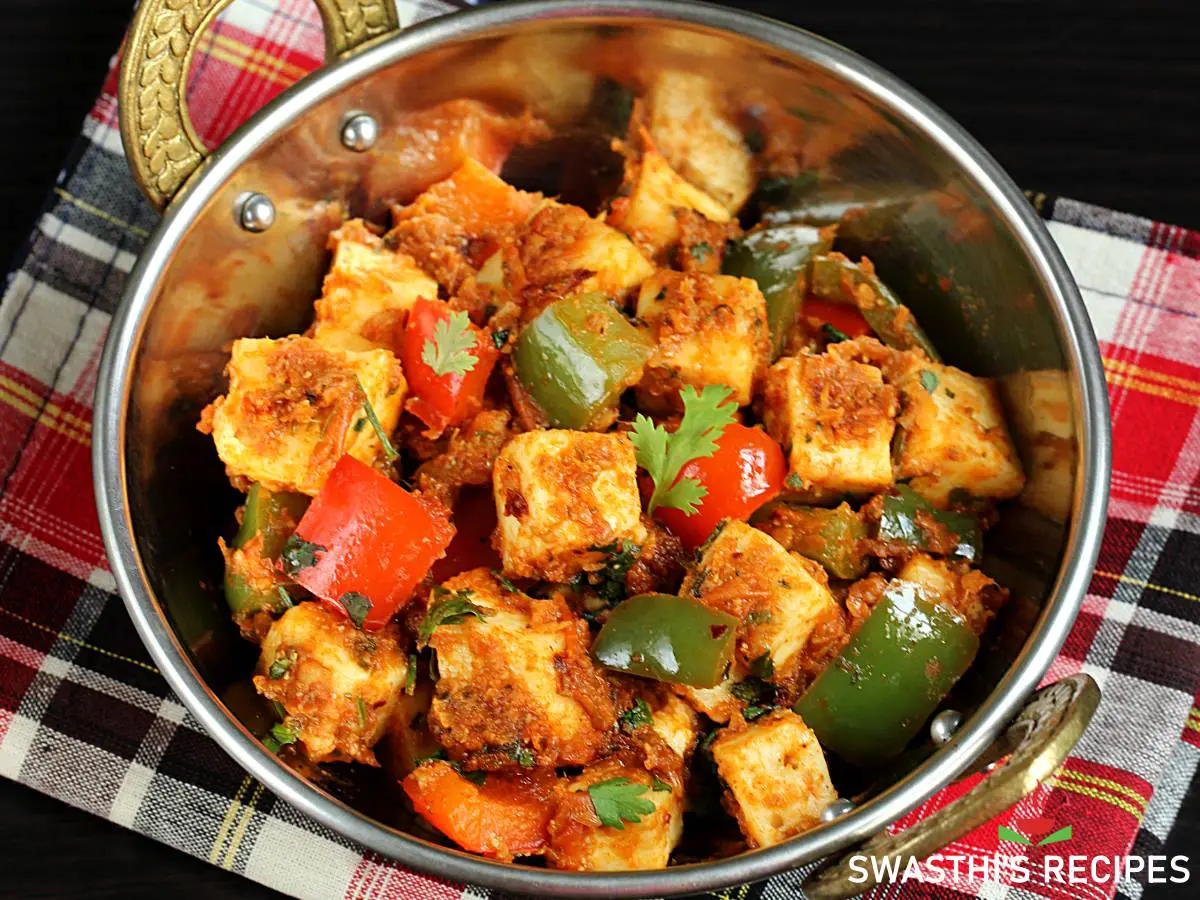 Unlike the first gravy version, this one is made without blending onions or tomatoes. The chopped ingredients directly go to the kadai for cooking. I make this one mostly to pack in the school and office box as it is pretty much easier to make in the mornings.
To make this creamy, pour
Ingredients
200 grams (1 ½ cup paneer cubed)
½ cup onions finely chopped (optional)
1½ cup tomatoes finely chopped or pureed (300 to 325 grams)
¾ cup cubed capsicums (green or red or both)
1½ teaspoon ginger garlic paste or only ginger paste
1/8 tsp ground turmeric
2 tablespoons oil (or 1 tbsp oil + 1 tbsp butter)
½ to 1 teaspoon red chilli powder (adjust to taste)
½ to ¾ teaspoon garam masala
1 teaspoon kasuri methi
¾ teaspoon salt (adjust to taste)
¼ cup heavy cream or whipping cream (optional)
2 tbsps coriander leaves chopped for garnish
½ inch ginger juliennes
For the kadai masala
1 tablespoon coriander seeds
2 to 3 kashmiri dried red chilies
¾ teaspoon fennel seeds (saunf)
1 green cardamom
Preparation – recipe 2
1. Rinse tomatoes & bell peppers. Chop tomatoes very finely. Alternately you can puree the tomatoes and use. Make a fine paste of ginger and garlic or grate them. Cube paneer and bell peppers to ¾ inch pieces. Set aside. If you want to use onion, you can fine chop 1 medium onion.
2. Add 1 tablespoon coriander seeds and 2 to 3 dried red chilies to a pan and toast them until crisp on a low heat. When the red chilies turn crisp remove to a plate and cool them. To the same pan add ¾ teaspoon fennel seeds and roast on a medium heat until aromatic. Remove these as well to the same plate and cool them completely.
3. Next add them to a grinder or spice blender along with 1 green cardamom.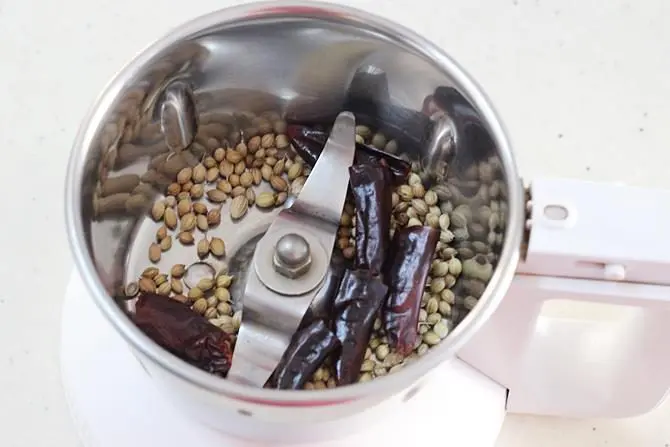 4. Make a fine powder and set aside.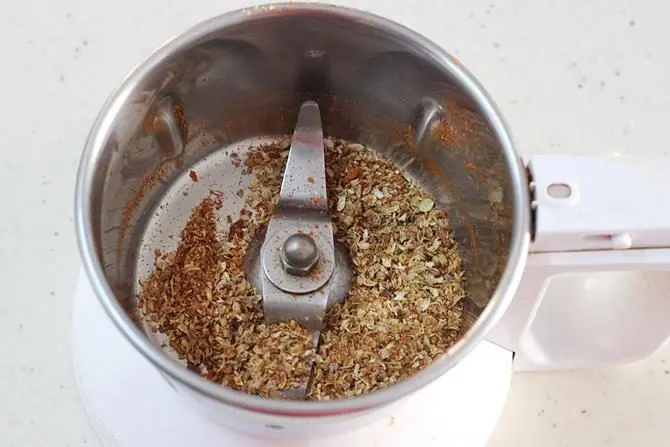 How to make
5. Pour 2 tablespoons oil to the kadai and heat it. When the oil turns hot, add 1½ teaspoon ginger garlic paste. Saute on a medium heat until the ginger garlic turns aromatic. Do not burn them.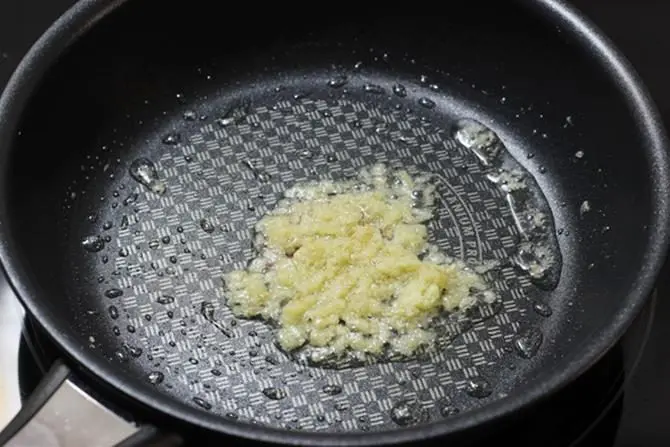 6. Then add 1½ chopped tomatoes, 1/8 teaspoon turmeric and half teaspoon salt.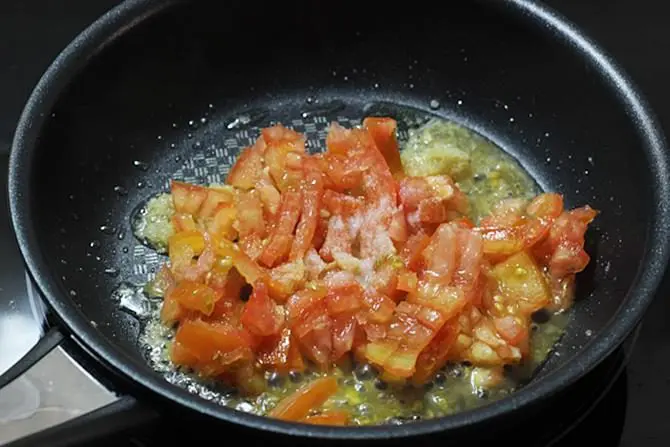 7. Fry all of them until the tomatoes turn fully mushy. If needed cover and cook. Then add ½ to 1 teaspoon red chilli powder and ground kadai masala.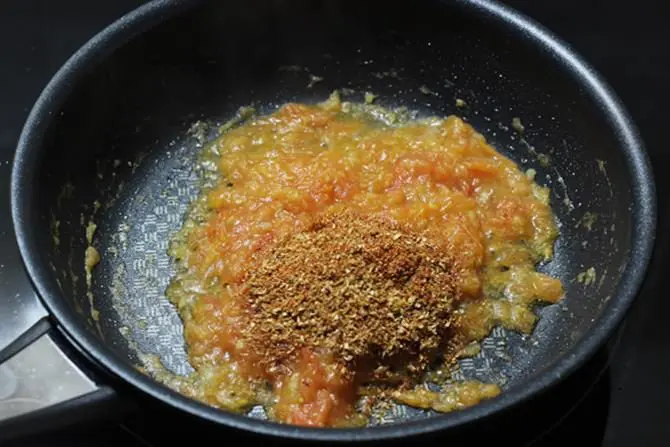 8. Mix well and fry until the masala turns aromatic and begins to release some oil on the sides. This is an indication that the masala is cooked well. This step is very important to bring out the flavors. Then add garam masala.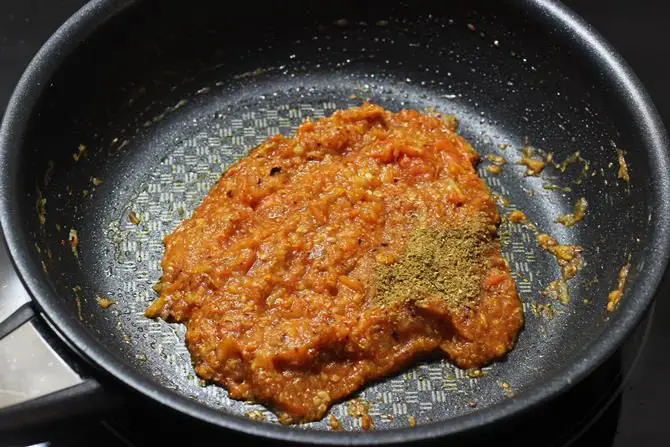 9. Pour 4 to 5 tablespoons of water at this stage and cook the masala until it thickens. Add capsicum and saute for 2 to 3 mins until they begin to smell good.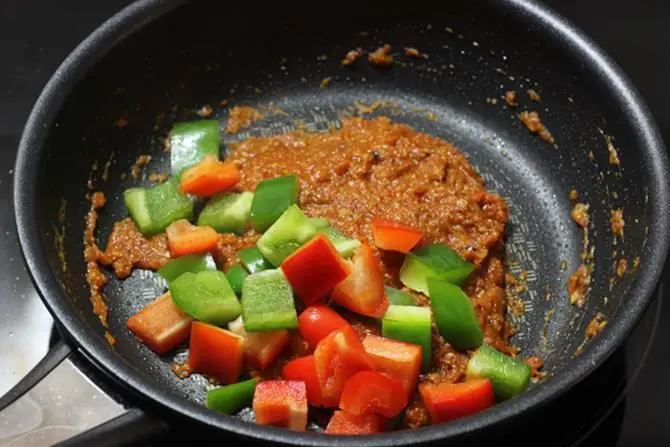 10. Then add the cubed paneer and 1 teaspoon crushed kasuri methi. Mix well to coat the paneer with the masala.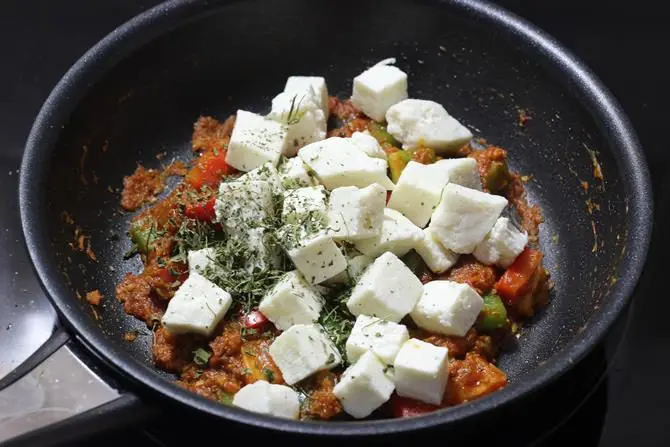 11. Cover the pan. Cook on a very low heat for 2 to 3 mins. Cooking for too long will make the paneer harder. If you prefer to use cream pour 3 to 4 tbsps at this stage and give a good stir. Taste test and add more salt if needed.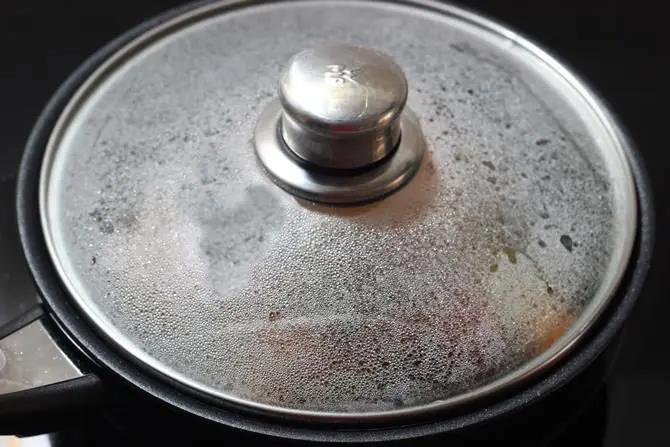 12. Sprinkle coriander leaves and mix well. Add the half inch ginger juliennes and turn off the heat.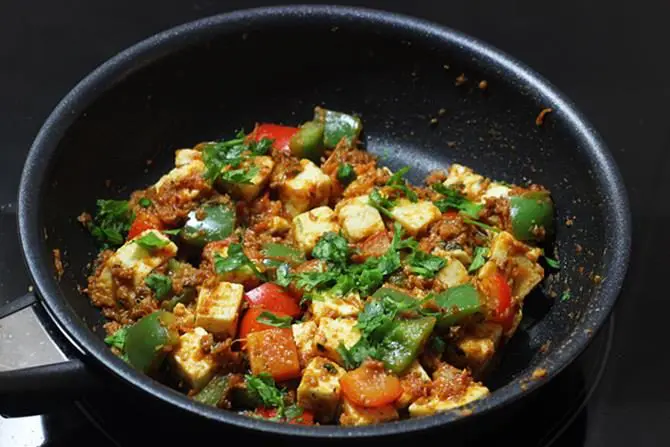 Allow kadai paneer to rest in the pan covered for 10 to 20 mins so the paneer absorbs all of the flavors of kadai masala. Serve with roti, plain parathas or stuff it in your sandwich.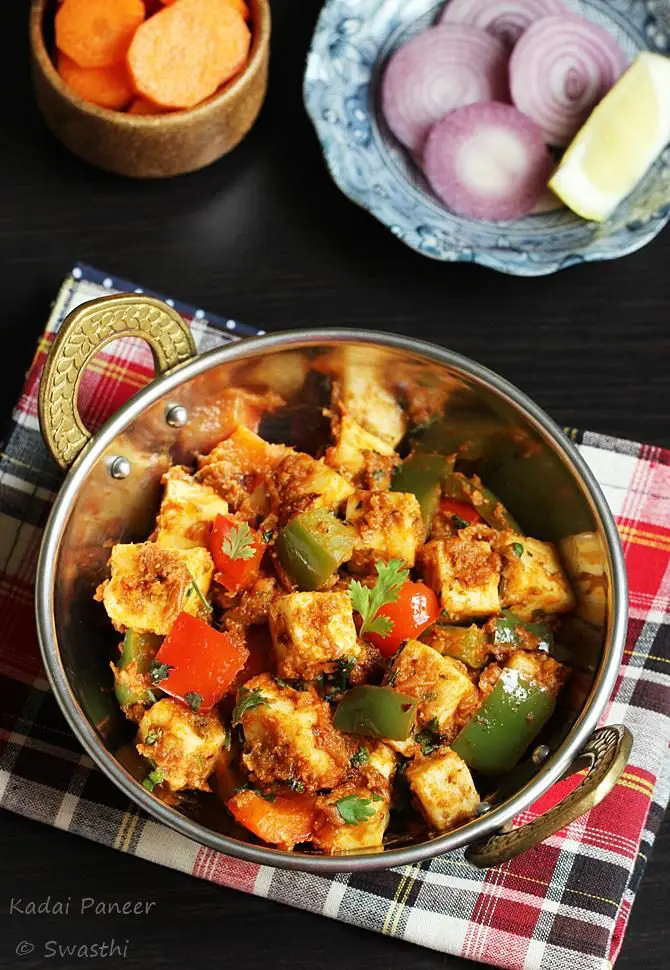 Variations for recipe 2
Usually there is no cream or cashews added to it like it is done for most other paneer recipes. If you prefer to serve this with rice, then you can also make the below mentioned variations:
You can pour 3 to 4 tbsps of heavy cream to this to make it creamy. If using cream you will need to up the heat level as cream tones down the heat.
If you like it to be moderately creamy then puree the tomatoes with 8 cashews and use it here. Also you will need to pour half cup water to cook the masala. This makes a semi dry kadai paneer which will go well with roti or even with basmati rice.
To make it kids' friendly reduce the chilies or skip the chilli powder. Keep the rest of the spices as mentioned in the recipe.
This kadai paneer recipe is roughly being adapted from chefs Nita Mehta's and Sanjeev Kapoor's cookbooks. I have made several changes to the original recipes to suit our taste buds.
Faqs
What is in kadai paneer?
Bell peppers, onions, tomatoes, ginger, garlic, paneer, kadai masala (coriander, red chilies, cardamoms, fennel seeds, cloves and cinnamon) go into kadai paneer.
What is the difference between kadai paneer and shahi paneer?
Kadai paneer is made with kadai masala, bell peppers, tomatoes, kasuri methi & paneer. But shahi paneer uses none of these ingredients except for paneer. Kadai paneer is spicy & not creamy or sweet. But Shahi paneer is creamy, sweetish and is not spicy.
How to reduce heat & spice in kadai paneer?
To reduce the heat & spice, skip the red chilies completely or cut down to half the quantities in the recipe. If your cooked kadai paneer is too spicy and hot, then you can bring down the heat by adding some dairy cream or cashew cream.
Related Recipes
Recipe Card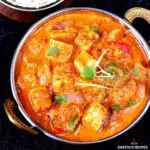 Kadai Paneer Recipe
Kadai paneer is a restaurant style delicious spicy paneer recipe made with fresh ground kadai masala, paneer, onions, tomatoes & bell peppers. It's full of flavors and one of the best paneer gravy recipes you can make at home. It is best served with plain basmati rice, flavored rice, roti, naan or any flatbread.
Pin Recipe
Print Recipe
For best results follow the step-by-step photos above the recipe card
Ingredients (US cup = 240ml )
For Kadai Masala
2

tablespoons

coriander seeds

(daniya)

4

dried red chilies

(kashmiri or less spicy variety) deseeded

2

green cardamoms

¾

teaspoon

fennel seeds

(saunf) (optional but recommended)
To saute & puree
1

cup

onions

(sliced or chopped, 2 large)

1

cup

tomatoes

(chopped, 2 large)

8

cashew nuts

(can substitute with 3 tbsp cream)
Other ingredients
2

tablespoons

oil

(divided – ½ + ½ + 1 tbsp)

1

teaspoon

ginger garlic paste

or crushed

½

teaspoon

red chili powder

(optional, just for color)

½ to ¾

teaspoon

garam masala

1

teaspoon

kasuri methi

(dried fenugreek leaves)

¾

teaspoon

salt

(adjust to taste)

1

cup

water

for gravy (¼ to ½ cup more to adjust)

1

onion

Optional (medium, cubed, layers separated)

½

cup

capsicum

(bell peppers cubed)

250

grams

paneer

(Indian cottage cheese)

½ to 1

teaspoon

ginger

julienne

2

tablespoons

coriander leaves

(cilantro chopped finely)
Instructions
Preparation
To a small grinder jar, add red chilies, cardamoms, fennel seeds (optional) and coriander seeds. Make a fine powder and keep aside.

Heat ½ tablespoon oil in a pan. Add 1 cup chopped onions & 8 cashew nuts. Saute them on a medium high flame until the onions turn transparent or pink.

Add 1 cup chopped tomatoes and saute until completely mushy.

Cool this completely and add to a blender jar. Blend to a smooth paste or puree. Set this aside.

To the same pan, add ½ tablespoon oil and heat it.

Saute 1 cubed onion and capsicum on the highest flame until half done. They must be slightly tender and yet crunchy.

Add paneer and toss for 1 to 2 mins. Set all these aside. Do not over fry these.
How to Make Kadai Paneer
Heat 1 tbsp oil and saute 1 tsp ginger garlic paste until the raw smell goes off.

Next transfer the ground kadai masala and saute for 2 to 3 mins until it turns fragrant. Ensure the raw flavor has gone from the masala.

Add the ground onion tomato paste and saute for 2 mins.

Next add garam masala and red chili powder. Saute for another 2 mins until the masala turns fragrant.

Pour 1 cup water and salt. If you feel the gravy is too thick, pour ¼ to ½ cup more water. Allow it to boil until the gravy thickens and traces of oil appear on top.

Then crush and add kasuri methi. Stir well again. Taste the gravy and add more salt as needed.

Add the sauteed paneer, capsicum and onion.

Stir well & finally add ginger juliennes and coriander leaves.

Cover and rest for 2 mins. Transfer to a serving bowl and rest for at least 15 mins for the paneer to absorb the flavors.

Enjoy kadai paneer gravy with roti, butter naan, paratha or jeera rice.
Notes
Kadai masala is usually made of coriander seeds, red chilies, cardamom, cinnamon, cloves, jeera, saunf, pepper and a small piece of bay leaf. But coriander seeds are used in higher quantity when compared to any garam masala.
Kadai masala can be made using all the above mentioned ingredients or can be substituted with any garam masala Plus additional coriander seeds and dry red chilies.
Alternative quantities provided in the recipe card are for 1x only, original recipe.
For best results follow my detailed step-by-step photo instructions and tips above the recipe card.
Video
Video for recipe 2 – kadai paneer dry. You can find the written instructions for this recipe as well in this post.
NUTRITION INFO (estimation only)
Nutrition Facts
Kadai Paneer Recipe
Amount Per Serving
Calories 255
Calories from Fat 153
% Daily Value*
Fat 17g26%
Cholesterol 41mg14%
Sodium 104mg5%
Potassium 357mg10%
Carbohydrates 15g5%
Protein 11g22%
Vitamin A 810IU16%
Vitamin C 35.8mg43%
Calcium 353mg35%
Iron 1.6mg9%
* Percent Daily Values are based on a 2000 calorie diet.
Kadai Paneer Recipe first published in May 2014. Updated & Republished in November 2022.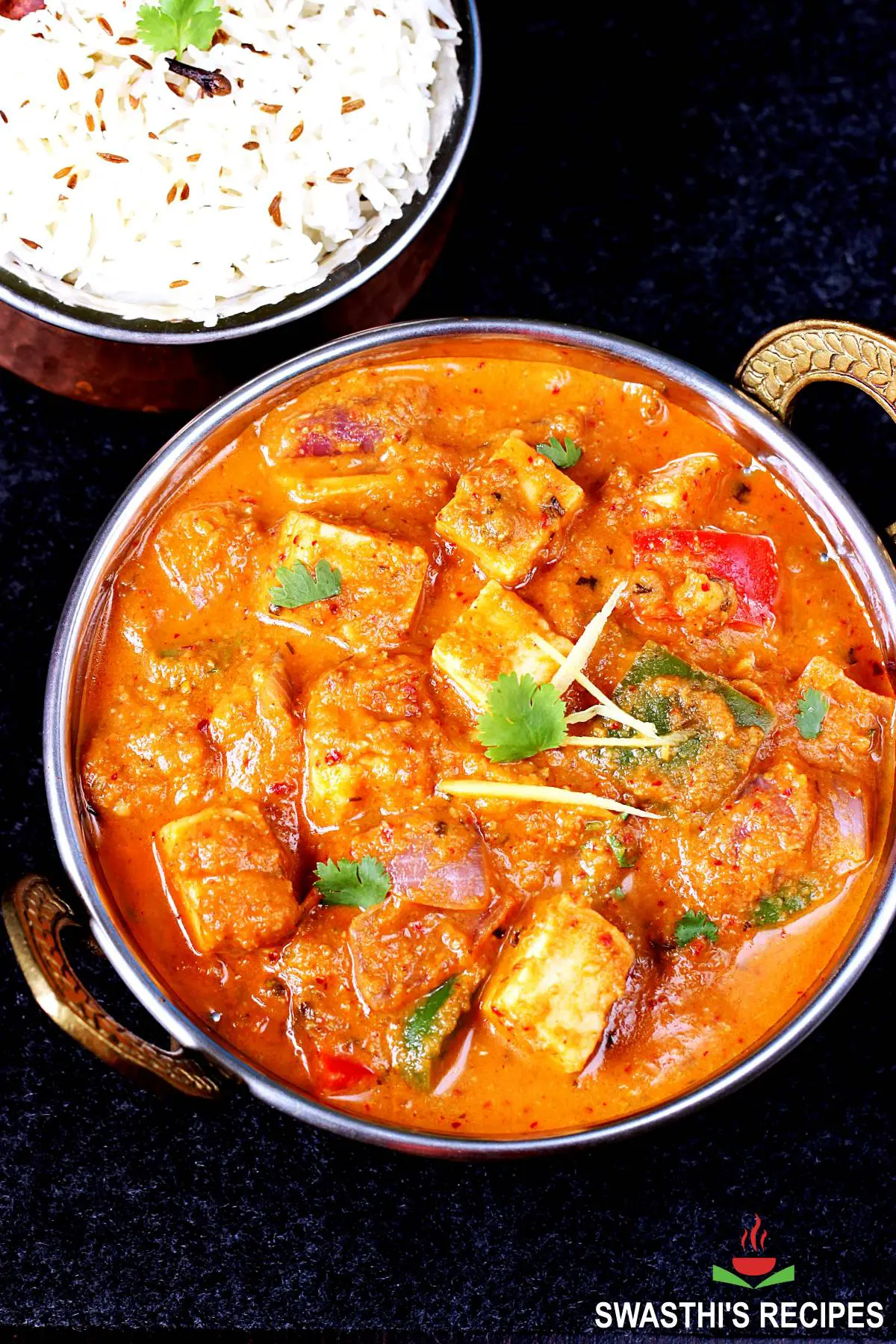 About Swasthi
I'm Swasthi Shreekanth, the recipe developer, food photographer & food writer behind Swasthi's Recipes. My aim is to help you cook great Indian food with my time-tested recipes. After 2 decades of experience in practical Indian cooking I started this blog to help people cook better & more often at home. Whether you are a novice or an experienced cook I am sure Swasthi's Recipes will assist you to enhance your cooking skills.
Follow Swasthi's Recipes