Potato Curry Recipe (Aloo Curry)
Potato Curry aka Aloo Curry recipe with stovetop & Instant pot instructions. Easy Potato Curry packed with delicious flavors & made under 30 minutes in one pot. This incredibly easy Aloo Curry recipe is a perfect family Dinner when you want Indian curry in a hurry. Made with pantry staples, yet it is tasty & packed with great flavors of spices and herbs. Serve it over steamed rice or with Indian flatbreads like roti, Chapati, plain paratha or butter naan. You will just love it!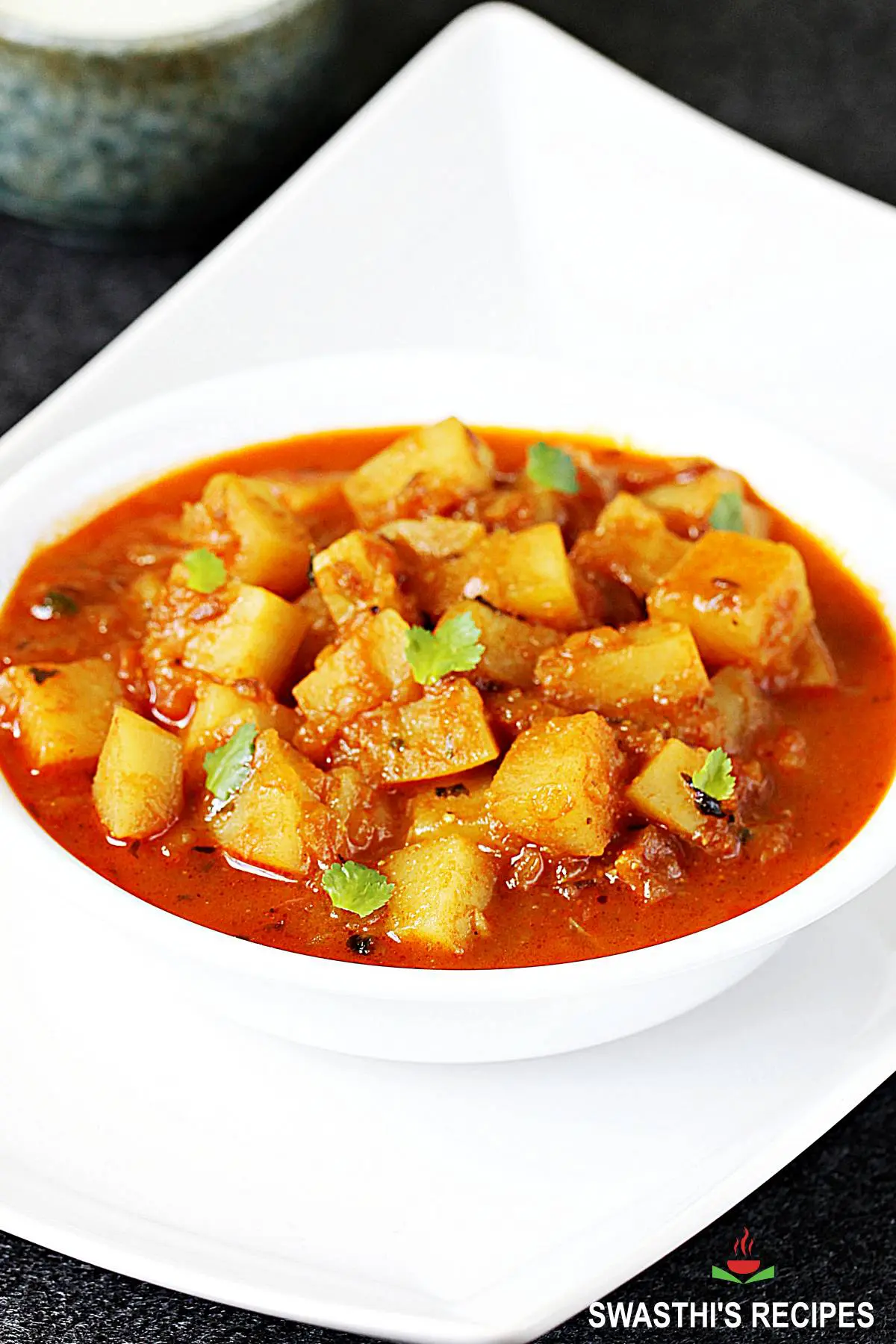 Indian cuisine is diverse so a Potato Curry is made in numerous ways. Each region has a different recipe & even every home has their own to make it. Some also make it in combination with other vegetables like peas, vegetable drumsticks, eggplants etc.
About Potato Curry
Potato is known as "Aloo" in Hindi. So basically any Indian curry made with potatoes is known as "Aloo curry". Potatoes, sautéed onions, tomatoes, ginger, garlic, spices and herbs come together to make this delicious curry that is absolutely perfect for weeknight dinner.
Make this either in a regular pot or an instant pot, it turns out great both ways.
This recipe is very forgiving so you can easily substitute the ingredients if you do not have any of them. More often I find myself tweaking this to make different variations like using different spice blends or adding different veggies like peas or bell peppers.
Sometimes I also make the dry potato curry/sabzi or add some boiled eggs to the simmering gravy. So there are so many possible variations you can make to this recipe. Of course the spices have to be adjusted to suit the add-ons. My tips and notes below will help you with all that.
Similar recipes with potato
Aloo Matar
Aloo Gobi
Bombay Potatoes
Dum Aloo
Potato Masala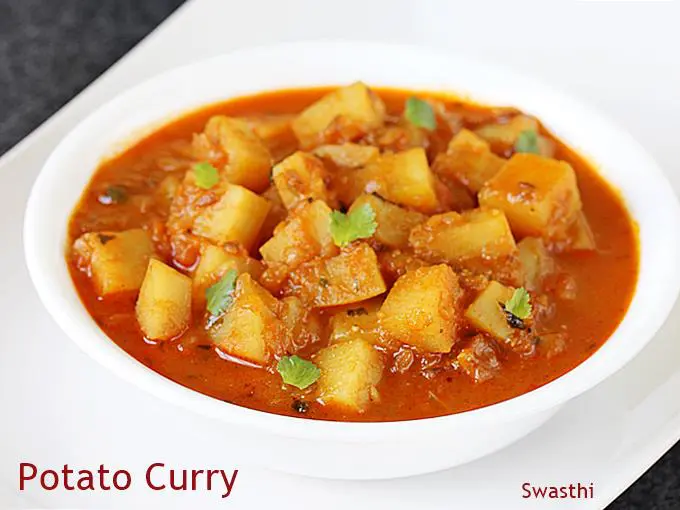 How to Make Potato Curry (Stepwise photos)
1. Peel, wash and chop onion, tomatoes & chilies. Peel & cube 250 grams of potatoes to ¾ inch pieces. Keep them immersed in water until needed.
To make this potato curry, I prefer to cook them directly in the curry. It takes about 25 mins to cook potatoes once it is added to the gravy. [Optional Tip: You can also use boiled potatoes. Some kinds of potatoes really don't cook faster in curry. So you may consider boiling them al dente and then cut to small cubes. Then add in the curry.]
Make Onion Tomato Masala
2. Heat 2 tablespoons oil in a pan. Then add ½ teaspoon cumin seeds. These are optional and you may skip if you don't have.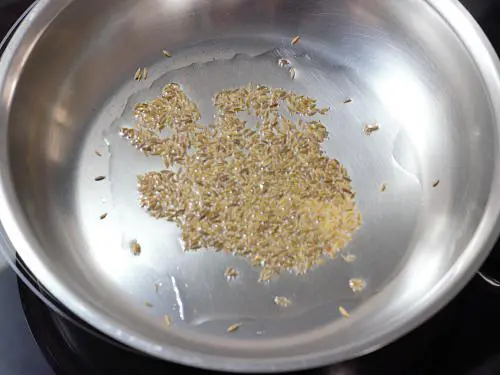 3. When the cumin seeds begin to splutter, add ¾ cup chopped onions (1 large) and 1 sprig curry leaves (optional). Saute until onions turn golden & lose their raw flavor.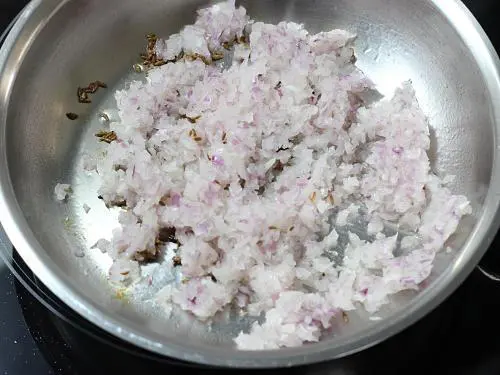 4. Next add 1 teaspoon ginger & garlic paste. (or 1 teaspoon finely chopped garlic). Saute until a nice aroma comes out from ginger garlic. This step takes about 1 to 2 minutes.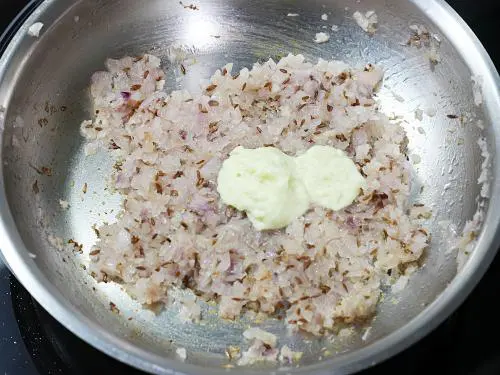 5. Add ¾ to 1 cup finely chopped tomatoes (3 medium) or pureed tomatoes. Sprinkle ½ teaspoon salt and ¼ teaspoon turmeric. Saute until the tomatoes turn mushy. If the tomatoes are hard, cover the pan and cook for a while.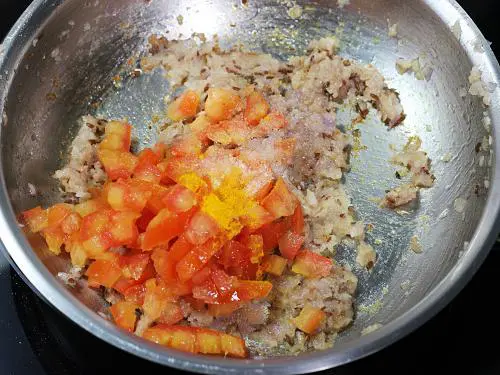 6. Add 1 teaspoon coriander powder, ¾ to 1 teaspoon garam masala and ½ to ¾ teaspoon red chili powder.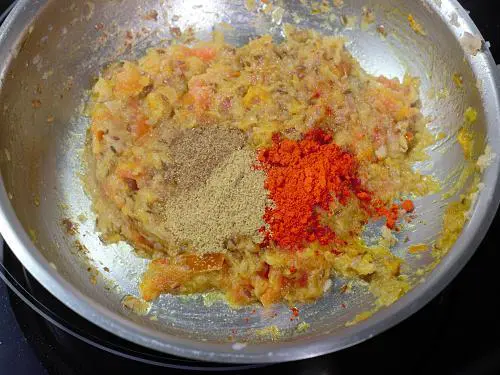 7. Mix well. Then saute everything until the onion tomato masala turns aromatic. This takes about 2 to 4 minutes. At this stage you can see oil begins to separate from the onion tomato masala. If you don't saute the masala well, the curry won't have a good flavor.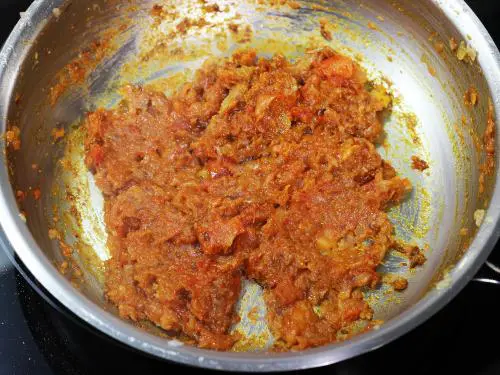 Make Potato Curry
8. Add chopped potatoes. Saute for 2 to 3 mins.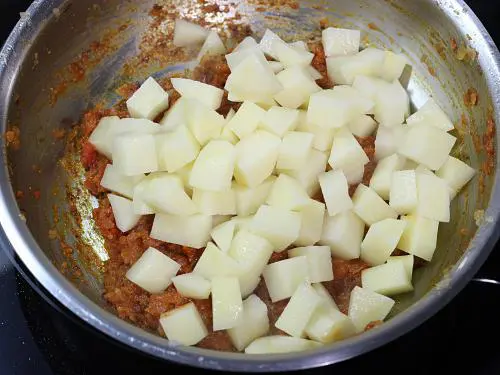 9. Pour 1¼ cup water and give a good mix. [Tip: If using boiled potatoes, then you can use very little water (stock) in which you boiled them & cook just for 3 mins.] You can also cook the curry in light coconut milk or thin coconut milk.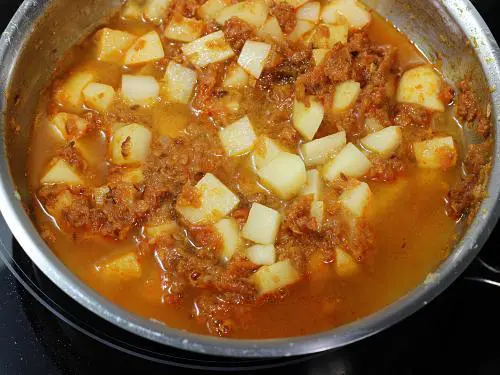 10. Cover and cook until potatoes become fork tender. Keep checking and add more water if needed as some kind of potatoes need more water.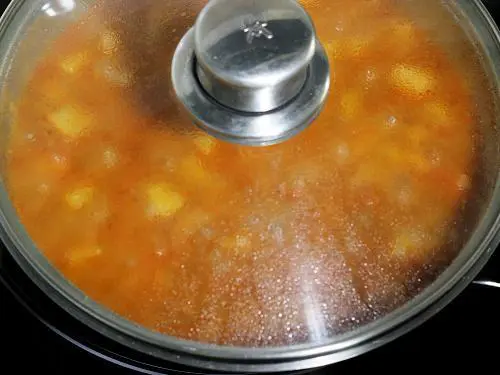 11. Optional: Since I did not have curry leaves or bay leaf, I added half teaspoon kasuri methi here. You may skip it.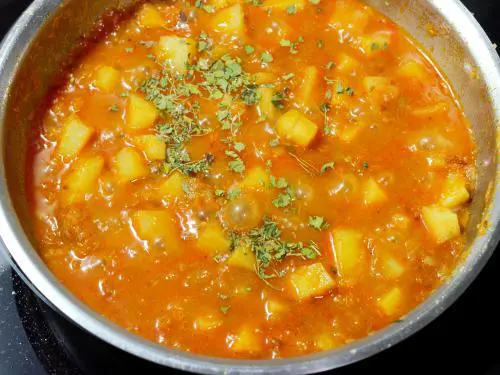 12. Taste test and add more salt if needed. When the potatoes are fully cooked they will soften. Check and turn off the stove. If the curry is runny, evaporate the excess liquid by cooking on a slightly higher flame. Add 2 tablespoons of chopped coriander leaves.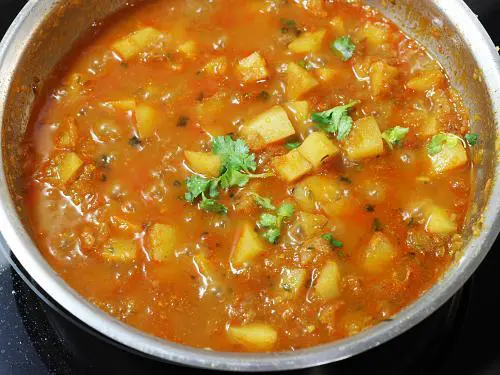 Enjoy potato curry with rice, chapathi or bread.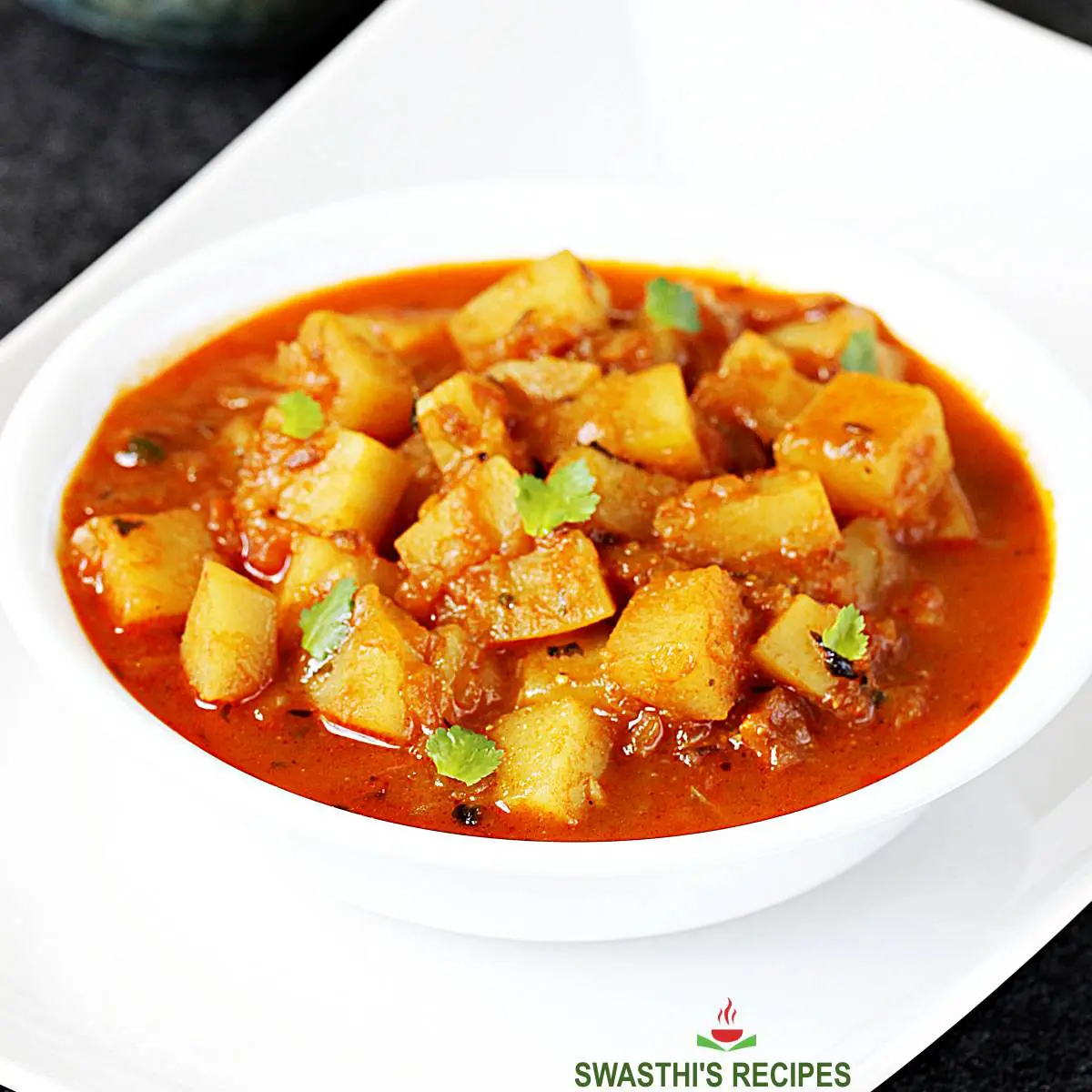 Ingredients & Substitutes
Garam masala is a key spice blend used in Indian curry recipes. It not only enhances the flavour of the dish but also makes it tasty. However if you do not have it just replace with a good flavorful curry powder or sambar powder.
The taste of the potato curry depends on the spice powder used so choose a good one or make your own following this garam masala recipe.
Curry leaf is an herb predominantly used in the South Indian cuisine. These leaves contribute to the flavours of South Indian curry & are considered healthy as they aid digestion. If you like to use them, add a sprig of these leaves to the hot oil before adding the onions.
Whole spices: If you like a pungent flavour in your curry, add ¼ teaspoon mustard seeds to the hot oil at the first step. You can also add half teaspoon whole cumin seeds.
Kasuri methi are dried fenugreek leaves. These can be used for a unique aroma. I use this when I don't have curry leaves.
Variations
For South Indian flavors, use fresh curry leaves. You can also add 1 tablespoon tamarind paste towards the end i.e after the potatoes are cooked. Avoid adding tamarind before the potatoes are tender.
Usually potatoes harden when they come in contact with highly acidic ingredient like tamarind so they take forever to cook.
For North Indian flavors, use 1 teaspoon amchur powder (dried mango powder) and 1 tablespoon crushed kasuri methi (dried fenugreek leaves). Add both these at the last step to retain their best flavors.
Add-ons
For some reason I try to limit the consumption of potatoes or at least eat them in moderation. If you are like me then you will love these variations.
Peas: Add 1cup of green peas to the curry. To use frozen peas, add them when the potatoes are almost tender. Stir them in the boiling curry and cook for just a minute. Cover and rest the curry. To use fresh peas, boil them separately and add them the same way.
Bell peppers: Fry the bell peppers in 1 tablespoon oil before you begin to make the potato curry. When they are partially tender, yet crunchy remove them to a bowl and set aside. Add these bell peppers after the potatoes are cooked. Turn off and rest the curry for 10 to 15 mins. Do not cook any more after adding bell peppers as we want them crunchy in the curry.
Boiled eggs: This is one of our favorites. Hard boil the eggs and peel the shell. Make a few cuts into them. When the potatoes are slightly al dente, add these eggs and simmer for 1 to 2 minutes. Do not overcook. Cover and let them rest for 10 minutes.
Chickpeas: 1 cup of boiled chickpeas can be added when the potatoes are half cooked. Simmer them along with the potoatoes.
Coconut milk: Sometimes I use coconut milk when we plan to serve this potato curry with flavored rice like jeera rice, ghee rice or roti. I have shown this in the Instant pot method.
Instant Pot Potato Curry with Rice
This Instant pot recipe serves 4. You can cook 2 cups rice along with the curry. Please note that basmati rice has to be soaked while you prepare the ingredients for the curry. Also use hot water to cook the rice as the pressure cook time for the curry is just 4 mins.
Ingredients
2 cups potatoes – cubed to 1 inch pieces – 400 grams
1 green chilli slit
1 cup onions – fine chopped or processed
¾ to 1 cup tomatoes – chopped or pureed
1 tsp ginger fine chopped or paste
1 tsp garlic fine chopped or paste
10 to 12 curry leaves (1 sprig) or 1 bay leaf
2 tbsps oil
¼ tsp mustard seeds
½ tsp cumin seeds
1 to 1 ¼ tsp red chili powder
1/8 tsp turmeric powder
1 tsp garam masala
1 tsp coriander powder
Salt as needed – about ½ tsp
1 cup water
2 tbsps coriander leaves
Optional
¼ to ½ cup coconut milk (or ½ cup fresh coconut ground with ½ cup water)
Instructions
1. Rinse 1 ½ cups basmati rice and soak in hot water for 20 to 30 mins. Meanwhile prepare the veggies.
2. Press saute button and pour 2 tbsps oil in the inner pot of the Instant pot. When the oil turns hot, add mustard, cumin and curry leaves (or 1 bay leaf).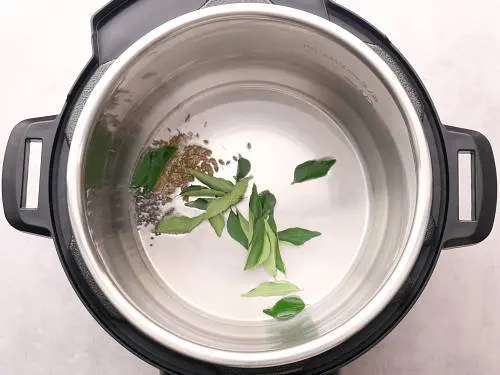 3. Next add onions and green chilli. Saute until the onions turn transparent or pink. Then add ginger and garlic and saute for 30 seconds.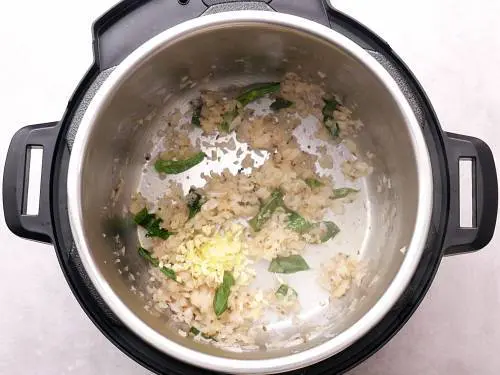 4. Next add tomatoes (or puree). Sprinkle salt and saute until tomatoes turn soft and mushy.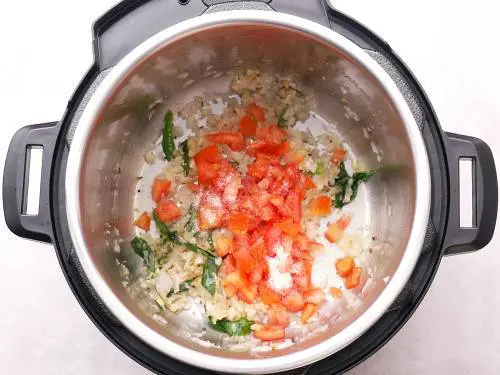 5. Then add red chilli powder, turmeric, garam masala & coriander powder.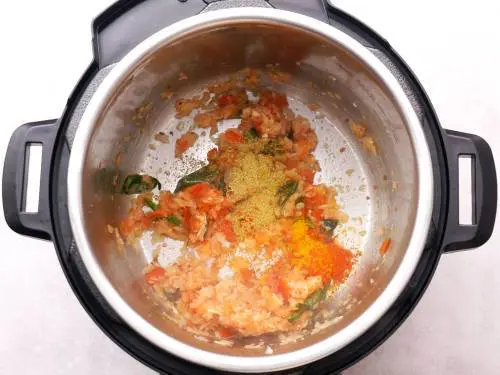 6. Saute for 30 seconds.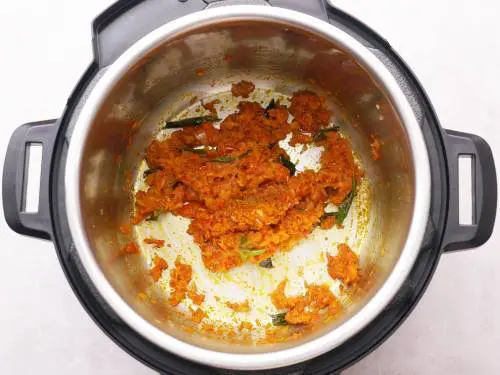 7. Then add potatoes cubed to 1 inch pieces. Pour 1 cup water and deglaze the pot by scrubbing well to release any bits of food stuck at the bottom.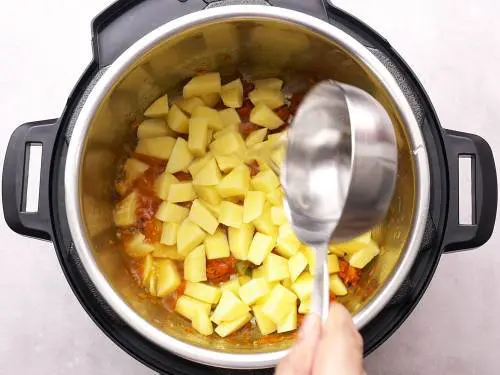 8. Press cancel. Drain the water from the rice bowl completely. Place a long legged trivet and then place the rice bowl. Pour 1 ¾ cups hot water to the rice.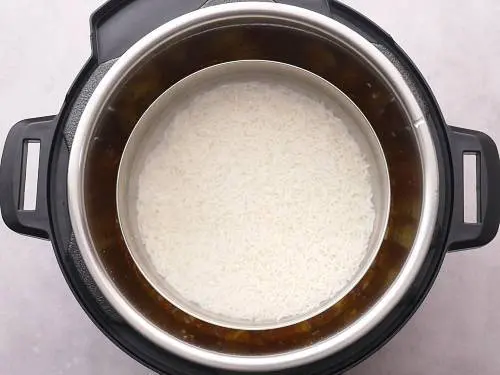 9. Cover and secure the Instant pot with the lid and position the steam release handle to sealing. Press pressure cook button and press the timer to 4 mins (high pressure).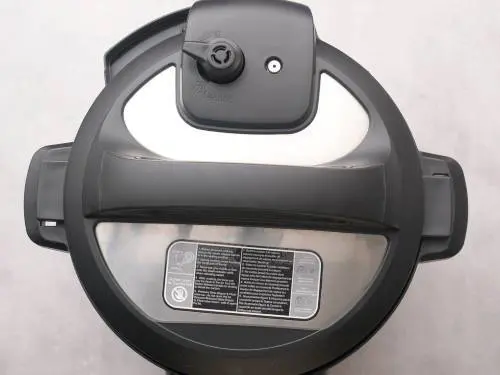 10. When the instant pot is done cooking. Press cancel and turn off. Do a quick manual release with the help of a spoon. Fluff up the rice with a fork. Remove and keep covered until served.
11. Taste the curry and add more salt if needed. You can serve the potato curry as is or add coconut milk following the steps below.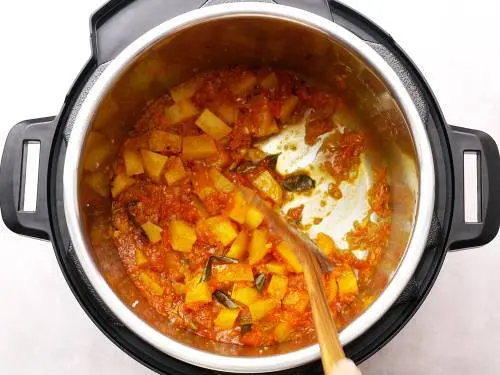 12. Press saute button and gently bring the potatoes to the center of the pot. Then pour ¼ to ½ cup coconut milk around the edges. This prevents the potatoes from getting overcooked.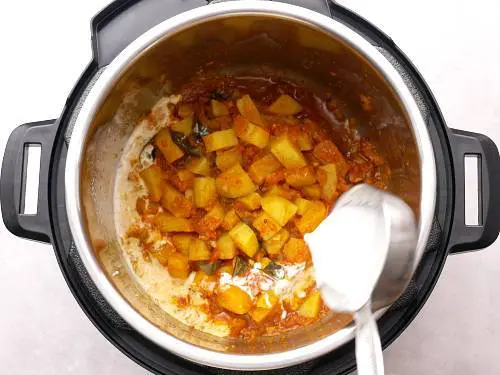 13. Let simmer until the potato curry reaches a desired consistency. Sprinkle coriander leaves.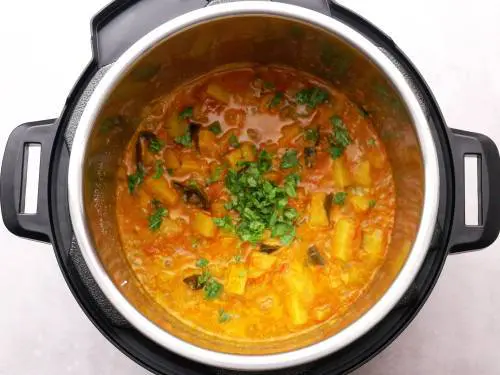 Serve potato curry with steamed rice or flavoured rice like jeera rice or roti.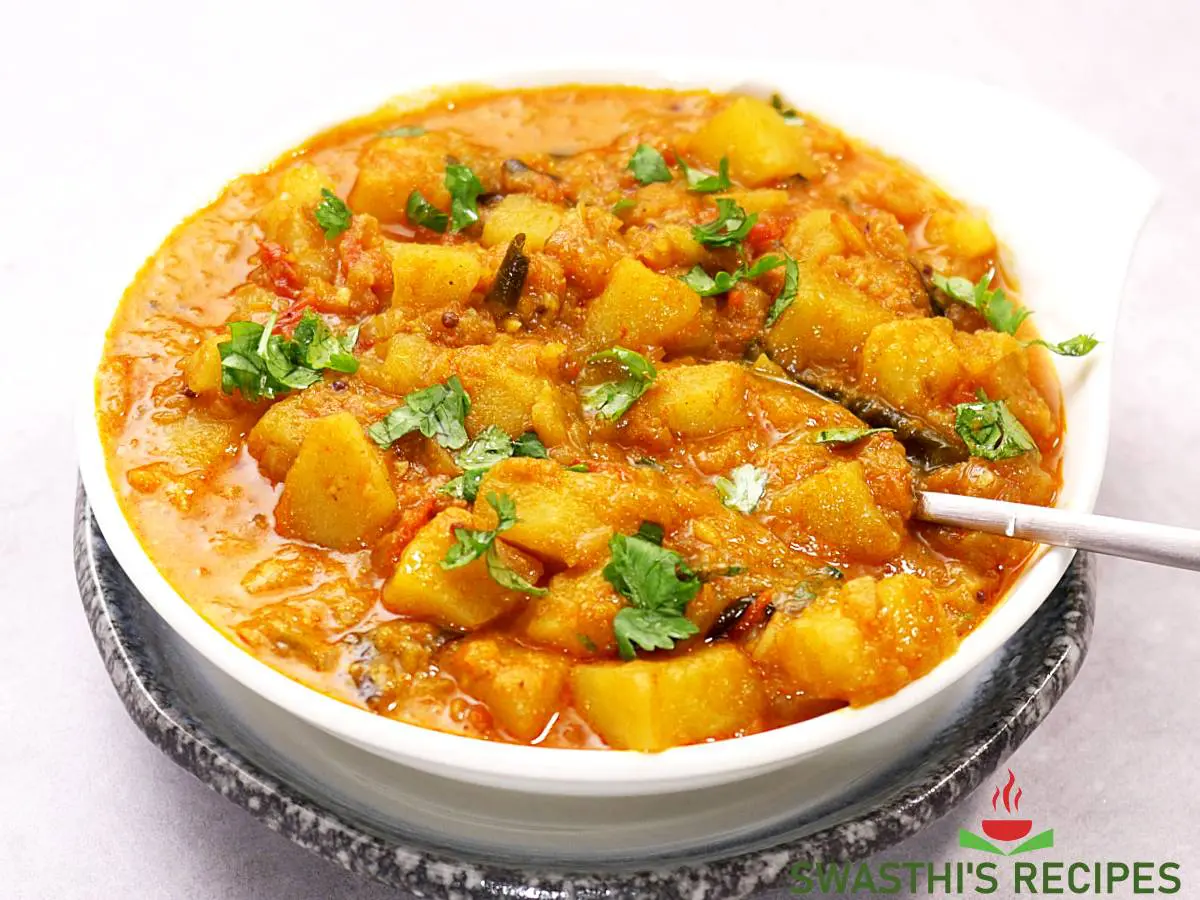 Faqs
Which potato is best for curry?
Waxy potatoes like Yukon gold, white potatoes and russet potatoes are best for curry. However any other kind of potatoes are okay if you cook them just until fork tender so they retain their shape. Avoid using new potatoes.
How do you soften potatoes in the curry?
To soften the potatoes just cover the pot and simmer the curry longer. If your potatoes are too old then boil them first. Old potatoes will take forever to cook with an acidic ingredient like tomatoes.
Should I boil potatoes before adding to curry?
No! You don't need to boil the potatoes first. To make a basic curry, just add them to the onion tomato masala and simmer. Potatoes cook with the spices and absorb all the wonderful flavors.
How do you make curry flavorful?
Use a good fragrant garam masala to flavor up your curry. Also saute onions, tomatoes & spice powders well to bring out the aroma. Then add water/ broth/ coconut milk to the pot.
Should I peel potatoes for curry?
Yes peel the skin and cube them before adding to the curry or gravy.
Related Recipes
Recipe Card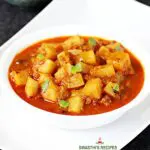 Potato Curry Recipe (Aloo Curry)
Also known as aloo curry, this is an Indian side dish made with potatoes, onions, tomatoes, spices & herbs. Goes well with rice or roti. This post includes instructions to make the curry on stovetop and in Instant pot.
Print Recipe
Pin Recipe
Jump to Comments
For best results follow the step-by-step photos above the recipe card
Ingredients (US cup = 240ml )
250 grams (8 ounces)

potatoes

(cubed to ¾ inch, 3 medium size)

¾ cup (100 grams)

onion

(fine chopped, 1 large)

¾ to 1 cup (200 grams)

tomatoes

(fine chopped or pureed, 3 medium)

2

tablespoons

Oil

1

teaspoon

garlic

(fine chopped or ginger garlic paste)

½

teaspoon

salt

(adjust to taste)

1¼

cup

water

(or light coconut milk, adjust as needed)

2

tablespoons

coriander leaves

(cilantro chopped) (or ½ tsp kasuri methi)
Spices
½

teaspoon

cumin seeds

(or ground cumin)

½ to ¾

teaspoon

Kashmiri red chili powder

or ½ tsp cayenne pepper or paprika (adjust to taste)

¼

teaspoon

turmeric

¾ to 1

teaspoon

garam masala

or curry powder as needed

1

teaspoon

coriander powder

(ground coriander)
Instructions
Preparation
Wash and fine chop onions. Chop or puree tomatoes. Peel and cube potatoes to ¾ inch pieces. Keep them immersed in a bowl of water until used.
How to make Potato Curry (Stovetop)
Pour 2 tablespoons oil to a hot pan. When the oil becomes hot, add cumin seeds (optional).

Add chopped onions & saute until they turn pink or transparent.

Stir in ginger garlic and saute for 1 to 2 mins, until a nice aroma comes out.

Next add chopped tomatoes, turmeric and salt. Saute until the tomatoes break down & turn soft and mushy.

Add red chili powder, garam masala, coriander powder & cumin powder (optional).

Saute everything well for 2 to 3 minutes until the masala begins to smell good.

Drain the potatoes and add them to the pan. Saute them for 2 to 3 minutes.

Pour 1¼ cup water or light coconut milk to partially cover the potatoes.

Cook covered until the potatoes are fully done or fork tender. Stir the curry in between to prevent burning.

Taste test and add more salt if needed. If the potato curry is runny, open the lid and evaporate the excess liquid. If there is not enough liquid pour some water and bring it to consistency.

Turn off and keep the pot covered for 2 mins for the flavors to be absorbed. Garnish potato curry with coriander leaves. Serve with rice or roti.
Instant Pot Potato Curry
To make this potato curry in Instant pot, dice the potatoes to 1 inch pieces so they don't turn mushy when cooked under pressure.

Press saute button on your Instant pot and pour oil to the steel insert.

When the oil turns hot, add cumin seeds and onions.

Saute well until the onions turn light golden & lose their raw flavor.

Then stir in ginger garlic and saute for 1 minute. Add tomatoes and salt.

Stir fry until tomatoes break down and turn completely mushy.

Then add all the spice powders – garam masala, chilli powder and turmeric. Sauté for 30 to 60 seconds until aromatic.

Press cancel. Add the potatoes and pour 1 cup water. Deglaze the pot by scrubbing the bottom with the spatula to release any bits of food stuck there.

Optionally you can also cook your rice in your instant pot by placing your rice bowl over the trivet. Use hot water to cook your rice as the cook time for this recipe is only 4 mins.

Secure the Instant pot with the lid. Press pressure cook button and set the timer to 4 minutes.

When the Instant pot is done cooking, do a quick pressure release by moving the steam vent from sealing to venting.

Potato curry is ready at this stage. If you prefer to use coconut milk, then bring the potatoes to the center of the pot with the spatula. Pour only half cup coconut milk around the edges, inside the steel insert. Cook on saute mode until the curry thickens slightly. This just takes 1 to 2 mins.

Remove the pot from the IP and add coriander leaves or Kasuri methi. Serve potato curry with rice or roti, paratha.
Notes
Garam masala: Most of the flavor in this curry comes from the use of a good garam masala. So choose a good aromatic one. If you do not have it simply substitute it with any curry powder you have. Start with 1 teaspoon and use more if needed at the end.
Spices: Adjust the quantity of all the spices like red chilli powder, coriander powder & garam masala to your taste. Using a lot of ground spices will take away the original flavor of potatoes.
Herbs: One sprig of Curry leaves or a bay leaf can be added to the hot oil before adding the onions. They enhance the flavor of the curry.
Whole spices: ¼ teaspoon of mustard seeds and ½ teaspoon of cumin seeds also make a good addition to the tempering. These spices are used in traditional Indian cooking.
Onions: Saute onions well before adding the other ingredients. They should lose the raw flavor.
Potatoes: Old potatoes don't cook quickly in the curry due to the addition of acidic ingredients like tomatoes. So if using oil potatoes you may precook them first till al dente. Cook the onion tomato masala with little water. When the curry turns slightly thick, then add the precooked potato cubes. Simmer only for a few minutes. Let the potatoes sit in the gravy for 20 mins so they absorb the flavors
Alternative quantities provided in the recipe card are for 1x only, original recipe.
For best results follow my detailed step-by-step photo instructions and tips above the recipe card.
NUTRITION INFO (estimation only)
Nutrition Facts
Potato Curry Recipe (Aloo Curry)
Amount Per Serving
Calories 119
Calories from Fat 90
% Daily Value*
Fat 10g15%
Sodium 406mg18%
Potassium 258mg7%
Carbohydrates 8g3%
Protein 2g4%
Vitamin A 670IU13%
Vitamin C 19mg23%
Calcium 32mg3%
Iron 1mg6%
* Percent Daily Values are based on a 2000 calorie diet.
Potato curry recipe first published in May 2012. Updated and republished in Dec 2020.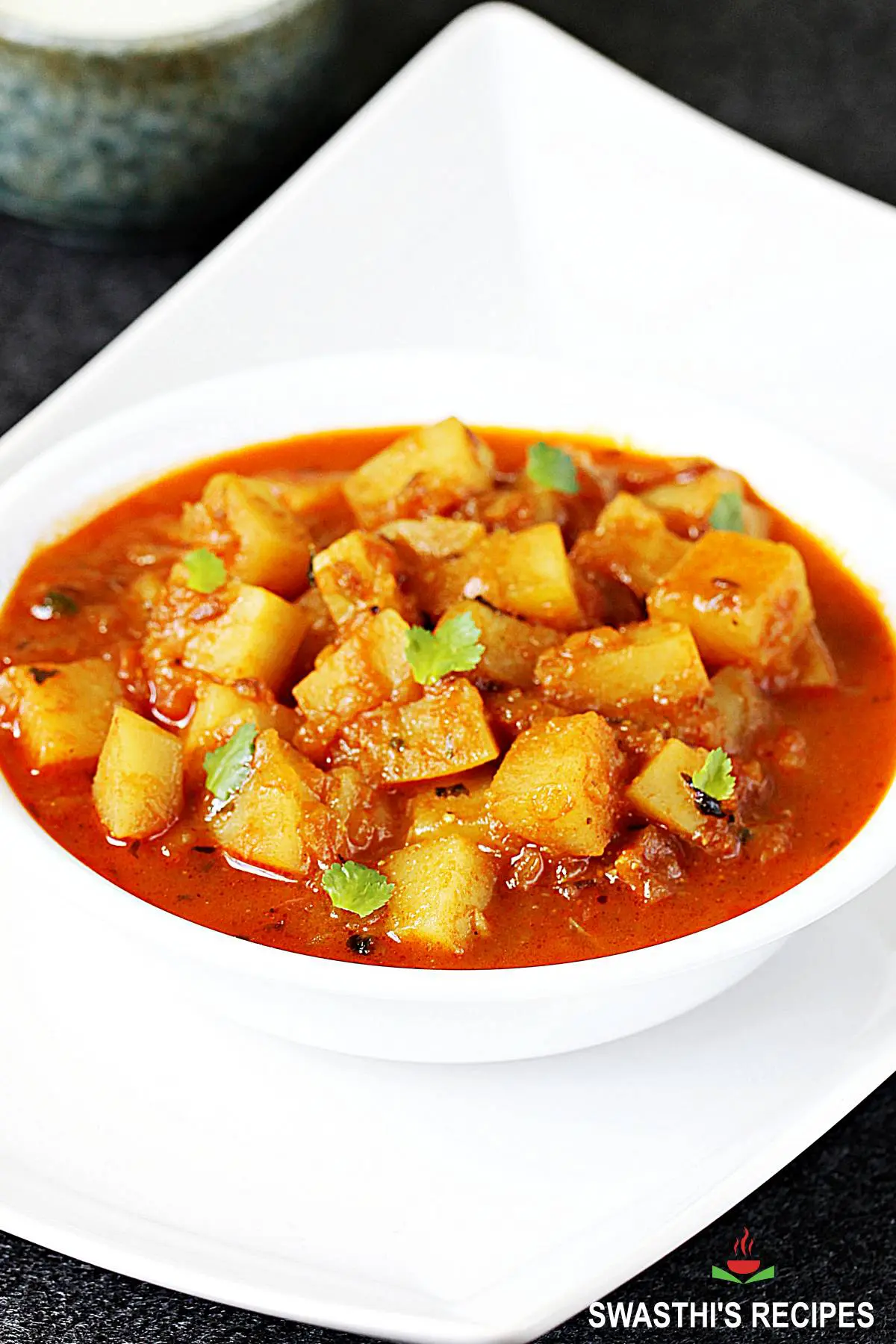 About Swasthi
I'm Swasthi Shreekanth, the recipe developer, food photographer & food writer behind Swasthi's Recipes. My aim is to help you cook great Indian food with my time-tested recipes. After 2 decades of experience in practical Indian cooking I started this blog to help people cook better & more often at home. Whether you are a novice or an experienced cook I am sure Swasthi's Recipes will assist you to enhance your cooking skills. More about me
Follow Swasthi's Recipes