Try out these Sandwich Recipes!! Be it a simple sandwich or an elaborate burger, the joy you get from a filling, hearty and delicious sandwich is amazing!! Don't make boring sandwiches when you have plenty of varieties to try! Check out this collection of easy and delicious Sandwich Recipes you can make anytime, for a breakfast, snack or a meal. These recipes will help you make the simplest sandwiches that your family will love.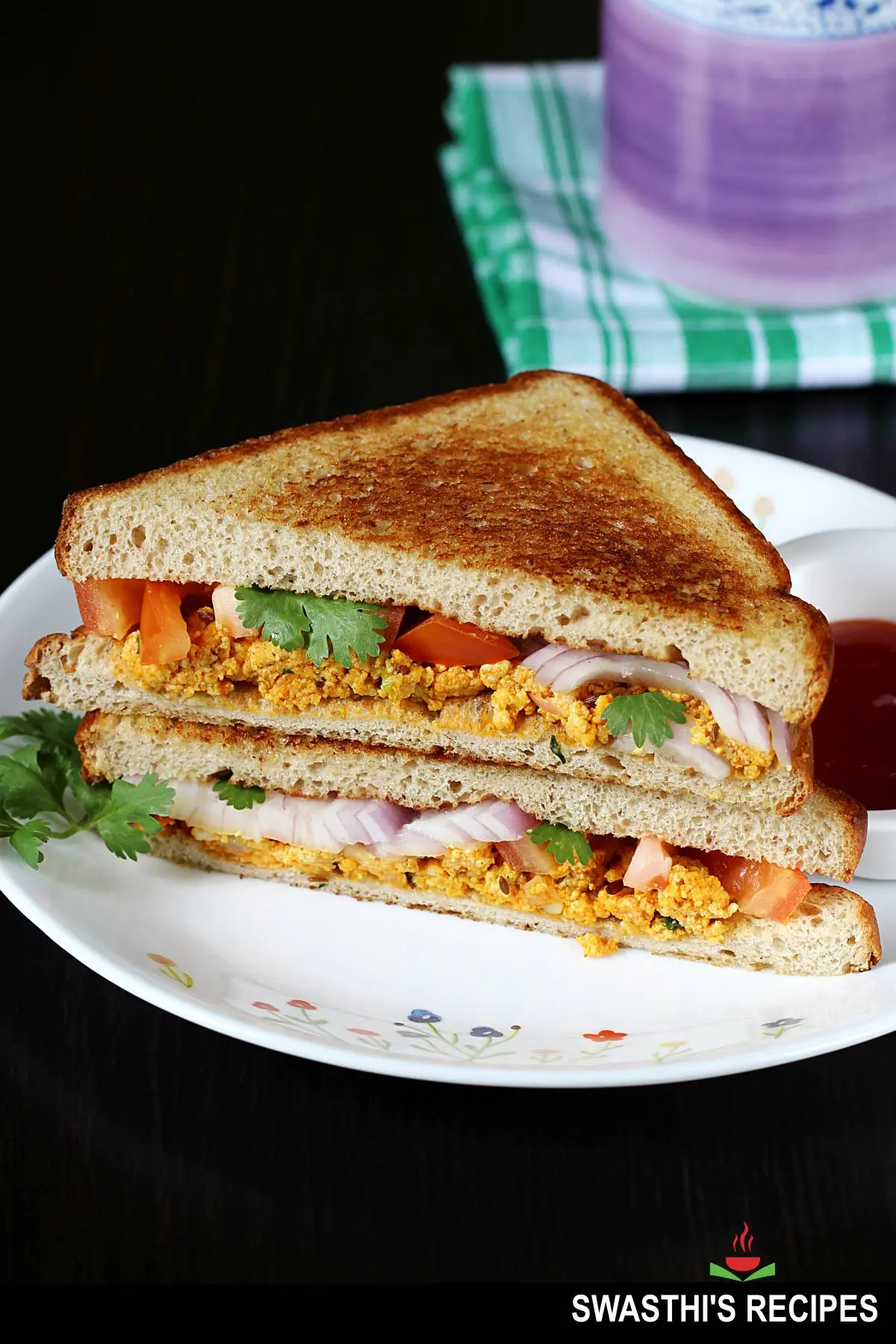 You will find everything, right from a gooey hot cheesy sandwich to vegan fun filled veggie sandwiches, egg and chicken sandwiches too. You can also customize them to suit your taste with the help of my notes!
I know most of us now are back to our normal schedules, looking for ideas to pack office and school lunches. Some of these also go well in the snack and lunch boxes. While anything with cheese, eggs or meat is best consumed within 2 hours of preparing (or advised to refrigerate), other kind of sandwiches keep good longer till noon.
To make these sandwiches, you can use any kind of bread – plain white bread, whole grain bread or multi grain bread all go well. Organic whole meal sourdough bread, whole grain bread, wheat bread or any artisan bread are some of the healthier choices. You can also use milk bread if you love those light and fluffy sandwiches.
Most of these sandwiches can be made on a griddle or a pan if you don't have a sandwich toaster. You can also air fry or grill the sandwiches in an oven.
If you want to serve any of these for a dinner, pair them with some soup for a filling meal. Here are some soups
Tomato soup
Sweet corn soup
Spinach soup
Vegetable soup
Barley soup
Manchow Soup
Featured Sandwich Recipe
Potato Sandwich Recipe (Aloo Sandwich)
Potato sandwich, made with boiled potatoes, spices, herbs & bread is a quick breakfast option. Also known as aloo sandwich, these are popular Indian style sandwiches.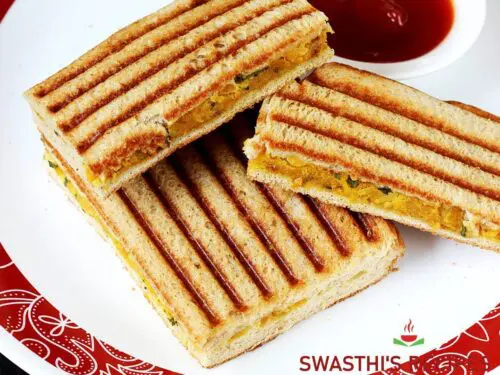 complete recipe
35 Sandwich Recipes
Veg Club Sandwich : World popular club sandwiches get a healthy vegetarian make over. Loaded with stir fried veggies, these are delicious and quick to make, ideal for brunch, snack, appetizer or a meal. Great to make for parties as they can be made ahead.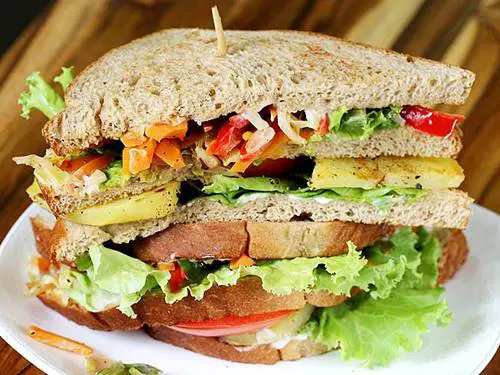 Veg Sandwich Recipe : These vegetable sandwiches are made with very simple ingredients without the use of any chutney or sauce. The filling can be made ahead and refrigerated. Whenever you need just spread the filling & grill them in a toaster or tawa (griddle).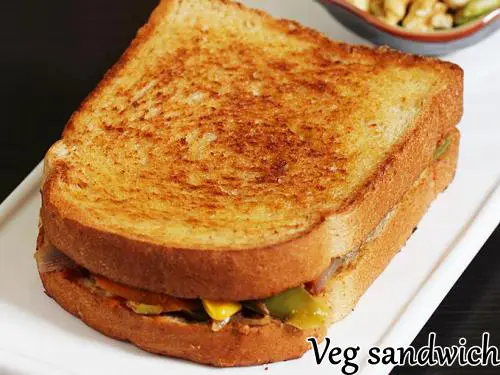 Mumbai Style Veg Grilled Sandwich made in street style. These grilled vegetable sandwiches are quite popular in India and are served everywhere in canteens, cafes, street stalls & even in restaurants. These are the quickest you can make for breakfast or snack. You can also skip the cheese and make it with vegetables.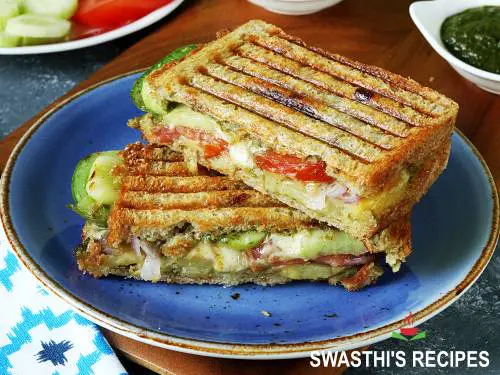 Tomato Cucumber Sandwich : Simple breakfast sandwiches in 10 mins for busy mornings. Kids too will love them. These can be made ahead and refrigerated. You can easily customize them by using your favorite spread like mayo, hung curd, sauce, cheese spread or green chutney.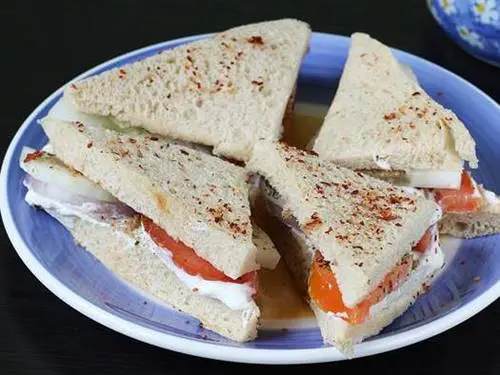 Paneer Sandwich in 20 mins – One of the most loved sandwich by kids and is great for school box or dinner. These sandwiches are made with crumbled homemade paneer and fresh veggies. Paneer sandwiches are made without green chutney or any sauce.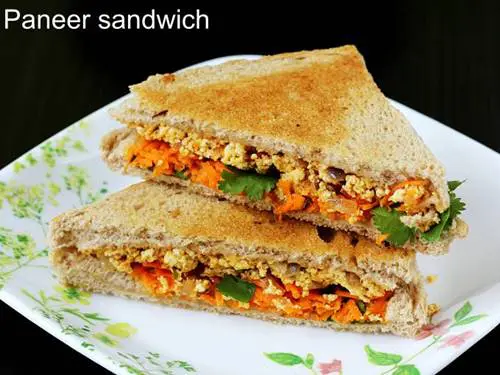 Paneer Bhurji sandwich in 10 minutes – If you have ever wondered what you can make in 10 mins, this recipe will surely surprise you. It is delicious, easy, simple to make and you don't need a toaster. All you need is some crumbled paneer, bread and few basic ingredients. These are great to carry to school or office in lunch box.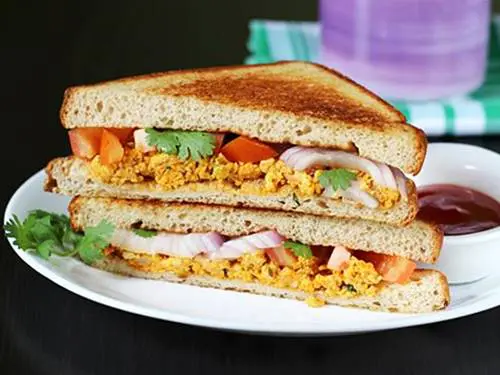 More sandwich recipes
Curd Sandwich Recipe : Curd sandwich is a great alternate to those who not have cheese, mayo or any spread to make a sandwich. These are made with curd or yogurt and are super quick to make for breakfast or snack. I have toasted the bread on a griddle however you can also do it in sandwich toaster.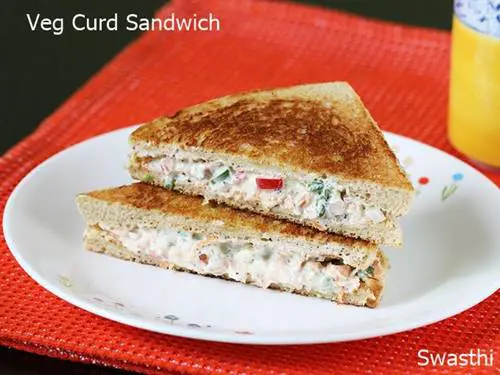 Veg Mayonnaise Sandwiches : are another delicious bread breakfast or snack made with mayo, fresh veggies, leafy greens and herbs. If you do not eat egg mayo then you can use eggless mayo just like the way I did. This sandwich recipe will just take about 15 mins including the time to chop veggies, make the spread and grill the sandwich.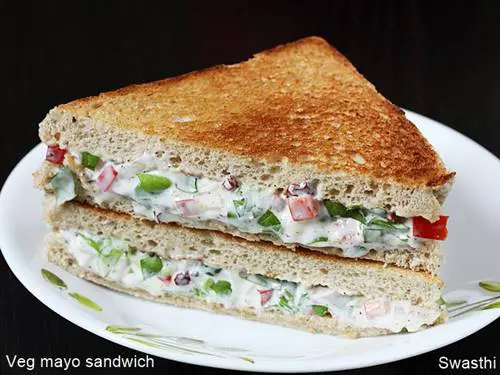 Grilled Cheese Sandwich make a great snack and are loved by many. This post will teach you how to perfectly make a great tasting crispy cheese sandwich. You can also make it without a toaster, oven or grill. I have shown how to make the sandwich on the tawa or griddle.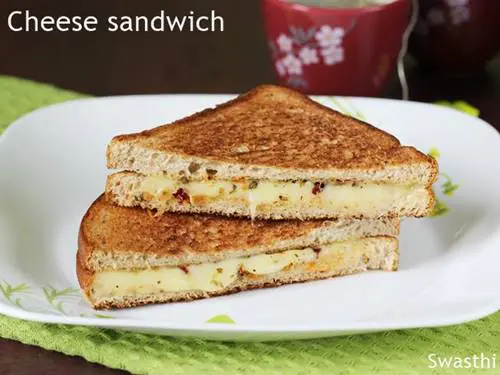 Paneer Cheese Toast Sandwiches – Melting Cheese over spiced paneer bhurji makes these open sandwiches one of the best snack to serve when you have guests. These are made on a tawa / griddle, they can also be made in a oven or toaster.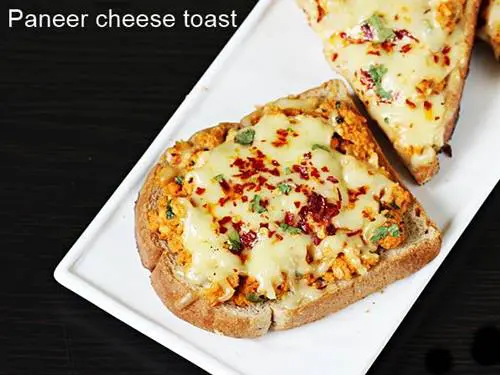 Egg Mayo Sandwich: Quick boiled egg salad sandwiches made with mayonnaise, boiled egg and herbs. This is a no cook sandwich if you have the boiled eggs ready. All you need to do is just chop the eggs and add it to may. Lastly season with herbs and spices.They can be had for breakfast, snack or a meal with some soup.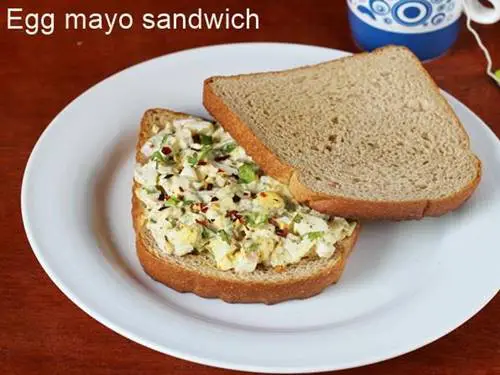 Veg Cheese Sandwich : These are similar to the grilled cheese sandwich but with some veggies like corn, carrots, onions. You can also include some spinach, capsicum or zucchini. These vegetable cheese sandwich recipe is kids' friendly & can be made for kids' parties too.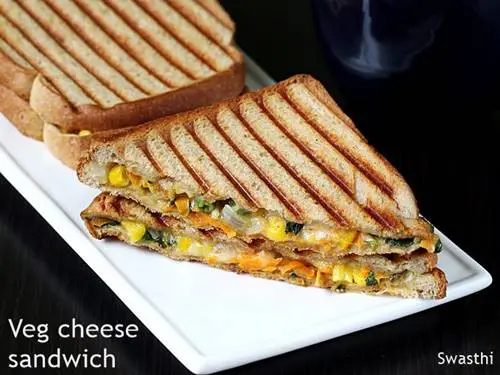 More sandwich recipes
Bread Omelet Sandwich – Make this quick delicious recipe under 8 minutes. This makes a quick fix for your breakfast or dinner on busy days. You can also skip cheese in this bread omelet sandwich recipe and or use kind of cheese you prefer.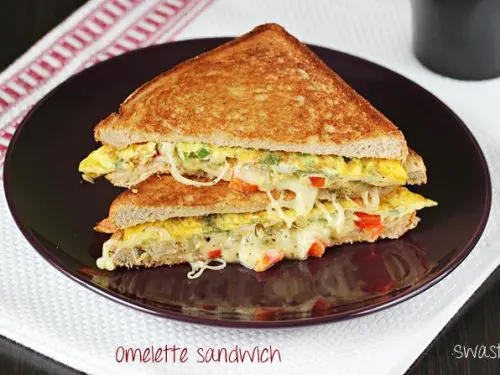 Bombay Sandwich : These tea sandwiches are made of boiled potatoes, beetroot, cucumber etc. One of the most common snack one can find in canteens, tea shops and even in chaat centers. These sandwiches are quite popular on the streets of Bombay hence the name.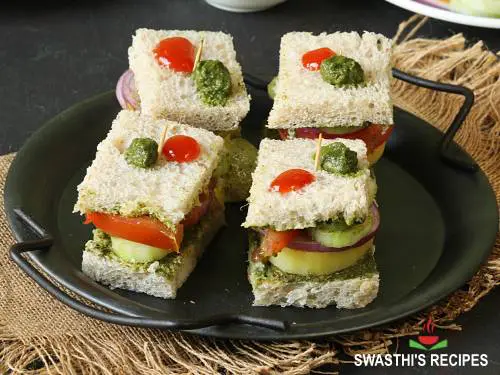 Aloo Grilled Sandwich is made of boiled potatoes, coriander leaves and spice powders. Boiling potatoes does take some time so these are fast to make if you have some boiled potatoes in hand. The stuffing is almost the same as we make for aloo paratha. This aloo sandwich can also be made on a tawa/ griddle without using a toaster. These keep good in the school or office lunch box.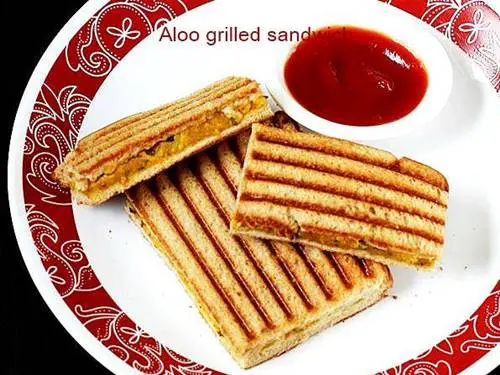 Mushroom Sandwich : You can find 2 recipes using mushrooms in the post. 1.Spicy hot garlic mushrooms in a french baguette. This sandwich makes a great meal with tomato soup or corn soup. 2. The second one is a mushroom cheese sandwich recipe, suitable for evening snack or breakfast. It's Kids friendly too.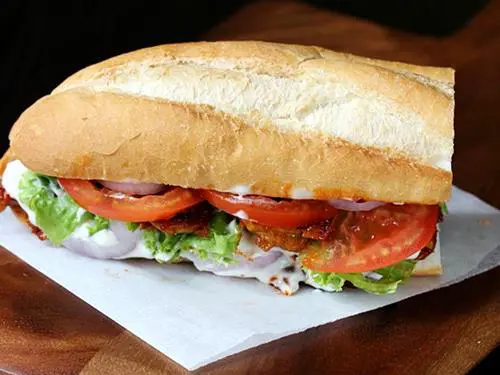 Potato sandwiches can be made on tawa and toaster. There are 2 recipes on the post. One is a spicy version and the other one a kids' friendly recipe. In this post I have how to make this sandwich without boiling potatoes separately. This potato sandwich is great to enjoy with your evening tea.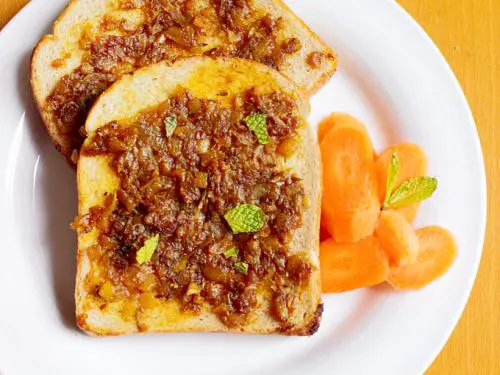 Roasted tomato cheese sandwich Simple tawa roasted onion tomato cheese sandwiches for a super quick snack or breakfast. These can be tweaked to your liking by adding any sauce or spread of your choice. This recipe uses no fancy ingredients hence they are good for beginners.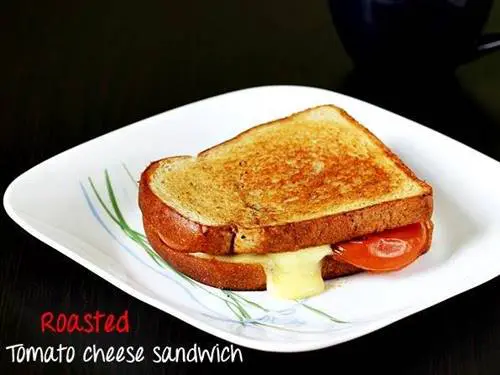 Corn Cheese Sandwich – It can be made on a tawa, toaster or griller. This can be made with fresh corn on the cob or frozen sweet corn. Mildly spiced with spice powders and herbs. Corn cheese sandwich is kids friendly too and tastes delicious.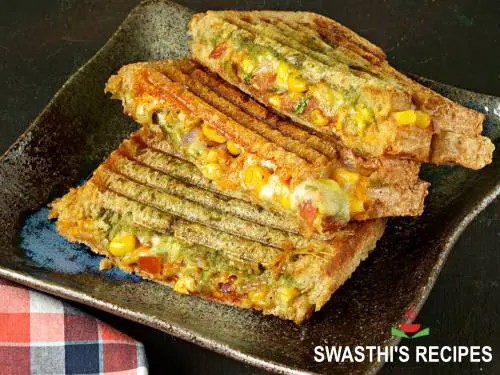 Corn cream cheese sandwich – You can grab these just under 15 minutes for your quick dinner or breakfast. This sandwich recipe uses cream cheese and frozen corn & is a kids' friendly. If you do not have cream cheese just process some fresh homemade paneer in a processor or blender until smooth. Your cream cheese is ready.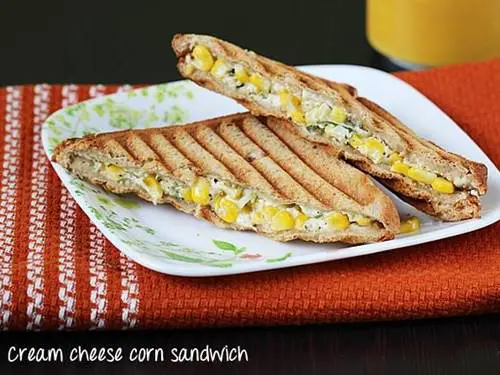 Guacamole sandwich (avocado) – Learn to make the perfect guacamole for sandwiches or to serve as dip. This is a super delicious & easy way to enjoy your avocados. This is a must try if you have people at home who do not like avocados. You will love these guacamole sandwich.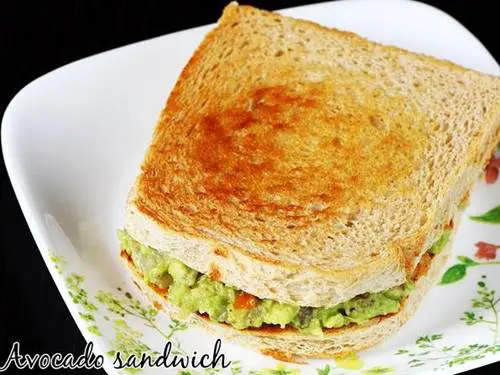 Chocolate sandwich is made with chocolate chips and nuts. You can use any kind of chocolate or make your own chocolate fudge sauce for this sandwich. This chocolate sandwich is an amazing way to treat the kids' for parties.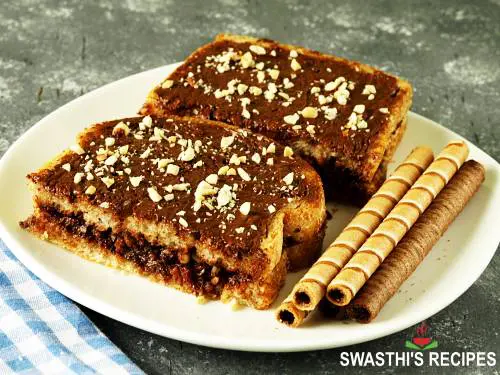 Cheese chocolate sandwiches – Another recipe of kids' friendly sandwiches made with cheese and choco chips. You can also make this using melted chocolate or chocolate spread. These can also be made without a toaster. These are best made with cream cheese but you can also use mozzarella cheese.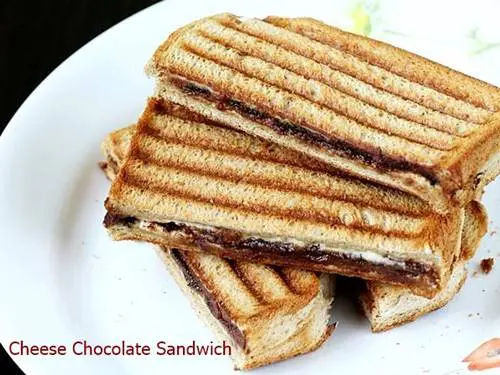 Boiled egg sandwiches – If you love boiled eggs, do not miss this most yummy and healthy recipe. Good to make for a brunch or a meal. This is heavy for a breakfast.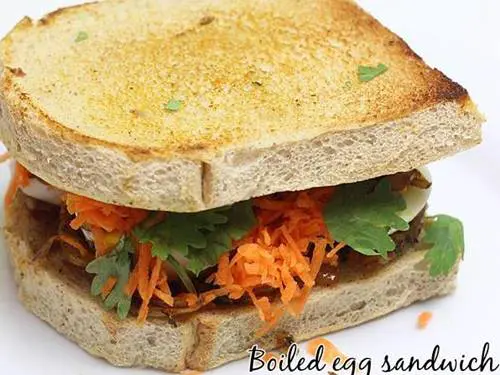 Chutney egg sandwiches – Chutney smeared, boiled egg sandwiches loaded with veggies. These are one of the most delicious sandwiches you can make in no time if you have boiled eggs.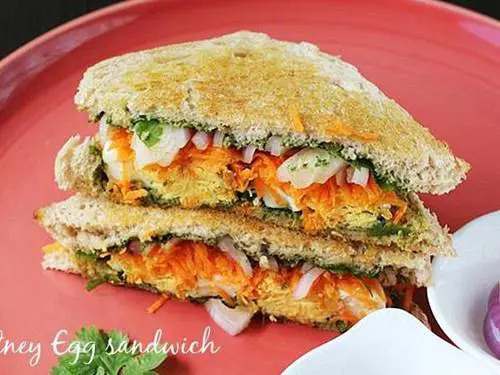 Chana sandwich : 2 ways to make this – one is with left over chana masala. The other one with fresh boiled chana. Both taste good.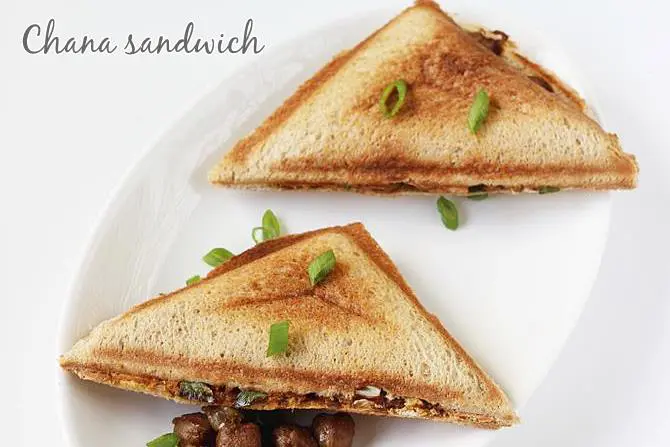 Fried egg sandwiches in 10 mins – Best to make for breakfast or dinner on a busy day.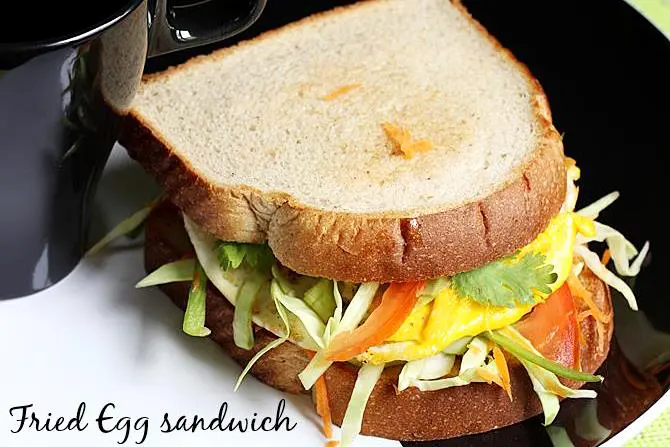 More recipes
Grilled Chicken Sandwich: Grilled chicken sandwiches made in Indian style. This recipe shows how to marinate and grill the chicken to make the sandwich. Chicken sandwich is amazing to enjoy for dinner.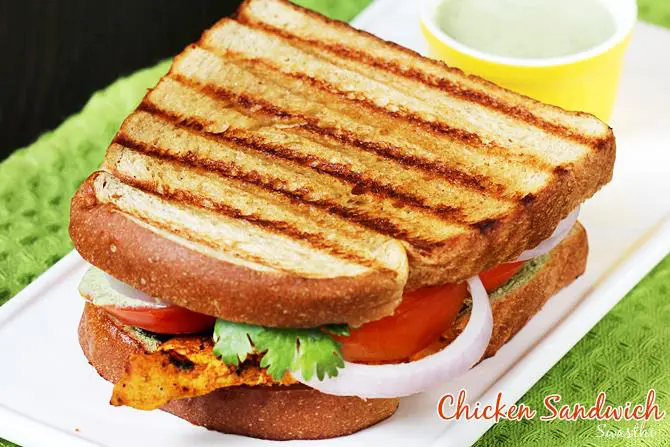 Egg bhurji sandwich – Super quick Indian scrambled egg sandwiches. If you are bored eating your bhurji with rice or roti, then you will love this bhurji sandwich. These are great to enjoy not only for breakfast but also for dinner. Make a 3 layered sandwich for a meal.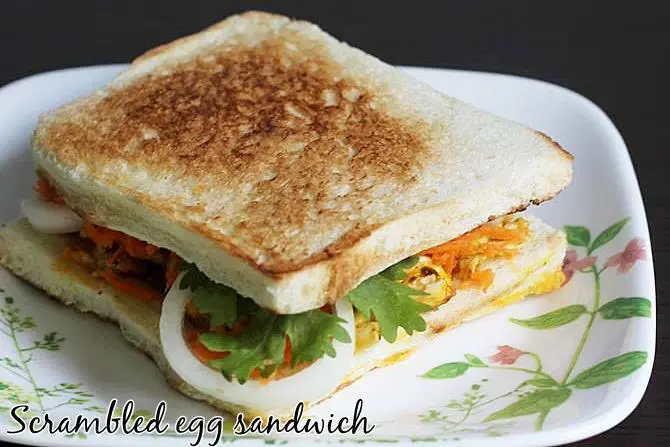 Chicken Mayo Sandwiches : Made with spiced chicken chunks and mayonnaise. Usually boiled chicken is used to make chicken mayo sandwich but I have sauteed the chicken with some spices. This makes the chicken sandwich filling very flavorful. I usually make these when I am left with little chicken.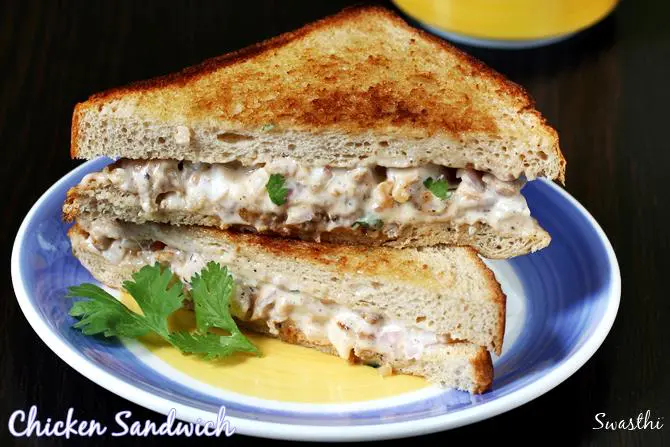 Soya keema sandwich : Delicious, spicy and simple to make soya masala stuffed sandwiches. These sandwiches taste almost like the keema sandwishes. These can be made with soya chunks or soya keema. If you have some prepared soya curry you can just it. They can be had for breakfast, brunch or a meal.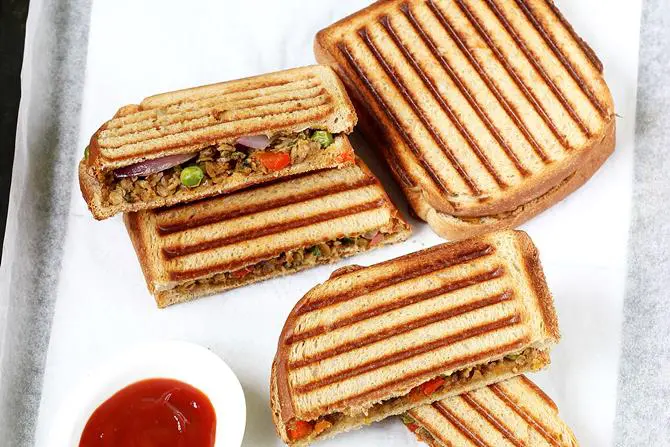 Avocado corn sandwich: Avocado and corn make a great combo. Mildly spiced these are healthy and taste good. You can make the avocado corn salad ahead and refrigerate. Just spread it on the bread along with some sandwich spread and grill them in a toaster.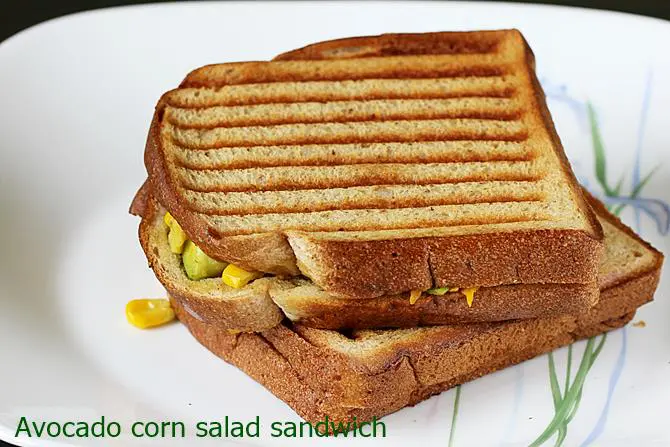 Sprouts sandwiches – I have made this using green gram, but can be made with any sprouts. Just make the sprouts salad and use as filling in a sandwich. These are quite filling and can also be had for a meal.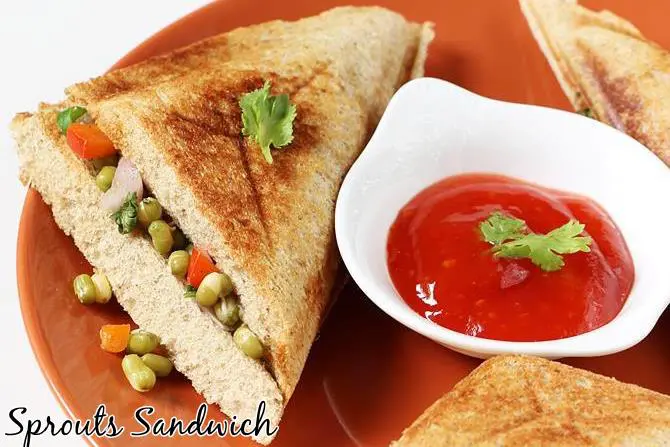 Veg Burger : Burgers also belong to the category of sandwiches, so I have put them here. This post shares in detail how to make vegetable patties and prepare the sandwich burgers from start to finish. These are great to make for a meal.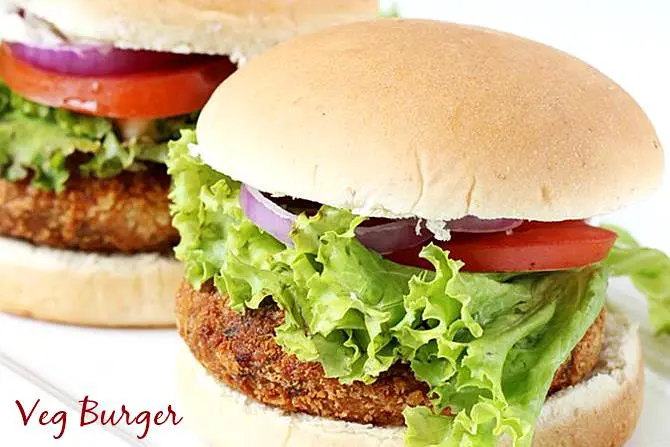 Chicken Burger : The popular KFC style fried chicken burger sandwiches. This post also shares details of how to make crisp fried patties and then make the sandwich burgers.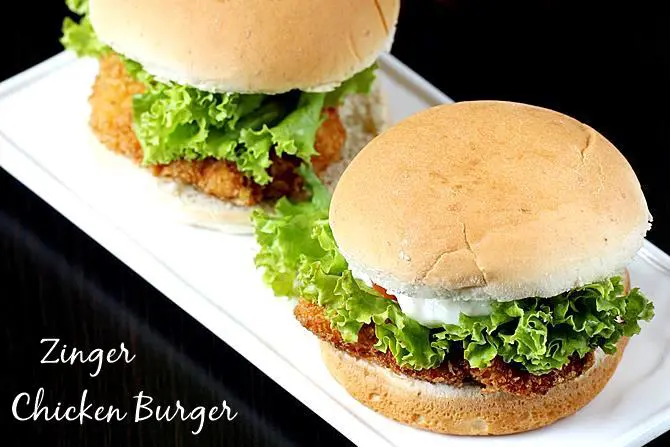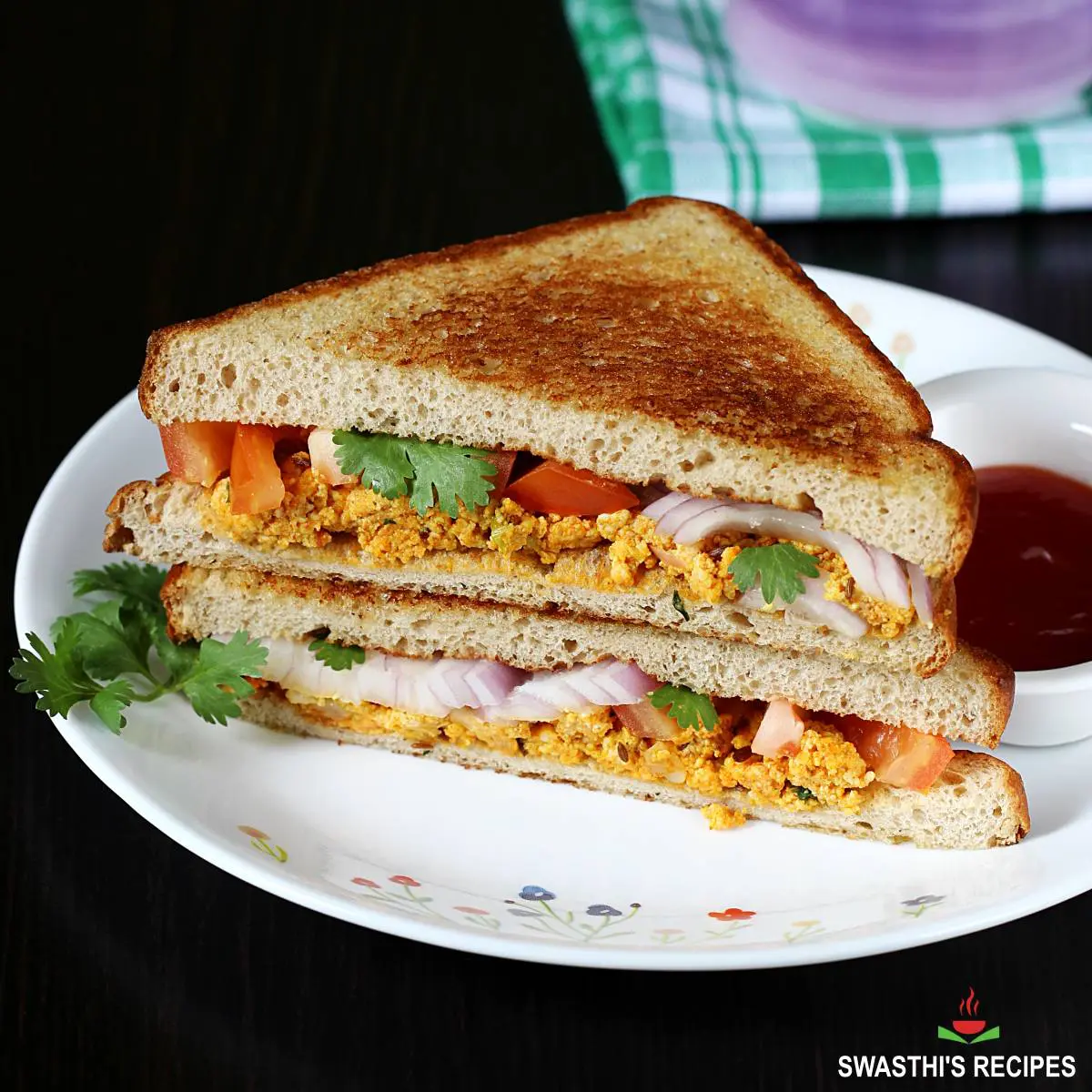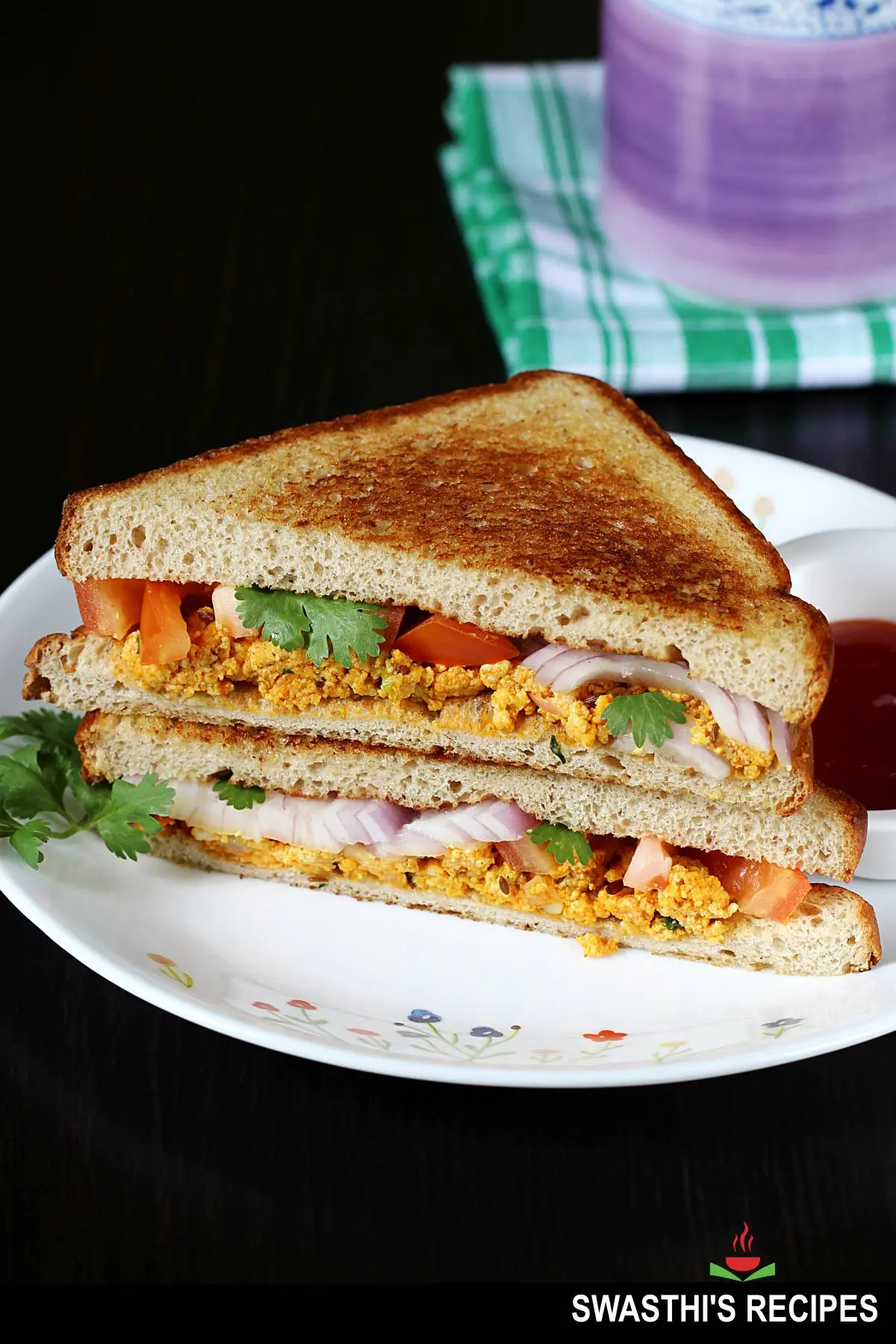 About Swasthi
I'm Swasthi Shreekanth, the recipe developer, food photographer & food writer behind Swasthi's Recipes. My aim is to help you cook great Indian food with my time-tested recipes. After 2 decades of experience in practical Indian cooking I started this blog to help people cook better & more often at home. Whether you are a novice or an experienced cook I am sure Swasthi's Recipes will assist you to enhance your cooking skills. More about me
Follow Swasthi's Recipes