Veg burger recipe – Learn how to make burger at home with easy and simple step by step photos. Definitely a homemade burger is better and much tastier than the ones from the fast food centers. This recipe just takes about 40 mins for making 6 burgers including toasting the bun, making veg patties, then preparing lettuce, onions, tomato and then the sauce or dressing.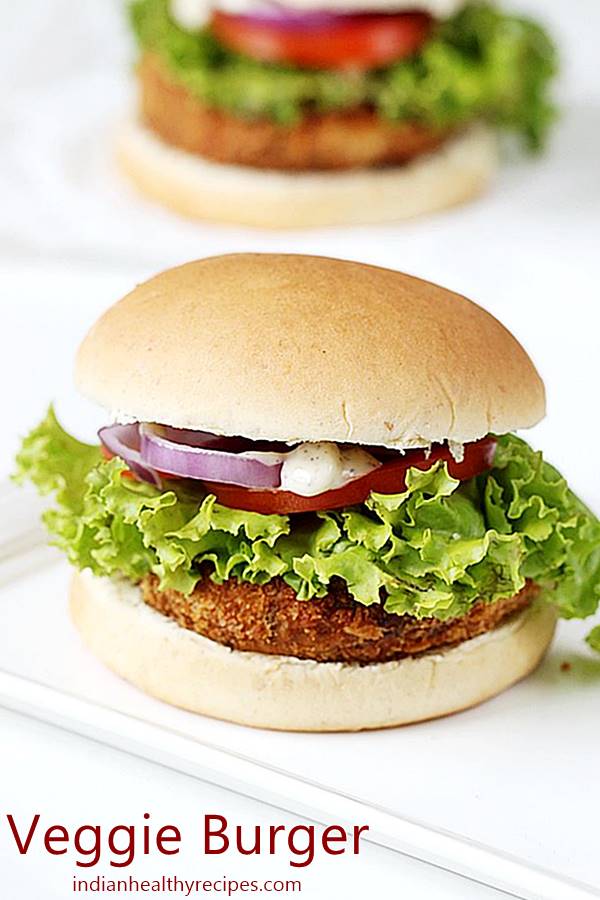 A patty in a veg burger recipe can be made of vegetables, soya (meal maker), beans etc. This recipe uses only veggies to make the patty and no beans or soy is used.
I have used rice flour in this recipe since i did not have poha which is a best choice for absorbing the moisture in steamed veggies. You can also use bread crumbs if you do not have rice flour or poha.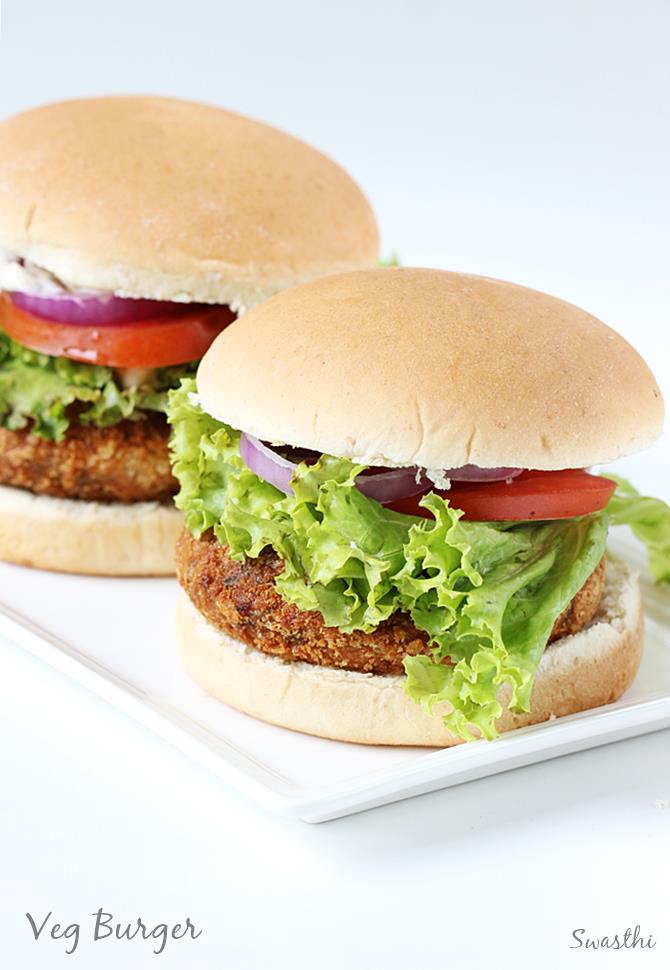 You can use any kind of burgers you like, i used the fresh baked whole meal sprouted flour buns bought from a near by bakery.
In this veg burger recipe, I have made the patties the same way I made the mixed veg cutlet. However you can also use these soya chunks cutlet or Sweet corn cutlet or healthy hara bhara kabab for patties.
You may also want to check this chicken burger / zinger burger recipe on the blog.
Veg burger recipe or veggie burger recipe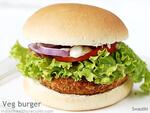 Veg burger
Simple veg burger recipe made with crispy veggie patties & mayo dressing. This recipe will guide you to make the best home made burger with vegetables.
Ingredients (1 cup = 240ml )
Ingredients for veg burger recipe
250

grams

potatoes

2 large or 1.5 cups cubed

2

carrots

1 cup cubed

½

cup

beans

finely chopped

½

cup

peas

or matar

1

inch

ginger

or 1 ½ tsp ginger paste or ½ tsp dry ginger powder

2 to 3

green chilies

deseeded & finely chopped

3 to 4

tbsp

Coriander leaves

or parsley finely chopped

1 to 1 ½

tsp

Garam masala

or any spice mix

½

cup

bread crumbs

or poha powder or chickpea / rice flour

Salt as needed

1 ¼

cup

bread crumbs

½

cup

besan

chickpea or rice flour or corn flour for batter
For assembling veg burger
6

burger buns

(prefer whole meal or grain)

Lettuce

as needed

1 to 2

tomatoes

ripe firm

1

Onion

(optional)
sauce or dressing (serves only 2 to 3)
¼

cup

Mayonnaise

or hung curd or greek yogurt

1

tbsp

extra virgin olive oil

or any neutral oil

1 ½

tsp

lemon juice

(adjust as needed)

½ to ¾

tsp

mustard powder

or mustard sauce

¼

tsp

pepper powder

Salt

(skip if using mayo)
Instructions
Preparation for veggie burger
Make sauce by mixing mayo/ greek yogurt , olive oil, lemon juice, salt and pepper. Mix well. Taste it and add more salt if needed.

Prepare the veggies for dressing like lettuce, onions and tomatoes.

The mix vegetables have to be steamed or boiled until just done. You can choose whatever way you like. Here is the way i do –

Heat a steamer or cooker with some water. Steam potatoes and beans until half cooked. Then add the rest of the veggies and steam until just done.

The vegetables should not be mushy. Mash these well when cooled.

Add chilies, ginger, garam masala, salt, mint or coriander. Mix them up well along with bread crumbs or roasted flour.

The mixture must resemble a non sticky dough. If needed you can add little flour or bread crumbs to reduce the moisture.
Making veg burger patties
Make 6 equal sized balls and flatten them. Set them aside for a while.

Make a moderately thick batter with chickpea flour or rice flour using enough water. Dip each of these in the batter and then in the bread crumbs.

Rest them for 10 to 15 mins.

Heat 1.5 tbsp oil in a pan. When the oil turns hot gently place 2 patties in the oil.

Shallow or pan fry the patties until golden. Then flip to the other side and fry until golden. If needed add half tbsp more oil.

Fry all the patties in the similar way. Drain on a kitchen tissue.

Transfer the oil to a bowl. Slice and toast the buns lightly.
How to make veg burger
Slice each bun to 2 parts horizontally. Place the bottom parts on the plate.

Spread some ketchup if you like. Place the patties, then the lettuce, onions and tomatoes.

Add the sauce. Place the other slice of bun. veg burger is ready.

Best served immediately. Keeps good for 2 hours if no mayo is used.
Nutrition
Calories:
427
kcal
|
Carbohydrates:
62
g
|
Protein:
13
g
|
Fat:
13
g
|
Saturated Fat:
2
g
|
Cholesterol:
3
mg
|
Sodium:
583
mg
|
Potassium:
530
mg
|
Fiber:
6
g
|
Sugar:
9
g
|
Vitamin A:
72.1
%
|
Vitamin C:
20.1
%
|
Calcium:
16.6
%
|
Iron:
29.2
%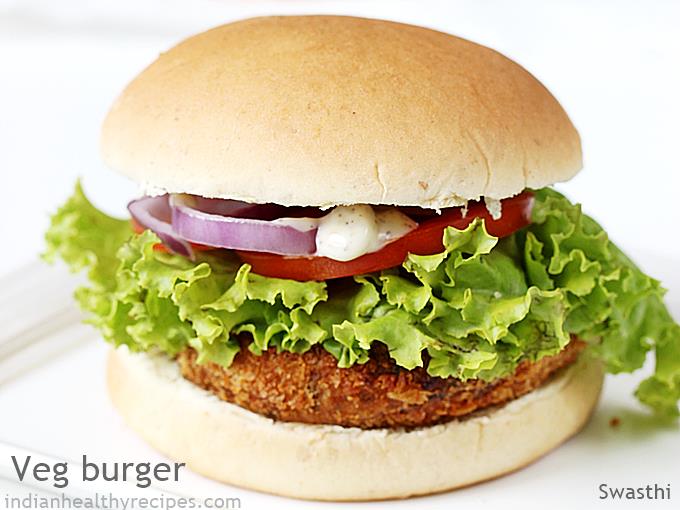 Preparation for burger recipe
1. Steam the veggies without making mushy either in a cooker or a steamer. Method I follow: Bring 2 to 3 cups of water to a boil in a pot or cooker. Add potatoes and beans to the steam basket. Cover and steam until half done.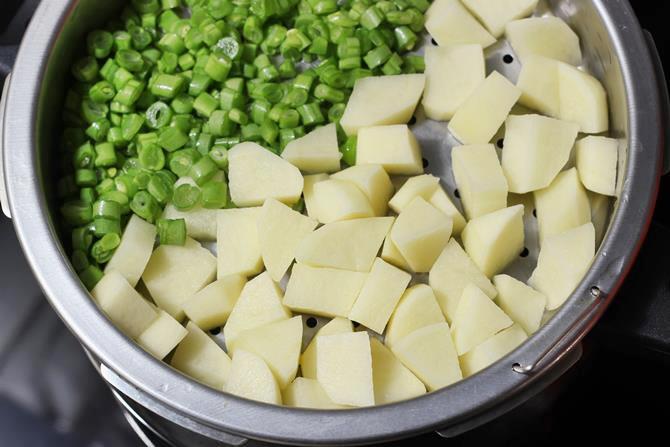 2. Add carrots, peas and cauliflower if using.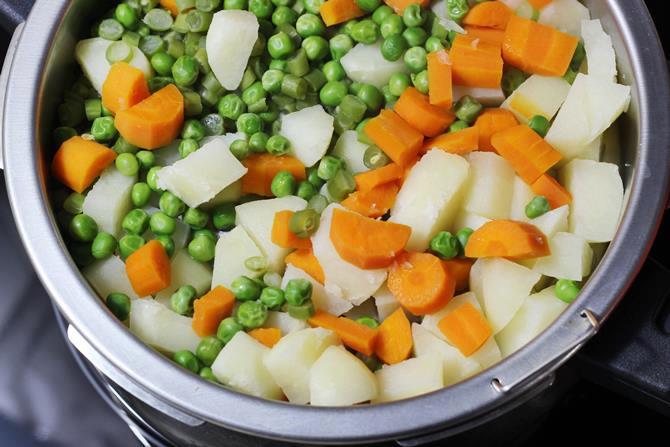 3. Cover and steam until just cooked. Do not make mushy.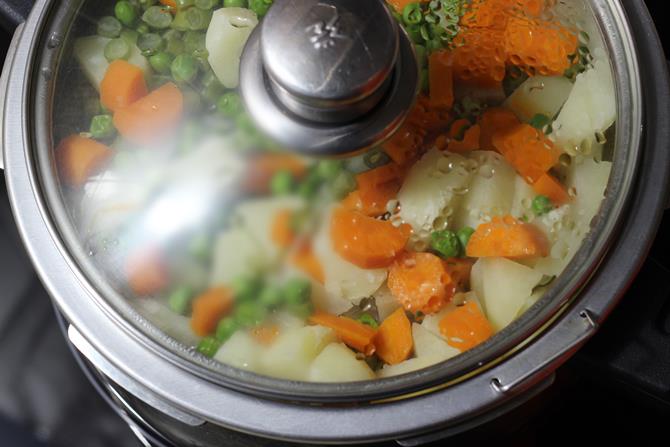 4. Cool them, make sure there is no dripping water. Then add to a mixing bowl. Add ginger paste, coriander powder, garam masala or all spice, mint/pudina or coriander leaves, chopped green chilies. If you have young kids, add chilies at the next step. Add garlic if you intend to deep fry the patties.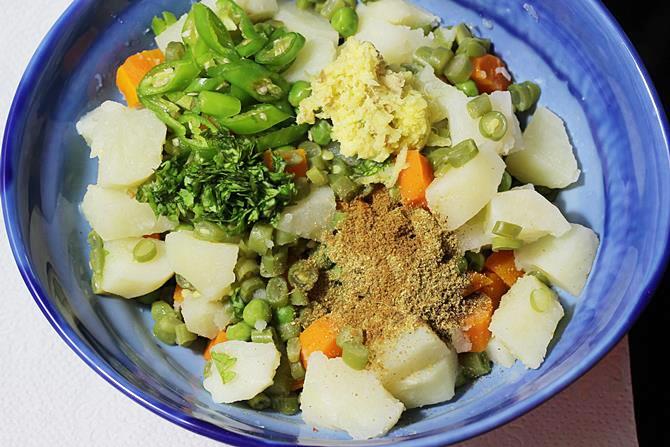 5. Mash everything together.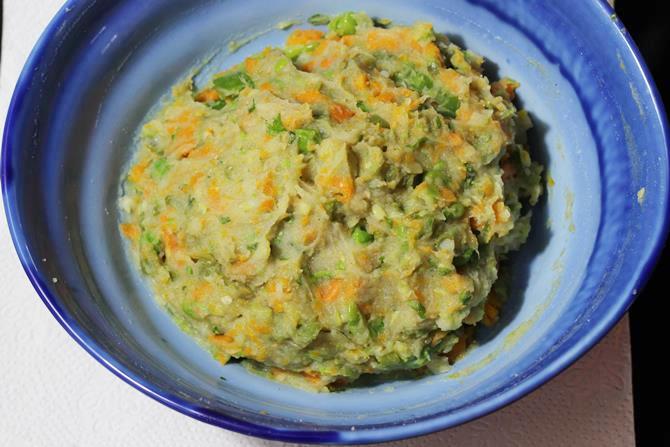 Making crispy veg patties for veggie burger
6. Add bread crumbs or powdered poha. If you do not have both use besan or rice flour. Dry roast the flour till a nice aroma comes out. Cool it. Add it here. I usually like to use powdered poha, if you like to use it then you can refer this post on veg cutlet.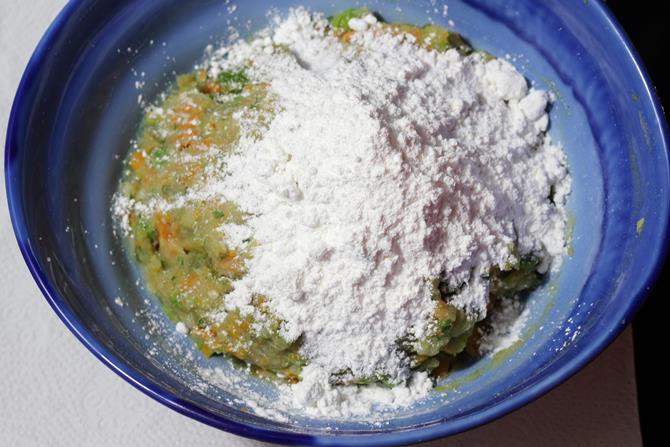 7. Mix everything well.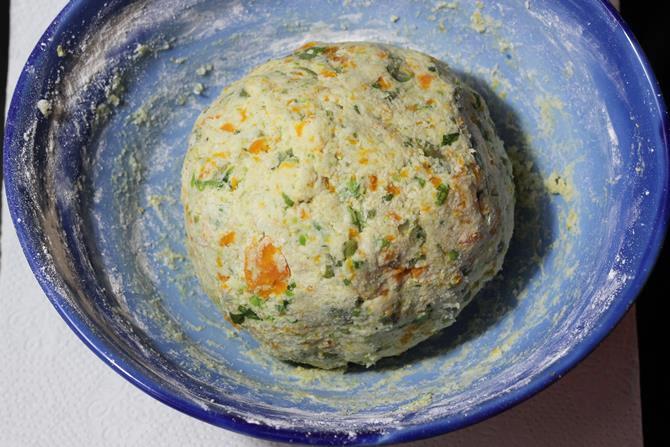 8. Divide to 6 equal parts.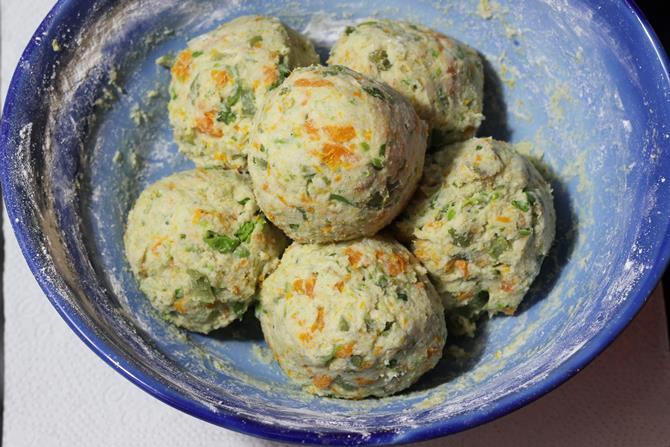 9. Flatten the balls to patties. I sprinkled little flour on the patties.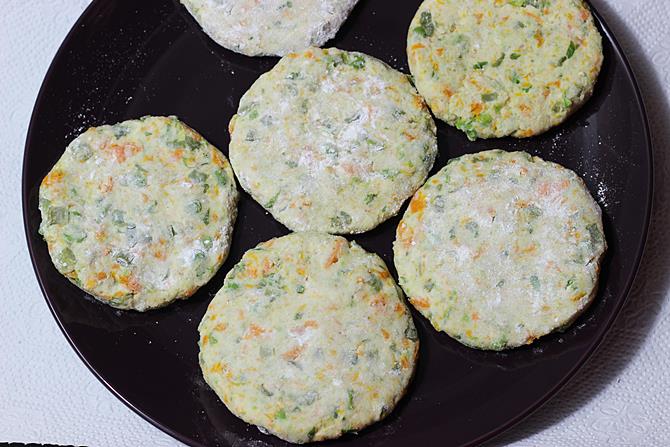 10. Make a thick batter of the besan and salt using little water. Dip each of the patties in the batter.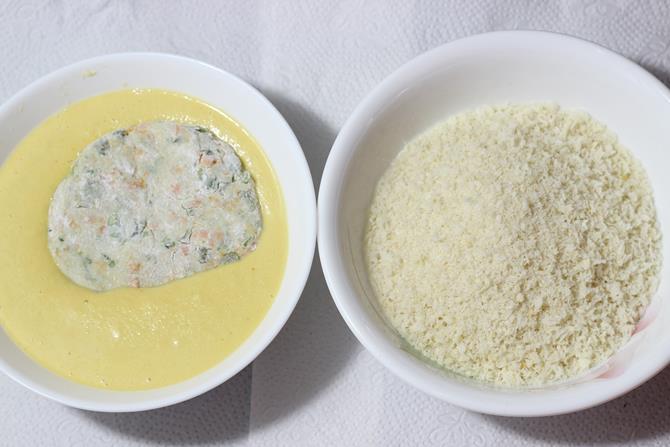 11. Place it on the bread crumbs. Make sure the patty is coated well with the crumbs.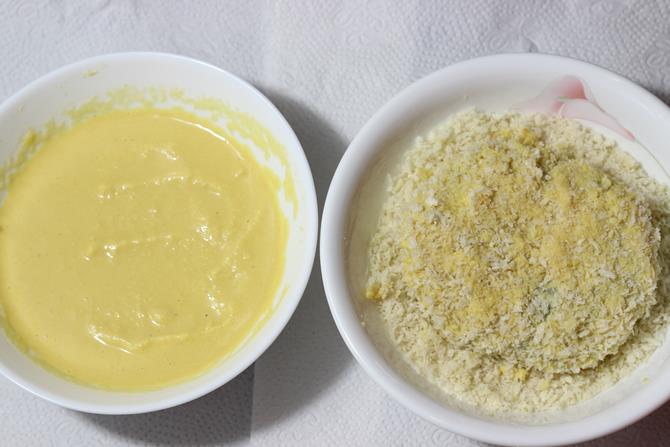 12. Finish dipping all the patties in batter and then in bread crumbs. Place them on a plate and set aside. Allow them to rest for about 10 to 15 mins. Meanwhile prepare the sauce / dressing and fresh veggies.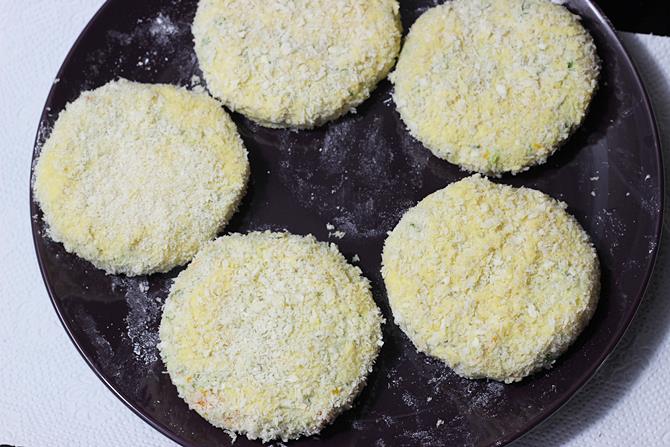 Preparing the sauce or dressing
13. Add eggless mayonnaise or hung curd / greek yogurt to a bowl. I used some fresh made yogurt after straining a bit. Add olive oil, salt, mustard powder, pepper powder and lemon juice. Skip lemon if using sour yogurt. I suggest using yogurt that is not sour. You can refer this post for making hung curd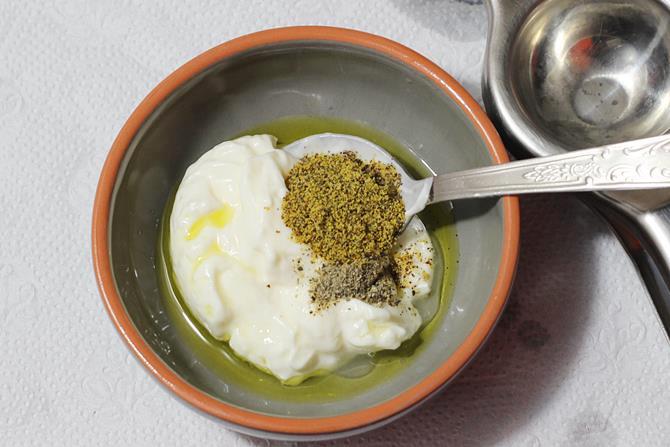 14. Mix everything well and taste the sauce. Adjust any of the ingredients as needed to suit your taste. Set this aside.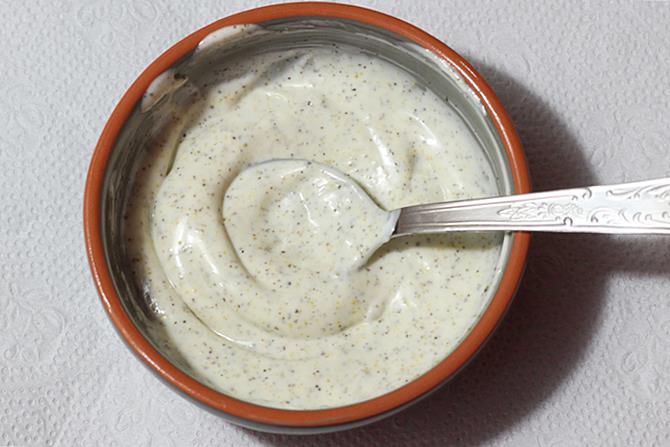 15. Preparing lettuce, onions and tomatoes for veg burger recipe
Lettuce must always be cleaned thoroughly before using it else may end up with stomach infections. Wash it under running water well. I make a cleaning solution with 1 part of vinegar with 3 parts of water to clean the lettuce. Sprinkle it over the leaves. Leave it for 5 mins. Wash off thoroughly. Drain completely. Set aside. Slice onions and tomatoes to rings. Separate the layers of onions. Deseed the tomatoes. Set these aside as well.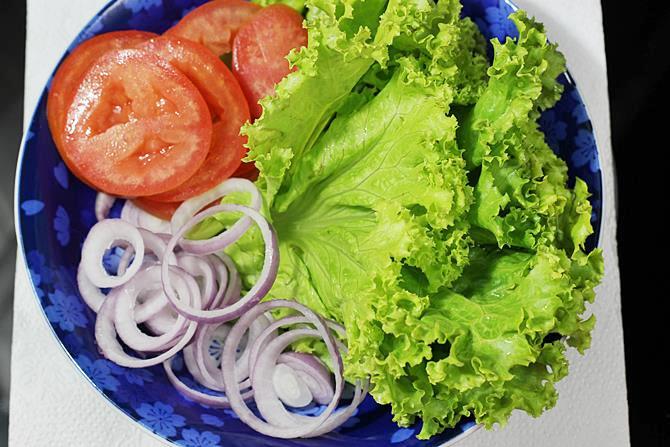 How to make burger recipe – veg burger
16. These are tawa or pan fried patties using 1.5 tbsp oil for 2 patties.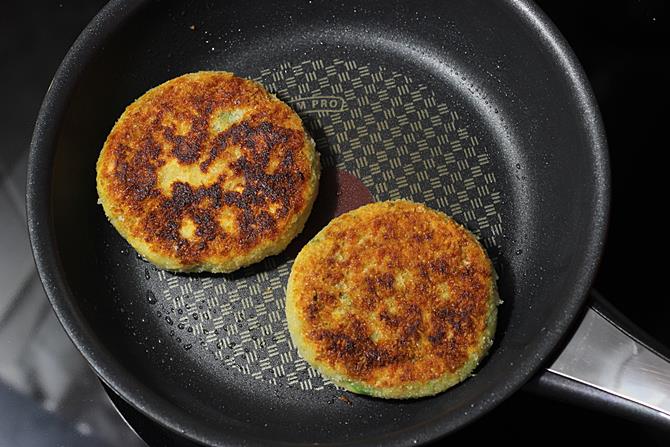 17. To get uniform crispness and golden color including the sides, shallow frying is suggested. Pan fried patties will not get a golden color on the sides. shallow fried ones are crisp for longer time and are more crisp than the pan fried ones.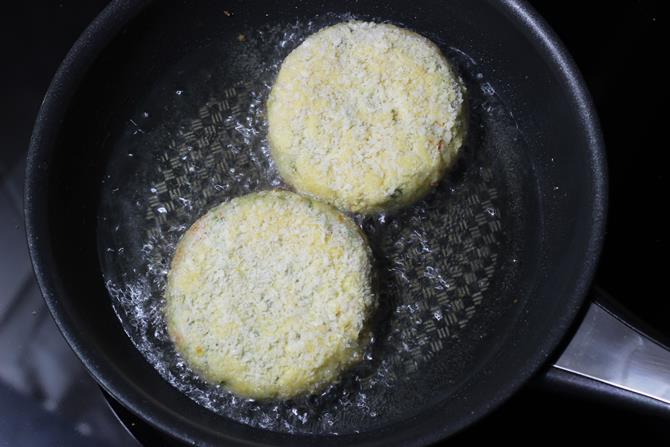 18. Flip them and fry until golden.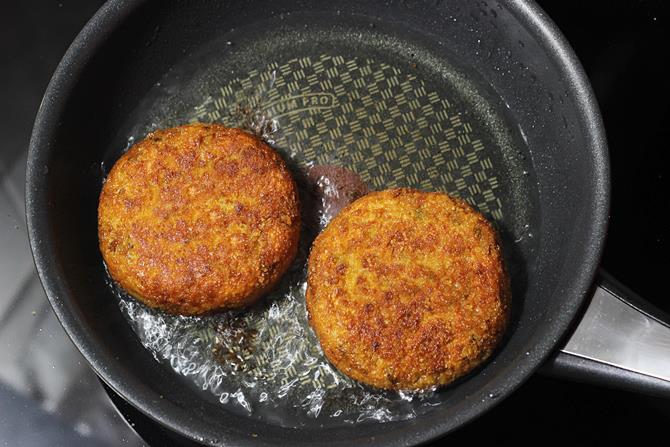 19. Once you are done with frying the patties, transfer the oil to a cup. Slice the bun to 2 parts and toast in the same pan. Set these aside.
20. Place the patty on the lower half. You can also add some ketch up to hold the patty in place. That is optional.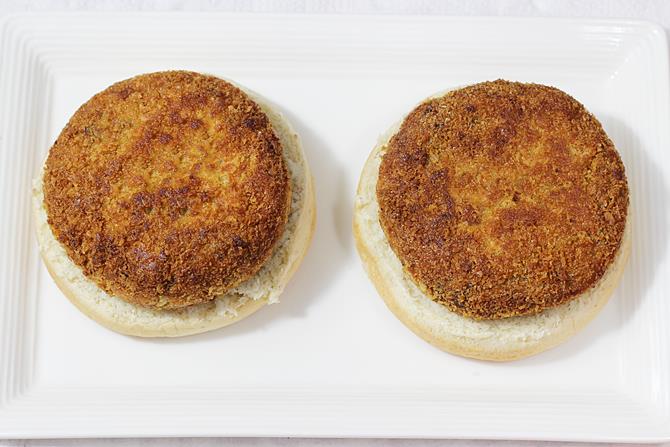 21. Place the lettuce, then the onion and tomatoes. Then top off with your favorite sauce or dressing. Cover with the other slice.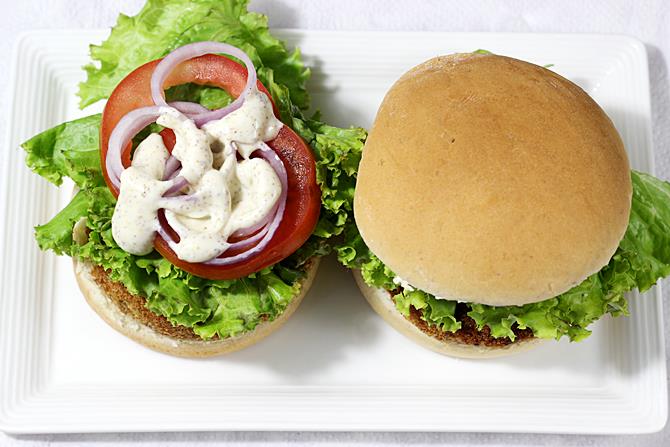 Veg burger is ready. Best when served immediately. But they keep good & taste good as well for about 2 hours, if you have used curd/ yogurt for making the sauce and not mayo.