Apple Juice Recipe With & Without Juicer
Make refreshing Apple Juice at home in 3 exciting flavors using a blender or a cold press juicer. Delectably fruity with a perfect balance of sweet and tart flavors, this homemade apple juice is full of vitamins & minerals. It also packs a punch of health benefits! Basically there are 2 ways to make apple juice – fresh juice & boiled apple juice. In this post I show how to make the fresh juice using a blender and a slow juicer. You can choose between the basic lemony apple juice, pomegranate apple juice or celery apple juice.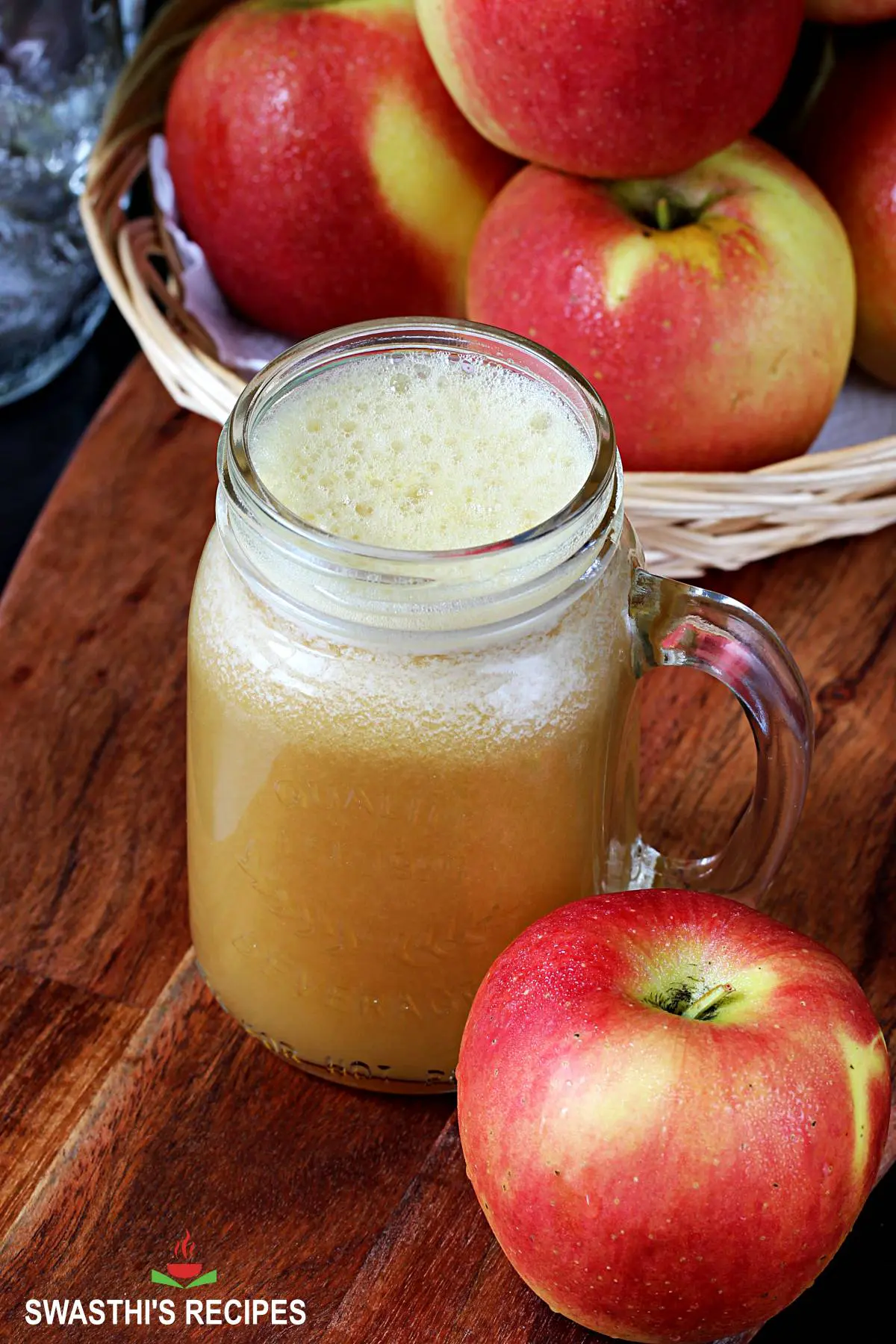 The boiling method is good when you have plenty of apples to use up. The juice made this way also keeps longer for about 10 to 15 days in the refrigerator. Fresh fruit juices are better for optimal health benefits as they are free from additives. Here are some benefits of fresh apple juice:
Builds overall immunity helping the body to fight against frequent cold, coughs and infections.
Beautiful, flawless and blemish free skin keeping wrinkles, acne and pigmentation at bay.
Improves appetite and digestion.
Detoxifies the body and reduces cholesterol.
Best Apples for Juicing
Apple juice tastes best when made with fresh apples that are in season rather than those that have been in the cold storage for a while. The kind of apples you want to use depends on how you like your juice to taste – sweet, tart or a mix of sweet and tart with a floral aroma.
Apple varieties that are high in acid levels yield a tart juice. On the other hand apples that are low acidic and sweet will give you sweet tasting apple juice. You can also use a mix of high and low acidic apples for a balance of sweet and tart flavors and taste. If you are new to juicing, try out this combination first to see how your body responds.
On the contrary, if you suffer from acidity and heart burn, sweeter apples are best. But if you want to cut down your sugar levels, I suggest you combine another low sweet vegetable or fruit like orange with apple for your juice.
Our personal preference is low acidic and sweet apples like Ambrosia, Juliet, Royal gala and Fuji. There are plenty of choices. Here are some based on my juicing experience.
Ambrosia apples are a variety popular for their floral aroma, crisp, fine-grained flesh. These are sweet apples with low acidity.
Juliet apples are a popular Organic-apple brand, rather than a variety. These are French-grown apples and are equally great for juicing like the ambrosia. These apples produce juice that has a perfect balance of sweet and acidic flavors.
Gala or Royal gala apples are also sweet with a floral aroma but are dense and these are better baked or cooked but can also be juiced.
Fuji apples are a high in sugar content so yield a good refreshing sweet apple juice.
Red delicious apples have a balance of sweet-tart flavors. Though juicy, red delicious have a mild and different flavor, similar to that of an over-ripe melon or fruit. This flavor intensifies after juicing so if you like that you can certainly go for it.
Pink Lady and Granny smith produce juice with tart flavors. Avoid juicing these if you have acidity or heartburn. These are apples are best combined with sweeter apples.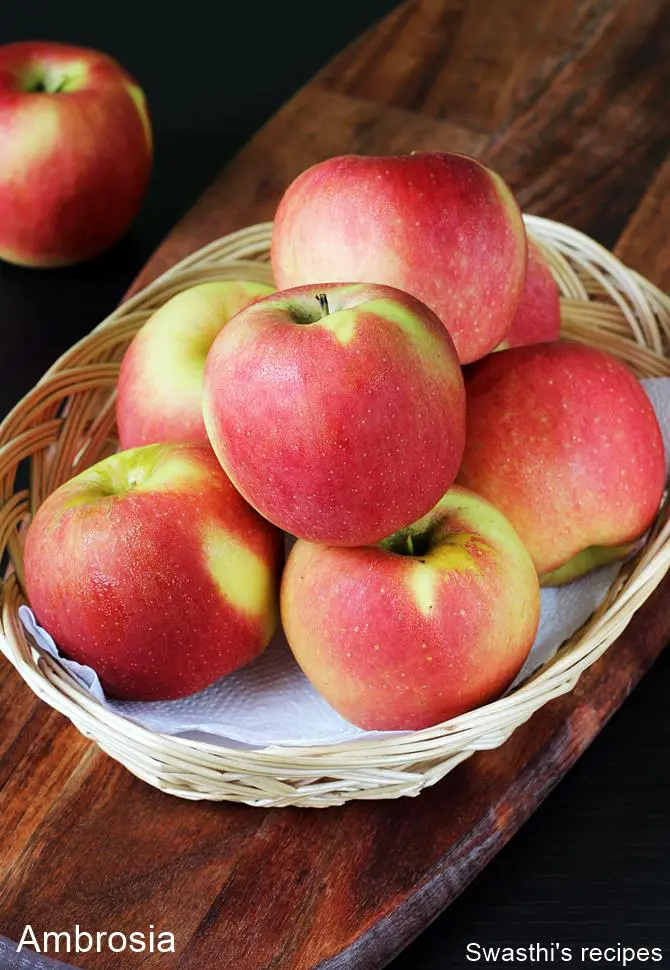 Organic Vs Non-organic
Unfortunately even in 2022, Apples are listed in the dirty dozen. According to EWG's, about 90% of the samples have been tested positive for residues of 2 or more pesticides.
Apples are grown and maintained using lot of pesticides, wax etc. Though the freshness and look of the organic apples aren't as great as the regular ones, buying organic apples makes sense if you are juicing apples regularly.
Apple Juice Combinations
In this post I share tried and tested 3 apple juice combinations. You can always make the basic juice but combining other fruits like lemon, pomegranate, calamansi, grapefruit or orange is going to enhance the flavor of your juice. Veggies like carrots, cucumbers and celery also taste good with apples.
To make this juice in a blender I highly suggest using some fruit in combination with apple or at least add lemon juice else the juice is going to taste bland.
More Fruit Juice Recipes
Watermelon Juice
Pomegranate Juice
Aloe Vera Juice
Orange Juice
Grape Juice
How to Make Apple Juice in blender (Stepwise Photos)
1. Wash apples under running water. To make 2 servings, you will need 2 apples for blender juice or 4 to 6 apples for cold pressed juice. If you prefer to use the skin, then make sure they are at room temperature and spray vinegar. Set these aside for 5 mins. Rub them gently with sea salt and rinse off under running water.
2. It is up to you if you want you may simply wash them well and peel off the skin. Apple skin has a natural substance known as pectin which is highly beneficial for health, so many people prefer to use the skin for juicing. Keep your juicer or blender jar ready before you begin to peel and cut them as the cut apples turn brown quickly.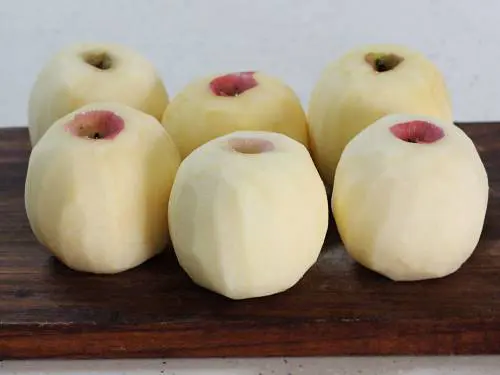 3. There may be many ways of cutting apples, but I do it as shown in the image below. You can also use a apple slicer or a corer. The whole apple can be directly added to many slow juicer chutes, but we prefer to discard the seeds and the core since there may be infestations inside the core.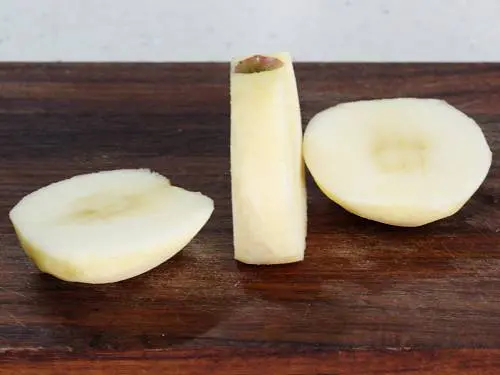 4. Cut the apples to a size that fits your juicer chute. If making in a blender cut to small pieces. To make in a slow juicer, cut each apple to 4 pieces & discard the core.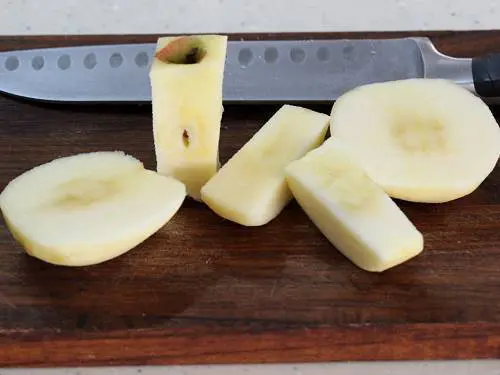 In a Blender
5. If making in a blender, add the chopped apples, 6 ice cubes (or any fruit cubes) & ½ cup cold orange juice or any juice or coconut water or lemonade. You may add water instead but it adds no taste. Using ice also keeps the temperature of your juice low and reduces the nutrition loss due to heat generated while blending.
Note that adding too much water dilutes the taste and with lesser liquid you will have a apple puree or smoothie and not juice. So you need to add some liquid to balance the consistency.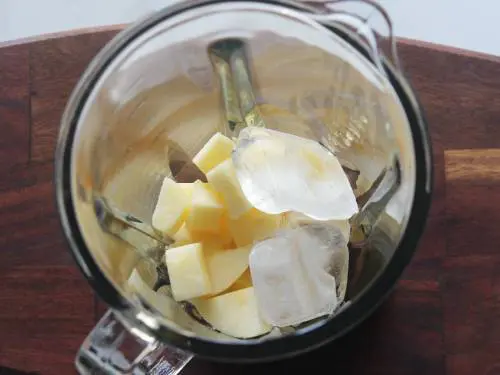 6. Pour 2 tablespoons of lemon juice. You can also add half inch ginger if you want. I highly recommend lemon juice to give your apple juice a lemony flavor, especially if you are using plain water or ice. Your apple juice won't discolor due to the ice cubes and lemon juice.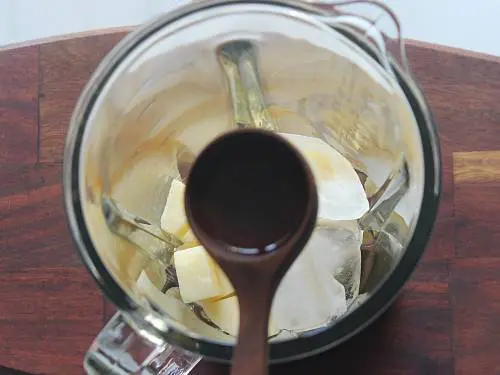 7. Blend until smooth. Taste test, it should be naturally sweet and tangy. If you want you may add more lemon juice. We don't prefer any sweetener but you may add if you want.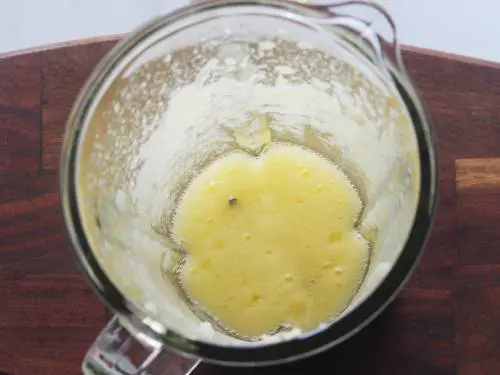 8. This is the consistency you will be getting. Thick yet not as thick as a smoothie or puree.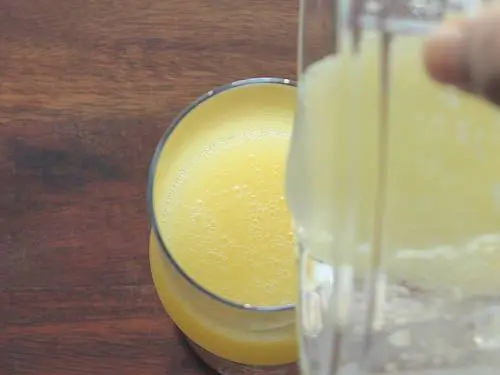 Serve immediately as juice made in a blender begins to oxidize fast.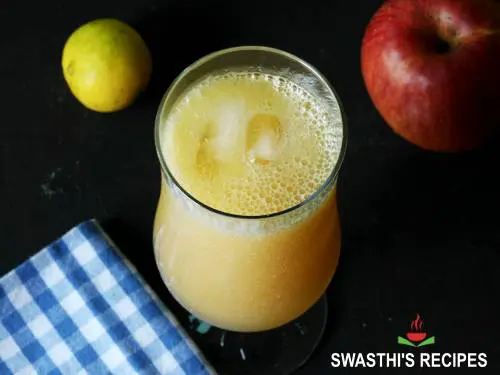 Cold Pressed Juice
For the cold pressed juice, we prefer juicing each fruit or vegetable separately rather than combining them while juicing. This gives us the flexibility to mix and match while serving. If you love trying out mixed juices or making for a family with different choices, this is the best way to juice your apples.
8 large apples yield about 4 servings juice (34 fl oz or 1 liter juice). But again this depends on the kind of apples. Prepare the apples.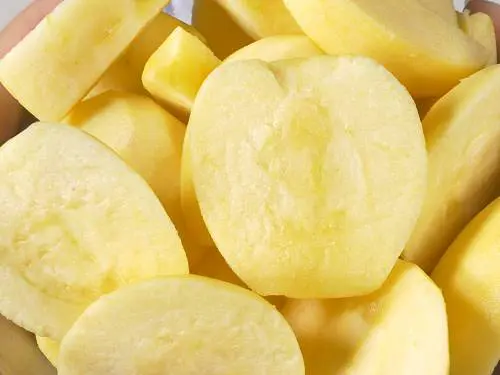 Get your machine ready and start it. As the machine starts, add the apple pieces to the juicer chute. Sometimes we add a bit of ginger (but not for the kids' portion). Ginger is a great spice to use during monsoon and winters.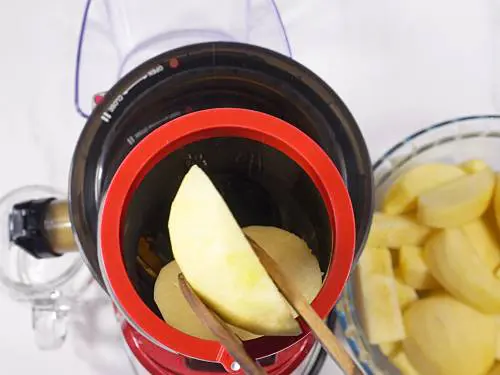 In the past we never stored the homemade juice and would consume them right away as it begins to oxidize. But the past 2 years has been a lot different for many of us. So sometimes they go into the refrigerator. It taste best within 2 days.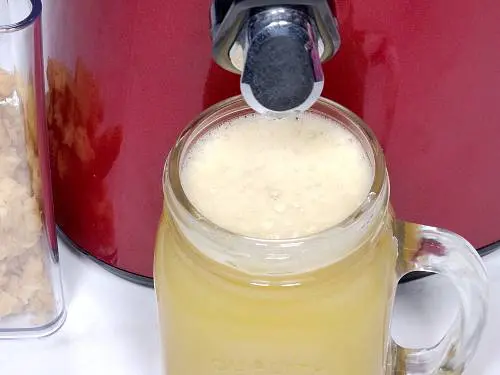 I have tried adding in some lemon juice while juicing but still the juice discolors over a period of time but the taste is still good. Scroll down for the other combinations.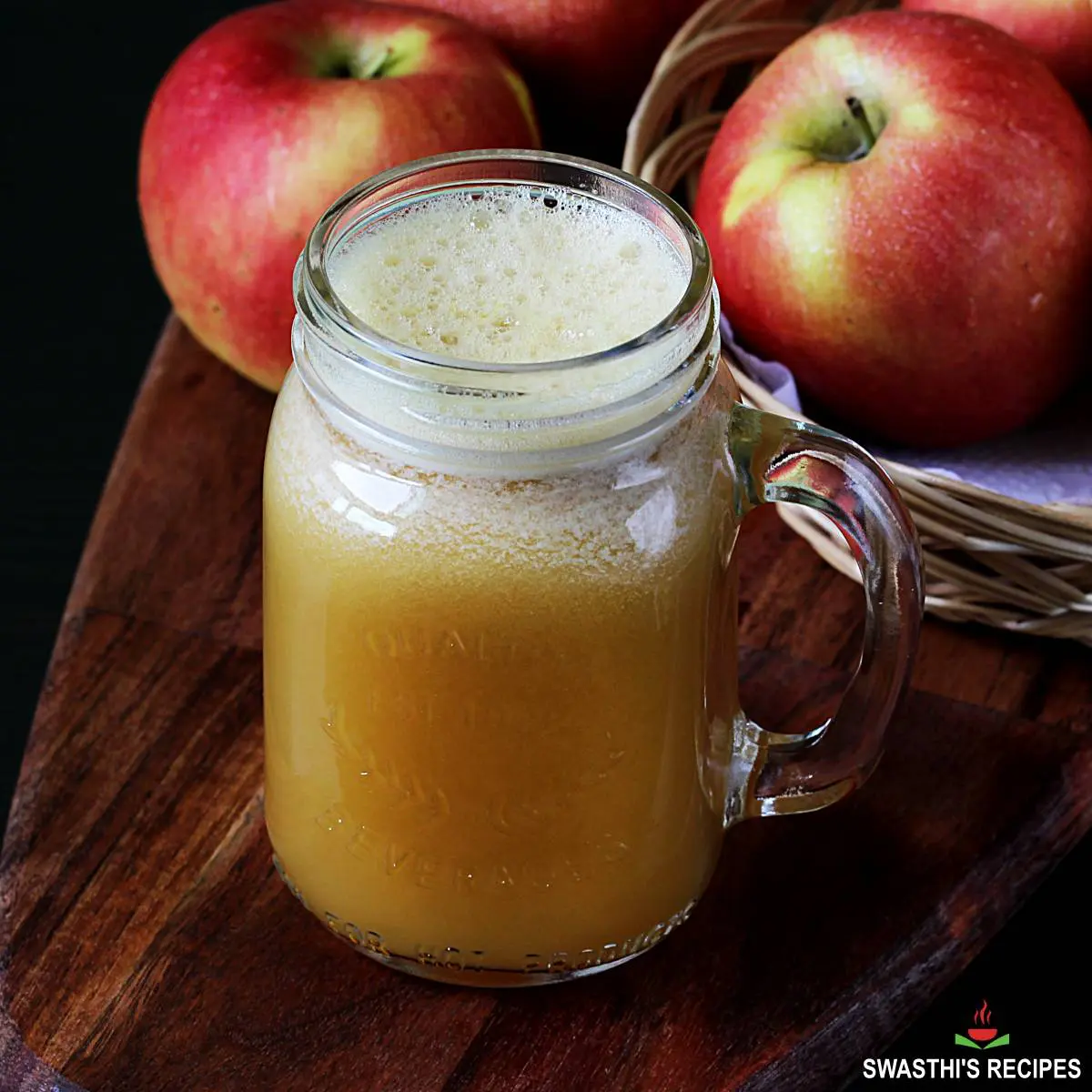 Pomegranate Apple Juice
Apple and pomegranates make a wonderful combination. This is one of the popular fruit combinations you will find on many juice bar menus and even in cold juicer recipe books. I found this in one of the books and my family loves this.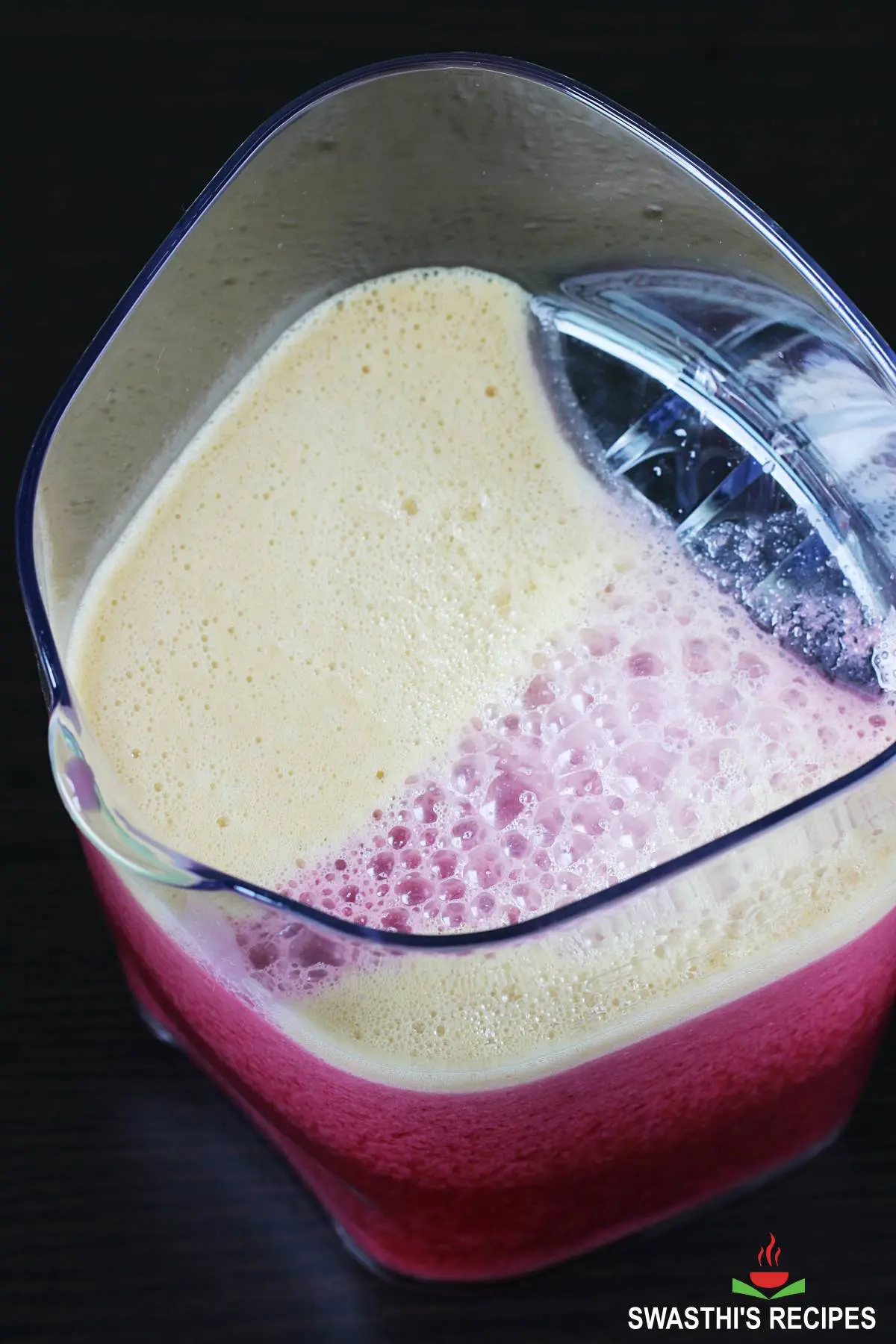 We prefer lesser apples and more pomegranate but it is up to you. Even the reverse works but tastes a lot different.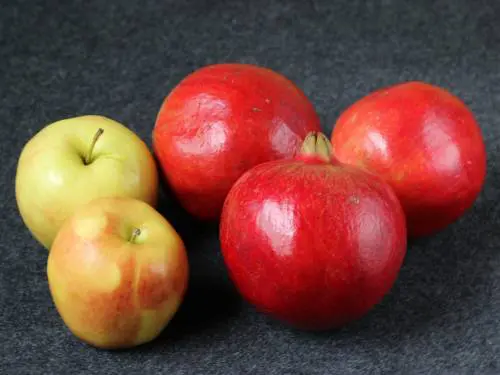 There are no specific instructions to make this in a cold press juicer. All you do is just add the pomegranate arils first followed by apples. We don't add any other ingredients to this and prefer it plain. If you are new to deseeding a pomegranate, you may check a video and stepwise photo guide here – Pomegranate juice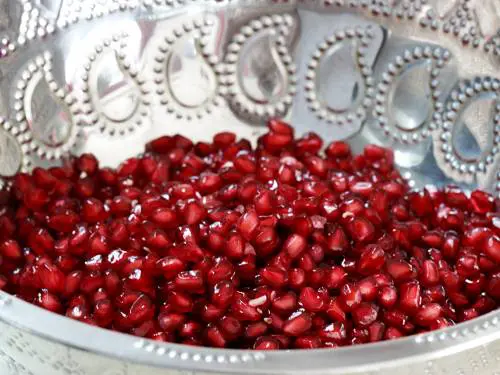 It is very common for this combination to froth up even in the cold juicer. Serve it immediately.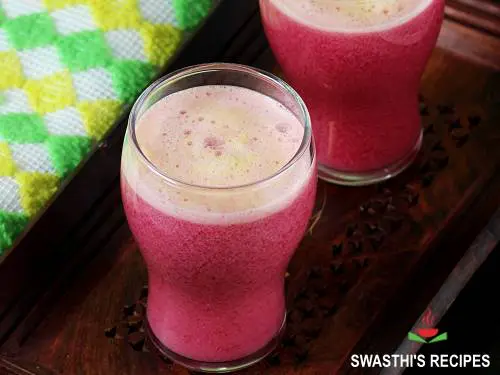 Celery Apple Juice
This is again another combo you will find in all juice bar menus and cold press juicer books. If you are unable to drink pure celery juice for the way it tastes, then you must try this combination. Sweet or sweet and tart apples balance the salty taste of the celery juice and makes it much more palatable. I can say this combo tastes delicious!
For this, juice your apples first and collect it in the jar.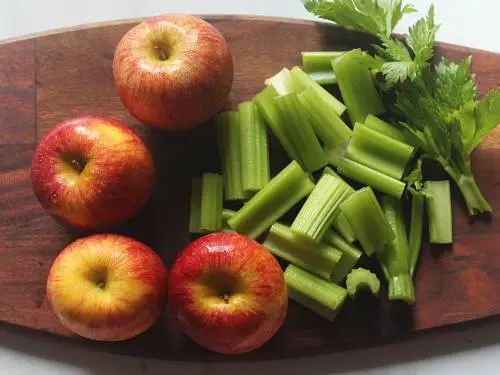 Add the celery stalks (avoid juicing the leaves) and juice this separately. Store this separately.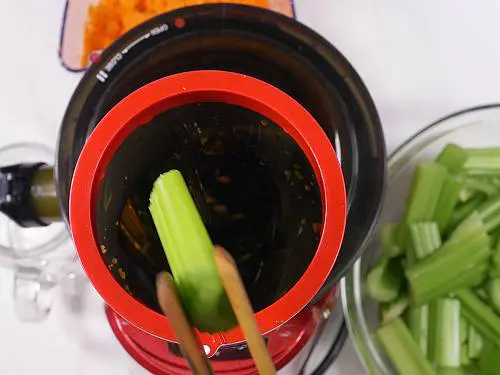 Mix 2 portions of apple juice and 1 portion of celery juice. This gives the best flavor & taste. If you like more celery, you may add more but that tastes a bit different & still nice. By storing them separately you always have the option to add more of what you like if you don't like the other.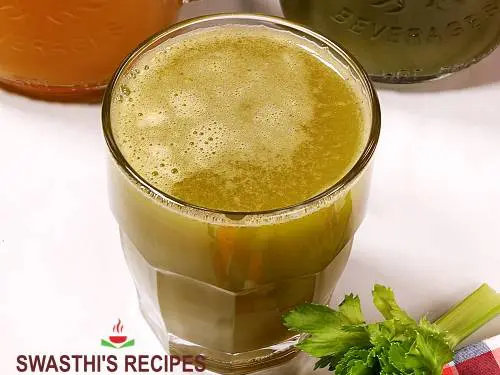 Related Recipes
Recipe Card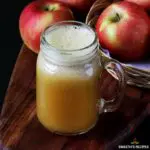 Apple Juice Recipe
Apple juice made in a blender or a slow juicer. Homemade apple juice is refreshing & full of nutrients.
Pin Recipe
Print Recipe
For best results follow the step-by-step photos above the recipe card
Ingredients (US cup = 240ml )
Blender Juice
2

apples

(0.8 to 1 pound, 400 to 450 grams)

2 to 3

tablespoons

lemon juice

6

ice cubes

(or ¾ cup frozen fruit/juice cubes)

½

cup

water

(or fruit juice, coconut water, read notes)

¼ to ½

inch

ginger

piece peeled (optional, skip for kids)

1 to 2

teaspoons

sweetener

(optional, sugar, maple syrup or honey)
Cold Pressed Juice
4

apples

preferably low acid kind like ambrosia, gala, fuji, juliet

½

inch

ginger

(optional)

1

small

lemon

(optional)
Instructions
Wash apples thoroughly under running water.

If you want you may peel them. If you wish to keep the skin on for juicing, make sure the apples are at room temperature. Then spray vinegar and set aside for 5 mins. Rub them with sea salt and rinse well under running water.

Cut the apples and remove the core and seeds.
How to Make Apple Juice in a Blender
Add them to a blender jar along with ice cubes, lemon juice, water or juice and ginger. If you want you may add sweetener. Ice cubes help to keep the temperature of your apple juice low. High temperature reduces/ destroys some of the nutrients.

You don't need to strain this juice. Transfer to a serving glass and serve immediately.
Make in Cold Press Juicer
Add the apples and ginger to the juicer chute. Fill your juice into the pitcher and squeeze in the lemon juice.
Alternative quantities provided in the recipe card are for 1x only, original recipe.
For best results follow my detailed step-by-step photo instructions and tips above the recipe card.
NUTRITION INFO (estimation only)
Nutrition Facts
Apple Juice Recipe
Amount Per Serving
Calories 189
% Daily Value*
Sodium 3mg0%
Potassium 389mg11%
Carbohydrates 50g17%
Vitamin A 195IU4%
Vitamin C 16.7mg20%
Calcium 22mg2%
Iron 0.4mg2%
* Percent Daily Values are based on a 2000 calorie diet.
Apple Juice Recipe first published in March 2017. Updated & republished in May 2022.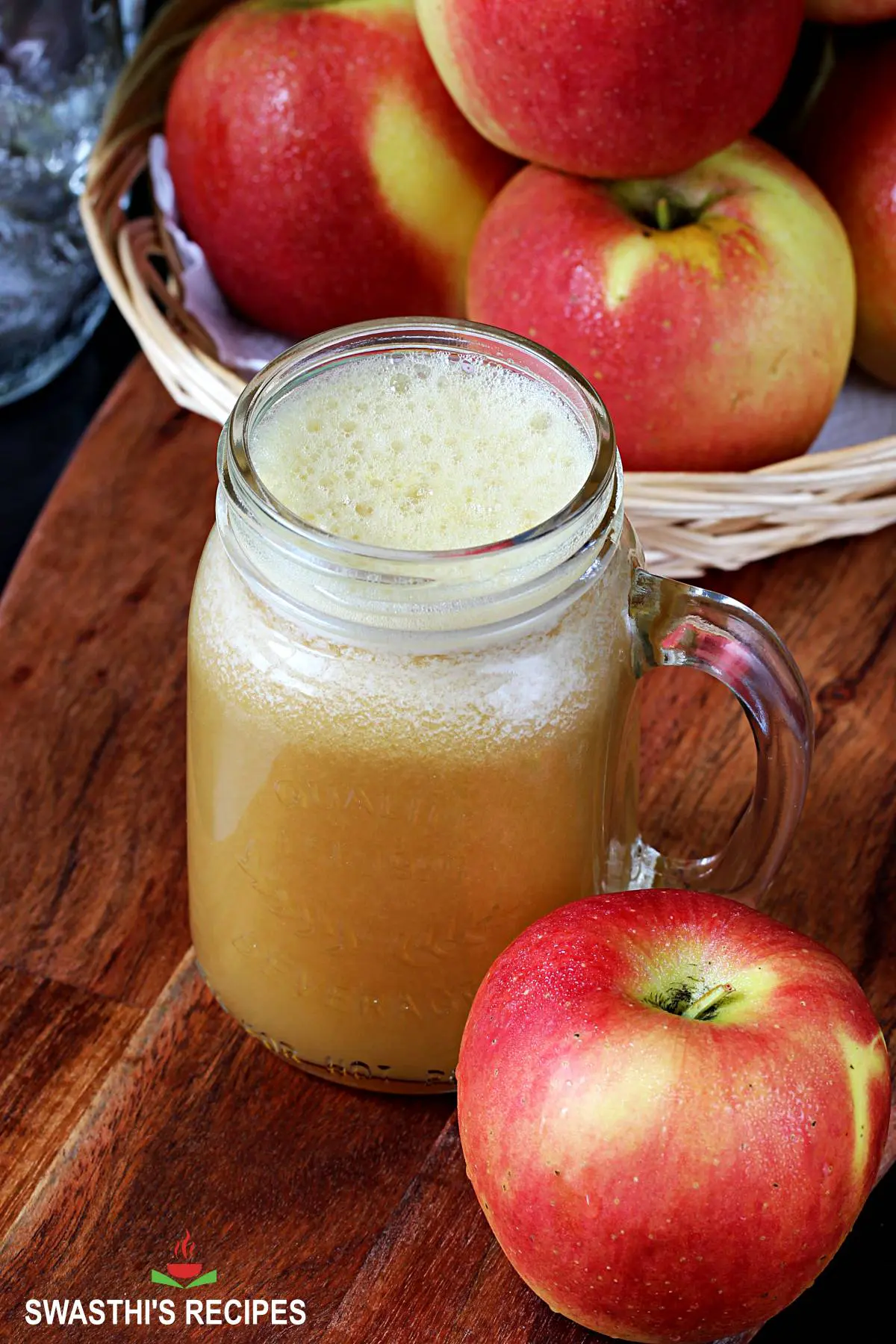 About Swasthi
I'm Swasthi Shreekanth, the recipe developer, food photographer & food writer behind Swasthi's Recipes. My aim is to help you cook great Indian food with my time-tested recipes. After 2 decades of experience in practical Indian cooking I started this blog to help people cook better & more often at home. Whether you are a novice or an experienced cook I am sure Swasthi's Recipes will assist you to enhance your cooking skills.
Follow Swasthi's Recipes