Pomegranate juice recipe or Anar juice recipe & its health benefits – Pomegranate or Anar is one of those beautiful looking and delicious fruits that has been used to treat various aliments from the ancient times. Apart from making juice, pomegranate is used for many culinary purposes like making desserts, sauces, syrups, jams and even for flavoring foods in Indian cuisine.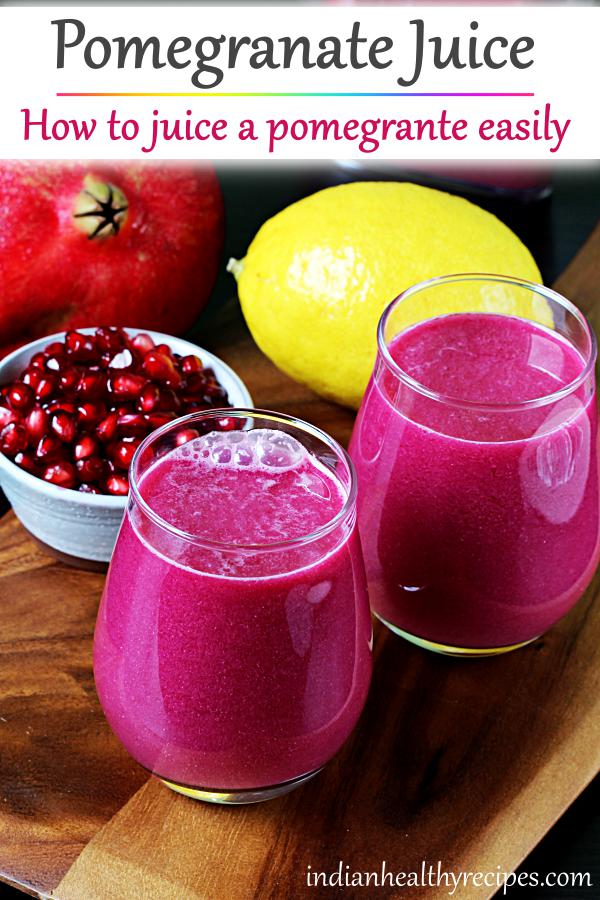 Pomegranate is considered to be tridoshic in Ayurveda and is said to balance all the doshas in the body if consumed regularly.
It is considered to be a symbol of prosperity and is also offered to the Hindu Gods during religious ceremonies, pooja and festivals.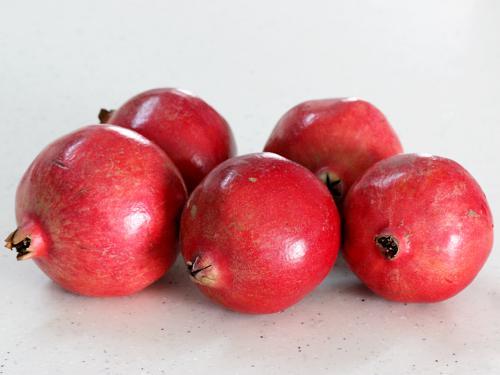 Benefits of pomegranate juice
1. Pomegranate juice is high in vitamins & minerals, so regular consumption of pomegranate juice by pregnant women is said to nourish the mother and the baby in the overall development and growth.
One of the main vitamins in pomegranate juice is the folic acid, which is very crucial in preventing birth defects in babies.
2. It is useful to treat diarrhea and high fever in all age groups including babies & toddlers.
3. Regular consumption of pomegranate juice can help women suffering from Menorrhagia. Even the juice of pomegranate peel is used for this.
4. Those on a weight loss diet may benefit from this juice since it helps to prevent many nutritional deficiencies.
5. Since pomegranate juice is high in antioxidants it reduces the risk of cancer. Pomegranate juice contains antioxidants higher than most other fruits.
6. It may reduce the risk of heart diseases by reducing the blockage of cholesterol in the arteries.
7. It helps to maintain a steady blood pressure.
8. It is useful to treat anemia as pomegranate juice is high in iron.
Tips to make pomegranate juice
Since pomegranate juice is high in iron, combining it with fruits high in vitamin C may help the absorption of iron. So we normally use a lemon or or few oranges or apple while juicing pomegranates.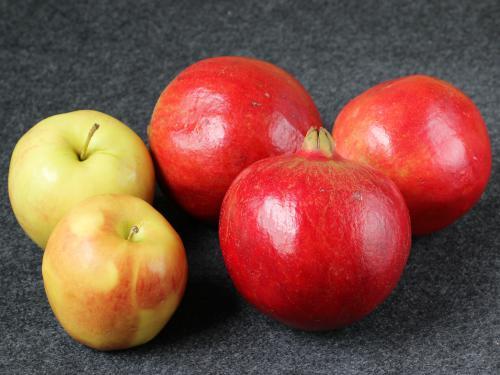 Pomegranate juice or anar juice can be made in a blender, centrifugal juicer or a cold press juicer. A juice made in cold press juicer is higher in nutritional values and there is lesser oxidization of the nutrients while juicing.
For more fruit juice recipes,
Orange juice
Apple juice
Grape juice
Watermelon juice
For smoothie recipes, you can check
Pineapple smoothie
Apple orange smoothie
Mango smoothie
Orange banana smoothie
Beetroot apple smoothie
Pomegranate juice or anar juice recipe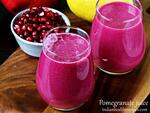 Pomegranate juice recipe
Pomegranate juice or anar juice is one of the healthiest drinks that can be made at home.
Ingredients (1 cup = 240ml )
1

kg

pomegranate

(about 5 large)

1

lemon

(or 4 oranges or 3 to 4 kiwis or any citrus fruit)

1 to 2

inches

ginger

(if making in a slow juicer, skip in summer)

2 to 3

pinches

Himalayan salt

(optional) (skip if making for babies)
How to make the recipe
How to remove seeds of pomegranate
Wash the pomegranates under running water. Wash the other citrus fruits you intend to use.

Cut the crown and the bottom part of the pomegranate.

Make 4, slightly deep incisions on the fruit length wise starting from the crown to the bottom.

Hold 2 of the parts and separate them gently. This divides the fruit into 4 parts.

Seed the fruit and add them to a large bowl.

Rinse the ginger and peel it.

Prepare the other citrus fruit cutting them as desired.
How to make pomegranate juice
Add the mixed fruits to your blender or juicer chute. If making in a blender, fill only half of the jar.

Pulse and a few times until the pomegranate seeds are crushed.

Pass through a strainer and collect the juice in a large bowl. If making for a baby, pass it through a muslin cloth placed over a strainer.

Serve pomegranate juice immediately.
NUTRITION
Calories:
207
kcal
|
Carbohydrates:
46
g
|
Protein:
4
g
|
Fat:
2
g
|
Sodium:
7
mg
|
Potassium:
590
mg
|
Fiber:
10
g
|
Sugar:
34
g
|
Vitamin C:
25.5
mg
|
Calcium:
25
mg
|
Iron:
0.8
mg
It is always good to have fruit juice alone and not with breakfast, snack or a meal. This way the nutrients in the fruits are absorbed better by the body within minutes. Consuming other foods with fruits or juices may hinder or slow down the absorption of nutrients by our body.
How to make pomegranate juice at home
1. Wash pomegranates under running water. Cut off the crown.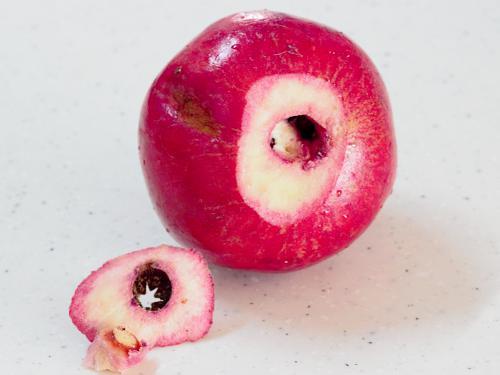 2. Similarly cut down the bottom part of the fruit. This loosens the rind as it looses the strength on both the parts.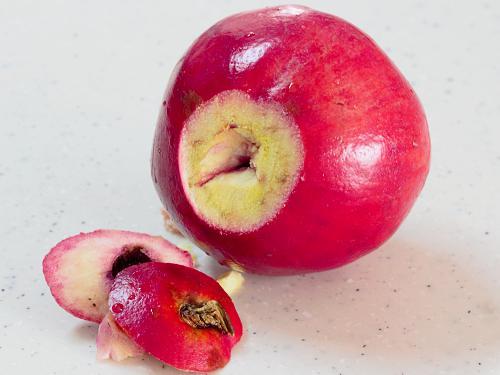 3. Make 4 slightly deep incisions as you see in the picture.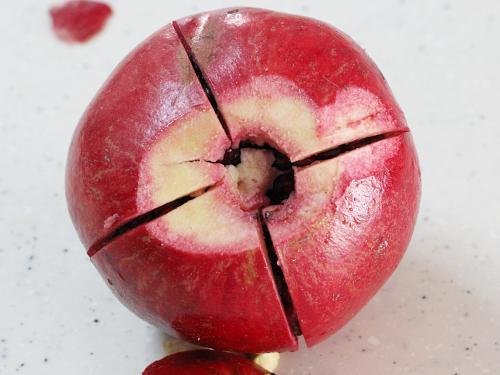 4. Hold 2 of the parts and gently separate them. Without messing up, the fruit gets divided to 4 parts. Pomegranates stain the work tops and even the clothes. A few disposable tissues or a kitchen cloth is helpful.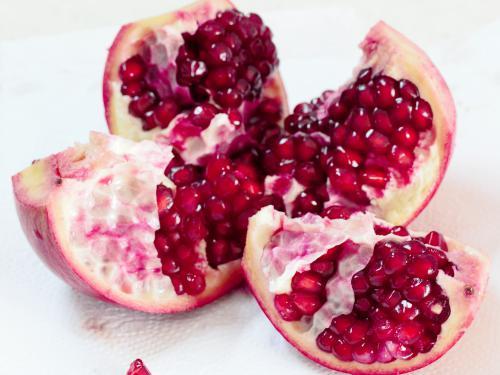 5. Remove the seeds to a large bowl, they come off easily. Prepare the other fruits you like to use.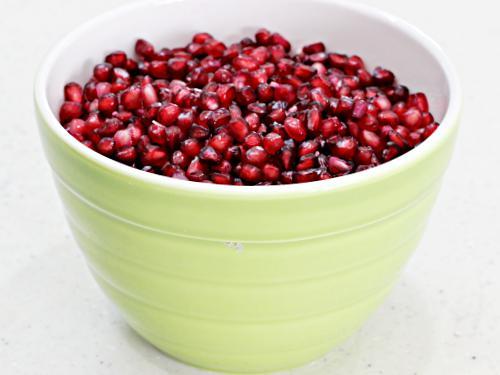 6. I use a large piece of ginger as it helps to prevent colds since cold pressed juice is quite cooling to the body. You can skip ginger in summers. I squeeze a large lemon & add a bit of Himalayan salt too into the juice pot.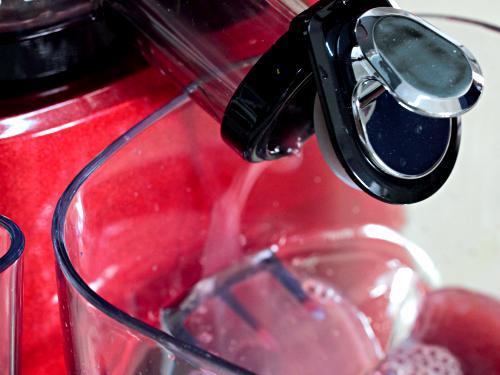 Consume pomegranate juice fresh before it begins to oxidize. If you prefer cold juice, refrigerate or freeze the seeds for some time and then juice them. Adding ice cubes dilutes the juice and reduces the taste & the nutrition values as well.