Orange Juice Recipe with 4 easy juicing methods. There is nothing quite refreshing like a glass of freshly squeezed homemade orange juice. Bright and sweet with just the perfect amount of acidity; a glass of orange juice delivers amazing flavor and so much more. Loaded with vitamins and minerals, it helps to improve immunity naturally. Homemade fruit juices if consumed in moderation are healthy as they are undiluted, fresh and made without any additives.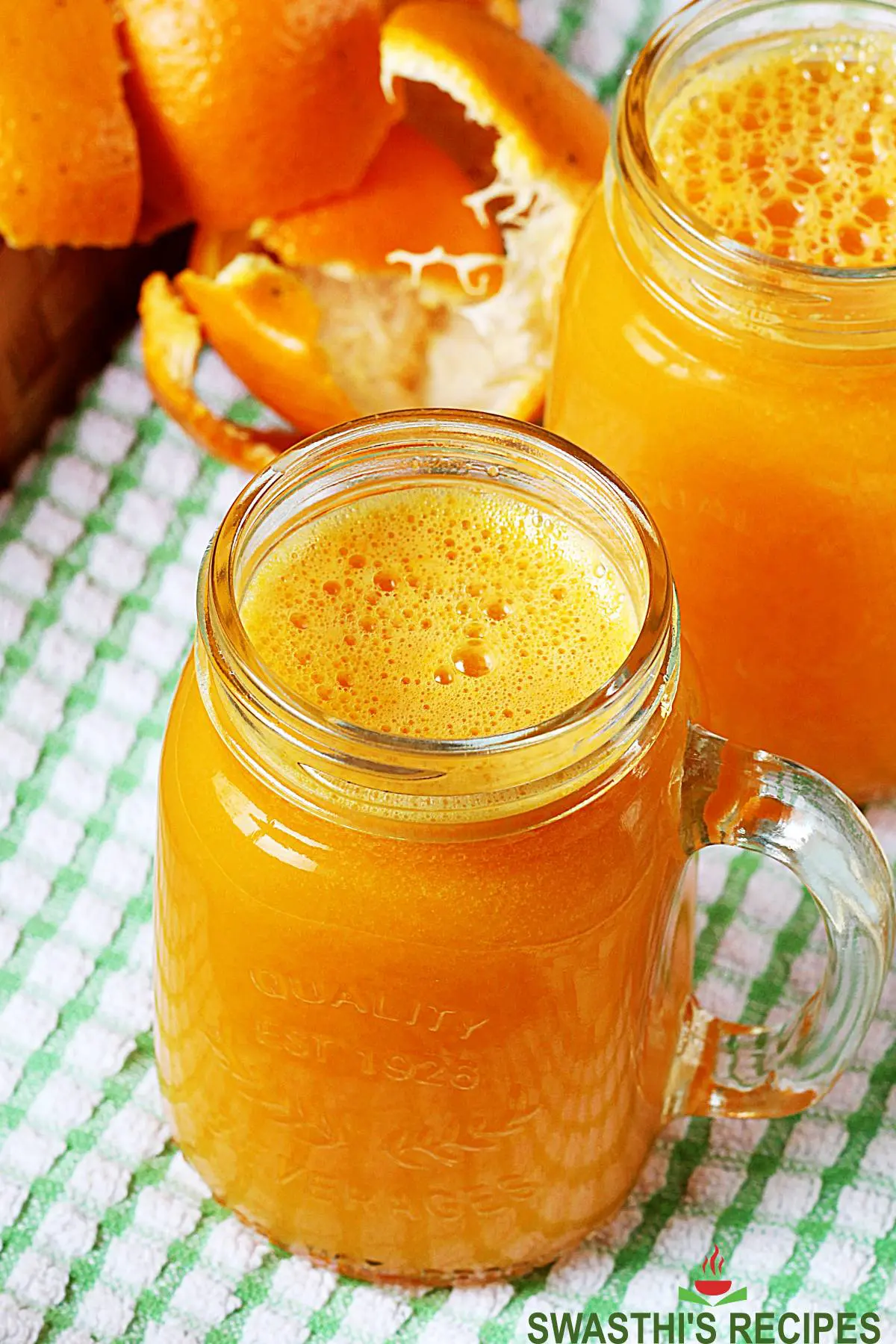 Enjoy after breakfast or at any time of the day, this is a delicious beverage that does more than quench your thirst.
About Orange Juice
Regular consumption of oranges builds immunity and improves the overall health. High vitamin C in orange juice has proved to be an immunity booster in kids and grownups alike.
Oranges also help in balancing the hormones, stimulates the production of collagen to improve the health of skin. Pure orange juice may also help in balancing the HDL and LDL by increasing HDL and reducing the LDL.
Similar to the other citrus fruits, oranges are acidic but creates an alkaline effect after the juice has been metabolized. However too much of it is not good for people suffering from ulcers, digestive problems & diabetes.
Homemade pure juice is delicious, fresh and cannot be compared with any bottled juice. Though eating the fruit on its own has a lot of health benefits, it is hard to get my kids to eat them regularly, so we prefer juicing them 3 times a week.
On the other days we add them to smoothies along with banana or apples. Oranges can also be used to make mix fruit juice.
Best Oranges for Juicing
When deciding what type of oranges to use for making orange juice, you should select the fruit that will yield the most juice. I recommend Valencia oranges for the very best juice, followed closely behind by navel oranges.
Blood oranges are a nice option that will yield a lovely pinkish juice while clementines and tangerines will give you a sweeter beverage.
In the end, you can certainly use whatever oranges that you happen to have on hand, but keep in mind that a fresh orange will be the juiciest.
More Fruit juice recipes
Apple juice
water melon juice
Grape juice
Pomegranate juice
Wheatgrass juice
How to Make Orange Juice (stepwise photos)
There are a number of ways to juice oranges at home. Depending on your kitchen equipment, you can use a citrus juicer, blender, or a slow juicer. Each will work fine, but keep in mind that the end product will vary slightly.
Method 1 – Manual Juicing
This is by far the best in my opinion, juicing without any equipment or tool. But all kinds of oranges cannot be juiced this way. Oranges with thinner skin can be easily squeezed and juiced the way I have shown below. Note that it is hard to juice a lot of oranges this way and some amount of pulp remains in the fruit.
Rinse the fruit well under running water and pat dry with kitchen tissues. Cut the fruit to 2 parts.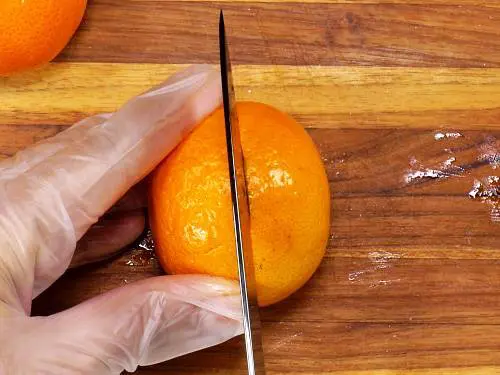 Remove the seeds as much as possible with the help of a knife.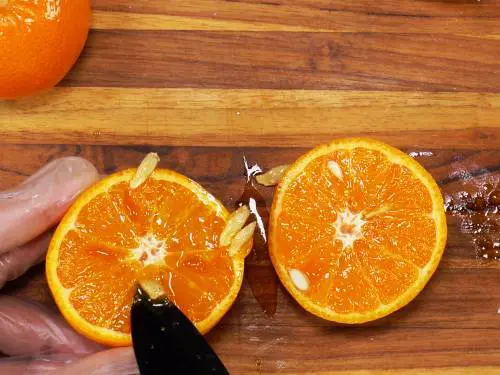 Squeeze the halved oranges over a glass, to extract the juice. Simply remove any seeds left in the juice. Please note this method works only with the freshest, thin skinned juicy oranges.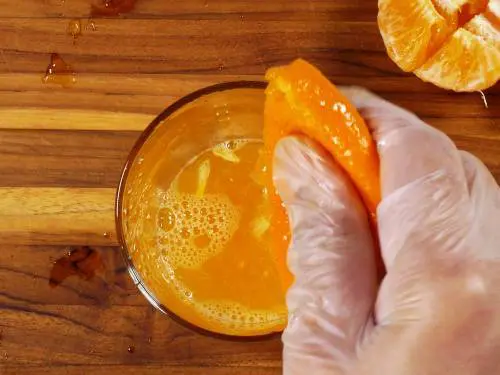 Method 2 – Orange Juice With a Citrus Juicer
This is probably the most obvious way to juice oranges. With either a handheld juicer or an electric model, this method is quite effective. Start by washing the fruit and cutting it in half, exposing the fruit.
Simple wooden citrus reamers work just fine, though probably aren't the best for larger quantities.
There are countertop citrus squeezers that operate with a handle that presses the citrus with gravity and your own force to extract juice. This is a nice option for those who can dedicated counter space to a large kitchen tool.
Finally, you can use an electric citrus juicer that does a great deal of the work for you. By just pressing the cut oranges onto a circulating reamer, this juicer yields a good amount of juice with a bit less effort.
Whichever of these juicers it is best to strain your juice to eliminate the stray seed that may have made its way into your glass.
Method 3 – Orange Juice In a Blender
1. Another way to make this juice at home is with an electric blender. This is a great option because it utilizes the whole orange, minus the peel, providing more fiber that other methods that yield just the juice.
2. For this method, start by washing your oranges and removing the peel.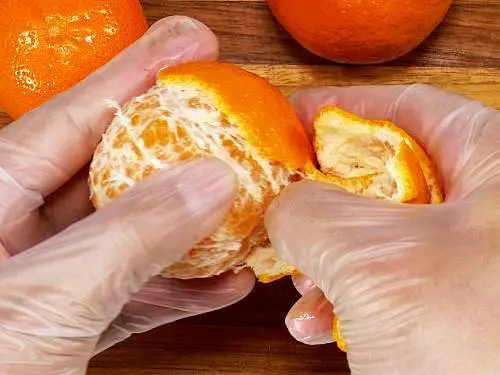 3. Remove the white pith or white membrane, as well. Orange pith is nutritious and is a rich source of fiber however it imparts a bitter taste so I try to remove as much as possible.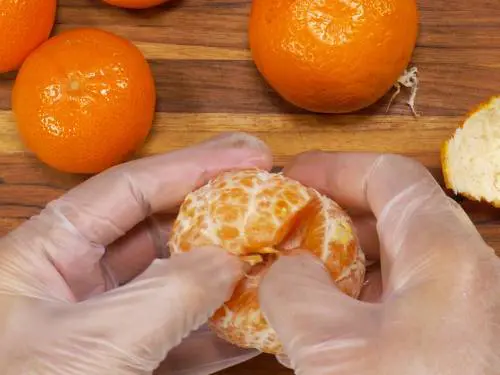 4. You will have to halve the oranges and then make a deep cut in the center as seen in the picture below.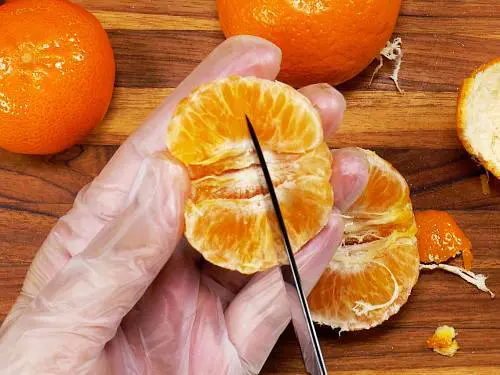 5. You will see the seeds there.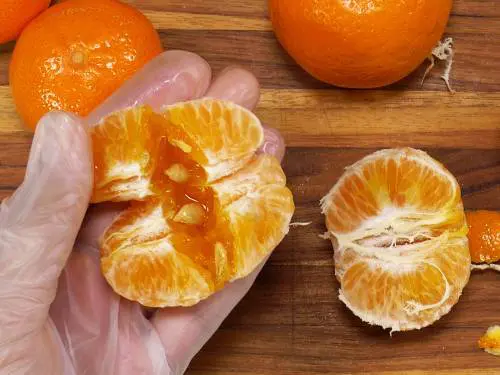 6. Remove them gently with the knife. If you prefer cold juice, freeze your oranges for about an hour before juicing them.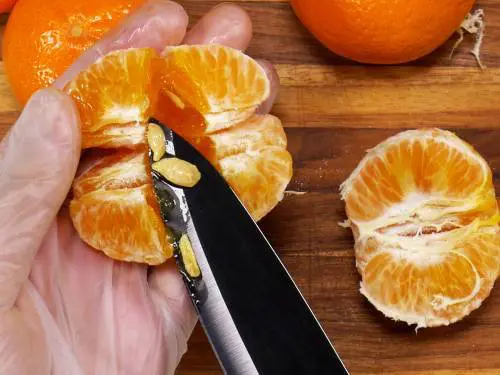 7. Once your oranges are prepared simply add them to the jar of your electric blender. Pour water or any other juice just to cover them partially and blend until smooth and liquefied. Do not add a lot as it dilutes the taste.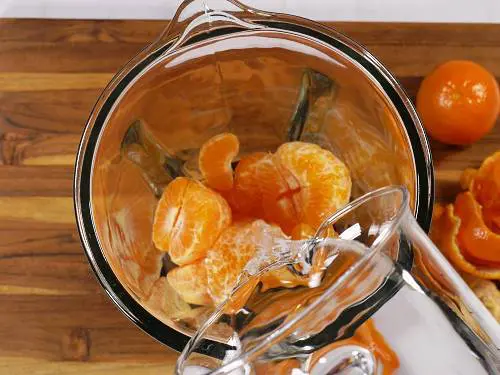 8. When properly blended, optionally strain the juice through a fine mesh strainer to remove any pith and enjoy!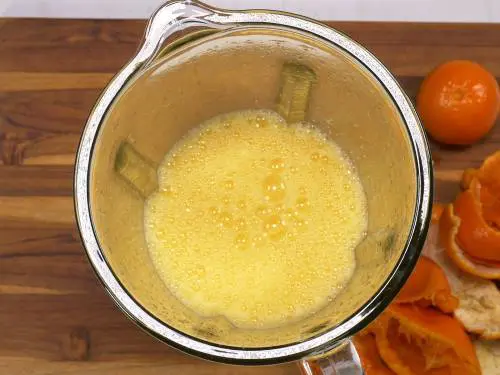 Juice made in blender has slight bitter taste from the pith. Also note that pith is healthy and has many nutritional benefits. To cut down the bitter taste, you may add a pinch of salt and 1 tablespoon of honey or maple syrup.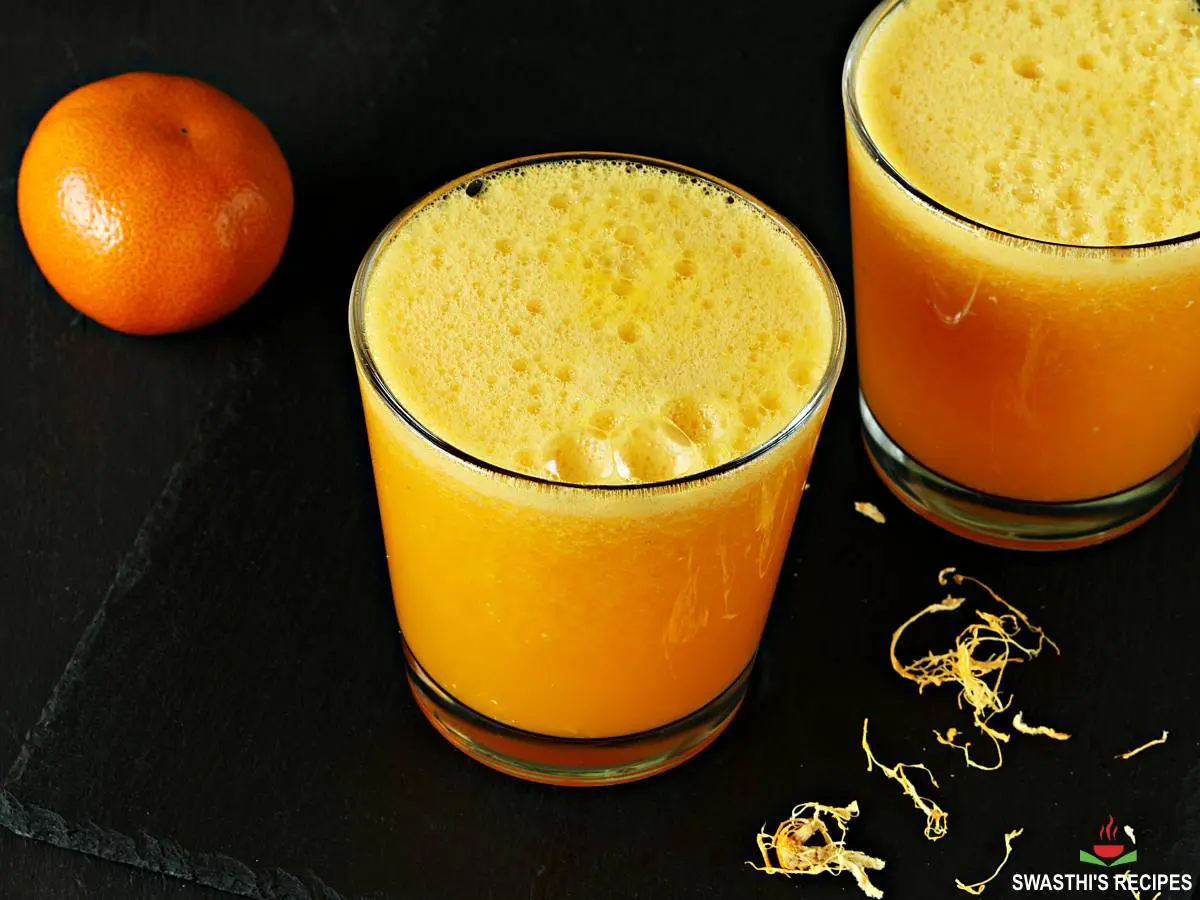 Method 4 – Orange Juice in a Slow Juicer
If you happen to have a slow juicer in your arsenal of kitchen tools, making juice is quite simple. Start by washing the fruit and peeling. Remove any white pith.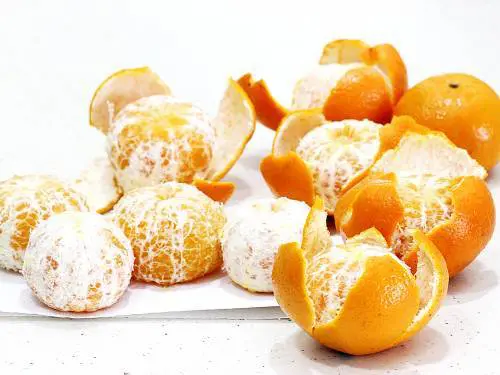 Turn on the slow juicer and add the whole peeled fruit to the chute/feeding tube. Collect the juice and the pulp in the respective containers. You can also add a small piece of ginger if you live in a cold place. We always add little mineral salt and a small piece of ginger to the juice since the cold pressed juice is very cooling to the body.
Other ingredients you can try with are tulsi/ holy basil leaves or mint leaves which helps to improve the immunity. If you are into alkaline diet, you may also squeeze in a lemon.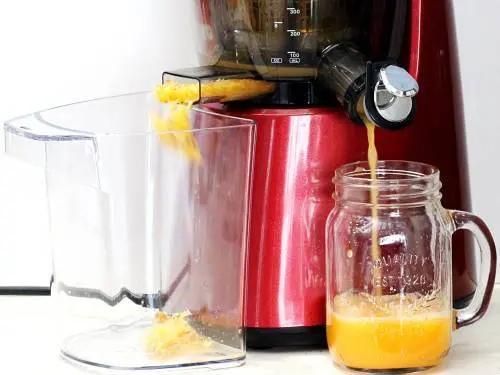 Serve orange juice immediately before if begins to oxidize. If you have any excess you can also freeze it to popsicles. Pour it the moulds and freeze.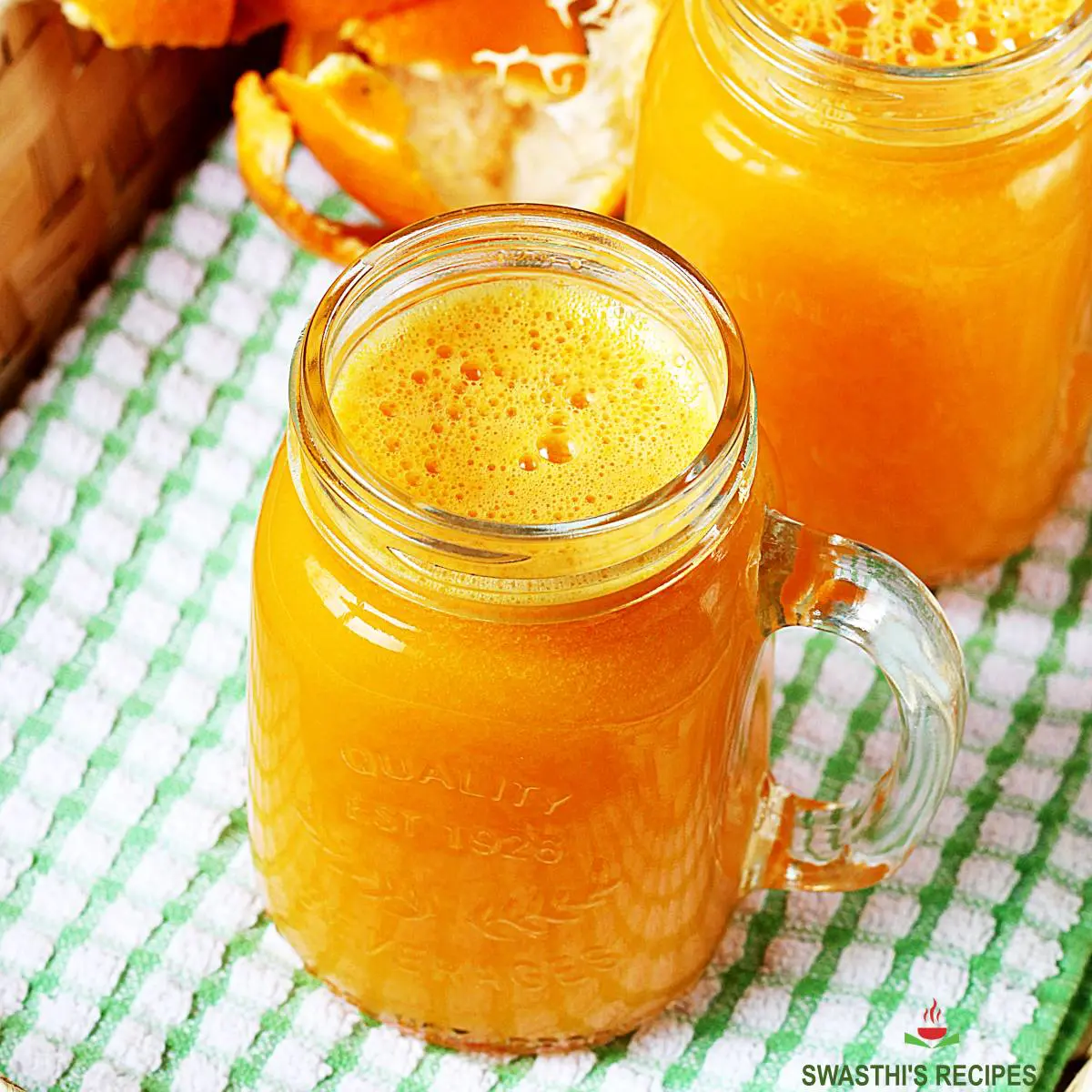 Faqs
What is the best way to store orange juice?
It is best enjoyed shortly after it is made. However, you can keep it in your refrigerator for 2-3 days in a glass bottle or jar that is fitted with a lid.
Is orange juice alkaline?
While orange juice is acidic by nature it does actually transform from acid to alkaline in your body. The good news is that people who are interested in an alkaline diet for optimal health benefits can enjoy it in moderation because it does not promote the production of acid in your body.
What is the pH of orange juice?
The actual pH of orange juice ranges from 3.3 to 4.2
Can you freeze orange juice?
If you happen to find yourself with more orange juice than you can use within a couple of days in your refrigerator you can freeze it for later. It is best to keep it in a covered glass or plastic container. Ice cube trays work nicely because they will thaw quickly. When you are ready to use it, simply take it out of the freezer and thaw.
Related Recipes
Recipe Card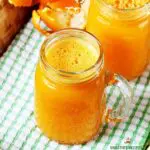 Orange Juice Recipe
There is nothing quite refreshing like a glass of freshly squeezed homemade orange juice. Loaded with vitamins and minerals, it helps to improve immunity naturally.
Print Recipe
Pin Recipe
Jump to Comments
For best results follow the step-by-step photos above the recipe card
Ingredients (US cup = 240ml )
8 to 10

oranges

large

⅛

tsp

pink salt

or kosher salt

1

inch

ginger

piece, (peeled, can use up to 5 grams per serving)

½ to ¾

cup

water

(optional, if using blender)
Optional
8 to 10

mint leaves

or holy basil or wheatgrass

1

tbsp

honey

(organic)
Instructions
If using herbs, spray some vinegar and salt. Set aside for some time and rinse them a few times in ample amount of water. If using ginger, peel the skin and rinse well.

Rinse oranges well under running water and wipe dry.
How to Make Orange Juice in Blender
Peel the oranges and remove the pith. Halve the oranges lengthwise. Make a deep cut in the center. (Check video or step by step pictures).

Using the edge of a small knife or a little fork, remove the seeds. Freeze your oranges for an hour if you prefer cold juice.

Add the oranges to a blender jar. Pour some water to cover the oranges partially. If using honey, ginger and herbs, add them too.

Blend until smooth. Optionally place a strainer over a large bowl and pour the blended juice to the strainer.

Using a spoon, pass the juice through the sieve. Serve it immediately.
Using a Juicer
Cut each orange horizontally to 2 halves.

Place the cut orange over the juicer and press down. If using a manual juicer, press and move it to and fro to extract the juice. If using an electric juicer, just press down and hold the orange on the circulating reamer. It does the job of juicing automatically.

Pour the juice to the serving glasses and stir in honey if desired.
Using a Slow Juicer
Peel and remove the white membranes and pith of the oranges.

Turn on the slow juicer and add all of the oranges to the chute. You can also add in the herbs and ginger at his stage. You can also add any other fruit you wish to.

Stir in honey if desired. Serve fresh orange juice immediately.
Alternative quantities provided in the recipe card are for 1x only, original recipe.
For best results follow my detailed step-by-step photo instructions and tips above the recipe card.
NUTRITION INFO (estimation only)
Nutrition Facts
Orange Juice Recipe
Amount Per Serving
Calories 111
% Daily Value*
Sodium 2mg0%
Potassium 496mg14%
Carbohydrates 25g8%
Protein 1g2%
Vitamin A 495IU10%
Vitamin C 124mg150%
Calcium 27mg3%
Iron 0.5mg3%
* Percent Daily Values are based on a 2000 calorie diet.
This post is from the Archives. First published in April 2017. Updated and republished in June 2021.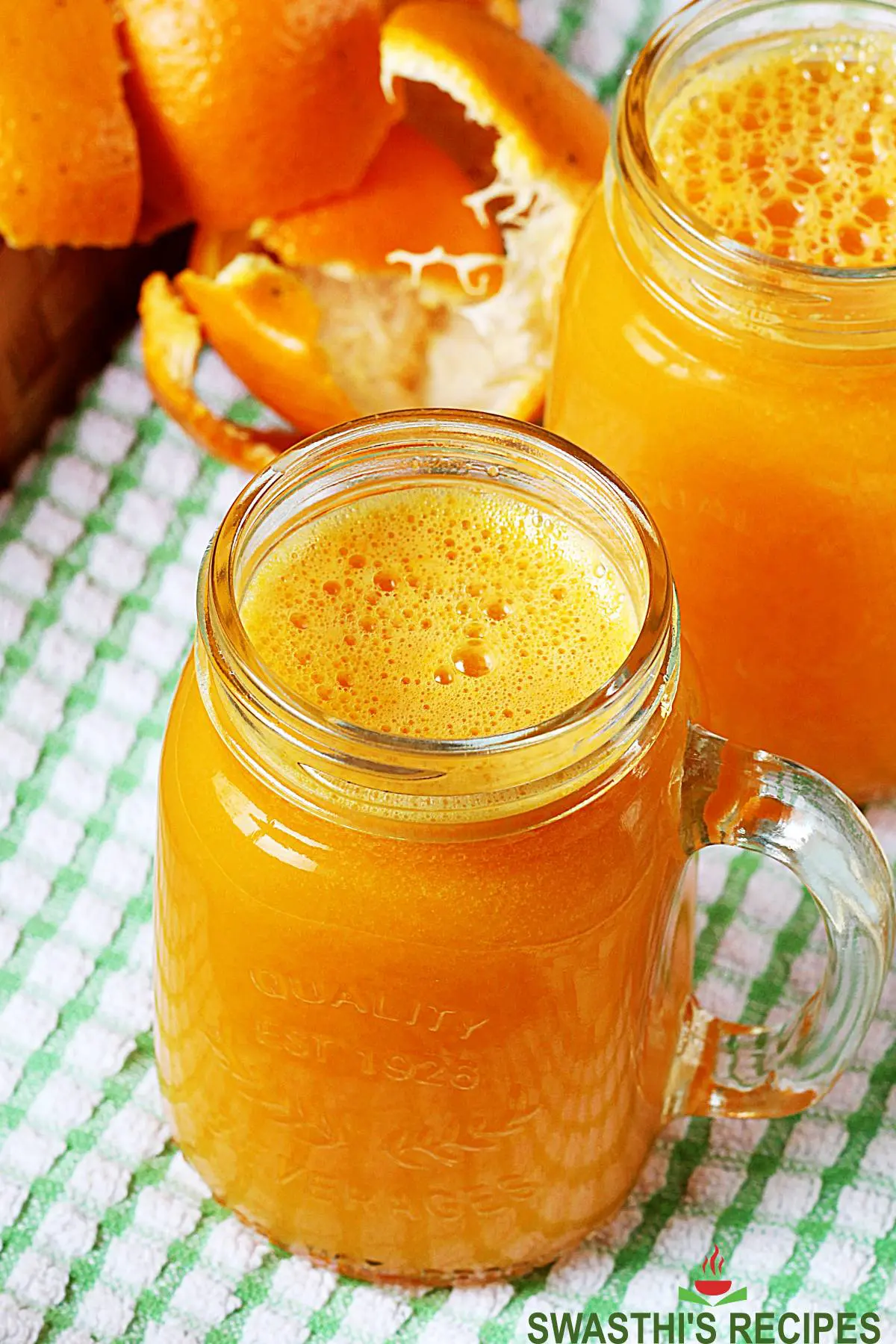 About Swasthi
I'm Swasthi Shreekanth, the recipe developer, food photographer & food writer behind Swasthi's Recipes. My aim is to help you cook great Indian food with my time-tested recipes. After 2 decades of experience in practical Indian cooking I started this blog to help people cook better & more often at home. Whether you are a novice or an experienced cook I am sure Swasthi's Recipes will assist you to enhance your cooking skills. More about me
Follow Swasthi's Recipes