Carrot halwa or gajar halwa – A slow cooked traditional Indian halwa or pudding made by simmering carrots in milk. Carrot halwa, popularly known as gajar ka halwa or gajrela makes its presence in most special occasions like festivals, celebrations and parties. It is one of the classic Indian sweets that would not fail to impress anyone.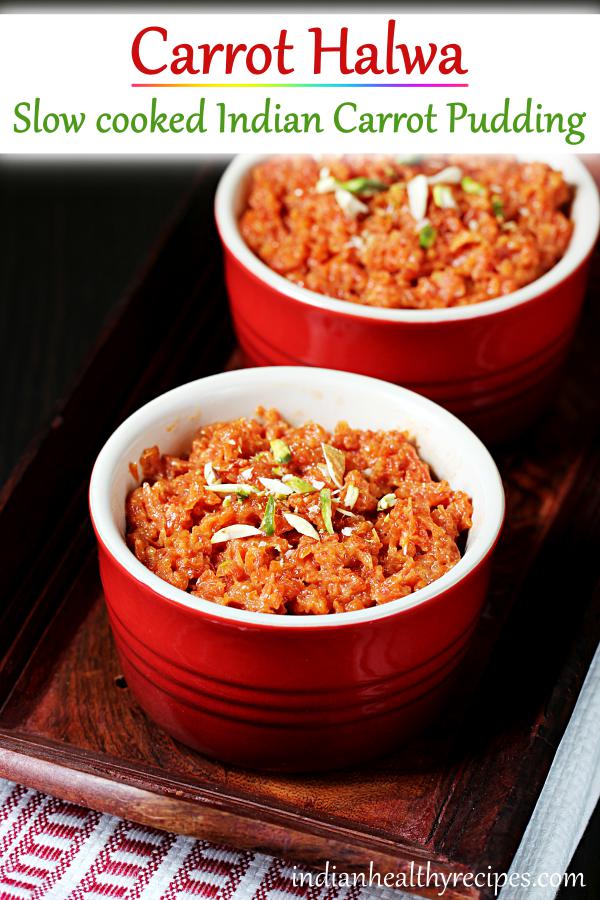 Most Indian households would not fail to make this during the winters as carrots are in full season. Carrot halwa is a sweet pudding made by simmering fresh grated carrots in full fat milk. It is then sweetened and flavored with cardamoms.
There are 3 different ways of making carrot halwa
1. Traditional method using whole milk
2. A rich version using khoya
3. A quick method using condensed milk which I shared here gajar ka halwa using condensed milk.
Tips to make best carrot halwa or gajar ka halwa
1. Always use fresh, tender and young carrots that are less fibrous. If needed taste them before cooking.
2. Use full fat or whole milk to get a tasty carrot halwa.
3. Keep stirring constantly while the gajar ka halwa is cooking otherwise the milk may get scorched and burnt. This will alter the flavor of carrot halwa.
Most often delhi gajar is used to make gajar ka halwa. However you can use any variety of carrots that are available. But make sure you use young tender gajar which lends a sweet aroma and yield a soft mouth melting halwa.
More Halwa recipes
Rava kesari
Moong dal halwa
Badam halwa
Lauki ka halwa
Carrot halwa recipe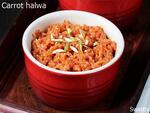 Carrot halwa | Gajar halwa
Gajar halwa or carrot halwa is a classic sweet dish from Indian cuisine made with carrots, sugar and milk. It is flavored with cardamom powder. This recipe post shares 3 methods of making carrot halwa.
Ingredients (1 cup = 240ml )
Ingredients for carrot halwa
½

kg

carrot

or gajar (prefer young carrots)

½

liter

milk

(or 2 cups) full fat

½

cup

sugar

(+ 2 tbsp optional) (prefer organic)

4

cardamom

pods or elachi or (skinned and powdered)

2

tbsps

ghee

or clarified butter
optional ingredients for gajar halwa
Handful

mixed nuts

pista, cashew & almonds
Instructions
Preparation for carrot halwa recipe
Choose tender or young carrots that are fresh.

Wash carrots under running water. Peel them and grate in a food processor or with a hand grater. Set this aside.

Dry roast nuts on a low heat until crunchy. You can also chop them first and fry in ghee if you prefer.

Set aside to cool and chop them.
How to make carrot halwa
Next bring milk to a boil in a heavy bottom pot or deep pan.

Add grated carrots and begin to stir.

Cook until the milk has completely evaporated. Keep stirring constsntly in between to prevent burning.

Add sugar and stir. Sugar would release lot of moisture.

Cook until half the moisture evaporates.

Add ghee and stir well.

Continue to cook until the moisture evaporates and the halwa thickens. If you like you can add grated khoya at this stage. Stir and cook for just 2 to 3 mins.

Garnish carrot halwa with nuts. Serve Warm or chilled.
Method 2 – Gajar ka halwa using khoya.
For ½ kg carrot, we will use only about 1 cup milk. Then ½ cup grated khoya or mawa. ½ cup + 2 tbsp sugar. Follow the same method mentioned above and then add khoya towards the end. Stir the carrot halwa until khoya melts.
Video
Method 3 – carrot halwa using condensed milk
Notes
If using sweet carrots, half cup sugar will be good enough.
Nutrition
Calories:
319
kcal
|
Carbohydrates:
44
g
|
Protein:
5
g
|
Fat:
14
g
|
Saturated Fat:
7
g
|
Cholesterol:
31
mg
|
Sodium:
141
mg
|
Potassium:
594
mg
|
Fiber:
3
g
|
Sugar:
37
g
|
Vitamin A:
421.7
%
|
Vitamin C:
8.9
%
|
Calcium:
18.6
%
|
Iron:
3.1
%
Preparation
1. Wash carrots thoroughly under running water. Peel and grate them. A food processor quickens the process of grating. So if you own one, you can use it.
2. Make sure you use a heavy bottom large pot or pan for this recipe as it helps to prevent the halwa from sticking to the bottom and burning. However a pressure cooker too works well.
On a low heat dry roast nuts until crunchy for garnishing. A few pistachios, cashews and almonds would do great. You can also fry them in ghee. But dry roasting eases the chopping work. Cool and chop them.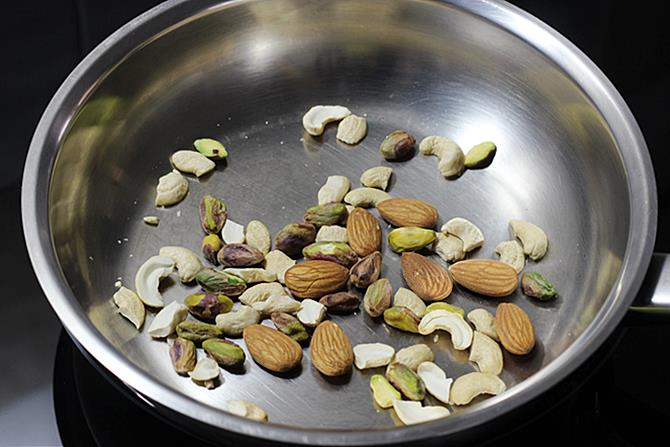 3. Next to the same pan, pour milk and begin to heat it.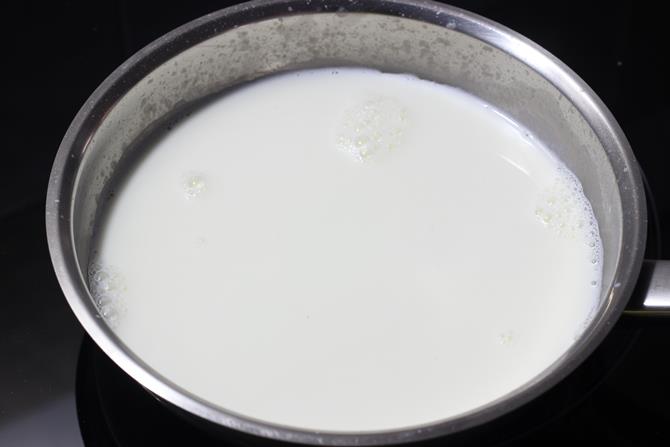 How to make carrot halwa
4. Add grated carrots. Another method is to saute the carrots in ghee until a nice aroma comes out then pour milk to it.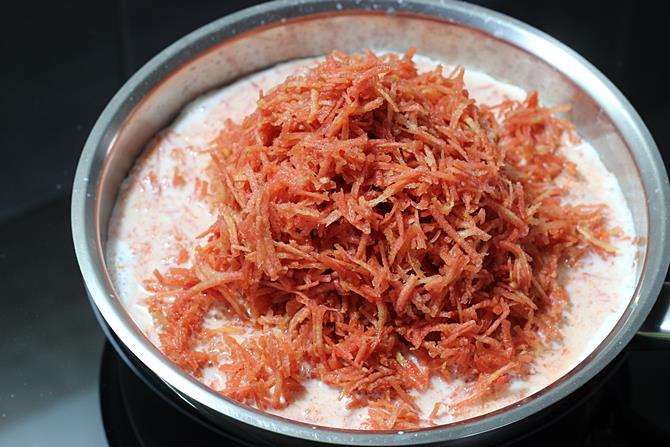 5. Stir and cook on a medium flame. Keep stirring to prevent burning at the bottom. Since I used a heavy bottom pan, I didn't have to stir very often. But I suggest consistently keep checking otherwise the halwa will stick at the bottom.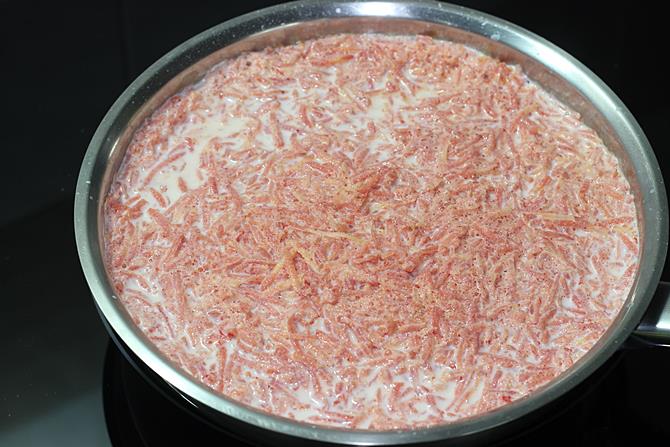 6. You will have be cautious always towards the end. Especially when the milk has almost evaporated.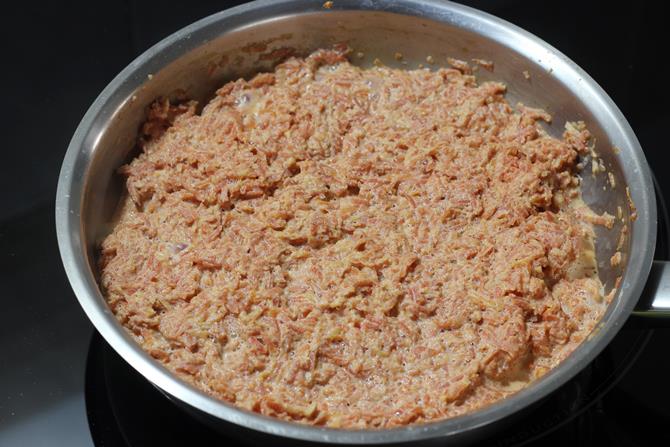 7. Cook until the milk completely evaporates.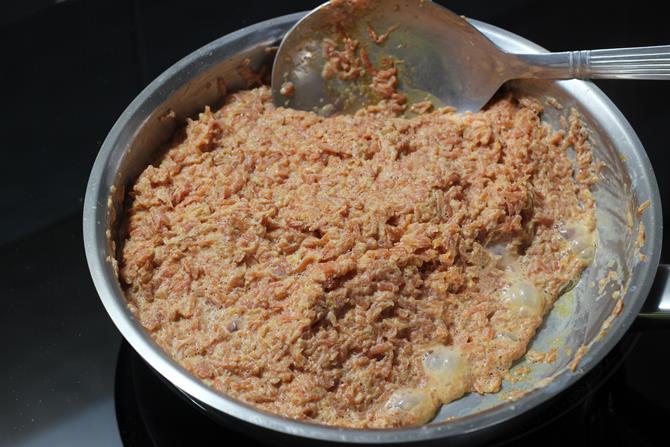 8. Next add sugar and stir.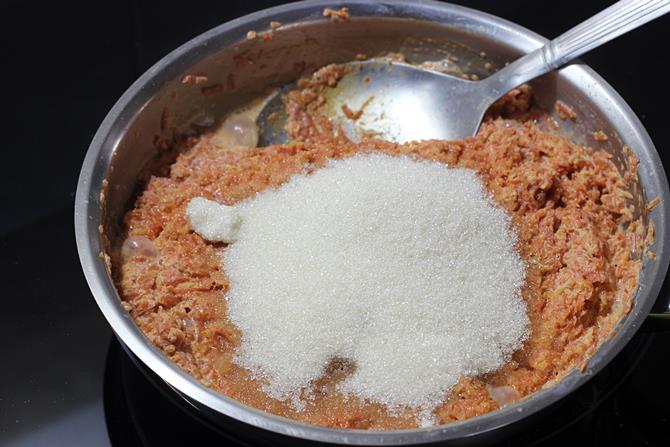 9. Sugar melts and carrot halwa turns gooey once again. Stir and cook. When the moisture is half evaporated, add ghee and stir well.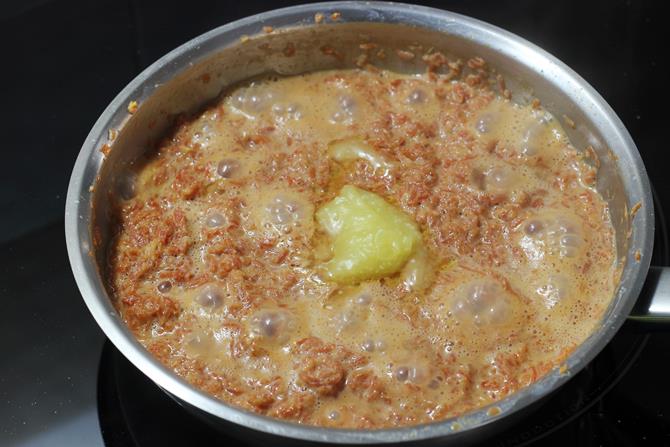 10. Stir and cook until the halwa thickens. Just before you finish off, add cardamom powder.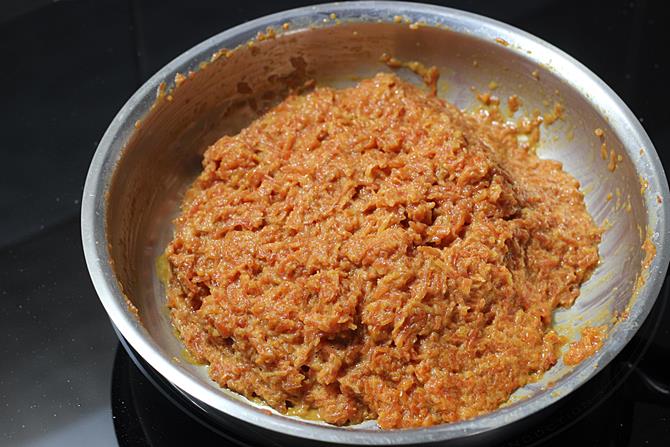 Finally garnish carrot halwa with nuts. Serve chilled or warm.