Carrot halwa recipe – Gajar ka halwa is a slow cooked traditional Indian pudding made by simmering carrots with milk. This immensely popular and super delicious classic Indian sweet is pretty much served at every feast in India. Be it a wedding, party or any other celebration this is always seen on the menu & never fails to impress people. Carrot halwa is also known as gajar ka halwa or gajrela. Gajar is the Hindi word for carrots and halwa is a pudding like dish.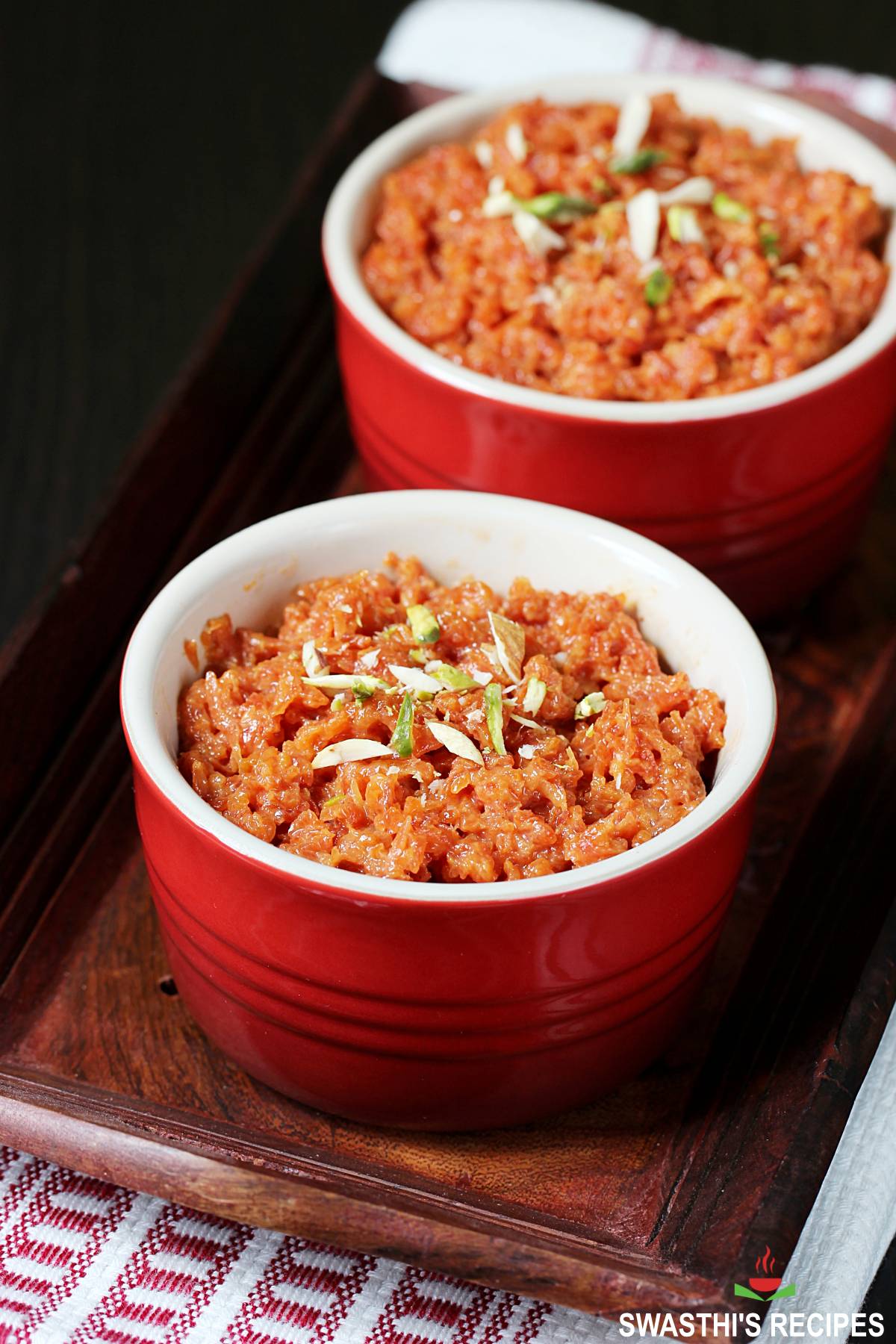 ---
Most Indian households make this gajar halwa during the winters as carrots are in full season. In North India it is made with Delhi gajar (red carrots). In many other parts of India, Delhi gajar is not available so it is made with regular carrots.
Here in Singapore we do get the fresh Delhi gajar in few Indian stores during the season. Whenever I find them I never fail to buy as they are much more flavorful than the regular ones.
Gulab jamun, Jalebi, Rasgulla & Kaju katli are some of the popular Sweets from Indian cuisine.
If you are new to Indian cuisine, then read on to know more
About carrot halwa
Carrot halwa is a Indian pudding made with fresh carrots, milk, sugar, ghee & nuts. It is made by simmering grated carrots in full fat milk & then sweetened with sugar.
It is flavored with cardamom powder & garnished with chopped nuts.
Traditionally carrot halwa was made only with full fat milk and no processed ingredients like condensed milk, evaporated milk or khoya was used.
3 different ways to make
There are 3 different ways of making carrot halwa. I have shared all the method in this post.
Traditional method using whole milk. I have shared this method in the video, step by step photos & the recipe card.
Carrot halwa using condensed milk – I have included this method after the recipe card. This takes just 15 mins so it is great to make when you are in a hurry.
A rich version using khoya. I follow this method during festive season when I have some surplus khoya left & prefer to use up. This method reduces the cook time by 50% since the amount of milk used is less.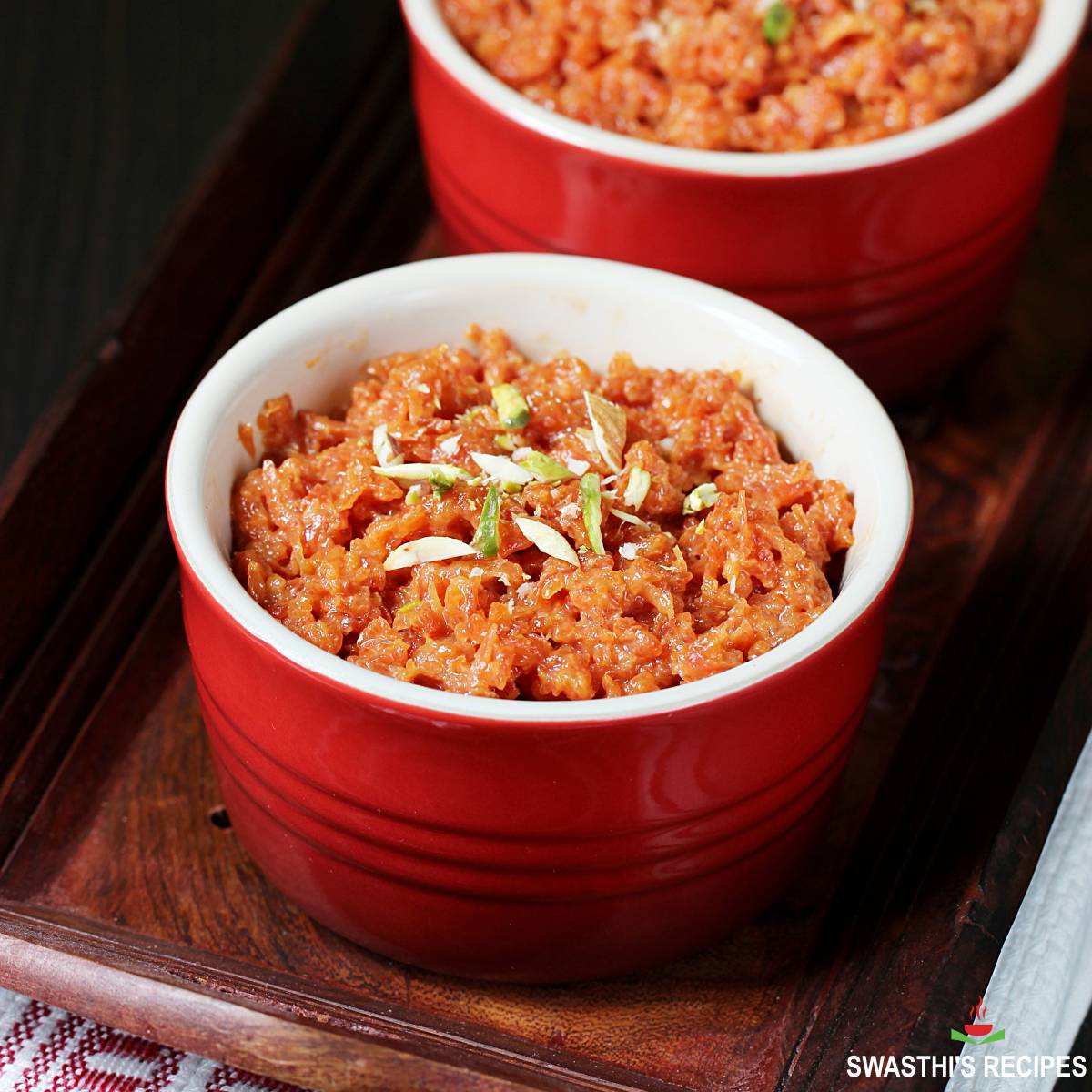 More Halwa recipes
Rava kesari
Moong dal halwa
Badam halwa
Lauki ka halwa
How to make carrot halwa (stepwise photos)
Preparation
1. Wash 500 grams (half kg) carrots thoroughly under running water. Peel and fine grate them. A food processor quickens the process of grating. So if you own one, you can use it.
Make sure you use a heavy bottom large pot or pan for this recipe as it helps to prevent the halwa from sticking to the bottom and burning. However a pressure cooker too works well.
If you do not have cardamom powder, crush 4 green cardamoms in a mortar pestle or a spice jar.
2.On a low heat, roast 10 pistachios, 5 to 6 almonds and 5 cashew nuts until crunchy. Remove them to a chopping board, cool and chop them. OR Alternately chop the nuts first and fry them in one tablespoon ghee until golden and crunchy. Set aside. If you prefer to use raisins, you may fry them in ghee until plump. Set aside.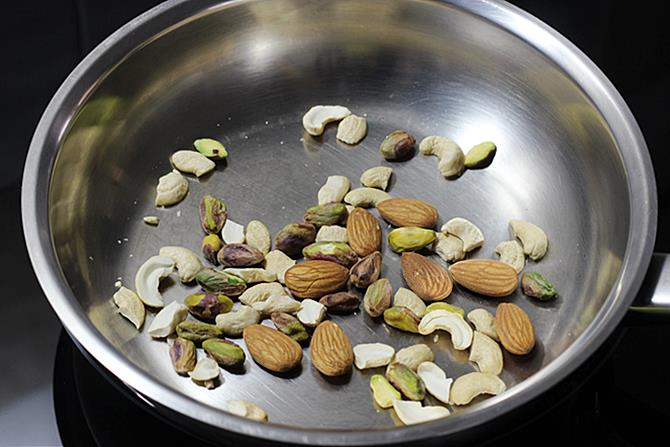 3. Next to the same pan, pour 2 cups milk and begin to heat it.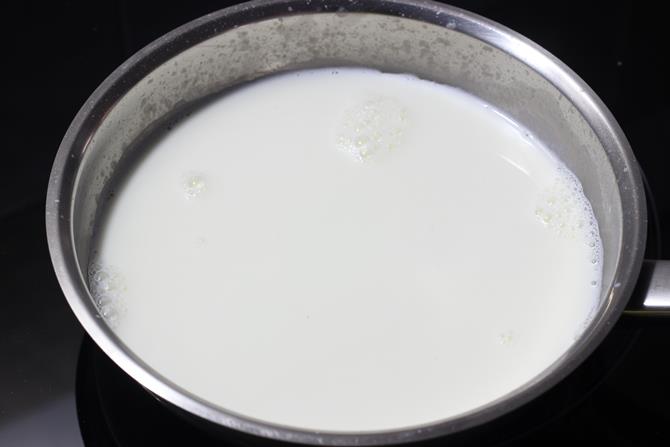 Simmering carrots with milk
4. Add grated carrots. (Optional – If using regular carrots and not (delhi gajar) red carrots then you can saute the carrots in ghee until a nice aroma comes out then pour milk. )(check video for details)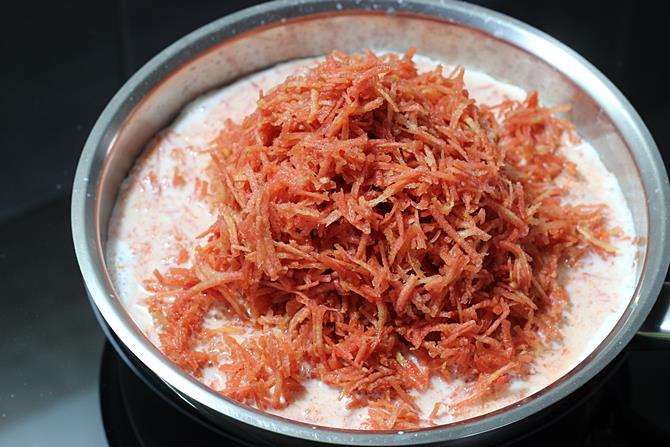 5. Stir and cook on a medium flame. Keep stirring to prevent burning at the bottom. Since I used a heavy bottom pan, I didn't have to stir very often. But I suggest consistently keep checking otherwise the halwa will stick at the bottom.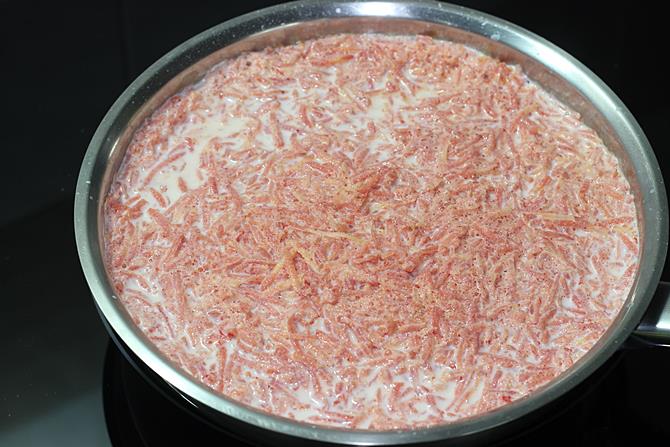 6. You will have be cautious always towards the end. Especially when the milk has almost evaporated.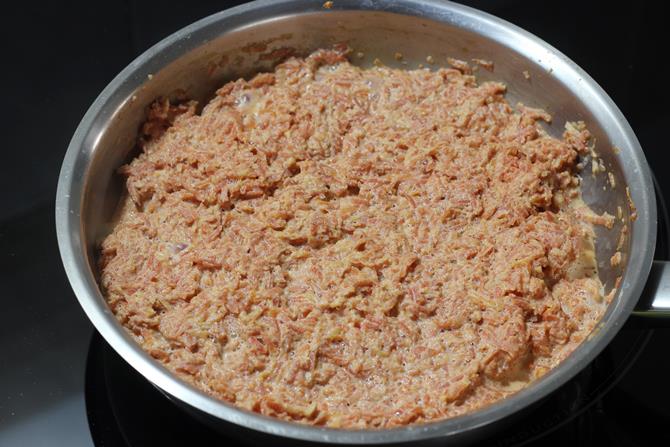 7. Cook until the milk completely evaporates.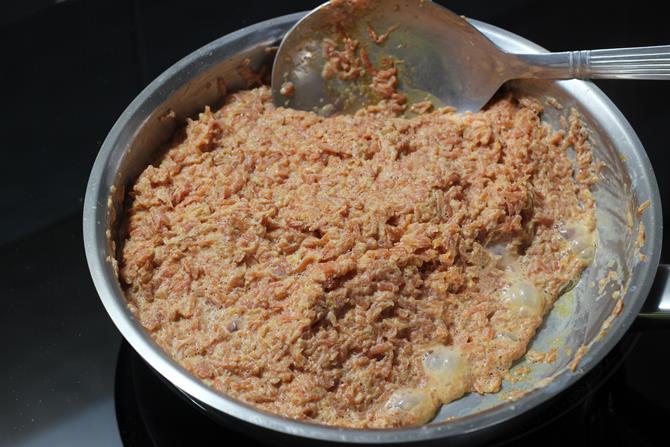 8. Next add half cup + 2 tablespoons sugar and stir.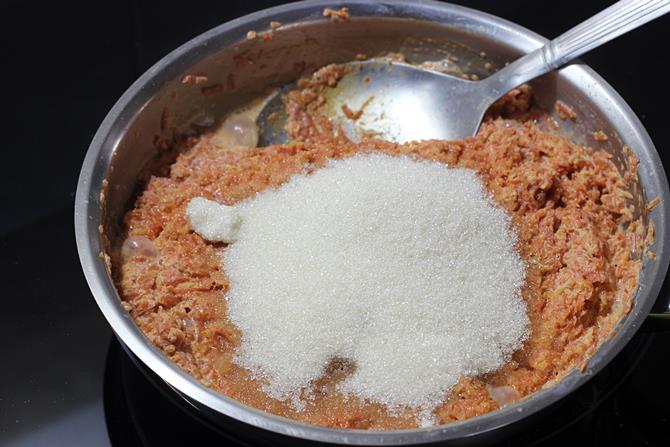 9. Sugar melts and carrot halwa turns gooey once again. Stir and cook. When the moisture is half evaporated, add 1 tablespoon ghee and stir well.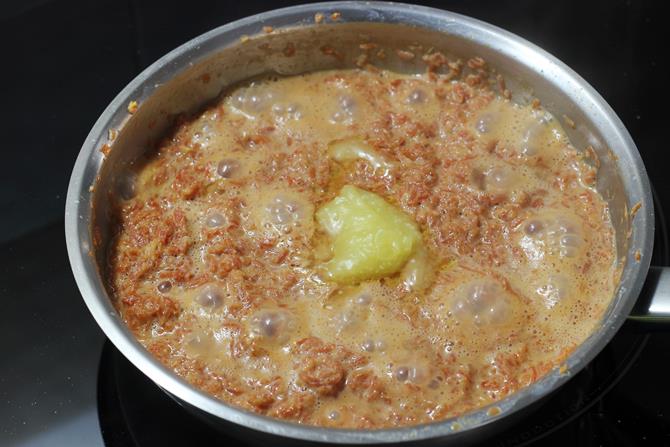 10. Stir and cook until the halwa thickens. Just before you finish off, add half teaspoon cardamom powder.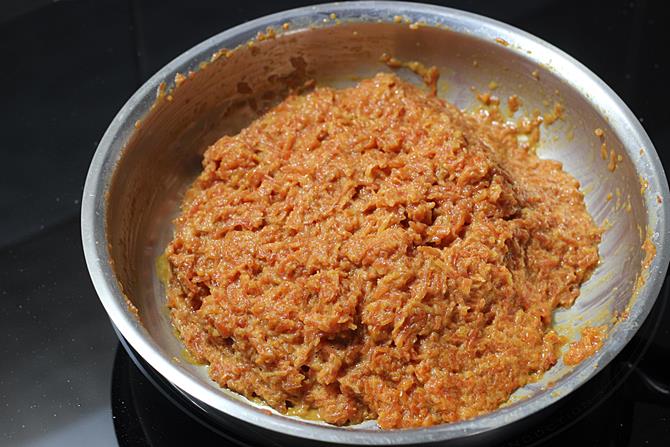 Finally garnish carrot halwa with nuts & raisins. Serve chilled or warm.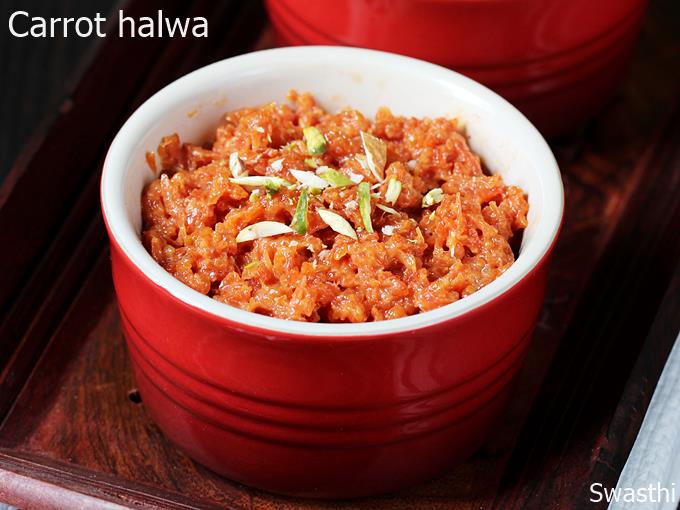 Method 2 – Gajar ka halwa with condensed milk
This method comes handy when you want to make this dessert for an occasion as it is quick to make. Using condensed milk cuts down half the cooking time and the resulting halwa is much richer, flavorful and delicious.
To make this, you can use Delhi gajar or the regular carrots. When I made this I used the regular carrots as Delhi gajar is seasonal and is not available in Singapore throughout the year.
Ingredients
500 grams carrots (tender, young)
½ tin condensed milk (½ cup + 2 tablespoons)
¼ teaspoon cardamom powder or 1 teaspoon rose water
1½ tablespoon ghee (divided – ½ tablespoon + 1)
¼ cup chopped nuts (cashews, pistas,almonds)
2 tablespoons raisins
Instructions:
1.Wash and peel young 500 grams carrots well. Grate them either using a food processor or hand grater. Use the fine grater if you have a food processer.
2. Add ½ tablespoon ghee and heat the pan. This prevents the halwa from sticking to the pan & burning. If you want to you can add the ¼ cup chopped nuts. Fry them until lightly golden. Then add 2 tablespoons raisins. When they become plump, remove to a plate.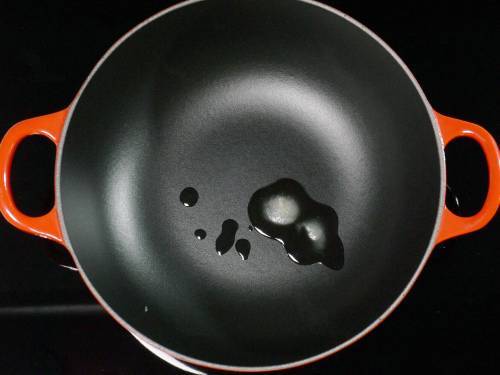 3. Add grated carrots & saute for 2 to 3 mins.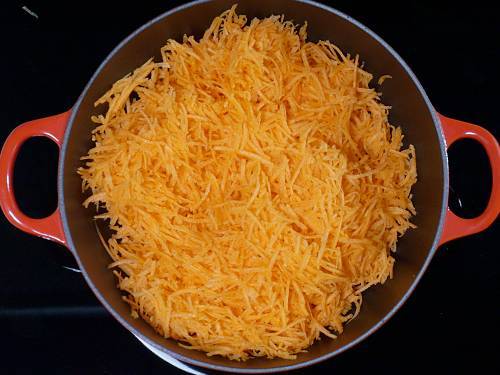 4. Pour ½ tin condensed milk (½ cup + 2 tablespoons).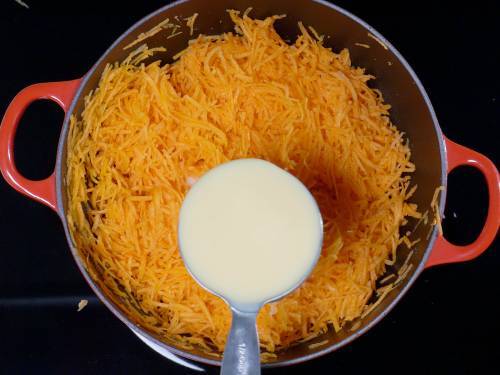 5. Mix well and continue to cook on a medium heat. You will see the carrots begin to release moisture.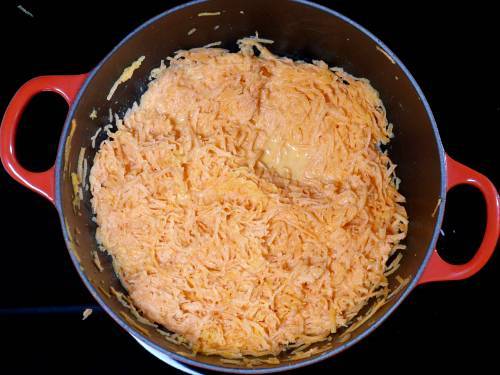 6. Cover and cook until gajar turns soft and tender.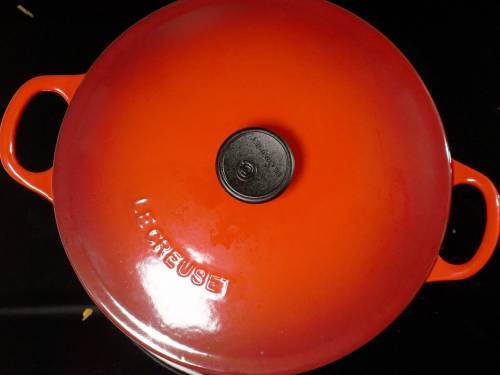 7. Add cardamom powder.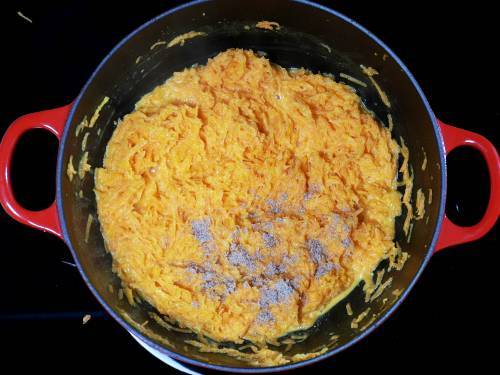 8. Adding 1 to 2 tablespoons of ghee enhances the aroma and taste. You can also add more if you like.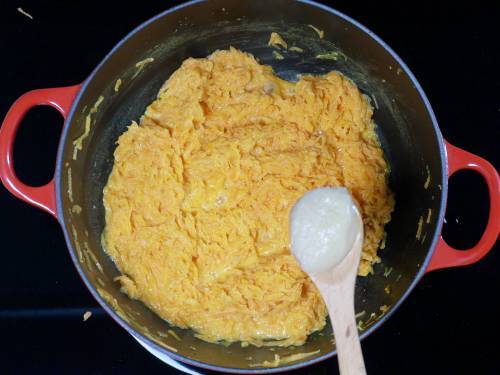 9. Mix and saute until a nice aroma comes out.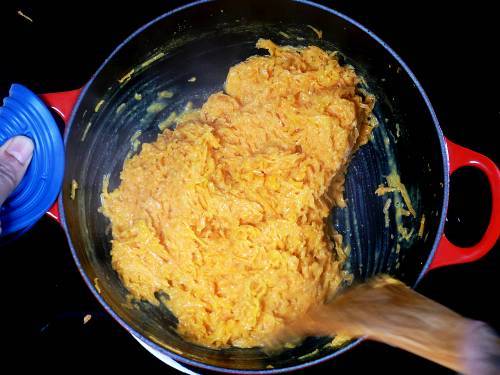 10. When the milk evaporates turn off. Garnish with chopped cashews, pistachios and almonds.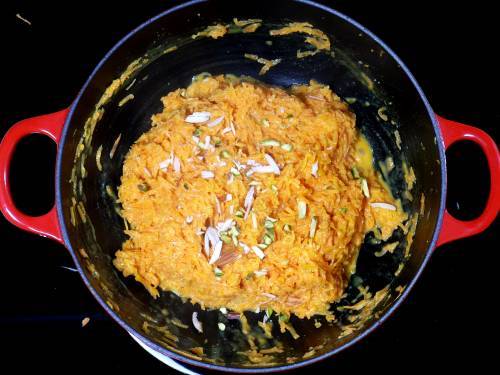 Serve Gajar ka halwa warm or chilled.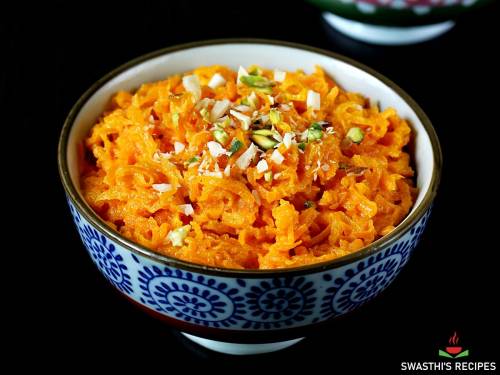 Method 3 – Gajar halwa with khoya
This method also takes much less time than the traditional version since the amount of milk used is lesser.
½ kg carrots
½ cup khoya (unsweetened)
1 cup milk
½ cup + 2 tablespoons sugar
½ teaspoon cardamom powder
Ensure gajar is grated with a medium fine grater. In the method, carrot is not cooked for long time so if the gratings are larger they won't soft cook quickly.
If you want you can fry the nuts & raisins in 1 tbsps ghee. Then add carrots and milk. Cook on a low heat stirring well until carrot turns tender. If the milk evaporates and the carrot are not soft then cover and cook on a lowest heat for few minutes.
Then add khoya and sugar. Mix and continue to cook. The entire mixture turns gooey. Let it cook until gajar ka halwa thickens.
Add 1 tablespoon ghee and saute for 2 mins. Turn off and garnish with nuts and raisins.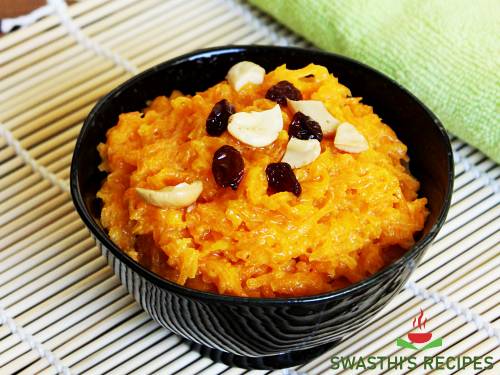 Instant pot carrot halwa
I have been using instant pot for quite some time for all my cooking. Making carrot halwa in an instant pot is a breeze as you don't need to stir the pudding like we do for the traditional method.
Instant pot needs lesser liquids to cook the foods so I use only a cup of milk for 500 grams of carrot. I have included the instructions below for IP.
Pro Tips
Choice of carrots: Always use fresh, tender and young carrots that are less fibrous. If needed taste them before cooking. Carrots that are too old or mature are more fibrous & have a different flavour & texture which do not go well for the halwa.
Young carrots are sweeter in flavour & yield a mouth melting carrot halwa. If you cannot find delhi gajar you can use the regular carrots.
Milk: Use full fat or whole milk to get a tasty carrot halwa. For a low fat version just reduce the amount of milk in the recipe or use low fat milk. You can also skip or reduce the amount of ghee.
If you are a vegan you can make this halwa with coconut or almond milk.
Grating carrots: Grate the carrots with a hand held grater or food processor. I always use a food processor. You can grate to thick or thin shreds depending on how you like your carrot halwa to be. My kids like them to be very fine as the halwa just melts off in the mouth. But for this post I have used larger gratings.
Sautéing carrots: My mom makes the this by first sautéing the grated carrot in ghee for 5 mins. Then pouring the milk. However I do not do this just to save time. Adding ghee at a later time, once the halwa is cooked gives a more intense flavour. So you can do either ways.
Cooking: Be cautious & do not leave the carrot halwa on the stove unattended as the milk will get scorched and burnt. You will need to constantly stir the gajar halwa.
Related Recipes
Recipe card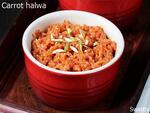 Carrot halwa recipe | Gajar ka halwa
Gajar halwa is a classic sweet dish from Indian cuisine made with carrots, sugar, cardamom powder and milk. This recipe post shares 3 methods of making carrot halwa. Instructions for Instant pot included.
Pin Recipe
Print Recipe
For best results follow the step-by-step photos above the recipe card
Ingredients (US cup = 240ml )
½

kg

carrot

(gajar)(500 grams) (prefer young carrots)

2

cups

milk

(1 cup for Instant pot)

½

cup

sugar

(+ 2 tbsp optional) (prefer organic)

½

teaspoon

cardamom powder

(or 4 pods skinned & powdered)

2

tablespoons

ghee

(clarified butter)
optional ingredients
20

mixed nuts

10 pista, 5 cashew & 5 almonds

2

tablespoons

raisins

optional
Instructions
Preparation
Wash carrots under running water & peel them.

Grate them in a food processor or with a hand grater.

Dry roast nuts on a low heat until crunchy, cool & chop them. OR Alternately chop the nuts first & fry them in 1 tbsp ghee until slightly golden. Then add raisins & fry until they plump up. Remove to a plate.
How to make carrot halwa
Next bring milk to a boil in a heavy bottom pot or deep pan.

Add grated carrots and cook on a medium heat stirring often.

Do not leave the pot unattended as the milk will get scorched.

When the milk has completely evaporated add sugar and stir well.

Sugar will release lot of moisture & will make the entire carrot halwa gooey.

Cook until half the moisture evaporates, then stir in the ghee.

Saute the carrot halwa well in ghee until the moisture evaporates completely.

When it is done gajar halwa turns aromatic & thickens. It will still be moist. Sprinkle cardamom powder.

Garnish carrot halwa with nuts. Serve warm or chilled with Ice cream.
Instant pot gajar halwa
Press the saute button and add 1 tbsp ghee to the steel insert of the IP.

When it is hot fry the nuts until light golden.

Then add in raisins if using. When they plump up remove to a plate.

Then add in the carrots & saute for 2 to 3 mins stirring well.

Pour 1 cup milk and mix well. Deglaze by scrubbing the bottom of the pot with a spatula.

Secure the instant pot & position the steam release handle to sealing.

Press the pressure cook (manual) button & set the timing to 3 mins.

When the instant pot beeps and finishes, do a manual pressure release carefully.

Stir in the sugar, ghee & cardamom powder.

Press the saute button & saute until the milk evaporates completely.

Garnish gajar halwa with chopped nuts & raisins.
Alternative quantities provided in the recipe card are for 1x only, original recipe.
For best results follow my detailed step-by-step photo instructions and tips above the recipe card.
NUTRITION INFO (estimation only)
Nutrition Facts
Carrot halwa recipe | Gajar ka halwa
Amount Per Serving
Calories 319
Calories from Fat 126
% Daily Value*
Fat 14g22%
Cholesterol 31mg10%
Sodium 141mg6%
Potassium 594mg17%
Carbohydrates 44g15%
Protein 5g10%
Vitamin A 21085IU422%
Vitamin C 7.3mg9%
Calcium 186mg19%
Iron 0.6mg3%
* Percent Daily Values are based on a 2000 calorie diet.
Carrot halwa recipe first published in June 2013, Republished in Dec 2020.