Halwa recipes, 25 Indian halwa varieties
Halwa recipes. Halwa is a dessert which is popular not only in Indian cuisine but also in Asian and Middle Eastern cuisines. Flour,semolina, grains or nuts form the base of a halwa and is garnished with nuts. It is known differently as aluva, chalava,halva etc. Traditionally it was prepared using semolina/ rawa, seeds and nuts but in the recent times we get to see many variations including vegetables and fruits.
It is one of the desserts that is made during most festivals like Ganesh chaturthi, Navratri, Diwali, Holi, Ramadan iftar, celebrations and religious ceremonies. It became popular since it is easy to make even for a large gathering with minimum number of ingredients.
Making any kind of halwa is super quick and easy, hence can be made even by busy & new moms or bachelors too. All the recipes are for beginners and needs no prior preparation.
Popular halwa varieties
In India, each region has their own touch up given to it like using colors, ghee , milk solids/ khoya, milk etc. Gajar halwa, sooji halwa, dudhi halva, moong dal halva, atta halva are some of the popular varieties prepared during most festive occasions.
It is also called as sheera or kesari in some regions. Kesari or kesari bath is a colored version of the sooji halva that is prepared in South India.
Pineapple kesari, rawa kesari and fruit kesari are some of the most common kesari varieties made.
I have put together few recipes that i have already posted on the blog hope these will be helpful for a quick access for any festivals, occasions or parties. Most of these are light and can also be served as a after meal dessert too.
Collection of halwa recipes
1. Carrot halva – One of the classic sweet desserts from the north Indian cuisine popularly known as gajar ka halwa. I have shared the traditional method of making the dish.
2. Rava kesari is a south Indian version of the North Indian suji halwa. Apart from making it for festive occasions it is also eaten as a breakfast dessert. This recipe yields you kesari that is soft and not sticky.
3. Lauki ka halwa is a delicious dessert made by simmering bottle gourd or lauki in milk. It is flavored with cardamom powder.
4. Besan ka halwa is a delicious North Indian sweet made of besan or gram flour, ghee, sugar and water or milk.
5. Moong dal Halva is a festive delight from Rajasthani cuisine made during festivals. It is made of skinned green gram dal or moong dal, sugar and ghee.
6. Orange suji halwa – orange flavored semolina or rava kesari made with fresh orange juice. This can be had with breakfast or as after meal dessert.
More halwa recipes
7. Suji halva also known as sheera in the south is similar to kesari but without kesar added. It is made with semolina or bombay rawa and is made most commonly to serve as a light dessert. It is also made during festivals.
8. Banana sheera – Often made to offer to God during Puja as naivedhyam or prasad. This is made with semolina, ripe banana, little sugar, ghee and nuts
9. Badam Halva is another festive dessert that os made with blanched and soaked almonds. A generous amount of ghee, milk and cardamom powder is what makes this delicious.
10. Gajar ka halwa with condensed milk – Quick recipe to try when one is short of time. This is great to make for parties or occasions when you do not have much time to make any dessert.
11. Pineapple sheera – Made with fresh pineapple, suji or semolina, ghee and sugar. It can also be made with canned pineapple chunks. It can be served as a breakfast dessert or in a meal.
12. Fruit halva – Made with mixed fruits, ghee and suji. A good one to make when you have excess fruits at home.
13. Beetroot halva – Made with grated beets and sugar. I have made this with milk. However it can be made without milk.
14. Pumpkin Halwa – Best to make when pumpkins are in season.
More halwa recipes
15. Bread halwa recipe – A delicious dessert made with bread, milk and dry fruits.
16. Dates mawa halva – A rich festive dessert made with khoya and sweetened with dates and no other sweetener is used. This is healthy and great to enjoy during religious fastings.
17. Papaya halwa is made with ripe sweet papaya. It is a light dessert that's made without milk. To make it with less sugar use ripe and sweet papaya.
18. Milk kesari
19. Semiya kesari – Made with vermicelli and sugar.
21. Ragi halwa – Red millet flour halwa made in traditional karnataka style.
22. Apple Ragi Made with apple and ragi, no milk is used
23. Mango halva/ kesari – Made with ripe mango and whole wheat rava.
24. Oats halva Made with oats, nuts and jaggery.
25. Lentil halva using jaggery – Quick & healthy protein rich sweet made with jaggery and ghee.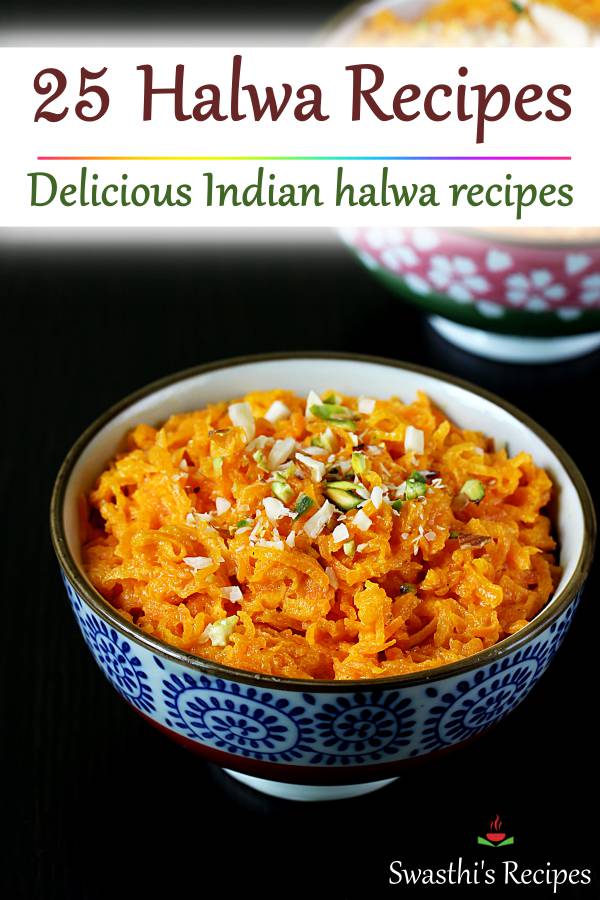 About Swasthi
I'm Swasthi Shreekanth, the recipe developer, food photographer & food writer behind Swasthi's Recipes. My aim is to help you cook great Indian food with my time-tested recipes. After 2 decades of experience in practical Indian cooking I started this blog to help people cook better & more often at home. Whether you are a novice or an experienced cook I am sure Swasthi's Recipes will assist you to enhance your cooking skills.
Follow Swasthi's Recipes