Chick Peas Toddler food recipe – A major Indian Population consists of vegetarians who depend on legumes or lentils for their protein intake. There exists at least one lentil based dish in every meal. Chickpeas called as chole or chana are rich in protein and fiber making them a good option for kids including toddlers.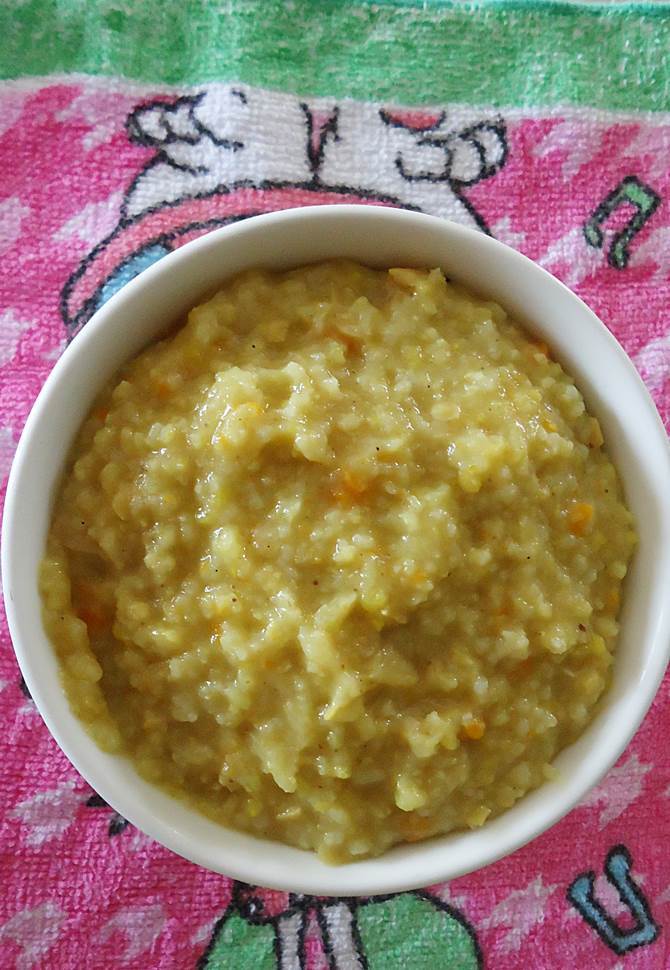 To make this Indian toddler food, chickpeas have to be soaked overnight before cooking else they might leave the kid bloated with a tummy ache.Carrots and chickpeas make a good combo and carrots add mild sweetness to the food. Indian cuisine is all about using spices not only for flavor but also for health benefits. carom seeds are used in this recipe to alleviate gas.
If you do not prefer to use mild garam masala for toddlers and kids, you can skip. But we do use in moderation along with ground turmeric.
Indian Toddler food Recipe
Ingredients
2 tbsps. Long grain rice (soak for 30 mins)
20 soaked chickpeas (soaked for at least 12 to 15 hours for easy digestibility)
Piece of carrot (cubed)
1/6 tsp. garam masala (coriander, cardamom, jeera, cloves, cinnamon)
1/6 tsp. ginger garlic paste
2 pinches of carom seed powder (ajwain)
135 ml water (adjust as per the desired consistency)
pinch of turmeric & pepper pow
1 tsp. ghee or butter
Salt to taste
How to make Indian toddler food
1. Wash and soak the rice for 30 mins. Drain the water.
2. Pour 135 ml water to rice and chickpeas.
3. Add carrot,ginger garlic paste, garam masala and pressure cook for 4 whistles
4. Mash the rice and add turmeric,pepper, carom pow, butter or ghee. you could even blend them to a puree.
5. you can temper using curry leaves, mustard and cumin.( I don't Temper)
This can be served with a clear vegetable soup or light rasam like daniya rasam (tamarind rasam) or with a tomato rasam without rasam powder.
If you are looking for more Indian toddler food recipes, check my chickpeas methi rice, potato rice with ajwain, sago kheer