Ragi Malt (Ragi Java, Ragi Porridge)
Ragi Malt with stovetop & Instant pot instructions. Ragi Malt is a nutritious drink made with ragi flour & water or milk. Also known as Ragi Java, it is a healthy, delicious & nourishing traditional beverage made in south India for breakfast or snack. In this post I share how to make a simple smooth ragi malt just under 10 minutes.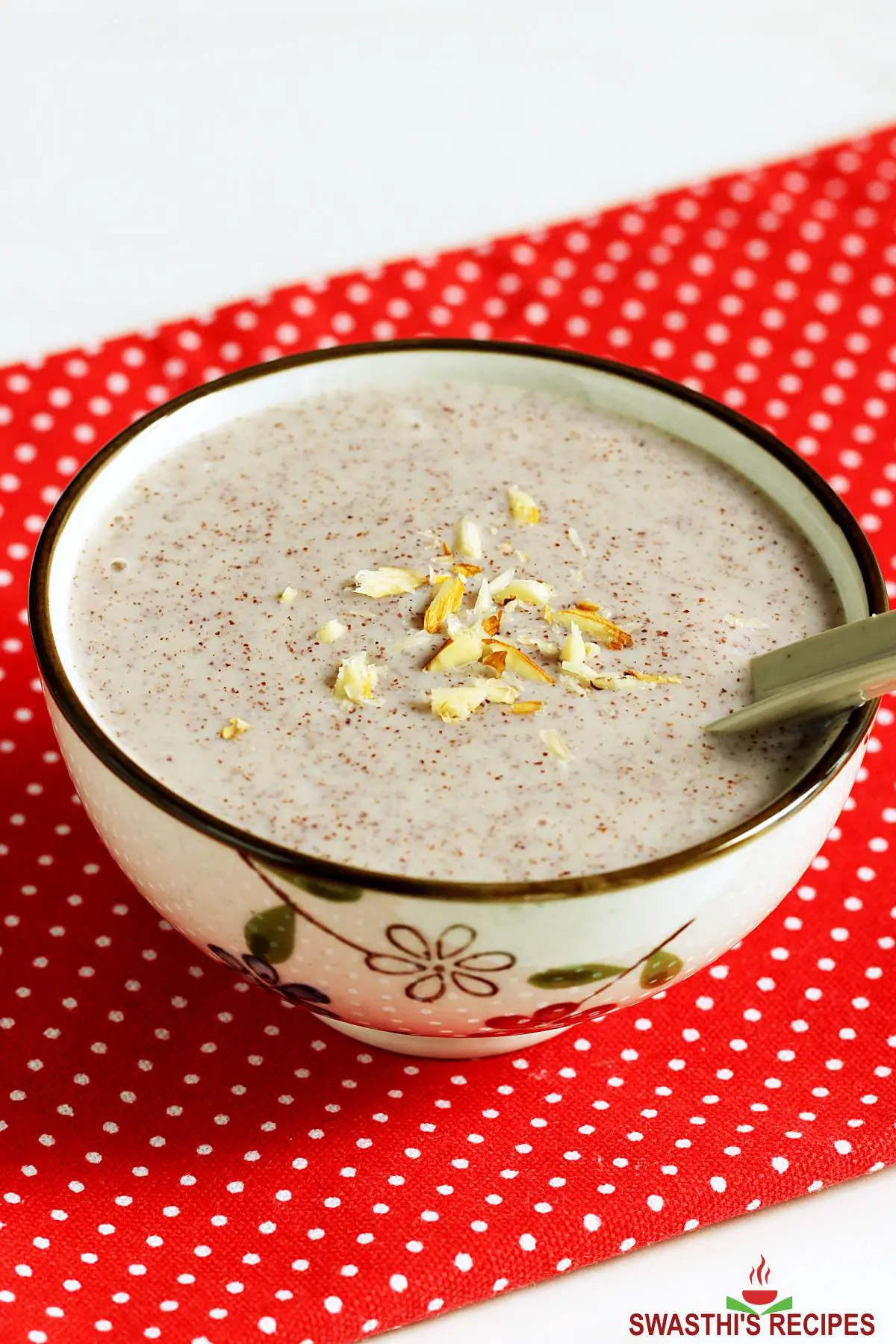 Ragi is an ancient super food not much known to the other parts of the world. If you are new to Ragi read on to know more.
What is Ragi ?
Ragi is a cereal grain that is widely grown and eaten in southern parts of India. It is known as finger millet in English. It is well known as ragi in kannada, ragulu in telugu, kezhvaragu or keppai in tamil, Marwa in Bengali & Nepali, Nachani in Marthi & Gujarati and mandika in Hindi.
While there are many kinds of millets available in the Indian market, finger millet has been one of the most spoken about mainly for 2 reasons.
Firstly the affordable Price. Secondly high nutritional values that include calcium, iron and vitamins b1 to b3. The nutrients in these millets are easily absorbable making them superior from their counterparts.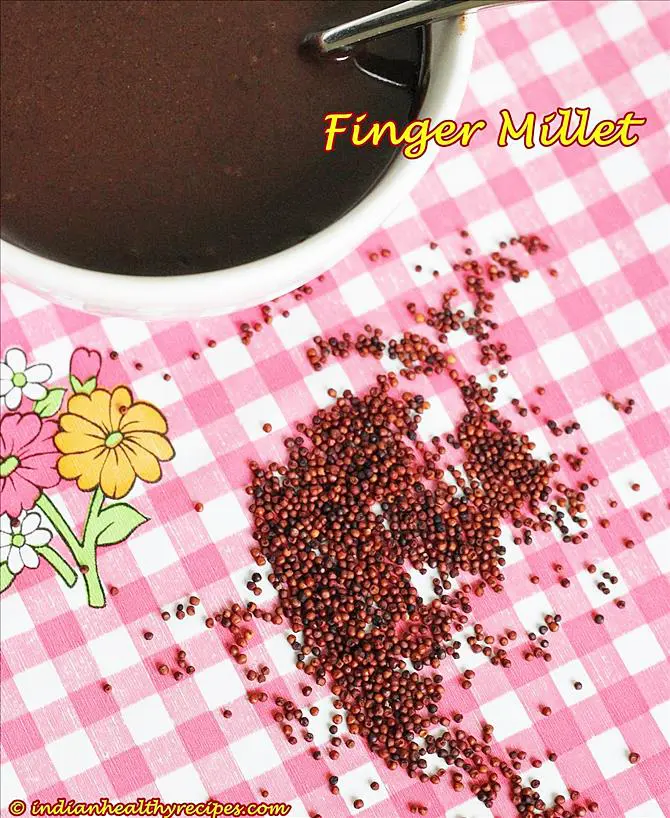 How to use ragi?
These grains are milled and the flour is used to make various dishes like malt, porridge, cookies, dosa, ladoo, roti etc. With the health awareness in the recent times, today's markets are flooded with many products like ladoos, ragi biscuits, and flour too for making ragi roti or instant ragi dosas.
About Ragi Malt
Ragi malt is a drink made by cooking ragi flour with water or milk. Ragi refers to finger millets and malt translates to germinated grains. So ragi malt traditionally means sprouted ragi flour cooked with water or milk.
However it can also be made with regular ragi flour that is homemade or store bought.
To make ragi malt, many women sprout these grains at home and shade dry them and mill them to flour. If making ragi malt for babies & kids then we always sprout the ragi and make the flour. As ragi malt made with sprouted ragi is more nutritious and easily digestible.
Every year during our trip to India, my mom sprouts the ragi and gets it milled to flour. I bring it to Singapore and store it in the fridge and use up with in 6 to 8 months.
So this ragi malt is one that is made often for myself & my kids. I have also included Instant pot instructions in the recipe card. It is so much easier to make in the IP as there is no stirring and no baby sitting. The texture turns out to be good as well.
More Ragi Recipes
Ragi ladoo
Eggless ragi biscuit
Ragi dosa
Soft ragi idli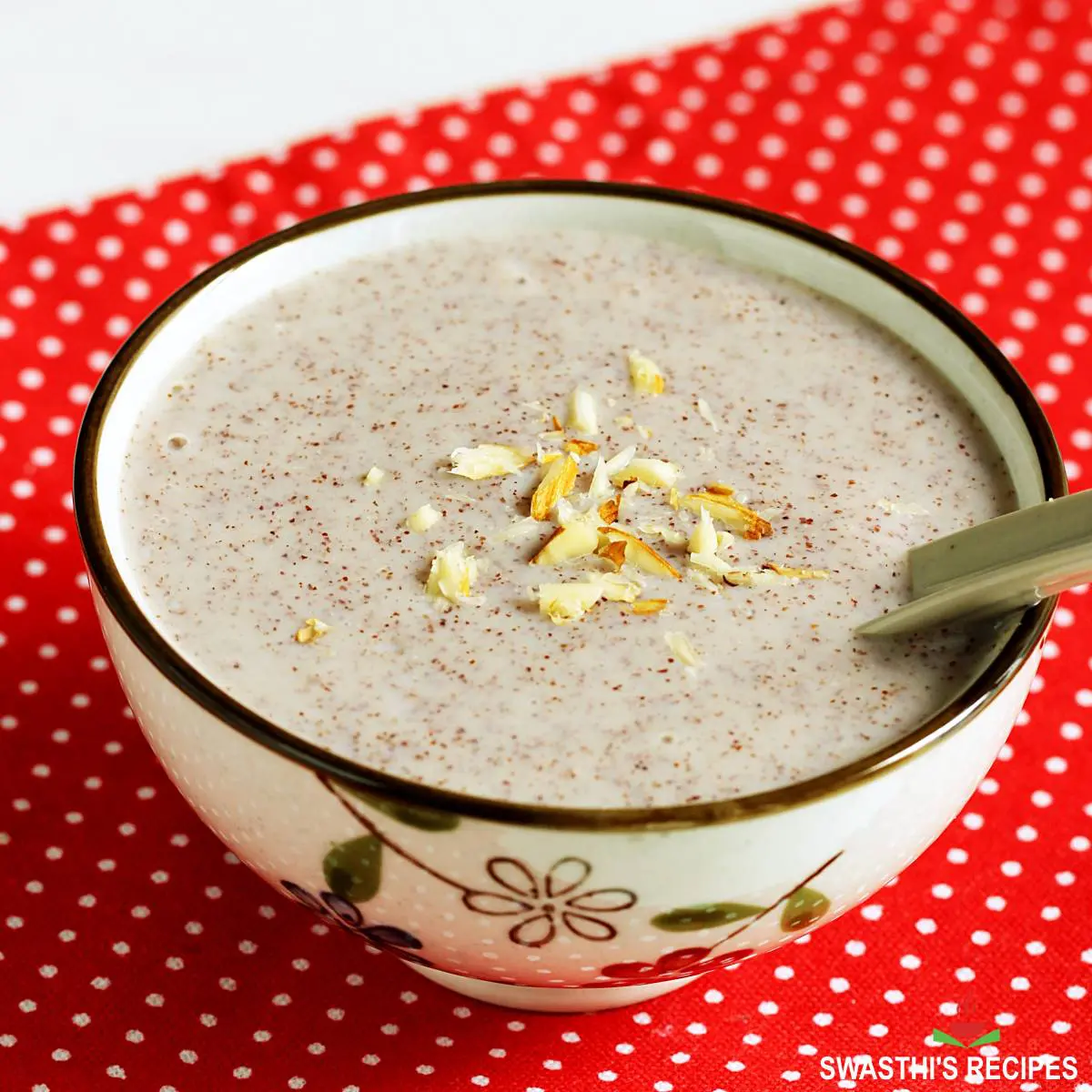 How to make Ragi Malt (Stepwise Photos)
1. Add 4 tablespoons ragi flour to a heavy bottom pan or pot.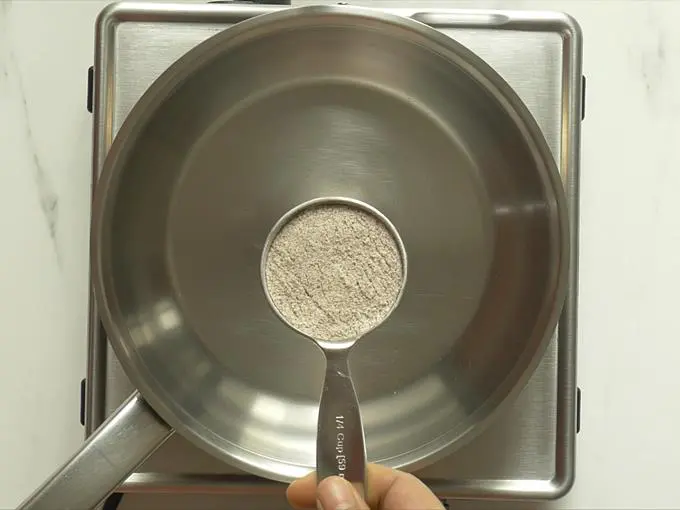 2. Pour 1½ cups water. Remember the stove is off yet and we are not cooking it at this stage.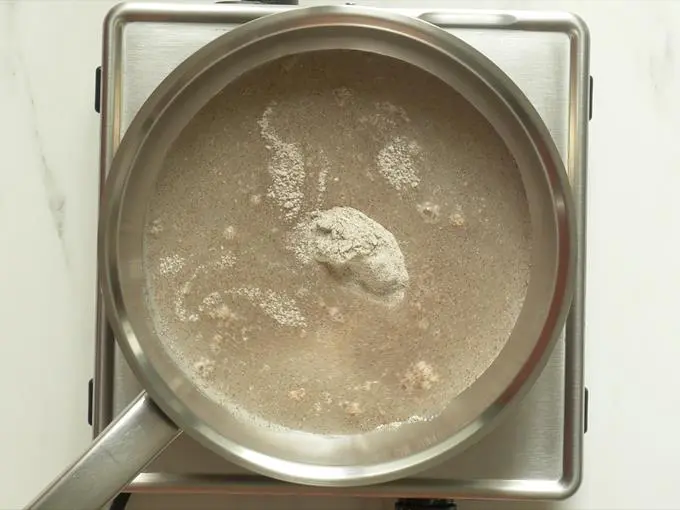 3. Mix well and ensure there are no lumps in the ragi flour mixture. Turn on the stove and begin to cook stirring often on a medium flame to prevent lumps.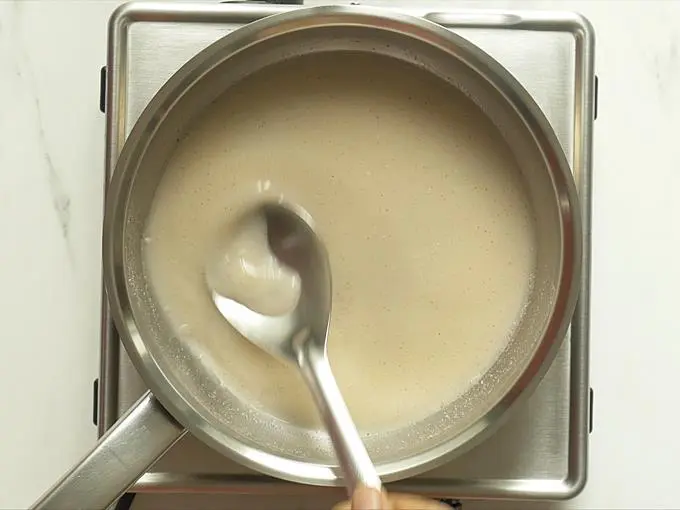 4. Keep stirring continuously and cook until the mixture turns thick and glossy. You will see there are no lumps.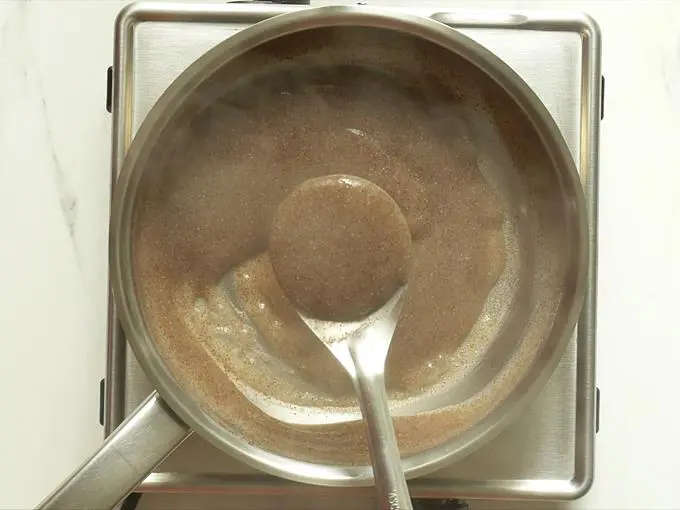 5. Then add jaggery or any other sweetener. Mix well and turn off the stove.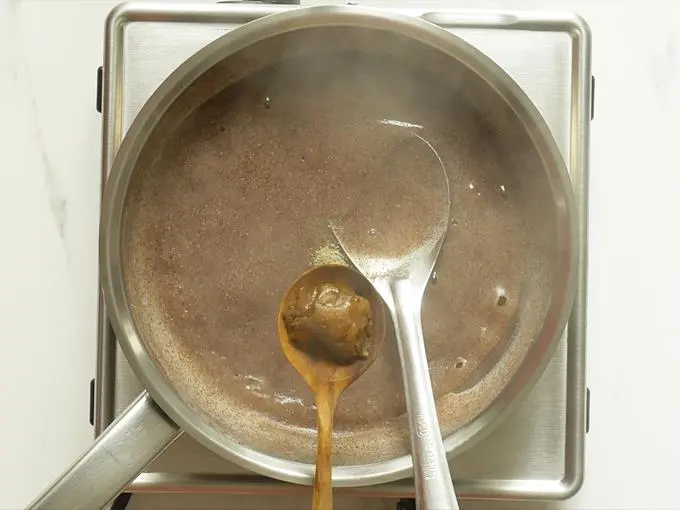 6. I went ahead using 1 cup milk here. You can use even lesser. Slowly incorporate the milk to the ragi malt and mix well. I used preboiled milk here. If you use cold milk, slowly bring it to a boil and turn off.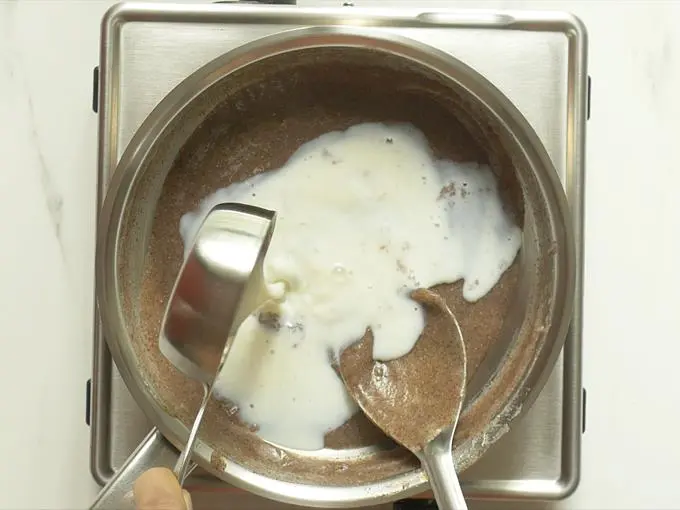 7. Stir well to incorporate the milk well with the ragi malt. Add almond powder or mixed dry fruits powder if using. You will see smooth ragi malt.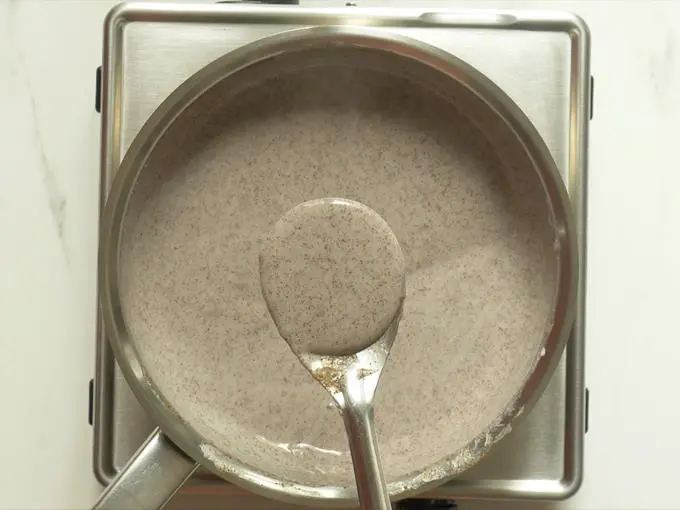 For salted version – After cooking it in water, cool it completely and season it or add butter milk to bring it to the desired consistency and season it. You can find the detailed recipe in the recipe card.
Serve ragi malt warm or cold. We usually top the ragi malt with ghee and nuts.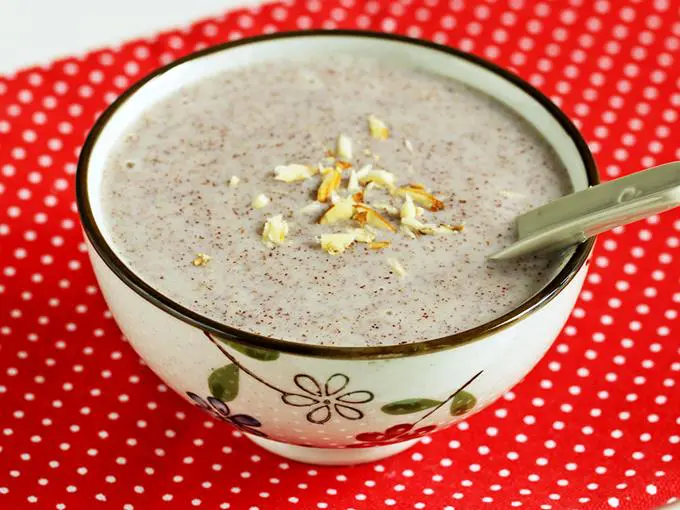 How to make Ragi Malt for Babies
Introduce ragi only after your baby completes 6 months. Please consult your pediatrician before you introduce this to your baby.
Babies do not need any sweet or salt in their food. So just mix 2 tbsp of ragi flour in a pot with 1 cup of water. Mix well to prevent lumps. Cook on a medium flame stirring often until smooth, thick and glossy.
Turn off the stove. Cool this and feed when the ragi is still warm. You can also add steamed and pureed apple or milk to the ragi to bring it to consistency.
You can even use 1/2 tsp. powdered almonds for babies above one year.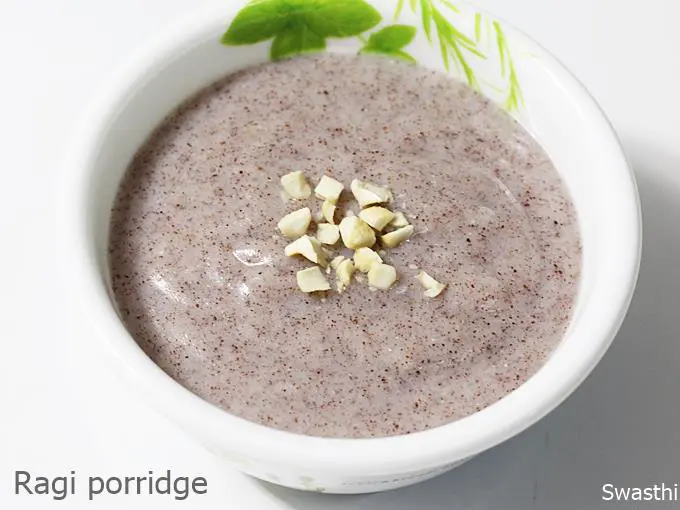 Are ragi malt, ragi porridge & ragi ambali same?
Ragi malt and ragi porridge are the terms used interchangeably by most people. I also know a lot of people say ragi malt to something that has been sweetened, has milk in it & is made with sprouted ragi flour.
Ragi porridge can be salted or sweet. It can be made with or without milk.
Ragi ambali is made by cooking ragi flour in water. It is then cooled completely and then butter milk (thinned down yogurt) is added to this along with salt. Then tempered with tempering ingredients like curry leaves, mustard and chilli.
How is ragi malt made?
Ragi malt is made by cooking ragi flour in water until a thick and smooth consistency is achieved.
Then to thin down either milk or butter milk can be added. Here are the details for 2 versions.
Sweet version: You can add milk and sweeten the ragi malt. You can also skip milk and just add fruit puree or chopped fruits like banana, apple or any other fruit of your choice. We usually do not add papaya and mango to the ragi malt. Do not use milk with fruits in ragi malt.
Savory version: Add salt to the cooked ragi and heat a small pan with 1 tsp oil. When the oil turns hot, add mustard & a pinch of cumin. When the mustard crackles, add curry leaves, green or red chilli and hing. Pour this to the cooked ragi.
Pro Tips
Most times I cook the ragi malt with water as it turns too heavy with milk.
Cooking ragi with milk may hinder the absorption of iron from ragi. So it is good to cook and consume it without any milk products. But it is up to you to judge.
You can skip the sweetener and add chopped dates or maple syrup to sweeten the ragi malt.
To enhance the nutrition you can add dry fruits powder. I usually blanch almonds, dry them completely and make almond meal for my toddler. Add a tsp of this to the ragi malt.
You can also blend together mixed nuts and few dates in a small chutney jar. Add this to the cooked ragi malt.
Consuming ragi with fruits high in vitamin C helps in absorption of iron from ragi. So adding an apple or banana to your ragi malt helps in absorption of iron. Avoid using milk in this case.
Health Benefits of Ragi Malt
Ragi is one of the super foods that is nutrient rich and helps to prevent iron and calcium deficiencies. Here are some health benefits
Women: It is believed that the consumption of ragi regularly help women to combat osteoporosis and to keep the bones strong. As women age the risk of osteoporosis increases and the bones begin to lose their density & become porous. So high calcium foods like ragi are beneficial to prevent it.
Babies: Ragi malt can help babies and kids to have stronger bones, tooth and maintain the iron levels too.
Anemia: Ragi helps to prevent anemia as it is high in iron. But it cannot be used to treat anemia without medication.
Diabetes: High fibres in ragi help to manage diabetes well by releasing the sugars slowly without spiking the blood sugar levels.
Cholesterol: Ragi also reduces bad cholesterol and helps to maintain a good ratio of good vs bad cholesterol.
Steady weight: It is not any magic grain that helps to lose weight. But high fibers in ragi keeps the stomach full for longer and keeps the hunger pangs away. This helps to maintain a steady weight or even lose weight as you don't need to eat often.
High calcium in ragi helps to strengthen bones and teeth in kids.
Provides vital nutrients & minerals needed for the healthy functioning of the body.
Who can consume ragi?
Ragi is a naturally gluten free grain and is suitable to everyone from babies to the aged. There are exceptional cases where ragi can cause loose stools or constipation due to high fiber.
So to increase the digestibility, the grains are soaked for 24 hours and optionally sprouted, then dried and milled. It is usually consumed in the form of this malt or porridge which I am sharing today.
How to make ragi flour for ragi malt?
We rarely use store bought ragi flour since I always carry the sprouted flour from India. On occasions I have bought the flour and even made it myself in the mixer as I always have even the whole ragi at home.
If you do not have ragi flour, then you can make your own by adding the whole grains to a heavy duty mixer. Powder the grains and sieve. If making for babies, we usually sieve the flour through a thin cloth. It is a bit of arm work but works great for babies.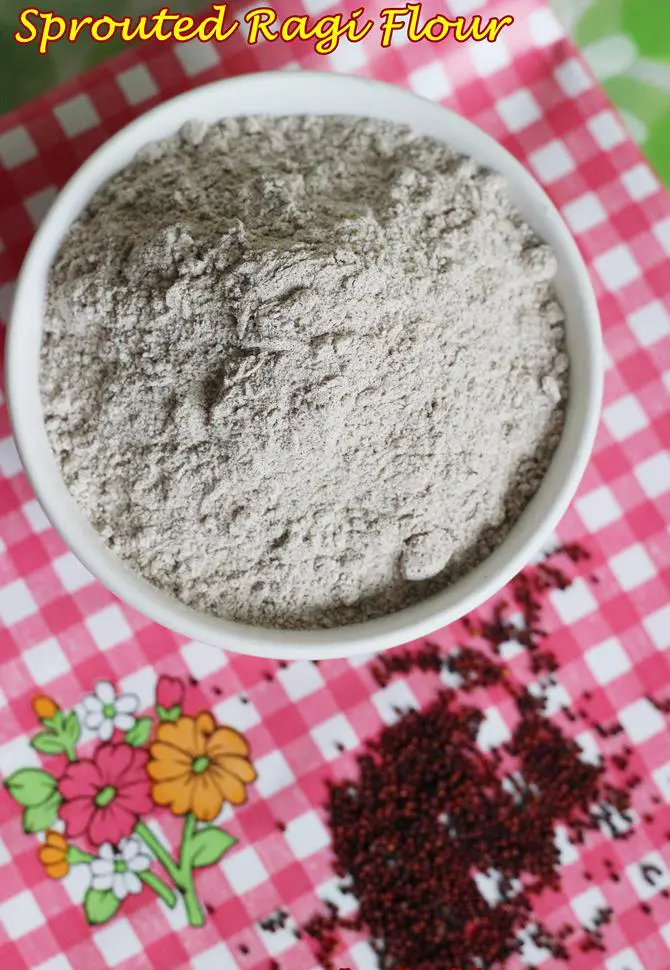 How to make ragi malt using whole ragi?
Babies & toddlers: Ragi and jowar were the staples in the region where I have grown up. So for my babies my mom would soak the ragi overnight and blend them with water in the morning. Then filter it and extract the ragi milk.
This was cooked further until thick. This method of extracting milk and cooking reduces the fibers and hence is easily digestible for babies.
Aged or elderly: For the aged or elderly people with digestion problems, soak ragi overnight and discard the water. Give a good rinse and blend well until smooth with water. Cook this to a thick porridge with water.
If you are new and trying to include ragi in your diet, then do check these 21 healthy ragi recipes which I shared earlier on the blog.
If you are looking for ideas on how to introduce finger millet to your baby, then this detailed post on how to make sprouted ragi flour for babies porridge, how to introduce ragi to babies and apple ragi will help you.
Related Recipes
Recipe Card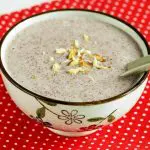 Ragi Malt Recipe (Ragi Java, Ragi Porridge)
Finger millet porridge is known as ragi malt, ragi java or ragi porridge. It is a nutritious and healthy beverage made with ragi flour, water or milk & a sweetener. Instructions for stovetop & Instant pot.
Pin Recipe
Print Recipe
For best results follow the step-by-step photos above the recipe card
Ingredients (US cup = 240ml )
For sweet malt
4

tablespoon

ragi flour

(¼ cup) finger millet flour

1 ½

tablespoon

sugar

or jaggery or or dates

1½

cups

Water

1

cup

Milk

(optional)

4

drops

ghee

(optional)

¼

teaspoon

cardamom powder

(optional)

6

almonds

or cashews or dry fruits powder ptional)
Ingredients for salted java or porridge
4

tbsp

finger millet

(¼ cup) Ragi flour

Salt

to taste

1½

cup

Water

1

cup

Buttermilk

(use as needed)
Seasoning for salted version (optional)
1

tsp

Oil

or ghee as needed

1

pinch

Cumin

1

sprig

Curry leaves

1

tbsp

Coriander leaves

finely chopped

1

Green chili

chopped
Instructions
For sweet ragi malt
Method 1 – Mix together ragi flour and water in a pan.

Mix well to ensure there are no lumps.

Begin to cook this on a low to medium flame, stirring constantly to prevent burning and lumps.

Method 2 – Add ragi flour to a bowl and mix with ¾ cup water. Bring the other ¾ cup water to a rolling boil and then pour this ragi flour mixture. Keep stirring and cook on a medium heat.

After few minutes, you can see ragi malt turns to a glossy thick consistency. You can switch off the heat.

Add sugar/ jaggery and pour more milk as desired to bring it to the consistency.

You can also add a tbsp of almond or dry fruits powder. Add some ghee as well.
For salted ragi java
Mix water and flour in a pan and cook until the mixture looks thick and glossy. Cool this completely.

Then add salt and buttermilk.

If you do not prefer to season it can be consumed by just adding salt & buttermilk.

For seasoning, heat a pan with oil or ghee. Add curry leaves and cumin, when they splutter, off the heat. Add coriander leaves and pour this to the ragi. Stir and consume ragi java.
Instant pot ragi malt
Stir together 4 tablespoons ragi flour with 2 cups water in a large bowl until you see no lumps. Pour 1 cup water to your steel insert of the Instant pot.

Then place the bowl of ragi mixture on the trivet inside your IP. Secure the Instant pot with the lid.

Position the steam release vent to sealing. Press PRESSURE COOK button and set the timer to 5 mins.

Let the pressure release naturally for about 10 minutes. Slowly and gently release the rest of the pressure.

After you open the lid, you may see lumps of ragi. These are just soft balls and will dissolve when you stir them with a ladle. Also adding jaggery or sugar to hot ragi at this stage helps to dissolve them faster.

Give a good mix after adding the sweetener. If you prefer milk pour pre-boiled milk. You can make it thin or thick to suit your preference.

To make the savory version, follow the tempering I mentioned above.
Notes
There are different kinds of ragi flour available in the market. Some need more water than the other, so please adjust the amount of milk and water as needed.
This recipe has been tested with 1x, 2x, 3x quantities in a 6 qt IP. Ensure you use a slightly large bowl so the ragi doesn't overflow. Also do not release the pressure when the IP is in full pressure ragi may blow out. Let pressure release naturally for at least 10 mins.
Nutrition values only for the sweet version.
Alternative quantities provided in the recipe card are for 1x only, original recipe.
For best results follow my detailed step-by-step photo instructions and tips above the recipe card.
NUTRITION INFO (estimation only)
Nutrition Facts
Ragi Malt Recipe (Ragi Java, Ragi Porridge)
Amount Per Serving
Calories 165
Calories from Fat 36
% Daily Value*
Fat 4g6%
Cholesterol 12mg4%
Sodium 62mg3%
Potassium 194mg6%
Carbohydrates 25g8%
Protein 5g10%
Vitamin A 200IU4%
Calcium 143mg14%
Iron 0.6mg3%
* Percent Daily Values are based on a 2000 calorie diet.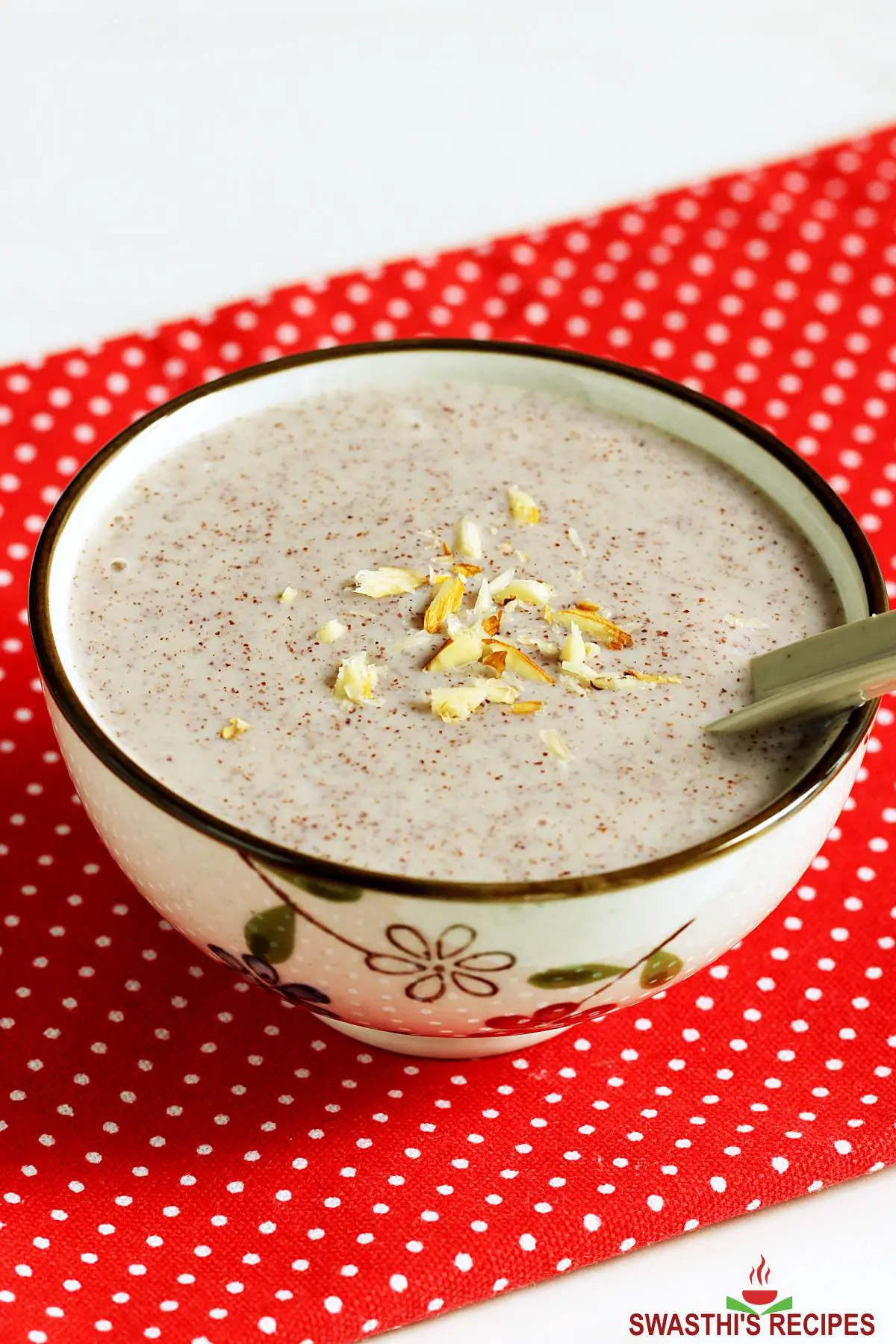 About Swasthi
I'm Swasthi Shreekanth, the recipe developer, food photographer & food writer behind Swasthi's Recipes. My aim is to help you cook great Indian food with my time-tested recipes. After 2 decades of experience in practical Indian cooking I started this blog to help people cook better & more often at home. Whether you are a novice or an experienced cook I am sure Swasthi's Recipes will assist you to enhance your cooking skills. More about me
Follow Swasthi's Recipes