Eggless black forest cake recipe – delicious, rich & a perfect eggless cake to bake for occasions & celebrations. Wishing everyone a very happy & prosperous New year. Black forest cake is a classic dessert made with several layers of chocolate sponge cake soaked with kirschwasser (cherry spirit), then sandwiched with whipped cream & cherries. Lastly it is decorated with some whipped cream frosting, maraschino cherries & chocolate shavings.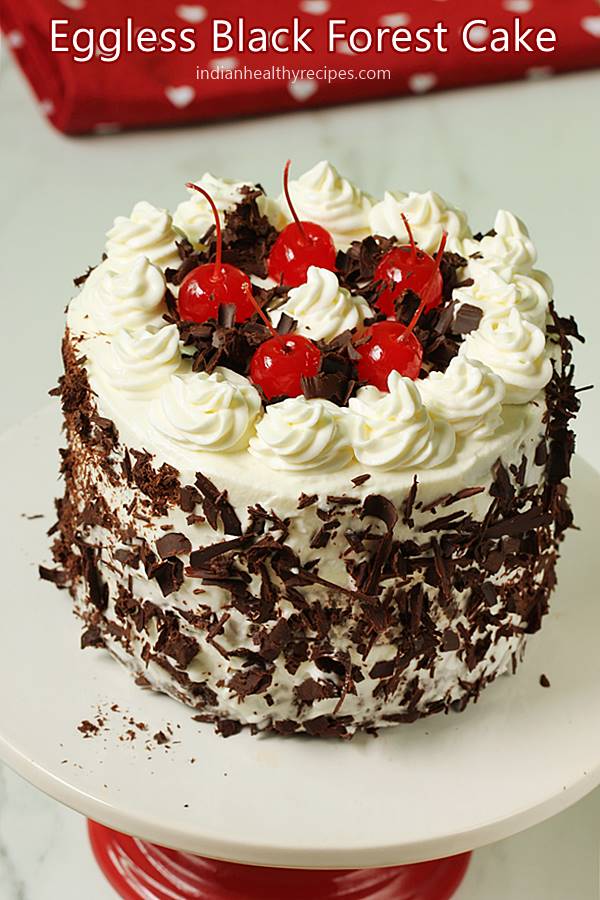 Black forest cake is not the same across the world. It is made with slight changes based on the region. In India black forest cake is made without alcohol. The recipe shared here is not only alcohol free but is also eggless.
Tips on eggless black forest cake
1. Making chocolate cake
For the base, I have roughly adapted this Eggless chocolate cake recipe. If you eat eggs and prefer a fluffy chocolate spongy cake then you can use this Chocolate sponge cake recipe.
If you do not have a oven, you can also bake this cake in a cooker or heavy bottom pot or pan following this Cooker cake recipe
2. Cherries
Fresh cherries are best to use for layering & decorating. Alternately maraschino cherries or tinned cherries can be used if you like the flavor. Just pit the cherries and chop them to bite sizes. Set aside some whole cherries for decoration. Allow the cherries to come down to room temperature before using it on the cake.
3. Cherry syrup
Originally kirschwasser, a clear spirit made of cherries is used to moisten the cake. Alternately freshly made cherry syrup or sugar syrup can be used. You can also use the cherry syrup from canned cherries. Do not use the syrup from the maraschino cherries as the flavor is not good due to the additives. This can be prepared 1 day ahead.
4. Frosting
For the frosting, whipping cream with at least 36% or above works best. I used cream with 36% fat. The more fats the more stable your whipped cream frosting will be. I haven't used any stabilizers but used homemade confectioners sugar. I used 1 tbsp cornstarch for every 1 cup of sugar & blended them together.
More Cake recipes,
Eggless vanilla cake
Chocolate cake
Banana cake
Eggless carrot cake
Video of eggless black forest cake
Eggless black forest cake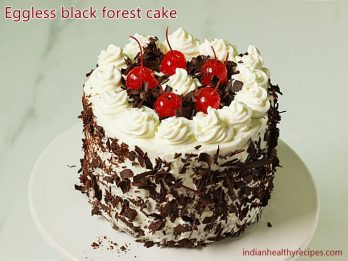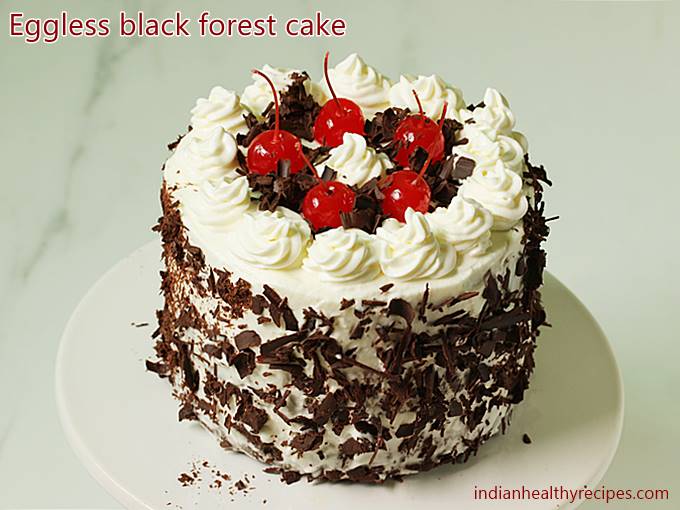 Eggless black forest cake recipe
Easy eggless black forest cake for beginners. Moist, soft & delicious black forest cake made with 3 layers of chocolate cake, cherries, whipped cream & topped with chocolate shavings.
Ingredients (240 ml cup used)
For the chocolate cake (makes two 6 inch cakes)
1½

cups

flour

(wheat or all-purpose flour)

¼

cup

cocoa

(good quality)

1

tsp

baking soda

(recheck expiry date)

¼

tsp

salt

1

cup

fine sugar

or sugar powdered

1

cup

milk

or water (at room temperature, refer notes)

1/3

cup

oil

(I used virgin coconut oil)

1

tbsp

vanilla extract

1

tbsp

vinegar

or lemon juice
Other ingredients
½ to ¾

cup

chopped cherries

(fresh or maraschino)

2

tbsp

sugar

(skip if making cherry syrup)

4 to 5

tbsp

water
For frosting
1½

cups

whipping cream

chilled (36% fat or above)

3

tbsp

powdered sugar

or confectioners sugar (refer notes)
Ingredients for decorating
6 to 8

cherries

(fresh or maraschino)

1

chocolate bar

for chocolate shavings
How to make the recipe
To make chocolate cake
Grease & line two 6 inch cake pans or one 8 inch pan. Preheat the oven to 170 C for at least 15 mins.

Sieve together flour, salt, cocoa and baking soda to a mixing bowl. Mix up the sugar and make a well in the center.

Pour oil, vinegar, vanilla and milk or water. Mix well until just combined and is free of lumps.

Pour the batter to the cake pans and knock to the kitchen counter a few times.

Bake the cake for - 20 mins if using two 6 inch pans. Bake for - 23 to 28 mins if using one 8 inch pan. When done tester inserted comes out clean.

Cool the cake pan on a wire rack for 8 to 10 mins. Invert it on the rack and cool completely before frosting.
Making cherry syrup
If using sugar syrup boil 2 tbsps of sugar in 4 to 5 tbsps of water until the sugar dissolves and comes to a rolling boil. Or add 3 tbsps water to chopped cherries and set aside for 45 to 50 mins. Strain the cherries and collect the syrup. Pat the cherries gently to remove excess juices.
To make chocolate shavings
Keep the chocolate at room temperature for a while until it is easy to handle. Shave the chocolate bar using a fruit peeler. Keep it in the fridge until used.
Preparing frosting
Chill a bowl & beaters for at least 2 hours to whip the cream. I also chill the cake for an hour.

If made to a single 8 inch cake then cut it to 2 layers. I do not prefer to slice the cake so I bake in two 6 inch pans. Pour some cherry syrup or sugar syrup on each layer of the cake. Set this aside.

Pour the whipping cream to the chilled bowl and begin to whip on a low speed then on medium speed until bubbly and slightly thick. Then add the powdered sugar and vanilla. Whip until stiff peaks.

Fit a pipping nozzle inside a piping bag or use a disposable plastic bag. Transfer half cup of whipped cream to the bag. Refrigerate until used. Do not handle the bag a lot else the cream will soften.
Decorating the cake
Spread 1 tbsp whipped cream on the cake stand and place a cake layer over it. Then begin to spread some frosting over it. Spread chopped cherries over the cream.

Next place another layer of cake and spread the frosting. Finish up on the top portion and sides as well. Refrigerate the cream and the cake too for 45 to 50 mins if the cream begins to turn soft.

Lastly spread a generous amount of whipped cream to finish off. Cover the sides of the cake with the chocolate shavings.

Then decorate the cake border using the piping bag. I made about 12 roses you can do as many as you like - big or small. You can make your own designs too.

Place the chilled whole cherries on the roses and then fill up the gaps with chocolate shavings.

Refrigerate the eggless black forest cake until needed.
Recipe Notes
1. Sugar: If you prefer to use powdered sugar, measure 1 cup sugar first and powder it.
2. Milk or water: Milk makes the cake slightly dense but adds richness and flavor to the cake.
3. Make the cake previous night and store it at room temperature.The flavor of cake enhances by the next day.
4. Prepare the frosting and decorate the same day. Refrigerate the cake and finish in 2 days otherwise the texture of the cake turns slightly dense.
5. You can heat up the cake in microwave and spread fresh frosting once it cools down.
Nutrition Facts
Eggless black forest cake recipe
Amount Per Serving
Calories 502
Calories from Fat 252
% Daily Value*
Total Fat 28g 43%
Cholesterol 64mg 21%
Sodium 262mg 11%
Potassium 201mg 6%
Total Carbohydrates 57g 19%
Protein 5g 10%
* Percent Daily Values are based on a 2000 calorie diet.
Step by step photos on eggless black forest cake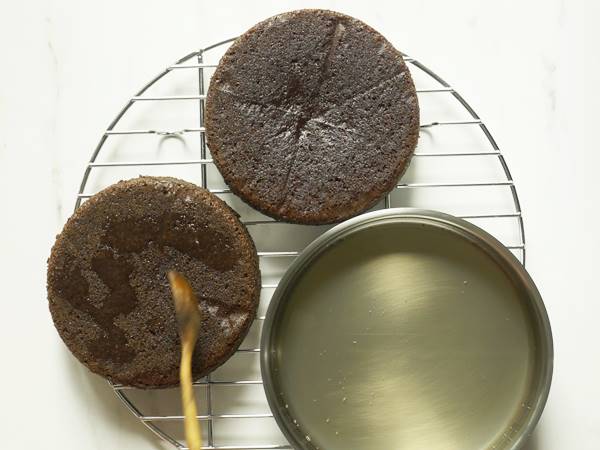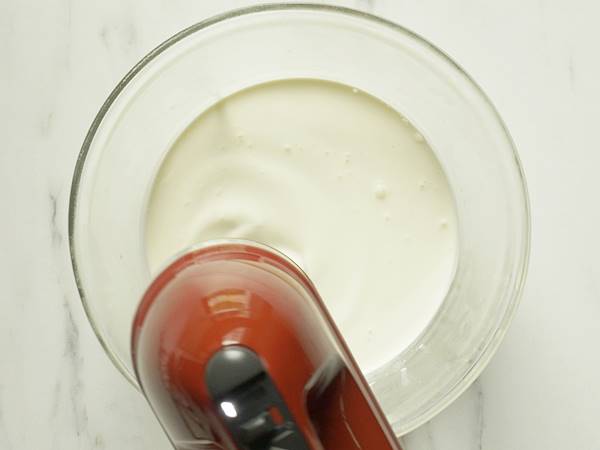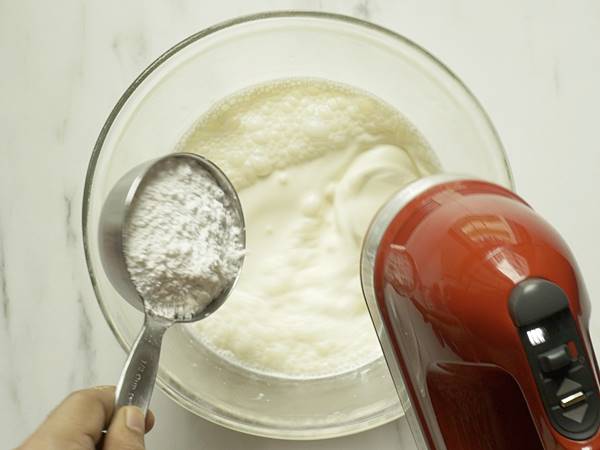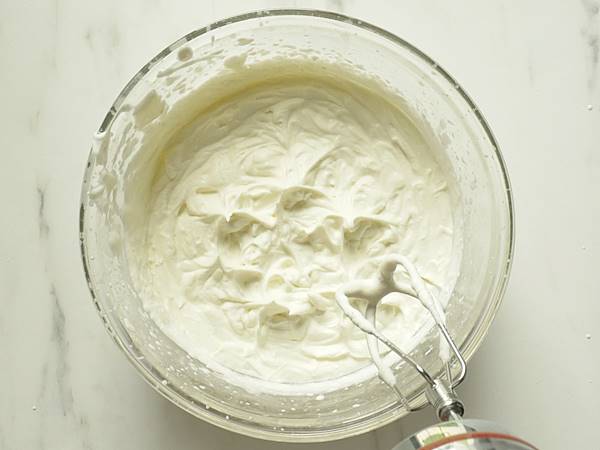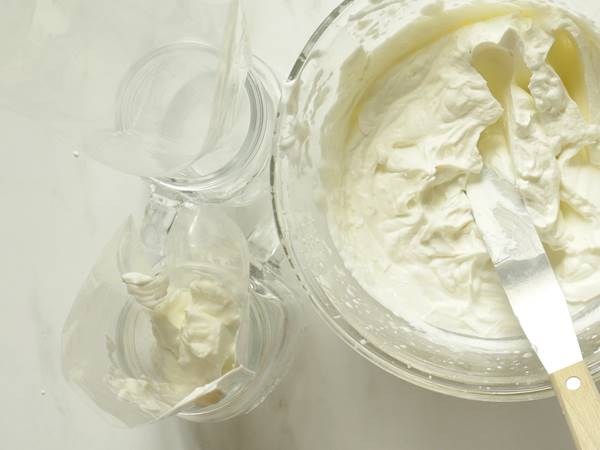 Decorating eggless black forest cake
The eggless black forest cake is decorated with some chocolate shavings and cherries. For the chocolate shavings you can use any good quality chocolate. Keep the chocolate bar out of the fridge until it is easy to handle then using a grater or knife just make some shavings. You can make this ahead and refrigerate.