Poori recipe or puri recipe. Poori is one of the well-known Breakfast dishes enjoyed in all regions of India. To make these, wheat flour dough is rolled to small discs and then deep fried. These discs puff up when fried in hot oil. While most people make poori using wheat flour, some make with maida or with a mix of atta, semolina and maida. Each lend a different texture and taste to the pooris.
Most tiffin centres in South India make these with a mix of atta, maida & rava. But in many homes these are made with just wheat flour known as atta. The recipe shared here will give you poori that will be slightly crisp, soft and yet puffy.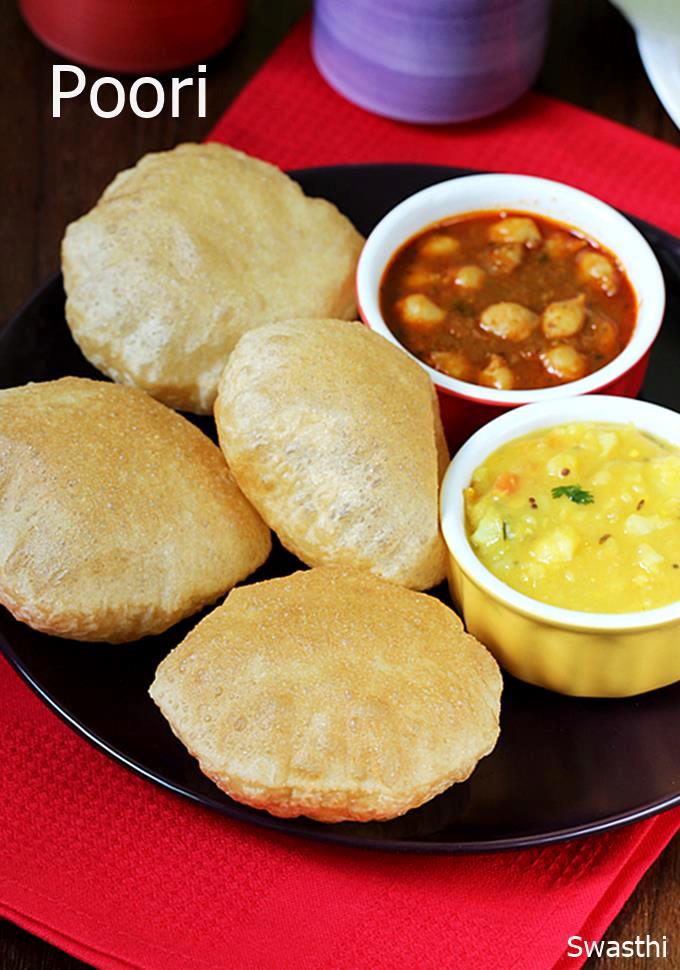 Perfectly made puri not only puffs up well when fried but also don't soak up much oil. A similar recipe is this bhatura but is made with all-purpose flour and a leavening agent.
More breakfast recipes
Dosa
Idli
Upma
Poha
Tips to make puffed pooris
The most important step to make good pooris is to make the dough correctly. It must not be sticky or loose but must be a tight dough. This helps in puffing them well without soaking up oil.
Too dry or crumbly dough will yield you hard puri. (check the video for details)
Rolling them to correct thickness also matters. Too thick puris will not puff and too thin will become like papad.
Use up the dough immediately and do not rest it. If you are making in large quantities then, make the dough in batches.
Frying the pooris on a medium high flame works well for me. Do test the first one as the heat generated varies from one stove to the other.
Variations
To make palak puri, puree one cup of palak with few tbsps water and use that to make dough.
To make methi puri, add some fresh chopped methi leaves to the dough. Incorporate the leaves first then add water as needed.
Make masala poori, add 1/8 tsp cumin or jeera powder, ½ tsp red chilli powder, ¼ tsp garam masala, ½ tsp fine crushed kasuri methi and some salt to the 1 cup flour.
Poori can be served with
Puri masala
Potato masala
Chana masala
Sagu
Coconut chutney
Mix veg kurma
Halwa
Basundi
Shrikand or Mango shrikand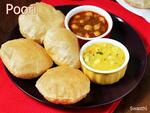 Poori recipe | Puri recipe
Poori is an unleavened deep fried bread made with flour & salt. It is a popular breakfast food from Indian subcontinent. It is served with potato masala curry, sagu, kurma or chutney.
Pin Recipe
Ingredients (1 cup = 240ml )
1

cup

wheat flour

(or atta)

¾

teaspoon

semolina

(or fine rava or chiroti rava) (optional)

¾

teaspoon

oil

(or ghee)

water as needed

(approximately ¼ cup plus 1 to 2 tbsp)

2

pinches

salt

(as needed)

oil

(for deep frying)
How to make the recipe
Making poori dough
Mix together flour, salt, rava and oil in a large mixing bowl.

Pour ¼ cup water. Begin to make a little stiff tight dough, adding more water as needed.

Smear ½ tsp oil, knead lightly and smoothen the ball.

Do not knead it a lot otherwise poori will turn soft and absorb oil while frying.

Keep the dough covered all the time until the last poori is rolled.

Do not rest the dough for more than 3 to 5 minutes.

The longer it rests quicker the puffed puri will collapse. They will turn oily after frying.

Divide the dough to 8 to 10 portions.

Avoid kneading them. Keep them covered in the bowl.

Smoothen all the balls by rolling them lightly in between your palms.
How to make poori
Drizzle little oil and spread it on the rolling area.

Smear oil over the dough ball & flatten it.

Begin to roll it evenly from the center to a round puri.

It should not be too thick or thin. It must be moderately thick which helps the puri to puff.

Make 5 to 6 puris and set them aside. Do not stack them.

Begin to heat the oil on a medium high flame and continue to make rest of the pooris.
Frying poori
The oil has to be hot enough. Check by dropping a small portion of dough to the pan.

It has to rise immediately without browning.

If it browns quickly then reduce the flame slightly and allow the temperature to come down.

Slide the puri carefully to the hot oil. Do not disturb until it rises half way to the surface.

Quickly but gently begin to press down with a perforated ladle. This helps the poori to puff well.

Once puri puffs, flip it carefully. Fry on the other side as well until golden and crisp.

You can fry flipping too and fro once more until slightly crisp & to get the desired color – light golden to dark golden.

Remove the puri to a colander. Fry the next poori the same way.

Make sure the oil is hot enough before frying the next puri. Serve poori with potato curry, chutney or kurma.
NUTRITION (estimation only)
Calories:
496
kcal
|
Carbohydrates:
49
g
|
Protein:
6
g
|
Fat:
30
g
|
Saturated Fat:
2
g
|
Sodium:
582
mg
|
Potassium:
66
mg
|
Fiber:
1
g
|
Calcium:
9
mg
|
Iron:
2.9
mg
Notes
Using too much of semolina can make the poori hard or the top layer can turn too crisp & flaky.Fine rava or semolina or chiroti rava works best. If you do not have rawa, just skip it. If using chiroti rava, you can use about 2 tsps per cup of flour.
Dough has to be stiff and tight but at the same time it must not be crumbly or too dry.
You must be able to make smooth balls when you roll the ball in between your palms.
Do not over knead the dough at anytime as it softens the dough. This will make the pooris oily.
If you are a beginner or new to Indian cooking, I highly suggest you to check the supporting step by step photos for best results. Step by step photos with description available below after the recipe card.
Preparation
1. Add flour, rava and salt to a mixing bowl. You can also skip rava and salt. If using milled flour (atta from flour mill) then do sieve and discard the bran.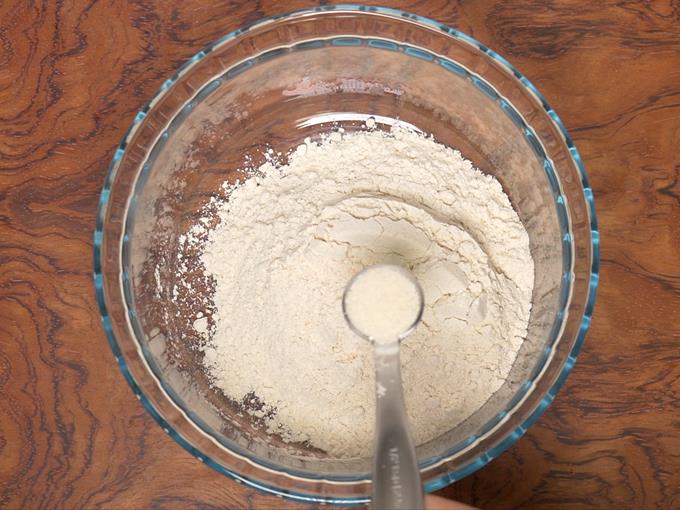 2. Pour oil.
3. Also pour 4 tbsps water.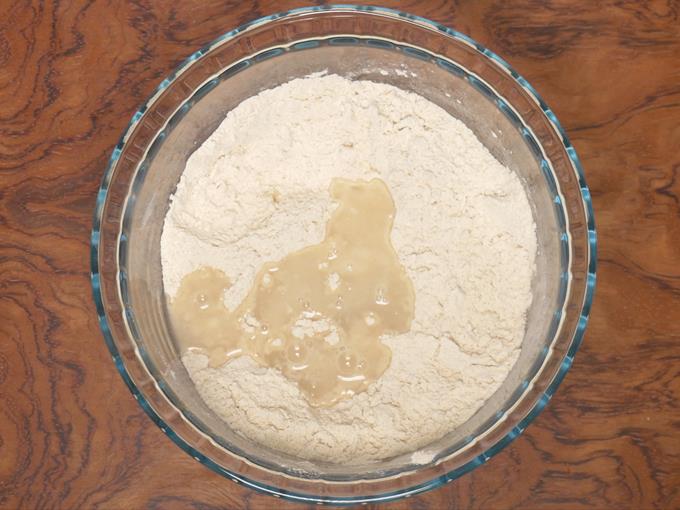 4. Begin to mix.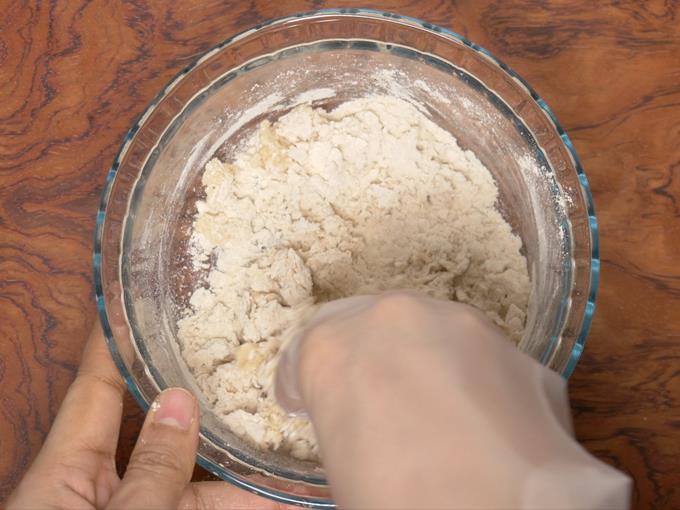 5. Sprinkle more water as needed.
Making dough
6. Make a stiff & tight dough that is not crumbly or dry. It must not be soft like the roti dough.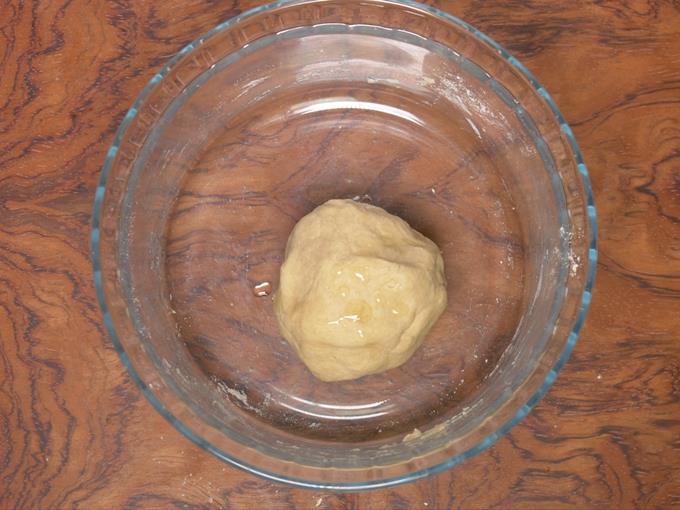 7. Drizzle little oil and knead lightly to just smoothen the ball. Do not knead it for longer like it is done for roti or chapati.
8. Dough must still be stiff and tight. When you press it with your fingers, you will still feel it is tight and stiff, not soft.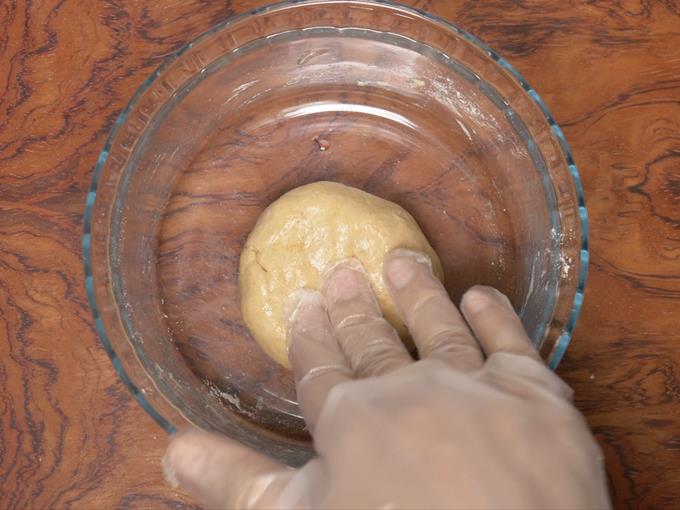 9. Cover it until you finish rolling all the poori. I usually do not rest it for more than 3 to 5 minutes.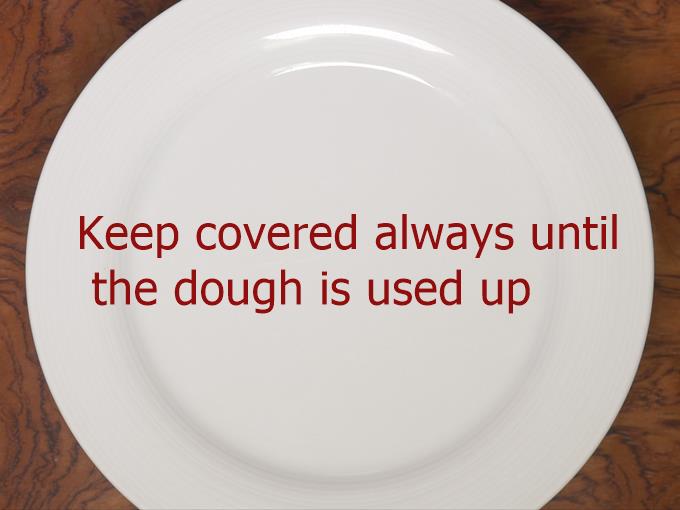 10. Divide it to 8 to 10 parts.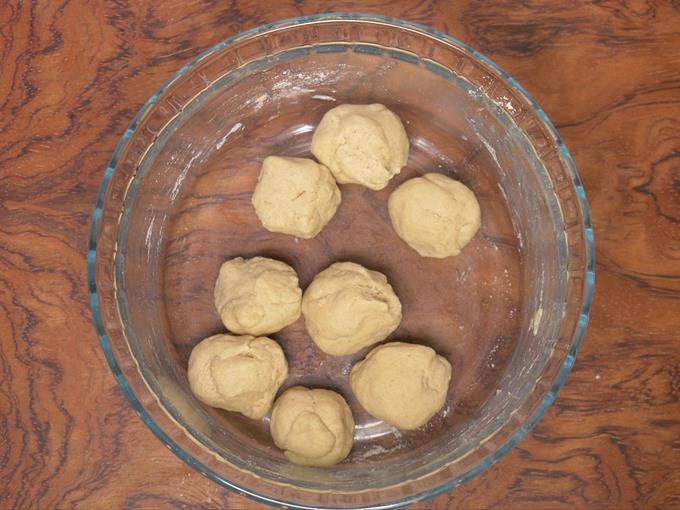 11. Gently roll them in between your palms just to make them smooth. Do not knead them.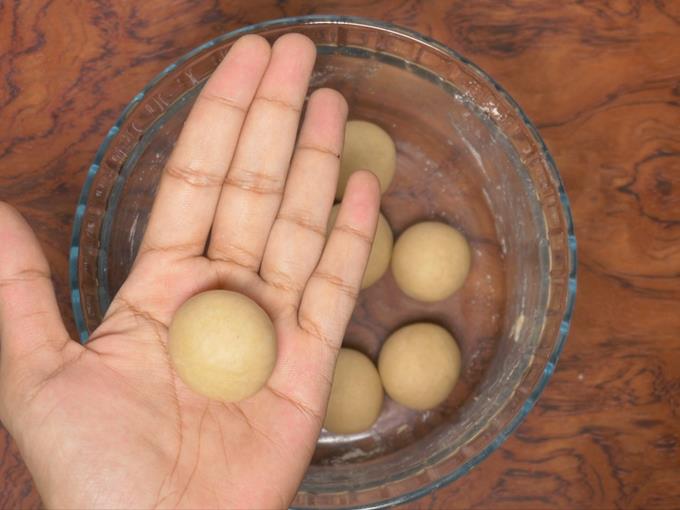 12. Sprinkle flour over the rolling area or smear some oil. Using oil for rolling keeps the deep frying oil clear till the end. It is good especially if your are making lot of puris. If using flour, make sure you use as little as possible and dust it off from each of the puri before frying.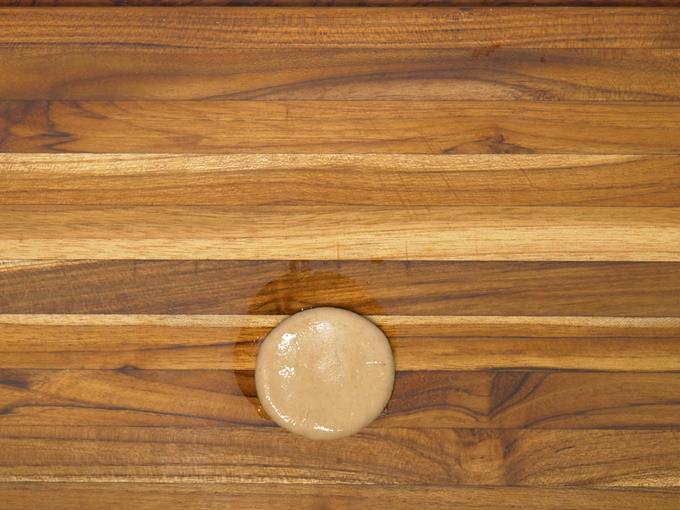 How to make poori recipe
13. Begin to roll the poori evenly from the center.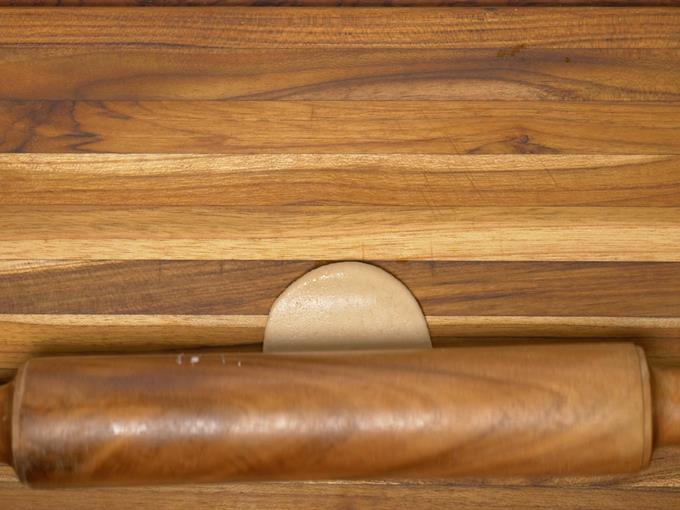 14. Do not roll them too thin or too thick.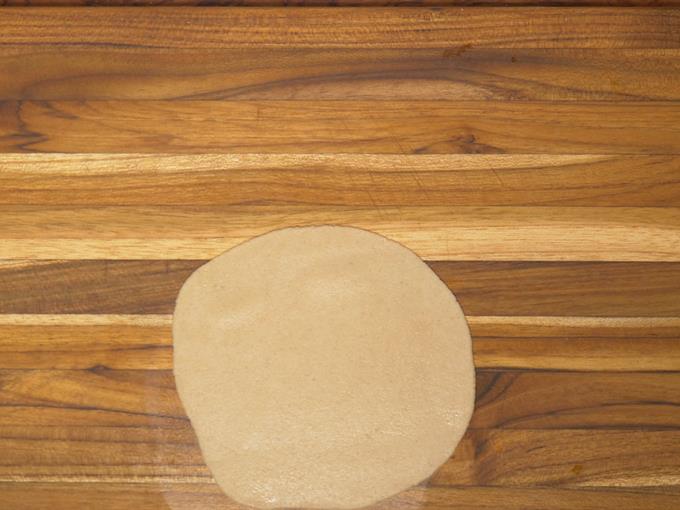 15. They need to be moderately thick otherwise they will not puff.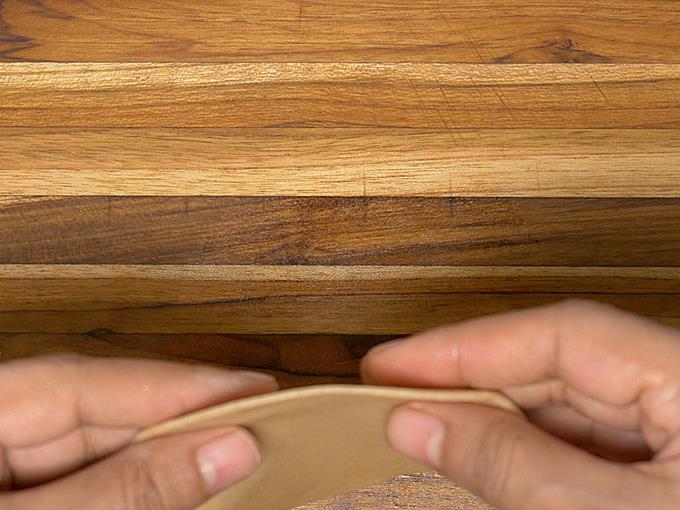 16. Next after making 5 to 6, heat the oil on a medium high flame. Do not leave them without frying for long.
17. While it heats, continue to roll up the rest as well.
18. Check if it is hot by dropping a small portion of dough.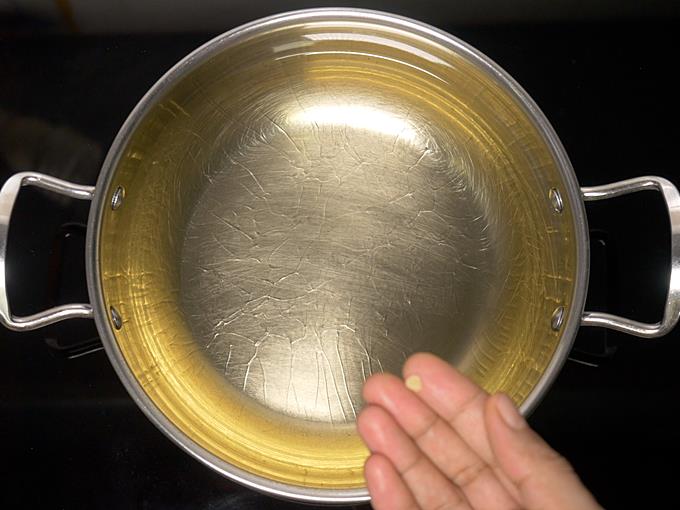 19. If the oil is hot enough for frying, it will rise immediately. But it should not brown quickly.
Frying poori in oil
20. Drop the puri gently. If you have used flour, do dust off the excess flour before frying. As soon as it is added to the pan, it sinks completely.
21. Do not disturb until the poori comes up at least half way to the surface.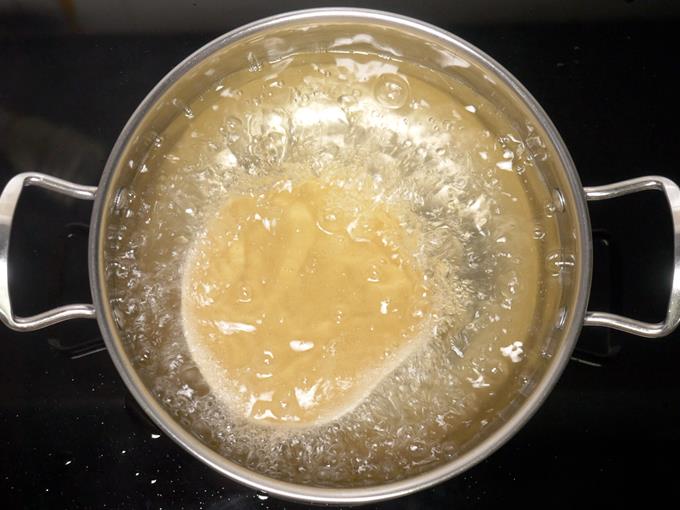 22. Then quickly but gently keep pressing the poori down to the oil.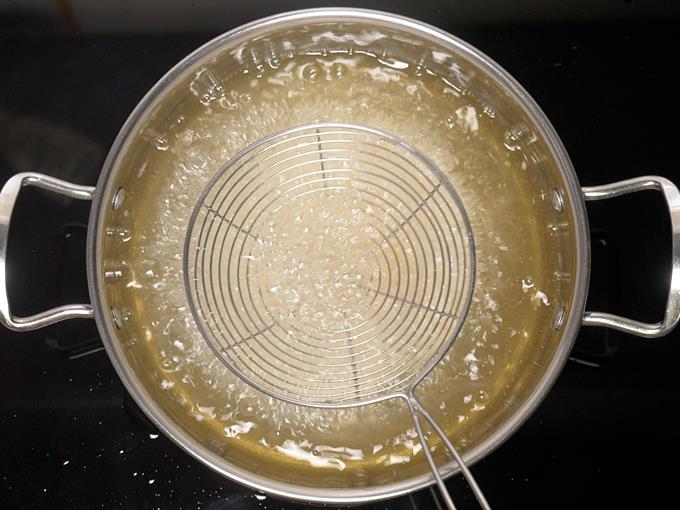 23. Poori will puff.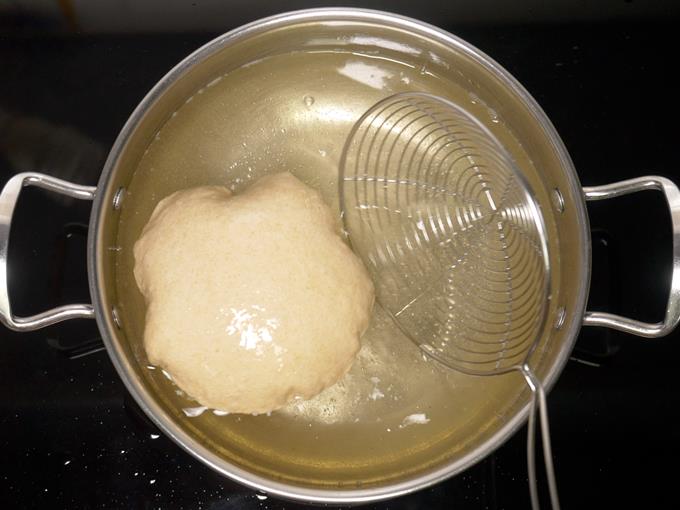 24. Next flip the poori and fry until crisp and golden. Remove to a kitchen tissue. To fry the rest of them as well, make sure the oil is hot enough.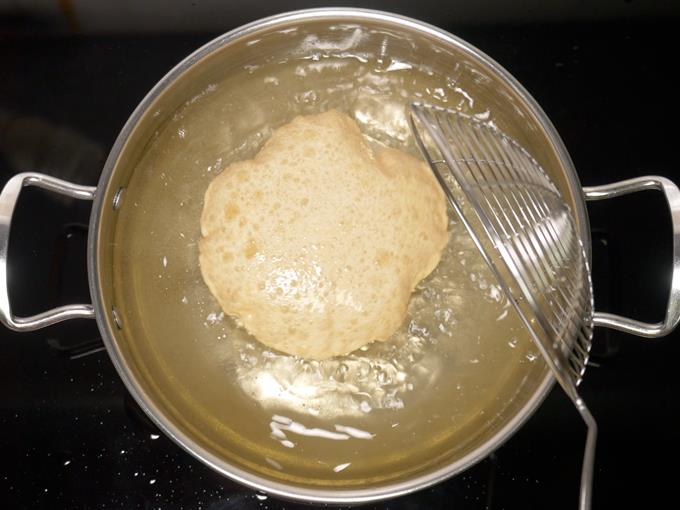 Serve poori with curry, chutney or sagu.