Ice cream recipe without Icecream maker – Learn how to make ice cream at home with video and step by step photos. These super easy recipes will yield delicious and creamy homemade ice cream,all without the use of a Icecream maker. I am sharing 2 recipes, depending on your choice of ingredients you may choose any. But both yield delicious ice cream with absolutely no ice crystals formed.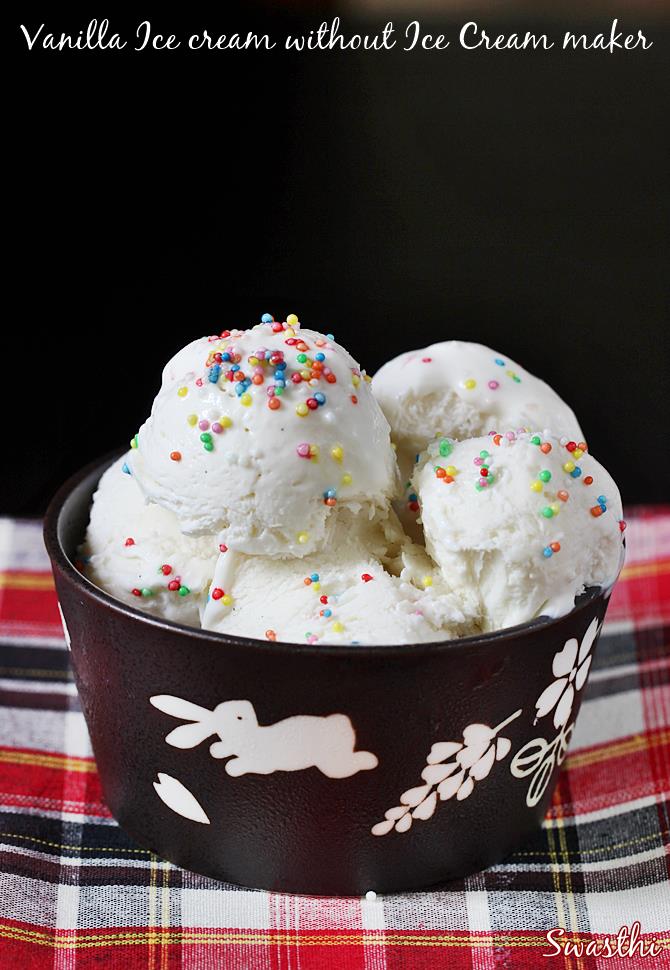 ---
The quantity of cream used here is high as it helps to prevent the ice crystals and yield smooth and creamy icecream without having to blend or whip them multiple times.
They can be made with cream that has at least 25% fat. So Amul fresh cream, milky mist or any whipping cream or heavy cream can be used.
Recipe 1 – How to make ice cream at home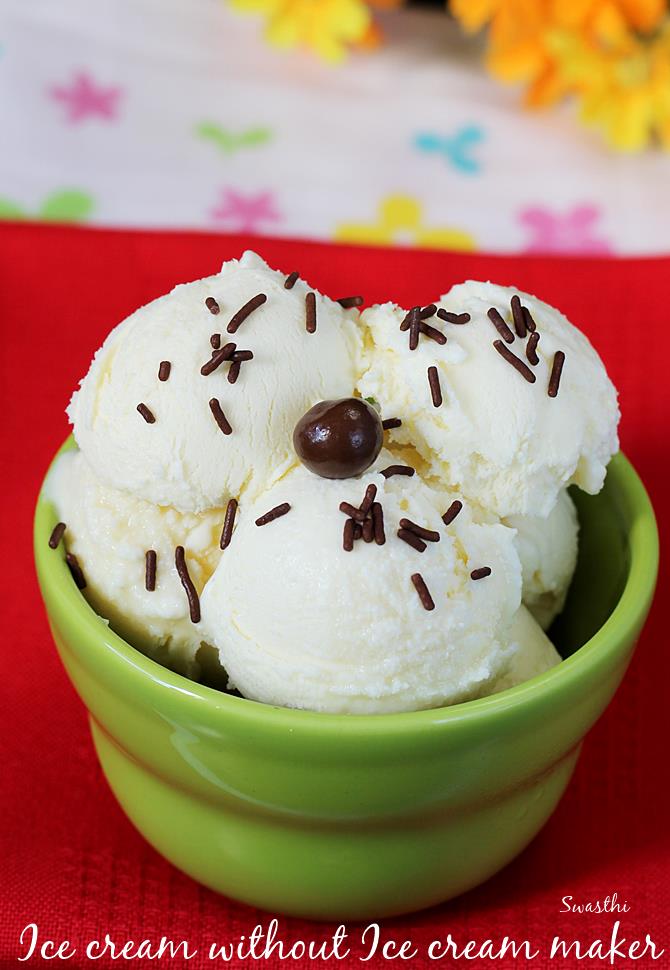 For this recipe, we need only 3 ingredients – Condensed milk, cream and vanilla extract. As i mentioned above, this can be made with any cream having at least 25% to 40% fat. In the past i have tried this with amul cream and milky mist, they work well too.
1. Begin with chilling the bowl and beaters overnight in the freezer. You will have to chill the cream and condensed milk in the fridge and not in refrigerator.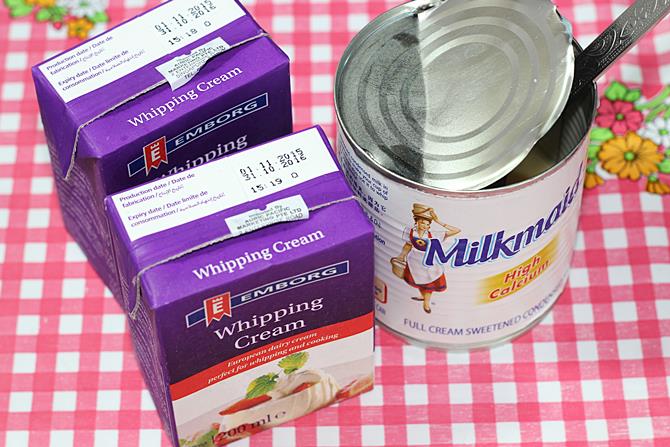 2. Transfer the condensed milk to a mixing bowl and then add vanilla extract. Set this aside.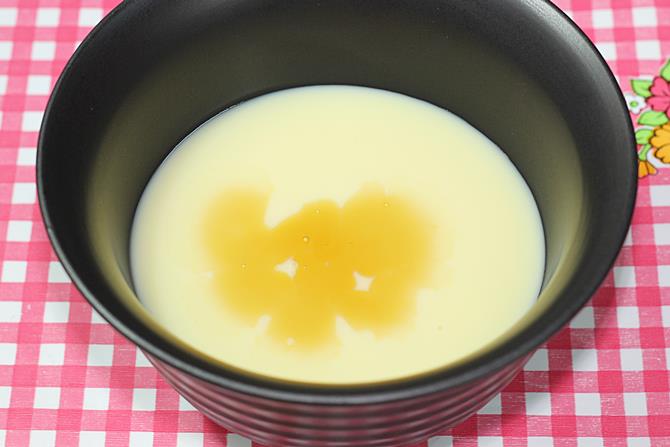 3. Pour the chilled cream to the chilled bowl.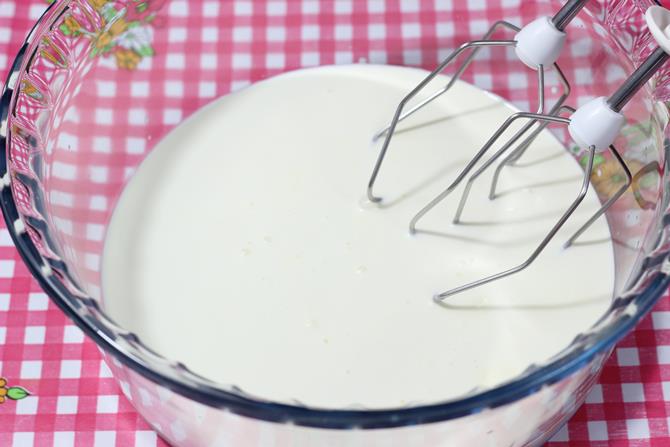 4. Begin to whip with a electric beater or a stand mixer or hand mixer. Whip until soft or stiff peaks depending on your cream.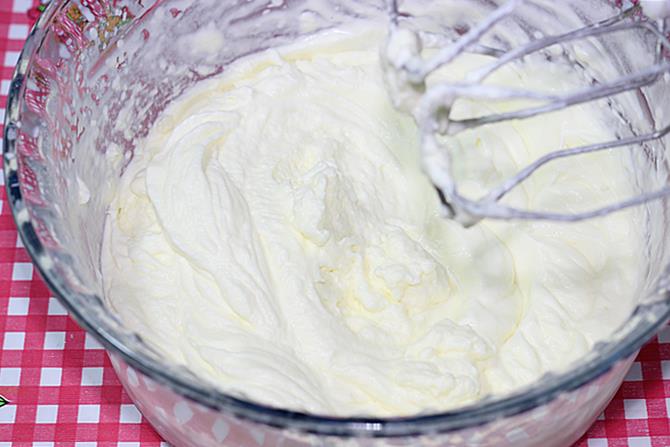 5. Add 1 to 2 scoops of this to the condensed milk. You can also add condensed milk directly to whipped cream. But i prefer to do it this way just as a precaution not to end up deflating the cream.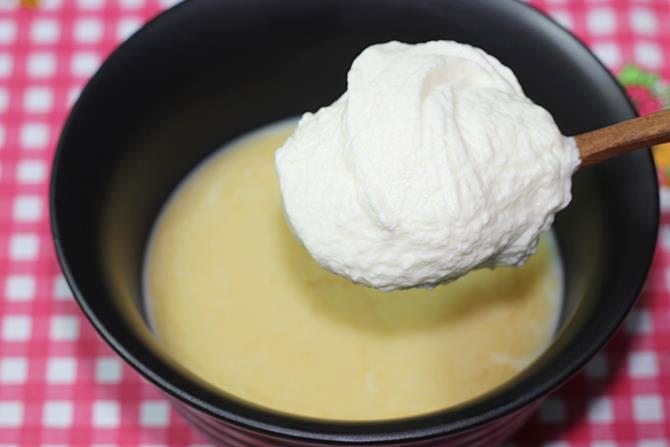 6. Stir it gently for uniform mixing.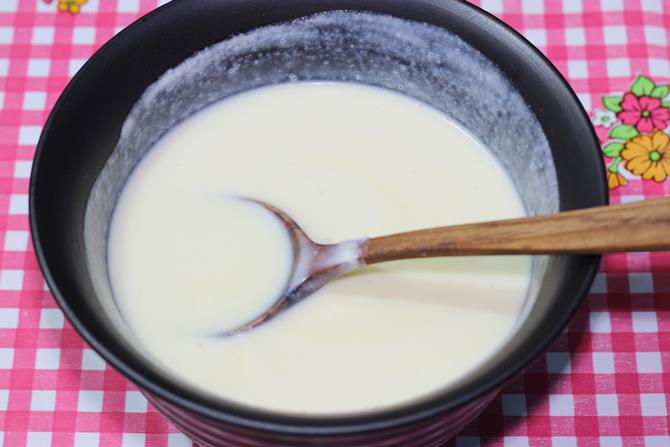 7. Pour that to the whipped cream.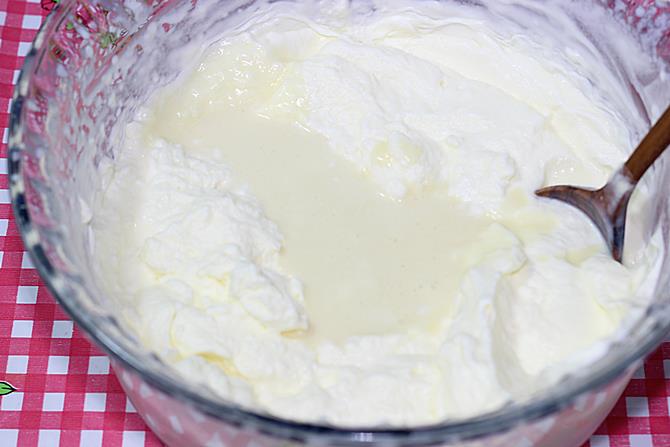 8. Gently stir for uniform mixing without deflating the whipped cream much.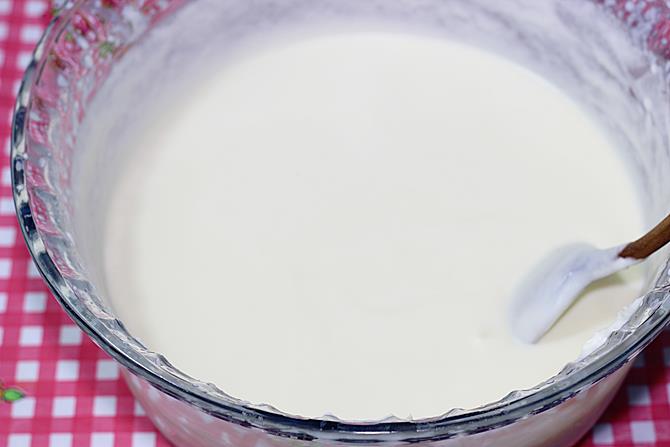 9. Transfer this to a freezer safe container or box. Place a cling wrap or a food grade plastic sheet over the mixture. It must touch the cream. This helps to prevent ice crystals. I hate to use plastic for the food, but not sure if it works without the plastic wrap. Cover the box and freeze for at least 8 hours.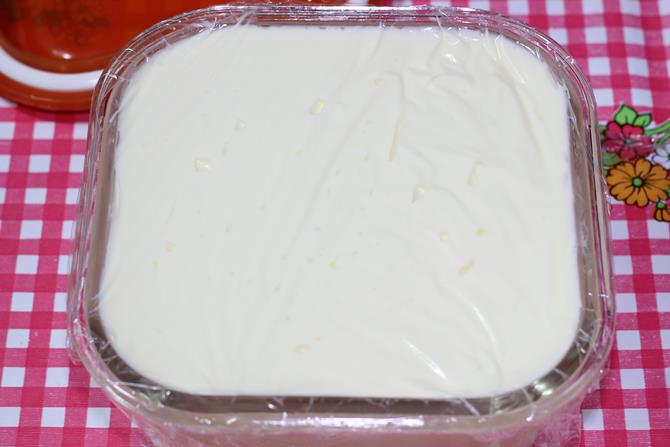 After 10 hours it was hard, so I left it out for about 10 mins before serving. This stays good for about 10 to 12 days.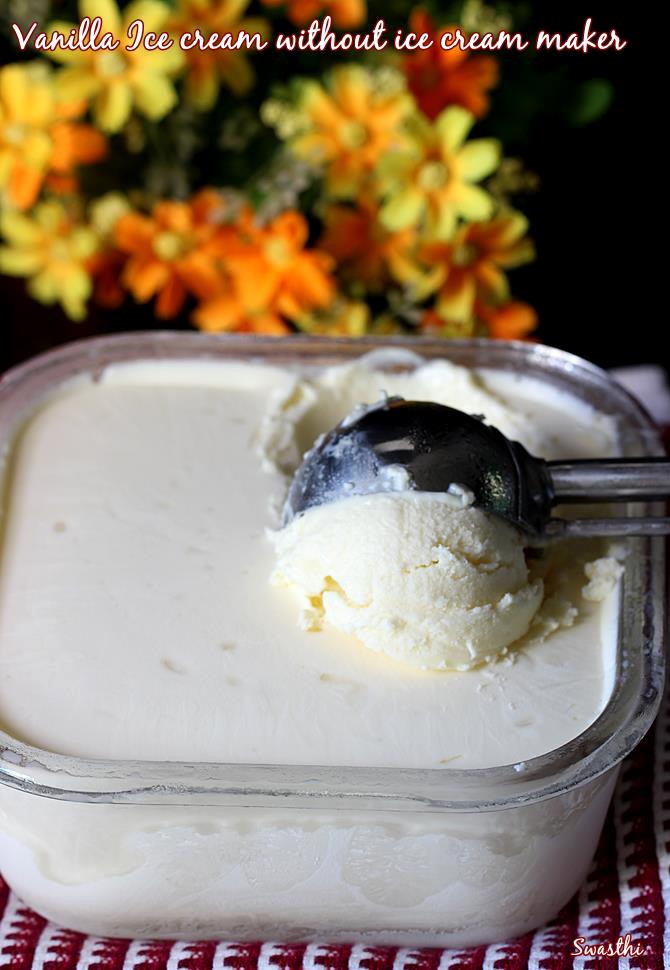 At 30 degrees C, It began to melt after 15 mins of taking it out from the freezer. If you are making it for a party, then you can scoop them to ramekins and freeze them up to an hour before serving.
Serve with your favorite toppings.
Recipe 2 – Homemade ice cream recipe with step by step photos
This is a custard base icecream made with corn starch or corn flour, milk, sugar and cream. You can also use custard powder instead of corn flour.
If you follow the recipe exactly you don't need to blend it after the initial freezing. You can serve it right away once it is set.
But if you Over freeze it, you will need to whip it or break the ice crystals and then freeze back until set. I highly suggest using a very good pure vanilla extract or vanilla bean for this. You can also use 2 to 4 tbsps of condensed milk or milk powder to this to add flavor and subside the dominating taste of corn starch.
Any recipe that uses corn starch will surely have a flavor and taste of it unless there are a lot of additives added to it like in the commercial ones. If you are trying to replicate the commercial Icecreams then i highly recommend making this with condensed milk or milk powder. With that you will need to reduce 2 tbsps of sugar in the recipe.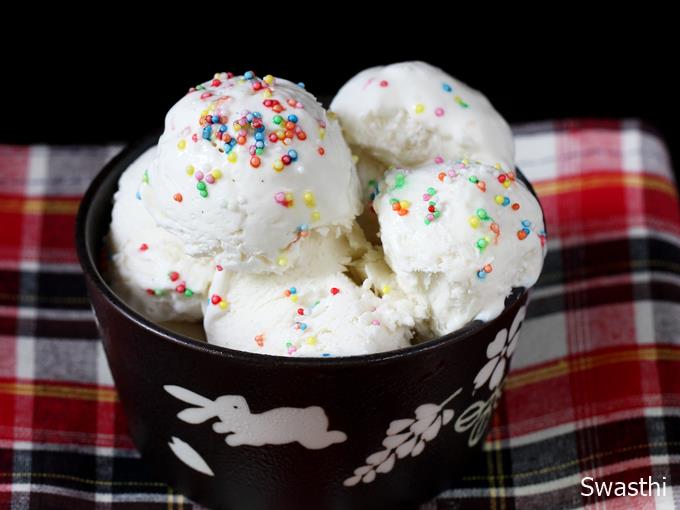 1. For this recipe, we will be using 2 tsps corn flour or custard powder, ¾ cup of sugar, vanilla pod or 2 tsps pure extract, ¾ cup (180 ml) of full fat milk & 1 ½ cups or 360 ml of cream with 25% to 40% fat.
2. Add sugar and corn starch to a pan.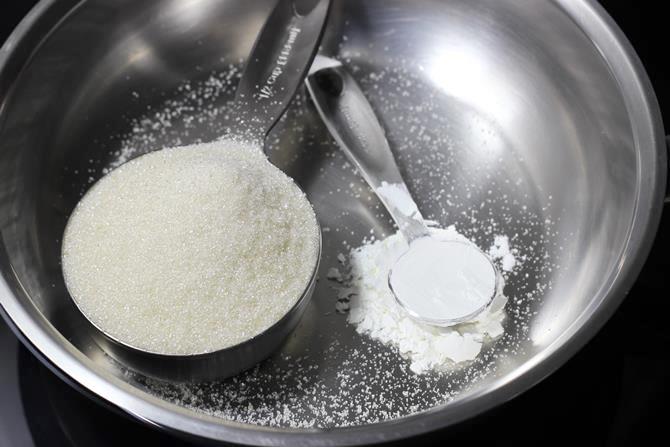 3. Add milk and vanilla pod if using. You can either use the vanilla pod or vanilla extract. Pod gives a deeper flavor since it is simmered in the custard for a while. But it discolors the custard leaving tiny black speckles in it.
If using extract, add it later. Stir very well until the sugar melts off. Make sure the mixture is uniform and lump free. Begin to cook on a medium to low flame stirring constantly. Do not bring it to a rapid boil. Cook it stirring constantly until it thickens slightly.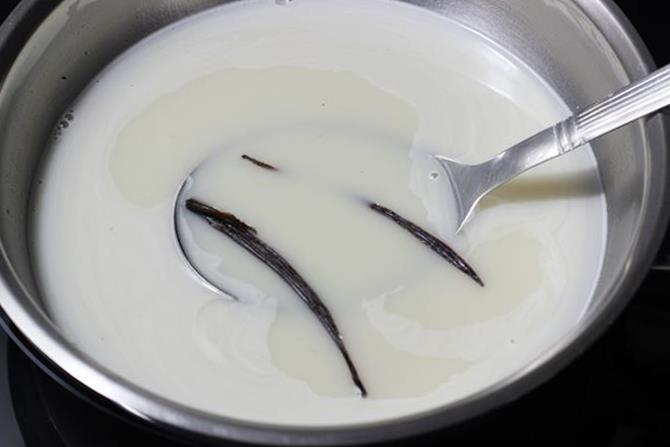 4. The right way to check the custard: When you dip the back portion of the spoon in the custard, a thin layer must form on the spoon. Overcooking the corn starch will make the ice cream taste floury or like corn starch.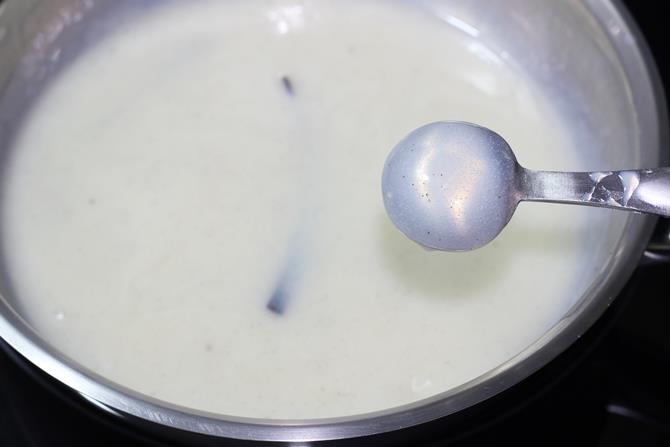 5. Filter it and cool completely. Chill in the fridge for sometime. The color of the custard is not white here due to the addition of vanilla pod.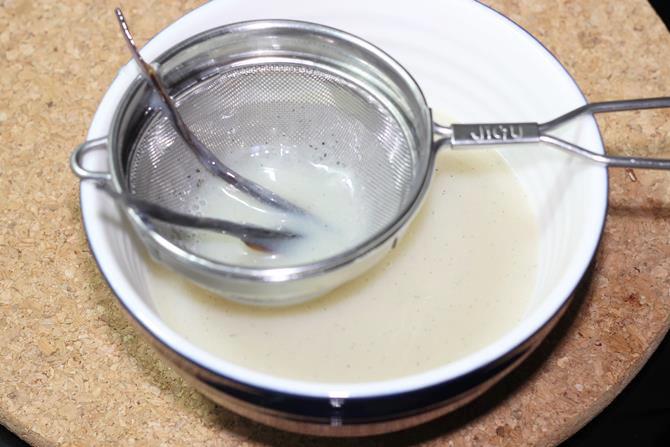 6. Beat with the hand held beater for 1 to 2 mins. Set this aside.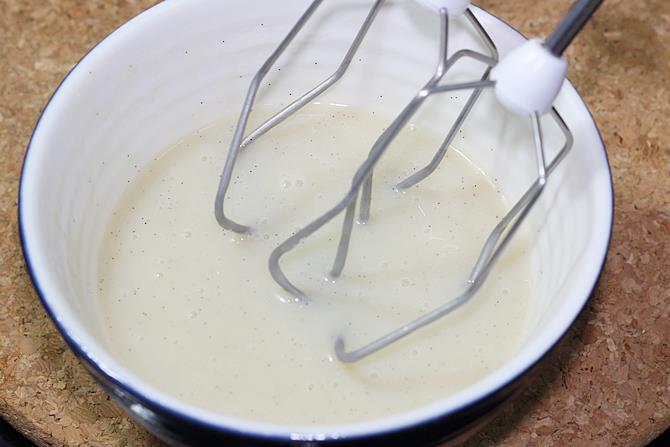 7. I have used amul fresh cream here. I chilled it overnight. Then i scooped out the top portion. 2 packs (200 ml) of amul cream yielded me about 1 ½ cups or 360 ml of cream. I was left with 2 to 3 tbsp of whey in the pack which i have discarded. If you are using cream with 35% or more fat, you can use up the entire content from the pack.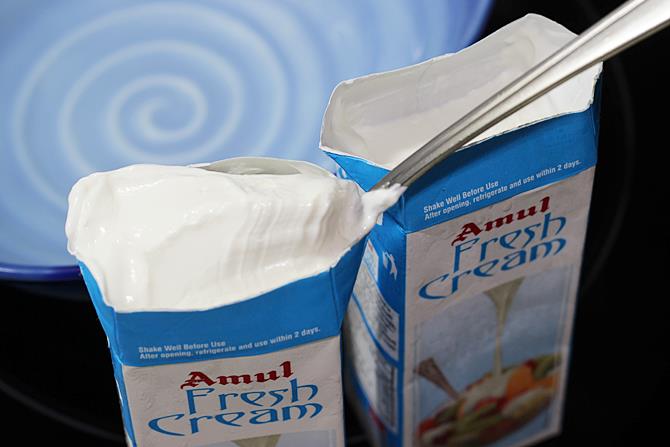 8. Add the cream to the mixing bowl.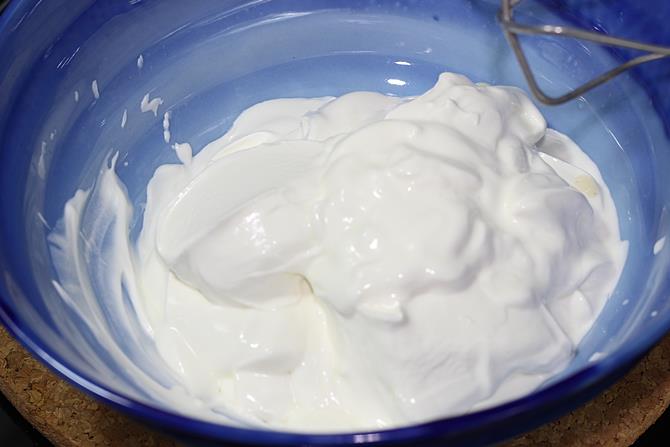 9. Whip until peaks are formed. With amul cream, you will get only soft peaks.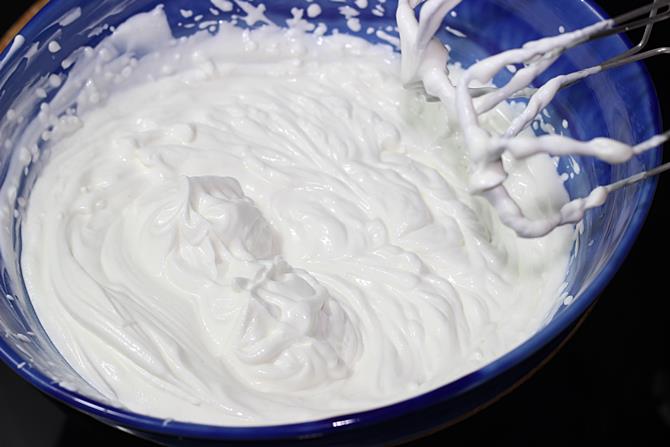 10. Take 2 scoops of the whipped cream and add to the cornflour custard.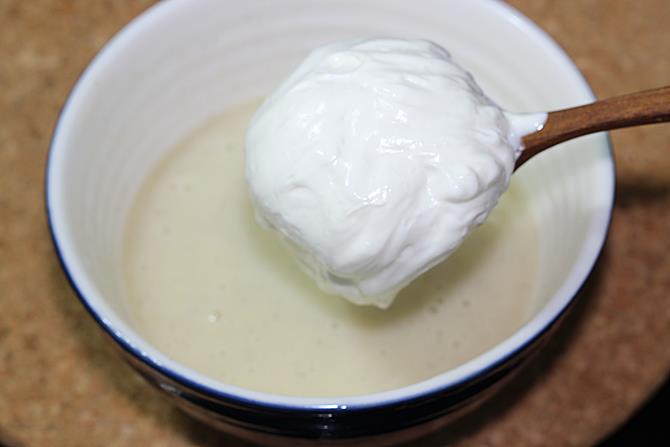 11. Gently mix it well.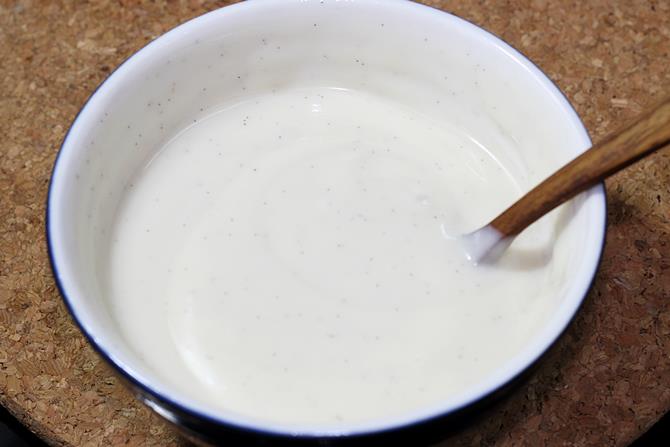 12. Pour this to the whipped cream.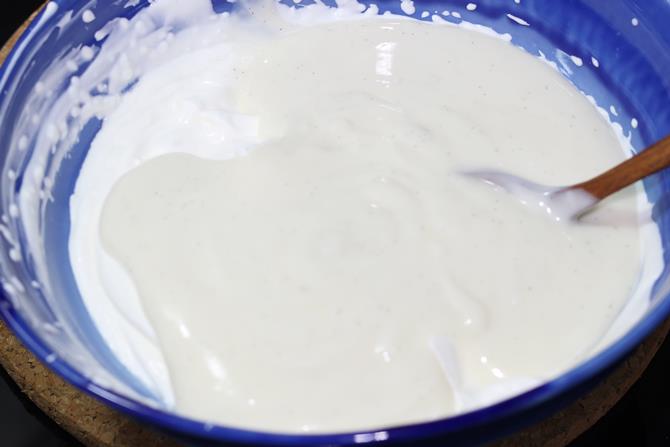 13. Gently stir for uniform mixing. Smooth and delicious ice cream mixture is ready.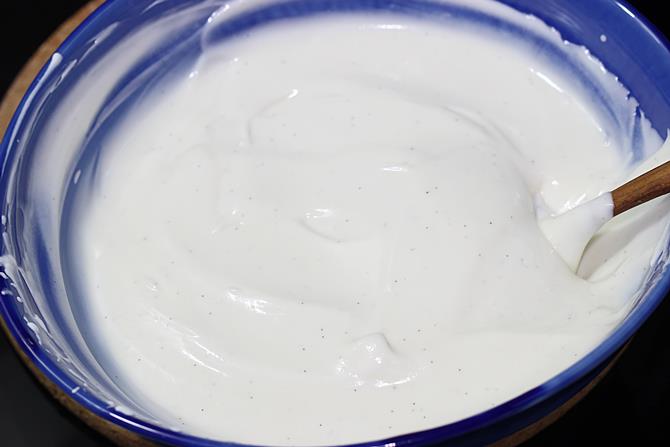 14. Transfer this to a freezer safe box. Place a cling wrap on the ice cream. Cover and freeze for overnight.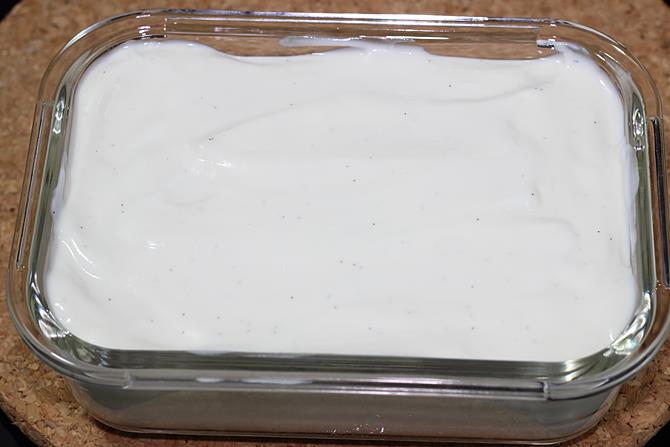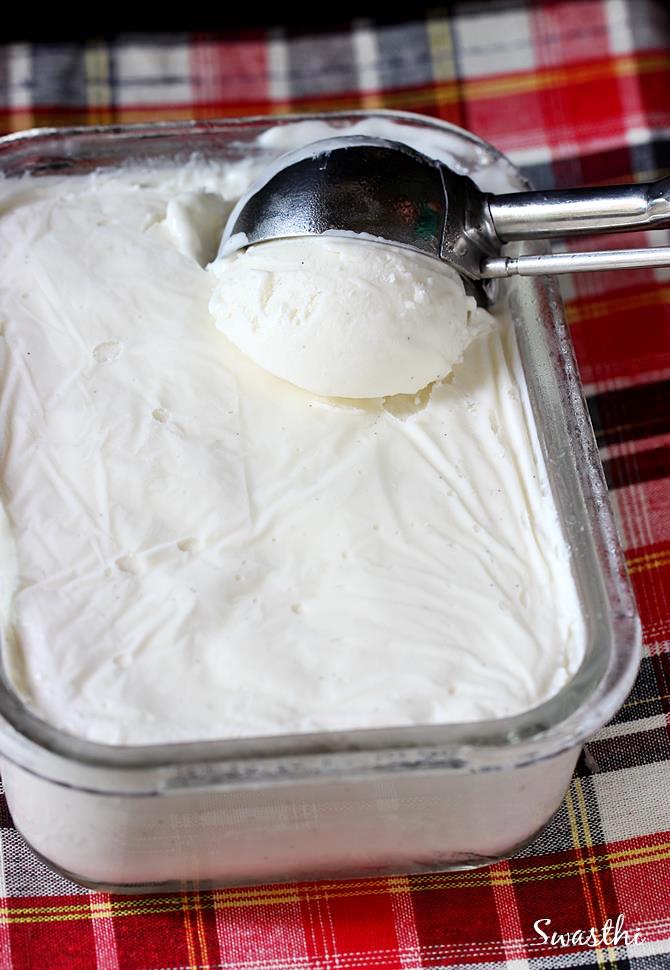 Scoop vanilla ice cream and serve immediately.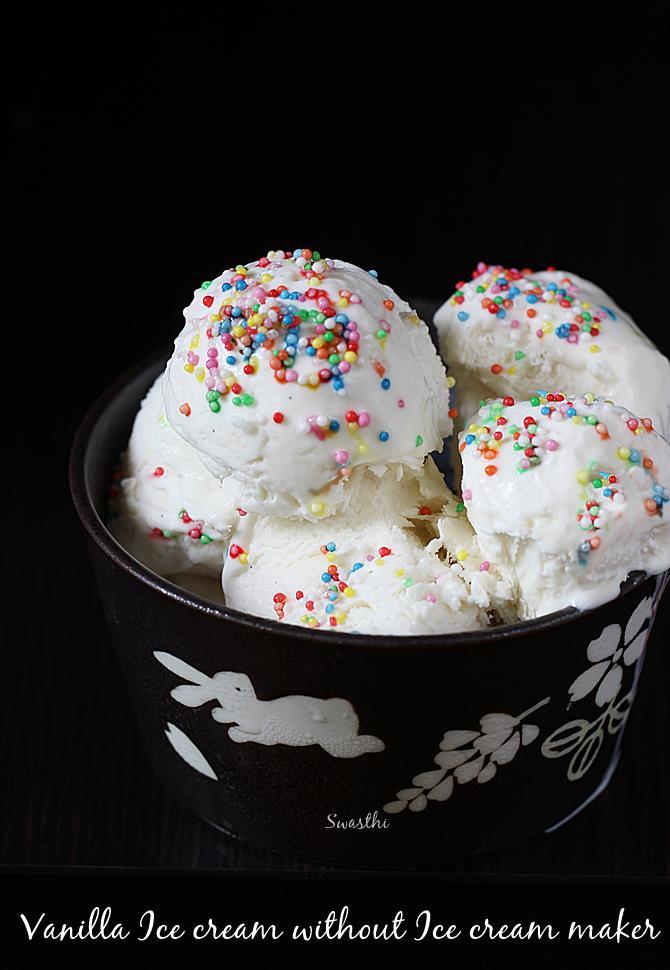 You can also check these Ice cream recipes.
Chocolate ice cream
Pista ice cream
Kulfi ice cream
Mango kulfi
Mango ice cream
You can watch this short video of about 1 minute which I made using the first recipe in this post.
Ice cream recipe without Ice cream maker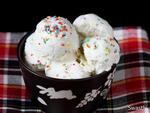 How to make ice cream
Quick and easy recipe to make ice cream at home. This post shares 2 recipes to make vanilla ice cream.
Pin Recipe
Print Recipe
For best results follow the step-by-step photos above the recipe card
Ingredients (US cup = 240ml )
Recipe 1 (refer notes)
1

can

condensed milk

or milkmaid (about 392 grams)

600

ml

cream

with at least 25% fat (whipping cream, heavy cream, amul cream with 25%)

1 ½

teaspoon

vanilla extract
Recipe 2
1 ½

cups

cream

(or 360 ml from 2 amul fresh cream packs or whipping cream or heavy cream)

¾

cup

sugar

2

teaspoons

corn flour

or corn starch or custard powder

¾

cup

full fat milk

or 180 ml

2

teaspoons

vanilla extract

pure
Instructions
Chill the cream & condensed milk over night in the fridge. Chill the bowl and beaters at least for 24 hours in the freezer.
Recipe 1 with condensed milk
Pour the chilled cream to the chilled bowl. Begin to whip on a low speed first. Then increase the speed to medium.

Whip it till you see stiff peaks. Do not over whip the cream as it can turn grainy. Pour the condensed milk and vanilla.

Then stir gently with out deflating the cream. Transfer this to a box and freeze for 8 to 15 hours. Scoop the ice cream and serve.
Recipe 2 with custard base
In a pan whisk together corn starch or custard powder, vanilla pod, sugar and milk until the sugar dissolves.

Cook this on a medium heat stirring constantly until the custard thickens and coats the back of a spoon well. Do not over cook. Filter this. Cool and chill in the fridge. Beat with the electric beater.

Whip the cream in the chilled bowl until stiff peaks are formed. Add 2 scoops of this cream to the custard and stir well.

Pour this back to the whipped cream. Stir gently for even mixing. Pour this to a freezer safe box. Place a cling wrap over the cream. Freeze for 8 to 16 hours.

Scoop the ice cream and serve with your favorite toppings.

Notes
Recipe 1
For every 1/3 amount of condensed milk tin, you will need 200 ml cream. So for 2/3 rd amount of the condensed milk , you will need 400 ml cream. If you like to use up the entire tin, then use 600 ml cream. You can use vanilla extract to suit your preference.
Alternative quantities provided in the recipe card are for 1x only, original recipe.
For best results follow my detailed step-by-step photo instructions and tips above the recipe card.
NUTRITION INFO (estimation only)
Nutrition Facts
How to make ice cream
Amount Per Serving
Calories 1330
Calories from Fat 882
% Daily Value*
Fat 98g151%
Cholesterol 366mg122%
Sodium 237mg10%
Potassium 607mg17%
Carbohydrates 101g34%
Protein 14g28%
Vitamin A 3855IU77%
Vitamin C 4mg5%
Calcium 488mg49%
Iron 0.2mg1%
* Percent Daily Values are based on a 2000 calorie diet.