Mango Ice Cream!! Is there anything more delicious than a dessert made with your favorite fruit? Well this Mango Ice Cream is heavenly & you will fall in love with it instantly. It has all the goodness of fresh ripe mangoes, cream and sweetened condensed milk. This no-churn Mango Ice Cream is super simple to make and is also a no cook frozen dessert you should be making when fresh mangoes are in season. All you need is an electric mixer or a blender to get it right. The same recipe also works fantastic with an ice cream maker.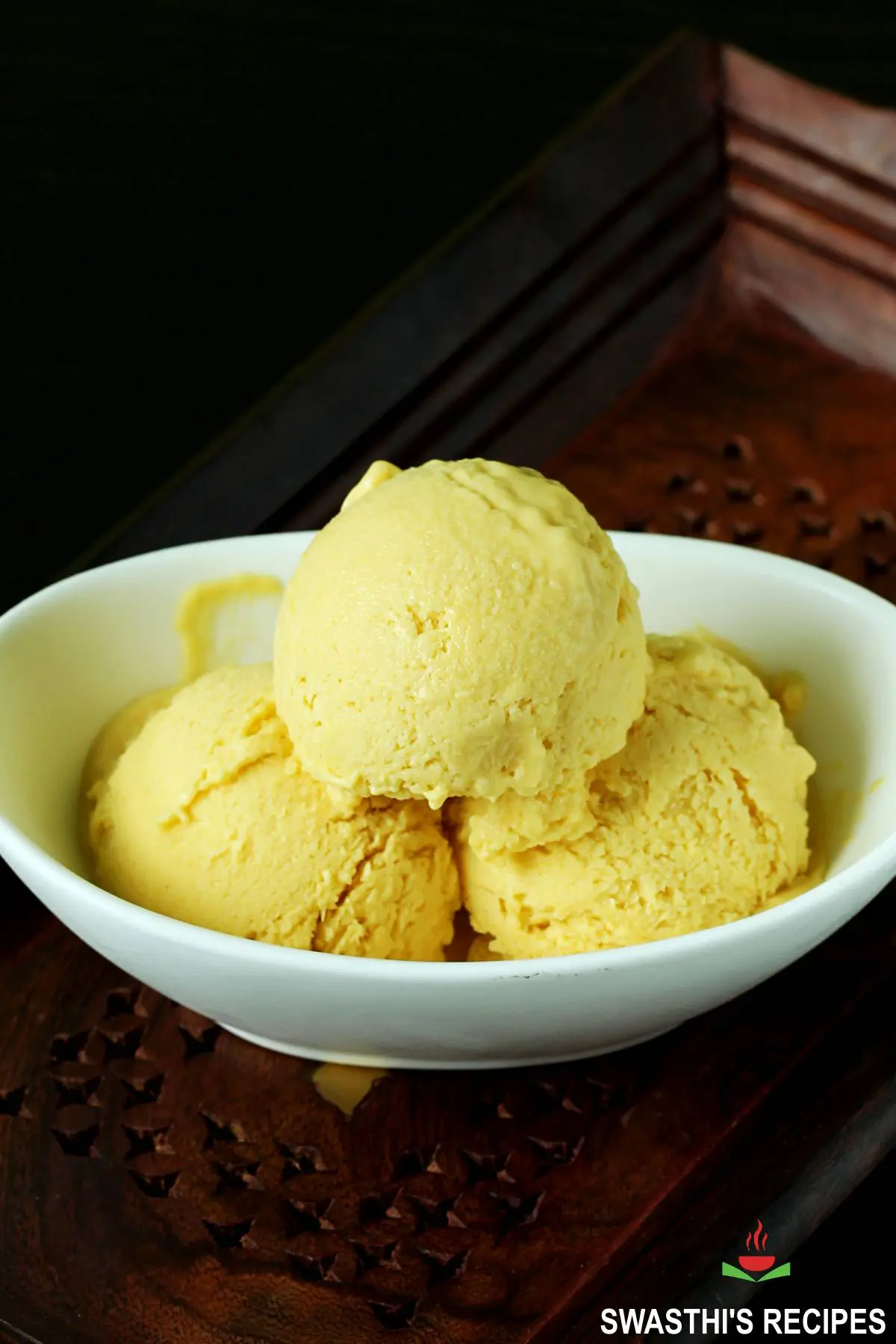 About Mango Ice Cream
Mango Ice Cream needs no introduction! It is a basic ice cream flavored with either fresh sweet ripe mangoes or with artificial mango flavorings. It is one of the most sold flavors in the Asian countries. A conventional Mango ice cream is made with heavy cream, sugar, milk, eggs and mangoes or flavorings. It is a custard based ice cream which is churned to get an airy and light texture.
My easy recipe does not require any eggs so you don't need to be worried about the whole process involved in making an egg custard. This recipe is based on the most popular 3 ingredient, no-churn ice cream recipe.
But working with fruit puree is a different case as fresh fruits have a lot of moisture/ juice which eventually makes the end product icy.
I know no one wants to bite into the ice crystals when you are actually expecting a creamy melt-in-the-mouth rich dessert.
The 3 ingredient no-churn Ice cream recipe became very popular over the internet as it requires no eggs and the results are very close to the churned ice cream. However unfortunately it does not work well when you add fruit purees as there are no stabilizers and additives added to homemade ice cream.
My Recipe
I have been making mango ice cream for many many years now. Had a lot of failures and only a few successful attempts. Though the mango ice cream would be perfect immediately after it is set, it would turn out icy after staying in the freezer for a little longer.
After several trials I arrived at this best mango ice cream recipe, that won't make ice crystals. However following the instructions correctly & using the right ingredients is very much essential for that smooth, creamy and simply delicious dessert.
My recipe uses milk powder and it is one of the commonly found ingredients in a commercial ice cream. A lot of food experts suggest using milk powder to prevent the ice cream from getting icy. It helps to absorb some of the moisture in the ice cream base and here in this recipe it works well as there is plenty of moisture in the mangoes. But using pulpy mangoes is very essential.
The crucial step that also prevents or minimizes the ice crystals in this recipe is to whisk the ice cream until smooth, after the initial 4 hour freezing. This is a very old technique followed for a no-churn ice cream.
Using milk powder and whisking the ice cream after 4 hours before refreezing it makes a lot of difference to your mango ice cream.
More Similar Recipes
Vanilla ice cream
Mango Lassi
Instant Mango Kulfi
Mango Juice
Mango Milkshake
How to make Mango Ice Cream (Stepwise photos)
Preparation
1. Chill the mixing bowl, beater, sweetened condensed milk and heavy cream overnight. Freeze a metal tray overnight. Ice cold metal tray will help to freeze your mango ice cream faster, this minimizes the ice crystals. It is best to use a wide tray as it helps in freezing faster.
2. Rinse and peel 2 large or 4 small mangoes. Chop and add them to a blender. If the mangoes are too juicy, strain the mango chunks in a strainer for 15 to 20 mins until all of the juice strains. I did not do that for mine since I used pulp alphonso mangoes. For this recipe you will need 2 cups of thick smooth mango puree.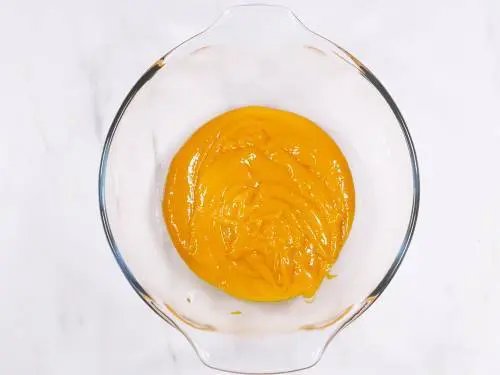 3. Add half cup milk powder and give a good mix.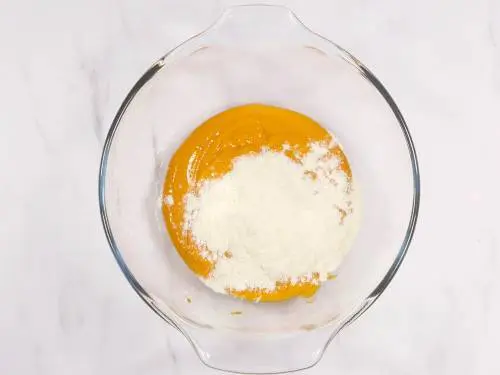 4. It should be smooth without any lumps.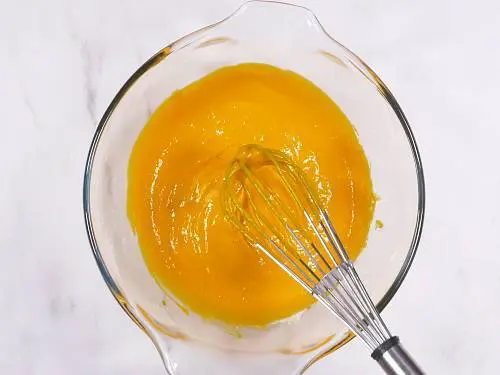 5. Pour 3/4 to 1 can of sweetened condensed milk. I use full can here. My mangoes were not too sweet so I used 1 full can. For less sweeter mango ice cream, use less.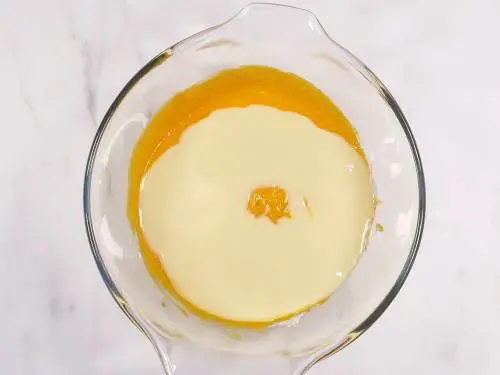 6. Mix well until combined. Refrigerate this until we use.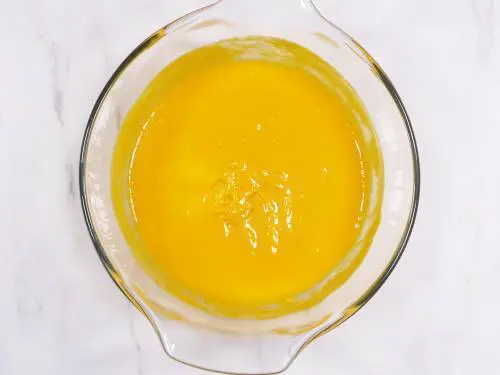 Whip the heavy cream
7. Pour heavy whipping cream to a mixing bowl and begin to whip on a medium speed until you see soft peaks.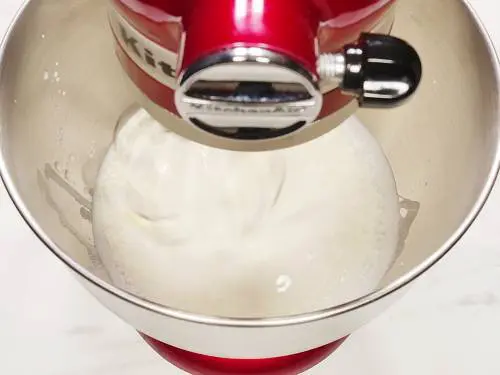 8. After 6 to 7 mins mark, it begins to turn thick as seen in the picture below. Be careful from here on as we don't want to overwhip.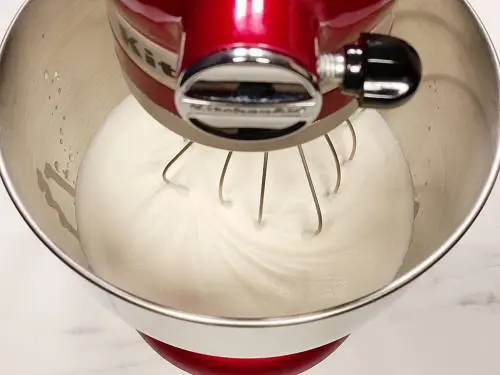 9. Stop when you see soft peaks. I do not whip it to stiff peaks at it is easier to incorporate mango mixture.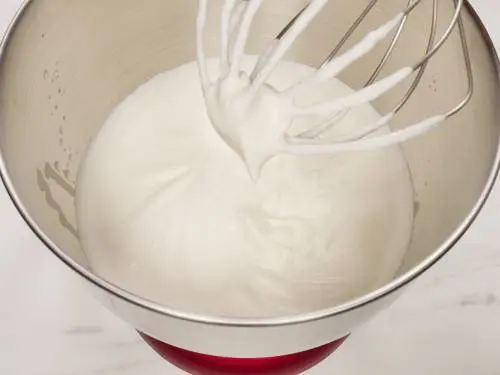 Make the Mango Ice Cream
10. Add 3/4 to 1 cup of whipped cream to the mango condensed milk mixture.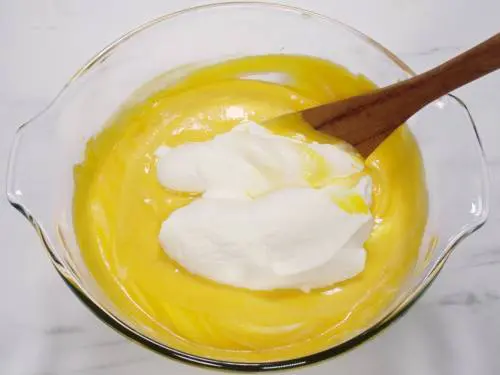 11. Incorporate that gently by folding in the cream into the mango. Repeat this step of adding more whipped cream and incorporate to the mango mixture.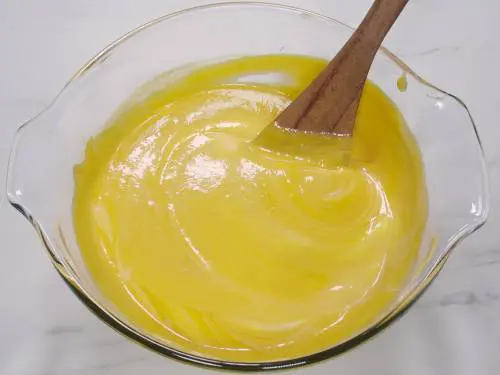 12. In the end you have a smooth and creamy mango ice cream base. If you want you may taste test and add more condensed milk.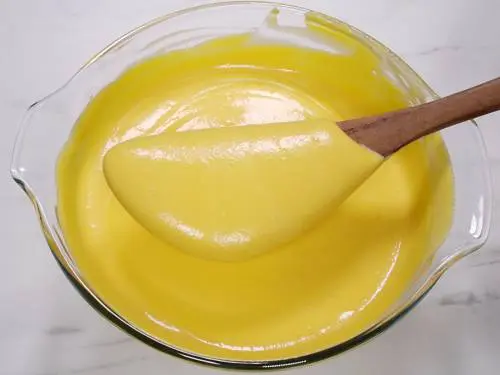 13. Pour this to the frozen metal trays. Level with a spoon. Cover and refrigerate the mixing bowl for later use (after 4 hours).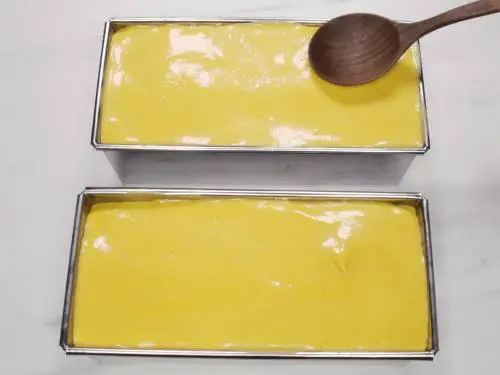 14. Place a unbleached parchment paper and press down with a spoon so the paper sits on the mango ice cream. Freeze for 4 hours. After that take out the trays and transfer to the mixing bowl (kept in the refrigerator). Whisk using a hand mixer until smooth. Do not over do. The idea is to break up any ice crystals which may get larger as it freezes further. Pour back the ice cream to the same trays and level. Place the same parchment paper and freeze further until set for 8 hours.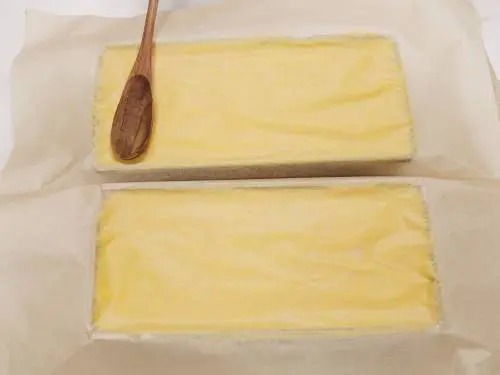 15. Leave the mango ice cream on the counter for 5 mins so it softens a bit. Scoop and serve.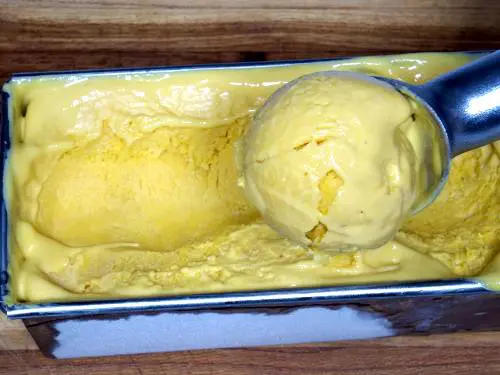 It is best to finish eating the whole tray else level it and place the parchment paper. But then ice crystals will form in this just like the left over store bought ice cream.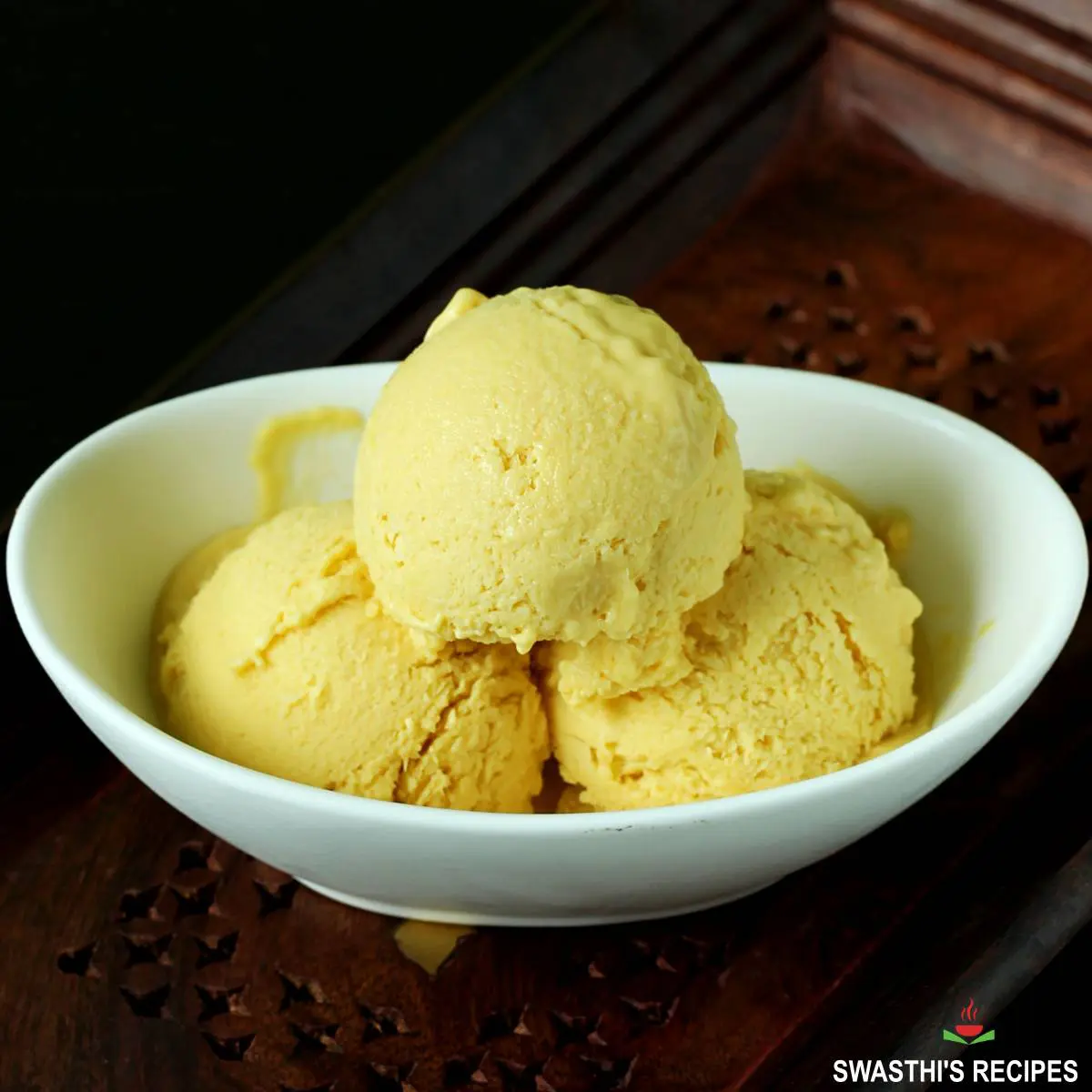 Pro Tips
Mangoes: Please say no to canned mango puree/ mango pulp. It won't give you the same results.
Use pulpy, less juicy and less fibrous sweet ripe mangoes. If your mangoes are too fibrous pass the pureed mangoes through a strainer. Avoid using juicy variety mangoes or strain the chopped mangoes and separate the juice first which you won't use in the recipe. So the best thing is to look for pulpy mangoes.
Heavy cream: Use heavy cream also known as heavy whipping cream. The fat content in the cream should be at least 36%. Sometimes I am lucky enough to find cream with 40% fats. If you find that you can use that as well.
If you are unable to get heavy cream, you may use fresh cream with 30% fat. Chill the carton in the refrigerator for 24 hours and then scoop out the top portions to make the ice cream. You won't be using the whey that settles at the bottom in the carton.
Condensed milk is the only sweetener used in this recipe and do not substitute it with sugar. Using regular sugar affects the texture of your ice cream. In commercial ice creams, glucose syrup, honey, corn syrup etc are used for a rich texture. For a no-churn ice cream condensed milk gives the best results. If you do not want to use canned products, you may make your own condensed milk at home with full fat milk and sugar.
Milk powder is one ingredient that makes a huge difference to this mango ice cream. I can say it will miraculously improve the texture of your mango ice cream and also minimizes the ice crystals.
Thick mango puree from fresh mangoes, milk powder, heavy cream and condensed milk together make the best ice cream.
How to make Vegan Mango Ice Cream
I have made this earlier with coconut cream (not coconut milk). You can refrigerate the coconut cream overnight. In the morning scoop the top portion. You will be left with a small quantity of liquid at the bottom. Just discard that.
Whip the coconut cream the same way as you would whip the regular dairy cream. You won't get stiff peaks. When you see the soft peaks, add the mango puree and give a gentle mix.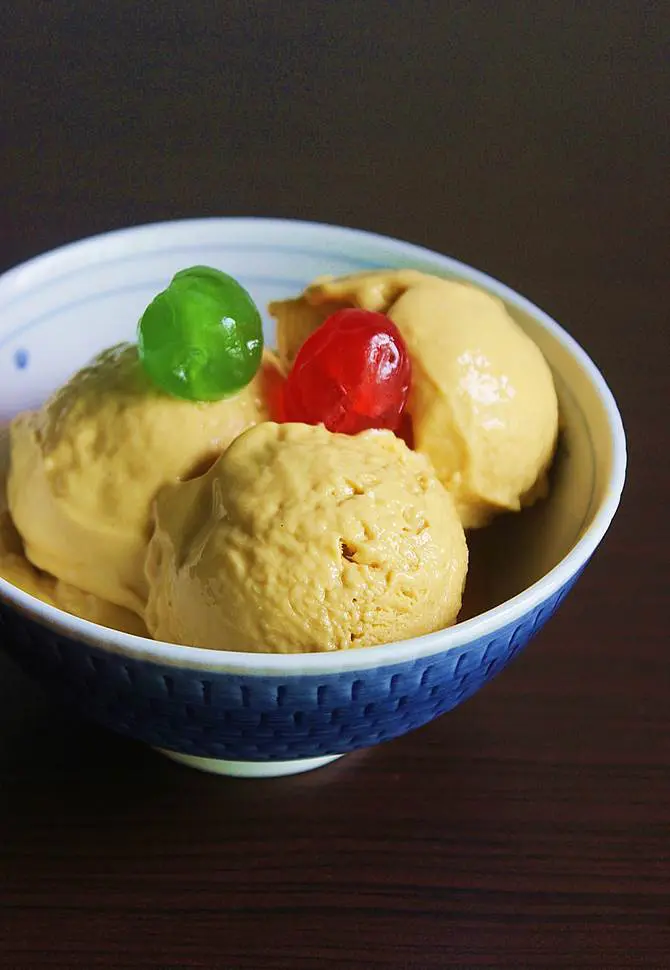 Related Recipes
Recipe Card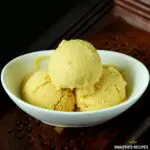 Mango Ice Cream Recipe
Make the best egg-free no churn mango ice cream. Creamy, delicious, rich and no ice crystals. You can also make this in a ice cream maker or a blender.
Pin Recipe
Print Recipe
For best results follow the step-by-step photos above the recipe card
Ingredients (US cup = 240ml )
2 cups (16 oz )

heavy cream

(whipping cream with minimum 36% fat)

2 cups (360 grams)

mango puree

(from sweet ripe mangoes)

¾ to 1

can

sweetened condensed milk

(11 to 14 oz, 392 grams tin, refer notes)

½

cup

milk powder

(dried milk powder)
Instructions
How to Make Mango Ice Cream
Chill the bowl, beater, condensed milk and heavy cream overnight. Freeze a metal tray for atleast a few hours.

Peel and chop 2 to 4 mangoes. Puree them in a blender until smooth. Measure 2 cups of puree and pour to a large mixing bowl. (refer notes for tips)

Add milk powder and mix well. Pour chilled condensed milk and mix until combined. [Start with a lower amount of condensed milk, about ¾] Refrigerate this.

Pour whipping cream to the chilled mixing bowl and begin to whip on a medium speed until you see soft peaks. You can use a electric hand mixer or a stand mixer.

It takes anywhere from 6 to 8 mins depending on the temperature. Mine was done in 9 mins. Make sure you don't overwhip.

Add a ½ to ¾ cup of whipped cream to the mango condensed milk mixture. Gently fold just until combined. Keep adding more whipped cream to the mango mixture & combine. Repeat this mixing in batches until both are combined and you see no streaks of cream.

Pour this to the freezed metal tray and press down a parchment paper. Cover & refrigerate the mixing bowl for later use. Freeze it for 4 hours.

After 4 hours, add it back to the cold mixing bowl (from the refrigerator) and whisk the mango ice cream until really smooth for 2 mins or so. (do not overdo). Once it is smooth, pour it back to the tray, press down the parchment paper and freeze just until set, for 8 hours.

When you are ready to serve, rest the ice cream on the counter for 5 mins. Scoop mango ice cream and enjoy it! It is good to finish the tray of ice cream or level the leftovers with a spoon and press down the parchment paper.
To make in a Blender
Freeze a metal tray overnight to freeze the ice cream. Add 1½ cup chopped mangoes and ½ can of condensed milk to a blender and blend until smooth. Make sure there are no chunks. Sprinkle ¼ cup milk powder and gently incorporate it into the mango puree until smooth. Chill this in the fridge for 1 to 2 hours until really cold.

Transfer the mango puree to a mixing bowl. Pour chilled whipping cream to the blender jar. Using a pulse option whip the cream until soft peaks (thick and light). Do not overdo.

Mix together cream and the chilled mango puree. Transfer to a freezed metal tray. Press down a parchement paper or cling wrap over the ice cream.

Freeze it for 4 hours. After 4 hours, add it to the blender and pulse it until smooth. Pour back to the tray and place the parchment paper or wrap. Freeze until set, usually overnight.

Scoop the mango ice cream. To soften, simply leave it at room temperature for 5 mins, then scoop it.
Notes
Mango puree has to be thick and pulp. Runny mango puree won't work here. I used 4 small alphonso mangoes that yielded me a little over 2 cups. I use 2 cups and it weighs about 360 to 380 grams.
Do not use sour mangoes. The flavor of the mangoes must be sweet.
I use a full cream 392 grams (14 oz) tin of sweetened condensed milk from Milkmaid. You may cut down to 3/4 cup of the can/tin if you prefer low sweet ice cream.
Whisking it well for 2 mins or so after 4 hours is very essential to minimize the ice crystals. If you skip this step, you should serve it as soon as the ice cream is set, after 8 hours.
Alternative quantities provided in the recipe card are for 1x only, original recipe.
For best results follow my detailed step-by-step photo instructions and tips above the recipe card.
Video
Watch Mango Ice Cream Video
NUTRITION INFO (estimation only)
Nutrition Facts
Mango Ice Cream Recipe
Amount Per Serving
Calories 443
Calories from Fat 261
% Daily Value*
Fat 29g45%
Cholesterol 93mg31%
Sodium 110mg5%
Potassium 458mg13%
Carbohydrates 41g14%
Protein 8g16%
Vitamin A 1795IU36%
Vitamin C 26mg32%
Calcium 262mg26%
Iron 1mg6%
* Percent Daily Values are based on a 2000 calorie diet.
Mango ice cream recipe first published in May 2014. Updated and republished in April 2023.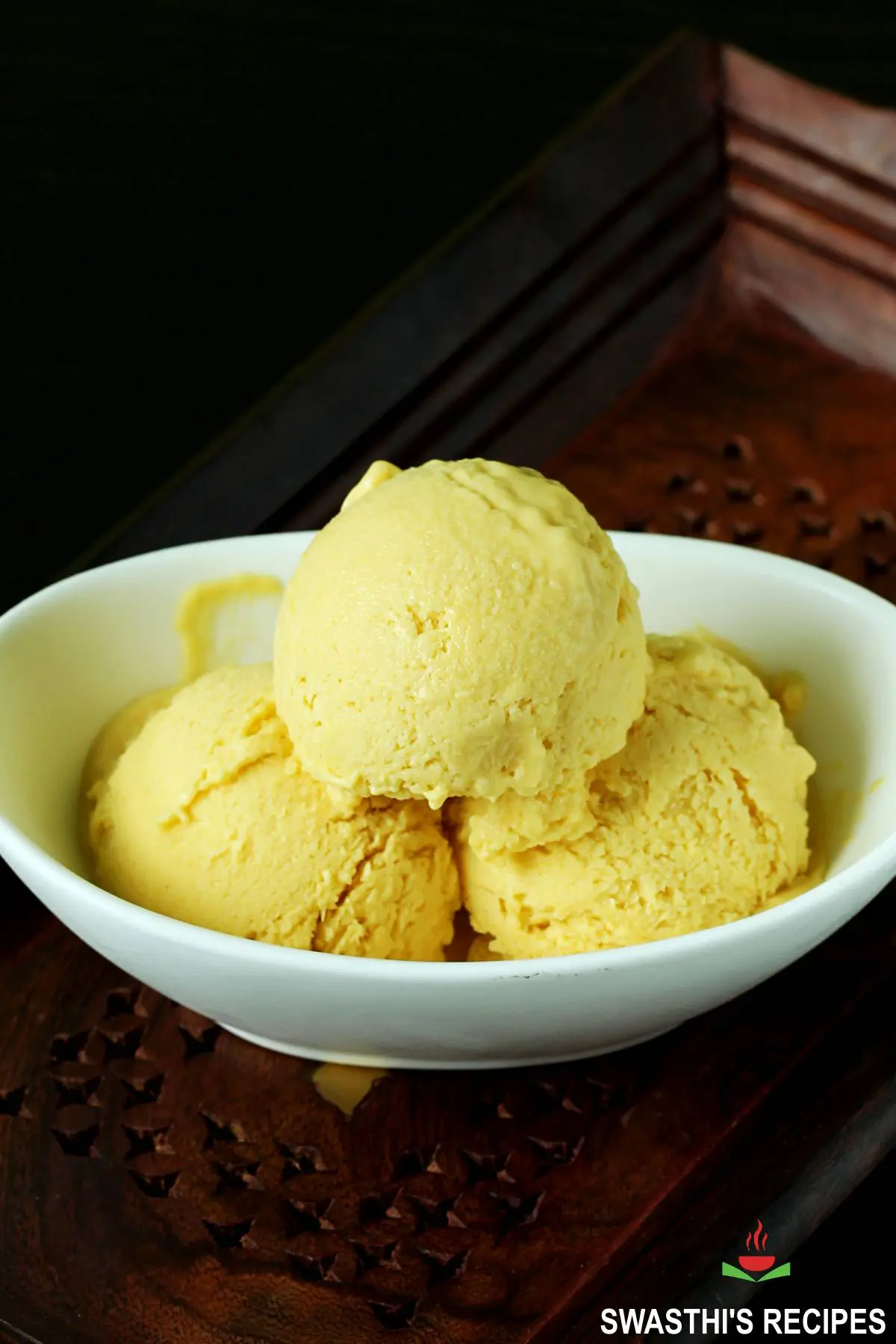 About Swasthi
I'm Swasthi Shreekanth, the recipe developer, food photographer & food writer behind Swasthi's Recipes. My aim is to help you cook great Indian food with my time-tested recipes. After 2 decades of experience in practical Indian cooking I started this blog to help people cook better & more often at home. Whether you are a novice or an experienced cook I am sure Swasthi's Recipes will assist you to enhance your cooking skills. More about me
Follow Swasthi's Recipes